This Double Smoked Traeger Ham recipe wrapped in candied bacon is sweet and salty perfection with a maple Dijon glaze that caramelizes the bacon as it smokes on a pellet grill.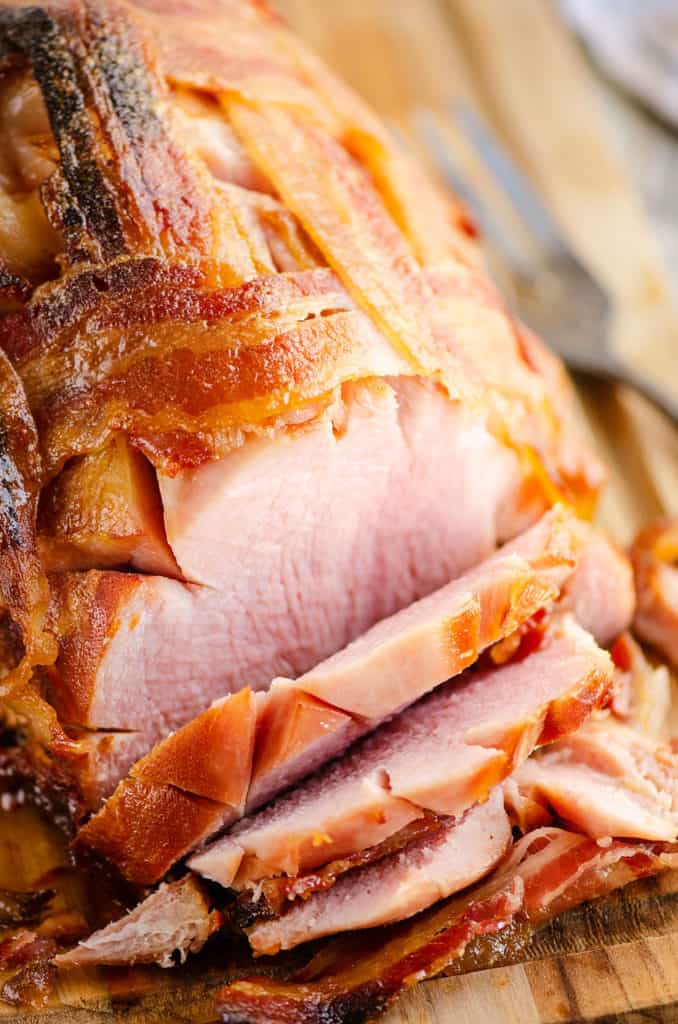 Traeger Ham Recipe
If you are looking for an impressive recipe to impress your holiday guests, look no further. This Traeger Ham recipe that is wrapped in a weave of Maple Dijon candied bacon is absolute perfection!
Some might say that it is pork overload, but to that I say, there is no such thing! The bacon that caramelizes into a sweet and crunchy candied bacon is the perfect compliment to the tender ham.
Whether you pile it all high on a sandwich with a good spread of Dijon mustard, or you serve it up at a holiday dinner with Pickled Deviled Eggs and Broccoli Salad, it is sure to be a hit.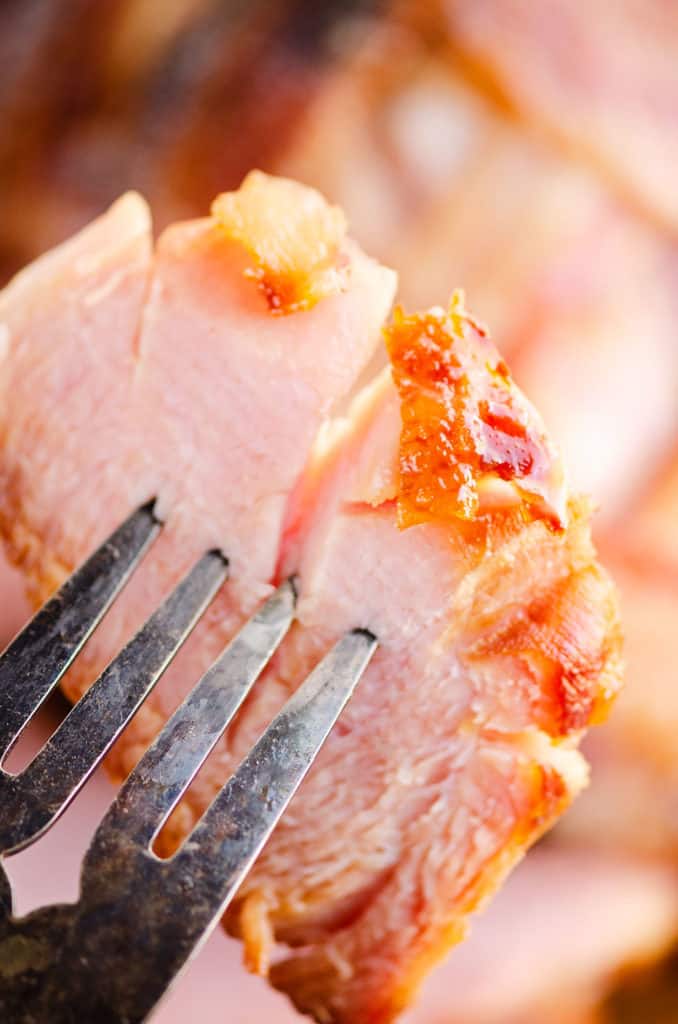 Pre-cooked ham on Traeger smoker
While hams are already pre-cooked and usually smoked, that isn't reason to shy away from using your Traeger smoker to heat your holiday ham. Not only does it double down on the smoke flavor, it opens up your oven for all your favorite holiday side dishes.
Here are just a few recipes that are a great way to use your oven space that is saved by cooking your Traeger ham on a pellet grill.
If you want to triple down on the smoky goodness at your holiday table, add some of these smoked potatoes for a great side dish made on your smoker to go wonderfully with this double smoked ham.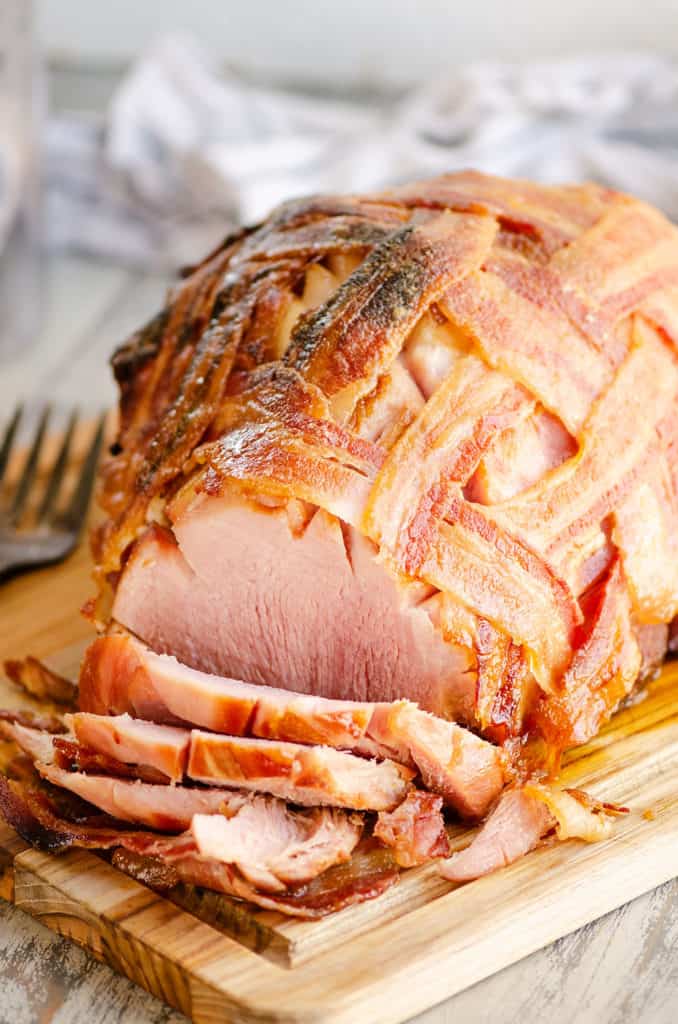 Pellet Grill Ham
My friend Nicole is a master with her Traeger smoker and she is always inspiring me to try new things with my own. She has a great recipe for a simple Traeger Smoked Ham that inspired me to make this candied bacon wrapped ham.
You can make your entire holiday dinner on your Traeger grill if you'd like. From the ham and potatoes to asparagus and carrots, the possibilities are endless!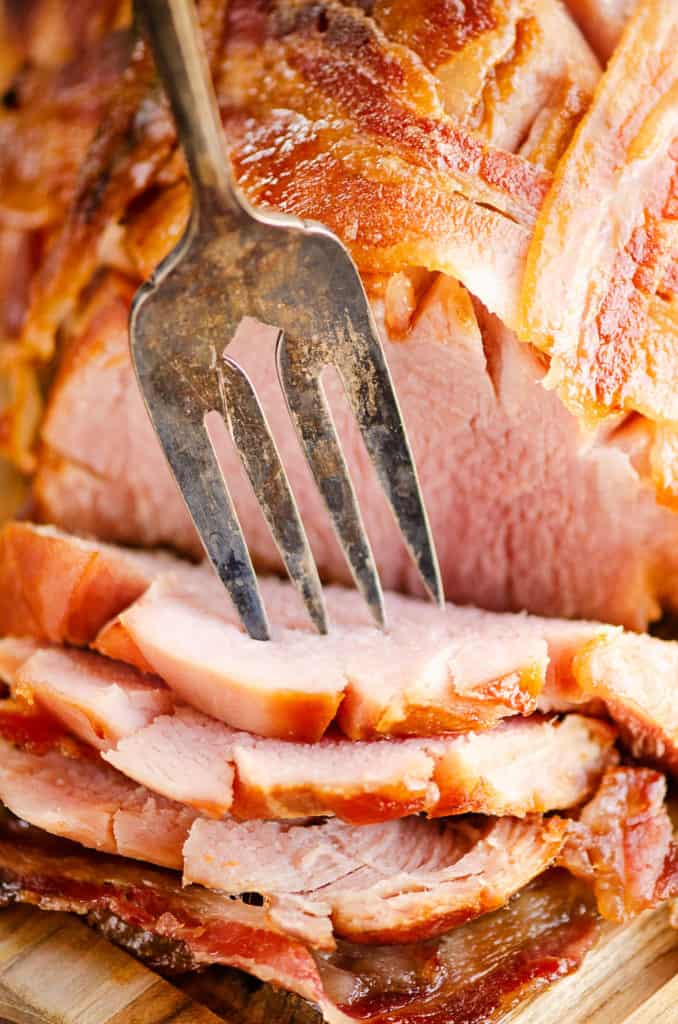 Easy pellet grill recipes
With the weather warming up in Minnesota, I am spending every possible moment outside. Because my kids are still only three and need supervision in our open backyard, this means I have moved my cooking to patio whenever possible. This allows me to keep an eye on them while getting dinner ready to enjoy on our patio table.
My pellet grill has become a go-to for dinners. From throwing a steak with a Traeger Baked Potato on the grill, to tossing some vegetables in a grill basket with a drizzle of olive oil along with some smoked chicken breasts, the pellet grill helps make quick and easy dinners we love!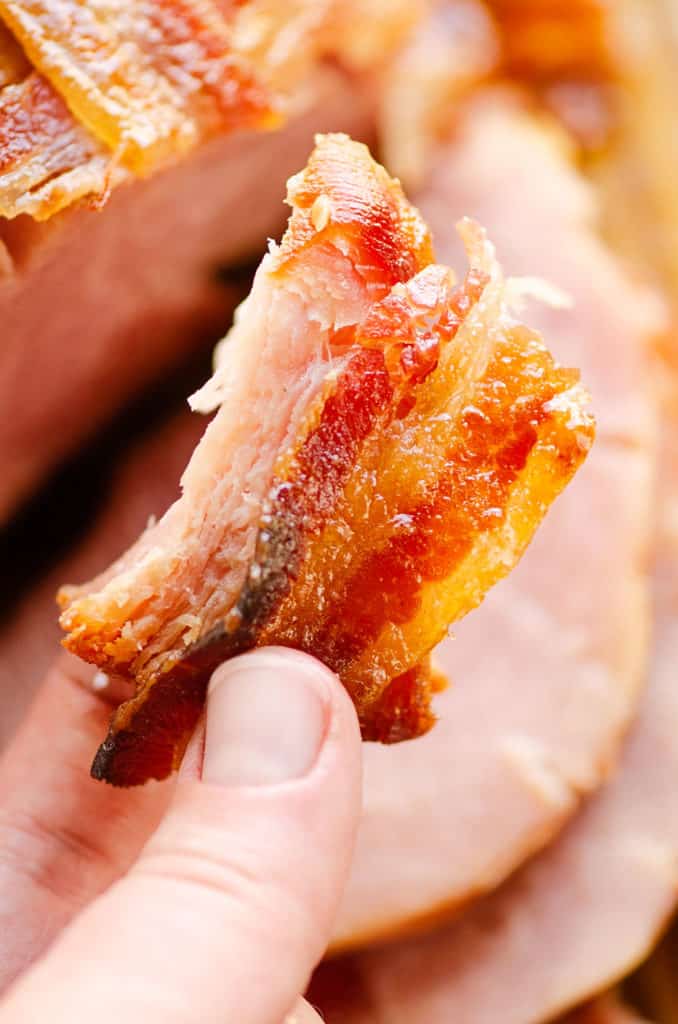 How to smoke a ham on a pellet grill
Like any large roast, the cooking time is going to vary based on how large the piece of meat is. For this recipe I used a 8 pound half ham with bone-in. This is enough ham to serve about 12 people.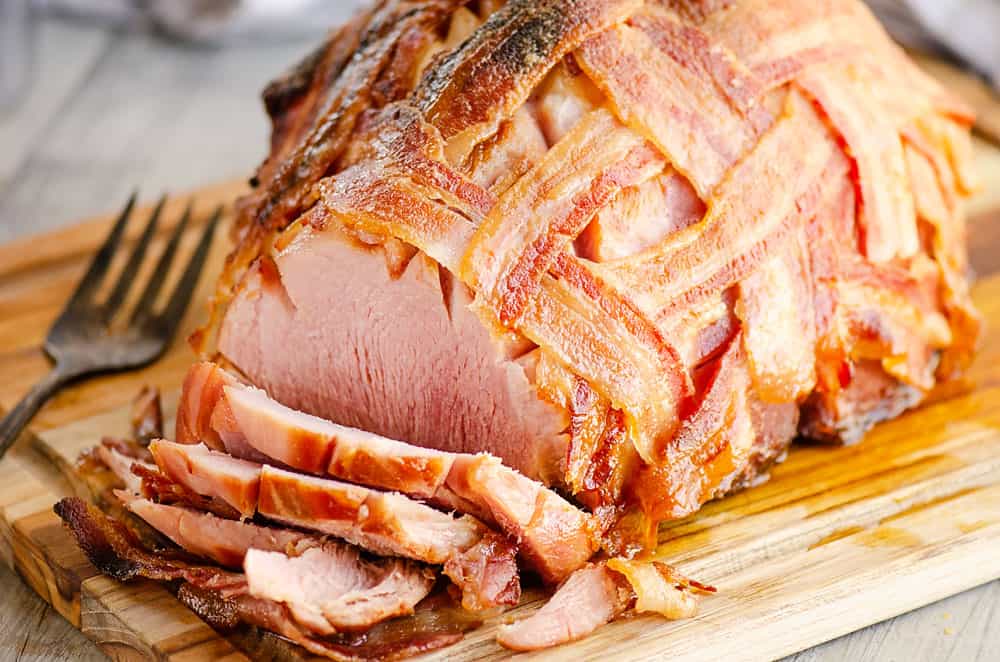 How big of a ham should I buy?
This is the question I hear most often when it comes to making ham for the holidays. People want to know what size they should buy. While ham is a very affordable meat, no one wants to have so much leftover that they can't use it up. You also don't want to commit the cardinal sin of running out!
A general rule of thumb I use is about a half pound per person. This takes into consideration the waste that you will get from the bone, in addition to having a good amount for easy leftover ham recipes to feed your family.
If you are numbers person, feel free to check out this ham size calculator that will tell you what size ham to buy for your holiday dinner!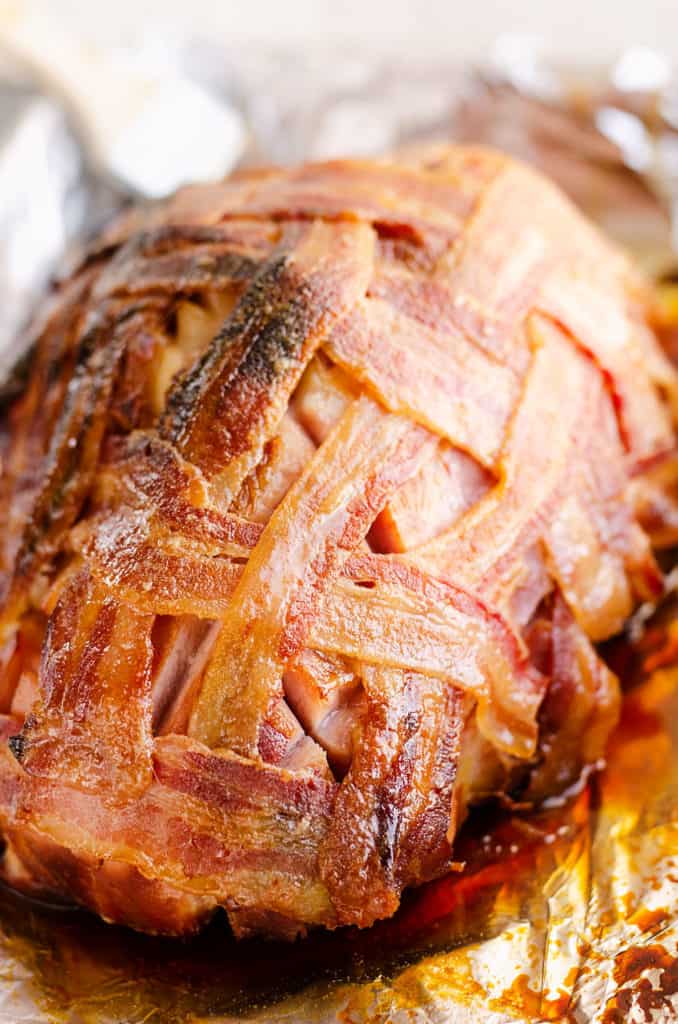 Why do you score a ham
The reason for scoring the Traeger ham, is to cut a thin layer through the fatty outer layer and allow the glaze to penetrate the ham meat and add amazing flavor.
To score the ham, place it on the tinfoil lined roasting pan. Using a sharp knife, score 1/3 inch deep across the ham in a crisscross pattern. This is an easy and simple step that will help infuse your ham with the fantastic Maple Dijon glaze and bacon flavor.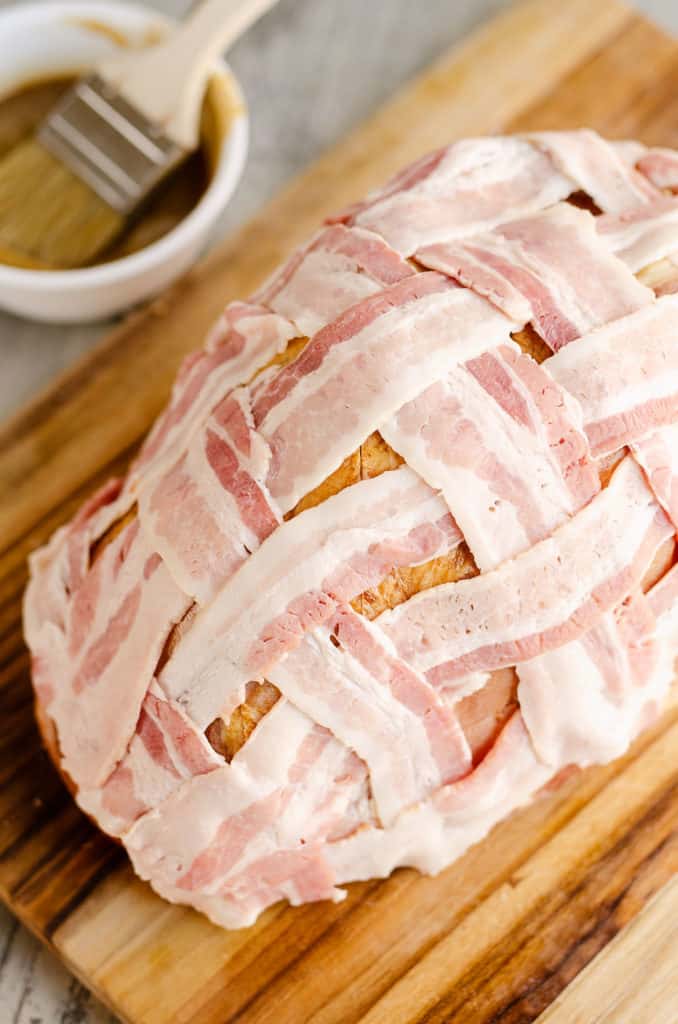 How to make a bacon lattice
If you have made a lattice on your Apple Pie, you are already a pro. If not, bacon is a great way to learn how to make a lattice, because it won't break and tearn like pie crust.
Arrange half the slices of bacon one width apart on a cutting board or piece of parchment paper. Fold back alternating pieces of bacon and place another piece of bacon across the slices of bacon.
Fold the pieces of bacon back down and fold back the opposite pieces that weren't lifted up last time. Place an additional piece of bacon down. Repeat this process until you have a large rectangular or square bacon lattice.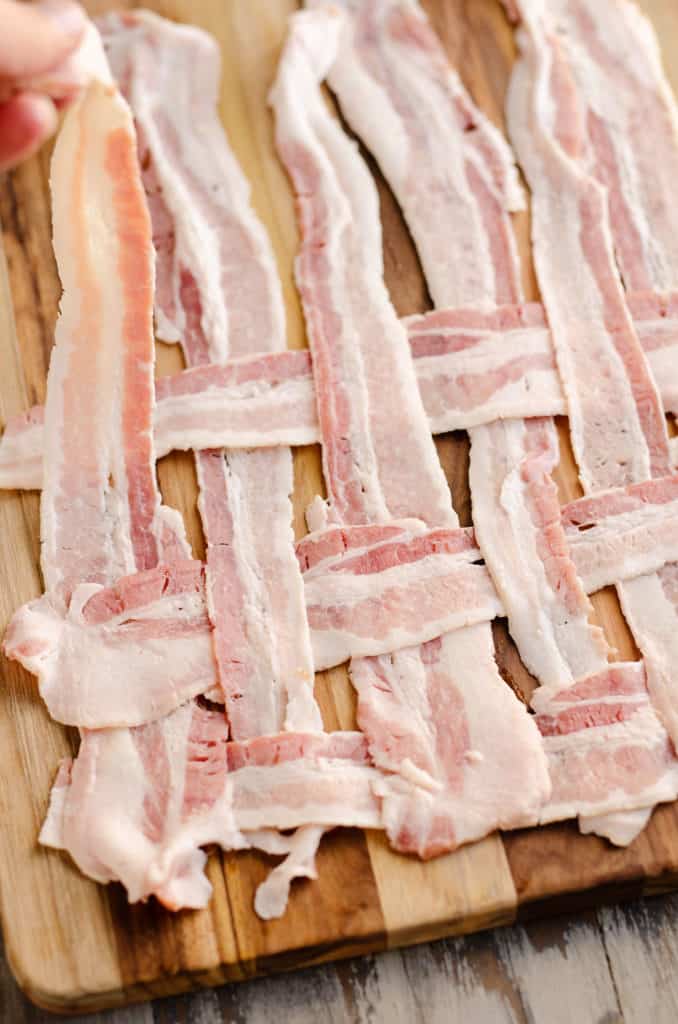 Leave small gaps between the lattice to allow steam to release from the ham. You don't want to make a tight lattice for this candied bacon ham.
If you make your lattice on a cutting board, place a piece of parchment paper over the lattice and flip over onto the parchment paper. Having your bacon lattice on parchment paper makes it easier to transfer onto the ham in one swift motion.
After you gently place the bacon lattice on the ham, gently remove the parchment paper and tack the edges of the bacon down with a few toothpicks.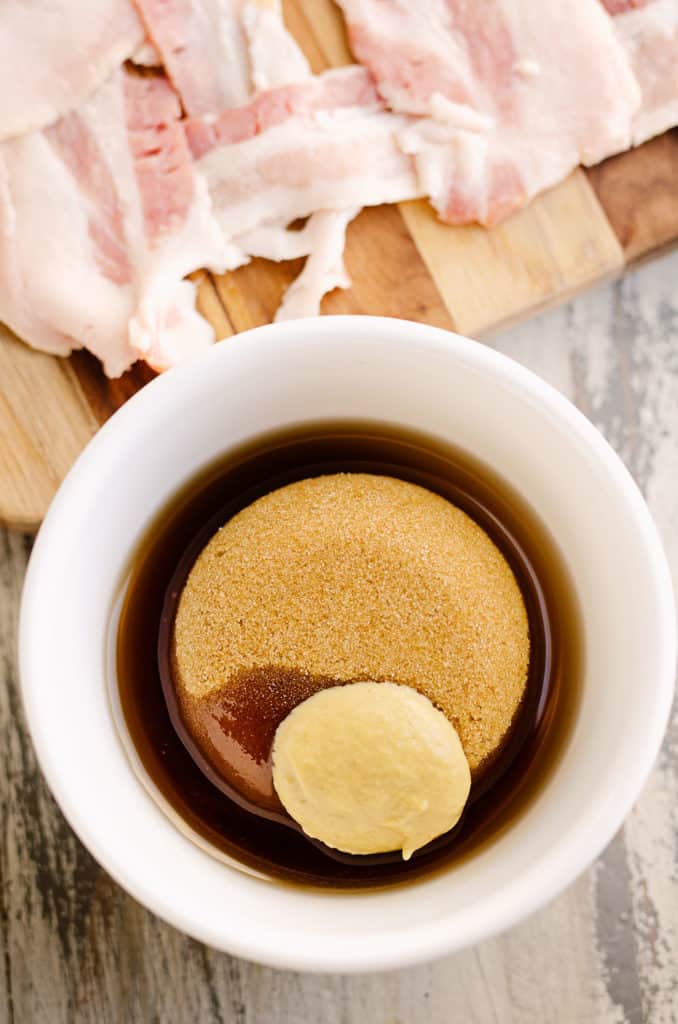 Maple Dijon glazed Traeger ham
Once your ham is covered in bacon, you can mix the simple glaze ingredients, maple syrup, brown sugar and Dijon mustard in a small microwave safe bowl.
Heat in the microwave for 30 seconds and using a pastry brush, gently brush the glaze over the bacon. If the glaze is too thick and not spreading well, heat for an additional 30 seconds in the microwave.
This glaze will not only flavor the Traeger ham, but will candy the bacon, transforming it into a spectacular sweet and salty bite of crunchy goodness. It really doesn't get much better than this!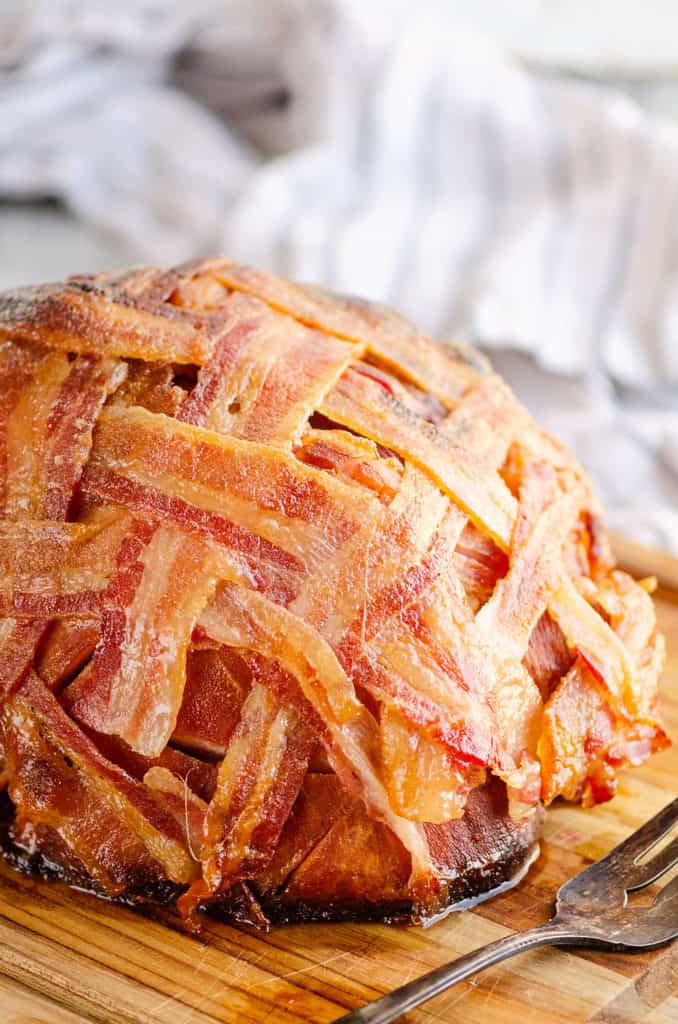 How long to smoke ham on a pellet grill
Once you have decided on your size of ham, it is a simple equation to determine the cook time for smoking ham on your Traeger. Ham requires about 15 minutes per pound of cook time at 325°F-350°F.
Ultimately ham is already pre-cooked, so you are just heating it through. Cook the ham until it reaches an internal temperature of 135°F. My Traeger grill has a temperature probe incorporated into the wifi app, but a Thermapen is another great option for checking accurate temperatures of meat.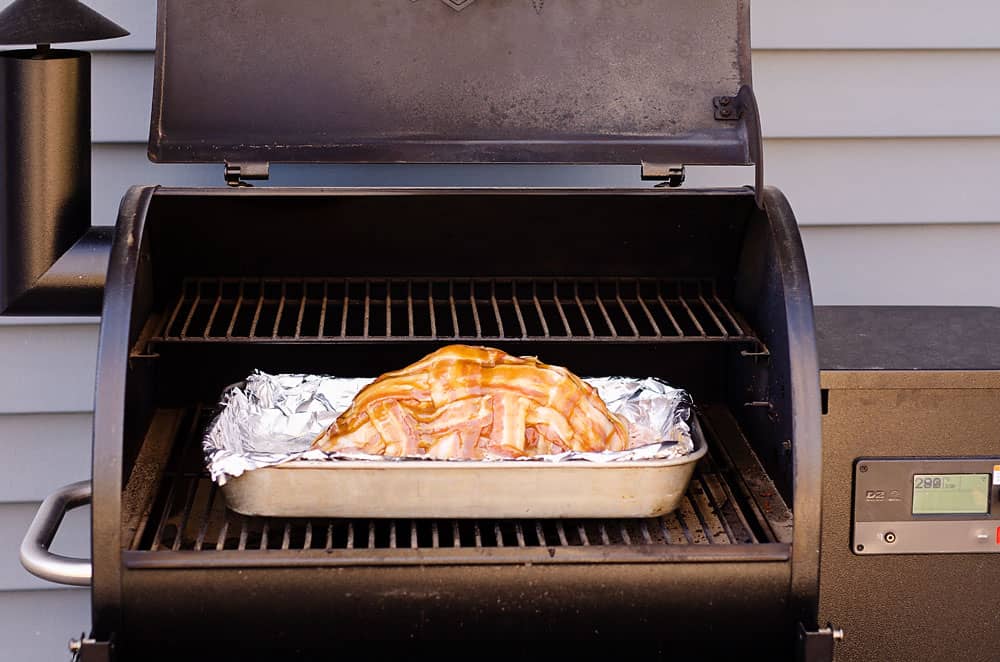 I cooked my 8 pound ham for about two hours. If you choose a significantly larger ham, like a 15 pound ham, you will need to increase the cook time to heat it all the way through. When making a ham that is larger than 10 pounds, place a tinfoil tent over the top of the ham around 2 hours so the bacon doesn't burn.
If the bacon gets a little dark, don't be too concerned. While those pieces look a little burnt, they were honestly the best part of the candied bacon as they were sweet and crunchy.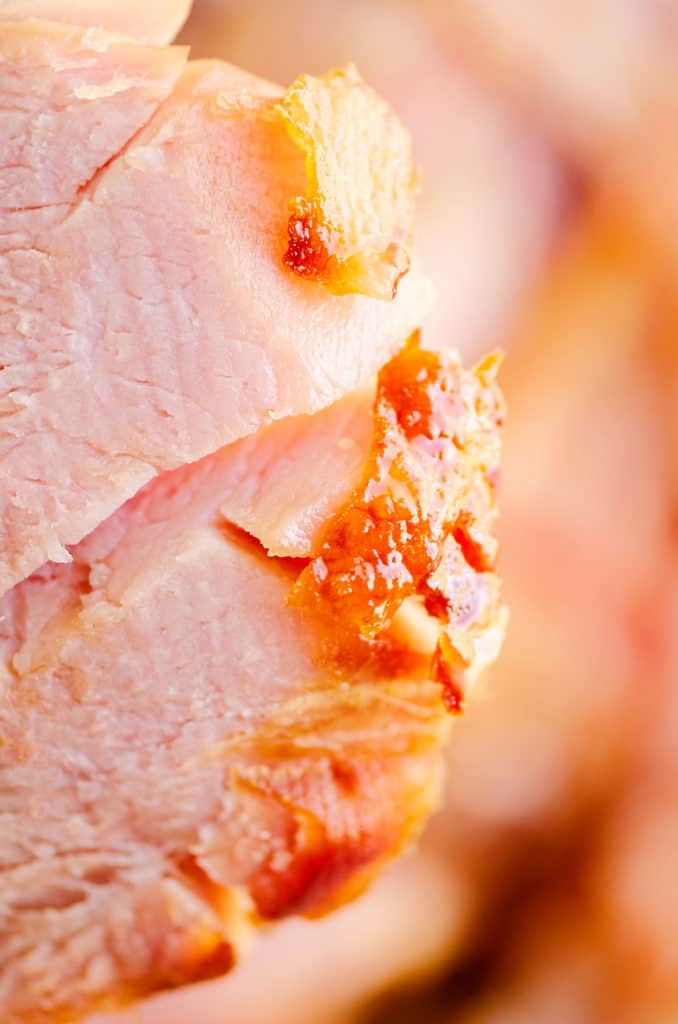 What to serve with candied bacon ham
When it comes to serving this candied bacon Traeger ham you have two options. Slice into the bacon wrapped ham as you would with any ham, or remove the candied bacon and serve on the side of a platter with the sliced ham.
Either way you serve this pork goodness, check out some of these great recipes to serve on the side with your holiday spread.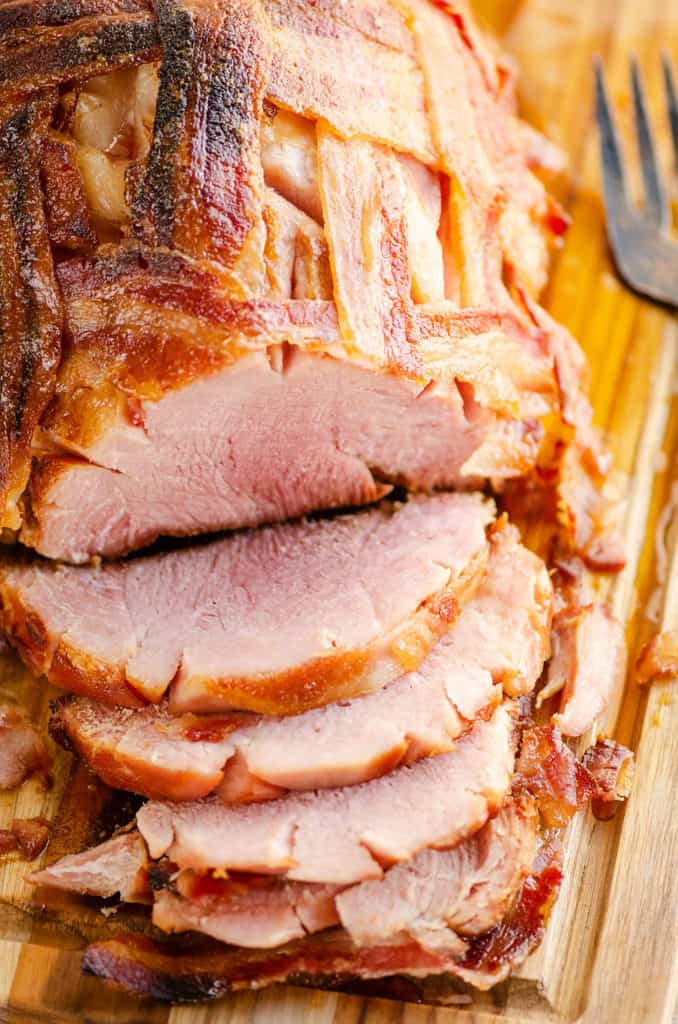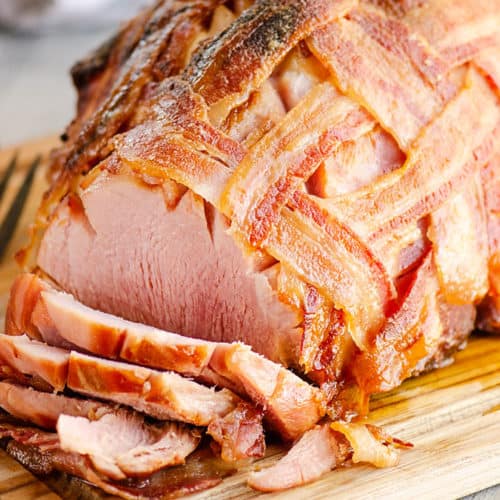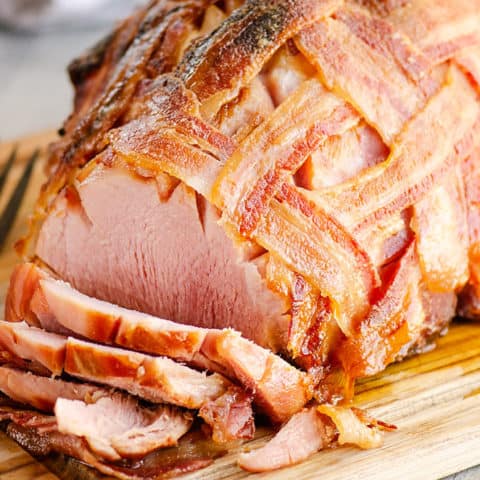 Candied Bacon Double Smoked Traeger Ham
Ingredients
large bone-in pre-cooked ham
12-16 ounce package bacon *(see notes)
1/2 cup brown sugar
1/4 cup real maple syrup**
1 teaspoon Dijon mustard
Instructions
Preheat Traeger smoker to 325°F.
Arrange bacon into a rectangular lattice on a piece of parchment paper.
Place your ham, cut side down in a tinfoil lined baking pan. Score the ham about 1/3 inch deep in a crisscross pattern.
Pick up the bacon lattice on the parchment and carefully place the it over the ham. Gently, separate the parchment from the bacon. You may want to add a few toothpicks to secure the lattice in place at the bottom.
In a small bowl, combine the brown sugar, maple syrup and Dijon. Give a quick stir and microwave for 30 seconds.
Brush the glaze over the bacon lattice. If the mixture is too thick to spread, microwave for 30 more seconds.
Place the glazed bacon covered ham in your Traeger smoker and cook at 325°F for 15 minutes per pound, until it reaches an internal temperature of 135°F.
If you are cooking a large ham over 10 pounds, tent the bacon wrapped ham with tinfoil after 2 hours of cooking to protect the bacon from burning.
Notes
*Use 12 ounces bacon for hams under 10 pounds and 16 ounces for hams larger than 10 pounds
**If you don't have real maple syrup, you can substitute artificial syrup, honey or molasses.
Slice the ham up with the bacon, or remove the candied bacon and serve on the side of the platter with the ham.
Recommended Products
As an Amazon Associate and member of other affiliate programs, I earn from qualifying purchases.
Nutrition Information:
Yield:

16
Serving Size:

8 ounces
Amount Per Serving:
Calories:

450
Total Fat:

19g
Saturated Fat:

5g
Trans Fat:

0g
Unsaturated Fat:

10g
Cholesterol:

166mg
Sodium:

2585mg
Carbohydrates:

12g
Fiber:

0g
Sugar:

11g
Protein:

58g
Provided nutrition data is only an estimate. If you are tracking these nutrients for medical purposes, please consult an outside, trusted source.