Broccoli Bacon Salad is an easy side dish made with raw broccoli, bacon, raisins, sunflower seeds and a mayonnaise vinegar dressing. This traditional recipe is versatile enough for summer cookouts or a holiday dinner table!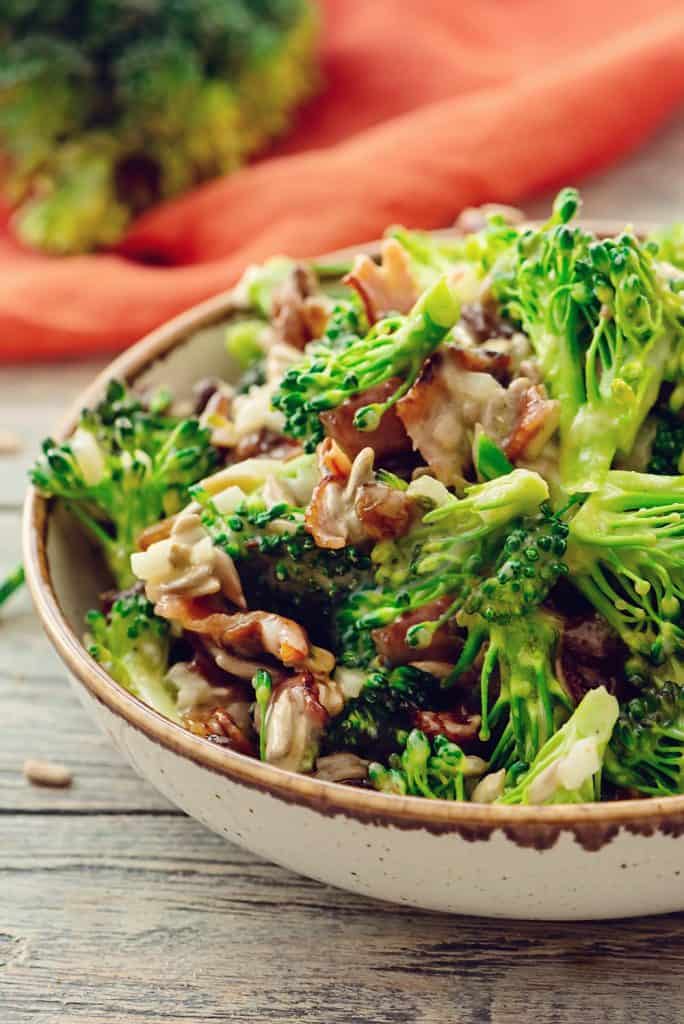 Broccoli Bacon Salad
Broccoli Bacon Salad is a classic recipe that my Mom has been making for as long as I can remember. It is a staple at holiday dinners served with ham or turkey, but it is also great for summer cookouts. It is a great change of pace and compliment to all of the pasta salads that people typically bring for these types of occasions.
Summer is finally here in full swing, and do you know what that means? Cookouts, barbecues, and picnics! We only get a few months of hot summer weather around here, and we take full advantage it. One of the best parts of all this outdoor cooking? It's perfect for cold salads!
A traditional summer comfort food and a great side dish, cold salads and slaws are delicious and versatile. I've made lots! You can check out my
Fresh Tomato Pesto Pasta Salad
for some savory basil goodness,
German Potato Salad
for a true classic (with a citrus twist!), or my tangy
Apple Cranberry Poppy Seed Slaw Salad
just to name a few.
This easy broccoli and bacon salad is one of my new favorites. It's crunchy and fresh, with a creamy sauce that brings it all together. It's so easy to make, too! It only takes a few minutes, but you get big bold flavors that you are going to love. Broccoli salad with bacon and raisins is a fun, creative, salad with tons of flavor.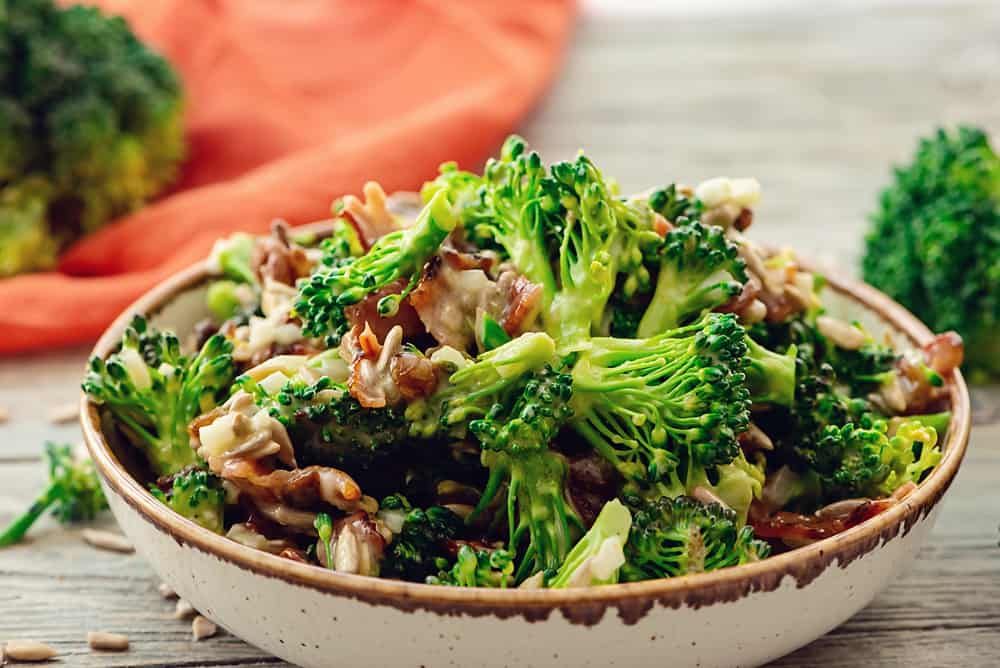 Easy Broccoli Salad Recipe
You have to try this raw broccoli salad! There's something about the creamy sauce and crunchy broccoli and sweet golden raisins that goes so well together, and makes something really unexpected and special. And it's so easy to make! It's a really fun twist on salad, and I can't wait to share it with you.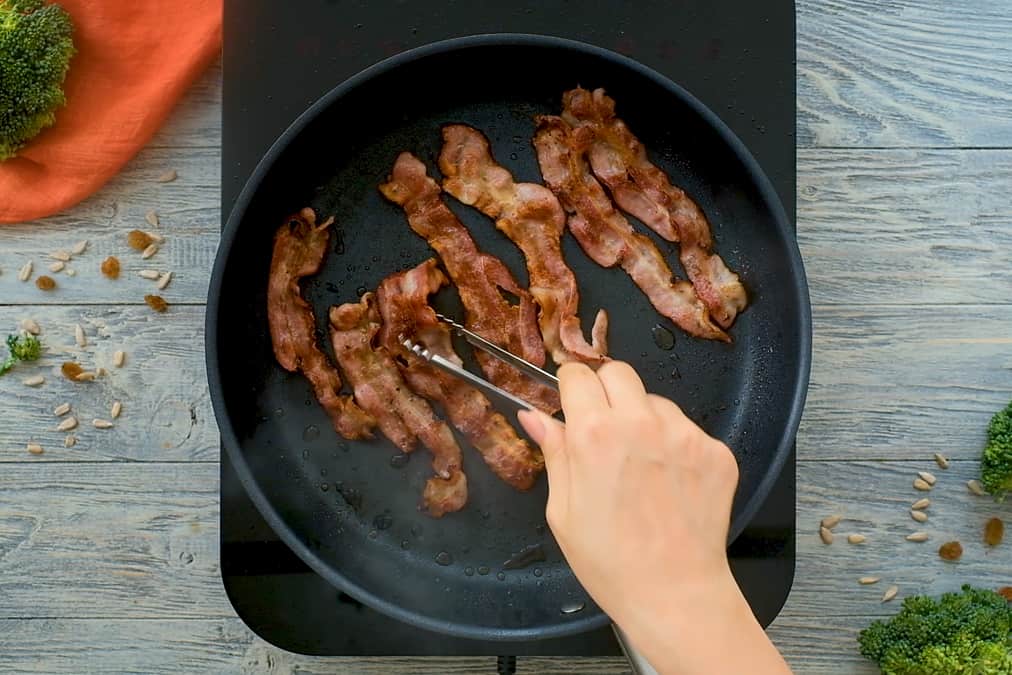 What's in Broccoli Salad?
You can make broccoli salad with lots of things, but this recipe is my favorite combination of flavors. It has raw broccoli, crispy bacon bits, a little bit of onion for flavor, sunflower seeds, raisins, and golden raisins.
The dressing is so easy too. It's just mayonnaise, sugar, and apple cider vinegar. It's got a little sweet and a little bite that balances the other ingredients out and makes an amazing dish.
You can tweak the ingredients if you need to. For example, if you need a vegetarian version you can swap in soy bacon. If you want to try something a little different, try replacing the sunflowers seeds with roasted pumpkin seeds, or add dried cranberries instead of raisins.
Personally, I love it just the way it is! But one thing I love about salads is how easy they are to customize. You can definitely experiment and find what you like best!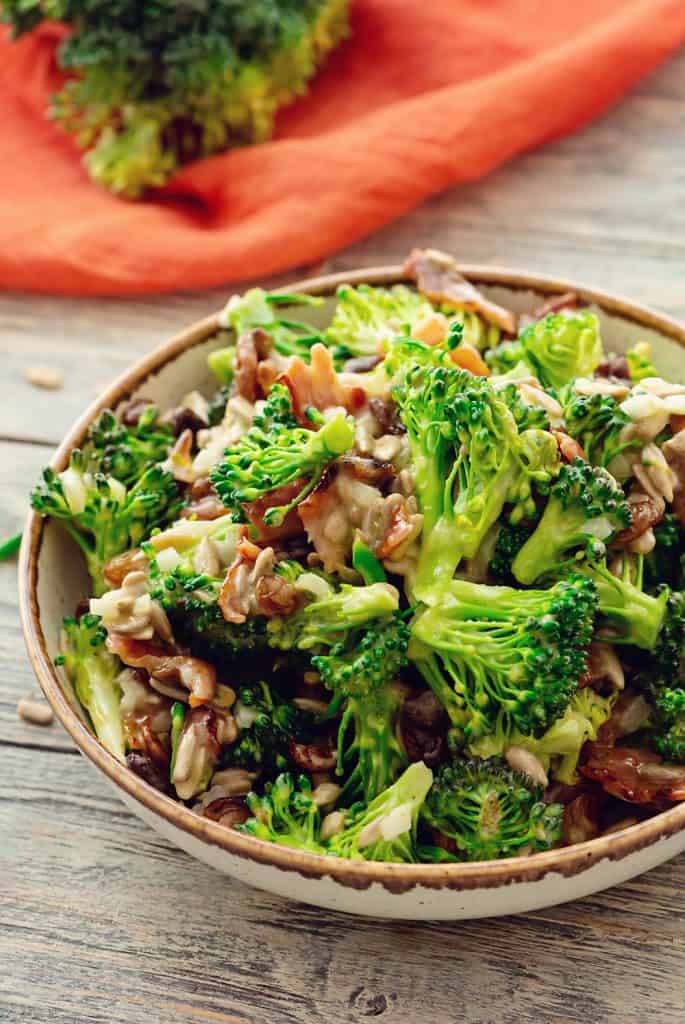 Can You Make Broccoli Salad Ahead of Time?
You can make this easy broccoli salad recipe ahead of time too! The way to keep it the most fresh is to store the sauce separately from the rest of the salad.
Mix up the salad ingredients in a bowl, then cover it tightly with plastic wrap and refrigerate. In a different bowl, mix the mayonnaise, sugar, and apple cider vinegar. Cover it tightly and refrigerate. The day you are ready to serve your salad, fold the dressing gently into the salad until it's completely coated.
You can save any leftovers for a few days and the broccoli will stay fresh if it's tightly sealed. This is a great method for keeping any kind of salad crisp and fresh until you're ready to serve it. Broccoli is a little tougher, so it's okay if you mix the dressing in sooner, but if you're making a lettuce or spinach salad, be sure to remember this tip! It definitely comes in handy.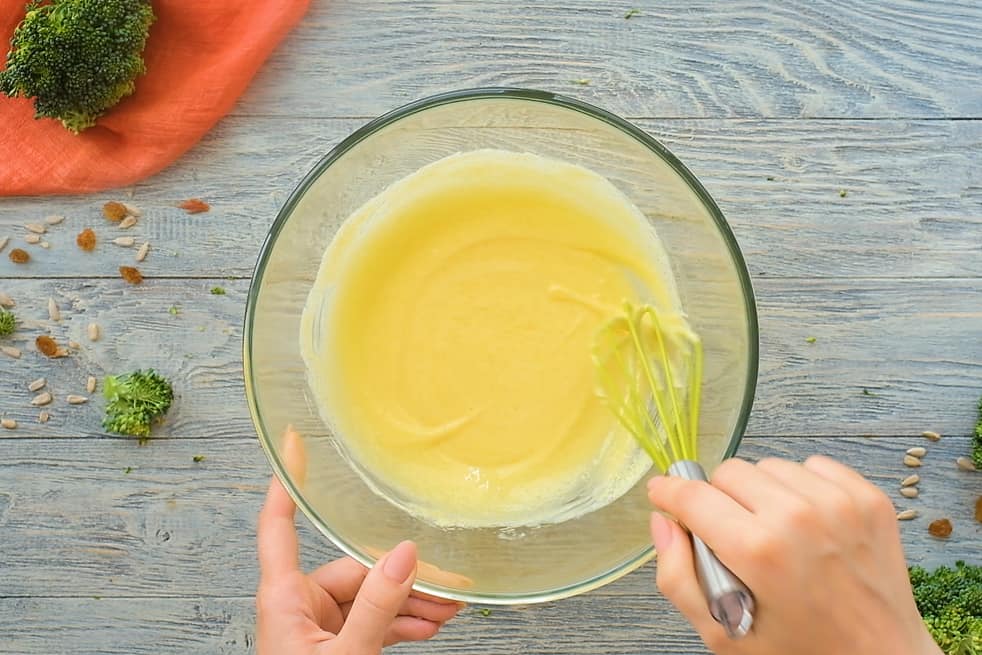 How To Make Broccoli Salad Dressing
Making broccoli salad dressing is super easy! Once you do it once, you'll be able to do it any time. This dressing is so simple. It's just three ingredients.
1 c mayonnaise
½ c sugar
2 Tb apple cider vinegar
Whisk all the ingredients together until they're completely combined. Gently mix with your broccoli salad until it's coated and serve cool.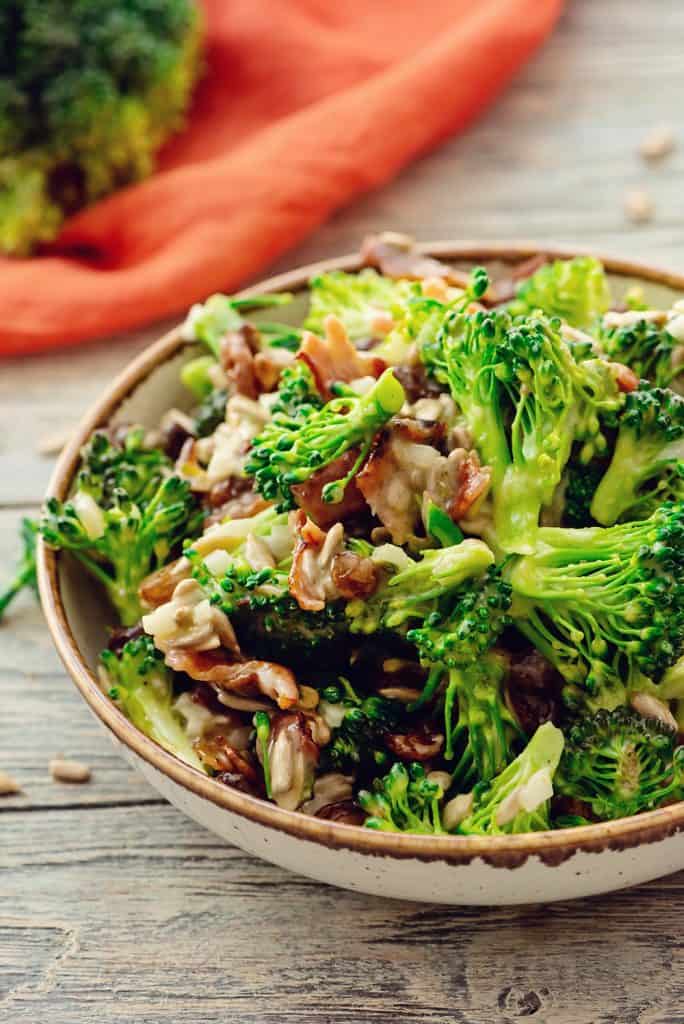 What Goes With Broccoli Salad?
Broccoli salad is an awesome side dish. My favorite way to serve it is on the side of freshly grilled hamburgers and potato chips outside on a picnic blanket! Here are some other things that go with broccoli salad. You want something a little savory or cheesy to balance the broccoli sweet dressing, and to pick up on the salty notes in the bacon bits.
Hamburgers or cheeseburgers
Roasted meats
Cold cuts and summer sausage
Meat and cheese tray
Hummus and pita bread or chips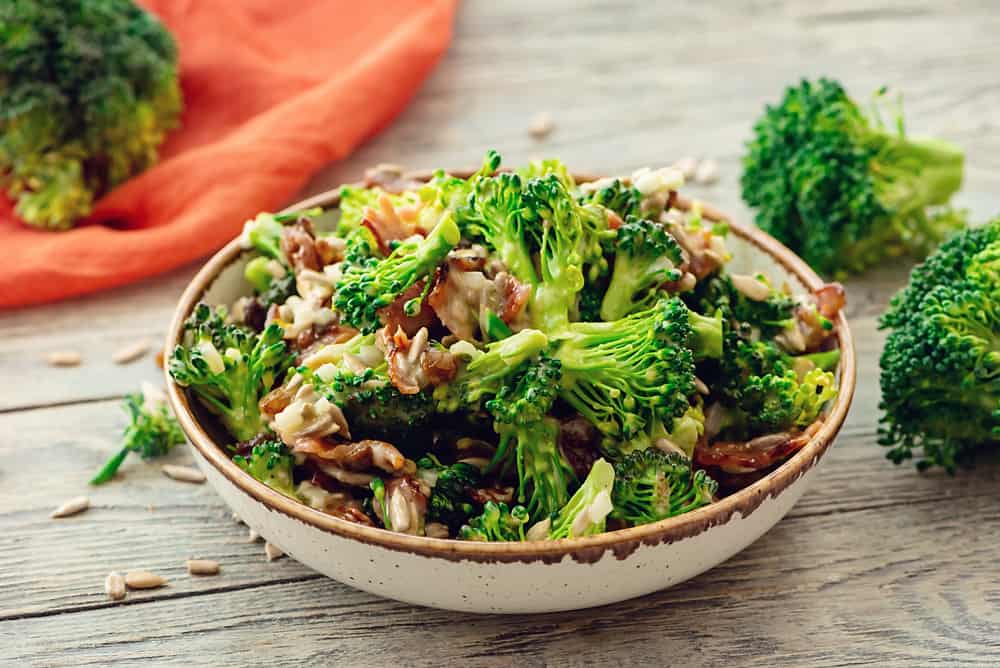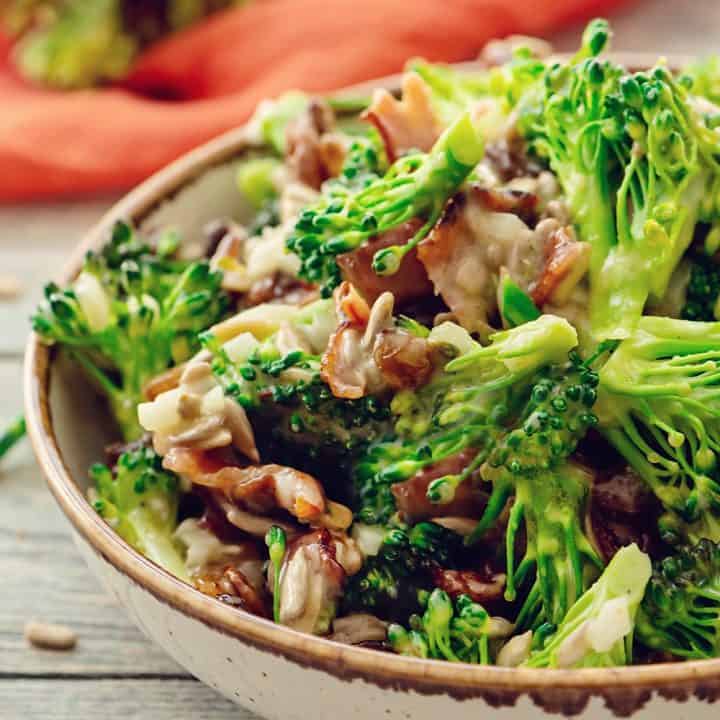 Broccoli Bacon Salad
Broccoli Bacon Salad is an easy side dish made with raw broccoli, bacon, raisins, sunflower seeds and a mayonnaise vinegar dressing. This traditional recipe is versatile enough for summer cookouts or a holiday dinner table!
Ingredients
1 head broccoli
12 strips bacon
1 small onion finely chopped
1 c. sunflower seeds
1/3 c. raisins
1/4 c. golden raisins
1 c. mayonnaise
1/2 c. sugar
2 Tbsp. apple cider vinegar
Instructions
In a large skillet over medium high heat, cook the bacon until crispy. Pat dry with a paper towel and crumble into small pieces.
Meanwhile, in a large bowl whisk together the mayonnaise, vinegar and sugar.
Break a head of broccoli into small pieces.
Add in the broccoli, bacon and remaining ingredients to the dressing. Fold together until everything is well coated.
Refrigerate for 2 hours before serving.
Notes
Broccoli Bacon Salad is best served after a couple hours of refrigeration to allow the flavors to meld. The dressed salad stores well refrigerated up to 3 days.
Nutrition Information:
Yield:

16
Serving Size:

1
Amount Per Serving:
Calories:

222
Total Fat:

17g
Saturated Fat:

3g
Trans Fat:

0g
Unsaturated Fat:

14g
Cholesterol:

14mg
Sodium:

715mg
Carbohydrates:

13g
Fiber:

1g
Sugar:

10g
Protein:

5g
Provided nutrition data is only an estimate. If you are tracking these nutrients for medical purposes, please consult an outside, trusted source.