Crispy Sage Roasted Delicata Squash is a flavorful recipe that makes a healthy holiday side dish. Tender squash is baked with onions, drizzled with balsamic glaze and finished with fried sage leaves for a vegan meal bursting with amazing flavor!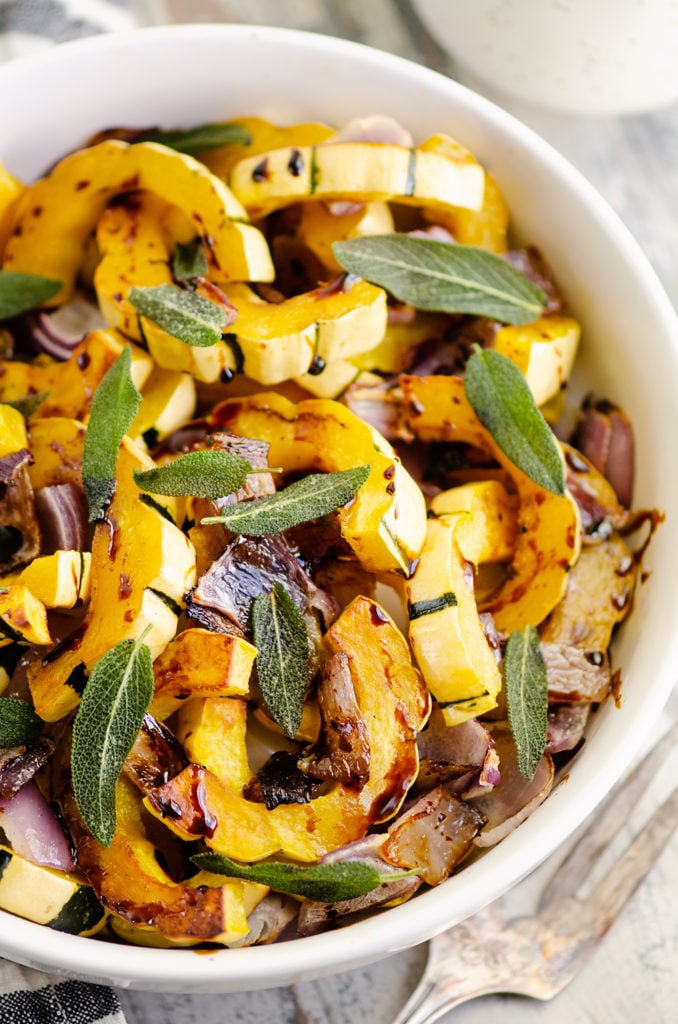 Baked Delicata Squash
This Crispy Sage Roasted Delicata Squash is a healthy side dish recipe that is perfect for a special holiday dinner with Roast Turkey It's also an easy way to spruce up your weeknight dinner in just 30 minutes!
I have been a fan of winter squash for some time now. From Butternut Squash Soup to Spaghetti Squash Carbonara, its a healthy and hearty vegetable that you can enjoy in a variety of recipes. More recently I was introduced to Delicata squash in my Misfits Market box of produce.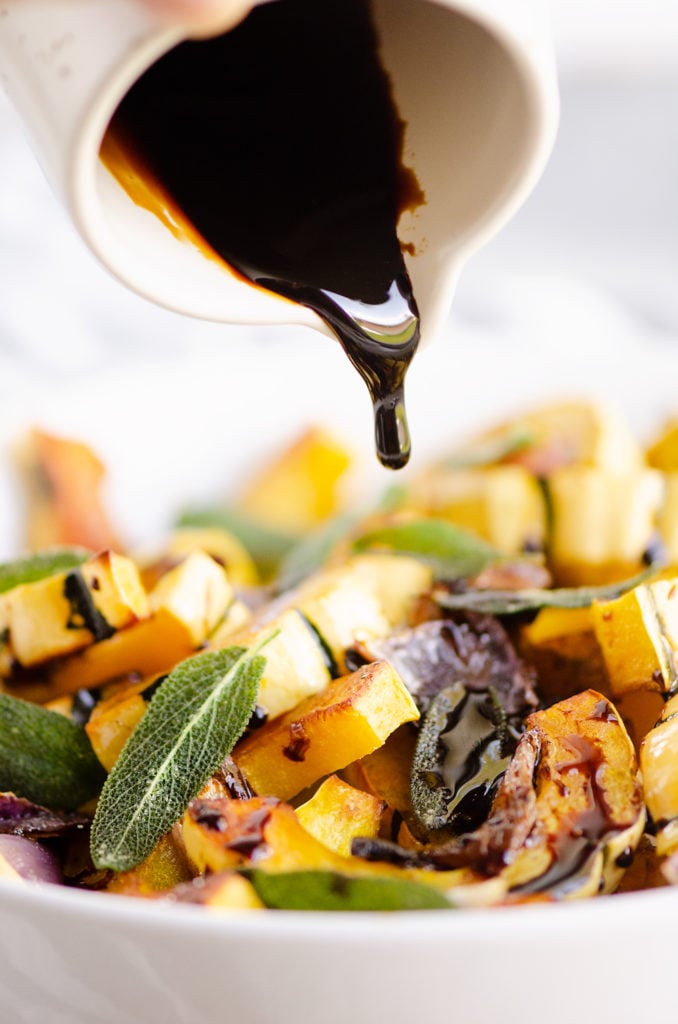 Can you eat Delicata squash skin?
The best part of Delicata squash is the fact that it has a thin peel and you don't have to torture yourself trying to peel it like butternut squash. It also has a mild and sweet flavor when roasted that is delicious.
The peel does have a little bit of a chewy texture after being roasted, but it adds a nice texture to dishes in my opinion. If you aren't a fan of the skin, you can certainly make the extra effort to peel it. I highly recommend trying it with the peel at least once though.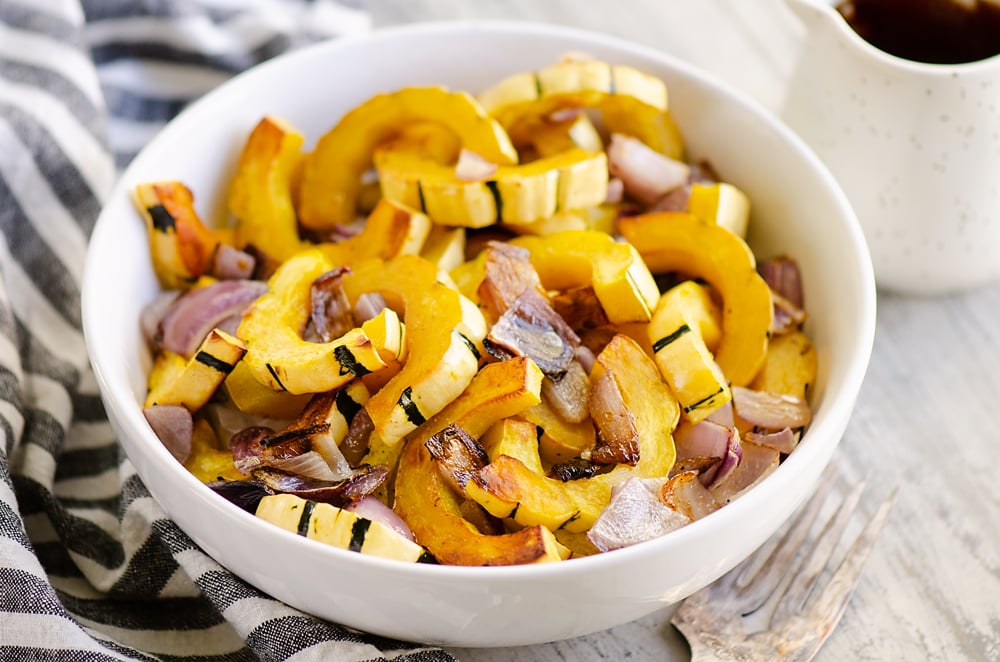 Heathy Winter Squash Side Dish
This Crispy Sage Roasted Delicata Squash is one of my new favorite ways to whip up a quick and healthy side dish. It comes together onto the dinner table in only 30 minutes.
I am beginning to think about what I will be bringing to Thanksgiving dinner with the family. I always like to bring something a little lighter to balance out the potatoes, gravy and pumpkin cheesecake.
I've got a whole roundup of healthy holiday side dishes to choose from, but this squash and cripsy sage dish will be a front runner this year.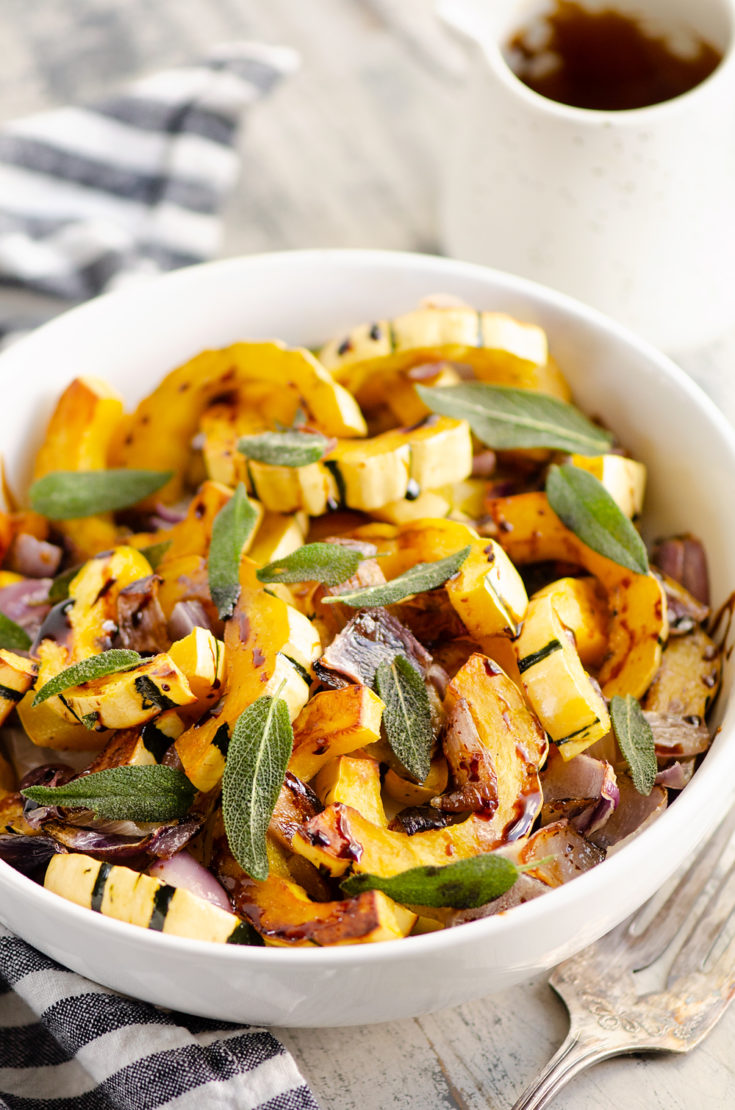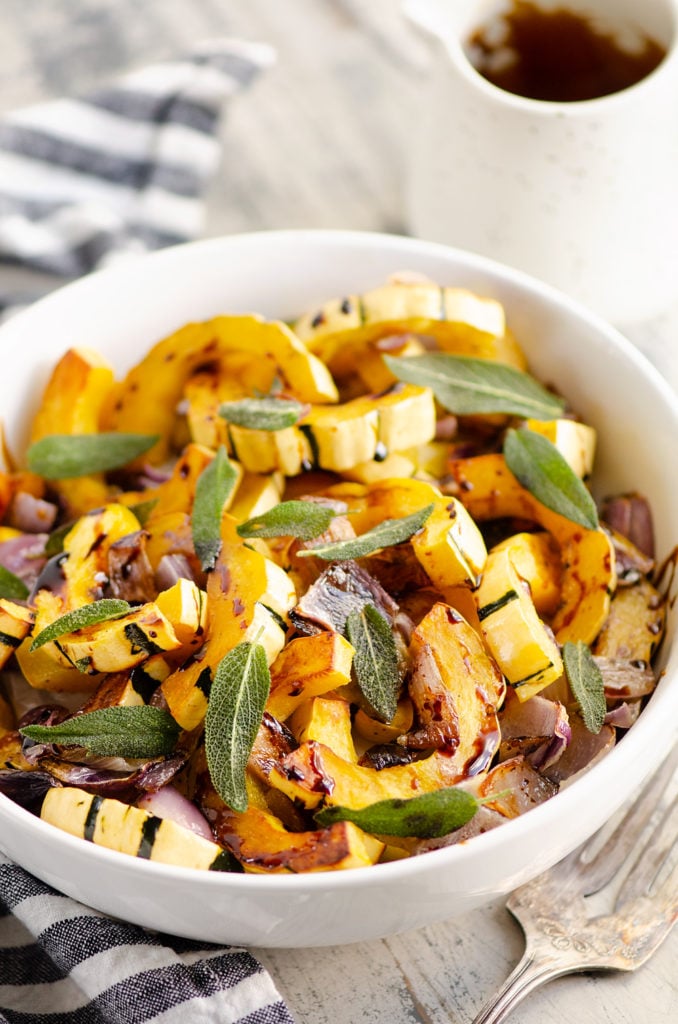 My toddlers are in the stage of being hesitant to try any new vegetables. My son looks at most vegetables now and says "I don't like that". It's incredibly frustrating, so when I can find a recipe that they will willingly eat, it's a major win.
The balsamic glaze sold them on this squash recipe. They were asking for more and dipping everything on their plate in the sweet sauce, including the chicken and squash.
For a healthier side, you can forgo the balsamic glaze, but it really is what puts this simple 4 ingredient side dish over the top!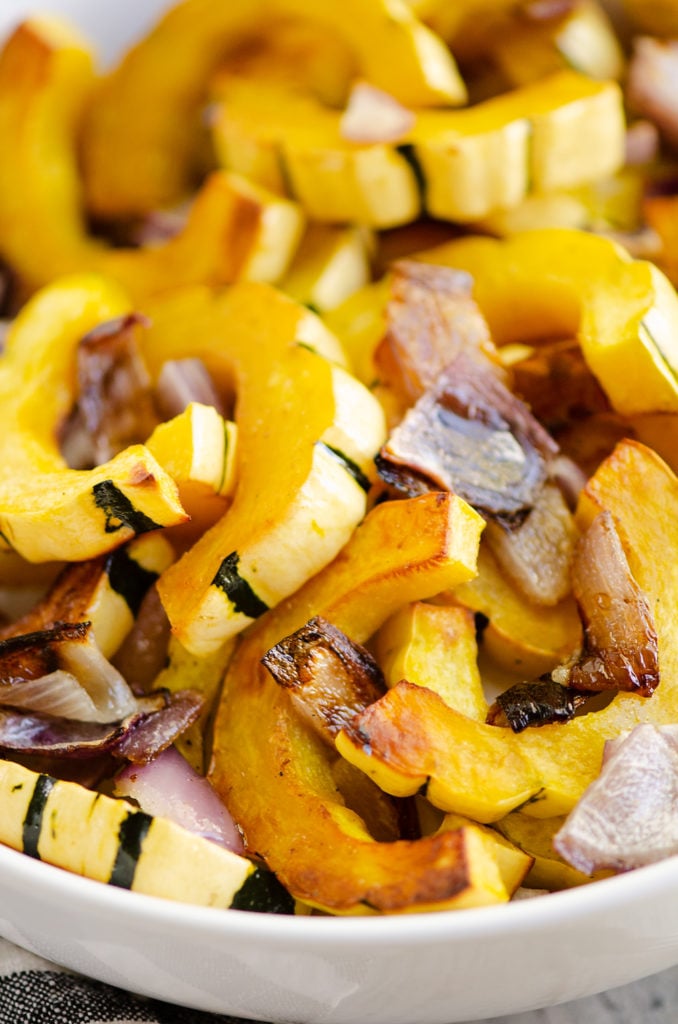 Delicata squash prep
Before you start cutting your Delicata squash, be sure to wash it well. This is more important than usual seeing we will be eating the peel on this Delicata squash.
Trim the ends off of the squash and cut in half lengthwise. Using a large spoon, scoop out the seeds and stringy flesh from the center.
How to cook Delicata squash
Slice the prepped and halved squash into 1/2 inch thick slices. Place the squash on a sheet pan along with roughly chopped red onions.
Drizzle the vegetables with olive oil and sprinkle with salt and cracked black pepper. Toss until all of the squash is well coated. Bake at 425° for 20-25 minutes, or until the squash is fork tender.
Crispy fried sage leaves
I discovered the amazing thing that is fried sage leaves when I worked in the restaurant industry. Sage in and of itself has a nice earthy flavor, but isn't a fresh herb I naturally gravitate to.
When you flash fry it in oil, it crisps up the leaves into something spectacular that I can't get enough of! The sage leaves crumble apart onto each bite and compliment sweet squash particularly well.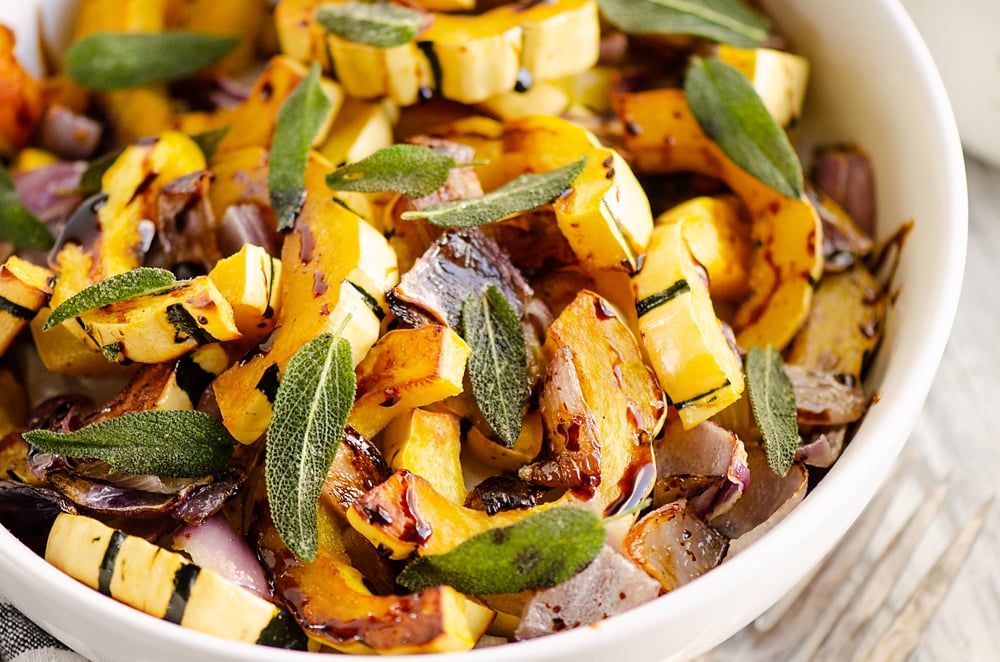 How to fry sage leaves
While the squash is baking, add a thin layer of olive oil to a sauté pan over medium-high heat.
To test whether the oil is ready, dip the end of a sage leaf in the oil. If it sizzles immediately, it is ready to cook. When the oil is hot, add the clean sage leaves to the pan, making sure to immerse them in oil.
Cook for 30 seconds, or until they have crisped up. Quickly remove the crispy sage leaves from the oil with tongs and place on a paper towel to dry.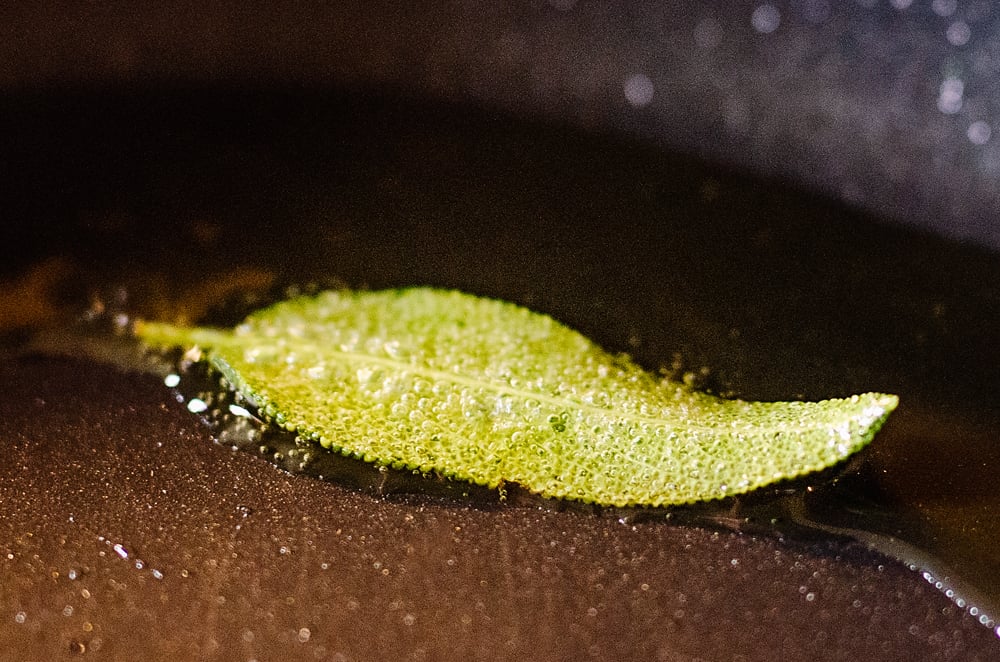 It works best to cook the sage leaves in small batches because they cook so quickly. It makes it easier to avoid overcooking them if you just do 4-5 at a time.
When the squash and onions are cooked and tender, remove them from the oven. Add the vegetables to a bowl and drizzle with balsamic reduction. If you don't want to smell up your kitchen by making it yourself you can easily buy balsamic glaze at the grocery store.
More Delicata Squash recipes!
If you have some Delicata squash in your next produce box or grab some at the farmers market and are looking for some unique ways to enjoy it, check out some more of these winter squash recipes!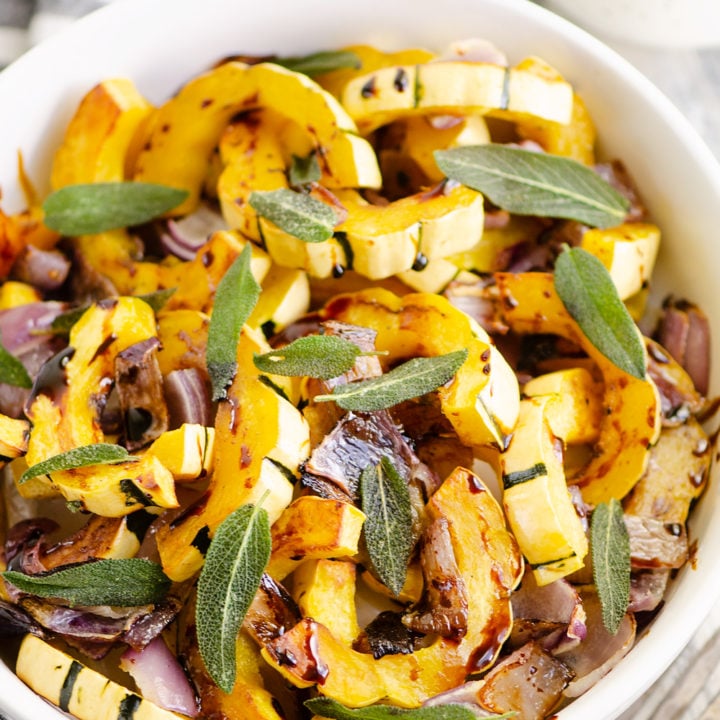 Crispy Sage Roasted Delicata Squash
Crispy Sage Roasted Delicata Squash is a flavorful recipe that makes a healthy holiday side dish or vegan meal bursting with amazing flavor!
Ingredients
Squash
1 medium Delicata squash
1 small red onion
1 Tbsp. olive oil
salt and pepper
Crispy Sage Leaves
olive oil
1/4 c. sage leaves
Instructions
Preheat oven to 425°.
Prepare the squash by cleaning it and trimming the ends. Slice the squash in half lengthwise and scoop out the seeds using a spoon. Cut the prepped squash into 1/2 inch thick slices.
Peel and chop the onion into 1 inch pieces.
Add the squash and onions to a sheet pan and drizzle with olive oil and sprinkle with salt and pepper. Toss until all the squash is coated.
Roast the squash at 425° for 20 minutes, or until it is fork tender.
Meanwhile, heat a thin layer of olive oil in a sauté pan over medium-high heat. Dip the tip of a sage leaf into the oil and if it sizzles, it is ready to fry the sage leaves.
Add the sage leaves in small batches to the oil and cook for 30 seconds until they are crisped. Remove the leaves from the oil with a kitchen tong onto a paper towel. Repeat until all the sage leaves are fried.
When the squash is roasted, remove from the oven and add to a bowl. Drizzle with balsamic glaze and top with crispy sage leaves. Enjoy!
Notes
It works better to crisp the sage leaves in a few batches so you don't accidently burn them, as they cook quickly.
Recommended Products
As an Amazon Associate and member of other affiliate programs, I earn from qualifying purchases.
Nutrition Information:
Yield:

4
Serving Size:

1
Amount Per Serving:
Calories:

46
Total Fat:

0g
Saturated Fat:

0g
Trans Fat:

0g
Unsaturated Fat:

0g
Cholesterol:

0mg
Sodium:

4mg
Carbohydrates:

11g
Fiber:

2g
Sugar:

7g
Protein:

1g
Provided nutrition data is only an estimate. If you are tracking these nutrients for medical purposes, please consult an outside, trusted source.