Roasted Dijon & Dill Potatoes are a fantastic side dish with crispy potatoes loaded with flavorful Dijon mustard and fresh Dill.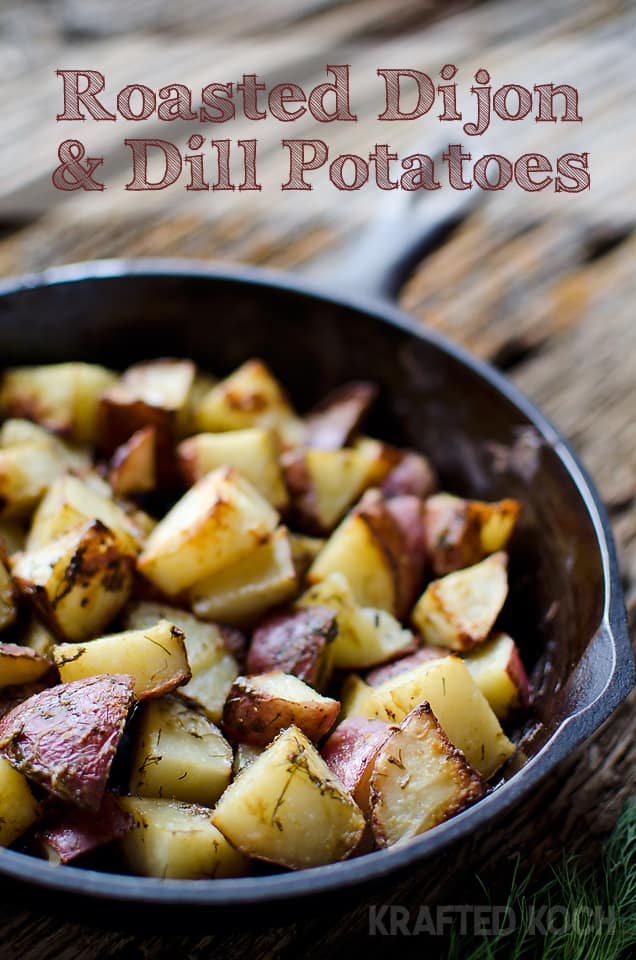 Do you ever go through a phase, where you think you just have the worst luck ever? That has been me over the past couple of weeks. Well, me and technology that is. I dropped my smartphone flat on it's face while running errands the other day, and it shattered and went black. Done, dead, finito! 🙁 I looked online to see what a replacement would cost…umm ya, $500! RIDICULOUS! I plugged in my old clunker and have been suffering ever since. #firstworldproblems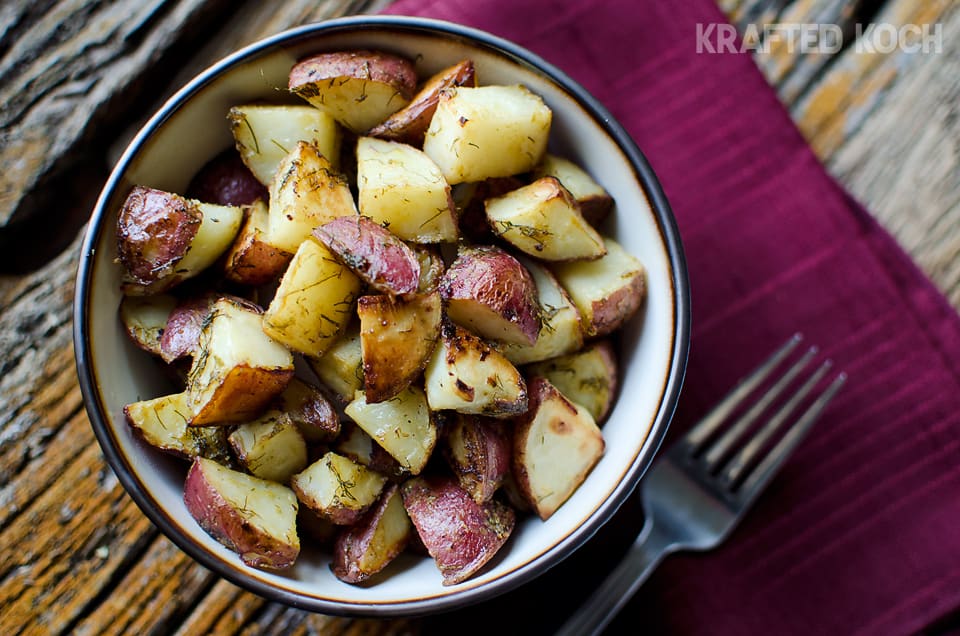 So this week, I went to save some things on my external hard-drive, and I accidentally dropped it off the top of my tower. I heard a clicking noise and before I knew it, it wouldn't even be recognized by my computer. Done, gone, finished! Thankfully in this instance, I JUST decided it would be smart to start backing things up online last week and invested in an upgrade to Google Drive where I stored all of my pictures, documents, etc. I hadn't backed up for a few days, so I lost a couple of things, but nothing earth shattering. Had I not had the epiphany to back up last week, I would have been a wreck with all the files that would have been lost.
And lastly, because they say things come in threes, I had a jump drive I was using to store an album design of all my vacation and family photos from the last year. I saw the idea on Pinterest somewhere to made a "yearbook" for your family each year with all of your important memories. I thought it was such a fantastic idea, that I would start one even know it is just Matt and I. Between our vacations, family events, sporting events, etc. there were LOTS of pages filled with beautifully laid out photos. I had spent close to 50 hours designing it just the way I wanted in Photoshop and was about ready to order it.
Well, you guessed it, that jump drive failed on me too! It isn't recognized on any computer that I plug it in to. Ugh! So seriously, please learn a valuable lesson from my foolishness, back up ALL of your digital files!!!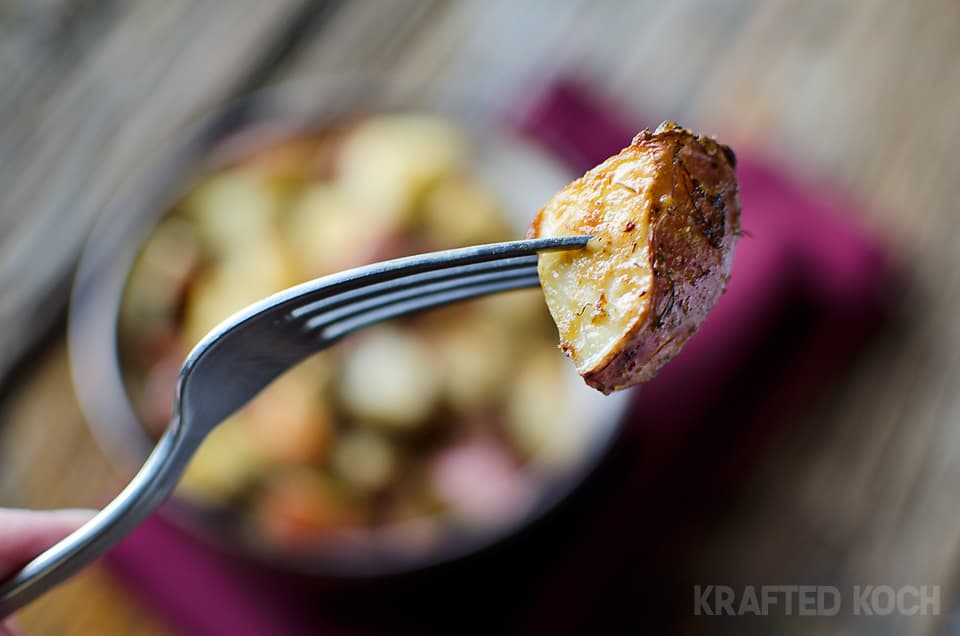 With all the technology failure, there is a glimmer of hope. I found a local shop in town that does phone screen repairs and data recovery. I dropped off my three failures today and am crossing my fingers that they work their magic!
With days like these, the last thing I feel like doing is going home and cooking up a complicated dinner. That is where something simple, like these Roasted Dijon & Dill Potatoes come in handy. Toss them together, pop them in the oven and serve with a couple of chicken breasts or fish fillets alongside some veggies for a perfectly easy weeknight dinner.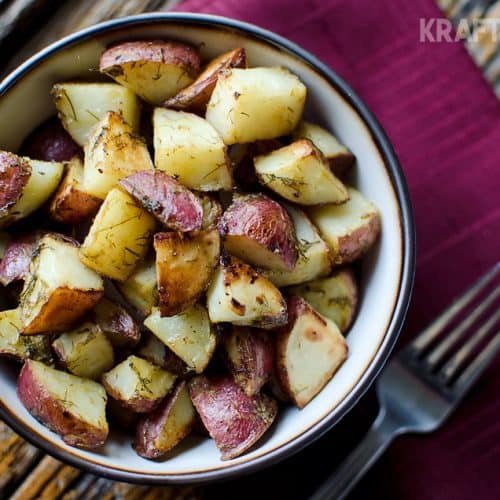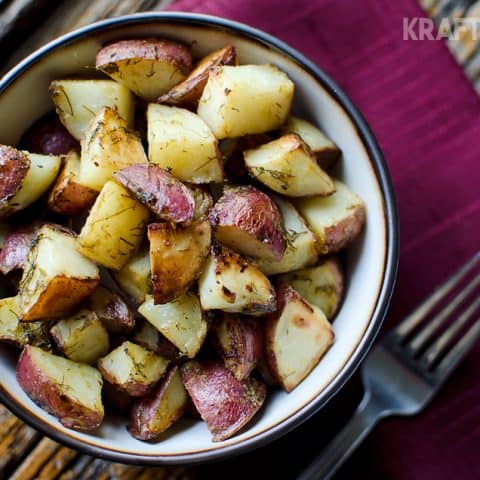 Roasted Dijon & Dill Potatoes
Roasted Dijon & Dill Potatoes are a fantastic side dish with crispy potatoes loaded with flavorful Dijon mustard and fresh Dill.
Ingredients
1 lb. red skin potatoes
1 Tbsp. olive oil
2 Tbsp. Dijon mustard
2 Tbsp. fresh dill, or 1 tsp dried
1 tsp. garlic powder
salt & pepper to taste
Instructions
Preheat your oven to 400° and coat a 9x13 pan with no-stick spray.
Scrub your potatoes and cut them into 1" pieces or smaller.
In a large bowl, combine the olive oil, Dijon, dill, garlic and salt & pepper. Toss in your potatoes and mix until they are well coated.
Toss the potatoes in your pan and bake for 50-65 minutes depending on your preference for crispy potatoes.
Recommended Products
As an Amazon Associate and member of other affiliate programs, I earn from qualifying purchases.
Nutrition Information:
Yield:

4
Serving Size:

4 -6
Amount Per Serving:
Calories:

138
Total Fat:

4g
Saturated Fat:

1g
Trans Fat:

0g
Unsaturated Fat:

3g
Cholesterol:

0mg
Sodium:

291mg
Carbohydrates:

23g
Fiber:

2g
Sugar:

2g
Protein:

3g
Provided nutrition data is only an estimate. If you are tracking these nutrients for medical purposes, please consult an outside, trusted source.
More great side dish recipes!