With so many options currently available, get my family's opinion on the Best Meal Kit Delivery Service in 2020 with real life reviews from a home cook.
Scroll down to see my reviews and rankings!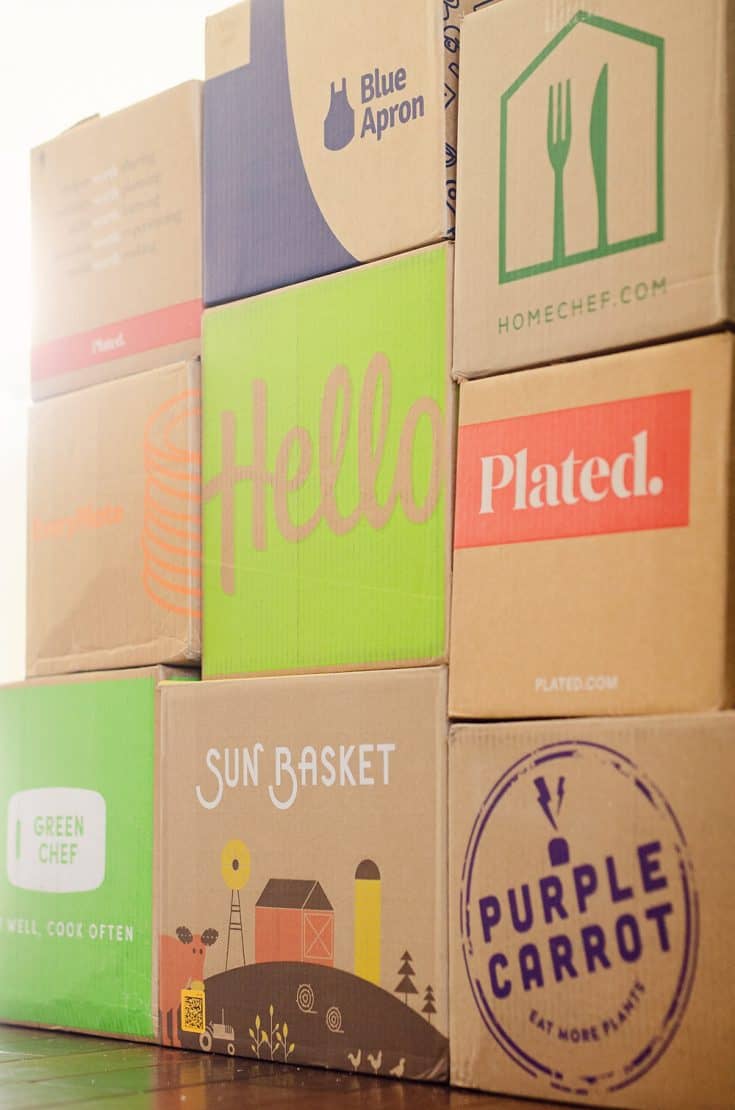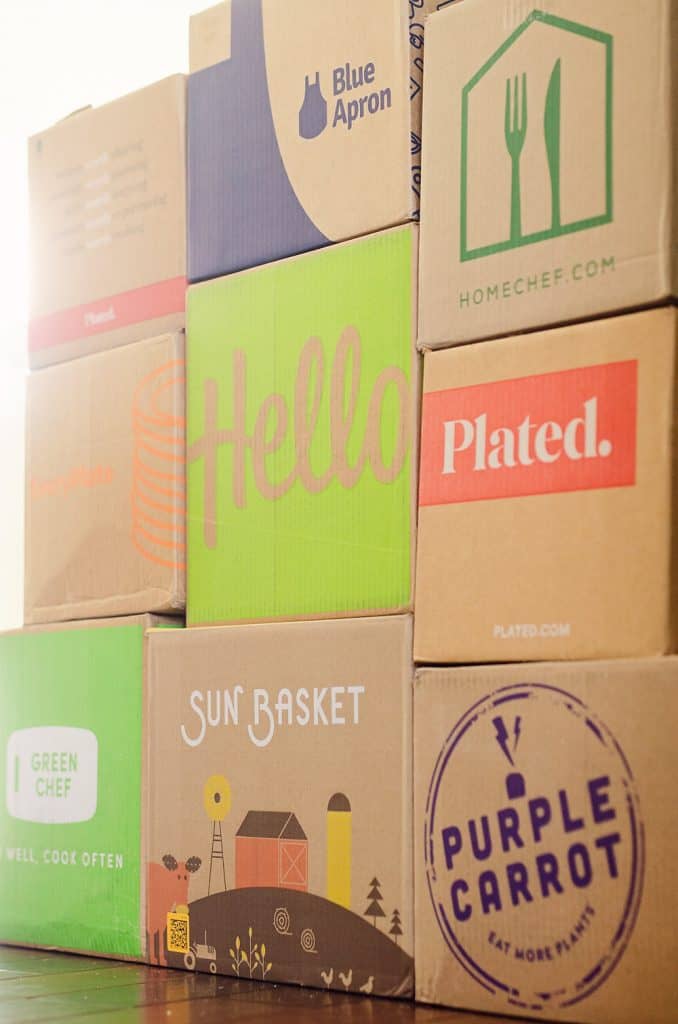 2019 Best Meal Delivery Services Reviewed
Check out my detailed reviews below for more information on each of the home delivery meal kits!

Best Meal Kit Delivery Kits – 2019 Reviews
I recently decided to try out some meal kit delivery services to make getting a healthy meal on the table quick and easy. It may sound crazy coming from a food blogger, but I am no different than all of you with children just trying to get a good meal cooked!
The idea of having fresh new recipe ideas ready to go without putting in all the legwork developing them every night is appealing to me. Some of them were so great, that I continued to make them again and again, like these Cuban Chicken Rice Bowls.
I was searching out my options for different meal delivery kits and looking for reviews on the variety of delivery options available now in 2019. I found a few reviews giving an analyses of the prices of each box but couldn't find anyone who had actually TRIED the recipes for themselves from more than one or two boxes.
That's when I decided to do the dirty work for you guys and try them out myself! Any by dirty work, I mean ordering lots of delicious recipe kits to cook up great meals for my family. 😉
These are real life reviews of me trying out all the meals from the delivery kits at dinner while wrangling two little kids. This isn't a technical test kitchen review where everything is made in a controlled environment. This review gives you the nitty gritty of what meal delivery kits work for real life families like my own.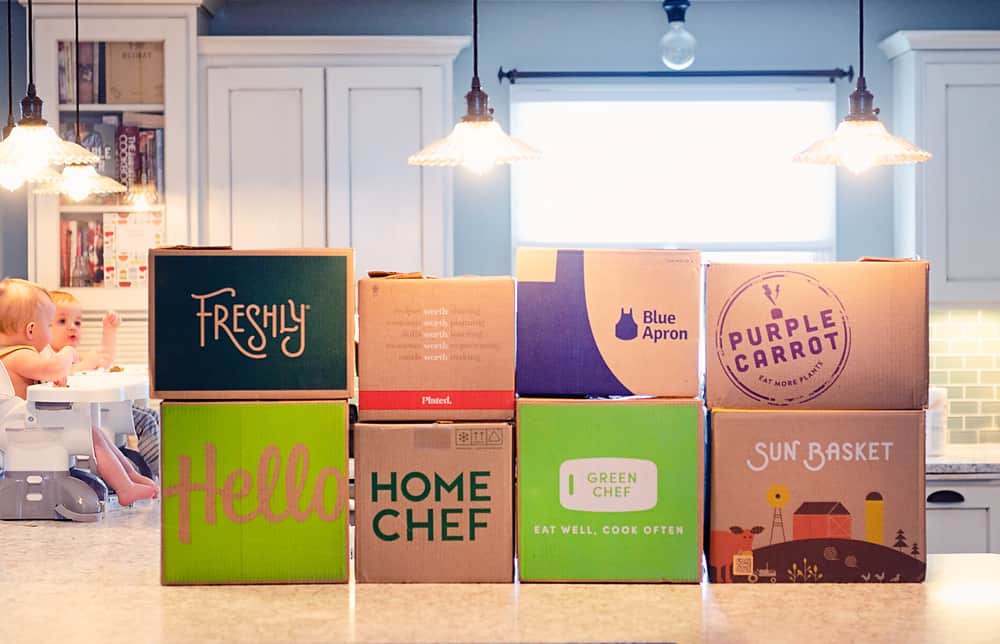 Meal Kit Delivery Service Prices
Meal subscriptions range in price and are typically between $10-13 per serving with the exception of one budget friendly option at $6.50 per serving. That means for a couple, you will usually be dropping $20-26 for dinner. My father objected to these prices by saying he could go out to eat for this price. While this may be true, there are reasons in my opinion to opt for meal kits.
Are meal subscriptions worth it?
For me personally, I enjoy cooking a hot meal for dinner, but when I grocery shop I usually over buy big time and end up with lots of waste. This results in me spending just as much money as the kits, not to mention the time and travel it takes to get to the grocery store.
The other reason I am a fan of these meal kit delivery services is because not only do good restaurants not exist within 20 miles of us, it's just not the same as staying in and enjoying a good meal in the comfort of your own home. When you have small children, going out to eat looses much of it's appeal.
Another great aspect of these meal kits is that the portion sizes are generous. We ordered the 2 person serving, but it was always enough for myself, my farmer husband with a big appetite and my two toddlers.
There are usually lots of great promo codes out there to try different subscriptions at a fraction of the price, which I encourage you to utilize. I have included lots of them below!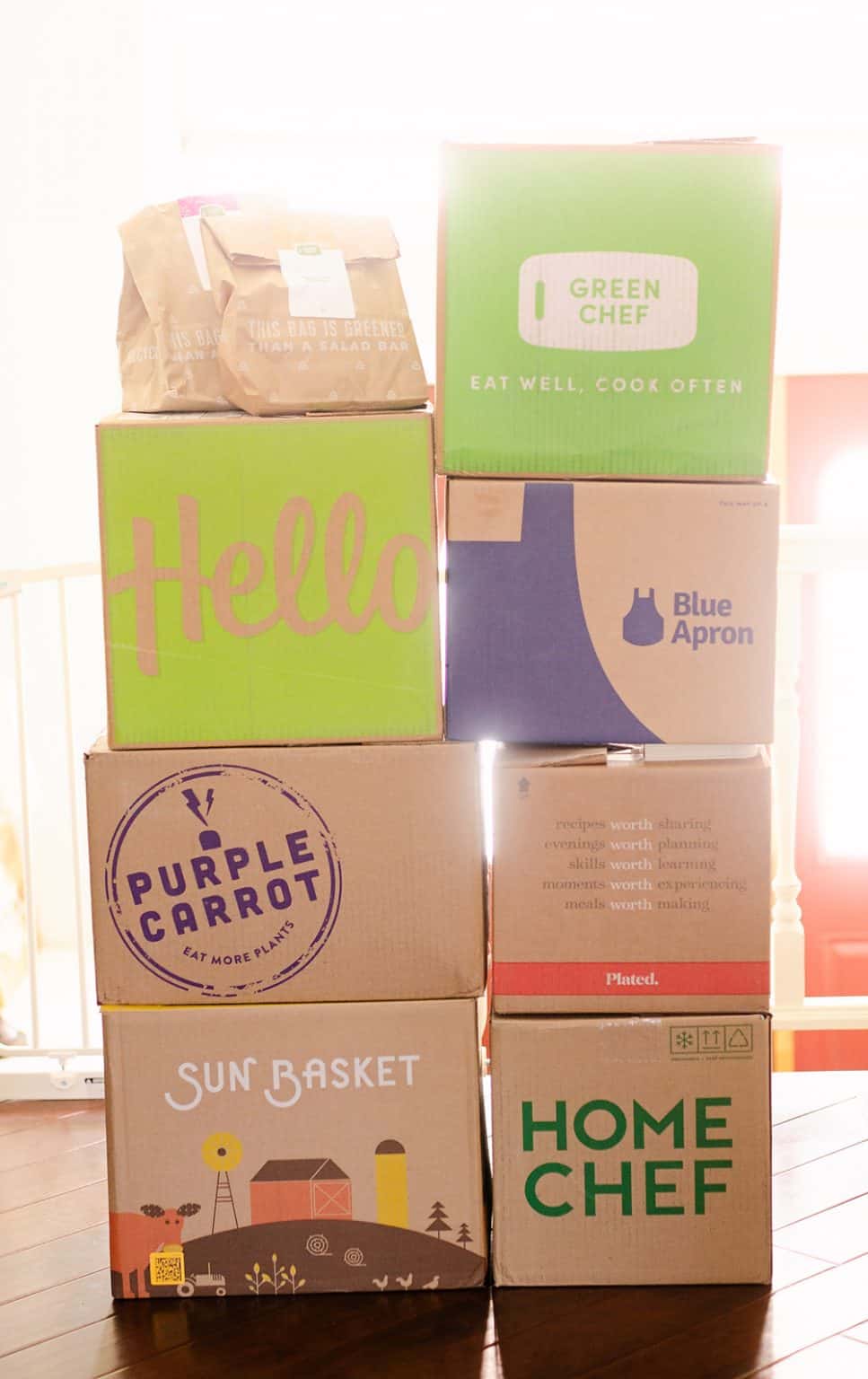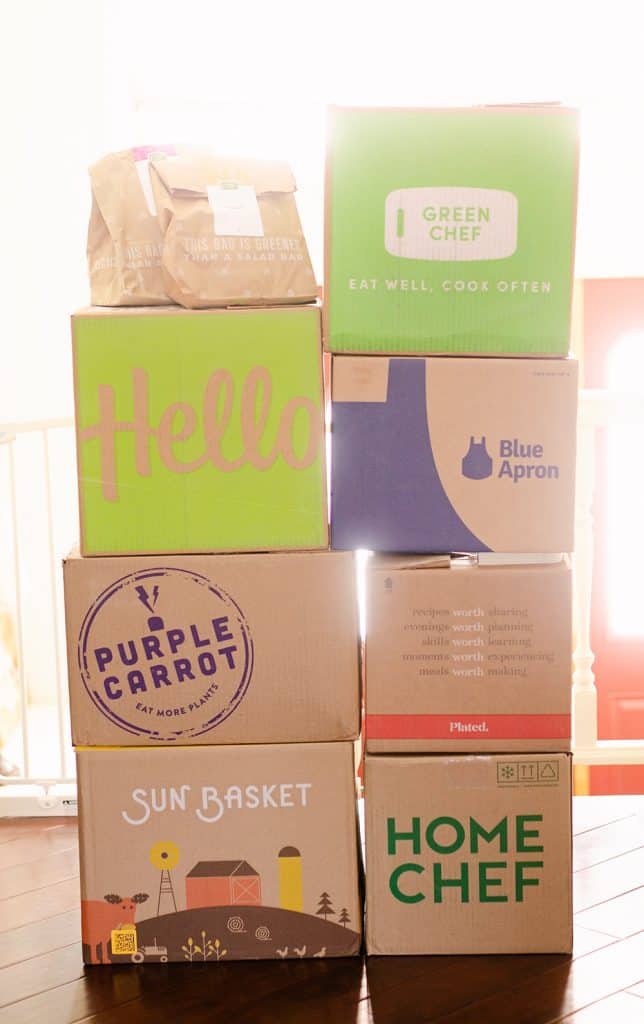 How Meal Kits Work
First things first, lets go over the different options out there right now! There are options ranging from healthy, gourmet, vegan and family-friendly. All of these meal kits have the same basic principals. You sign up for a weekly subscription service, but they let you opt out of deliveries any week you would like. If you don't like what is on the menu or you are going to be out of town, you can just go into their website or app and skip one week or a few weeks at the same time.
Most all of the kits come with lots of packaging waste which is a con with these services. Every single little ingredient like one green onion will come in it's own bag which seems wasteful. Most of the packaging is recyclable, so if that is something important to you, you can at least recycle most containers. Every Plate was the only service that packaged all of the produce in one box over ice packs and the meat for the least amount of waste. This is probably part of what allows them to have such a low price point compared to the other companies.
My Favorite Delivery Services
Let's break down the eight meal delivery kit service boxes that were available for shipping to my Midwest (Minnesota) address and who wins out as my favorite. When I refer to the price per serving of each kit, I am referencing the total cost of the meals per person including shipping. Some kits include free shipping, while others add on $5-$9, but I took the guess work out of it and just calculated the price per serving when ordering 3 meals per week for 2 people.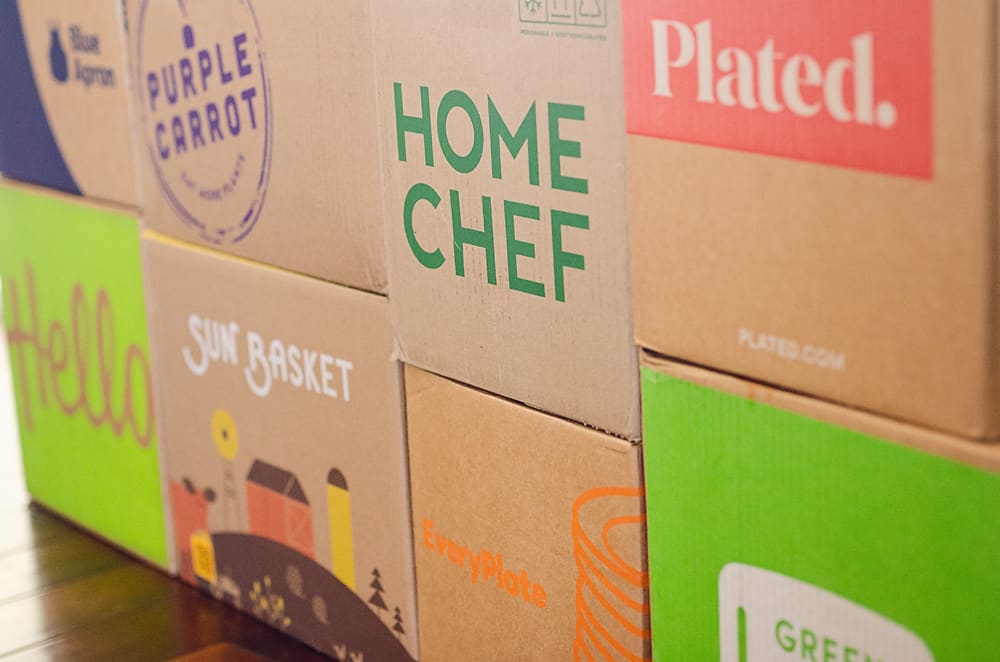 Be sure to check out my referral links with most of the meal delivery kits for a substantial discount off your first order for new customers. This is a great way to try out different boxes without a big financial investment. When you sign up for most of the boxes, you can then share your referral link with your friends to earn free meals!
Sun Basket Review
Sun Basket was one of the first results to pop up when I searched out healthy meal kit delivery services. They have lots of great reviews and their meal options are full of great variety and flavor. I actually enjoyed this one so much, I have ordered it on multiple occasions, trying everything from Pork mee goreng with fresh ramen and Chicken mole poblano tacos with cilantro-lime yogurt to Chipotle chilaquiles with black beans and fried eggs.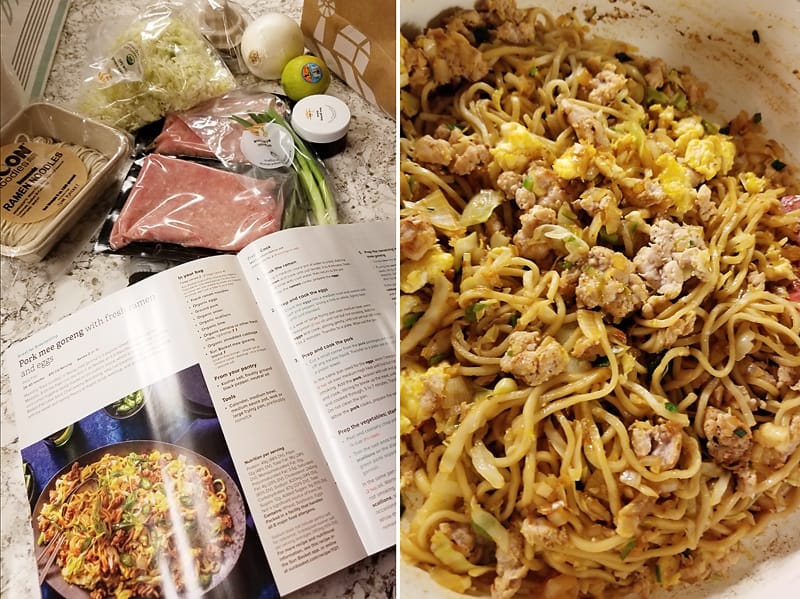 Despite those recipes sounding exotic and difficult, I actually found Sun Basket to have some of the quickest and easiest meals to prepare. Their food was one of my favorites but their prices are a little on the higher side at over $13 per serving with shipping.
Try Sun Bakset and get $40 off your first new order by clicking HERE using code Danielle2085939
Sun Basket Meal Delivery Subscription Service Rated
Value – 1/5
Highest price per serving of all subscriptions.
Recipe Selection – 5/5
Lots of great healthy recipes that looked very appealing and tasted great.
Ease of Recipes – 5/5
I found SunBasket to have the easiest to prepare meals without sacrificing any flavor.
Taste of Recipes – 4/5
Everything I made was delicious.
TOTAL SCORE – 3.75/5
Hello Fresh Review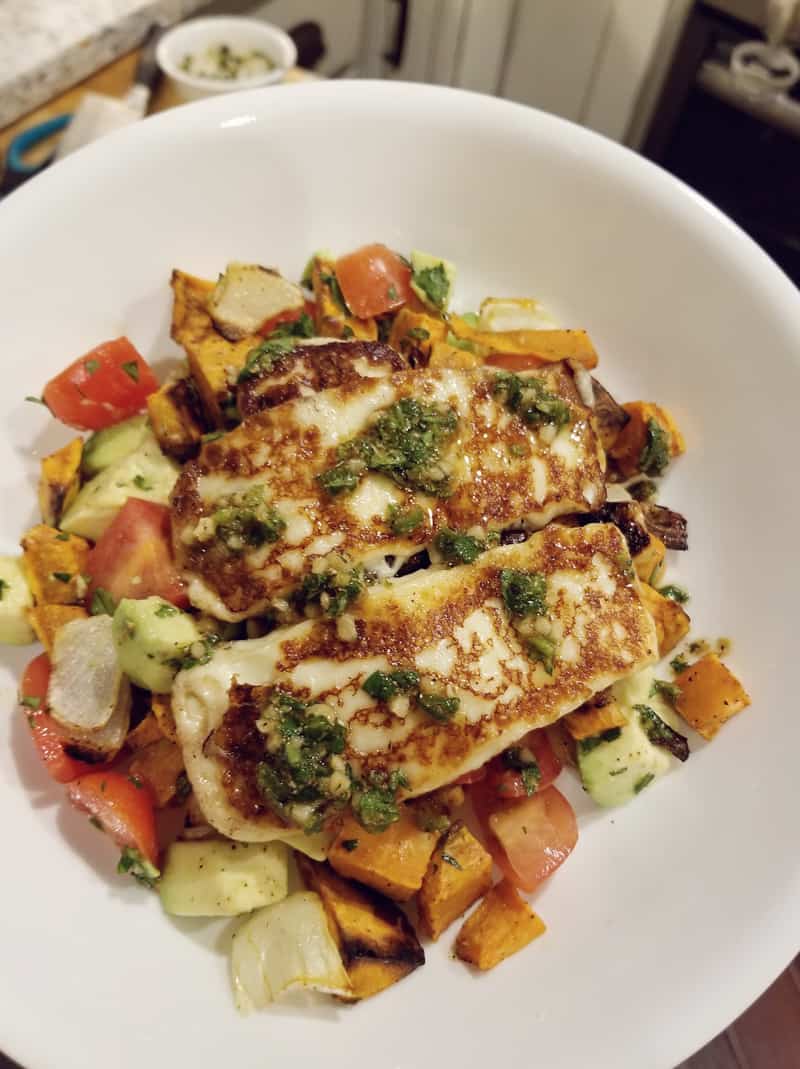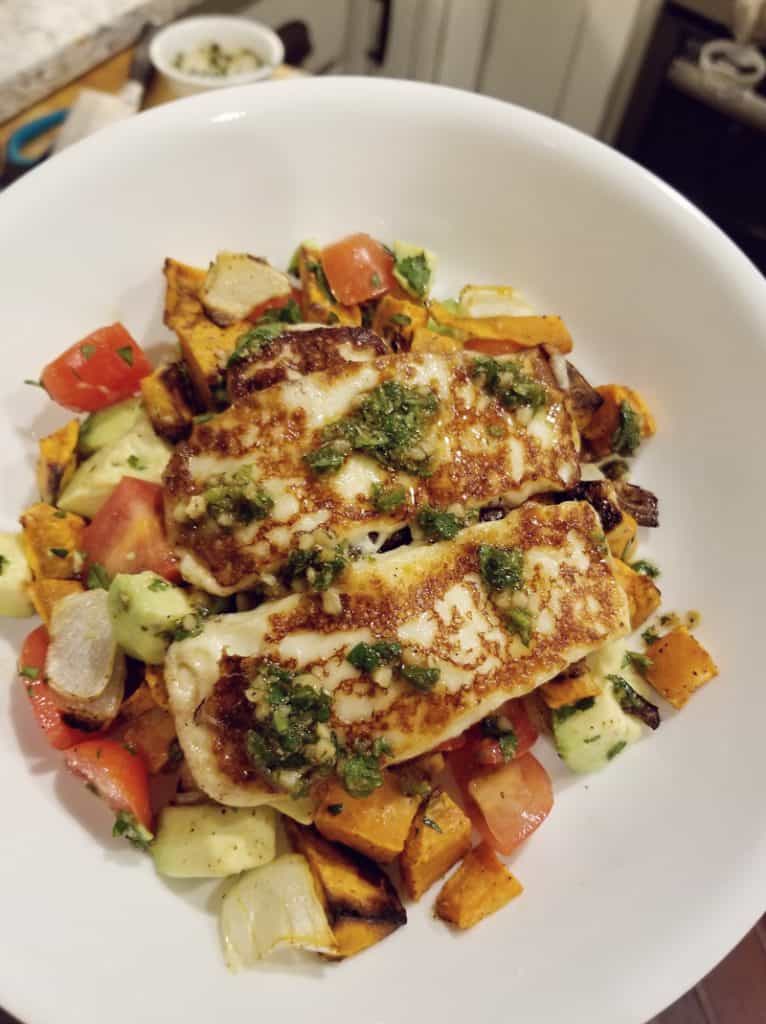 Hello Fresh is a meal kit delivery service that I had tried in years past and most of you have probably seen floating around the web. They are one of the most popular options with lots of healthy recipes.
This is likely what allows them to sport one of the lower prices in the industry at roughly $10 per serving. From Korean Beef Bibimbap and Southwest Spiced Steak to my surprising favorite, Grilled Cheese & Veggie Jumble, they offer lots of great variety. When a company can surprise me with a delicious vegetarian meal, they are doing something right in my opinion!
Most of the Hello Fresh recipes are pretty low maintenance and usually require less than 30 minutes to prepare. This is a must for me personally with two small children to tend to while trying to get dinner on the table!
Be sure to check out my full Hello Fresh Review!
Try Hello Fresh and get $40 off your first new order by clicking HERE and using code ELLEANAP!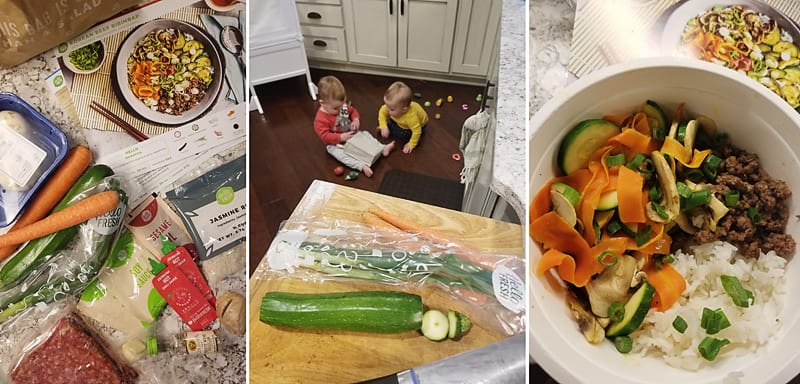 Hello Fresh Meal Delivery Subscription Service Rated
Value – 3/5
This was one of the best value out of all of the healthier delivery kits.
Recipe Selection – 5/5
I could always find at least three recipes each week that I was excited to try. Lots of great healthy options as well.
Ease of Recipes – 4/5
Most recipes are quick and easy.
Taste of Recipes – 4/5
I have enjoyed all of my Hello Fresh recipes that I have tried so far.
TOTAL SCORE – 4 /5
Green Chef Review
Green Chef is a subscription I hadn't heard about until I started researching meal delivery kits in depth. I found that this box had the most healthy options. They have a variety of recipe selections that cater to different diets such as Keto, Paleo, Mediterranean, Low Fat, Gluten-Free, Low Calorie and Vegan. If you are following a specific diet, this kit is probably for you.
For me personally, while I did appreciate all the super healthy meals, that also meant that they were lacking a little bit in the flavor department. This is a natural cause and effect when it comes to dieting, so it is to be expected. The meals were still good, but nothing to write home about. In my first box, I ordered Chicken Katsu Sandwich, Hawaij Rubbed Steaks and Roasted Garlic Herb Chicken.
Another downside of this particular company is that they don't have an app set up yet. This means I have to log on to my laptop to skip any weeks I don't want delivered instead of conveniently managing it from my smartphone like most other companies allow.
For 4 free meals (up to a $51 value) on your first order, click HERE!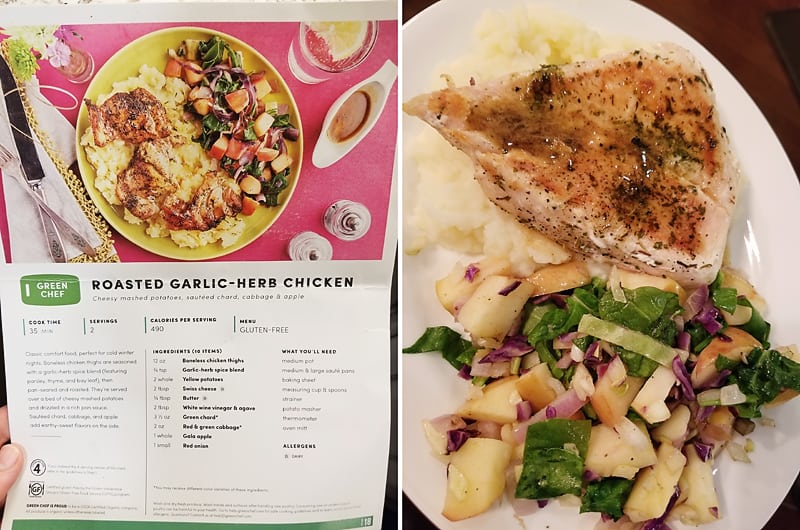 Green Chef Meal Delivery Subscription Service Rated
Value – 1/5
This was one of the most expensive meal kits with serving prices reaching almost $13.
Recipe Selection – 3/5
They have a very large selection of recipes, but not very many that excited me.
Ease of Recipes – 3/5
The recipes required a little more time and effort than some of the other kits.
Taste of Recipes – 3/5
The taste of the recipes were good for the most part, but nothing to write home about.
TOTAL SCORE – 2.5/5
Plated Review
UPDATE: Plated no longer sells meal kits shipped to your door. They changed their business model to only sell their meal kits in stores.
Plated is the OG of meal delivery kits and does a great job of it in my opinion. They have some more gourmet options of all the meal delivery kits, with meals like Korean Beef and Rice Bowls and Browned Butter Orecchiette on regular rotation. They aren't the most expensive option out there, but at $12 per serving they aren't cheap either.
They now offer dessert options and the few I have tried are absolutely delicious! The dark chocolate dutch baby was drool worthy and I ended up making it again on my own a few more times with the recipe.
If you are looking for healthy recipes, this probably isn't the box for you. They do have some great meals that are on the healthier side, but many of their recipes are well over 900 calories. With that said, of course my husband enjoyed some of the richer meals in this kit! HAHA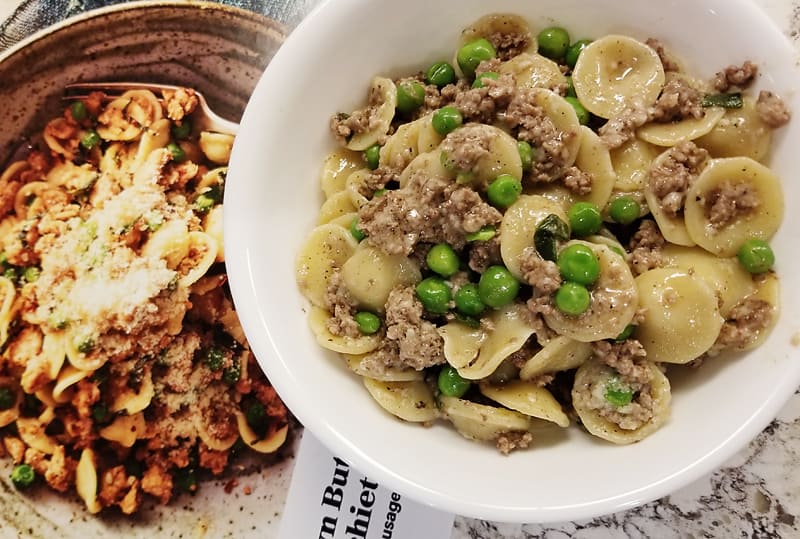 Plated Meal Delivery Subscription Service Rated
Value – 2/5
At $12 per serving, they are a little bit spendier than other options in this space.
Recipe Selection – 5/5
This meal delivery kit has some of the most enticing recipes in my opinion.
Ease of Recipes – 3/5
The recipes are surprisingly easy for what they are. They manage to bring great flavors to meals without them being overly complicated.
Taste of Recipes – 5/5
Loved every last one of these recipes!
TOTAL SCORE – 3.75/5
Gobble Review
Gobble offers healthy and gourmet meal kits with lots of shortcuts for easy 15 minute meals. They definetly differentiate themselves from many of the other meal kits wiht lots of pre-made sauces, pre-cooked grains, spice blends and pre-chopped vegetables.
In 2020 they are now available to most of the continental U.S. They are on the more expensive side for meal kits, but this makes sense with how many of the ingredients are already prepped.
Be sure to check out my full Gobble Review.
Gobble Meal Delivery Subscription Service Rated
Value – 2/5
At a little over $13 per serving, they are spendier than other options in this space, but it's more justifiable with so many prepped ingredients.
Recipe Selection – 5/5
This meal delivery kit offers a wide variety of flavors and cuisines. There is rarely a week where I'm not very excited to pick three recipes.
Ease of Recipes – 5/5
The recipes are by far the easiest and quickest to prepare.
Taste of Recipes – 5/5
All of the recipes and pre-made soups, cookies, etc. were fantastic!
TOTAL SCORE – 4.25/5
To get your first new order with Gobble for only $36 click HERE!
EveryPlate Review
EveryPlate is the budget and family friendly meal delivery service new on the scene. If you are looking for quick and simple recipes with no fuss, this is the subscription for you. They manage to reach a much lower price point than any other meal delivery kit service, at only $6.50 per serving by offering only a few simple options.
EveryPlate recently increased their recipe selection to 7 recipes to choose from each week as well as one premium recipe upgrade. This means that your choices are a little more limited than other kits, but you are getting easy meal kits on the table at a fraction of the price of other companies.
My first box from Every Plate included Steak Fajita Bowls, Linguini Italiano and French Onion Chicken Breasts. This company is a little different in their delivery method. Instead of packaging up each individual ingredient and then sorting them into bags for each recipe and shipping them all organized, they ship all the produce and ingredients loose in one little box packed over ice packs and the meat.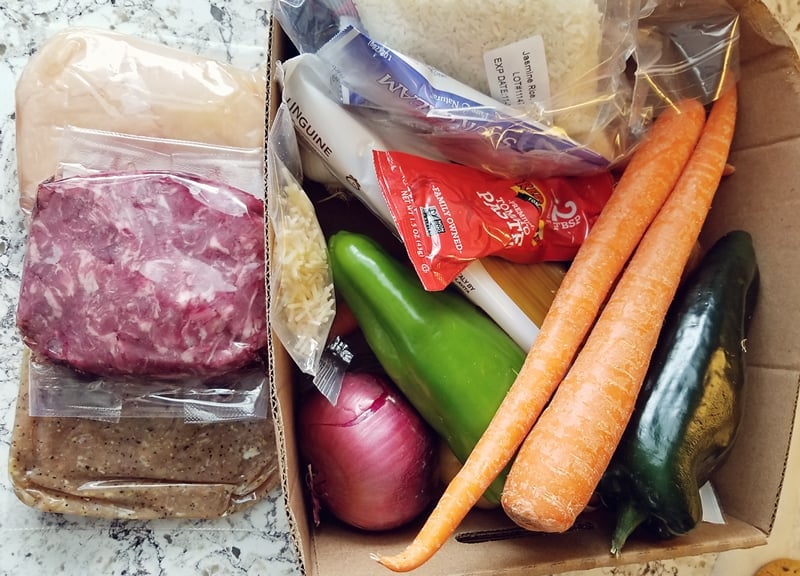 While this requires you to take a few extra seconds to grab what you need from the box for your recipe, it drastically cuts down on packaging waste which is a plus in my book.
I was disappointed that Every Plate doesn't have an app yet for their service. I just really love the companies who have apps so I can manage my subscriptions from my phone. Hopefully seeing they are a newer company, this is something that will be coming in the near future.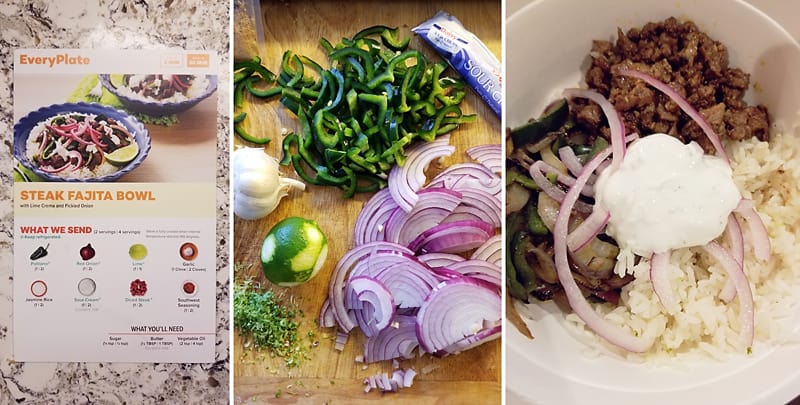 Another benefit of this delivery service that I enjoyed was that the meat came pre-cut for recipes that required it. For example, the steak fajita and Chimichurri Steak bowls came with a package of pre-chopped steak. This allows them to cut costs I'm sure, because they are likely using end trimmings from meat, but it also just makes my life easier at the end of the day.
To get $20 off your first new order with Every Plate click HERE and use code DANIEL326 (Over 50% off!)

EveryPlate Meal Delivery Subscription Service Rated
Value – 5/5
This is by far the most affordable option at $6.50 per serving shipped.
Recipe Selection – 2/5
There is a very limited recipe selection with this box but they are all pretty down to earth recipes most people will enjoy.
Ease of Recipes – 4/5
Because these are simple family friendly recipes, there is nothing too complicated about preparing them and some of the meats were already pre-chopped.
Taste of Recipes – 3/5
I didn't have high expectations with these recipes as they are more basic meals, but they certainly taste good. My husband was the biggest fan of this box because it had the most simplistic recipes that are family friendly.
TOTAL SCORE – 3.5/5
Home Chef Review
Home Chef was another meal delivery kit that wasn't on my radar before researching my options. To my surprise, they came in costing less than some of the more familiar meal delivery kits, at $10 per serving. When I was looking over their menu options, some of them sounded really good, but rarely were their three recipes each week that got me super excited.
Home Chef tends to have a good selection of family friendly recipes as well as healthy options. For my first box from Home Chef, I ordered Prosciutto, Apple, and Cheddar Sandwich, Arroz con Pollo with Chicken Thighs and Tilapia Fish and Chips.
I had high hopes for the sandwich, but it was a real bust. The bread was dry and the flavors just didn't balance out well. The Fish and Chips on the other hand was absolutely delicious!
Try Home Chef get $30 off your first new order by clicking HERE!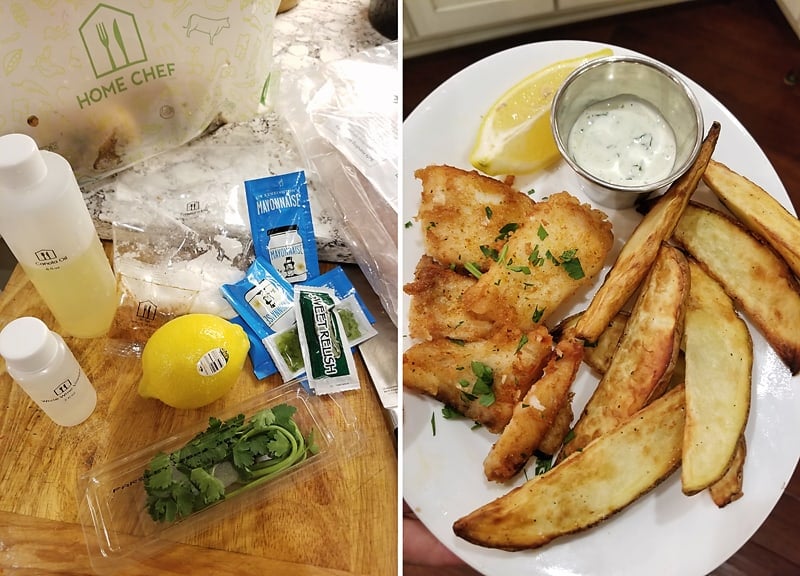 Home Chef Meal Delivery Subscription Service Rated
Value – 3/5
This was one of the best value out of all of the healthier delivery kits.
Recipe Selection – 4/5
They have a good balance of family-friendly meals and healthy recipes to choose from.
Ease of Recipes – 4/5
The recipes were straight forward and easy to execute.
Taste of Recipes – 3/5
I had a real hit and miss both in the same box, so it is a toss up.
TOTAL SCORE – 3.5/5
Blue Apron Review
Blue Apron Meal Delivery Kits have been floating around social media for a long time, promoted by influencers, but I have never given them a try. Their recipe selection has never appealed to me quite as much as some of the other boxes.
For my first box from Blue Apron I ordered Calabrian Shrimp & Orzo, Spicy Vegetable Quesadillas and Greek-Style Feta Burgers. Everything in this box actually tasted great and the only thing that went uneaten was the roasted broccoli that was a side dish to the quesadillas. We put it to good use hiding it in the kids egg muffins though. 😉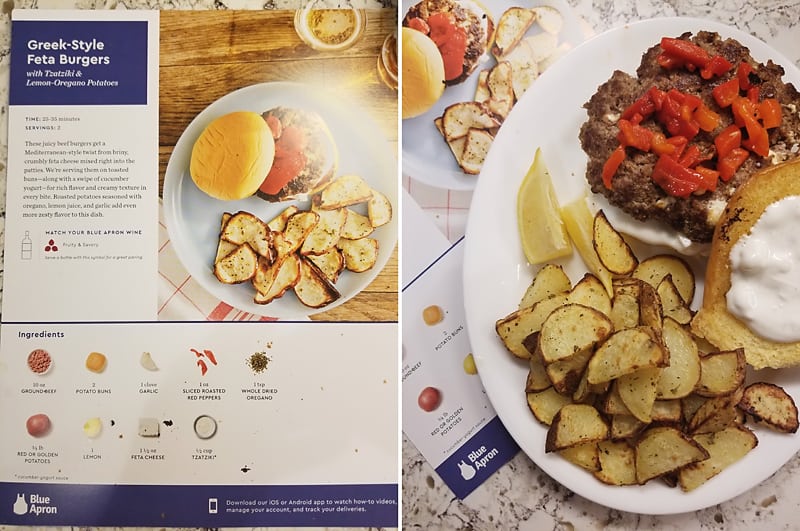 More recently I discovered that Blue Apron also offers meal prep boxes that I have been insanely impressed with. You receive a box with four meals for two people. They come in Signature, Multi-Cooker, Pescatarian or Carb Concious options to appeal to a variety of diets.
You do all the cooking ahead of time, which takes about an hour, and you have four great meals prepped for the week. You just have to add the included sauce and toppings like nuts when you serve them.
The meal prep boxes usually include two different proteins as well as two different starches. They mix and match these options wiht different sauces to offer a good variety without tons of work meal prepping. This is the main way I order from Blue Apron now that they offer this option!
The upside to this subscription is that there were quite a few recipes that my husband was on board with eating that were relatively healthy. He is a far less adventurous eater than myself, so this box struck a nice balance for the both of us. With each serving ringing up at $10 per serving, it was one of the lower priced options for the healthier meal delivery kits.
Check out my comprehensive Blue Apron Review for a detailed look at all the meals in this home delivery meal kit.
Try Blue Apron and get $30 off your first new order by clicking HERE!
Blue Apron Meal Delivery Subscription Service Rated
Value – 3/5
This was one of the best value out of all of the healthier delivery kits.
Recipe Selection – 4/5
Their recipe selection didn't excite me all that much, but there were lots of good options my husband would enjoy.
UPDATED: I increased the score to a 4/5 now that they offer more meals AND the meal prep box options.
Ease of Recipes – 4/5
All of the recipes were easy to make in a reasonable amount of time.
Taste of Recipes – 4/5
Everything we made tasted delicious. The vegetable quesadilla was surprisingly flavorful and a favorite of both my husband and I who are typical meat eaters.
TOTAL SCORE – 3.75/5
Purple Carrot Review
Purple Carrot is a vegan meal delivery service that offers six vegan recipes to choose from each week. By no stretch of the imagination am I a vegan, but I wanted to give this box a shot. It was only fair to review it with the other delivery services for a full picture. I actually had moderately high hopes for the recipes based on their descriptions, but was a bit disappointed.
I ordered Chinese New Year Dumplings, Winter Chowder and Japanese Gnocci my first box. The Dumplings and Chowder weren't all that bad and definitely edible. They weren't something I would ever make again though. The Japanese Gnocci was the big disappointment for me. It looks SO good but the flavors just didn't come together for me. I tried a few bites and the rest went to the dog.
Another downside to this subscription box is that it doesn't have an app. I just think any company worth it's salt these days needs an app to accommodate their customers hectic lives.
I'm not sure how it happened, but despite thinking I skipped all of the weeks after my first box they ended up sending me a second box….and charging me $72. This stung because that was money out the window for me. The recipes they sent looked awful and I wasn't about to waste my time trying them. I collected all the produce from the box and it made me feel like this box is a very poor value. Not only is it one of the highest priced boxes at $12 per serving, there is no meat or dairy included. Those are the most expensive groceries from a typical meal!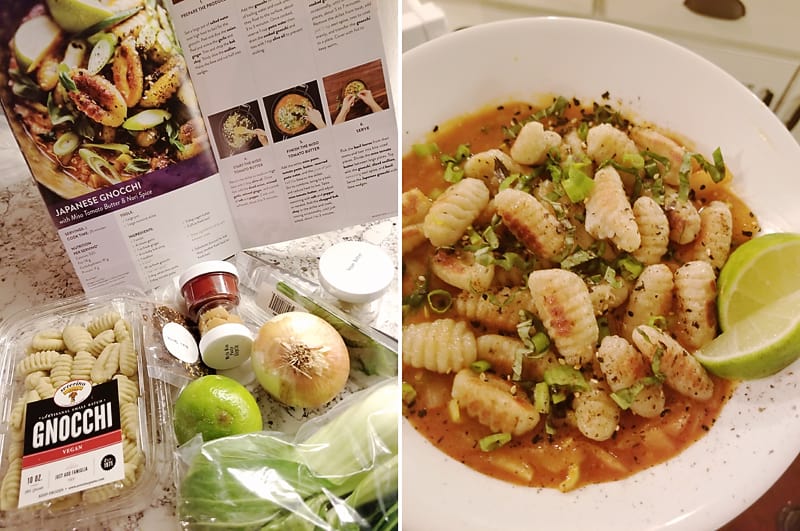 If you are a vegan looking to try out one of these delivery services, I would check out Green Chef. If you are inclined to try Purple Carrot, use Code NEWCARROT for $20 off your first order.
Purple Carrot Meal Delivery Subscription Service Rated
Value – 1/5
Very expensive for a bunch of vegetables!
Recipe Selection – 2/5
They offer the most vegan recipe options of any box with 6 recipes total.
Ease of Recipes – 3/5
The recipes were a bit more complex and time consuming than some of the other boxes.
Taste of Recipes – 2/5
The flavors were mediocre at best.
TOTAL SCORE – 2/5
Freshly Review
Freshly is a meal delivery service unlike all the others I mentioned above. I will admit that I ordered from this company mistakenly. I thought it was a recipe meal kit, but it turns out that they actually delivery freshly prepared meals. When I opened the box I was confused but happily surprised as well.
Freshly offers 30 meals to choose from and ship out fresh and healthy meals to your door that you just need to microwave for 3 minutes. I enjoyed the Turkey Meatballs and Spaghetti as well as the Penne Bolognese in my first delivery. In subsequent deliveries I chose to be a little bit more adventurous in my selections and it paid off.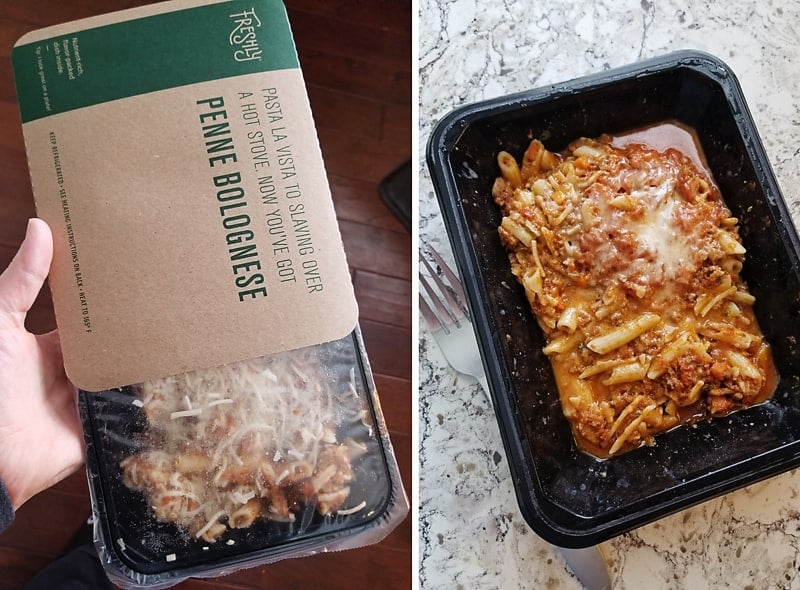 Freshly comes in at $10 per serving and I was torn how to feel about that. On one hand you could argue that you are paying for someone to do all the prep work. On the other hand, they aren't having to package all the small ingredients and develop new recipes each week.
I am torn no longer and have Freshly scheduled to deliver six meals every two weeks. Not only do I enjoy the quick and convenient meals, my kids and husband have really liked them as well. My toddlers devoured the Southwest Chicken Bowl with quinoa, black beans, brown rice and a Cilantro-Lime Vinaigrette. My husband stole my Chicken Cacciatore and told me to order more. I have really like them all, including the Hot Chicken Bowl with veggies, quinoa and a spicy buffalo sauce.

I just need to put this in perspective for a minute. Most of these meals are a hearty serving under 500 calories and my three picky eaters are loving them. Take all my money Freshly!!! Haha!
I think it would also make a fantastic option to ship to family or friends as a gift. Perhaps for someone who just welcomed a new baby or elderly parent who aren't cooking wholesome meals for themselves.
Try Freshly and get 30% off your first order by clicking HERE!
Factor 75 Review
After trying out Freshly, I decided to look for other prepared meal delivery service options. One that had a menu that really stood out to me was Factor 75. They seem to focus more on low carb diets like Keto and Paleo. They aren't great if you are following a low-fat diet though, as most of their meals contain a healthy amount of fat.
The meals in this delivery were seriously amazing! I am still surprised at just how good so many of them were. They are delivered fresh and never frozen and they really pack a lot of flavor in each entree.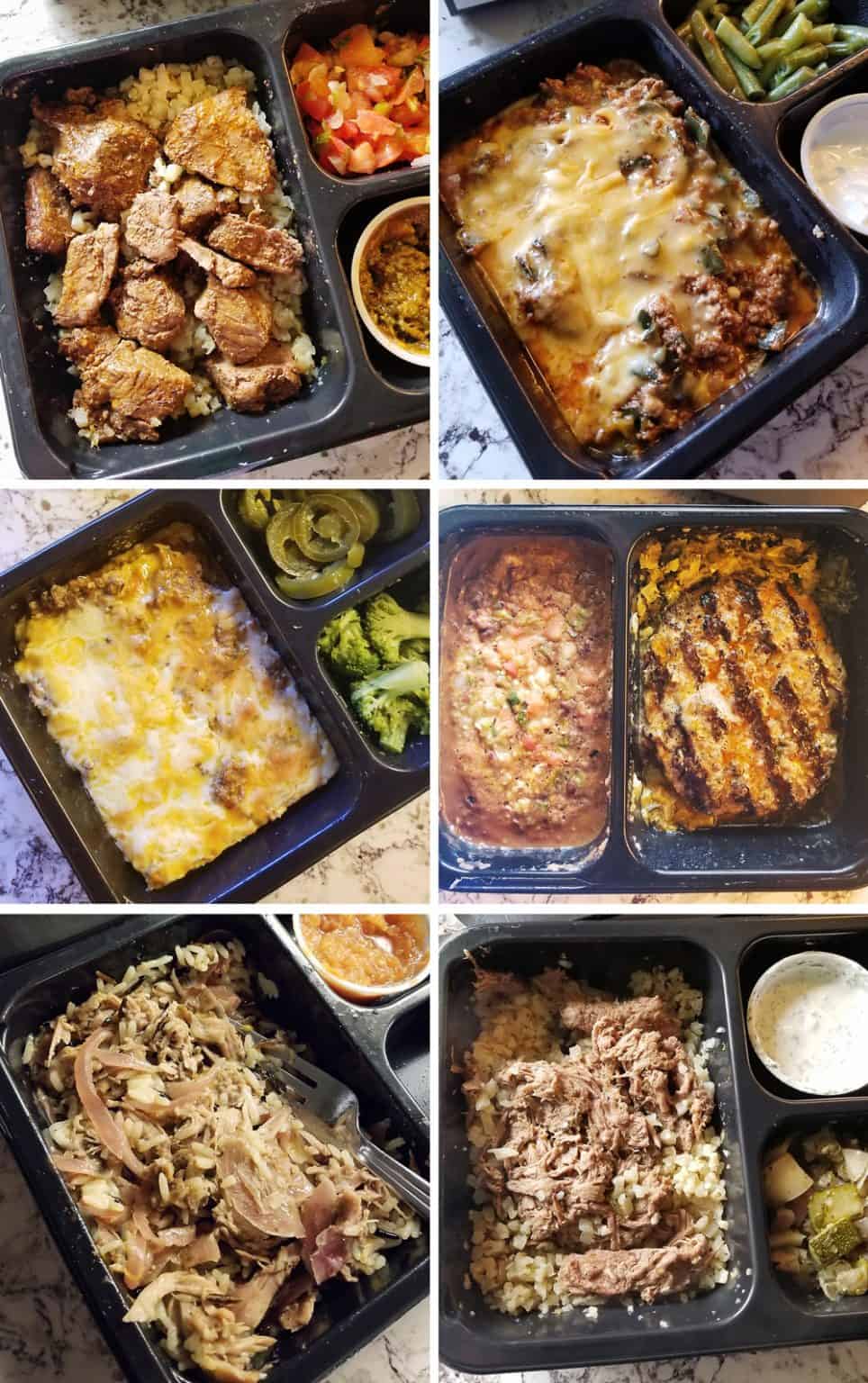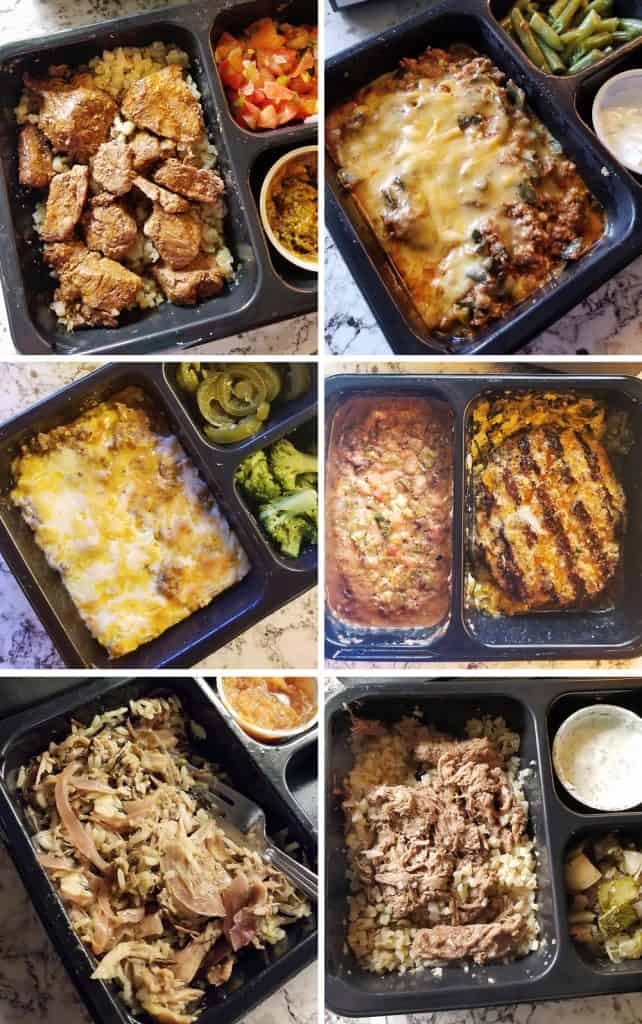 I received a box of 6 meals and I enjoyed all of them. The Keto Poblano Bowl, Cheeseburger Casserole, Lamb Gyro Bowl and Green Chili Burger were my favorites and absolutely delicious.
The cost of these meals was on the higher side coming in at $12.38 per meal when you order 6. This is still less than the meal kits like SunBasket, and totally justifiable to me for an amazing meal that is ready in just a couple minutes.
They do cost more than Freshly, but their meals have a longer shelf life with a week of refrigeration, as opposed to Freshly only having 3 days.
Check out the full breakdown of all the meals on my Factor 75 Review.
Try Factor 75 and get $50 off your first two weeks with code FACTOR50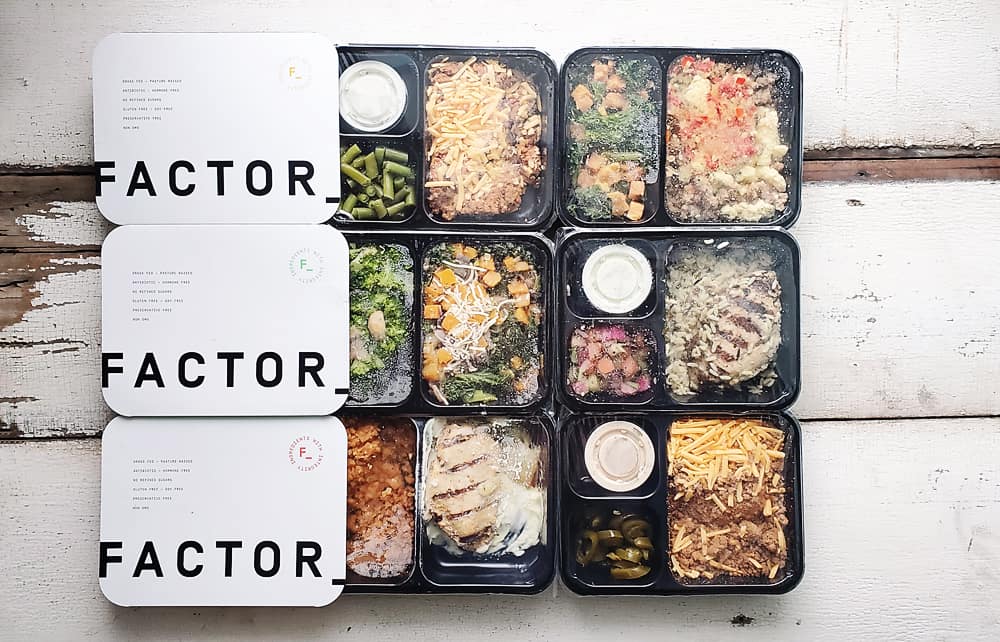 More Meal Kit Delivery Service Options
I tried and reviewed all of the meal kit delivery services I found that currently deliver to the Midwest. There are other boxes that deliver to the coasts and haven't reached my address yet. Here are a few more options that may be in your delivery zone which I was unable to test out.

What is the best meal kit delivery service?
Let's get to what you have all been waiting for, the Best Meal Kit Delivery Service is in 2019! Before I pick an overall favorite though, let me share who I think wins out in the following categories.
Best Value Meal Kit Delivery Service is in 2020 – Every Plate
I'm sure most of you are wondering which meal delivery service is the cheapest. The answer is simple. Every Plate kills the competition on price! There is no comparing their $6.50 per serving price to the others who all range from $10-13. It's budget and family friendly! The only downside to this delivery kit, is that they don't include lots of healthy options.
Best Healthy Options Meal Kit Delivery Service is in 2020 – Hello Fresh
Whether you want to order a few meals to cook throughout the week, or a simple box full of healthy meal prep meals, Hello Fresh is accessible and delicious while offering tons of healthy options.
Best Tasting Meal Kit Delivery Service is in 2020 – Sun Basket
Sun Basket is the winner by a narrow margin for the best tasting meals. Hello Fresh and Sun Basket are top contenders for great tasting meals with lots of variety. Sun Basket consistently has the most exciting menu options for me personally. I have a hard time picking just three meals each week because there are so many appealing options. Compared to some other plans where I struggle to find three that I am excited about, it is my favorite.
Overall Best Meal Kit Delivery Service is in 2020 – Gobble
Gobble, Hello Fresh and Sun Basket were in very close competition for the winner in my book. They both offer lots of fresh and healthy recipes with a good amount of variety and flavor. The deciding factor ended up coming down to ease of preparation. Time is of the essence for most all of us and Gobble usually takes half the time to prepare compared to most other meal kits.
All of these subscriptions will be kept active so I can alternate between companies. Depending on what recipes they are offering each week, I will choose which delivery to schedule. EveryPlate will also remain active to change things up on occasion with some of their affordable meals.