Garlic sautéed mushrooms are an easy and healthy 20 minute side dish recipe perfect for a nice weeknight meal or holiday dinner!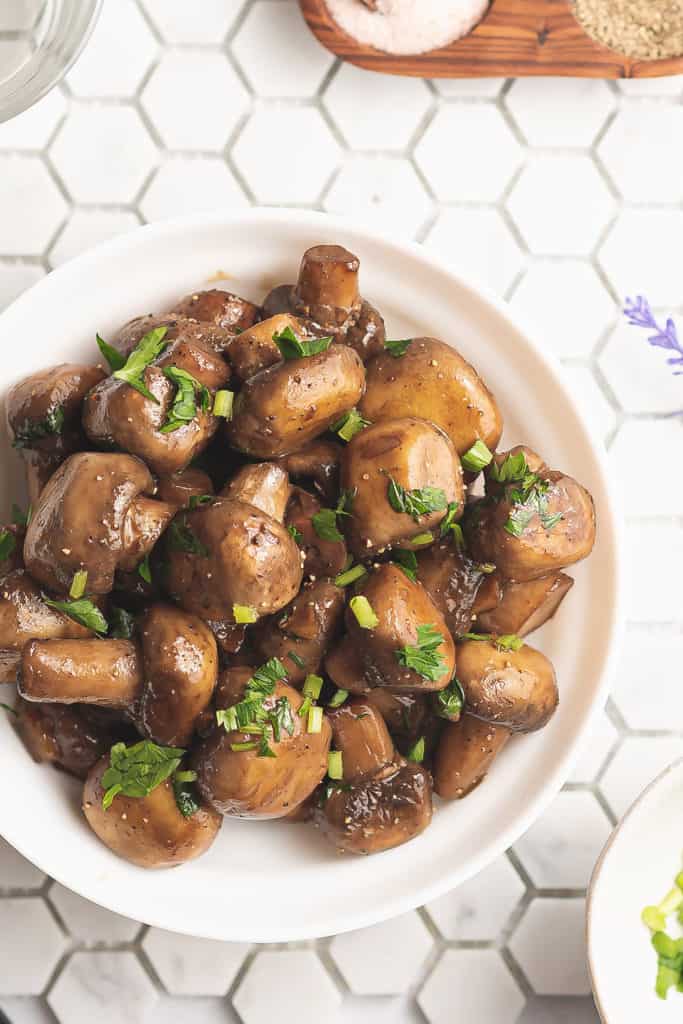 Garlic Mushrooms
Whether you are looking for a great side dish to serve with steak on the weekends, a ham at the holidays or a healthy grilled chicken dish, these garlic sauteed mushrooms are a fantastic side dish.
Mushrooms are a hearty and healthy vegetable that can pair with just about any protein. Not only are they a wholesome dish, they are quick and simple. Sauté up these mushrooms with some olive oil, garlic and top with parsley for an easy 20 minute recipe.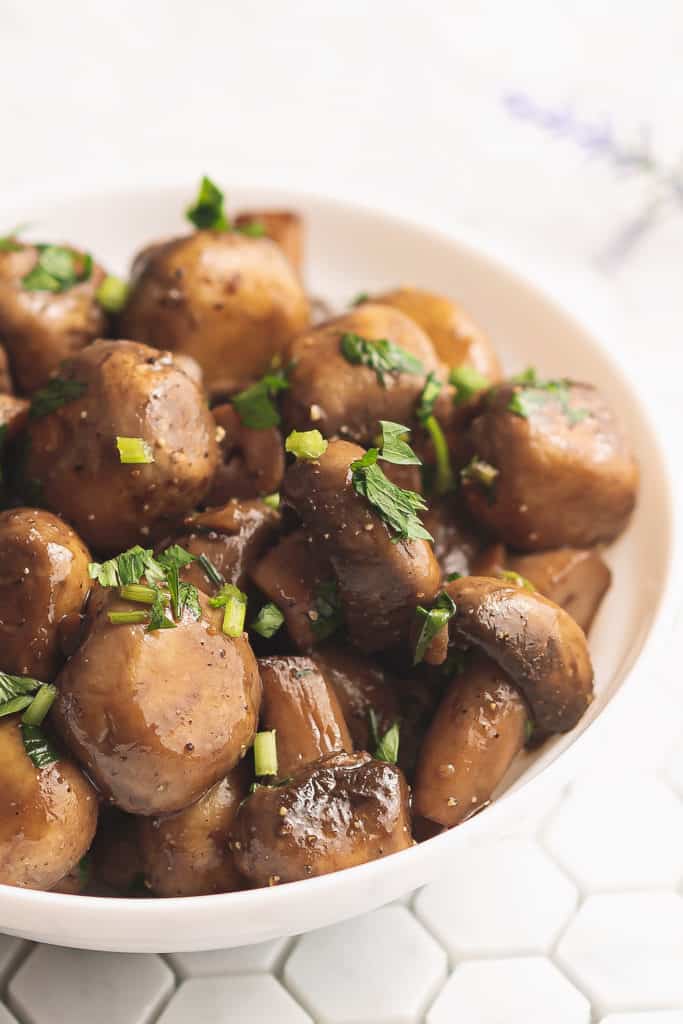 Making perfect garlic mushrooms
The perfect garlic sauteed mushroom should not be too mushy. Make sure not to burn your garlic either. Because a mushroom will soak up every flavor and you don't want it to taste acrid due to any burnt garlic.
Mushrooms lose a great deal of moisture as they cook and to get a nice sear on them you need to make sure it evaporates off quickly.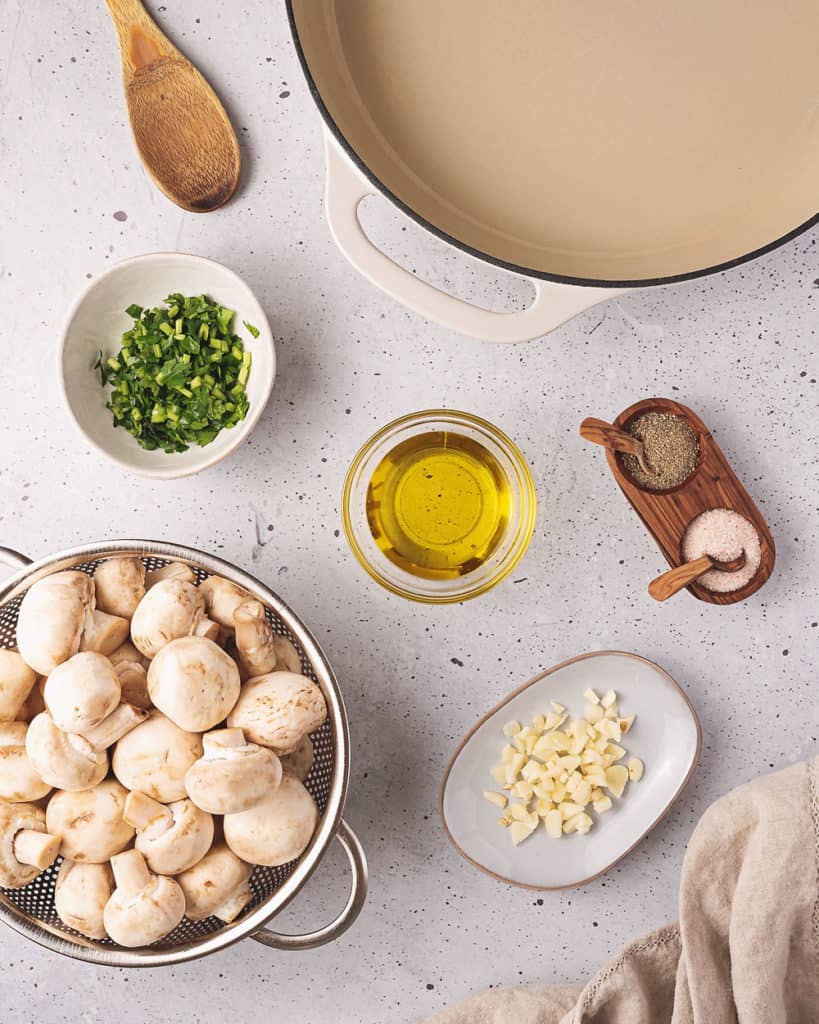 How to make the best mushrooms
With sauted mushrooms, you need to be mindful of a few things. Mushrooms are wonderfully flavorful but they can become slightly slimy if not cooked properly. However, the good news is this is easy to avoid if you stick to a few handy rules of thumb.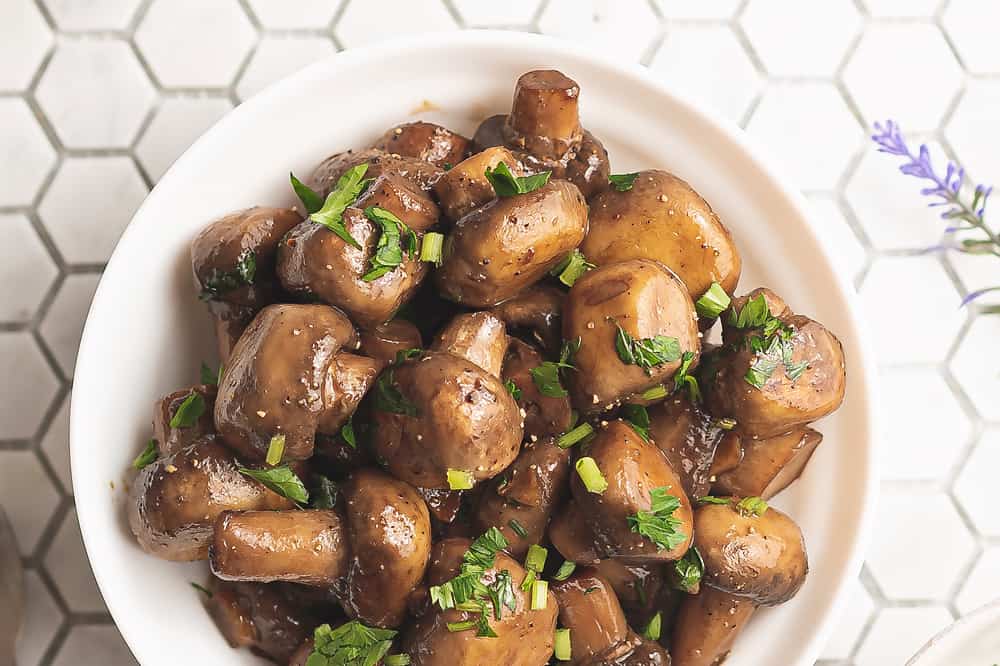 Tips or cooking mushrooms
Make sure to use the right sized pan for the job. A nice wide and flat saute or braise pan is best. It can be cast iron, stainless, or non stick. Just make sure it has plenty of surface area. You want the pan to evaporate the water out quickly as possible.
Get your oil nice and hot but not so hot it begins to burn. Getting a nice sear on the mushrooms helps prevent sliminess.
Don't add salt until the end of cooking the mushrooms! If you add salt early on, like when you pop them on the oil, the salt draws out moisture. If too much water comes out too early, then it will prevent the mushroom from searing properly.
Add the garlic to the oil as it is heating, but take the garlic off of the heat before it browns or burns. You kind of have to watch it carefully. Chopped garlic burns all too quickly. You can add it back when the mushrooms are about halfway done. That way the mushrooms get plenty of garlic flavor, without the garlic burning. The garlic infuses the oil with flavor too, and the mushrooms soak that up quickly.
How to make the best sauteed mushrooms
Garlic and mushrooms go together like peanut butter and chocolate, wine and cheese, steak and potatoes. In other words, they are pretty much just meant to be paired.
But that doesn't mean there isn't room for one more thing to make them especially awesome. Parsley, nice fresh, chopped (but not too finely) parsley.
I highly recommend using very fresh parsley. Chop it coarsely, and toss it in at the very end. It will cook ever so slightly from the residual heat, but not overcook.
Not only does chopped parsley add a great herbaceousness, but also a very nice dash of color as well.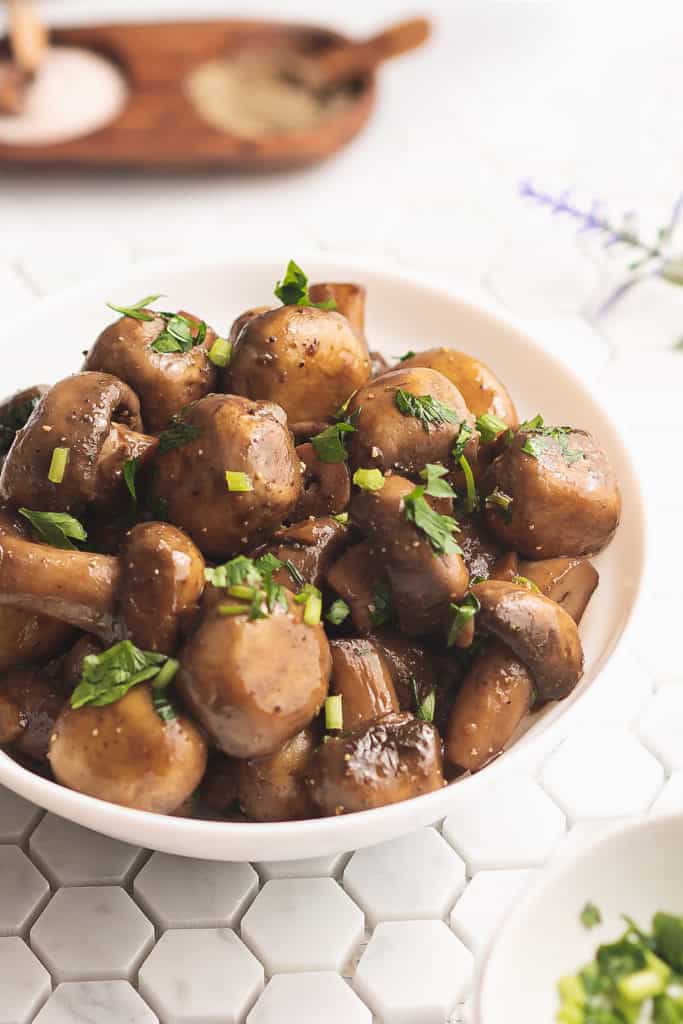 The best kind of mushrooms to use for sauteing
For this dish, I recommend using white mushrooms which are also known sometimes as "button" mushrooms. Guess what though? Button and white mushrooms are the exact same mushroom as a brown crimini… and even a big giant brown portabella mushroom.
That's right, those are literally all the same variety of edible mushroom. (Agaricus bisporus if you need to know the Latin name). A white or button mushroom is the youngest, then it browns and becomes a crimini, and fully grown it is called a portabella.
So, I guess that means if you don't have white mushrooms handy, then crimini or portabella will work just as well!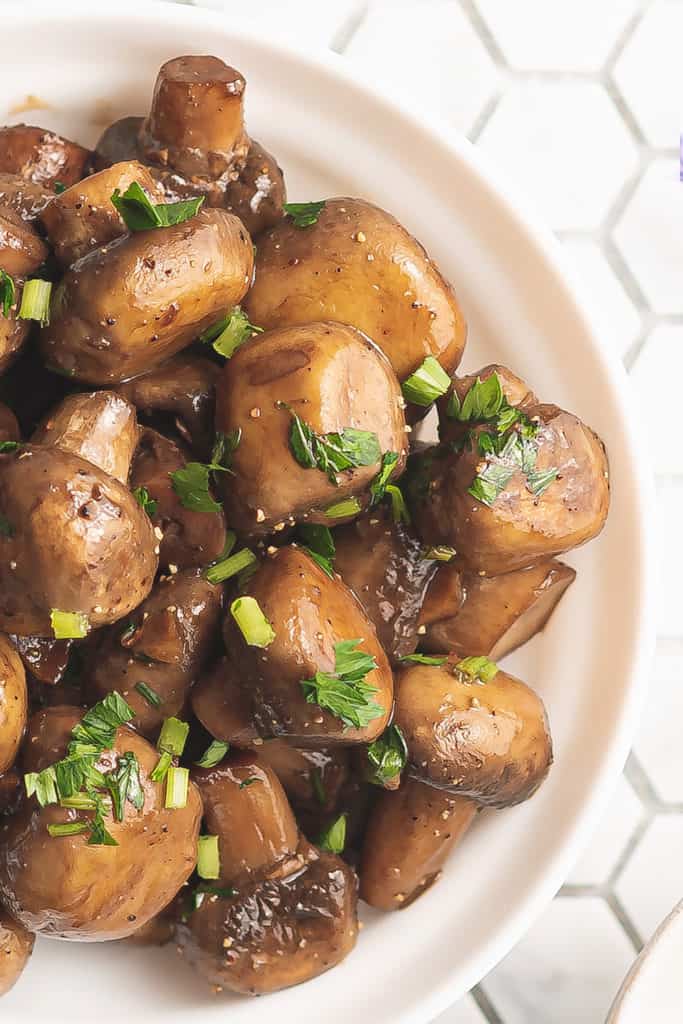 Can other mushrooms be used for sauteing?
Sure, any edible mushroom works with this recipe, so feel free to substitute if you'd like. White mushrooms are very easy to find, and they are a perfect size to cook quickly. But these days, there are actually plenty of readily available options when it comes to mushrooms.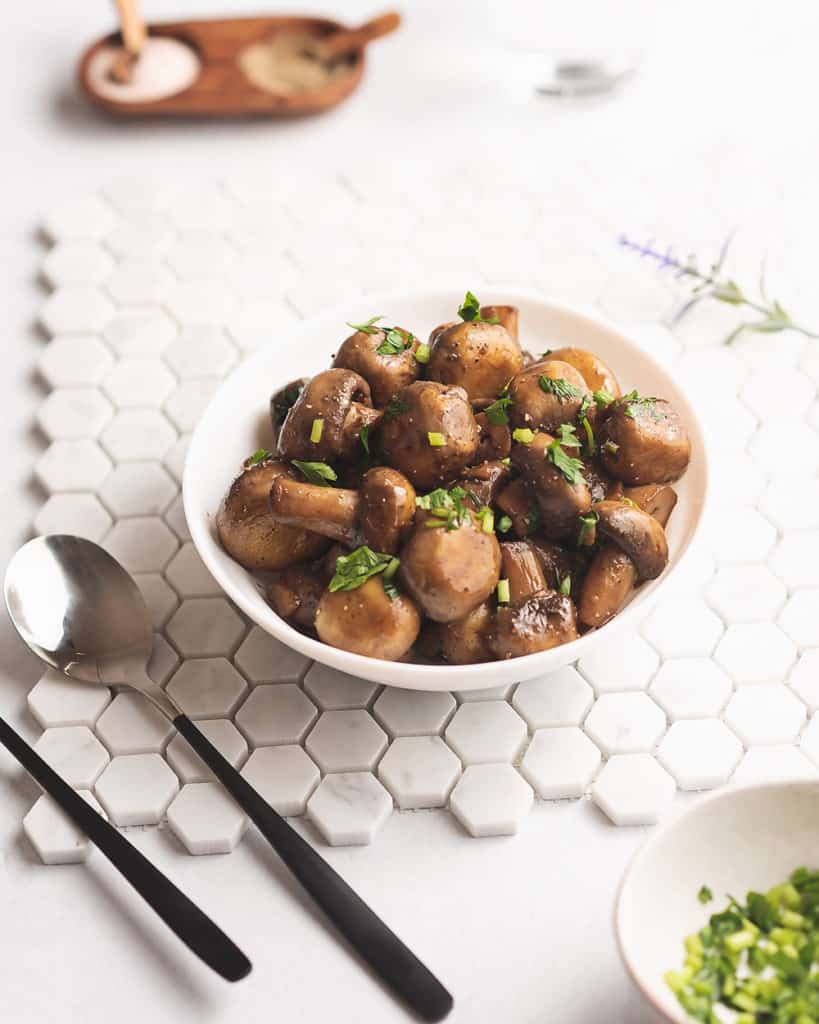 Mushroom side dish or main course
When it comes to garlic sauteed mushrooms, most people probably assume it is a great side dish. But mushrooms do have a decent amount of protein, plus folates, vitamins A, D, and B2.
So, if you want to enjoy them as a simple vegetarian style main course, they would be great paired with a cup of tomato soup or served with a slice of grilled honey goat cheese pizza.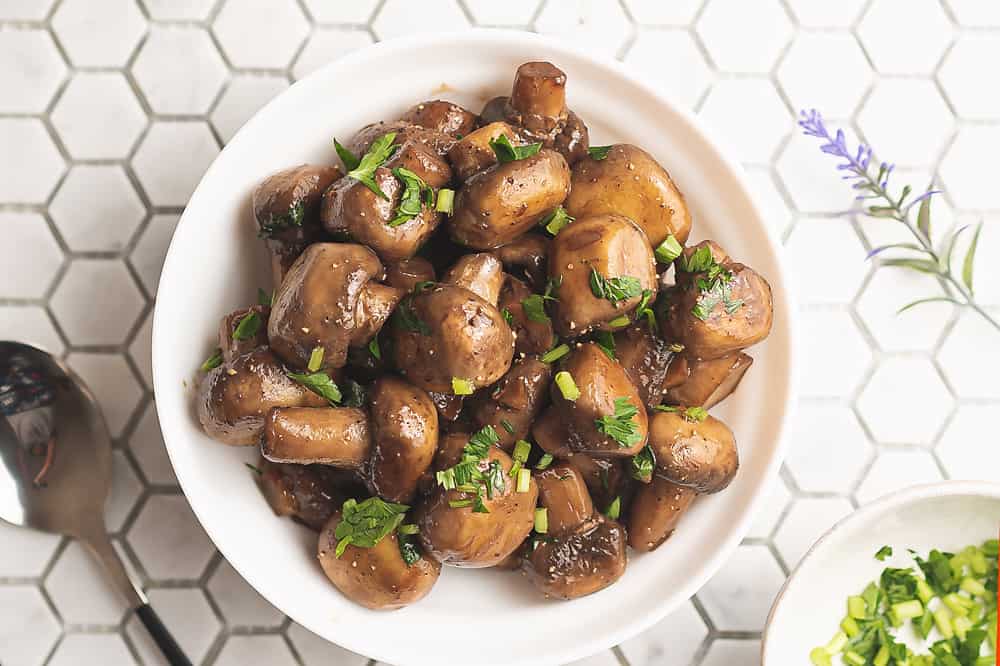 More mushroom side dish recipes
If you love mushroom dishes and want some more ideas to put in the recipe bank, then I have some suggestions. Whether you like a classic mushroom risotto or a creamy mushroom beef soup, I have you covered.
Maybe you want to try something like a Korean beef bowl with mushrooms or creamy mushroom pasta? There are so many great way to enjoy hearty mushrooms!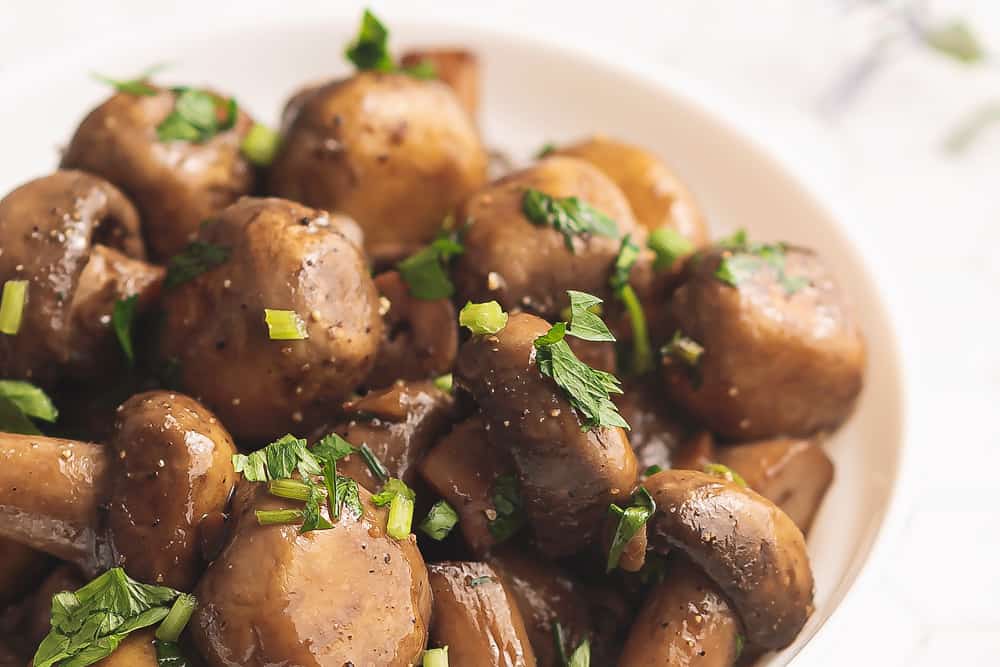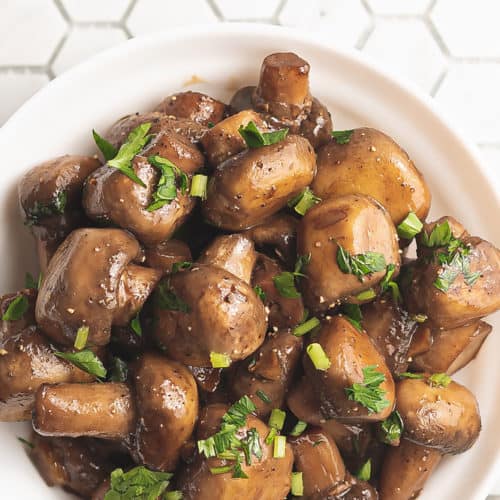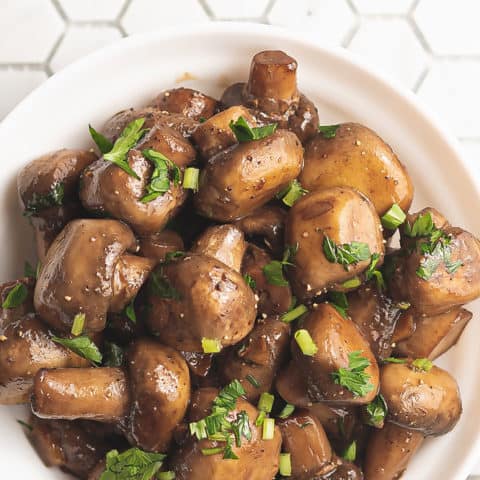 Garlic Sautéed Mushrooms
Garlic sautéed mushrooms are an easy and healthy 20 minute side dish recipe perfect for a nice weeknight meal or holiday dinner!
Ingredients
1 pound white mushrooms
3 garlic cloves, minced or finely chopped
2 Tablespoons olive oil
1 teaspoon fresh parsley
Pinch of salt and black pepper
Instructions
Wash your mushrooms and using a paper or hand towel, pat them completely dry.
Heat up olive oil in a large heavy bottomed skillet over high heat. Add garlic and sauté for one minute, ensuring you don't burn the garlic.
Add the cleaned mushrooms to the skillet. Do NOT stir the mushrooms. Sear for 2-3 minutes. Then toss every few minutes until the mushrooms start to soften and brown, for about 6 minutes.
Add a pinch of salt. Continue to cook, tossing occasionally. Wait till mushrooms turn to a deep brown color and caramelized. This process takes around 5 more minutes. Keep an eye on the heat, turning it down if needed.
Turn off the heat. Add fresh parsley and pepper. Give it a good stir and serve the mushrooms piping hot.


Recommended Products
As an Amazon Associate and member of other affiliate programs, I earn from qualifying purchases.
Nutrition Information:
Yield:

4
Serving Size:

1
Amount Per Serving:
Calories:

96
Total Fat:

7g
Saturated Fat:

1g
Trans Fat:

0g
Unsaturated Fat:

6g
Cholesterol:

0mg
Sodium:

36mg
Carbohydrates:

7g
Fiber:

3g
Sugar:

3g
Protein:

3g
Provided nutrition data is only an estimate. If you are tracking these nutrients for medical purposes, please consult an outside, trusted source.