Rhubarb Custard Pie is a decadent dessert recipe perfect for a sweet summer treat. A flaky pie crust is filled with a rich egg custard and rhubarb for a classic rhubarb pie recipe you will adore!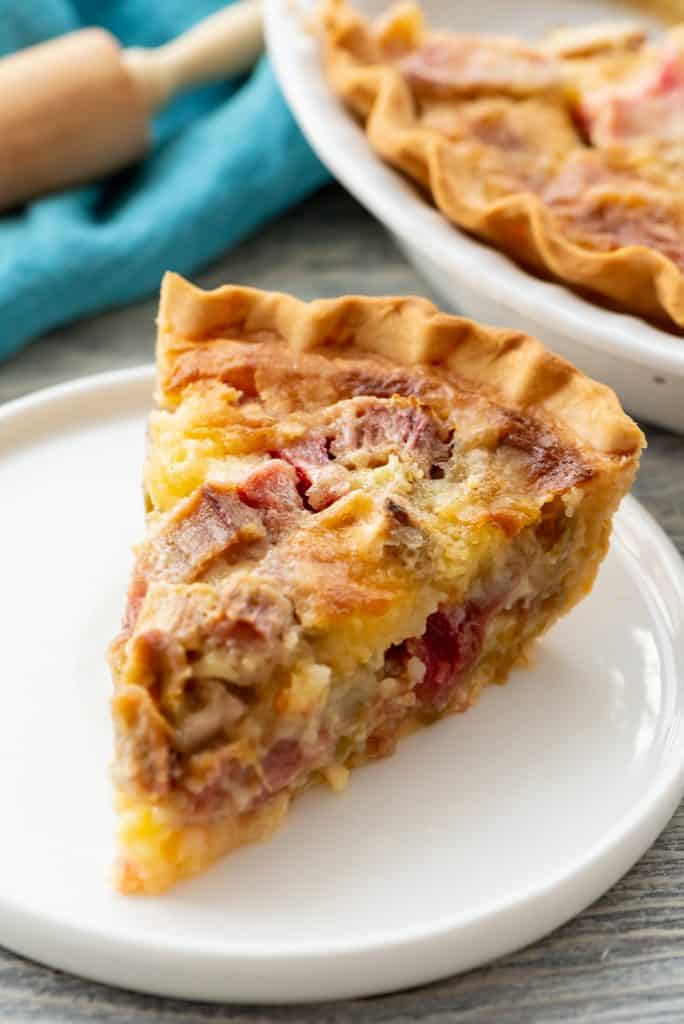 Rhubarb Custard Pie Recipe
This Rhubarb Custard Pie Recipe is inherited from my beloved Grandma Koch. It's a pie recipe that my entire family has forever adored. The sweet and creamy custard balances out the tart rhubarb so well. It is absolute spring and summer dessert perfection.
My husband requests Rhubarb Custard Pie on a regular basis as long as our rhubarb patch is still thriving! Then again, he is happy with just about anything made with rhubarb. Rhubarb Streusel Muffins, Rhubarb Coffee Cake and Strawberry Rhubarb Custard Dessert are all favorites that we love.
Rhubarb Pie Recipe
My mom made this Rhubarb Pie last week while my husband was over at their farm working. She sent him home with a few pieces for us and by the time he got home, one had already disappeared. He handed me the plate of two pieces when he got home so I could have one.
After a few minutes, I yelled to the office where he was working, "Both of the pieces of rhubarb pie might have disappeared!". He responded with, "They better not have, or you might disappear!" HAHA! Of course I left one for him, but I do enjoy messing with him. 🙂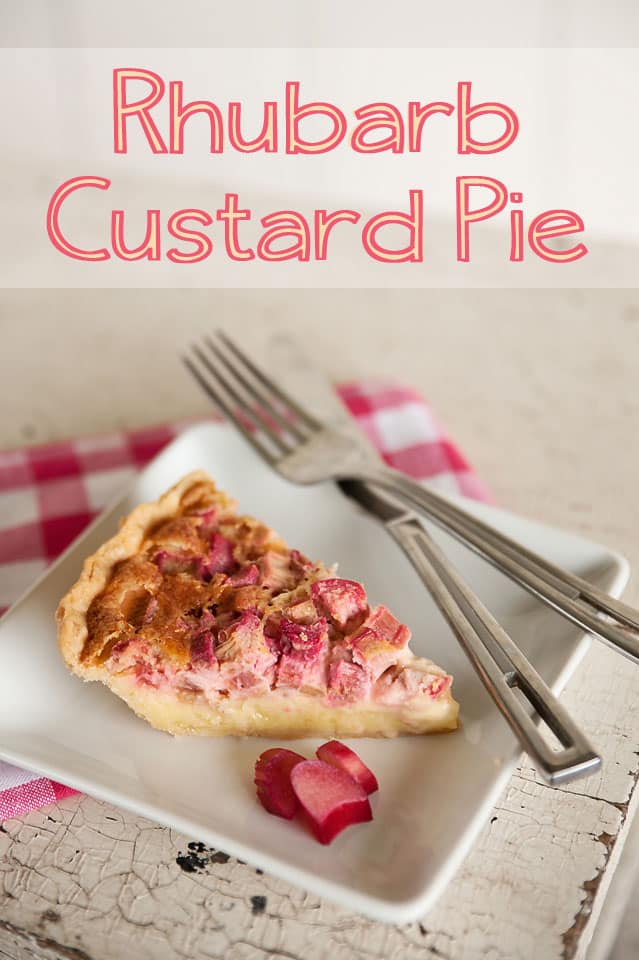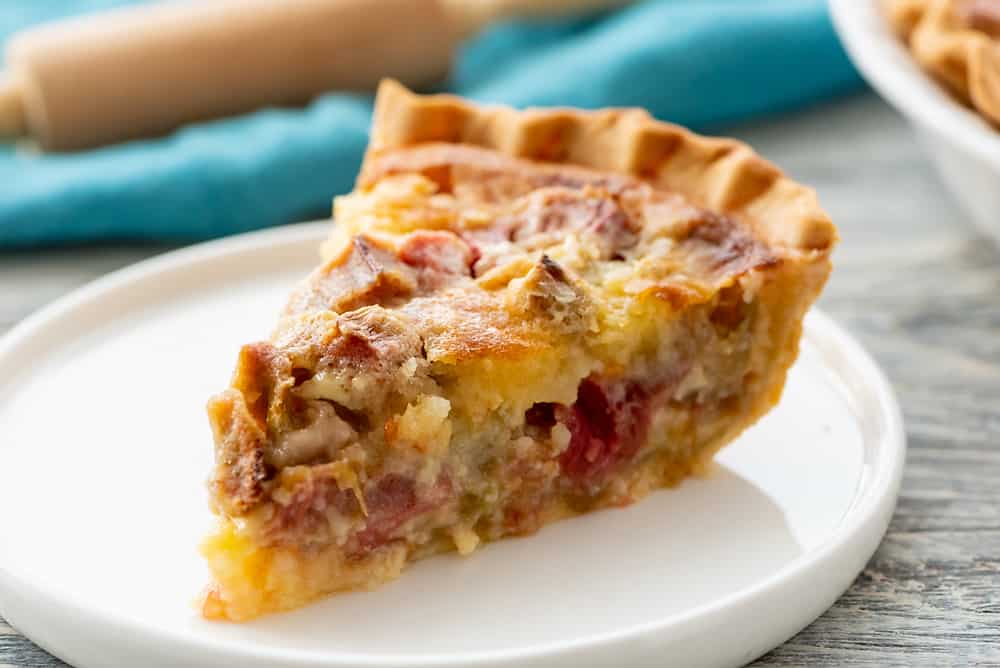 Rhubarb Pie
Only a few days later, he begged me to make him this pie again, he was so in love with it! He argued that rhubarb season will be over before we know it, so I should really make it while I can. I told him, that he should probably mow the lawn for the next few weeks then, because I might accidentally mow over the rhubarb patch, and then rhubarb season really WILL be over! 😉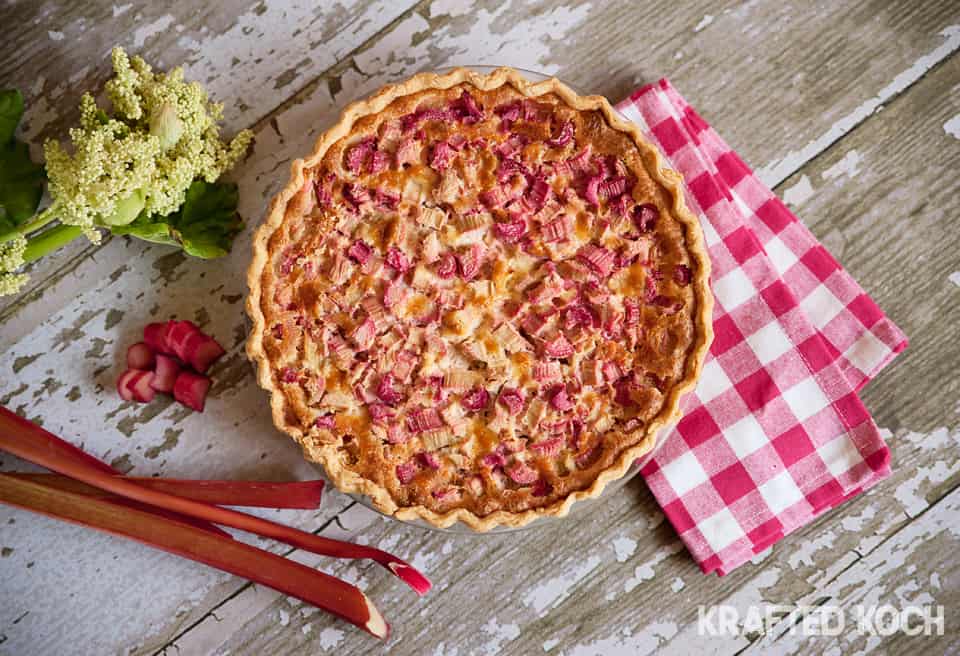 I would never do such a thing though, because I love rhubarb recipes as much as he does. It is ashamed that rhubarb doesn't last for a much longer season so we can enjoy it in it's freshest form all year round in this Rhubarb Pie Recipe. With that said, frozen rhubarb is a great alternative when it is out of season or it isn't readily available.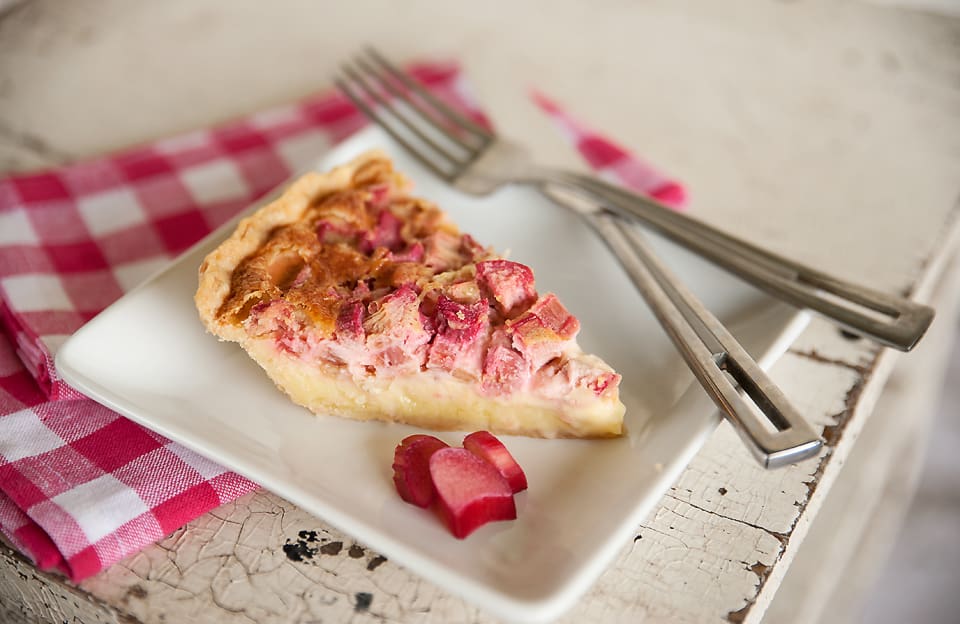 Can I use frozen rhubarb in my recipe?
If you are using frozen rhubarb in any pie or dessert recipe, follow these simple steps.
Thaw the rhubarb
Drain and pat the rhubarb dry
Toss the rhubarb with a tablespoon of flour to account for any extra moisture
As long as you take these extra steps, your rhubarb pie recipe will turn out just as amazing!
Should I refrigerate rhubarb pie?
Most pies don't need to be refrigerated for a day or two, but this Rhubarb Custard Pie does require refrigeration. With the egg custard, you will want to keep it at a safe temperature. It will start to weep and become soggy much quicker if it is left at room temperature.
While warm rhubarb pie straight from the oven is the absolute best, it is important to store it safely if there are any leftovers. Honestly, this pie doesn't last long in the refrigerator because the crust starts to become soggy from the custard after a couple days. That is rarely ever an issue though, because is will be eaten up before you get a chance to put it in the refrigerator!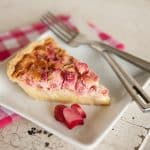 Print Recipe
Rhubarb Custard Pie
Ingredients
1

unbaked pie shell

3

c.

rhubarb cut into medium pieces

1 1/4

c.

sugar

3

eggs beaten

1

c.

heavy whipping cream

3

Tbsp.

flour

1/2

tsp.

salt
Instructions
Place rhubarb in pie shell.

In a separate bowl, mix remaining ingredients together and pour over rhubarb.

Bake 10 minutes at 400°, and then 40 minutes at 350°.

Let cool completely before serving and store refrigerated.
Notes
If you are using frozen rhubarb be sure to thaw and pat the rhubarb dry. Also toss it with a tablespoon of flour to account for any extra moisture.
Nutrition Facts
Serving Size 1/8 pie
Servings Per Container 8
---
Amount Per Serving
Calories 335 Calories from Fat 135
% Daily Value*
Total Fat 15g 23%
Saturated Fat 7g 35%
Trans Fat 0g
Cholesterol 118mg 39%
Sodium 325mg 14%
Total Carbohydrate 49g 16%
Dietary Fiber 1g 4%
Sugars 33g
Protein 5g 10%
---
*Percent Daily Values are based on a 2,000 calorie diet. Your daily values may be higher or lower depending on your calorie needs.
Don't forget the perfect pie crust recipe!
More great Rhubarb Recipes!