Pressure Cooker Mushroom Risotto is a rich and delicious recipe made with the Instant Pot for an easy vegetarian dinner or hearty side dish! Fresh thyme, Parmesan and white wine take the flavors in this dish to the next level!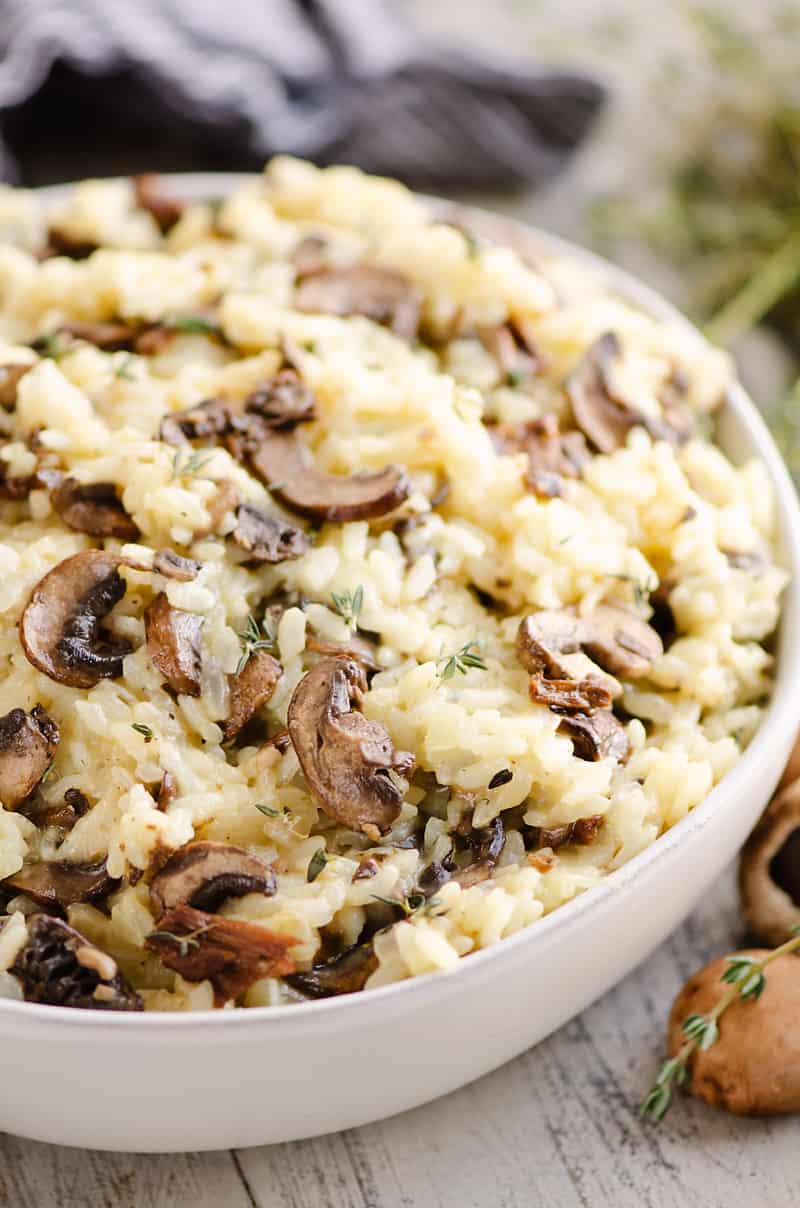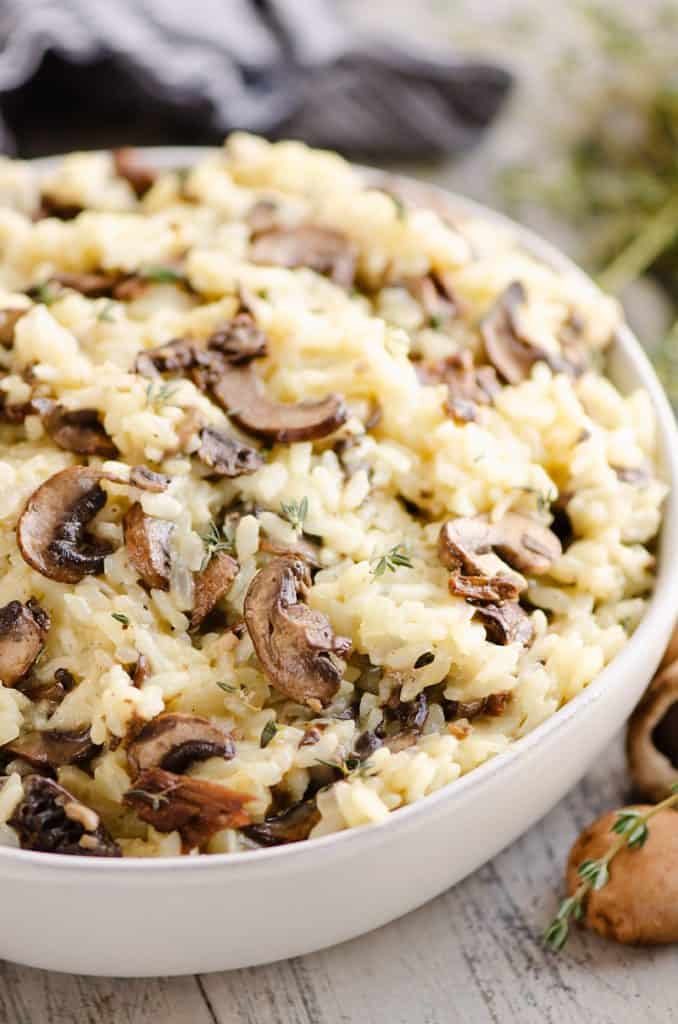 Easy Instant Pot Mushroom Risotto Recipe
The idea of risotto can be daunting for most people. Standing over a stove for an hour stirring and stirring until the rice is just right is not only time consuming, but overwhelming. This Pressure Cooker Mushroom Risotto takes all the guess work and labor out of this classic Italian recipe!
Mushroom risotto makes a fantastic vegetarian entree or hearty side dish. Serve it with a grilled steak, chicken or pork for an impressive meal perfect for guests.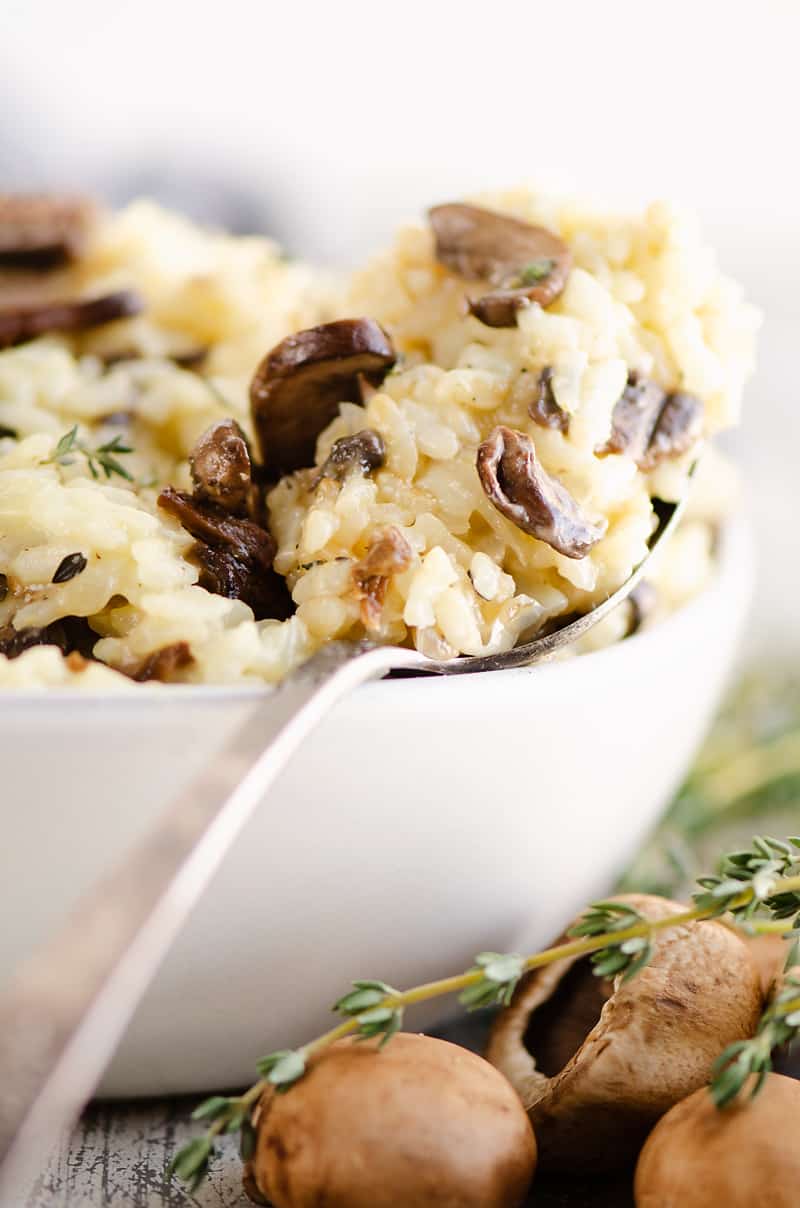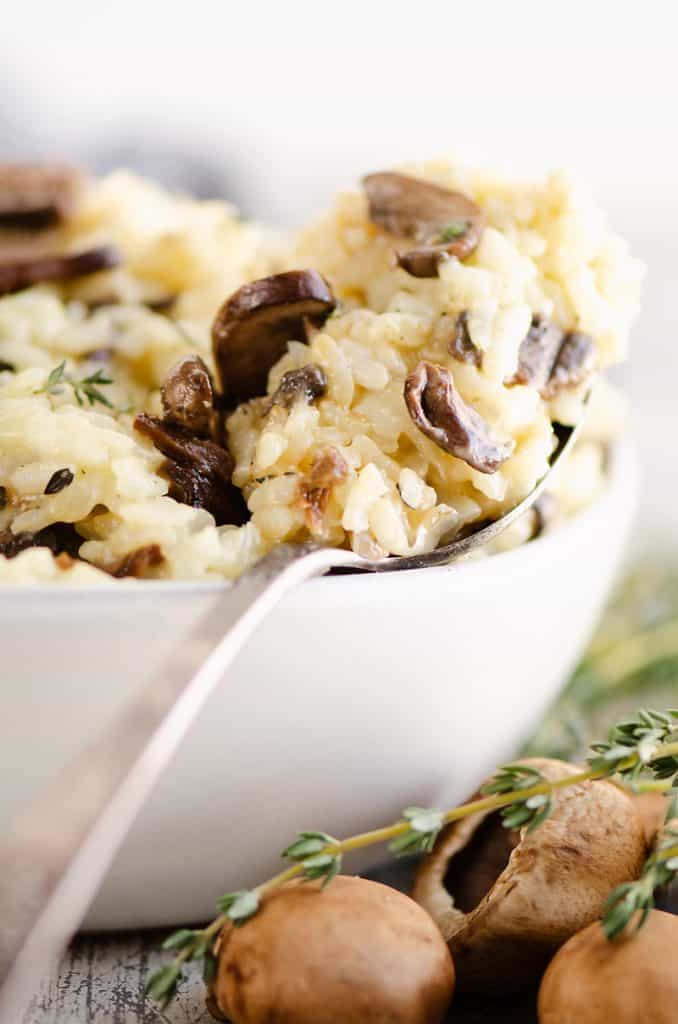 If you are not already familiar with the Instant Pot, I highly recommend getting one. I really can't rave enough about how easy they make so many dishes, like Pressure Cooker Pulled Pork and Quinoa in the Pressure Cooker. They are highly versatile and allow you so much flexibility.
The Instant Pot is wonderfully versatile. Most models have a variety of functions in addition to the obvious pressure cooking. They often include,
Rice cooker
Slow Cooker
Yogurt Maker
Warming function – great for things like proofing bread.
There are so many amazing recipes you can make in your Instant Pot. From casseroles like Pressure Cooker Taco Mac & Cheese to staples like Pressure Cooker Chicken Recipes and desserts like Pressure Cooker Apple Crisp. The possibilities are endless. This Instant Pot Mushroom Risotto might just be my favorite of all though!
Why do you use Porcini Mushrooms in Risotto
Porcini mushrooms are highly regarded for their great flavor and used extensively in Italian and French cooking. However, they are not the easiest mushroom to find fresh. Their growing season is short and you don't typically see them on grocery shelves.
Don't despair! You can easily find dried Porcini mushrooms at your grocery store, typically on the specialty foods aisle. Ask the grocery clerk if you have trouble finding them. I found them in my small town grocery store, so I'm confident you can find them just about anywhere.
To reconstitute the mushrooms place dried Porcini mushrooms in a small bowl or jar and pour enough hot water over them to just cover them. Let them reconstitute for 15 minutes. In small batches, squeeze them well with your hands to remove as much water as possible.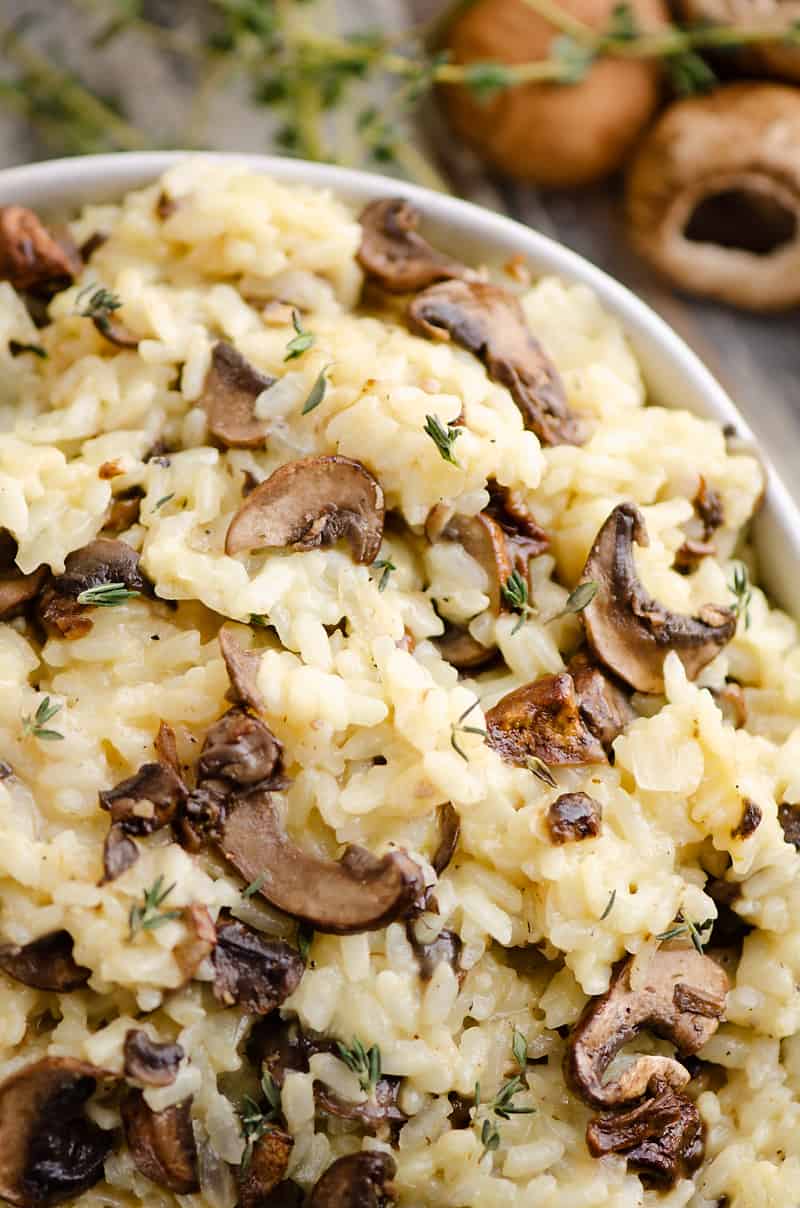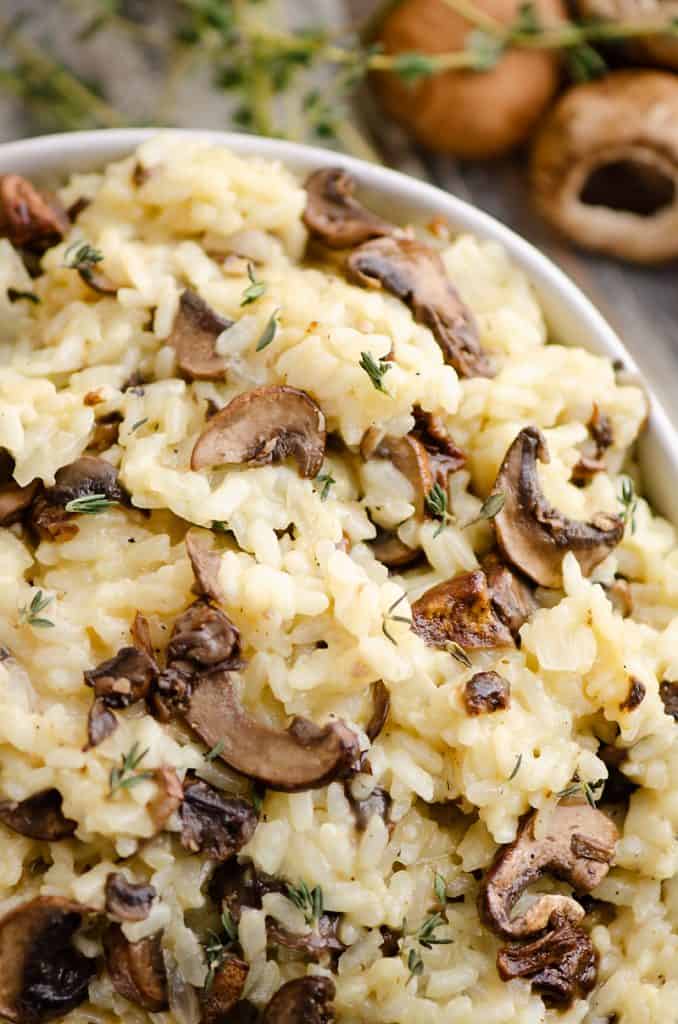 Porcini mushrooms have a nice meaty texture and lots of great mushroom flavor. They are closer in flavor to the wild mushrooms like morels than the sort of flavorless crimini mushrooms typically found in the veggie section.
If you can't find any dried porcini mushrooms, I suggest the following substitutions:
Shitake – these are easier to find nowadays and supposedly have great health properties. They have a texture and flavor similar to porcini as well.
Portabella – You can also find Portabella mushrooms very easily these days. Make sure to cut them down to manageable slices.
Mixed bags of wild dried mushrooms. Sometimes you can't find dried Porcini, but will find mixed bags of other wild mushrooms that work very nicely. I wouldn't be surprised if they also include some Porcini, along with morels and Chanterelles too.
A Handy Tip For Adding More Mushroom Flavor
If you are using dried mushrooms that need to be reconstituted by soaking in water first, then save the water and use it as part of your broth measurement. The extra mushroom flavor from the water adds more flavor to your rice!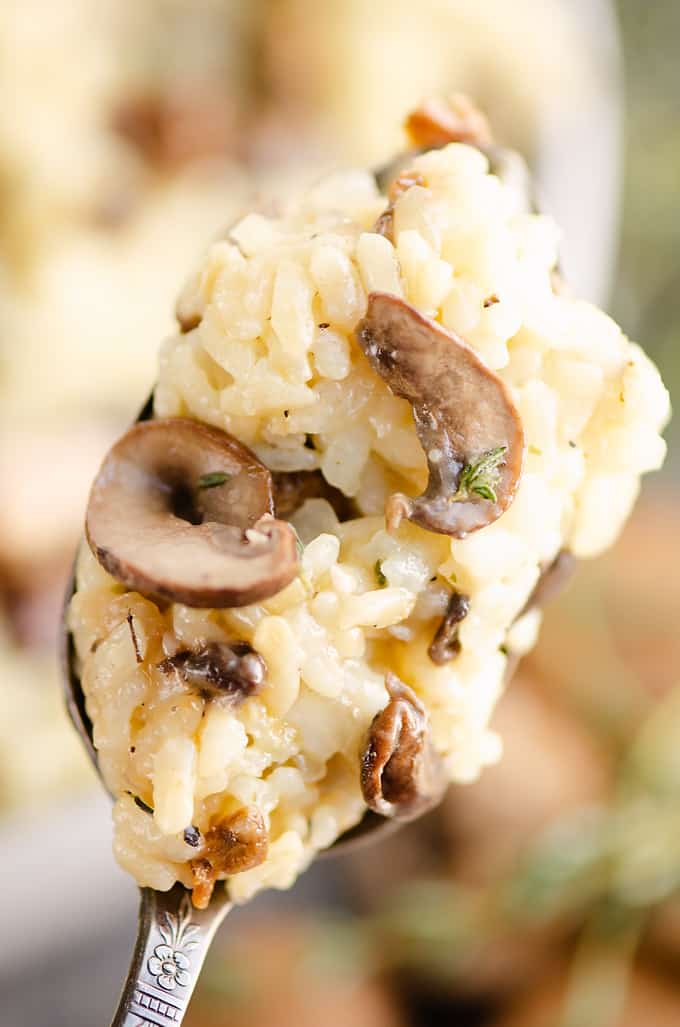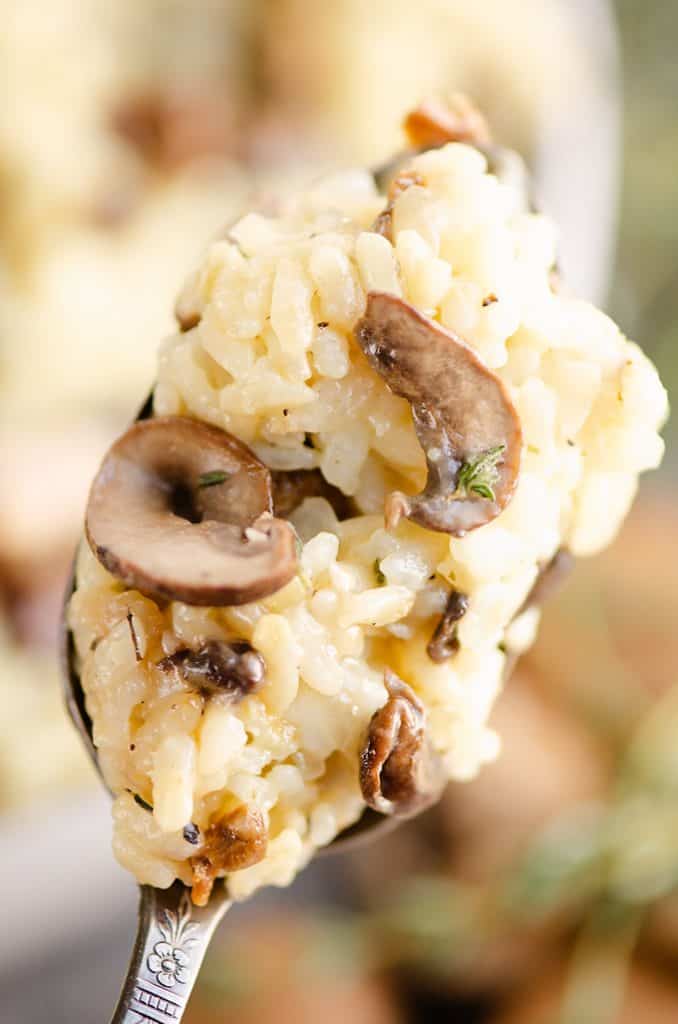 What Is Arborio Rice?
Arborio rice is considered the perfect style of rice grain for risotto. The rice has a particularly high level of starchiness and is a short fat grain. This means that it naturally creates a creamy and saucy "gravy" when you cook it. The short plump grains have a nice dense chewiness about them too.
All that adds up to a very comforting style of rice dish!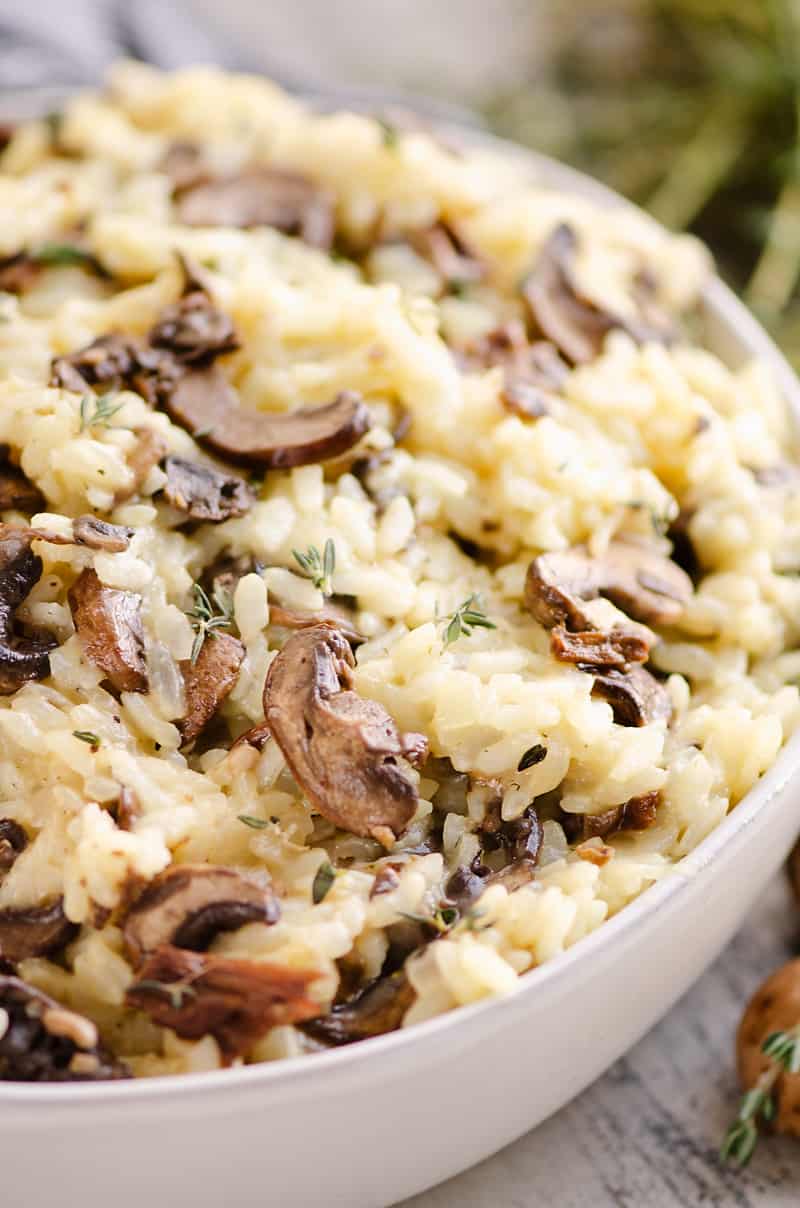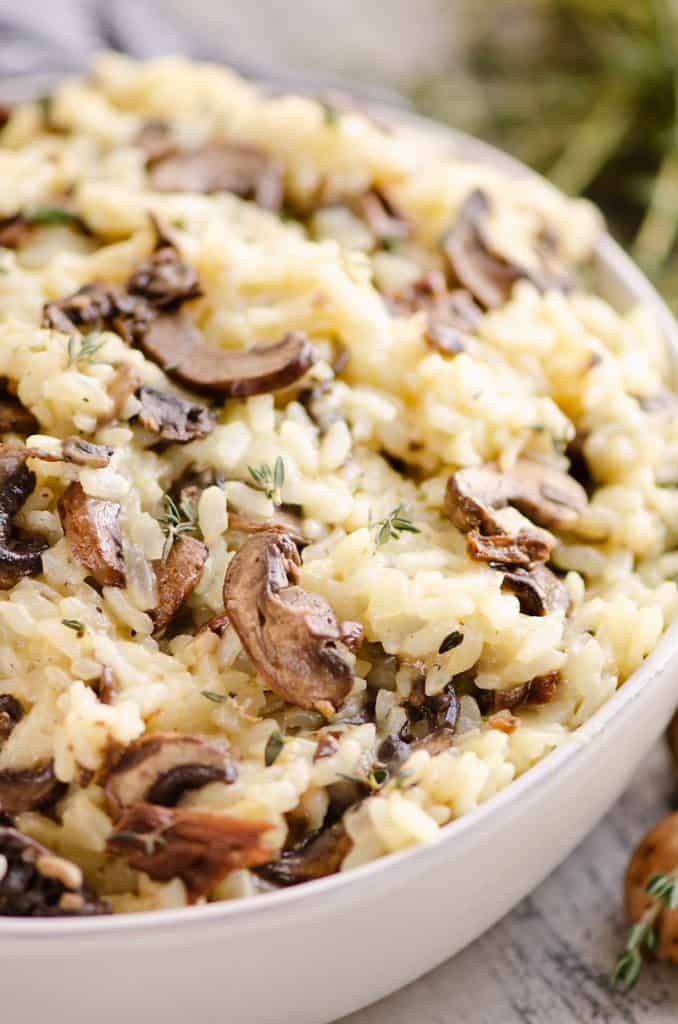 Why Do I Saute The Rice First For Mushroom Risotto?
The quick saute of the rice accomplishes a few important things on the way to making perfect risotto.
First, the saute helps caramelize some of the starches, so it adds extra flavor to the rice
Next, the saute also adds flavors from the oil or butter you use to cook it with
Finally, during the saute, the rice gets separated and individually coated so sticking together is much less of an issue. Especially with a rice as starchy as Arborio, this makes a big difference between nice tender rice grains and your rice becoming mushy.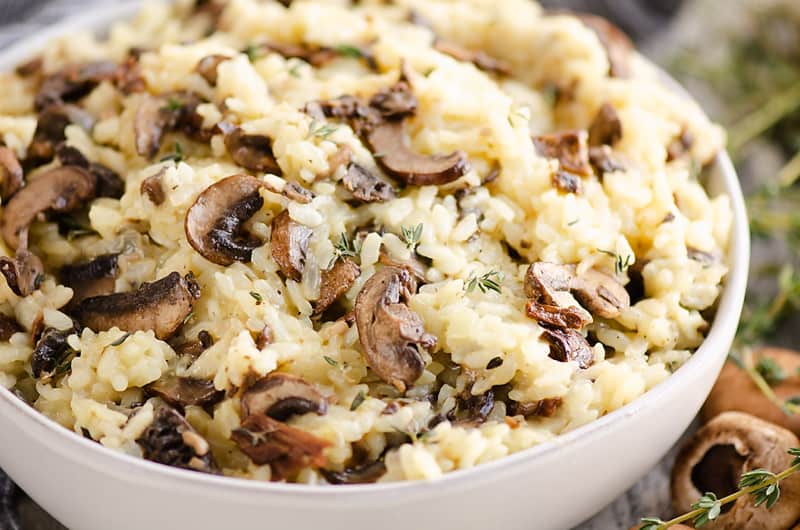 More Amazing Vegetarian Recipes!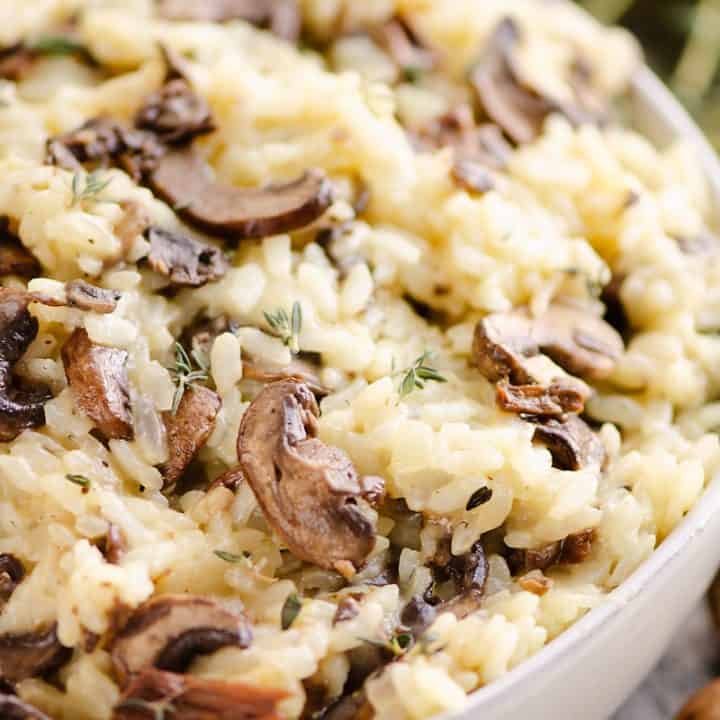 Pressure Cooker Mushroom Risotto
Build Pressure:
5 minutes
Instant Pot Mushroom Risotto is an amazing vegetarian dinner recipe made in your Instant Pot with Portobello and Porcini mushrooms, white wine, Parmesan and fresh thyme.
Ingredients
Mushrooms
1 Tbsp. butter
2 c. baby bellas, portobello or crimini mushrooms (roughly 8 oz)
2 cloves garlic, minced
2 tsp. fresh thyme leaves (or a heaping 1/2 tsp. dried thyme)
salt and pepper
1/2 oz. dried Porcini mushrooms (OPTIONAL)
Rice
1 Tbsp. butter
1 small yellow onion, diced
1 c. Arborio rice
1/4 c. dry white wine
1 3/4 c. low sodium chicken broth
1 bay leaf
Finishes
2 Tbsp. butter
1/4 c. grated Parmesan
Instructions
Turn your electric pressure cooker to saute. Add 1 Tbsp. butter, Portobello mushrooms, garlic and thyme. Season with salt and pepper and saute until lightly golden, 3-4 minutes.
Add in the reconstituted Porcini mushrooms (optional - see notes) and season with salt and pepper again. Saute for 1 minute and remove the mushrooms from the pot and set aside.
Add 1 Tbsp butter and onions to the pot and saute until translucent and fragrant. Add the rice and stir quickly until it is well-coated and opaque, about 1 minute.
Stir in the wine, broth and bay leaf with the rice. Close the lid and turn the knob to seal. Cook on high pressure for 6 minutes.
When the pressure cooker has counted down the 6 minutes and the cooking is complete, carefully turn the knob to vent to release all the hot steam, for a quick release.
Remove the bay leaf from the pot and stir in the cooked mushrooms, 2 Tbsp. butter and Parmesan. Serve topped with additional fresh thyme.
Notes
Place dried Porcini mushrooms in a small bowl or jar and pour enough hot water over them to just cover them. Let them reconstitute for 15 minutes. In small batches, squeeze them well with your hands to remove as much water as possible.
Recommended Products
As an Amazon Associate and member of other affiliate programs, I earn from qualifying purchases.
Nutrition Information:
Yield:

4
Serving Size:

1
Amount Per Serving:
Calories:

248
Total Fat:

14g
Saturated Fat:

8g
Trans Fat:

1g
Unsaturated Fat:

5g
Cholesterol:

35mg
Sodium:

308mg
Carbohydrates:

22g
Fiber:

2g
Sugar:

3g
Protein:

8g
Provided nutrition data is only an estimate. If you are tracking these nutrients for medical purposes, please consult an outside, trusted source.
This recipe first appeared on Yellow Bliss Road