Honey Roasted Beets & Carrots are an easy and healthy side dish. This simple recipe highlights the flavors of the vegetables with a touch of added sweetness.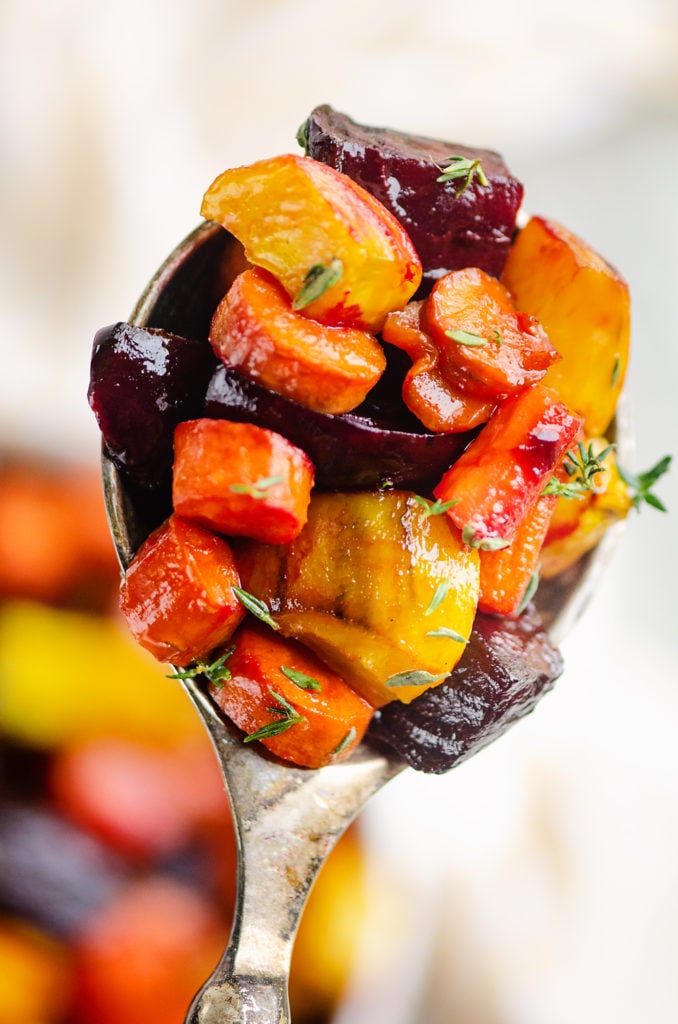 Beets and Carrots
Honey roasted beets and carrots perhaps ranks as one of the prettiest side dishes ever. The deep fuschia of beets. That intense orange of cooked carrots.
Together, they each make the other even more beautiful. But, they even more lovely when you consider how healthy they are. So full of vitamins and minerals, but still wonderfully tasty.
With a touch of honey, you arrive at a side dish that makes everything else it is served with even more lovely and delicious.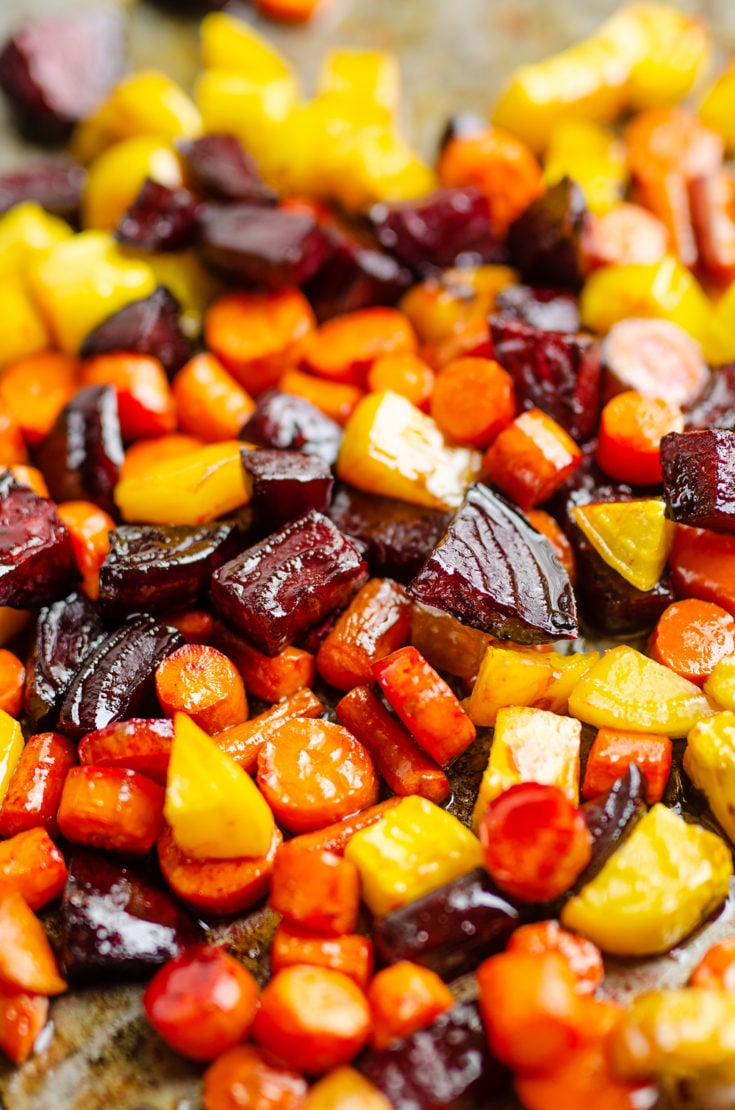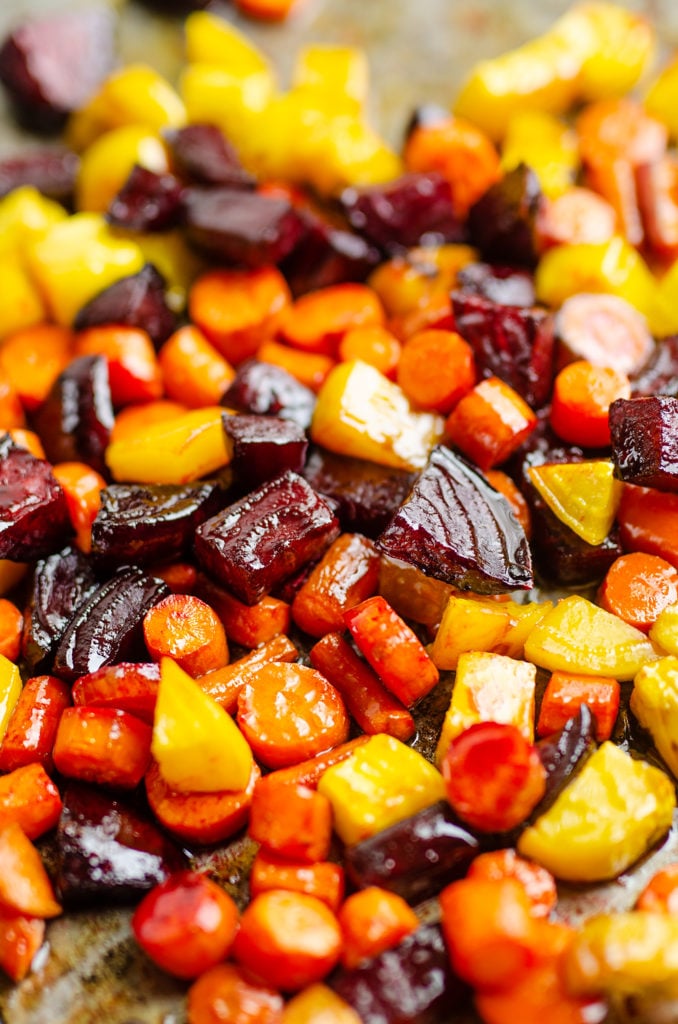 Roasting beets and carrots with honey
When you prepare honey roasted beets and carrots, make sure not to add the honey until just before finishing the roasting. If you add the honey too soon, it gets lost. All you need is a few minutes in the oven at the end. The honey butter mixture will glaze the beets and carrots nicely.
Best of all, you get that nice hint of honey. (Honey that is overcooked tends to have a bitter flavor).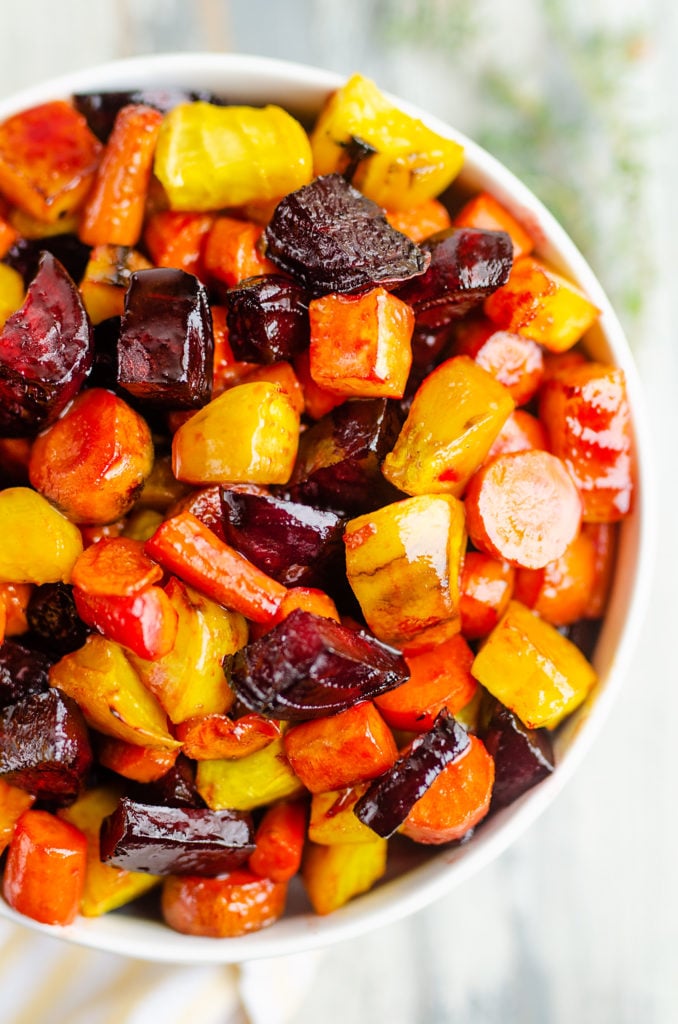 What kind of carrots to use with beets
Nowadays, you can find so many types of carrots in the typical grocery store. White, yellow, orange, even purple carrots are all available. I recommend the large orange carrots for a couple reasons.
First, the big orange carrots are easiest to find. Next, the larger the carrot, the easier it is to cut into the right size to cook evenly with the beets. You luck out in this case, because being both root veggies, carrots and beets have a reasonably close cooking time.
You just want to make sure that they are all cut to a reasonably similar size for an even cooking time.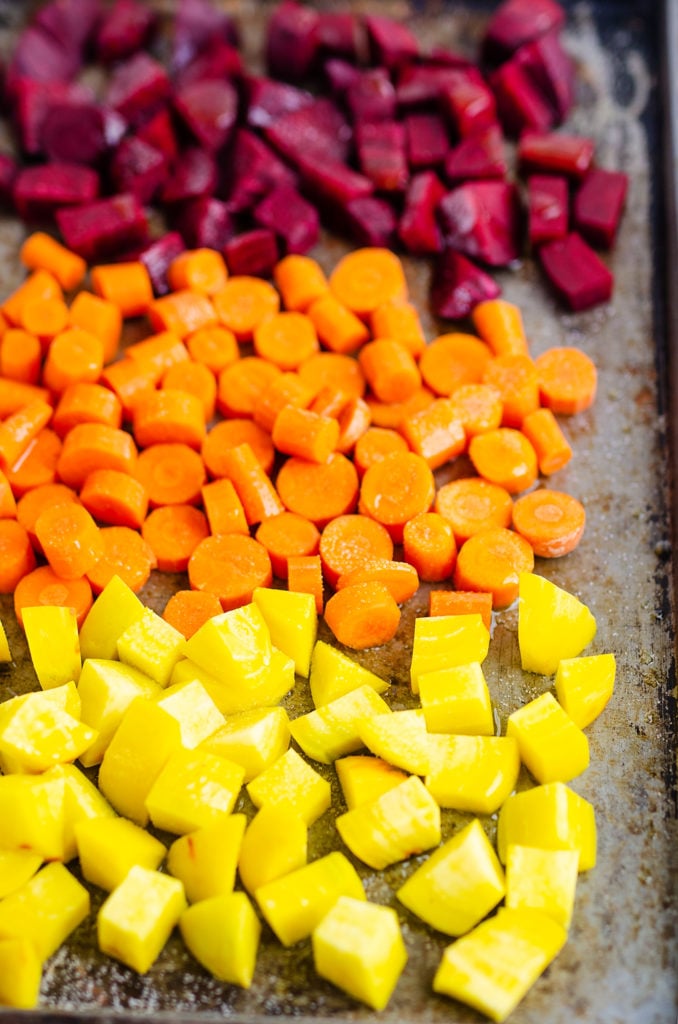 Can I use Baby Carrots?
If you only have a package of baby carrots handy, then those work too. You might have to cut a few in half but it just depends how small or large they are relative to your chopped beets.
With the other color carrots, you don't get the same color "pop". White and yellow carrots simply turn the color of the beets. Purple carrots might as well be beets too.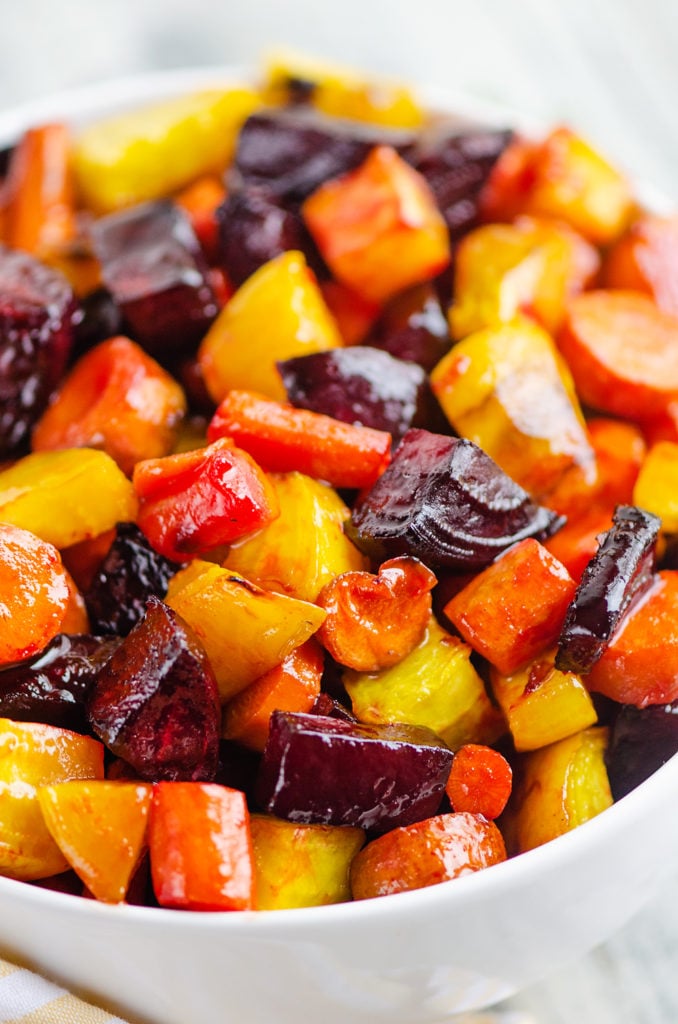 The best beets for roasting
Beets also come in a variety of colors as well. In fact, there are white, yellow, and orange beets too. So if you want to flip things up a bit, I guess you could always have purple carrots with orange beets. But, the most common of course are the dark purple beets.
The different colors of beets don't taste all that different, so you are always assured of a great dish with the regular old purple varieties. These also go by fancy names like Merlin, Moulin Rouge, and Ruby Queen.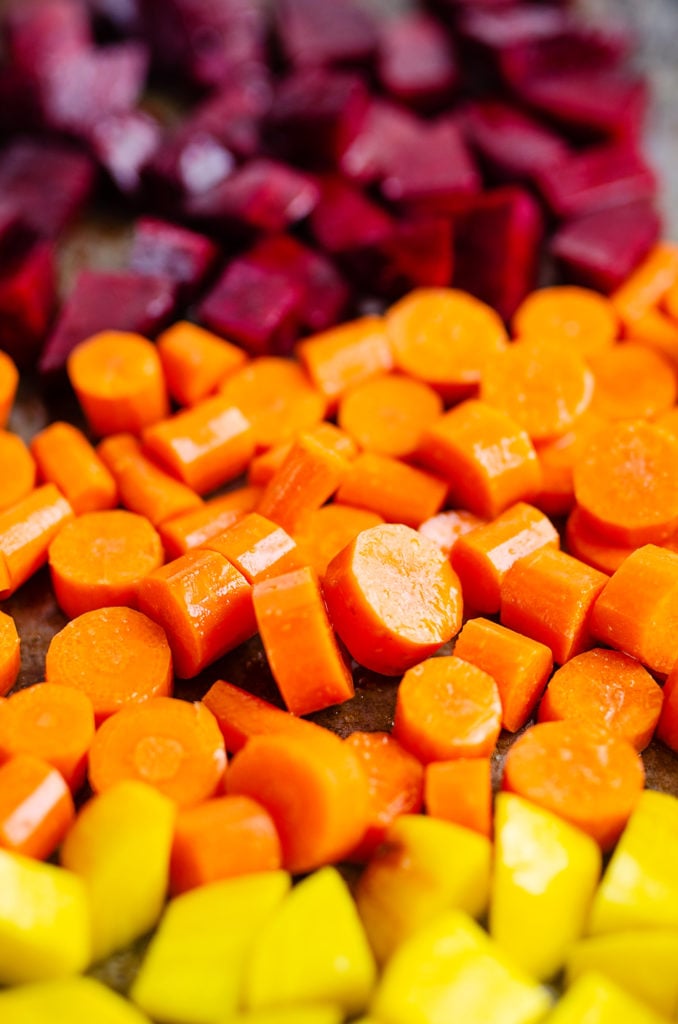 Leftover roast beets and carrots
There are a few great things about leftover roast carrots and beets. They keep really well for one thing. Carrots and beets both are very resistant to molding so they keep a bit longer. In the fridge, you can easily store them for up to a week in a sealed container.
Freezing is even an option, but keep in mind that freezing can change the texture a bit. They can keep in the freezer for about a month. Just warm them in the oven or microwave to serve.
One of my favorite things to do with leftover roasted carrots and beets though is to add a touch of balsamic or apple cider vinegar and use them cold in salads. Add some honey goat cheese for a real flavor explosion!
They are a great way to make a salad that is even more nutritious as well as filling.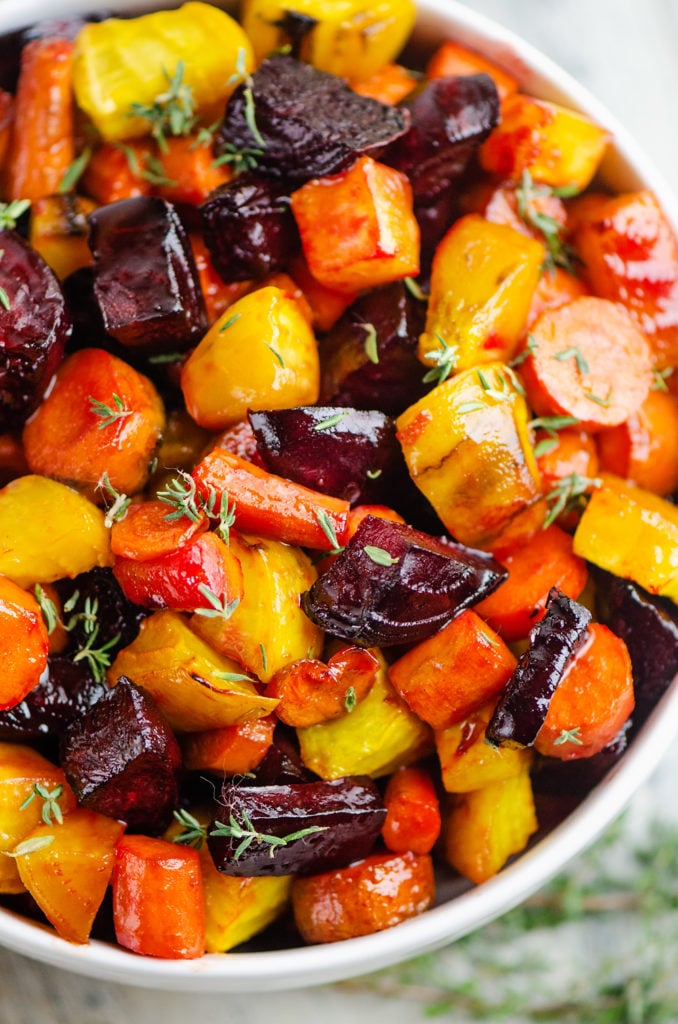 What fresh herbs can I use?
These Honey Roasted Beets & Carrots are good all on their own, but fresh herbs sprinkled on top really put them over the top.
Whether you grown fresh herbs in your garden or you have some extra on hand, you can use a variety of herbs in this recipe. I used fresh thyme, but rosemary and dill would also compliment the flavors wonderfully as well.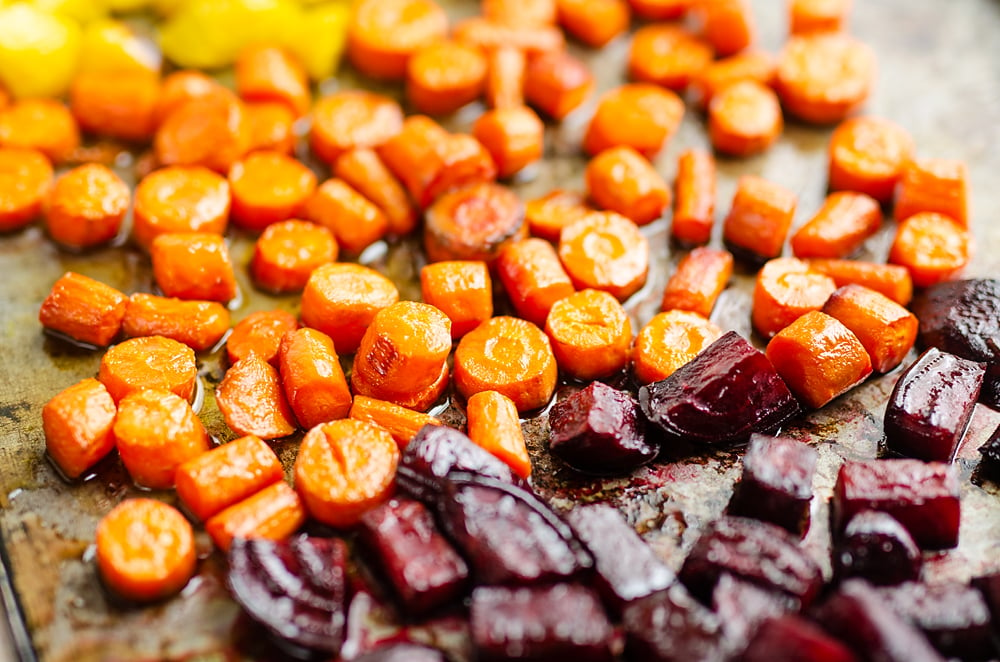 More dishes with beets and carrots
If you love these veggies as much as I do, then you try to find ways to work them into more dishes. Sometimes, it might just be a matter of adding that lovely beet color to something like pink deviled eggs.
Or, maybe you want to try something with a bit more heft to make a fully balanced meal, like a southwest root veggie and chicken bowl. A glazed hoisin meatball bowl with roast carrots is also wonderful.
You can use your leftover roasted beets and carrots in either of those by the way. Another great way to harness those sweet and lovely leftovers!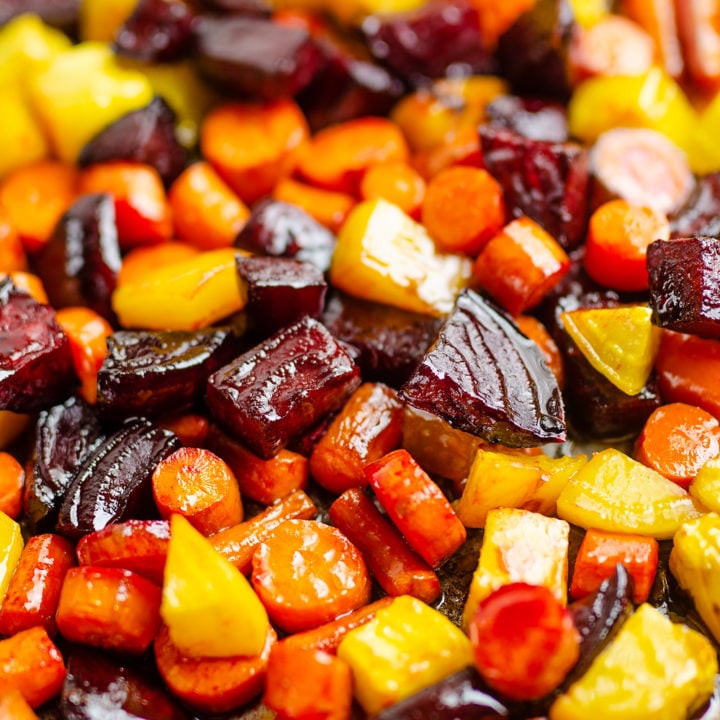 Honey Roasted Beets & Carrots
Honey Roasted Beets & Carrots are an easy and healthy side dish. This simple recipe highlights the flavors of the vegetables with a touch of added sweetness.
Ingredients
4 medium beets
4 large carrots
1 Tbsp. olive oil
1/2 tsp. sea salt
1 Tbsp. butter
2 Tbsp. honey
1 Tbsp. fresh herbs (thyme, rosemary, dill, etc.)
Instructions
Preheat the oven to 450°.
Wash and peel the carrots nad beets. Chop the vegetables into even 1/2 inch pieces.
Add the beets and carrots to a sheet pan and toss with olive oil and salt.
Spread the vegetables out on the pan and roast at 450° for 20-25 minutes or until they are tender. The cooking time will vary based on the size of the vegetables.
Meanwhile, in a small microwave safe bowl, melt the butter in the microwave. Whisk in the honey.
Remove the beets and carrots from the oven and pour the honey butter mixture over them. Toss until they are well coated.
Return to the oven for 5 minutes. Serve tossed with fresh herbs.
Recommended Products
As an Amazon Associate and member of other affiliate programs, I earn from qualifying purchases.
Nutrition Information:
Yield:

6
Serving Size:

1
Amount Per Serving:
Calories:

84
Total Fat:

4g
Saturated Fat:

2g
Trans Fat:

0g
Unsaturated Fat:

3g
Cholesterol:

5mg
Sodium:

253mg
Carbohydrates:

12g
Fiber:

2g
Sugar:

9g
Protein:

1g
Provided nutrition data is only an estimate. If you are tracking these nutrients for medical purposes, please consult an outside, trusted source.