Sweet Strawberry Salsa is a light and fresh dip perfect with tortilla chips for a sweet snack or dessert. Fresh fruit is tossed with lime juice for bright flavors perfect for summer!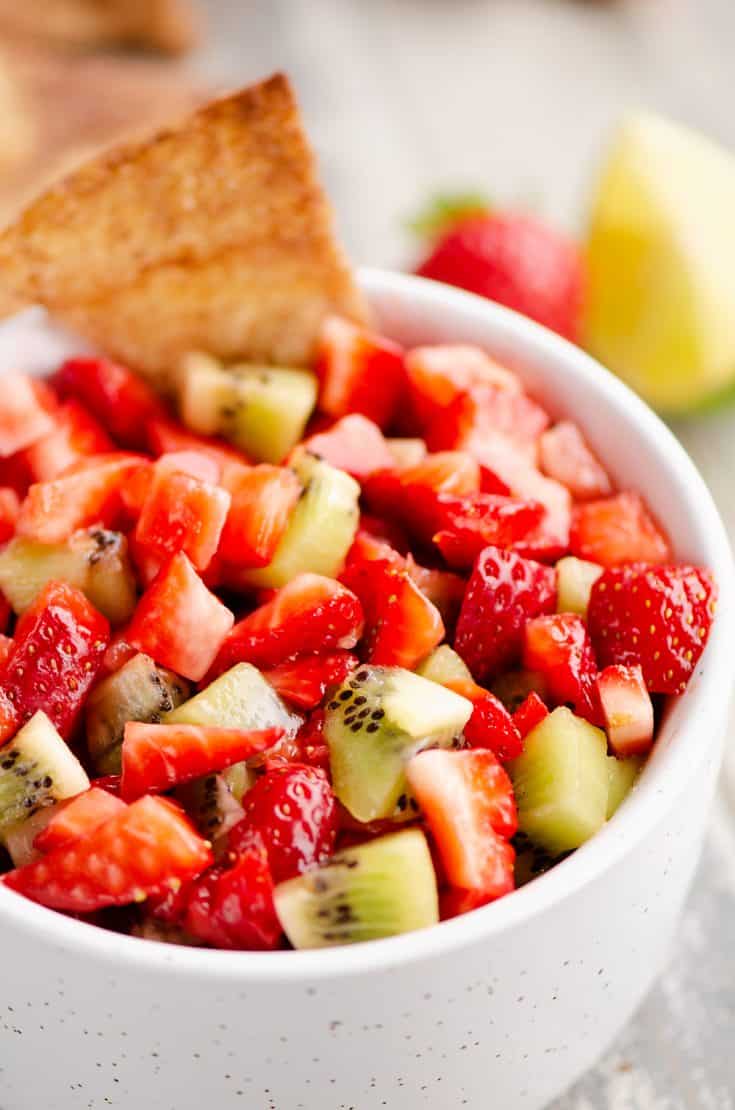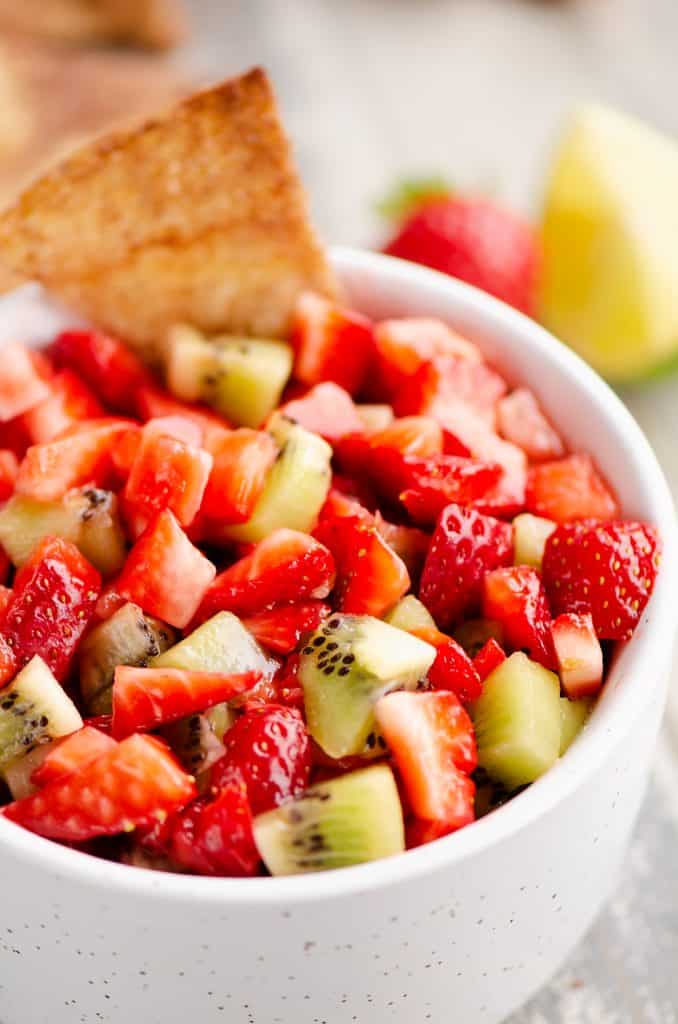 Sweet Strawberry Salsa
Sweet Strawberry Salsa is a delicious, craveable 3 ingredient dessert that only takes a few minutes to make. This summer fruit salsa recipe is perfect with Cinnamon Tortilla Chips, salty tortilla chips or straight from the spoon! Strawberries and kiwis combine to make a healthy treat you'll love all summer long.
I was deciding what to make for our annual Family Summer Olympics this year and I had loads of fresh fruit sitting in my refrigerator. Not that fresh fruit lasts all that long in my house anymore with two fruit obsessed toddlers, but it was calling my name for a sweet snack.
I decided to chop up the kiwis and strawberries and toss them with a little bit of lime juice. I enjoyed them with salty tortilla chips the first time around, but when I served them at olympics I made some of my amazing homemade cinnamon and sugar chips. The combination of flavors was simple but delicious!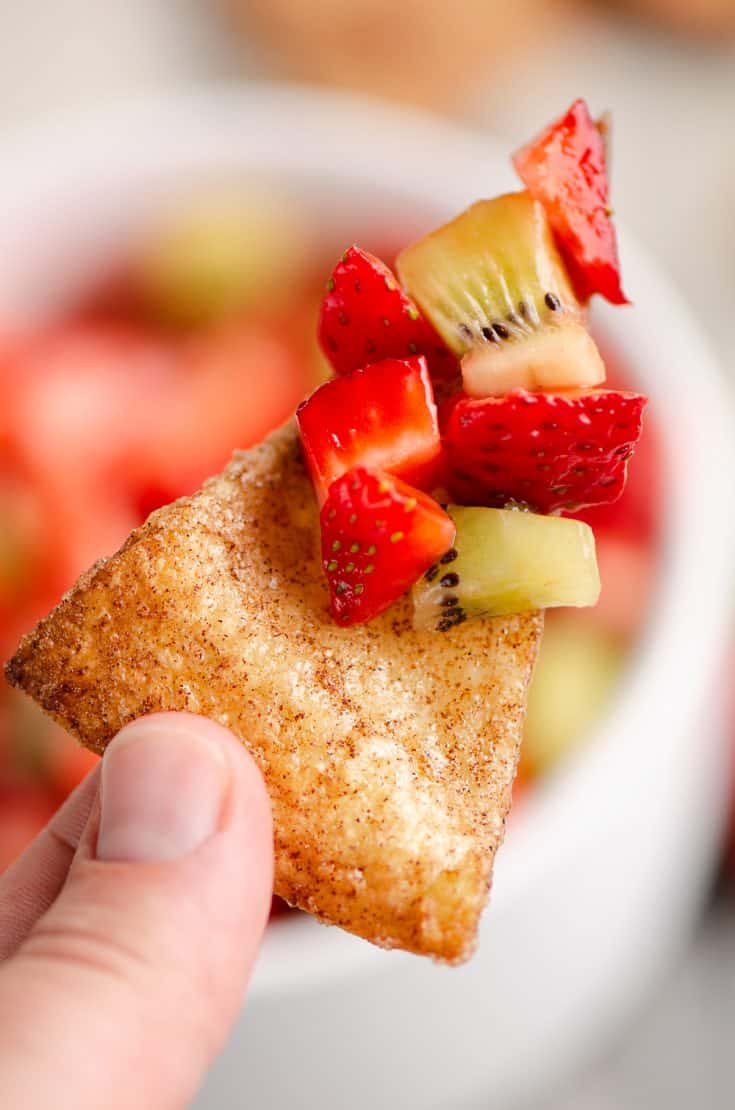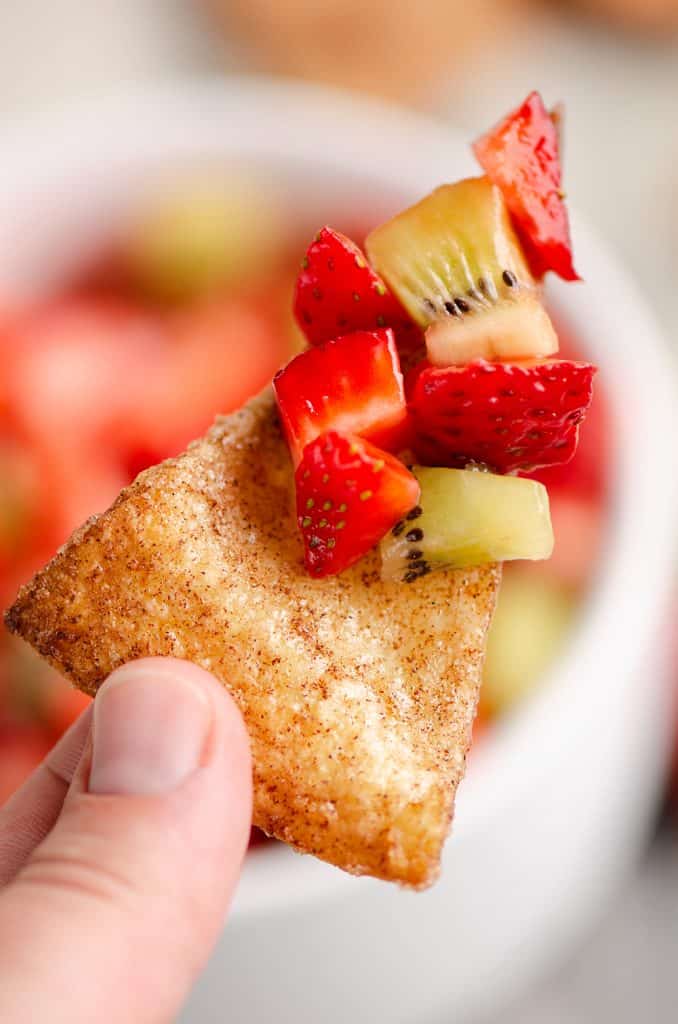 Strawberry Salsa Recipe
July here in Minnesota means the strawberries are finally red and ripe! Picking strawberries as a family is a great summer tradition to start with kids. If you've never tried it, I definitely recommend it. We actually got to pick strawberries in my parent's large garden this year and the twins were in heaven!
There's nothing like fresh picked, sun-kissed strawberries from a local farm. A lot of locally owned family farms have pick-your-own events that are fun for kids and helps support small farms! You'll have so many strawberries, though! Or maybe you have a strawberry patch in your garden at home. Either way, now is the perfect strawberry season.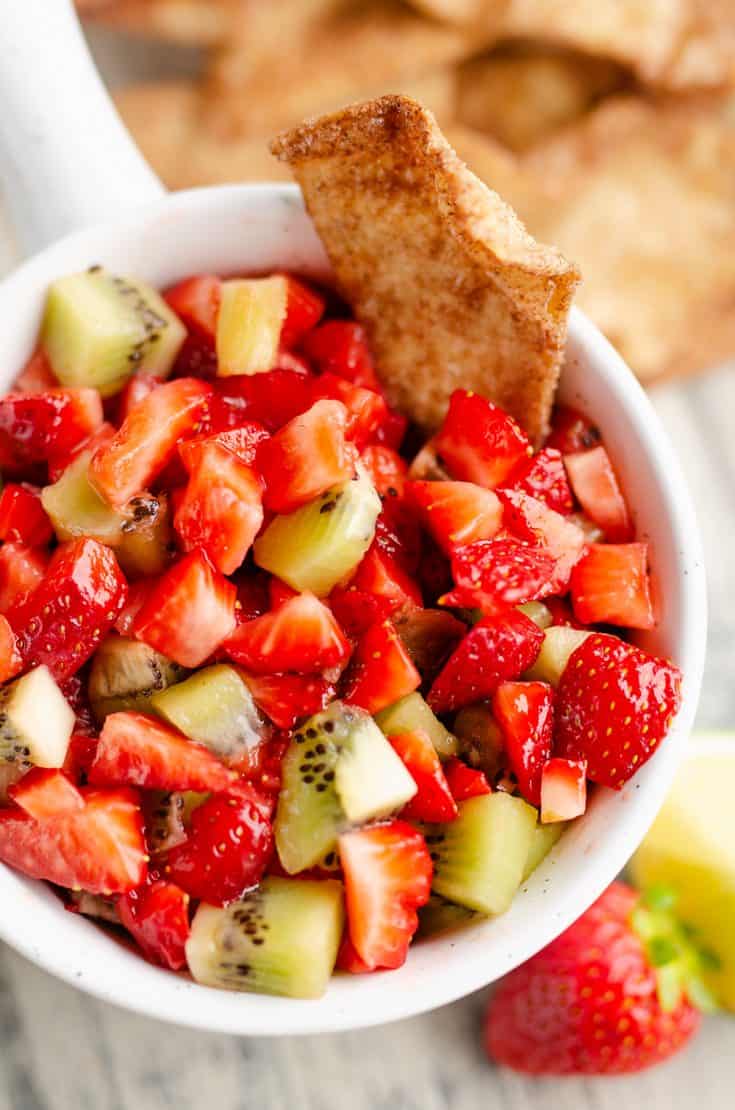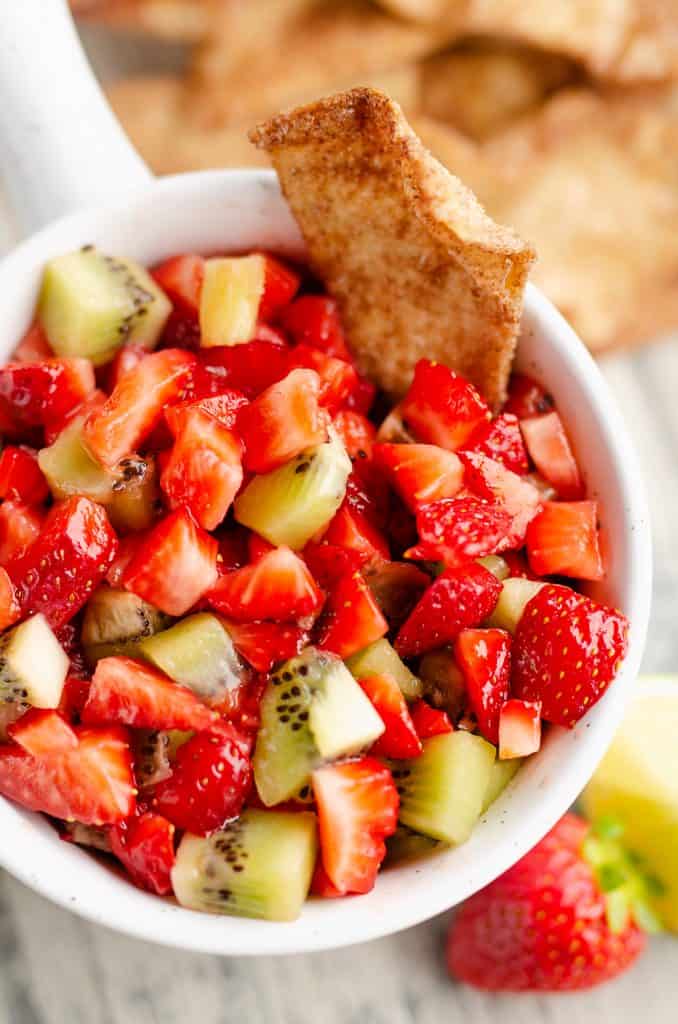 There are tons of great strawberry recipes. I have you covered! I have strawberry recipes for everything from salads like this Grilled Steak Strawberry Salad to delicious desserts like these Mini Strawberry Lemon Pies. But sometimes you need something super fresh and really easy! This Sweet Strawberry Salsa is exactly what you need. It's only three ingredients and it takes less than 5 minutes to put together. It's sweet and simple, and you and your family are going to love the way it tastes.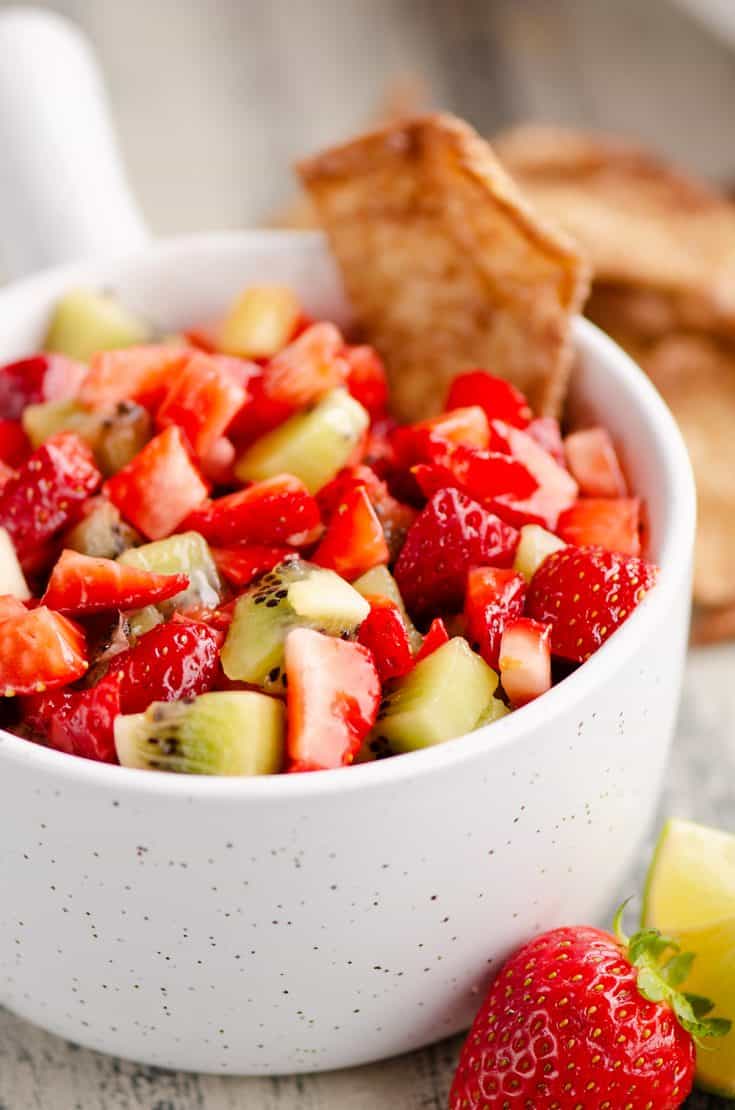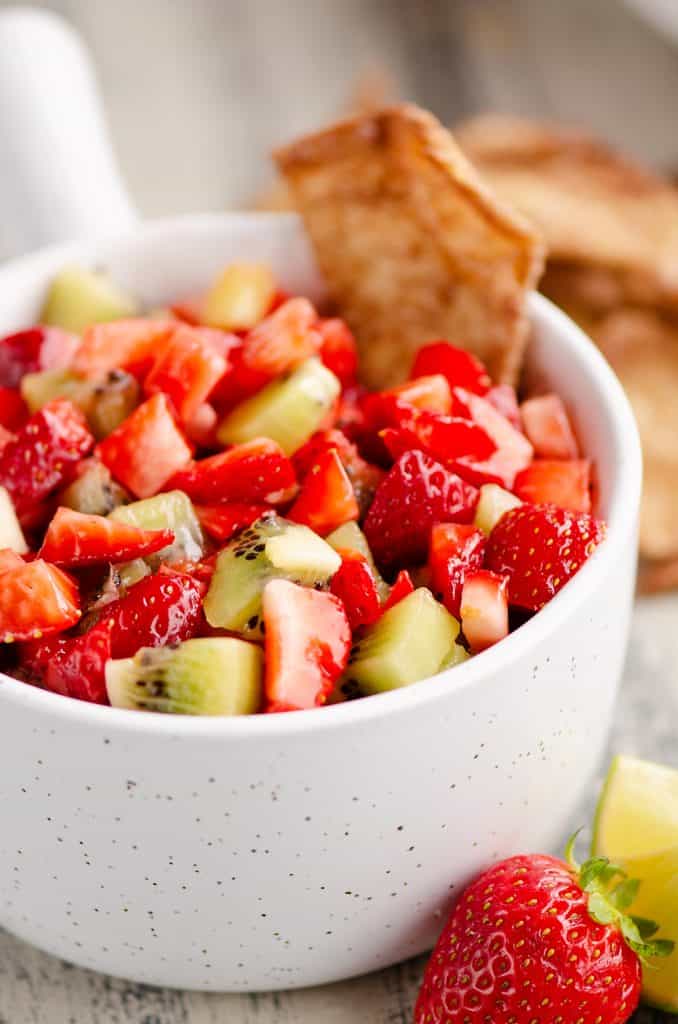 Fruit Salsa with Cinnamon Sugar Chips
This easy salsa is only three ingredients: strawberries, kiwis, and fresh lime juice. It's a fantastic fresh summer taste. Serve it by itself as a fruit salad, or pair it with cinnamon chips and serve it as a dessert. My Cinnamon Chips are only four ingredients and sooo good. If you want something even more convenient than that, try Stacy's Cinnamon Sugar Pita Chips! Cinnamon sugar really brings out the tart citrus/strawberry flavor of this salsa!
What's in Fruit Salsa?
This Fruit Salsa recipe is only three ingredients, but if you want to change it up there are plenty of other healthy fruit options! Try adding some of these great summery fruits chopped into your salsa.
Blueberries
Blackberries
Pineapple
Peaches
Mangoes
Oranges
Grapefruit
You can also try topping it with whipped cream or this Whipped Honey Goat Cheese Fruit Dip for something extra special!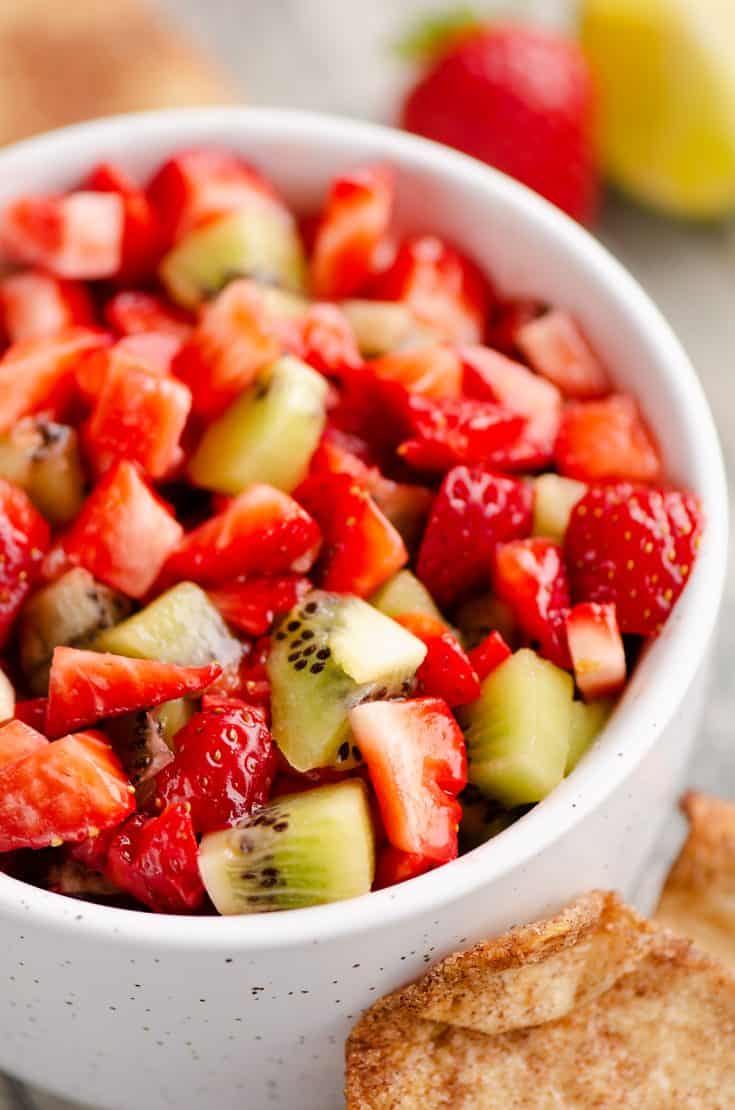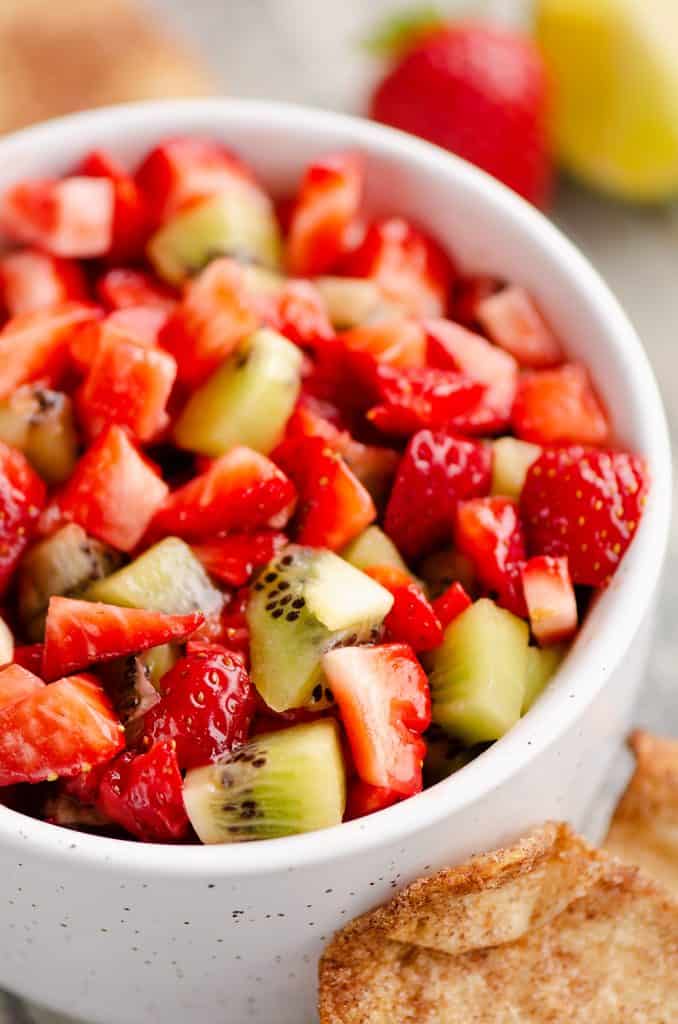 What Can I Make With Strawberries?
Do you still have tons of fresh strawberries to use up? I know I always have more than I think I can use after berry picking! Hang tight though, I have TONS of great berry recipes! You'll love having delicious, fresh strawberries all summer long. Strawberries are a great healthy treat, and they go with so many kinds of food. Salads, dinners, desserts, and more! Check out this list of some of my family favorites.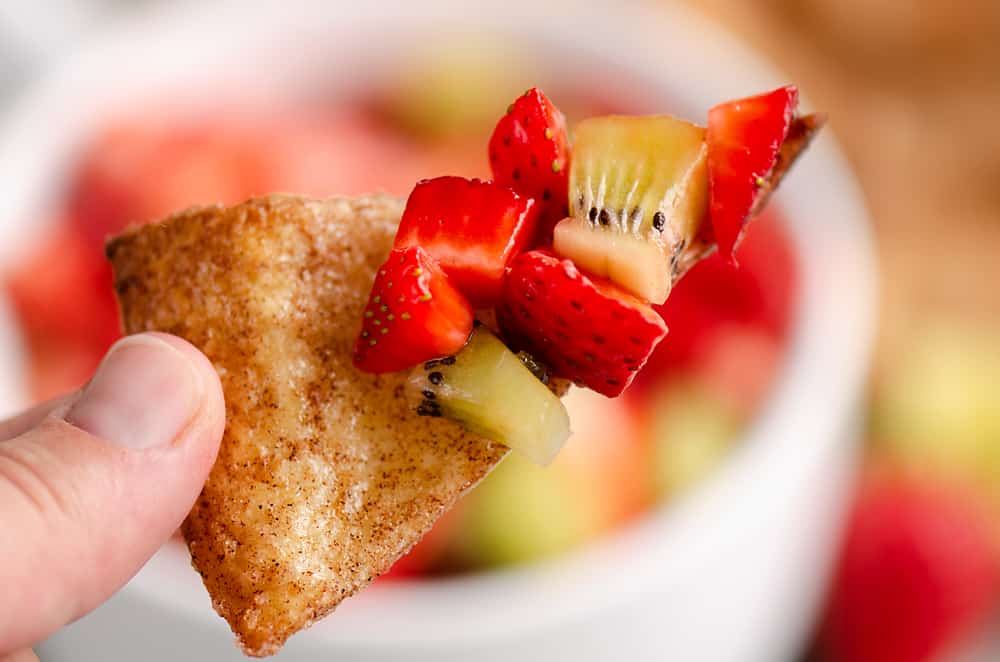 What Goes With Fruit Salsa?
This delicious fruit salad makes a great side dish for a sunny day. Better yet, pack some in the kids' lunch boxes with their sandwiches! They'll love a sweet treat, and this fruit salsa is packed with vitamin C!
What else goes with strawberry fruit salsa? Personally, I love it with something hearty and savory like Cheese Steak. It also pairs well with something simple like sandwiches. Try my Pesto Chicken Sandwiches or Italian Sub Sandwiches for a fantastic lunch!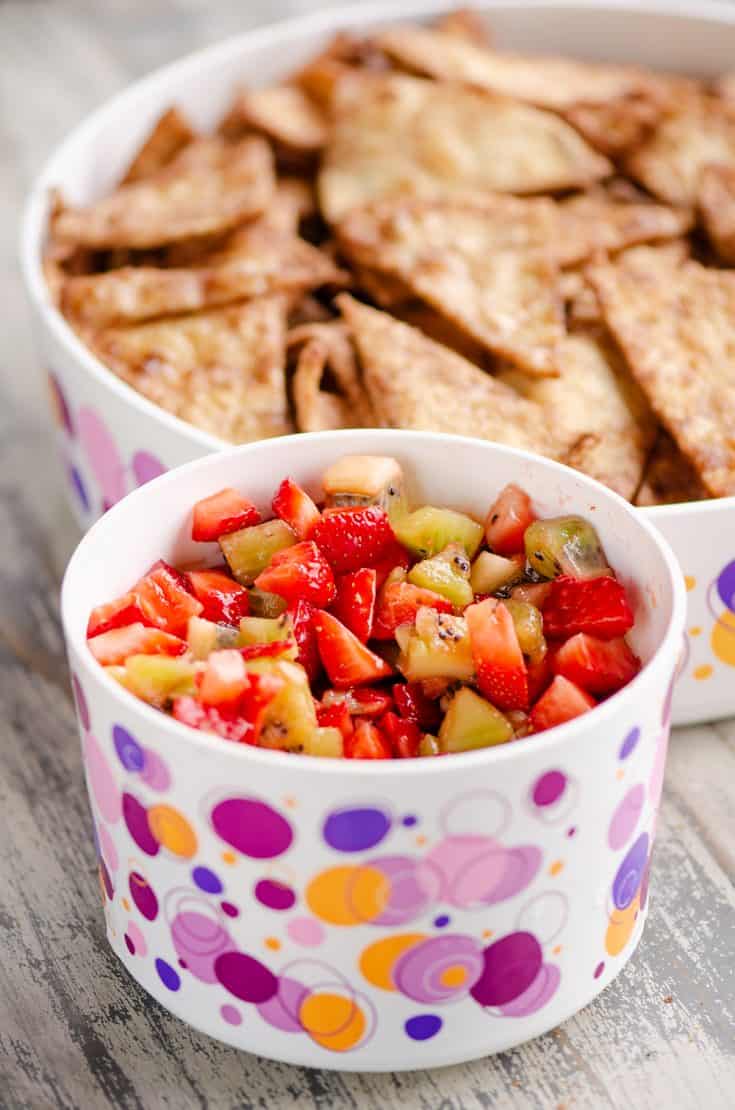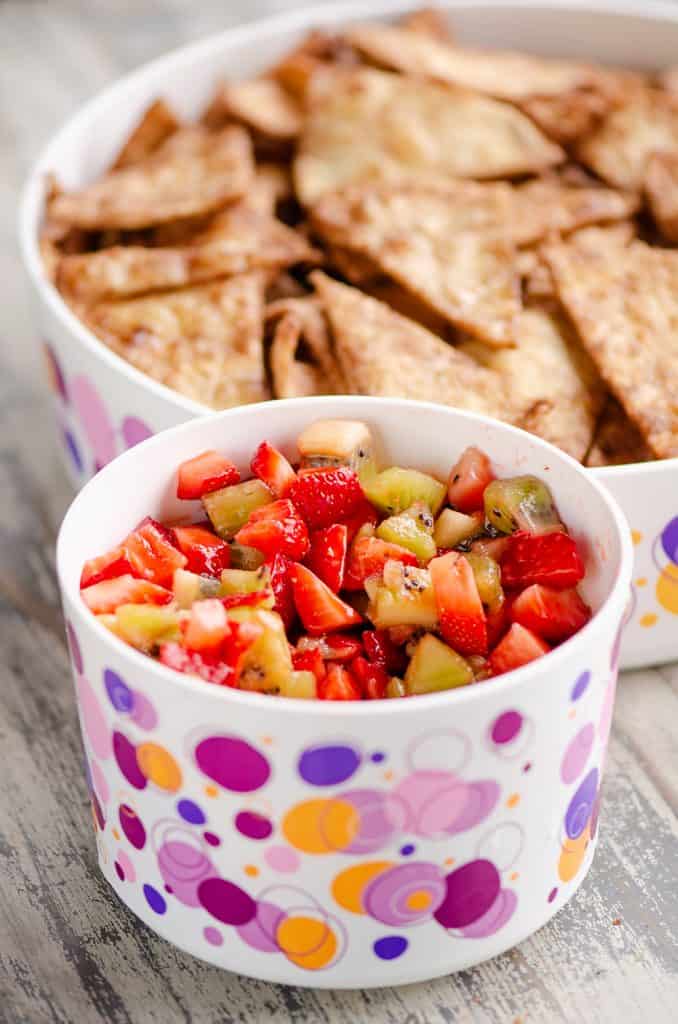 How Do You Store Strawberry Fruit Salsa?
This fruit salsa has the benefit of not browning quickly like fruit salad that has apples or bananas. It's easy to store for a day or two! Just cover it tightly in plastic wrap or in a a sealed container and store it in the fridge for 3 to 5 days. When possible, keep it in the back of the refrigerator where it's colder.
Keep in mind that strawberries do tend to get a little squishy the longer you keep them after chopping. For a few days they'll still be firm, but beyond that they'll start to soften. The red color from the strawberry will also start to bleed into the kiwi, so while it will still taste good, it won't look as appealing for serving to guests. Keep an eye on it and enjoy!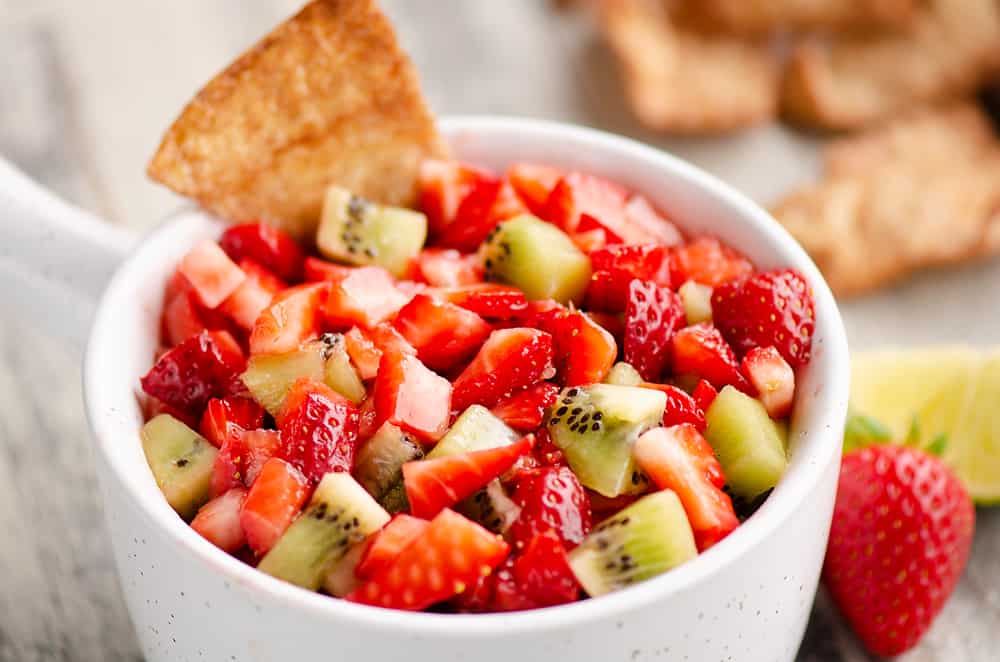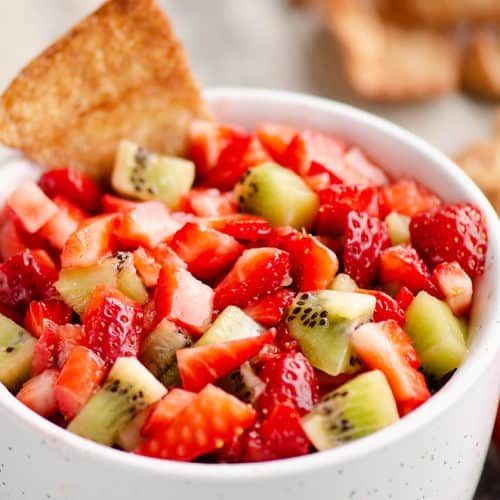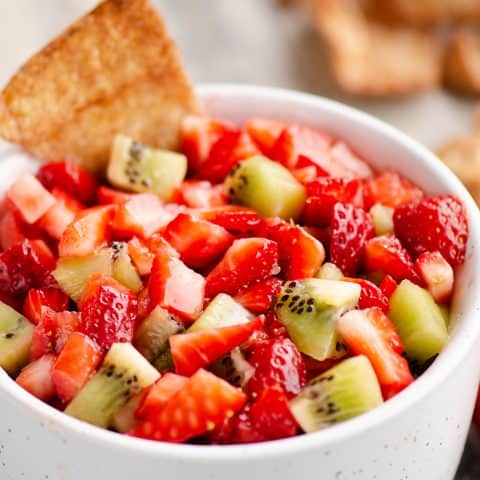 Sweet Strawberry Salsa
Sweet Strawberry Salsa is a light and fresh dip perfect with tortilla chips for a sweet snack or dessert. Fresh fruit is tossed with lime juice for bright flavors perfect for summer!
Ingredients
1 quart strawberries
2 large kiwis
1/2 lime, juiced
Instructions
Chop the fruit into small even pieces and toss with the lime juice. Serve with Cinnamon Sugar Chips.
Recommended Products
As an Amazon Associate and member of other affiliate programs, I earn from qualifying purchases.
Nutrition Information:
Yield:

8
Serving Size:

1
Amount Per Serving:
Calories:

39
Total Fat:

0g
Saturated Fat:

0g
Trans Fat:

0g
Unsaturated Fat:

0g
Cholesterol:

0mg
Sodium:

1mg
Carbohydrates:

9g
Fiber:

2g
Sugar:

6g
Protein:

1g
Provided nutrition data is only an estimate. If you are tracking these nutrients for medical purposes, please consult an outside, trusted source.