Strawberry Rhubarb Custard Dessert is a rich and delicious summer dessert recipe full of tart rhubarb and sweet egg custard over an easy sugar cookie crust.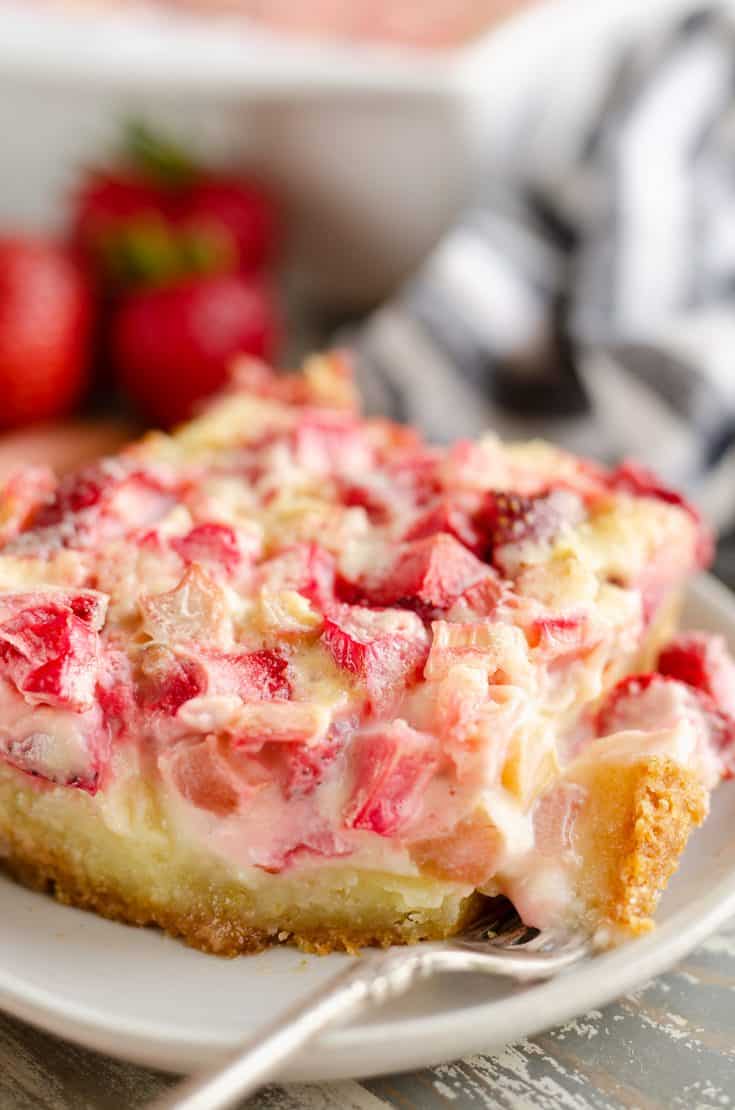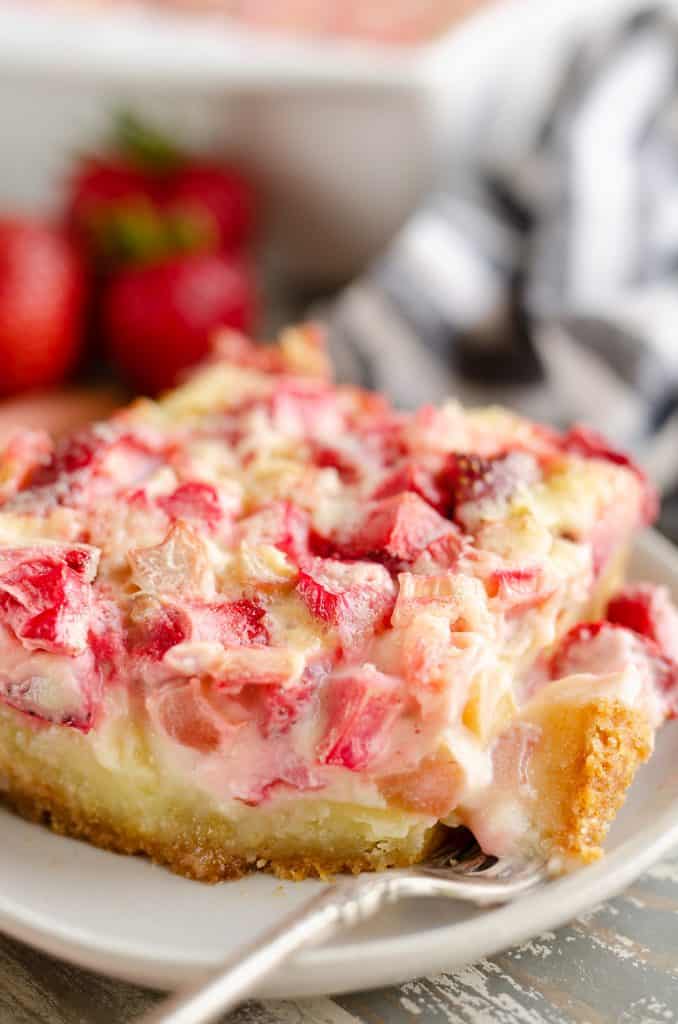 Strawberry Rhubarb Custard Dessert
This delicious Strawberry Rhubarb Custard Dessert is a spectacular summer dessert recipe that is so easy to make. Simply prepare a store bought sugar cookie mix and press it into a 9×13 pan for a sweet and simple crust. Top it with chopped rhubarb, strawberries and a cream and egg custard. Bake it off and you have a dessert with the perfect balance of textures and tart and sweet flavors.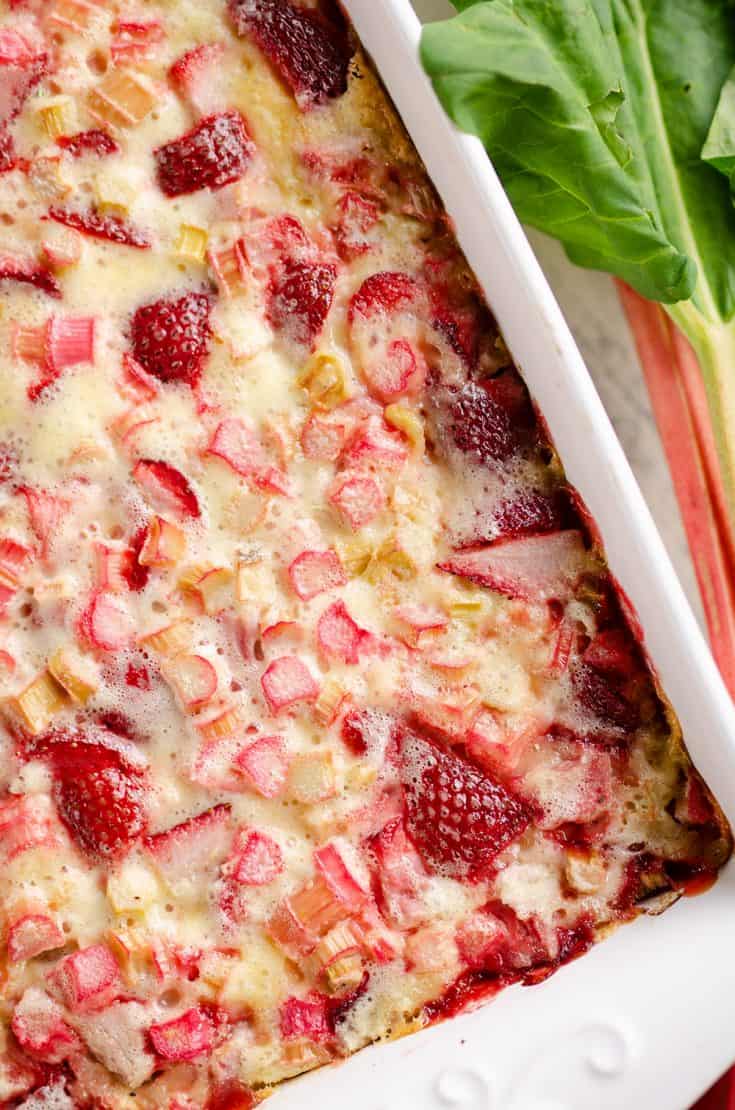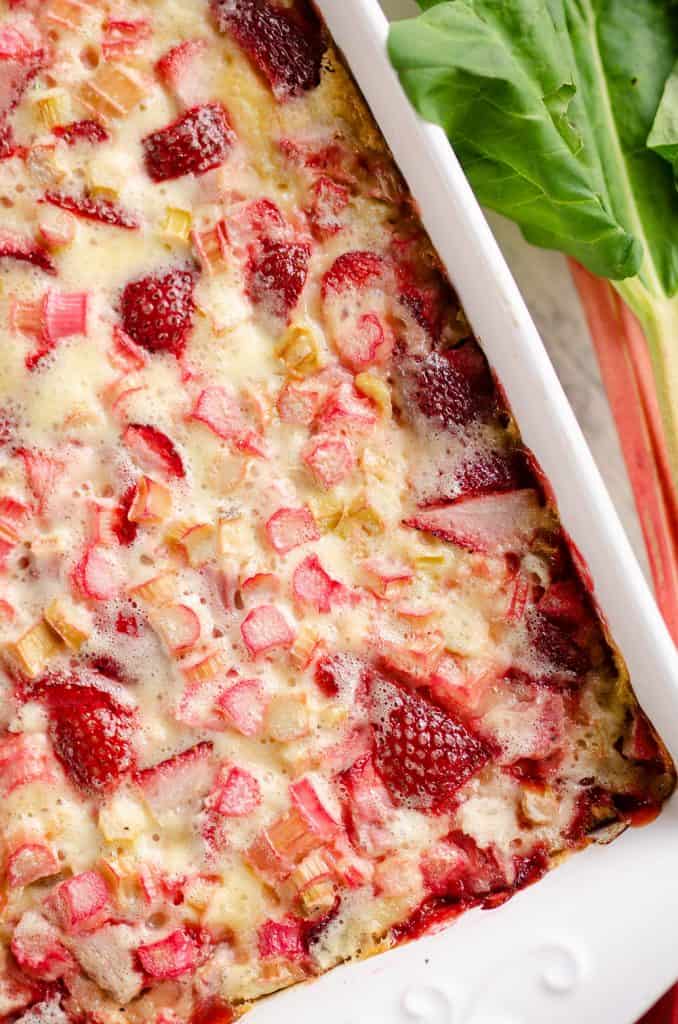 Rhubarb Custard
Rhubarb Custard Pie is my all-time favorite pie. My Mom makes this dessert every summer when our rhubarb patch is ripe. She makes the perfect pie crust to compliment the creamy custard and rhubarb. While I adore the dessert, I don't so much love making homemade pie crust. It's a tedious process that I rarely have the patience to perform and store bought pie crusts just don't compare.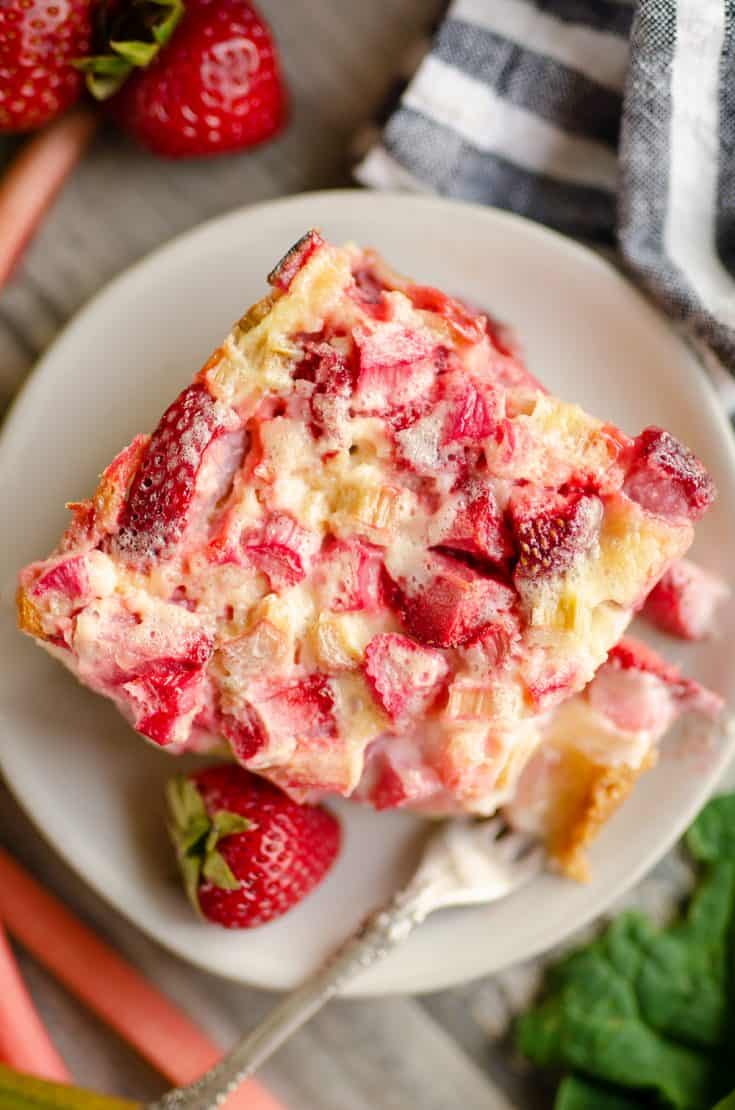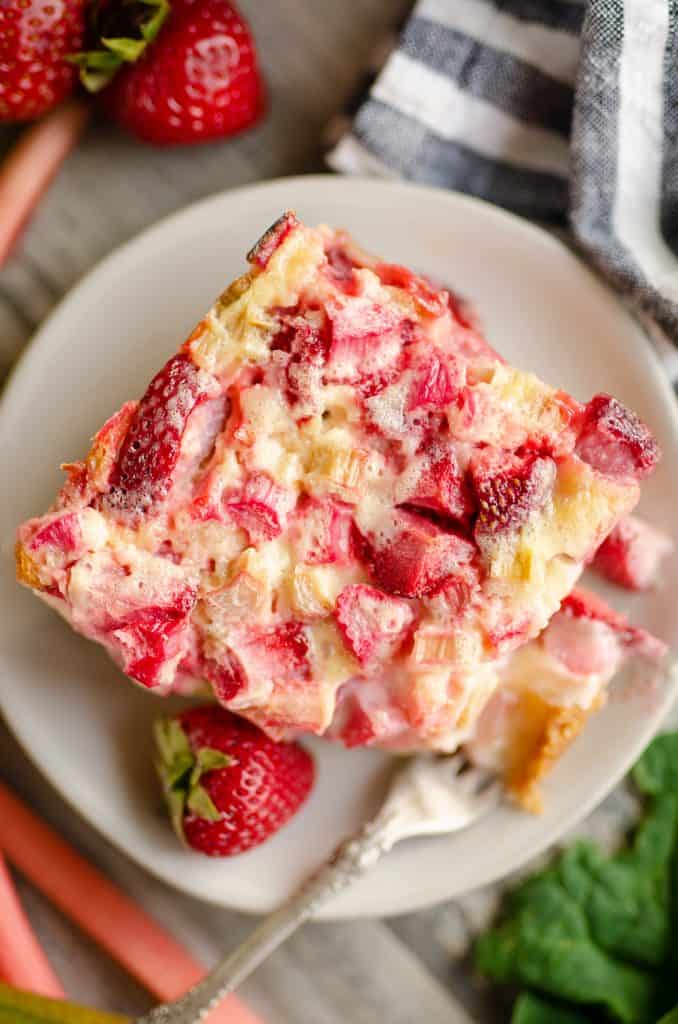 Sugar Cookie Crust
To avoid having to make a homemade pie crust, I dreamt up this easy dessert version of my favorite pie. Using the crust recipe from my Lemon Cheesecake Bars. It's as simple as mixing together a pouch of Bettty Crocker Sugar Cookie Mix, butter, egg and flour. The mixture will still be crumbly, but it just gets pressed into a 9×13 pan.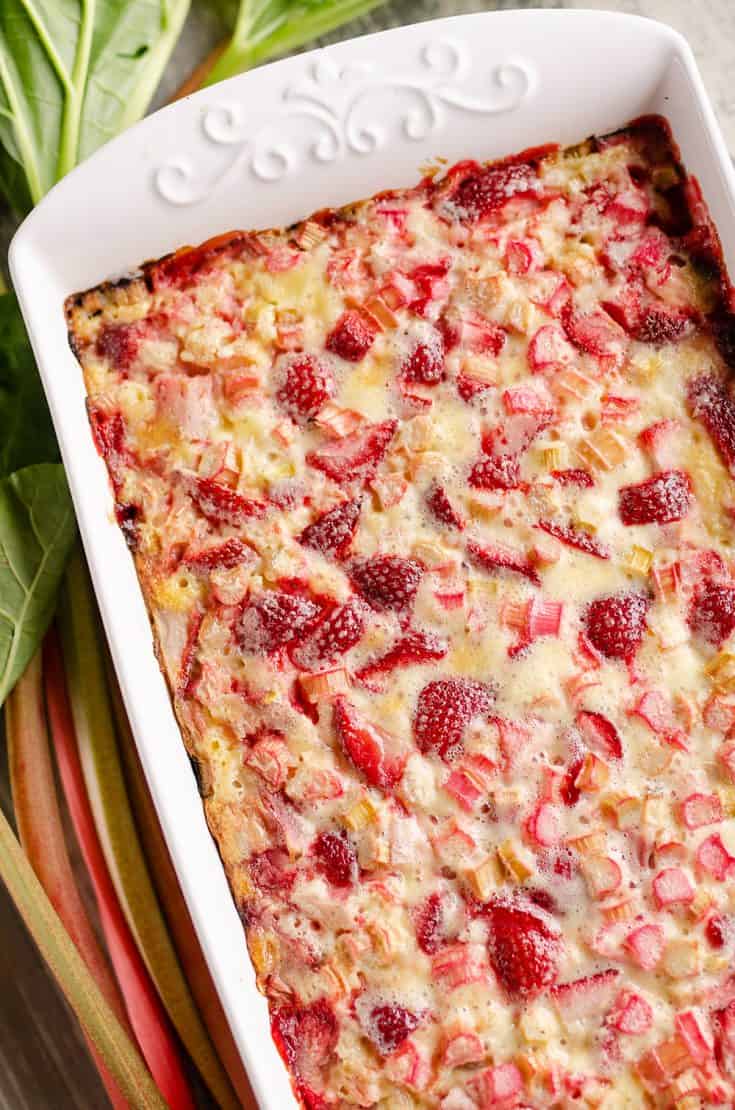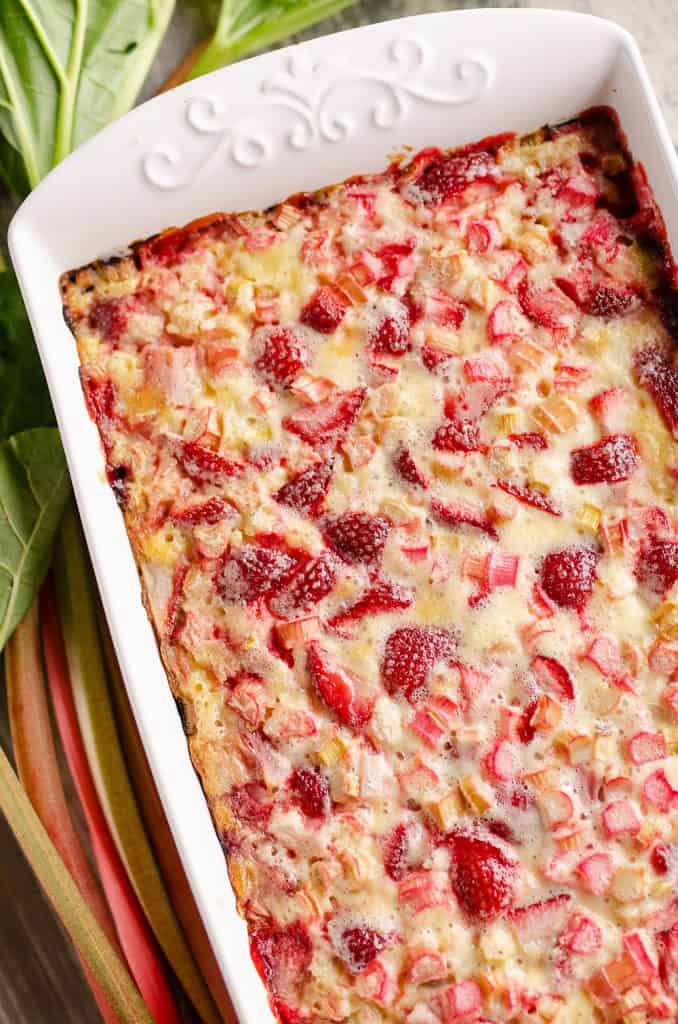 Rhubarb Custard Bars
After the sugar cookie crust is assembled, it's time to top it with all the creamy custard and fruit. Well actually, rhubarb is a vegetable, but let's not worry ourselves with those details. It's wonderful in desserts like these bars and that's all that really matters!
We grow a little patch in our garden that we inherited from my parent's and it's by far the most important plant in there. Unlike most fresh produce, it isn't readily available in grocery stores in it's fresh form. If you are forced to use frozen rhubarb, be sure to thaw it and pat it very dry. When using frozen rhubarb, I toss the dried rhubarb in a tablespoon of extra flour to compensate for the moisture it gives off compared to the fresh rhubarb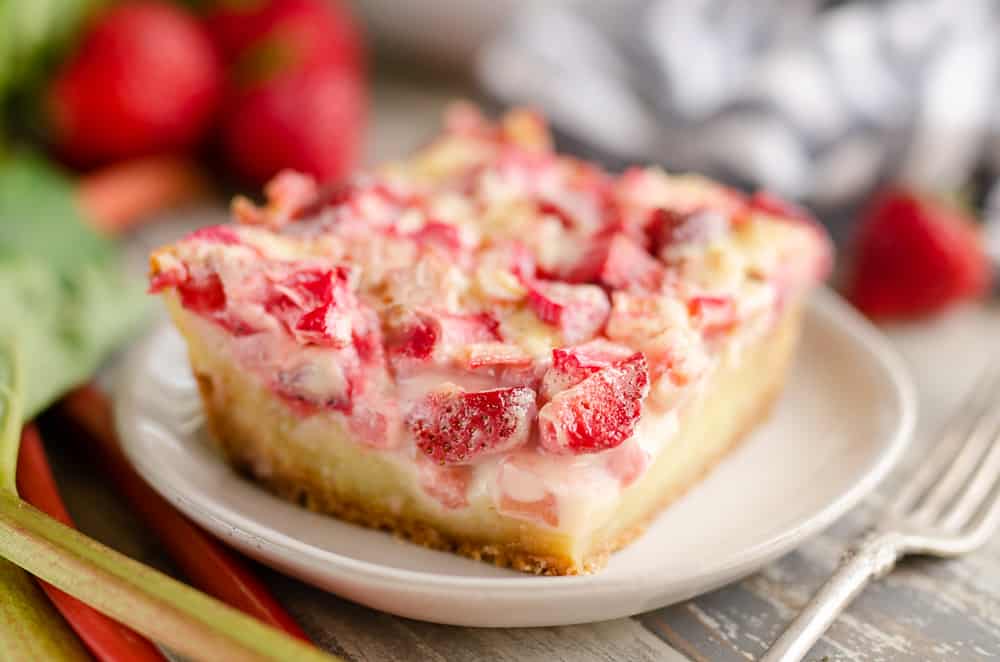 Strawberry Rhubarb
I parted from our traditional rhubarb custard pie recipe just a tad and added in some fresh strawberries. It adds a little more sweetness for a twist on our family favorite recipe. Strawberries rhubarb recipes are a quintessential summer staples. It's a natural pairing loved by many.
This Strawberry Rhubarb Custard Dessert has been a hit with anyone I have ever made it for. I promise it is a must try dessert recipe that is sure to be a new favorite!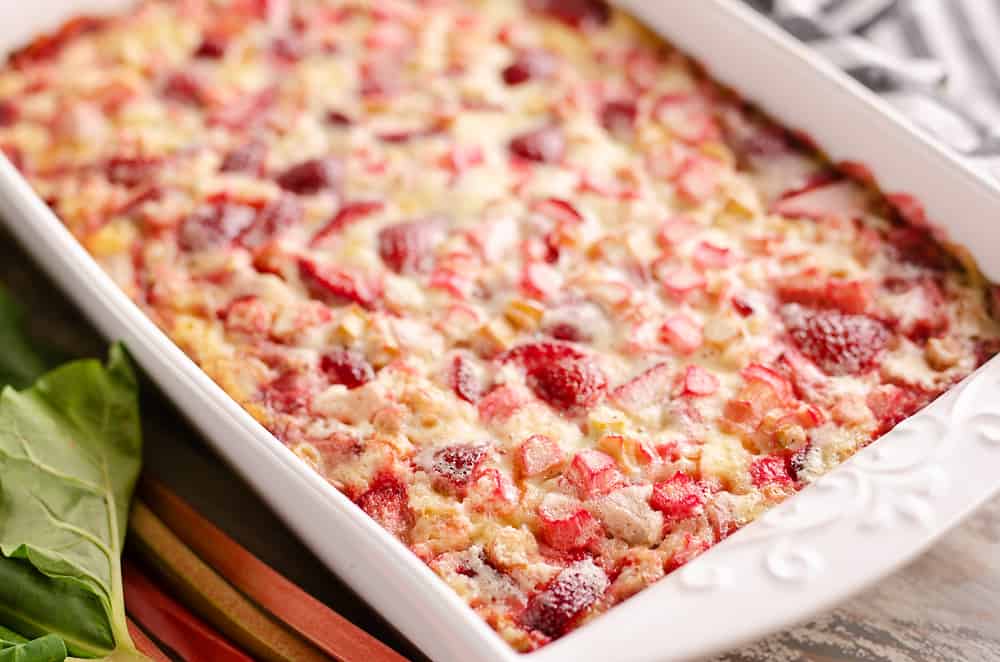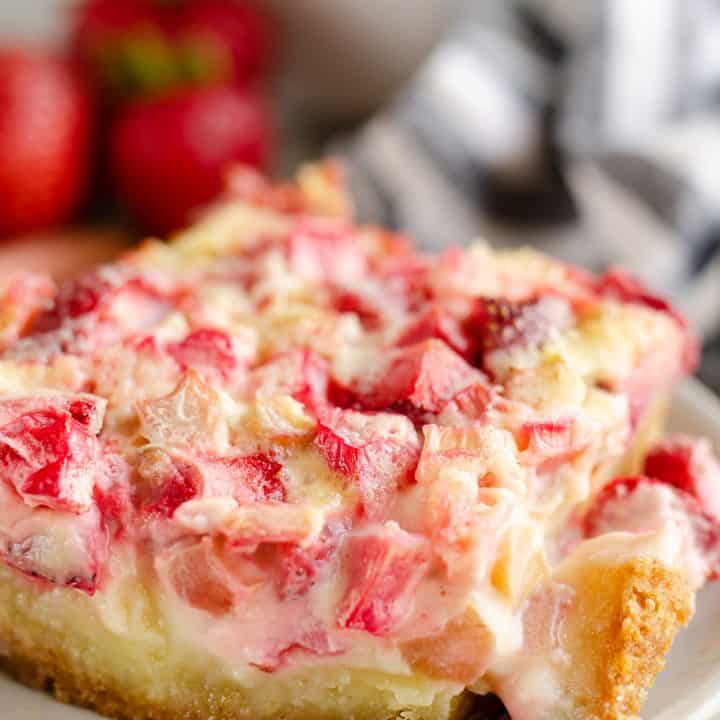 Strawberry Rhubarb Custard Dessert
Total Time:
1 hour
15 minutes
Strawberry Rhubarb Custard Dessert is a rich and delicious summer dessert recipe full of tart rhubarb and sweet egg custard over an easy sugar cookie crust.
Ingredients
Crust
1 17.5 oz pouch, Betty Crocker sugar cookie mix
1/2 c. Butter, softened
2 T Flour
1 Egg
Filling
3 eggs, beaten
1 c. granulated sugar
1 c. heavy whipping cream
1/4 c. flour
½ tsp. salt
3 c. rhubarb, chopped into small pieces
2 c. strawberries, roughlly chopped
Instructions
Heat oven to 350°. Spray the bottom of 9x13 in pan with non stick spray.
In medium bowl, stir cookie mix, butter, flour and 1 egg until crumbly dough forms. Press firmly into the 9x13 pan.
Top the crust with the chopped fruit.
In a medium bowl, whisk the eggs, flour, sugar, cream and salt just until smooth. Pour the custard over the strawberries and rhubarb.
Bake at 350° for 50-60 minutes. The center will still be a little jigly, but the edges should be set. Allow to cool to room temperature before serving.
Store refrigerated.
Nutrition Information:
Yield:

12
Serving Size:

1 grams
Amount Per Serving:
Unsaturated Fat:

0g
More delicious rhubarb recipes!