Pesto Chicken Sub Sandwich is an easy and delicious lunch recipe made with roasted pesto chicken breasts, lemon mayonnaise and plenty of fresh veggies for a healthy meal you can make for a crowd or prep for a light on-the-go meal!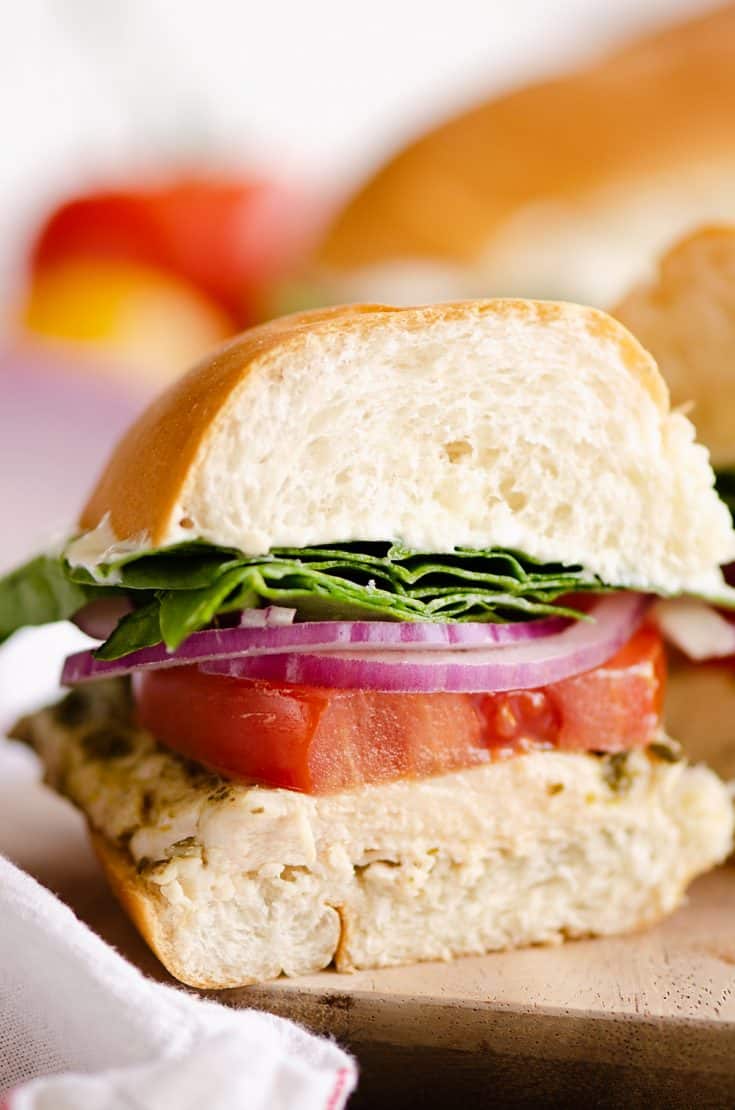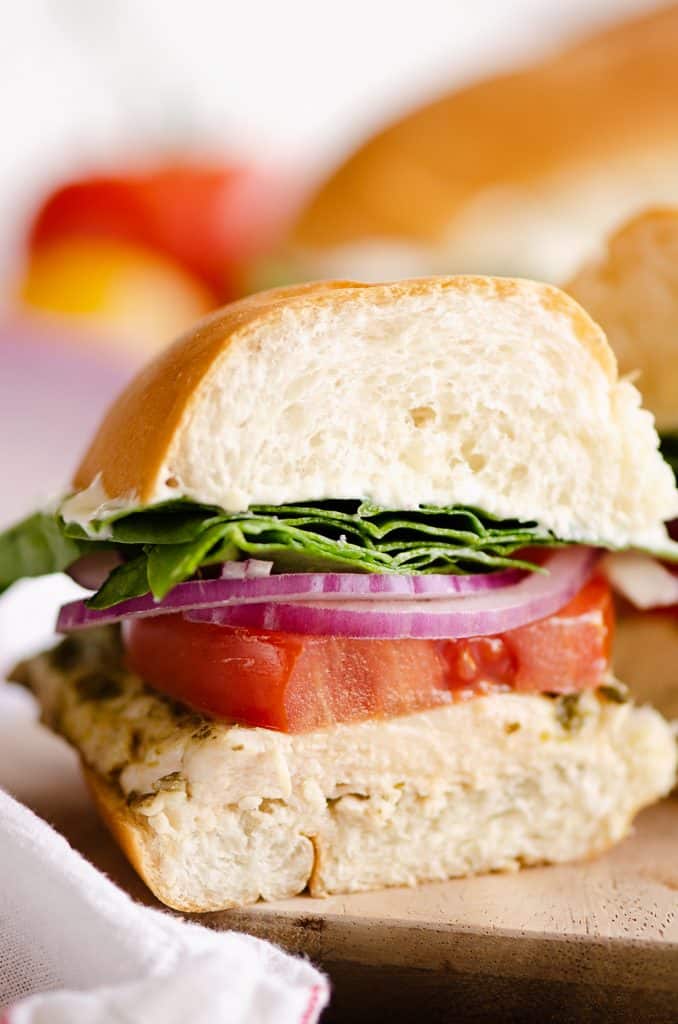 Pesto Chicken Sub Sandwich
You know I love a good sub sandwich! They're perfect for picnics, and they make great lunches too. They're easy to put together, and easy to customize! That's a recipe for success in my book. This pesto chicken sub sandwich is a step above the rest. I can't wait to share it with you!
Chicken and pesto is an amazing combo, and it really brings something special to this sandwich. The lemon mayonnaise adds a nice pop of fresh citrus flavor to the mix. The best part of this sub recipes is that you can customize it to make it your own. Perhaps you want some cheese on your sandwich. In that case you could add some fresh mozzerella or sliced provolone. At the end of the day, it is a delicious recipe and much like in my Pesto Chicken Skillet, a classic flavor combo!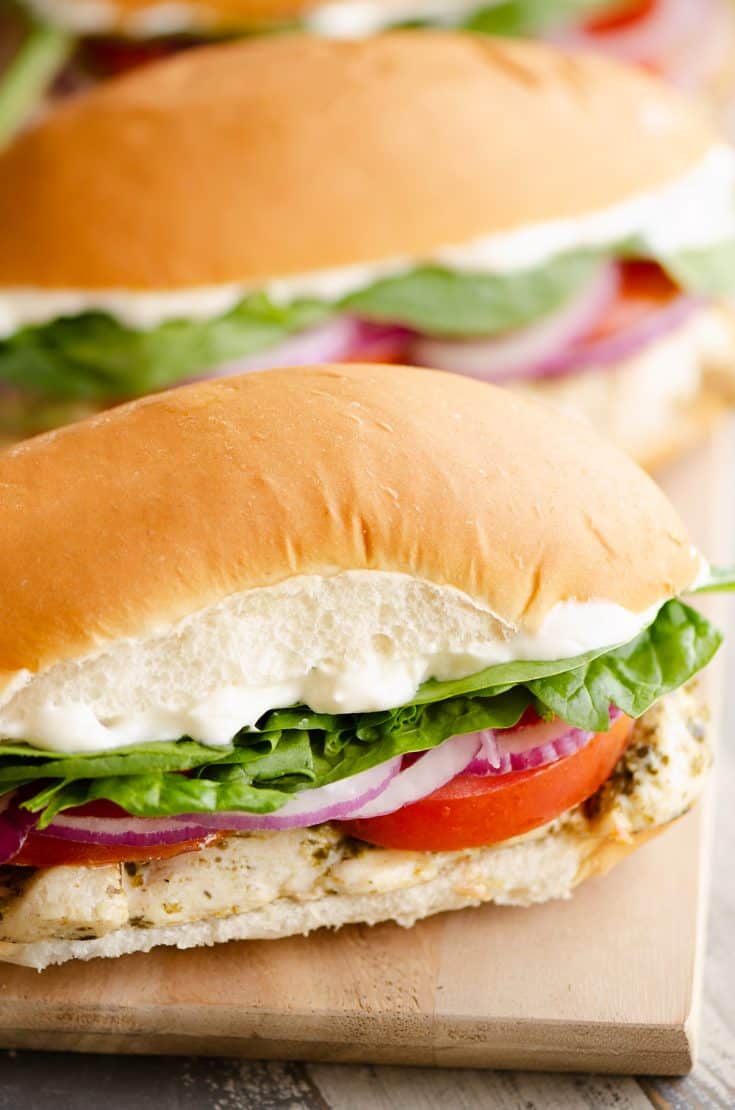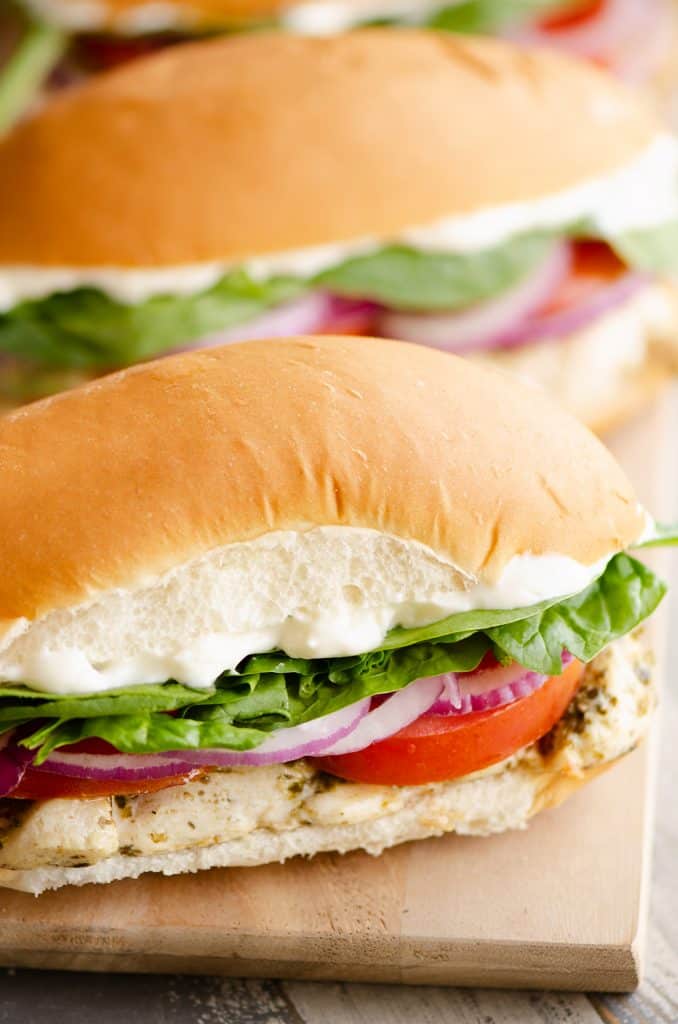 Pesto Chicken Sandwich
This sub sandwich is amazingly simple to make but is packed with layers of great flavors. Lean boneless skinless chicken breasts are baked with a store bought pesto. For the juiciest and most tender chicken, be sure to use a meat tenderizer and pound the chicken between layers of cling wrap until it is an even 1/2 inch thick.
This not only allows the chicken to cook evenly, it also keeps it tender. Whenever you are cooking chicken, be sure to use your Thermapen to check that you cook it just until it reaches 165 degrees. Any higher and it will be dry and tough. Any lower and it will be under cooked and be a potential food safety concern.
You can bake the chicken right before you are serving the sub sandwiches, or prep it the day before. I have made these for a crowd where I bake off large pans of roasted pesto chicken and pop them in a resealable container in the refrigerator. When I am ready to serve lunch, I quickly assemble the sandwiches. It makes for a fresh meal that you can serve in minutes!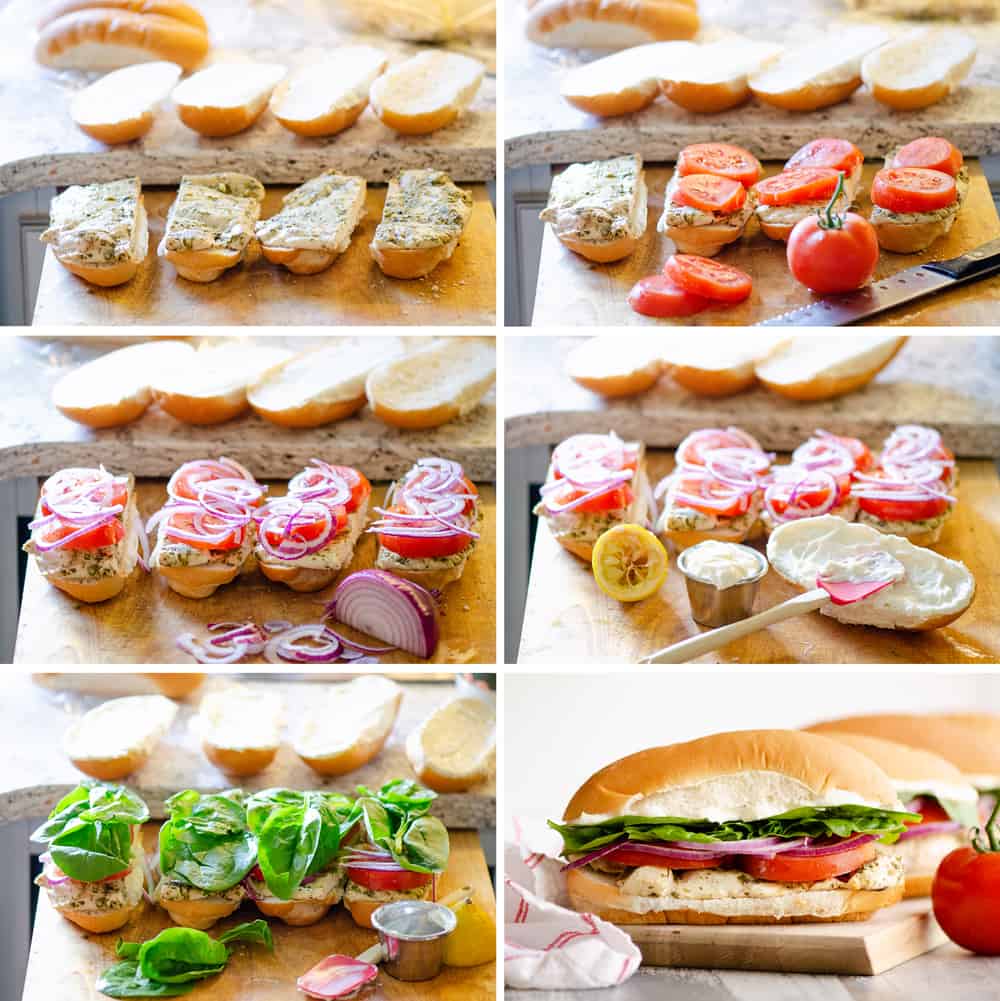 What Goes With Chicken Sandwiches?
One of the great things about pesto chicken sandwiches is that they go well with a lot of things! They also make a great meal all by themselves. You already have meat, veggies, and a grain, after all!
Submarine sandwiches are classic with a side of soup. I recommend something on the lighter side, like minestrone or a simple Garden Tomato Soup. Either one is a good complement to the chicken without overpowering it. Avoid meaty soups like sausage that will drown out the flavor of the sandwich. White wine is also wonderful with chicken pesto of any kind!
If you're going on a picnic (these make great picnic sandwiches!) try some of my Blueberry Dark Chocolate Trail Mix , some Antipasto Tortellini Pasta Salad, maybe a couple fresh apples, and this Tropical Passion Smoothie. You'll have a filling, fresh, absolutely amazing picnic dinner in no time!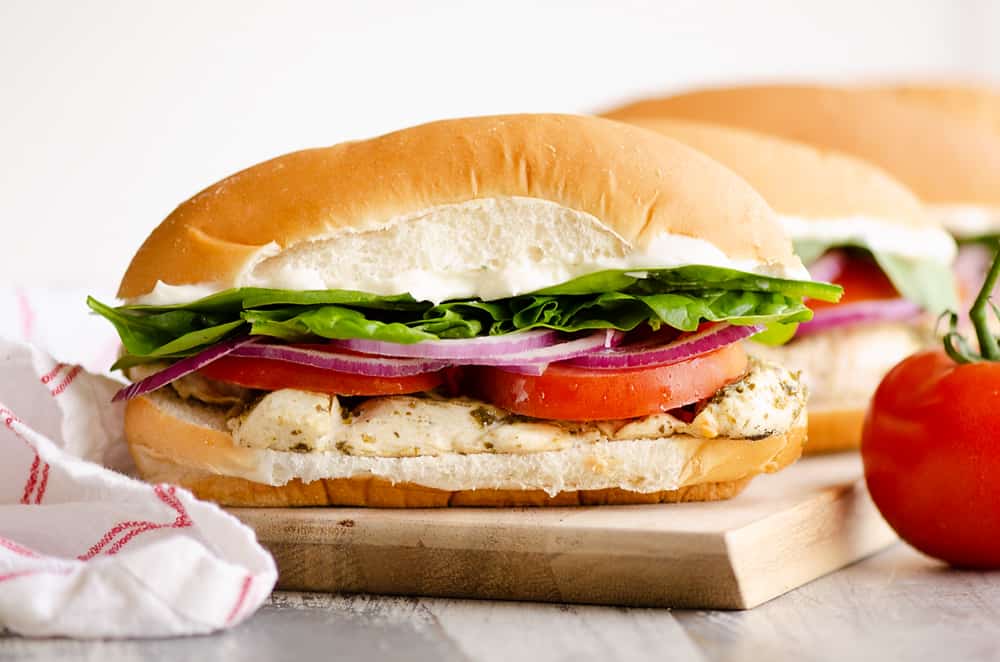 Can You Bake Chicken With Pesto?
Pesto is one of my favorite flavors! I feel like it really dresses up a dish. In this case, it totally makes it. In a lot of recipes the pesto is added last, or used as a spread. My chicken sub recipe bakes the pesto right into the chicken. It is so good! Here is how to prepare pesto chicken for a sub sandwich.
Place the chicken breast between two layers of plastic wrap. You can gently twist the ends of the plastic wrap together to keep some of the juice from leaking.
Using a meat mallet or a rolling pin, pound the chicken until it's about 1/2 inch thick.
Remove the plastic wrap.
Spread pesto on both sides of the chicken breast.
Place the chicken on a rimmed baking sheet. If you want, you can put a layer of aluminum foil down first to make clean up easier.
Bake at 350 degrees for about 15 minutes, or until a meat thermometer inserted at the thickest point of the chicken reads 165 degrees.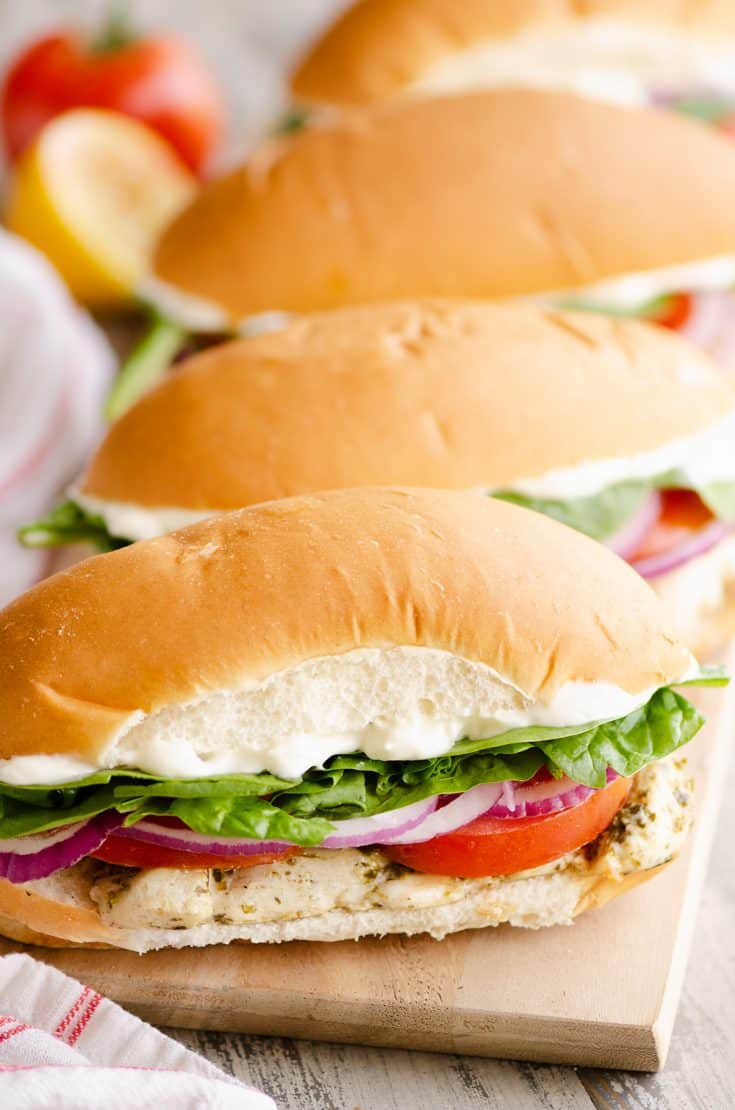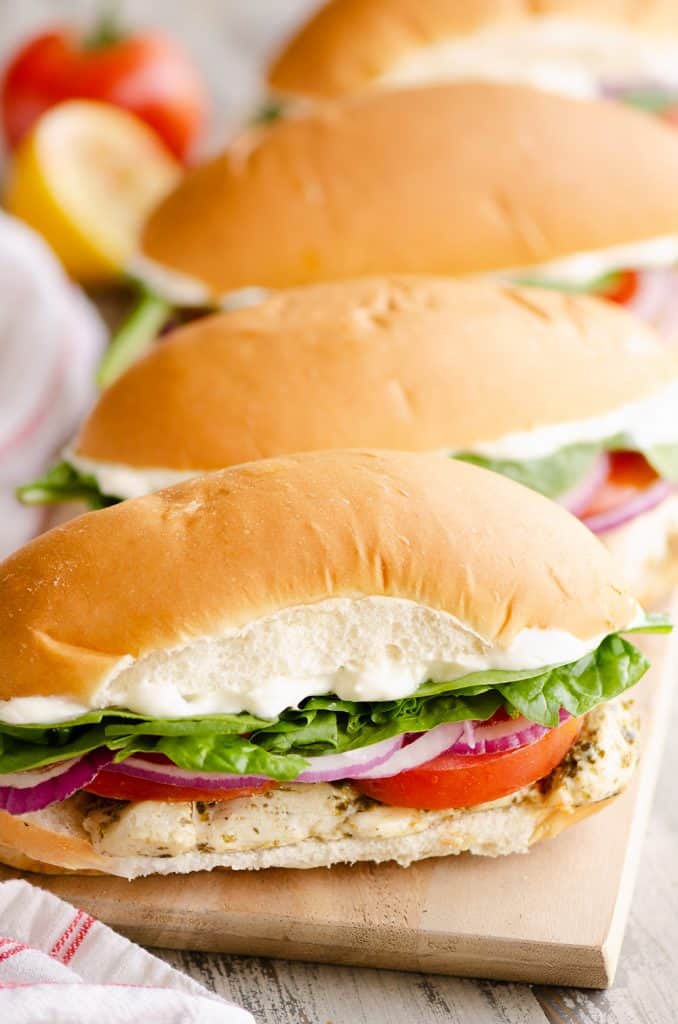 What Goes Well With Pesto?
Pesto is made primarily out of basil, and that is its major flavor profile. It's a great taste that goes well with all kinds of things, but especially Italian food! Try pesto with chicken, noodles, or even on pizza! Pesto is so good with fresh tomatoes or tomato sauce. That makes it a great fit for Italian food of any kind! It's a very fresh taste, and personally I think it's very summery, too.
Pesto is a good flavor for light lunches al fresco, or cozy family dinners. If you want to try another summery pesto-inspired dish, check out my Fresh Tomato Pesto Pasta Salad.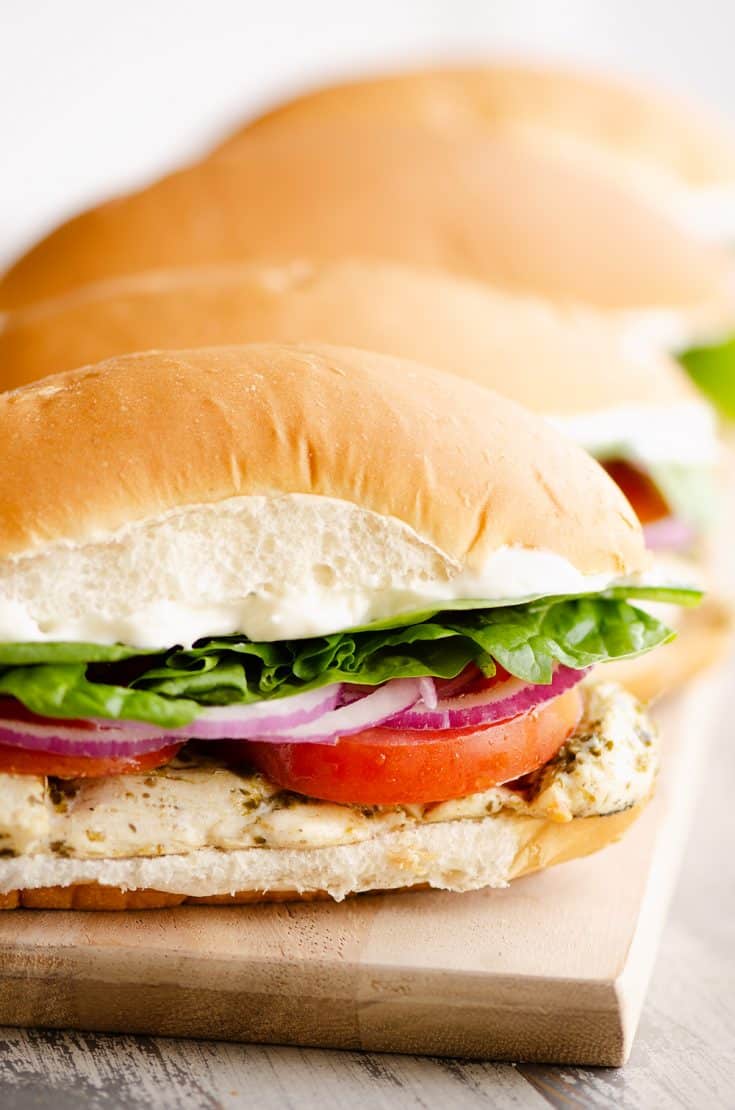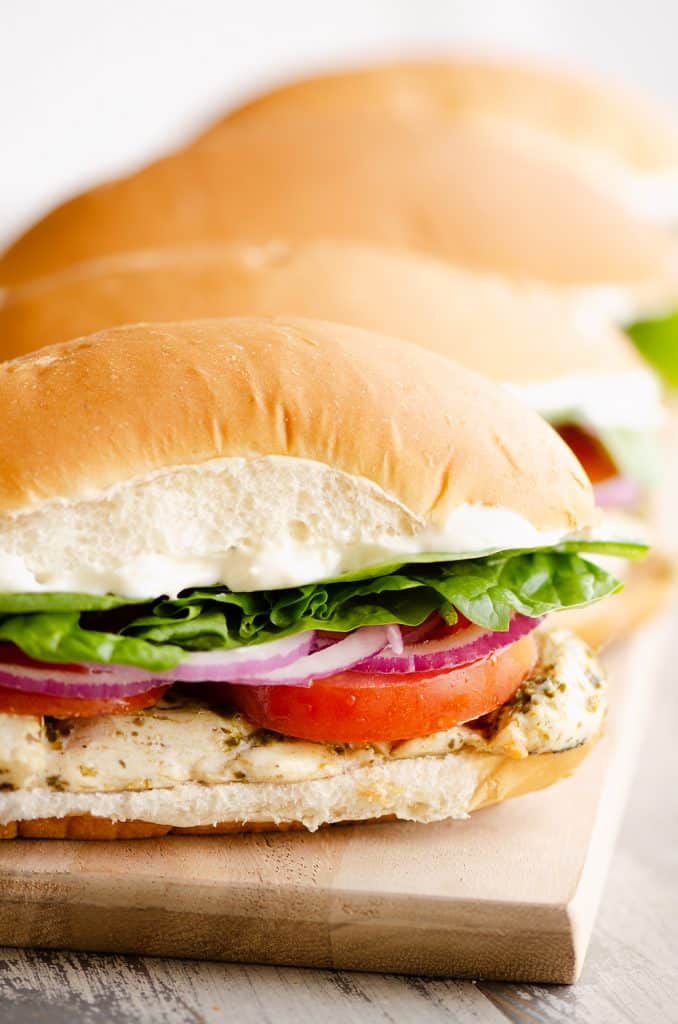 How Do You Store Subs in the Fridge?
There are a couple of good ways to store subs. If you're making them ahead of time, you can bake just the chicken, then stack the sandwiches the day of. Or, you can make the whole sandwich, wrap it tightly in plastic wrap, and keep it in the fridge until you need them. They'll stay good for a day or two days.
One trick that really make a big difference is this: If you know you aren't going to eat the sub today, wait to add the sauce! Add the sauce right before your meal–or before you leave for your picnic. This really applies to all sandwiches. Even salads are better stored this way! Keep the sauce or dressing separate until the last minute. That will keep the veggies and bread from getting soggy, and the whole thing will taste fresher. The bread will be better, and the veggies will keep that yummy crunch!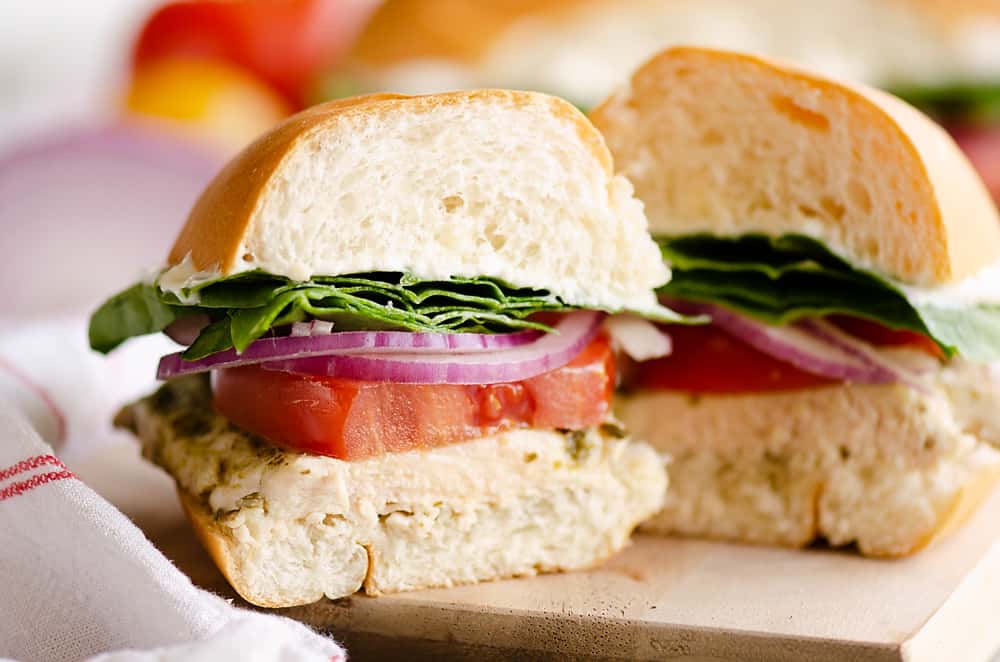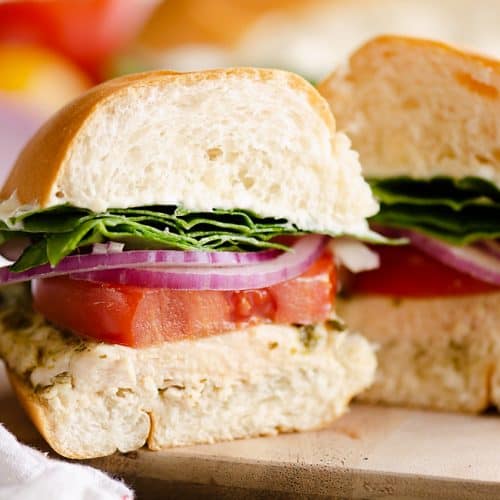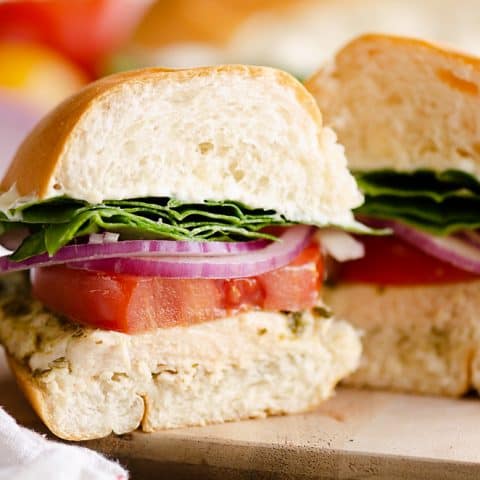 Pesto Chicken Sub Sandwich
Pesto Chicken Sub Sandwiches are an easy and delicious lunch recipe made with roasted pesto chicken breasts, lemon mayonnaise and plenty of fresh veggies for a healthy meal you can make for a crowd or prep for a light on-the-go meal!
Ingredients
1 lb. boneless skinless chicken breasts
2 Tbsp. pesto
4 sub sandwich buns
1/4 c. red onion, thinly sliced
2 tomatoes, thickly sliced
1 c. baby spinach
1/3 c. mayonnaise
2 Tbsp. fresh lemon juice
Instructions
Preheat the oven to 350°.
Place the chicken breasts between two layers on cling wrap. Using a meat mallet or rolling pin, pound the chicken until it is 1/2 inch thin. Spread the pesto over both sides of the chicken and place on a rimmed baking sheet in a single layer. Bake at 350° for 15 minutes, or until the internal temperature reaches 165°.
While the chicken is baking, in a small bowl whisk together the mayonnaise and lemon juice.
Slice the sub buns in half lengthwise, and top each bun with 1/4 of the tomatoes, onion, and spinach. Spread 2 scant Tablespoons of lemon mayonnaise on the tops of each of the buns. Add the chicken to the the sandwiches and serve immediately.
Notes
You can bake the chicken ahead of time and store refrigerated for a quick lunch
Nutrition Information:
Yield:

4
Serving Size:

1 grams
Amount Per Serving:
Calories:

497
Total Fat:

23g
Saturated Fat:

3g
Unsaturated Fat:

0g
Cholesterol:

81mg
Sodium:

669mg
Carbohydrates:

40g
Fiber:

3g
Sugar:

8g
Protein:

32g