Fresh Strawberry Pie Bars are a delicious dessert with a quick sugar cookie crust made from a package and topped with a luscious layer of sweetened cream cheese and strawberry glaze. These strawberry squares are an easy recipe perfect for summer!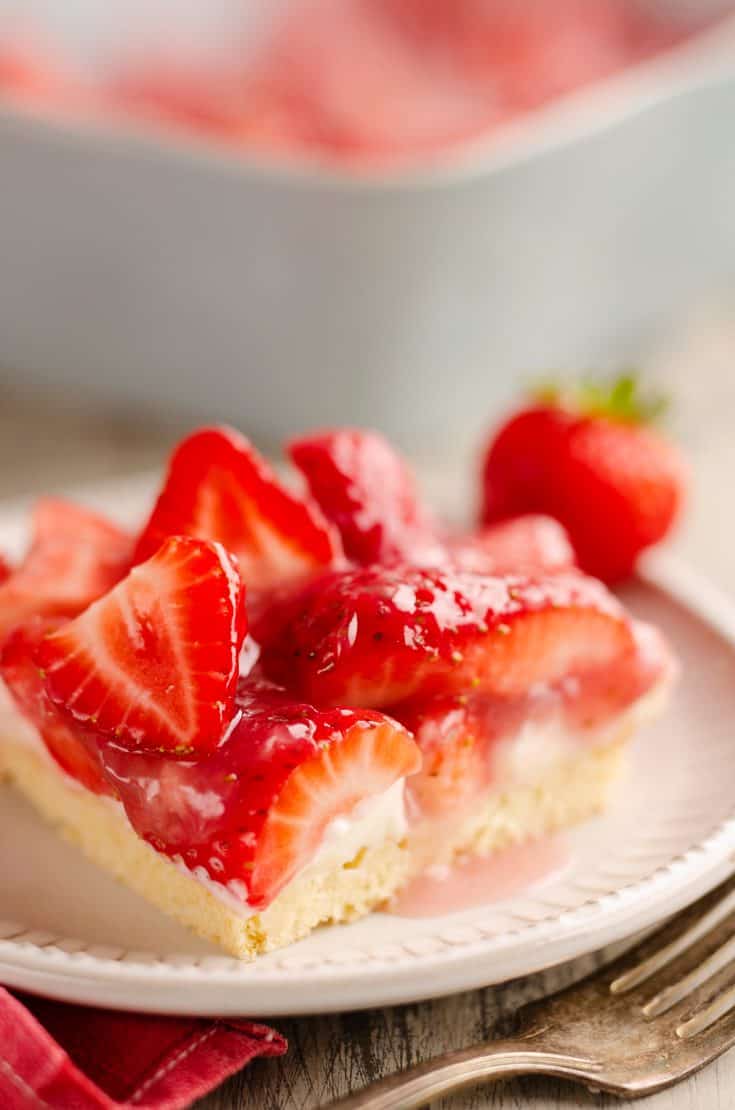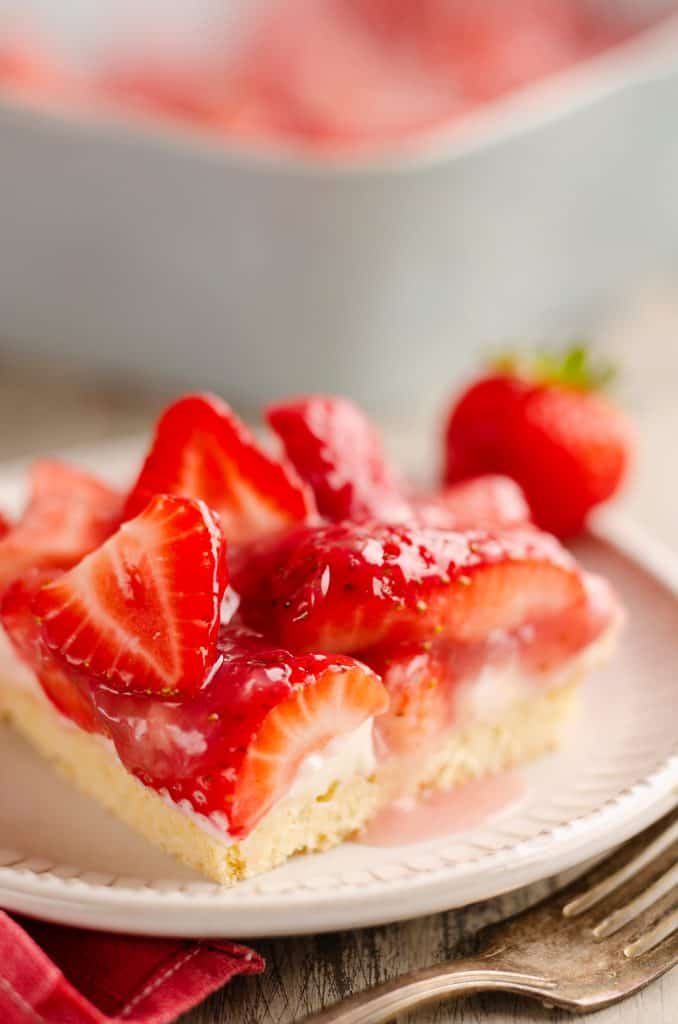 Fresh Strawberry Squares
One of my all-time favorite parts of summer is the fresh strawberries! These Fresh Strawberry Pie Bars are the easiest way to serve up some delicious sweet summer strawberries.
Based on my classic Mini Strawberry Lemon Pies, these strawberry squares have all the flavor of the original–with a fun and easy-to-make twist!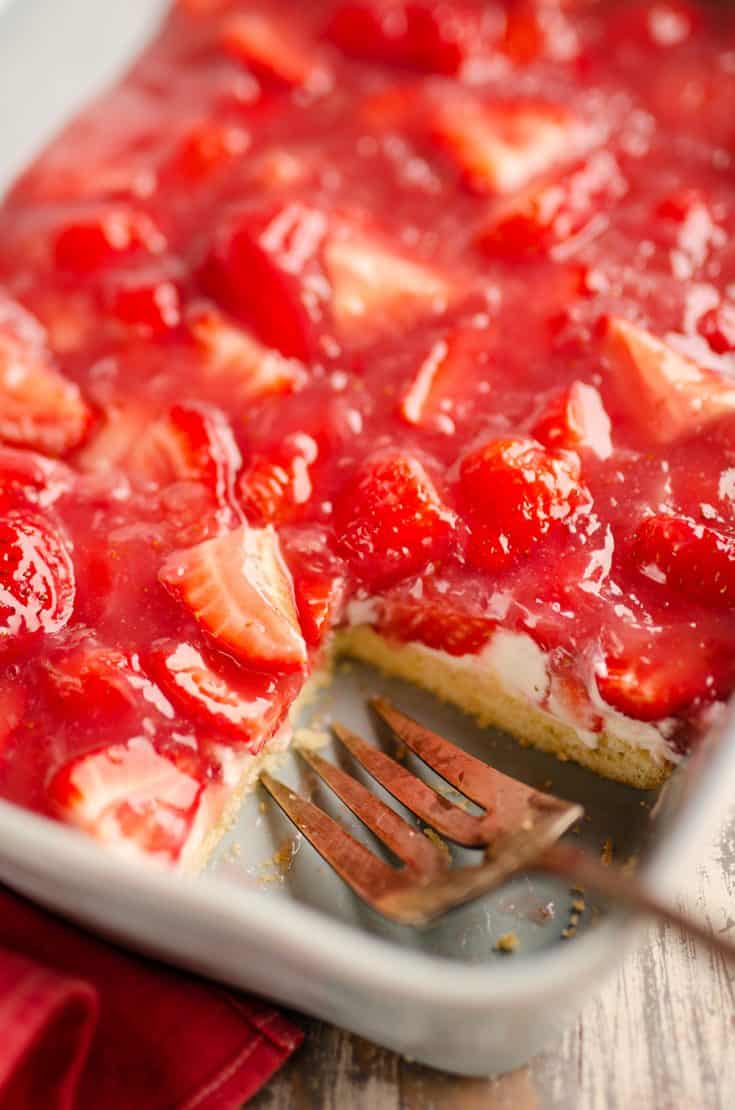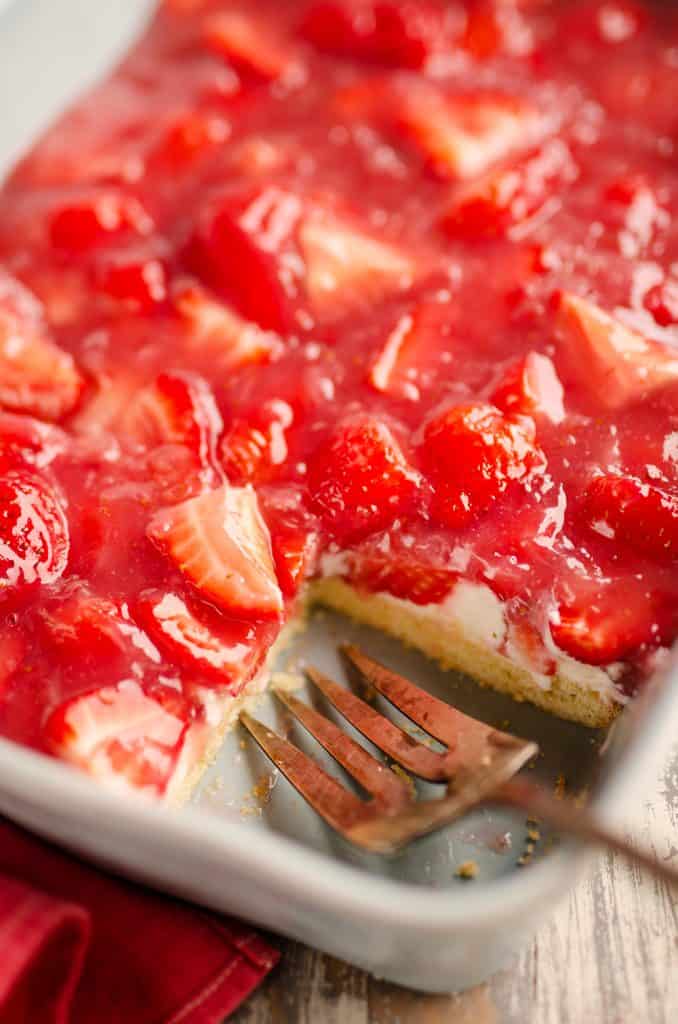 Strawberry Cream Cheese Dessert Bars
I love my Mom's strawberry pie recipe, but sometimes you just need something simple to whip together on short notice. These cream cheese bars are perfect!
They're so sweet and creamy with that fresh-picked sun-sweetened strawberry taste, but they're so easy to put together. I know that your family will love them as much as we do!
With layers of delicious cheesecake filling, strawberry glaze, and fresh strawberries, these Fresh Strawberry Pie Bars will definitely become one of the best summer desserts around. And, for the cheesecake fans out there, check out my Lemon Cheesecake Bars and my Pumpkin Swirl Cheesecake!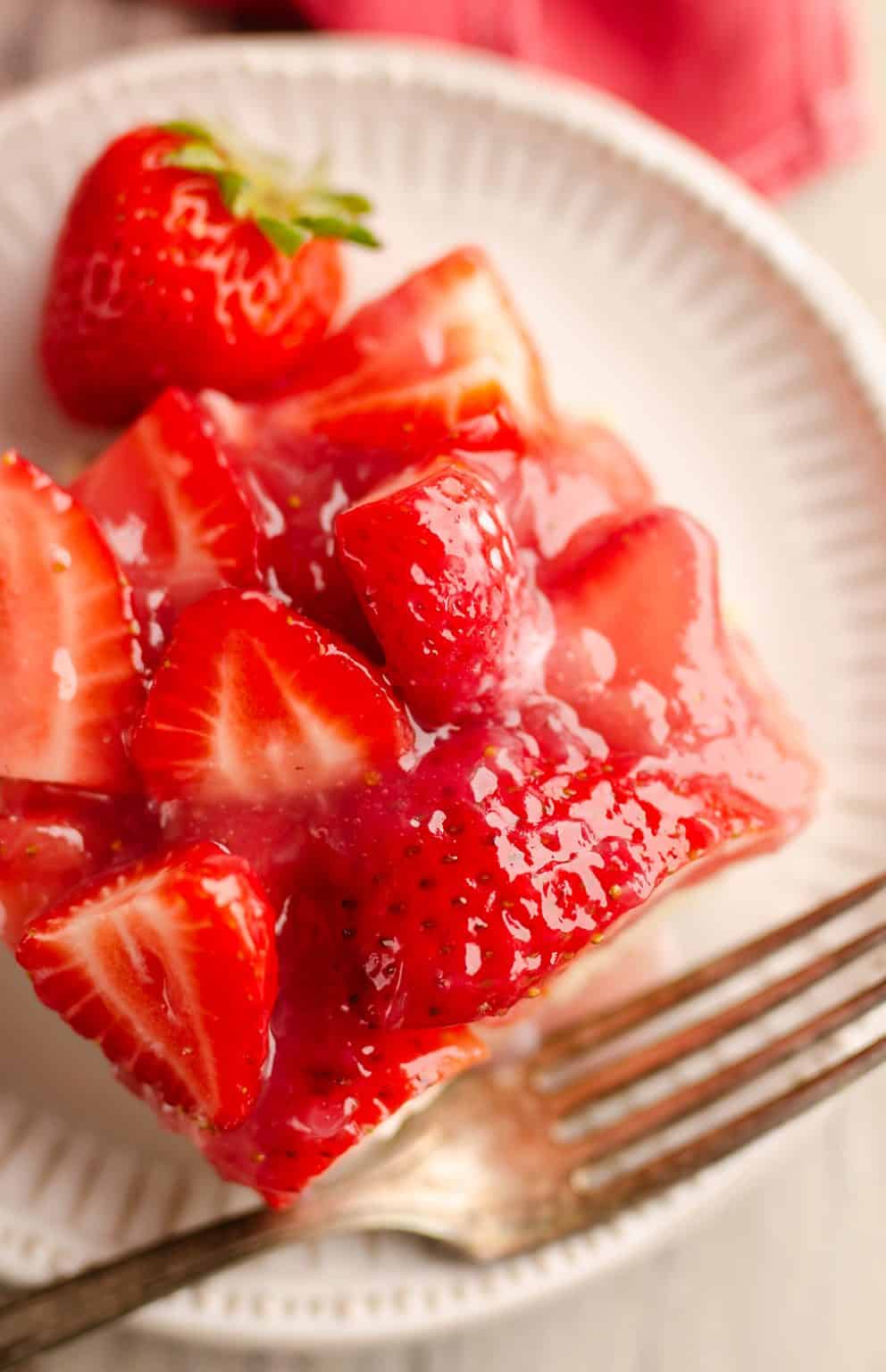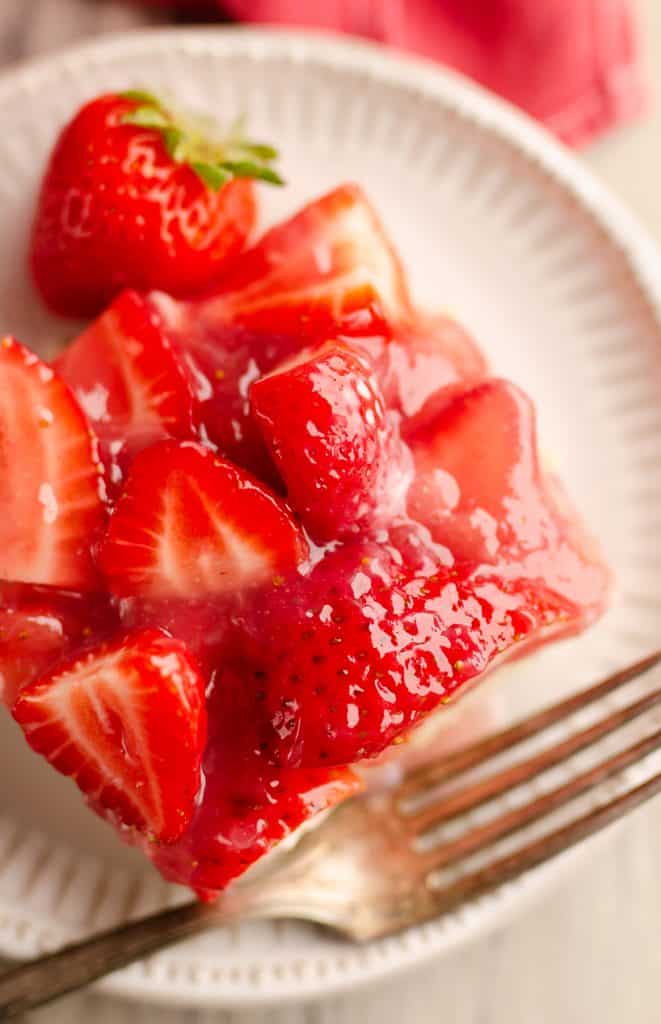 Strawberry Sugar Cookie Bars
This sugar cookie crust is crumbly and delectable, and it's only four ingredients! Desserts really don't get any more convenient than that. Really! The sugar cookie crust is this simple:
1/2 c. Butter softened
2 T Flour
1 Egg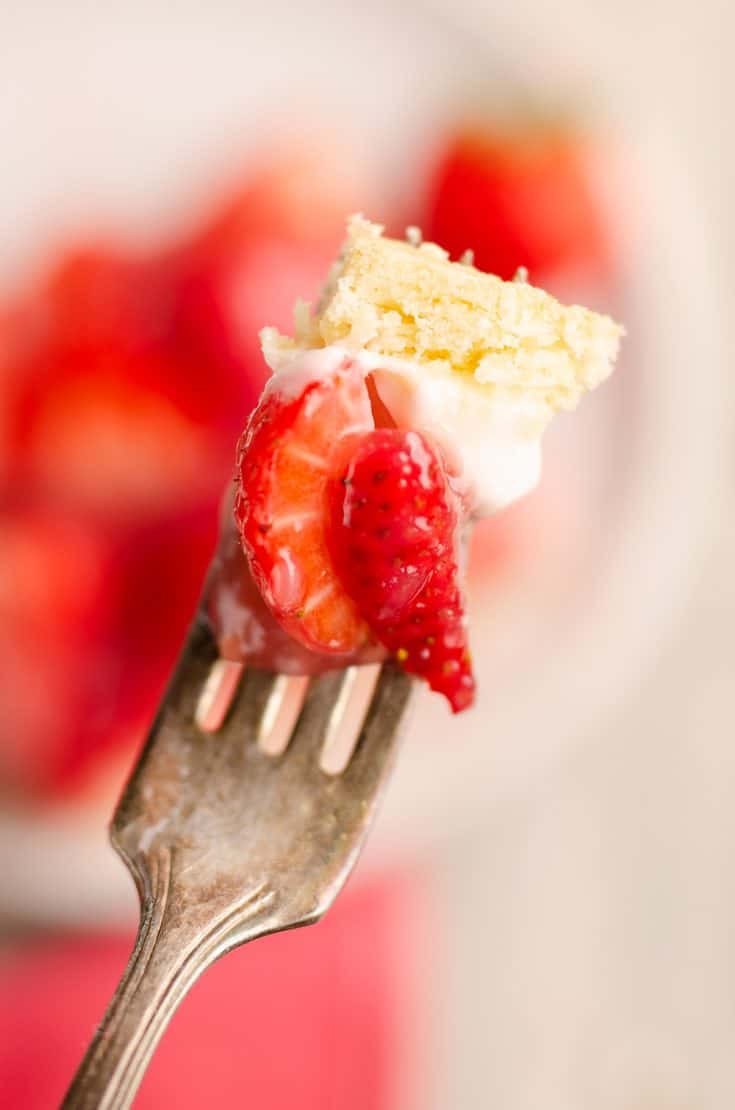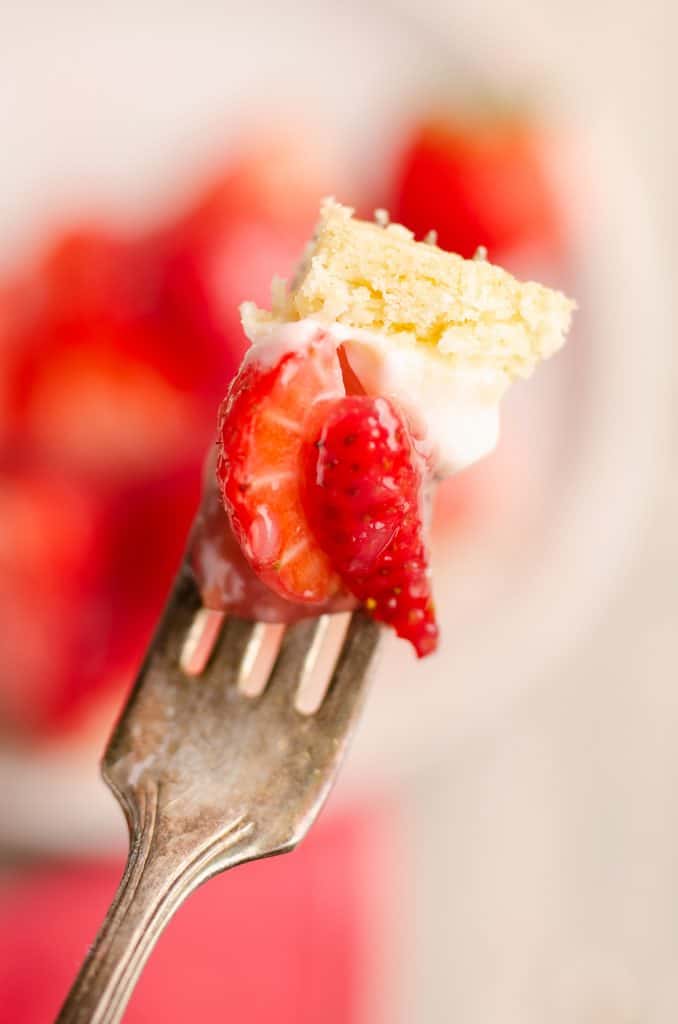 Strawberry Cream Cheese Dessert Bars
You're totally ready to make it right now, aren't you? And if you've gone berry picking lately, you probably have everything else you need on hand too! You might need to grab some cream cheese, but other than that I bet the rest of these are in your kitchen right now.
2 qts. fresh strawberries
3/4 c. granulated sugar
2 Tbsp. cornstarch
2 Tbsp. flour
16 oz cream cheese
1 tsp. vanilla extract
2/3 c. powdered sugar
It is so simple to make, and when it comes together you'll see how melt in your mouth delicious it really is!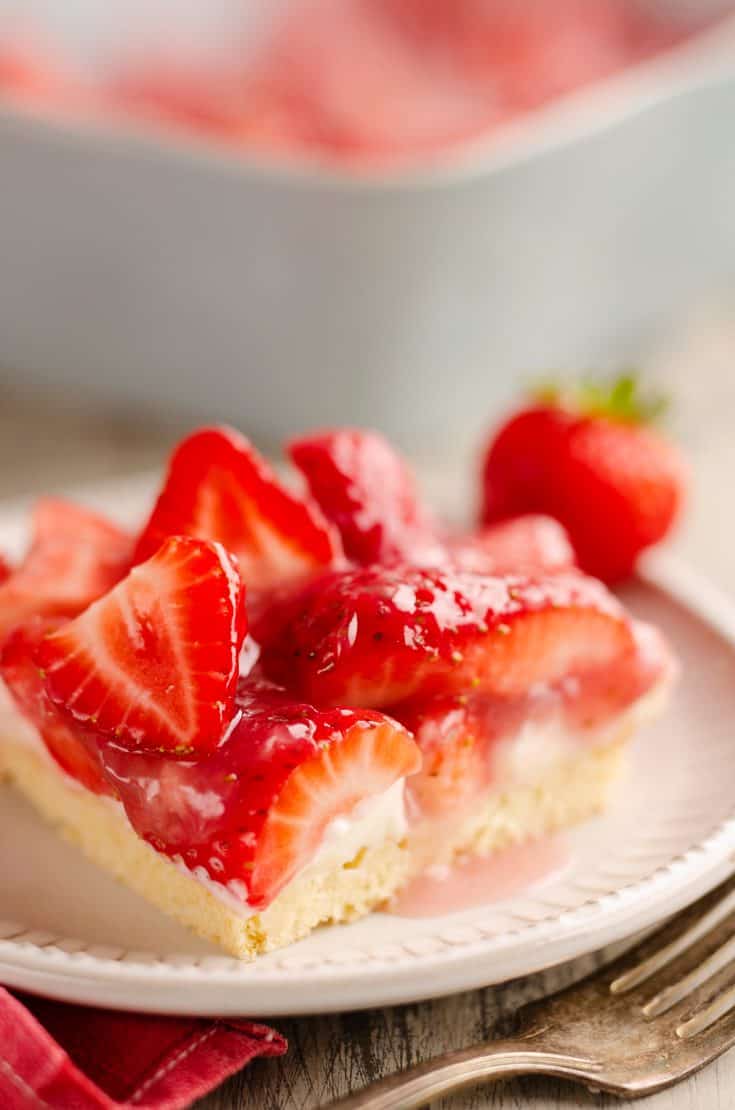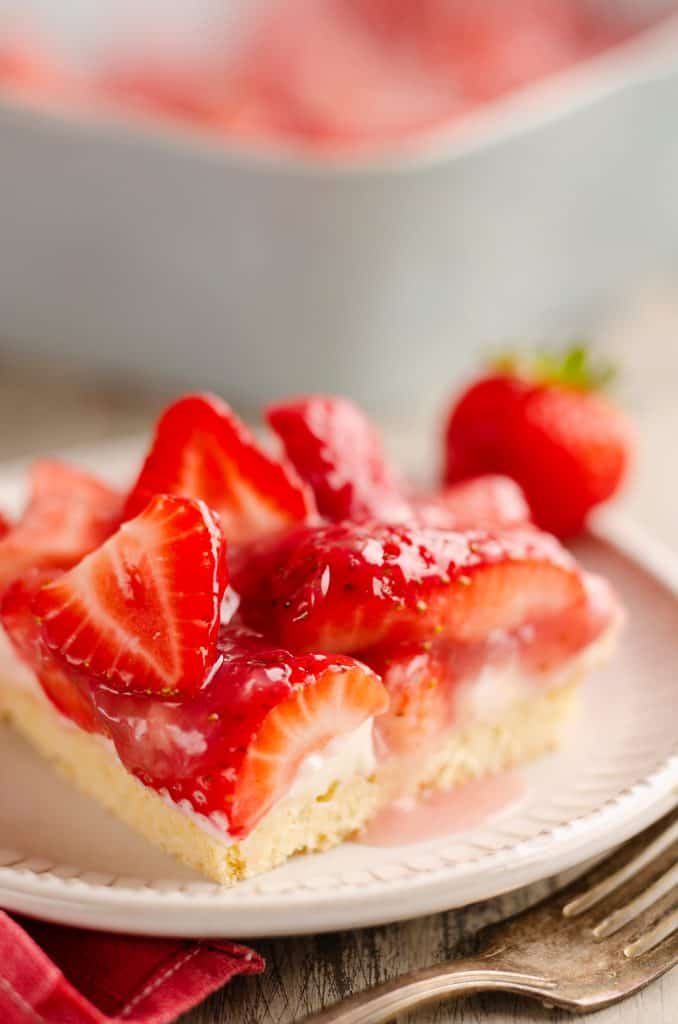 Should Strawberry Pie Be Refrigerated?
So many people are unsure whether or not strawberry pie should be refrigerated. It can be confusing! If you're making a basic strawberry pie, it's fine at room temperature for several days. If your pie has any cream or custard in it though, it should be kept cool. Anytime your dish includes perishable dairy ingredients, I would play it safe and put it in the refrigerator.
Since these Strawberry Pie Bars are based on a cheesecake recipe, they belong in the fridge! Wrap them tightly in plastic before you put them in the fridge to keep them fresh, and to keep them from picking up any smells that might be hanging out in there. They should stay fresh and delicious for up to three days, unless someone gets to them first!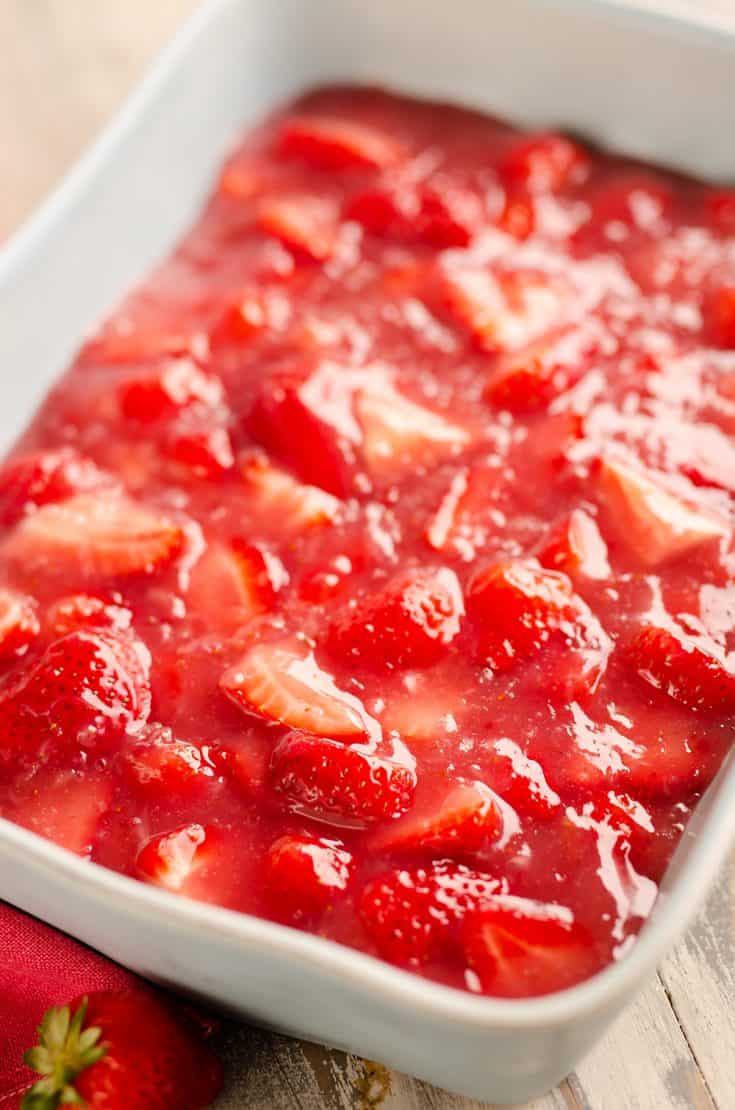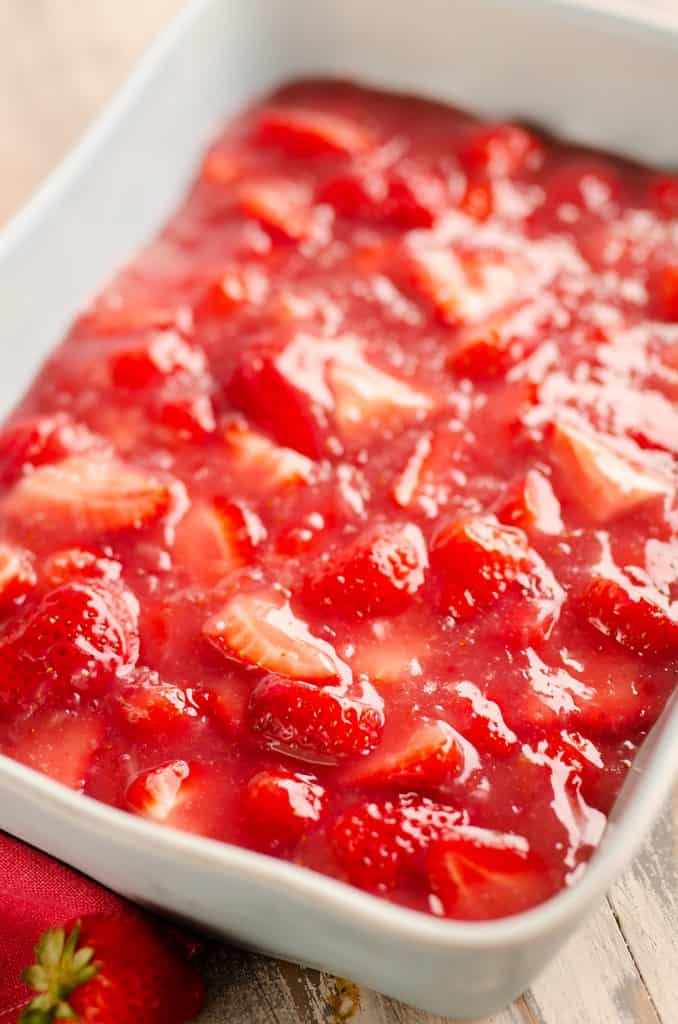 Can You Freeze Strawberry Pie Bars?
While most pies store really well in the freezer, like these Mini Blueberry Pies or Pumpkin Pie, Fresh Strawberry Pie is the exception. The great part about strawberry pie is the firm texture of the fresh strawberries against the smooth cream cheese layer and flaky pie crust. That would be completely lost when freezing the pie. The strawberries would become mushy and runny and it just wouldn't be a desirable end result.
If you are wanting to preserve your fresh strawberry harvest from the summer, this Strawberry Rhubarb Jam is a great way to enjoy the summer flavors all year long!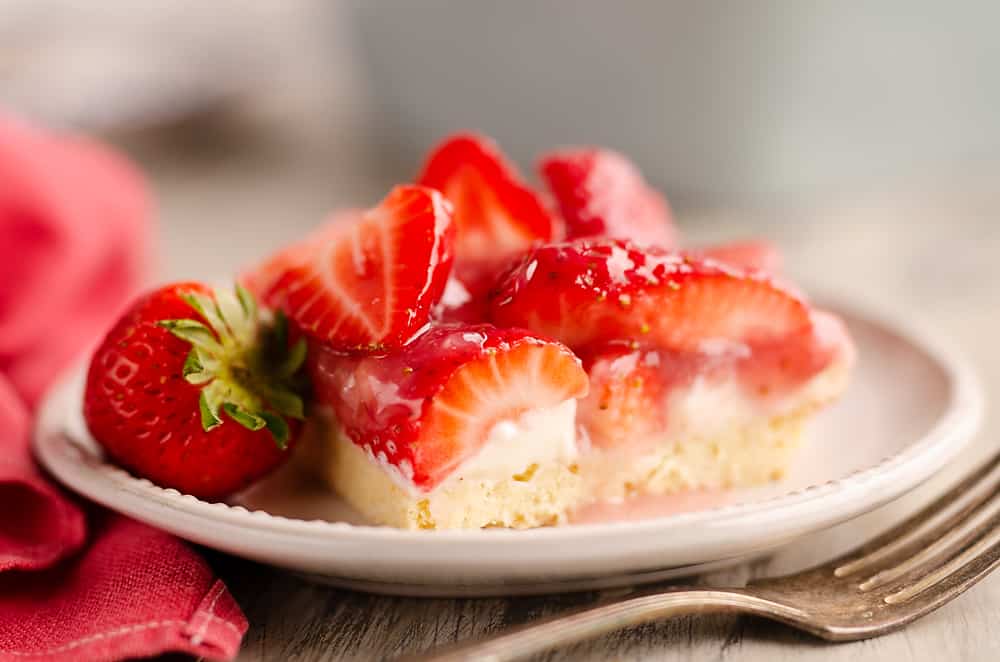 What Can I Do With Fresh Picked Strawberries?
I love fresh picked strawberries in the summer! We always have extra around here, so I'm always looking for fun new things to do with them. Of course, you're going to want to grab a few straight off the vine! I have SO many ideas for you, though. Seriously, I love strawberries, and if you do too, you are in the right place.
Personally, I can't resist strawberries in desserts. That balance of sweet and tart in a fresh strawberry is perfect paired with a little sugar and cream. Here are some fun strawberry desserts I've tried in the past:
Have you ever tried fresh strawberries in salad? They bring a bright, jazzy pop of color and flavor that will really kick your salads into gear! If you're ready for some awesome strawberry salads, check these out
Strawberries are also fantastic in smoothies. You can make smoothies so many different ways, it's kind of crazy. Here's one idea to get you started in the right direction: my Coconut Strawberry Protein Smoothie is a tropical dream!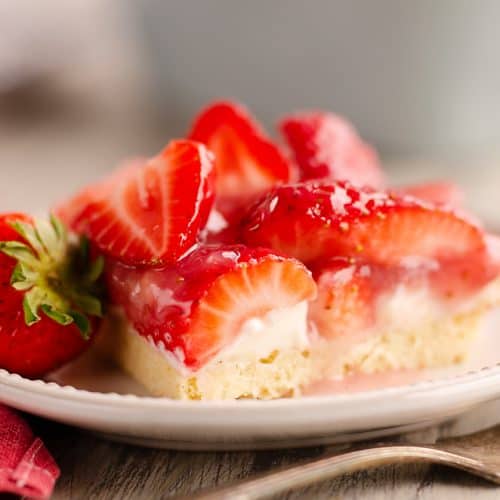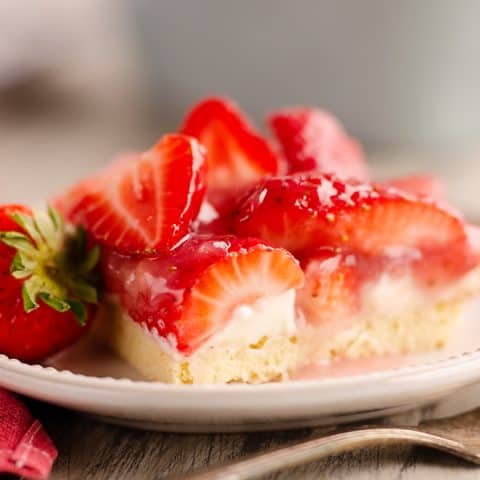 Fresh Strawberry Pie Bars
Fresh Strawberry Pie Bars are an easy and delicious summer dessert recipe with a quick sugar cookie crust made from a package and topped with a luscious layer of sweetened cream cheese and strawberry glaze.
Ingredients
Crust
1/2 c. Butter , softened
2 T Flour
1 Egg
Filling
16 oz cream cheese
1 tsp. vanilla extract
2/3 c. powdered sugar
2 quarts strawberries
Glaze
1/2 c. water
2 Tbsp. cornstarch
2 Tbsp. flour
3/4 c. sugar
Instructions
Preheat oven to 350°. In a medium bowl, combine the crust ingredients until it is a fine moist crumb consistency. Press the mixture into a sprayed 9x13 pan.
Bake at 350° for 10-12 minutes, or until the edges are lightly golden brown. Allow to cool to room temperature.
Meanwhile, clean and quarter all of the strawberries. Add 1 cup of strawberries to a medium saucepan along with the sugar. Using a potato masher, mash the strawberries until there are no large chunks left.
Add the cornstarch, flour and water to the mashed strawberries and whisk over high heat until it comes to a boil. Cook for 2 minutes at a boil and remove from the heat to cool. Set aside.
In a medium bowl, beat the cream cheese with a hand mixer until it is smooth. Add the vanilla and powdered sugar and beat until well combined.
Spread the cream cheese mixture over the cooled sugar cookie layer. Pat the remaining strawberries dry with a paper towel and arrange them on top of the cream cheese.
Top the strawberries with the cooled strawberry glaze. Serve or refrigerate up to 3 days.
Recommended Products
As an Amazon Associate and member of other affiliate programs, I earn from qualifying purchases.
Nutrition Information:
Yield:

10
Serving Size:

1 grams
Amount Per Serving:
Calories:

413
Total Fat:

26g
Saturated Fat:

15g
Trans Fat:

0g
Unsaturated Fat:

8g
Cholesterol:

90mg
Sodium:

235mg
Carbohydrates:

42g
Fiber:

3g
Sugar:

32g
Protein:

5g
Provided nutrition data is only an estimate. If you are tracking these nutrients for medical purposes, please consult an outside, trusted source.