Roasted Peach BBQ Chicken Bake is an easy and healthy 5 ingredient dinner recipe made in just 30 minutes and bursting with sweet and savory flavors!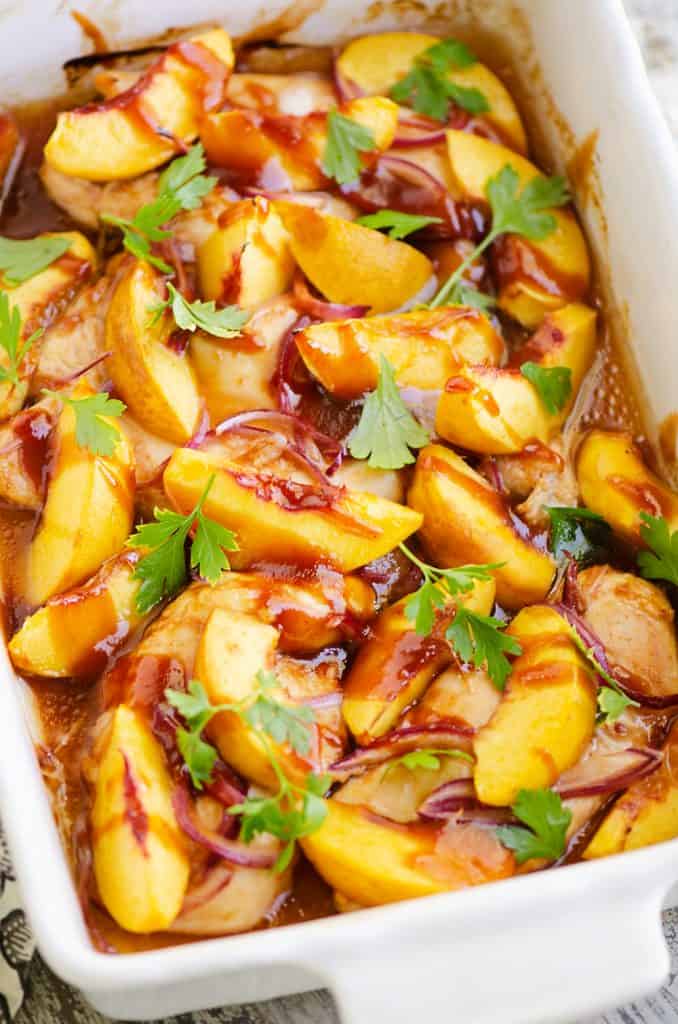 Barbecue Chicken Bake
I get so excited with the Elberta peaches start hitting the grocery store for canning season. While canned peaches are fantastic, these peaches are absolutely delicious eating fresh. I could dice one up all on it's own and enjoy for a snack or top a bowl of ice cream with one for a special treat.
I wanted to make a simple Barbecue Chicken Bake that was light and healthy for an easy summer dinner. I was inspired by the bag full of Elberta peaches in my refrigerator to make this Roasted Peach BBQ Chicken Bake.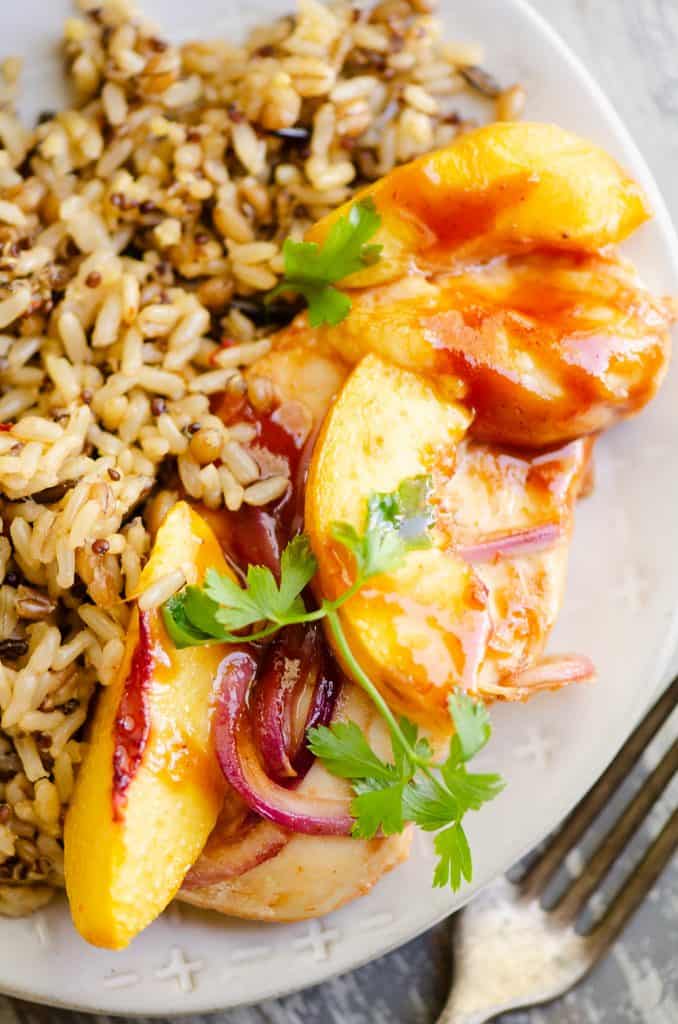 Savory Peach Recipe
Peaches aren't just for sweet desserts like Peach Pie and Marshmallow Peach Icebox (a must try by the way!). They add a nice punch of sweetness to savory dishes as well.
You can't go wrong with this Chicken Peach Salad in a Jar for example. The combination of savory goat cheese and sweet peaches is absolutely divine!
Roasted Peach BBQ Chicken Bake is another fantastic savory peach recipe that is so simple. It's perfect for a quick summer dinner.
Should I peel my peaches?
When it comes to the question of whether or not you should peel your peaches, it depends on a few different factors.
The first and most important thing to consider is which type of peach you are using. Some peaches have a thinner peel that is easier to eat than others.
The Elberta peaches that I love have a rather thick peeling and I definitely recommend peeling them before using them for any recipe. The thick peel comes off in just a few peels when you have a nice ripe peach.
Some peaches or nectarines have thinner peels that are easier to slice through and eat. If you don't mind the peeling, feel free to leave it.
You do want to take into consideration that the peeling may contain chemicals such as pesticides though. So if you do eat your peaches with the peeling still on, be sure to give them a good wash first and not just a quick wash under the water.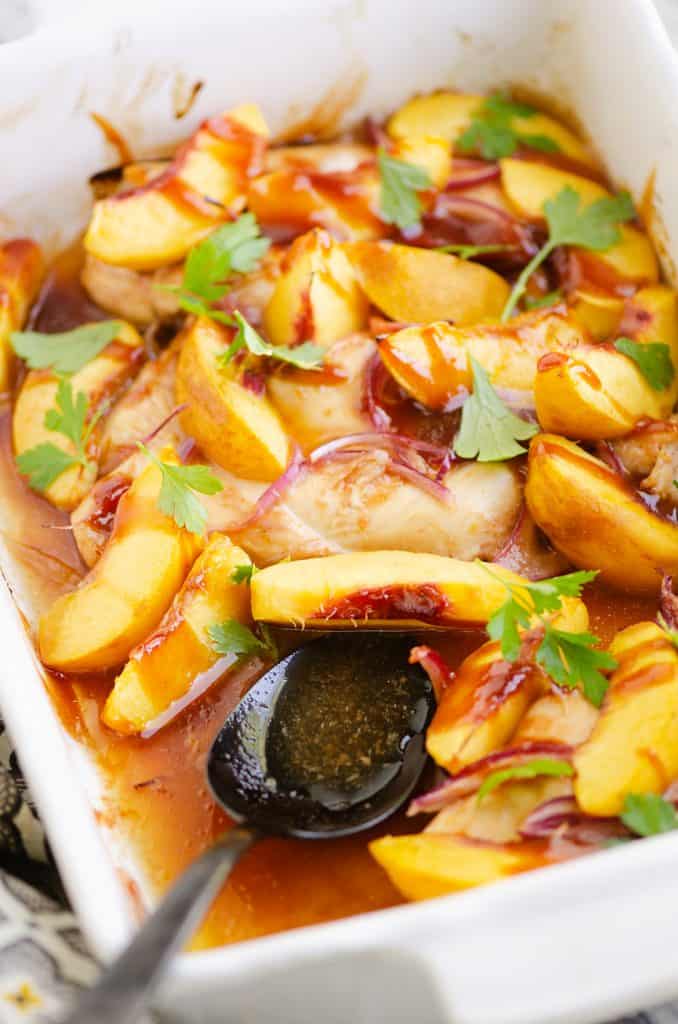 Do I have to use fresh peaches?
I highly recommend fresh peaches for this dish, because it will certainly add the best flavor and texture.
I realize that isn't always an option depending on the season though. If you can't get your hands on fresh and flavorful peaches then the next best option is frozen peaches.
Frozen peaches are great if you plan on meal prepping this recipe as they can thaw in the refrigerator with the marinating chicken.
The last option is canned peaches. If you go this route you will loose some of the nice texture you get from fresh peaches, but it will still taste good. Just be sure to buy the peaches in their juices instead of syrup or they will be overly sweet.
Tenderize your chicken!
I can't emphasize this step enough. If you take the extra two minutes it takes to pound out your chicken breasts, you will be left with far more tender and juicy chicken in your recipe.
This applies to almost any chicken breast recipe. I admit I am sometimes lazy and skip this step but I immediately regret it every time as soon as I realize that the chicken isn't near as tender as it would have been if I did.
So many of the chicken breasts you get are very thick and uneven. By tenderizing them to a nice thin 1/2 inch thickness, you not only speed up the cooking time it takes to cook them through to 165°, but you ensure they will all cook evenly.
This means that the thinner pieces of meat won't dry out as the thick pieces are still cooking to get to temp.
If you haven't tenderized your chicken breasts before, I beg you to please try it atleast one time and you will quickly realize the difference it makes!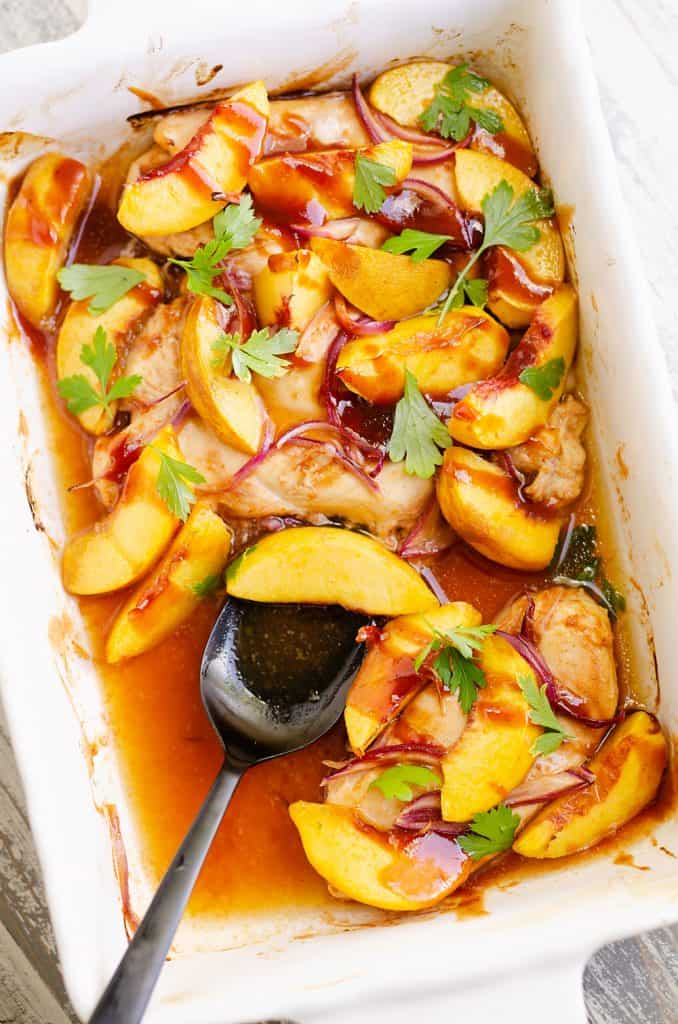 Healthy Meal Prep Recipe
Much like some of my healthier chicken bake recipes such as BBQ Chicken Sweet Potato Bowls or Asparagus Chicken Quinoa Bake make fantastic meal prep recipes.
This Roasted Peach BBQ Chicken Bake is no exception! The tender chicken breasts and firm peaches hold up well to being reheated in the microwave for lunch the next day.
My Dad had some of this leftover and was not only impressed with the flavors but also with how tender the chicken was. Just another reason to tenderize that chicken people!
Not only can you use the leftovers for lunch the next day, this recipe is perfect for prepping in advance and baking when you get home from work.
After you tenderize your chicken breasts in the resealable bag and add the BBQ sauce and onions, instead of dumping them directly into the baking dish, store them in the refrigerator for up to two days.
When you are ready to enjoy the meal, simply dump the meat into a sprayed 9×13 pan, top with thick slices of peaches and bake for 20 minutes. You will have a delicious weeknight dinner ready with just 5 minutes of effort!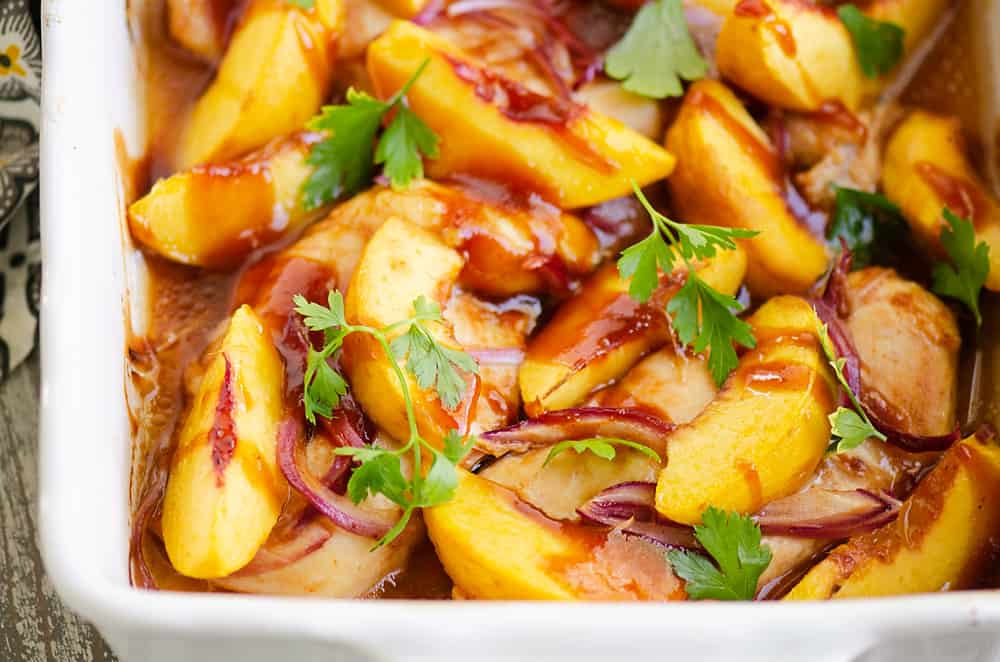 What should I serve with my BBQ chicken bake?
This Roasted Peach BBQ Chicken Bake is delicious all on it's own for a lower carb dinner, depending on what barbecue sauce you use.
Speaking of BBQ sauce, I love a sauce with a little bit of spice in it. The sweet and spicy flavor combo is amazing!
If you are wanting to turn this chicken bake into a heartier dinner, then I would recommend pairing it with a grain.
Plain rice works great, but I found and easy microwave 5 grain pouch that was delicious. It contained rice, barley, quinoa and a couple other whole grains.
The pan sauce that is created at the bottom of this dish from the juices of the peaches and chicken along with the BBQ sauce is perfect for drizzling over some cooked grains. It adds a nice pop of flavor and brings it all together.
More sweet and savory peach recipes!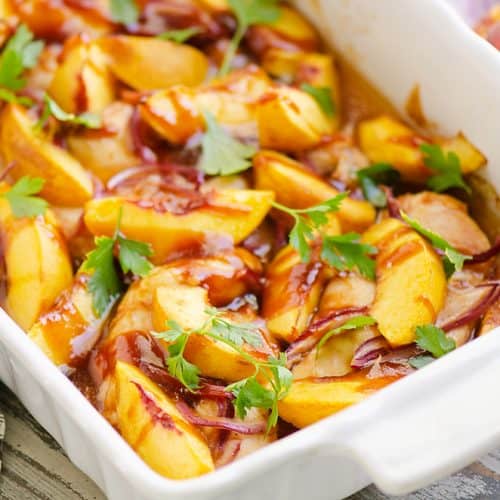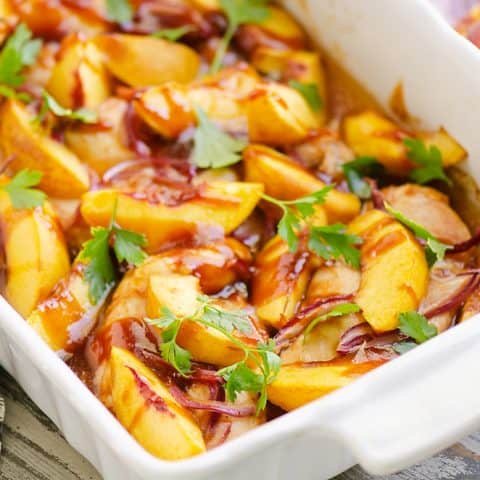 Roasted Peach BBQ Chicken Bake
Roasted Peach BBQ Chicken Bake is an easy and healthy 5 ingredient dinner recipe made in just 30 minutes and bursting with sweet and savory flavors!
Ingredients
1 lb. chicken breast
2-3 peaches, thickly sliced
1/4 c. red onion, thinly sliced
1/3 c. BBQ sauce
cilantro for garnish
Instructions
Preheat your oven to 375°.
Add the chicken breasts to a large resealable bag. Using a meat tenderizer or rolling pin, pound out the chicken breasts in the bag until they are 1/2 inch thick.
Add the BBQ sauce and sliced red onions and squeeze until everything is well coated. If you are prepping this recipe for the next day, store refrigerated at this point.
Dump the contents of the BBQ chicken bag into a sprayed 9x13 baking dish. Top with thick slices of peaches.
Bake at 375° for 20-25 minutes or until the internal temperature of the chicken reaches 165°.
Serve topped with cilantro and additional BBQ sauce.
Notes
This baked chicken dish is satisfying and delicious all on it's own or served with a grain or salad on the side.
Recommended Products
As an Amazon Associate and member of other affiliate programs, I earn from qualifying purchases.
Nutrition Information:
Yield:

4
Serving Size:

1
Amount Per Serving:
Calories:

284
Total Fat:

5g
Saturated Fat:

1g
Trans Fat:

0g
Unsaturated Fat:

3g
Cholesterol:

96mg
Sodium:

320mg
Carbohydrates:

23g
Fiber:

2g
Sugar:

19g
Protein:

37g
Provided nutrition data is only an estimate. If you are tracking these nutrients for medical purposes, please consult an outside, trusted source.