Chicken Peach Salad in a Jar is a convenient and healthy meal prep recipe perfect for a quick summer lunch or dinner! A light poppy seed dressing is topped with chicken, fresh peaches, pistachios and goat cheese.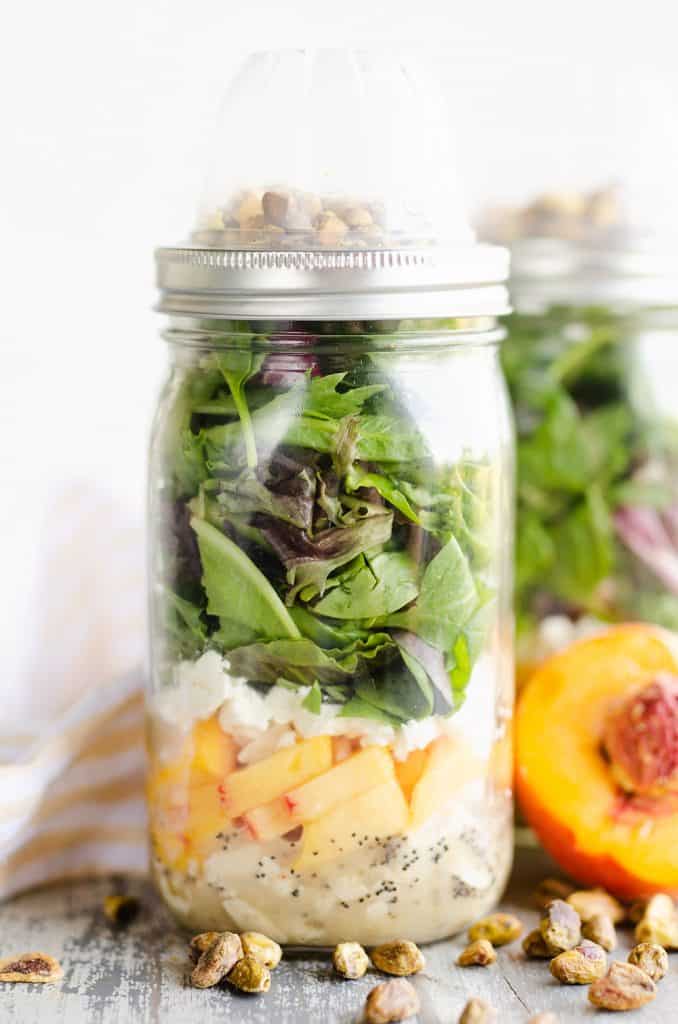 Easy & Healthy Peach Salad
A chicken peach salad in a jar solves a few of life's important questions. First, "what's for lunch?" just became a non issue. Next, you want to eat more salad, but how can you do that conveniently? Salads are not the easiest thing to carry around in a lunch pale.
Making chicken peach salad in a mason jar solves the problem completely. A mason jar makes it possible to store your ingredients in layers. Why store everything in layers? Because now you can enjoy a salad that hasn't been wilted before you were ready to eat it.
I love a good salad in a jar. I don't care if they aren't trendy anymore, it doesn't diminish how convenient they are! Some of my favorites include Creamy Greek Chicken Salad in a Jar and Seven Layer Salad in a Jar.
Salads in a jar are particularly useful when you are wanting to share with others. My Mom loves these kinds of fruit and chicken salads, but she rarely makes them for herself. When I am meal prepping my salads, I am always sure to bring her an extra one for an easy lunch!
The Layer Technique For Salad In A Jar
A mason jar is perfect because you layer up the ingredients starting with the dressing on the bottom. Be sure to use a wide mouth quart jars so you can get your salad in and out of the jar much easier.
Let the next layer of chicken season marinate in the Citrus Poppy Seed Dressing and keep it nice and moist. Then top with the next layers and finish by stuffing the jar full of as much mixed greens as you can!
Put the cheese on top of the peaches since that will help flavor the cheese with the peaches and prevent the mixed greens from getting too soggy and wilted by the peaches or dressing.
The pistachios go on top of the greens in a cleaned out fruit cup. That helps the pistachios keep their bit of nuttiness. Soggy pistachios don't have an ideal texture.
Simply stash away a few used fruit cups from your kids and store with your quart mason jars for salads in a jar!
When you are ready to eat, just pour it all into a bowl and give it a quick stir to coat all the greens with dressing.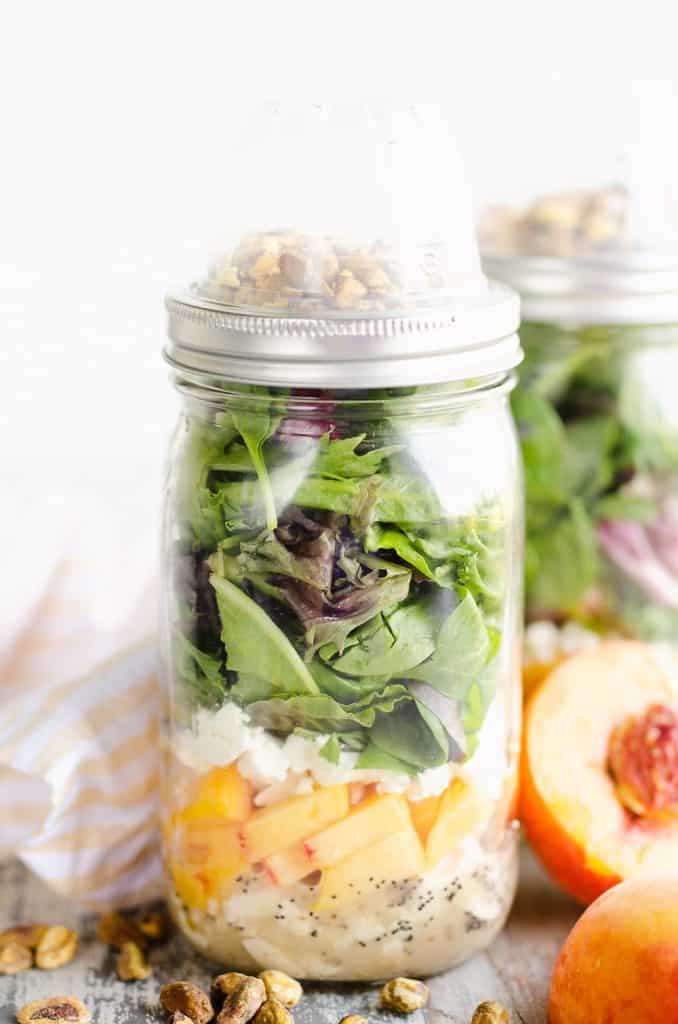 Variations On Salad In a Jar
Once you get the hang of layering your salads in a jar and find out how easy it is to eat your salad on the go, you will want to branch out and try all types of jar salads.
You can easily take this recipe in an Asian inspired direction by substituting tangerine or mandarin wedges for the peaches and using a sesame seed dressing with spinach instead of mixed greens.
If you want a more Italian style salad, then use greens like arugula and for the veggies use mildly spicy Giardiniera style veggies. You will typically find those by the pickles and condiments. For the dressing, try this amazing Roasted Garlic & Lemon Dressing or a simple store bought vinaigrette.
Chicken always works great in salads, but that doesn't have to be the only meat you use. Try slices of dried and cured sausages like salami and or pepperoni too.
For this chicken peach salad in a jar, steak would be a great upgrade or take it a vegetarian route with some cooked quinoa or roasted chickpeas.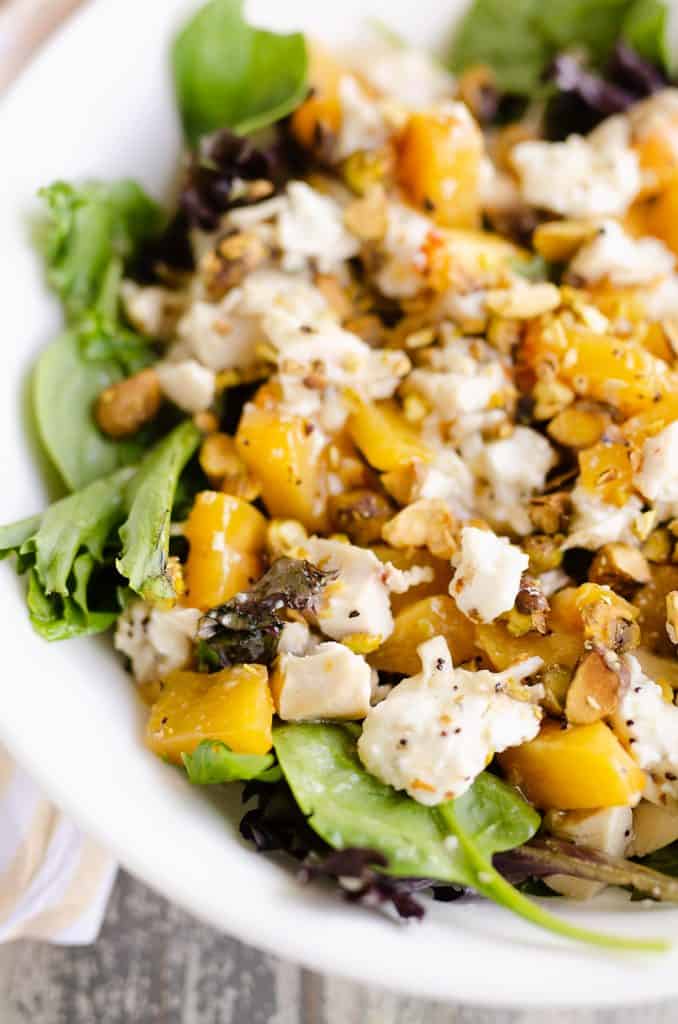 What About Other Types Of Cheese?
If you are not a fan of feta or goat cheese, then don't hesitate to use your favorite cheese instead. Small cubes of cheddar or swiss will work too.
It really comes down to making an easy to store salad that tastes amazing and you can access at your convenience.
Healthy Can Also Be Easy
A lot of times, people decide to get fast food or eat things that aren't the most ideal because of convenience. A chicken peach salad or any other salad in a jar totally changes that equation.
In way less time than it would take to drive through a drive thru and order and wait for the car in front of you to get their order… you could be making then enjoying a nice healthy salad whenever the hunger craving takes control.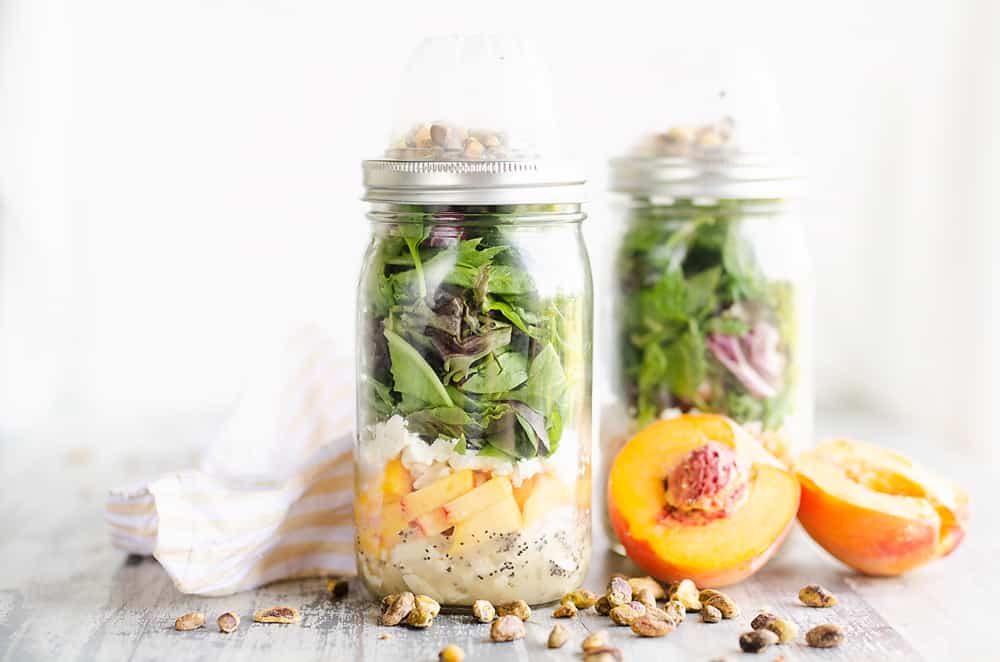 More Salad Ideas
Once you get used to the idea of making salad in a jar the possibilities are endless. Any type of salad works and I have many salad ideas you can try.
Just remember the rules to construct them by. Wet ingredients go on the bottom then layer up to the top. Keep the stuff you want to stay driest on top. You can't go wrong.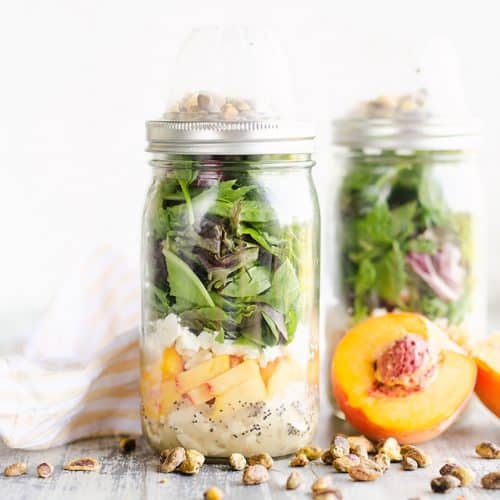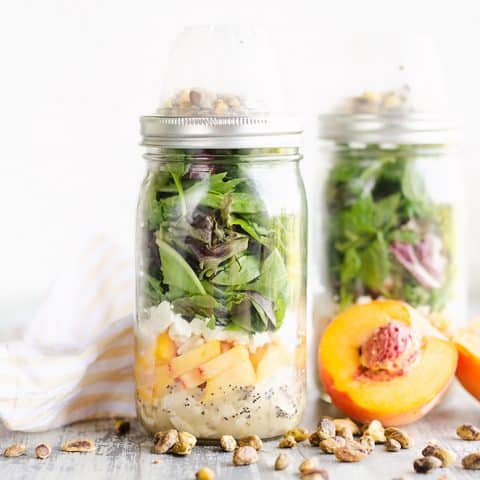 Chicken Peach Salad in a Jar
Chicken Peach Salad in a Jar is a convenient and healthy meal prep recipe perfect for a quick summer lunch or dinner! A light poppy seed dressing is topped with chicken, fresh peaches, pistachios and goat cheese.
Ingredients
1/2 c. cubed cooked chicken
1/2 peach, peeled and chopped
2 c. mixed greens
3 Tbsp. crumbled goat cheese or feta
2 Tbsp. chopped pistachios
Instructions
Add the dressing to a quart mason jar.
Top with chicken, peaches, cheese and mixed greens, in that order.
Fill a recycled and cleaned fruit cup with pistachios and top with the flat part of the jar lid. Flip over and place on top of the jar.
Screw the lid in place and store refrigerated up to 3 days.
Recommended Products
As an Amazon Associate and member of other affiliate programs, I earn from qualifying purchases.
Nutrition Information:
Yield:

1
Serving Size:

1
Amount Per Serving:
Calories:

746
Total Fat:

54g
Saturated Fat:

18g
Trans Fat:

0g
Unsaturated Fat:

33g
Cholesterol:

118mg
Sodium:

1219mg
Carbohydrates:

33g
Fiber:

5g
Sugar:

26g
Protein:

34g
Provided nutrition data is only an estimate. If you are tracking these nutrients for medical purposes, please consult an outside, trusted source.