Marshmallow Peach Icebox Dessert is a light summer dessert recipe that highlights the amazing flavor of sweet Elberta peaches.

No Bake Peach Dessert
Elberta peach season has to be one of my favorite seasonal fruits of all-time. Growing up my mom would by a big crate of peaches and we would peel, slice and can until our little hands cranked out lots of peaches to enjoy throughout the year.
While canned peaches are delicious, there is nothing quite like a fresh peach. Toss them on the grill and enjoy with ice cream for dessert, add them to a savory dish like this Peach & Goat Cheese Salad.
Or spend the extra time to make this amazing no bake Marshmallow Peach Icebox Dessert that has been a family favorite for as long as I can remember!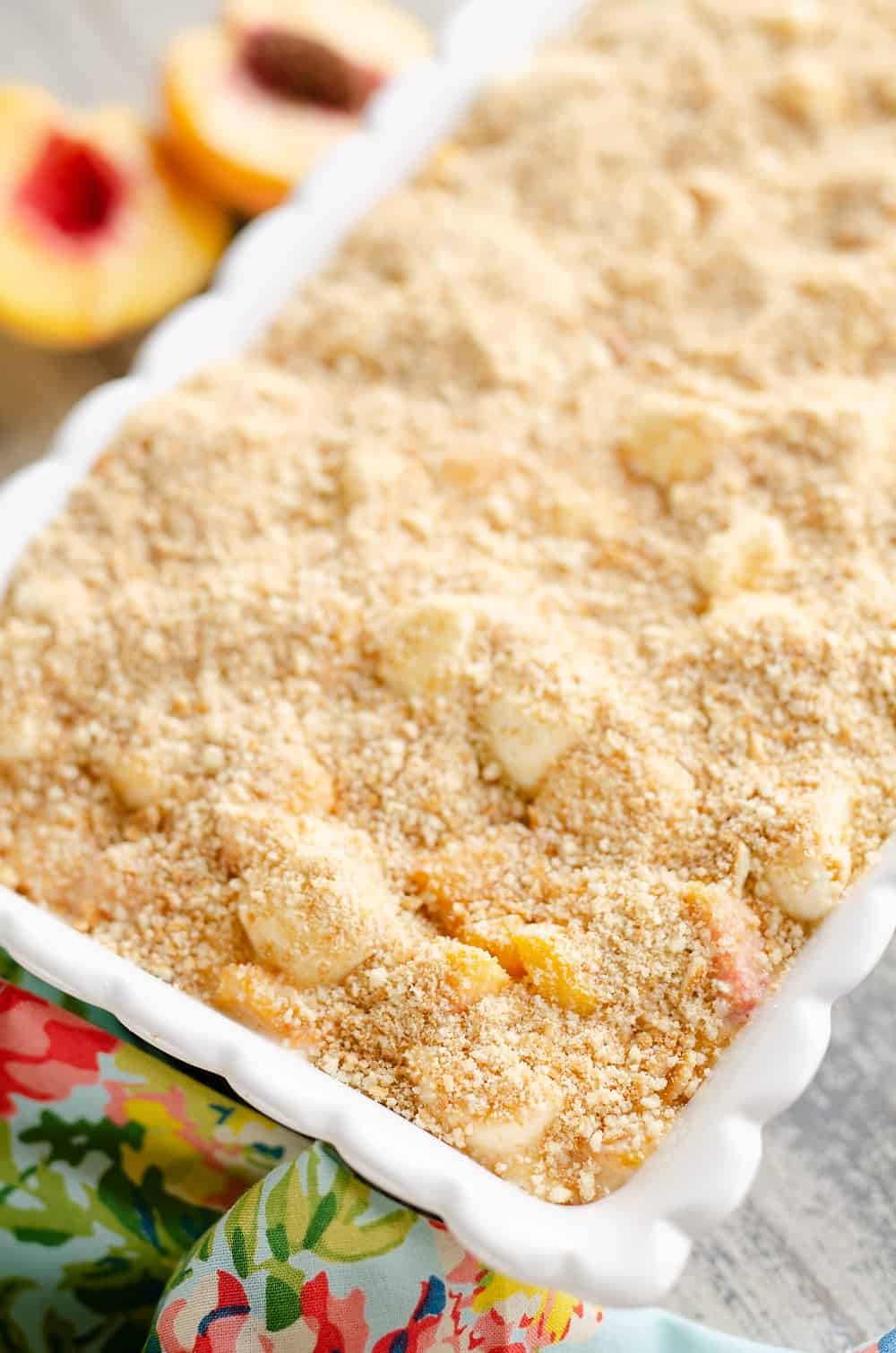 Summer Peach Recipe
This dessert is a light and fluffy recipe that couldn't be any more perfect for summer. Marshmallows and fresh peaches are folded together with an egg and butter mixture and topped with crushed Vanilla Wafer Cookies.
The only problem with this Marshmallow Peach Icebox Dessert is that you could easily eat 3 pieces at one sitting because it is so light and absolutely delicious.
I'm sure one of the reasons this has remained a family favorite over all these years is because of the seasonality of it. For some reason, when you have something over and over again, it seems to loose it's luster just a bit.
This Marshmallow Peach Icebox Dessert has such a short window to be enjoyed while Elberta peaches are in season, that we make it alot in August, but that is about the only month we have it.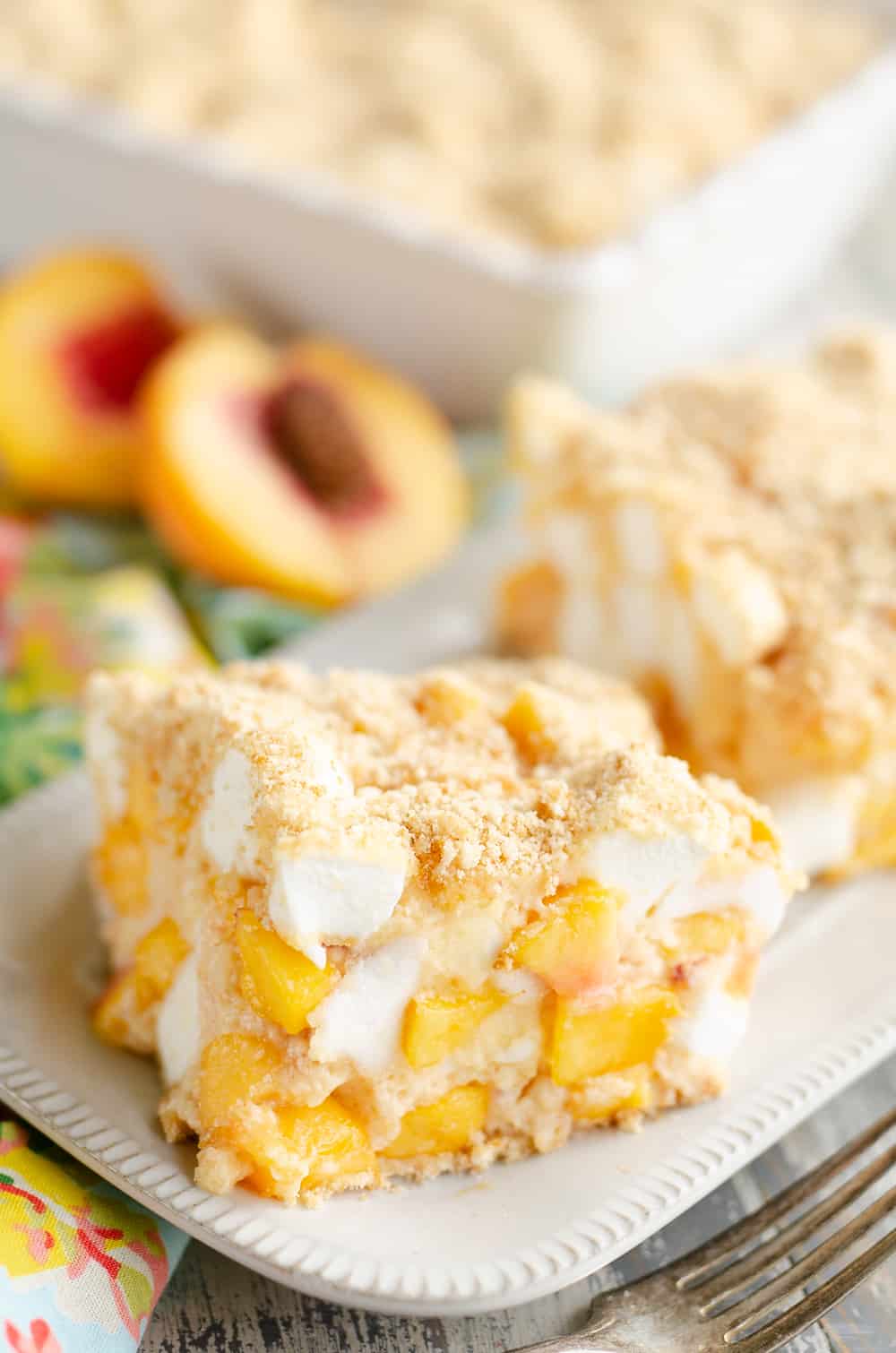 Canned Peaches or Fresh Peaches
The original recipe my Mom has does say that you can use canned peaches, but I don't think it would taste nearly as good. The slight tartness and texture that the fresh Elberta peaches provide are the perfect balance to the sweet marshmallows.
Other varieties of fresh peaches would be good in this recipe, but I doubt they would rival the beloved Elberta peach.
The recipe calls for quartered marshmallows that you will have to cut up using a kitchen scissors. This is a tedious process, but I find that I prefer the texture of quartered marshmallows slightly better than simply using mini marshmallows. Mini marshmallows definitely do the job though if you are short on time.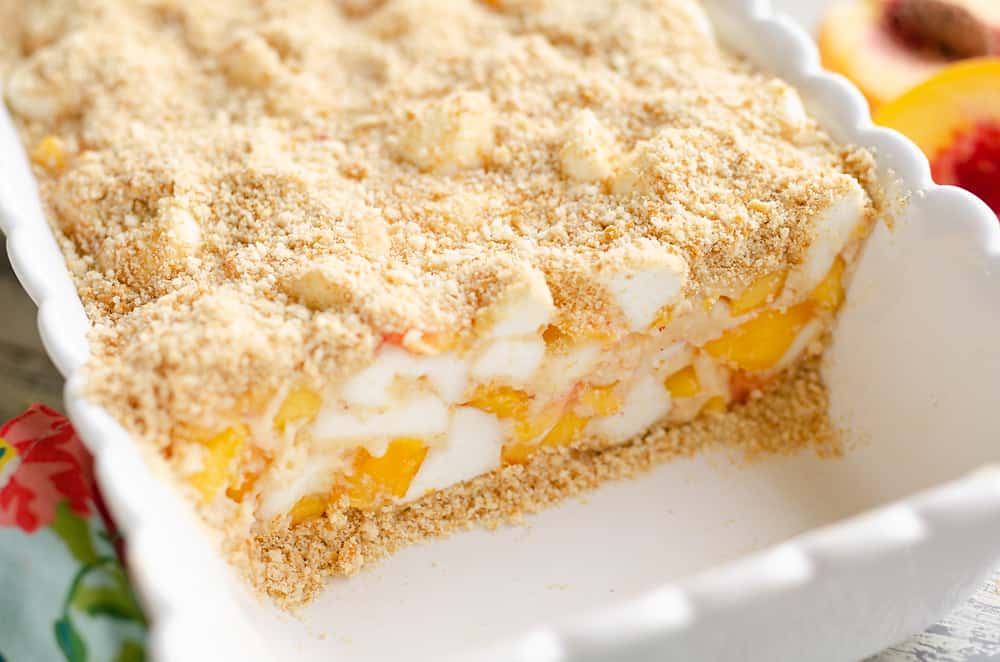 Variations on peach icebox dessert
Another variant to this recipe is the crushed crackers. The original recipe calls for crushed Vanilla Wafers but my Mom will often use graham crackers because they are cheaper. I personally prefer the taste of the Vanilla Wafers, but either are great in the end.
If you are making this Marshmallow Peach Icebox Dessert for company, I recommend using a larger 9×13 pan so it goes a bit farther. If you are just enjoying it at home with your family, an 8×10 produces a nice thick slice which I prefer.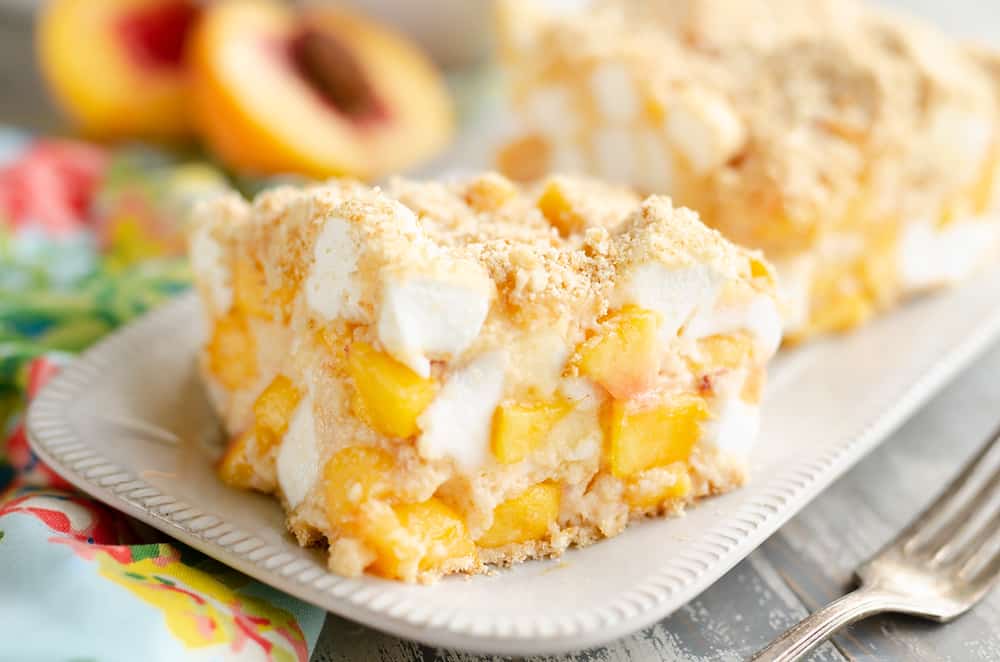 Use pasteurized eggs
One last thing to note is the fact that this recipe requires raw egg. It is important that you go out of your way to buy pasteurized eggs for a safe recipe.
I will admit that my mother has only ever used regular eggs and we only recently discovered this. She refuses to pay the extra dollar or two for pasteurized eggs so we are left taking the risk because the dessert is just too good not to enjoy a piece!
While this recipe requires a few extra steps, I promise you it is worth every bit of effort. I implore you to make this dish at least once, because I have yet to meet anyone who doesn't absolutely love it!
More delicious peach dessert recipes!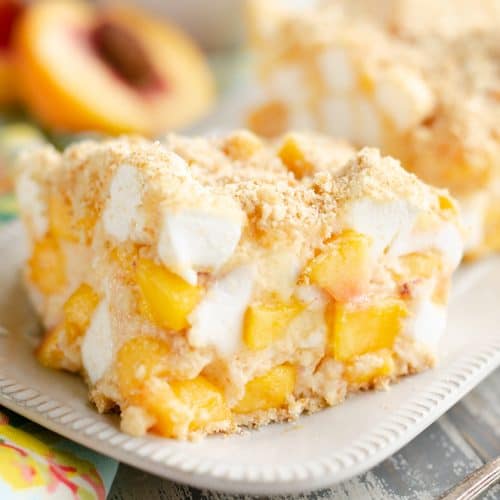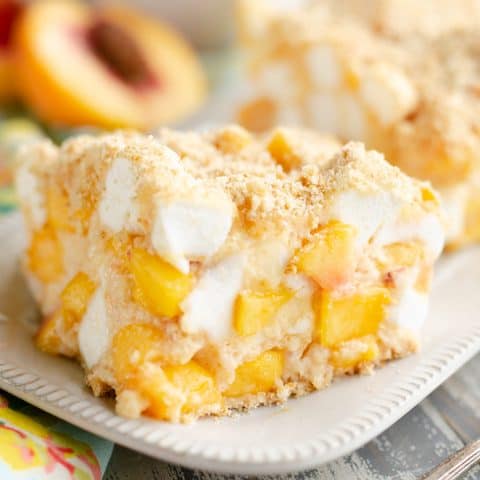 Marshmallow Peach Icebox Dessert
Marshmallow Peach Icebox Dessert is a light summer dessert recipe that highlights the amazing flavor of sweet Elberta peaches.
Ingredients
1/4 c. cold water
2 pasteurized eggs, separated
1/3 c. butter softened
1 c. powdered sugar
34 marshmallows, quartered or 10 oz bag mini marshmallows
4 c. chopped Elberta peaches, fresh or canned
1 1/2 c. vanilla wafer cookies or graham crackers, crushed
Instructions
Soak gelatin in the cold water for 5 minutes.
Meanwhile in a small saucepan, cream the butter, powdered sugar and egg yolks. Cook the mixture over low heat, stirring constantly until slightly thickened.
Remove the mixture from the heat and stir in the soaked gelatin, being sure it is well incorporated and there are no lumps. Pour the mixture into a large bowl and allow to cool for 5 minutes.
In a separate small bowl, beat the egg whites until stiff peaks form.
Fold the peaches into the butter mixture until they are well coated. Stir in the quartered marshmallows and gently fold in the beaten egg whites.
In an 8x10 or 9x13 pan (depending on how thick you want the dessert) add half of the crushed vanilla wafers. Top the wafers with the peach and marshmallow mixture. Finish it off by topping it with the remaining vanilla wafers. Refrigerate for 2 hours before serving. Stores well refrigerated for 5- days.
Recommended Products
As an Amazon Associate and member of other affiliate programs, I earn from qualifying purchases.
Nutrition Information:
Yield:

10
Serving Size:

1 grams
Amount Per Serving:
Calories:

367
Total Fat:

10g
Saturated Fat:

5g
Trans Fat:

0g
Unsaturated Fat:

4g
Cholesterol:

53mg
Sodium:

160mg
Carbohydrates:

71g
Fiber:

1g
Sugar:

51g
Protein:

3g
Provided nutrition data is only an estimate. If you are tracking these nutrients for medical purposes, please consult an outside, trusted source.