Grandma's Homemade Peach Pie Recipe is a family favorite that is perfect for a special summer dessert! You can even freeze the pie before baking to enjoy it any time of year.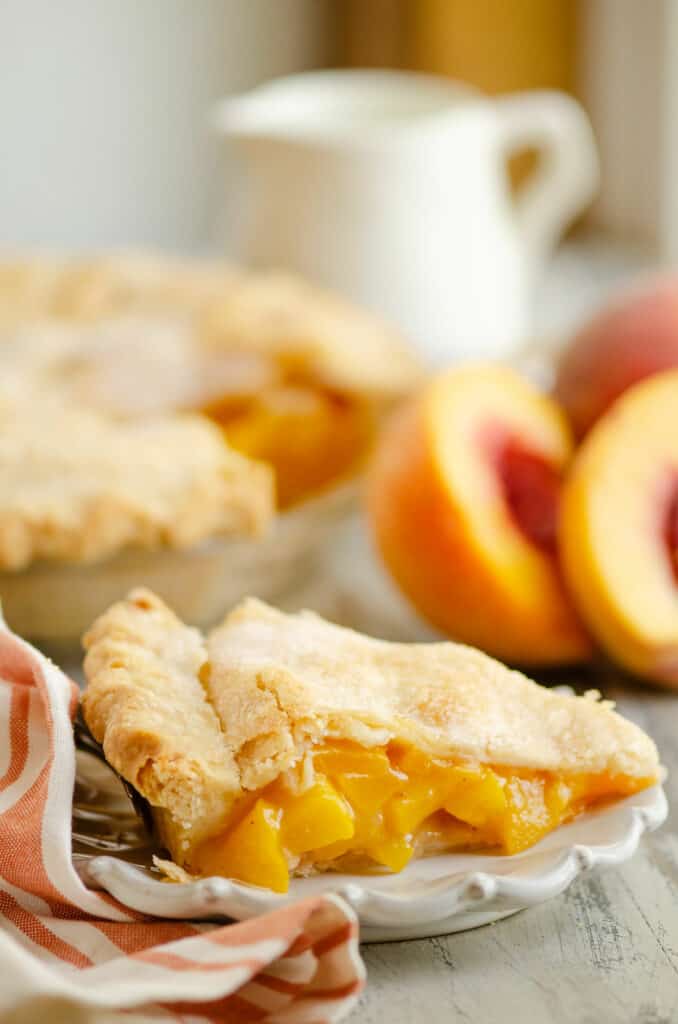 Everyone loves Homemade Peach Pie!
This Homemade Peach Pie Recipe comes from my beloved Grandma Koch and her amazing baking talents. The balance of flavors between the peaches with a bit of tartness and the buttery pie crust is absolutely divine. A scope of vanilla ice cream really puts it over the top!
If summer could be described as a dessert, homemade peach pie might just be it. It really is the flavor of summer. My homemade peach pie recipe tastes bright and light, sweet without being too sweet. Every bite feels like the glow of sunshine on just right tree ripened peaches.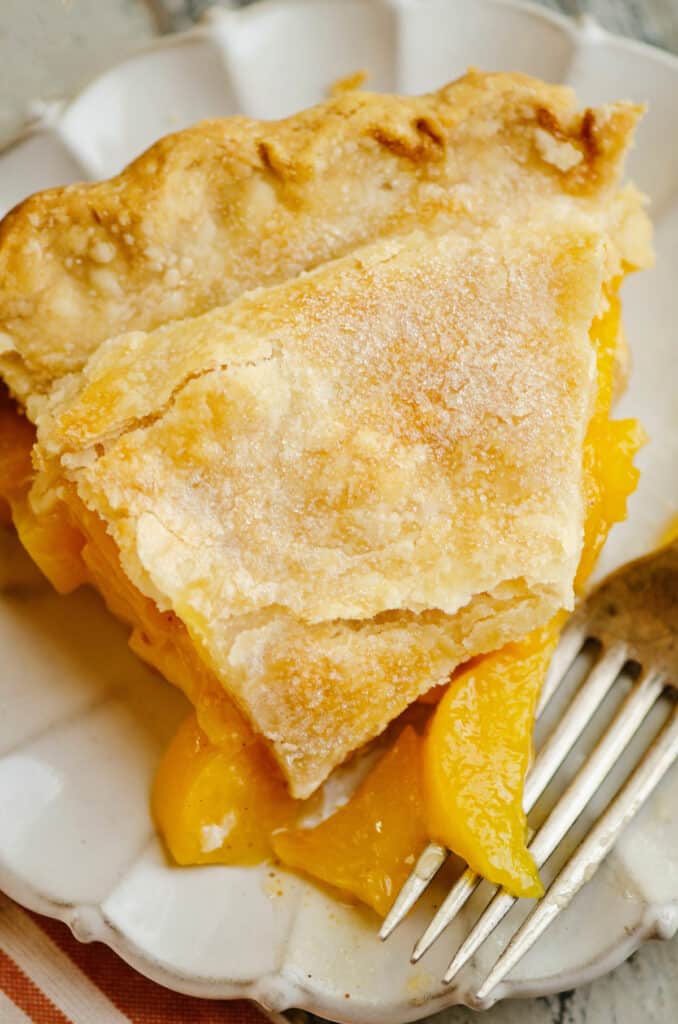 You can use a pre-made crust of course, but this is one thing that will never compare to a homemade pie crust recipe. A buttery and flaky homemade crust truly is worth the extra effort it takes. Either way, you can prepare your pies to serve out of the oven, or leave them uncooked, store in your freezer, then serve later.
Properly stored, you can pull one out of the freezer and bring the flavor of summer back to even the coldest and wettest fall weather!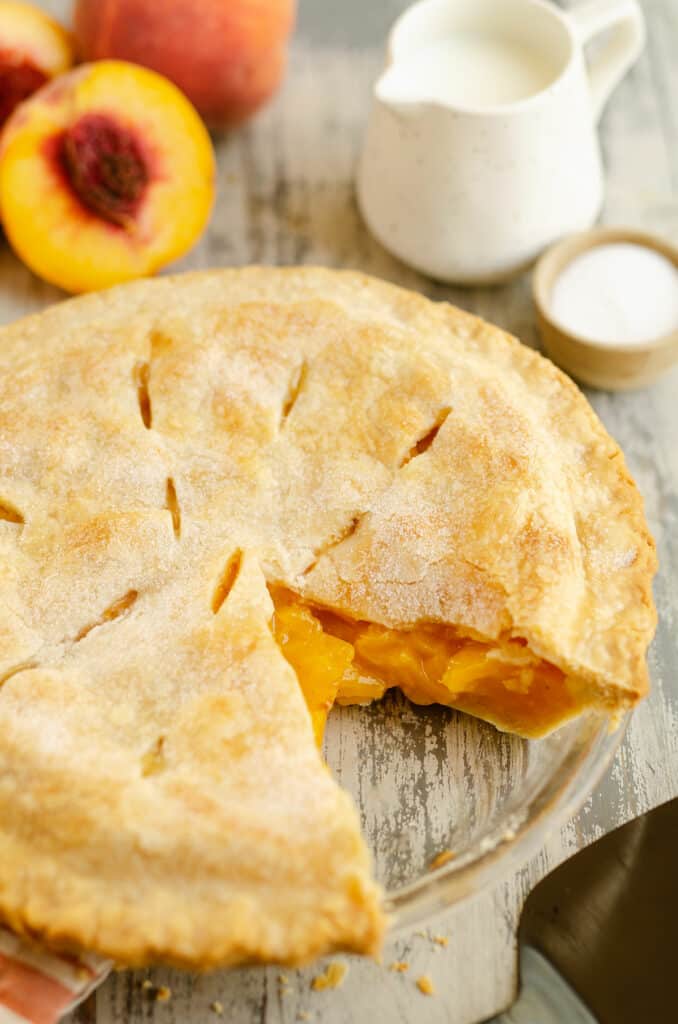 What kind of peaches work best for peach pies?
I prefer Elberta peaches when I can get them. The Elbertas are an heirloom peach full of flavor and a lovely color. The fruit stands up to the baking so you get a bit of firm texture to the bite rather than a mushy mouthful of peach.
Of course, any ripe peaches will do, and during the Summer as soon as you see the fresh produce peaches hit the markets then those are ideal. You do have to clean and pit them, but the reward of using farm fresh peaches really is worth the effort.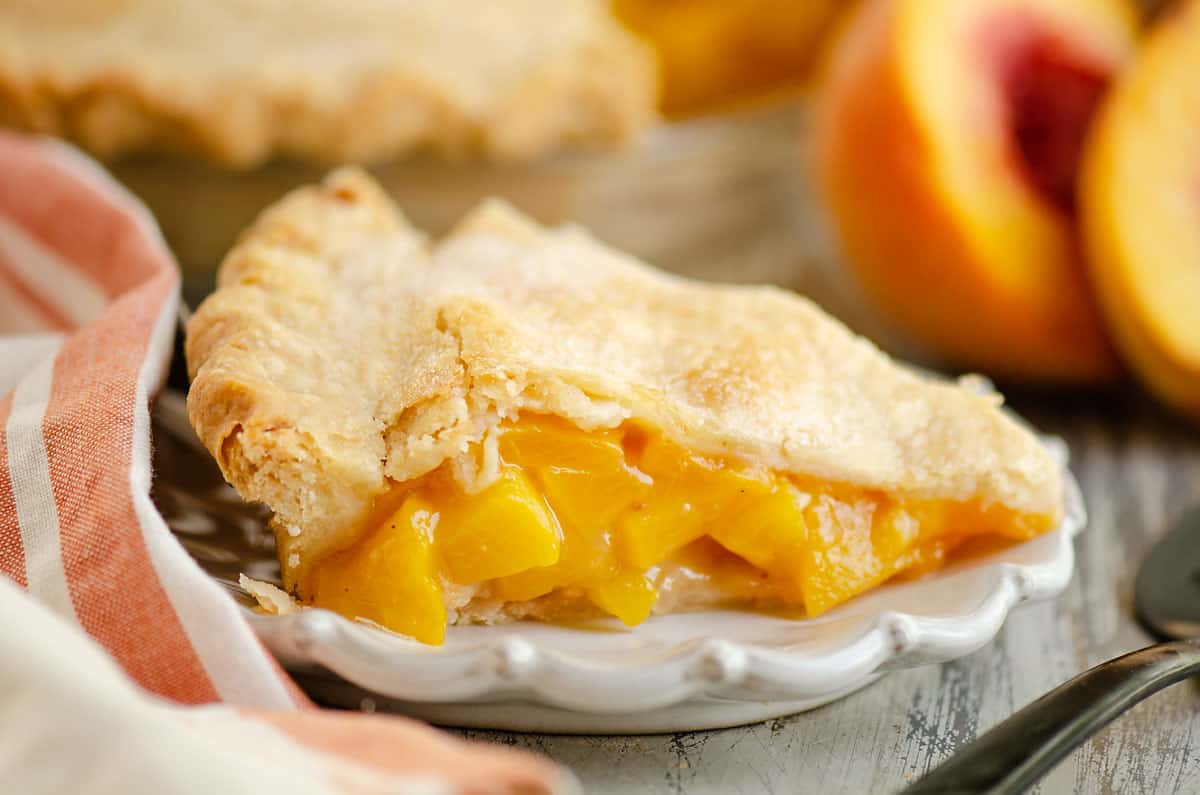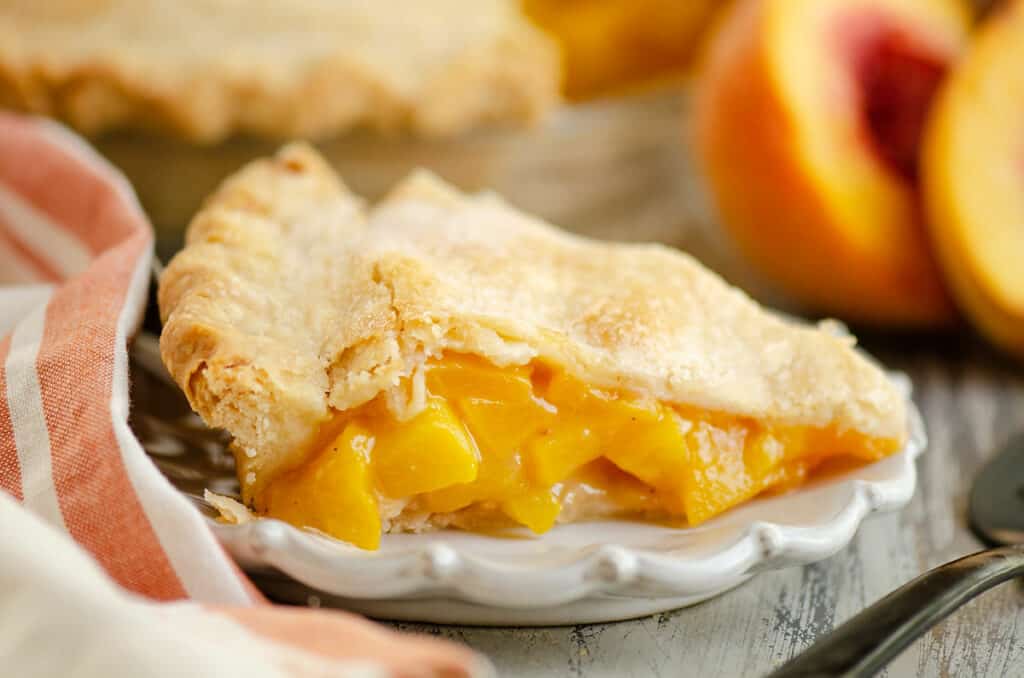 Frozen peaches work too and I definitely recommend them over using canned peaches, which tend to be way too sweet and usually canned in corn syrup.
I have seen the Elberta peaches in many grocery stores including my tiny little small town grocer, so they are not hard to find.
How do I pick a peach for baking homemade peach pie?
If you are going to pick fresh peaches up for this pie recipe, then start with the right peaches. Peaches ripen very quickly, so pick the peaches up based on when you plan to use them.
Also, I like to get some peaches that are just at the very edge of becoming ripe along with some that are very ripe. They both are useful. The ones that are still just a bit firm help create the better bite, while the very ripe ones help bring out the full peach flavors.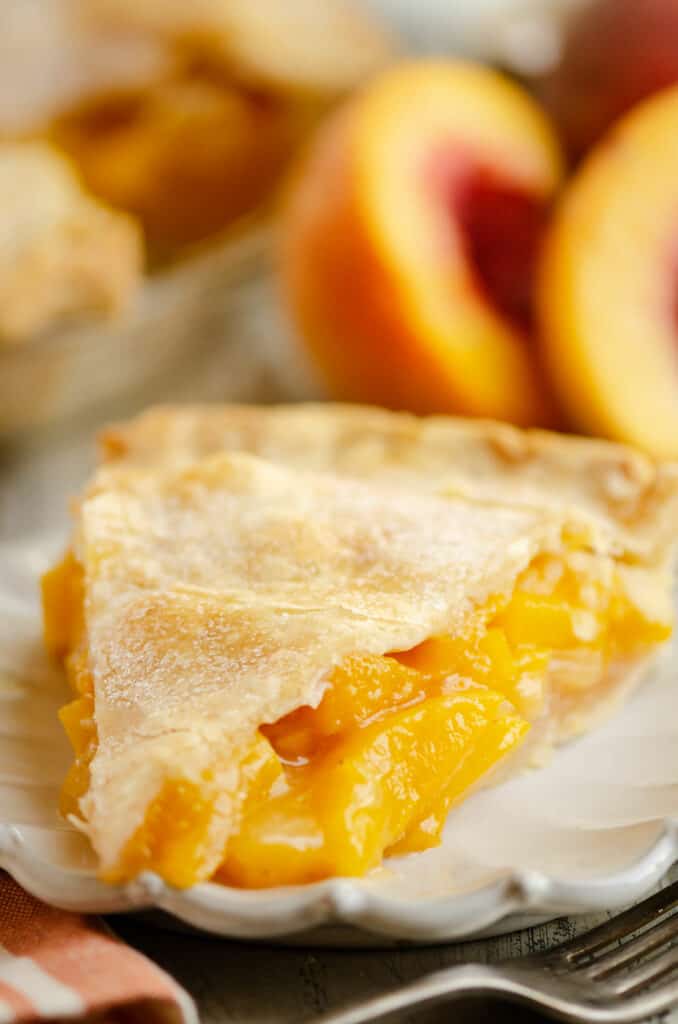 In terms of how many of each, I suggest going with about 70/30% of almost ripe, which are the ones just starting to get soft, and fully ripe which are so soft that you risk bruising them when you pick them up.
The baking process caramelize the sugars, which sweetens everything and helps intensify the flavors too.
Also, check the peaches by smell. You want them to be very fragrant and full of that floral peach sweet smell. Some peaches get picked too early and never seem to get that fragrance.
The aroma of homemade peach pie baking in the oven wafting through the house is simply divine.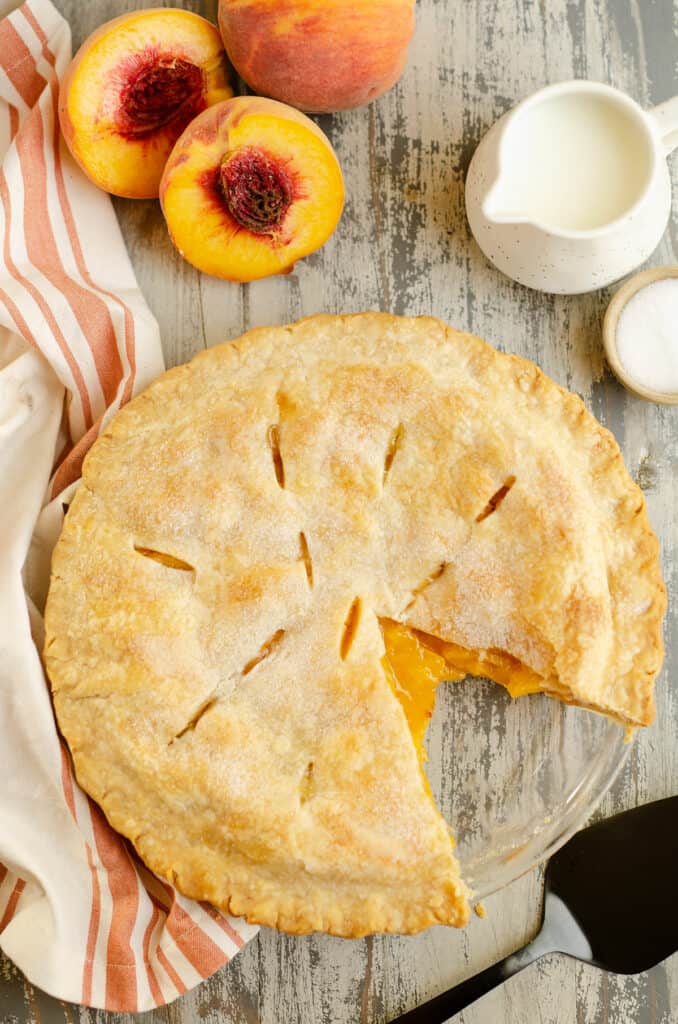 How do I freeze peach pie for serving later?
First, you don't want to freeze a peach pie that has already been cooked. Those need to be enjoyed as soon as they are cool enough to eat. A scoop of vanilla ice cream melting over a slice of warm peach pie is truly one of the best desserts there is.
However, if you are ambitious, and make a few pies that you want to store for later, then store them uncooked. You just want to make sure they are nicely wrapped and sealed so they store well.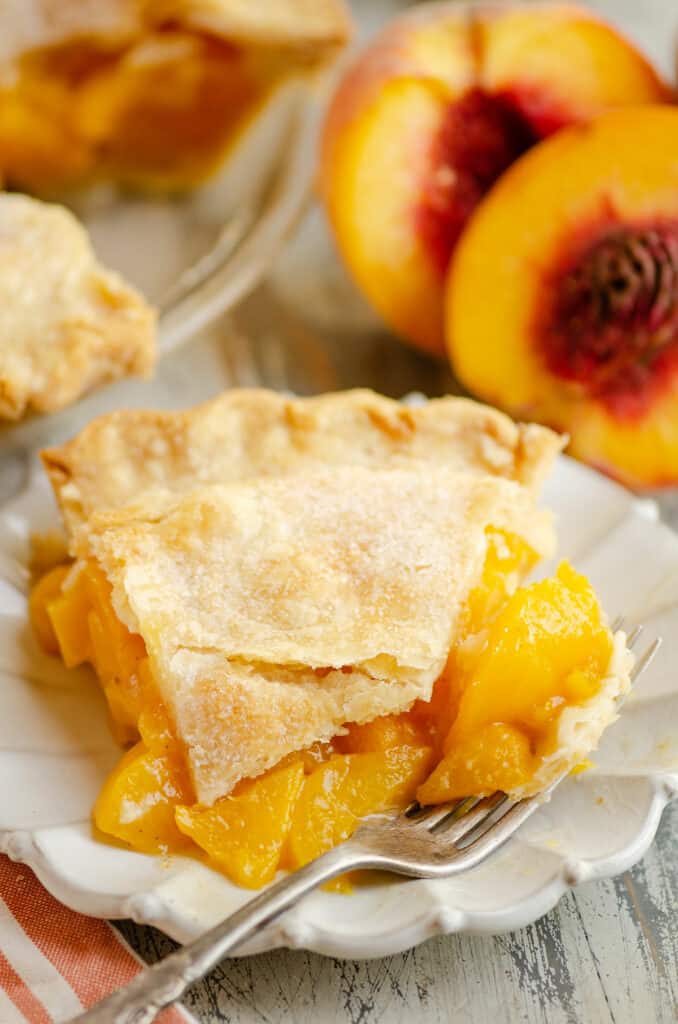 My mom always makes a few extra to use for special occasions throughout the colder months. She freezes the pies in the pie tin and once they are fully frozen goes back and seals them tightly in an ziploc bags that she sucks any extra air out of. This helps prevent any unwanted freezer burn.
Sometimes, you can find containers made for storing pies at the local dollar store and those work great for making sure that your crust edge doesn't get damaged. If you can't find those then two gallon zip bags works just fine too.
Just make sure to not stack them until the contents are completely frozen. Try to stack them so you won't lose all the crust around the edge.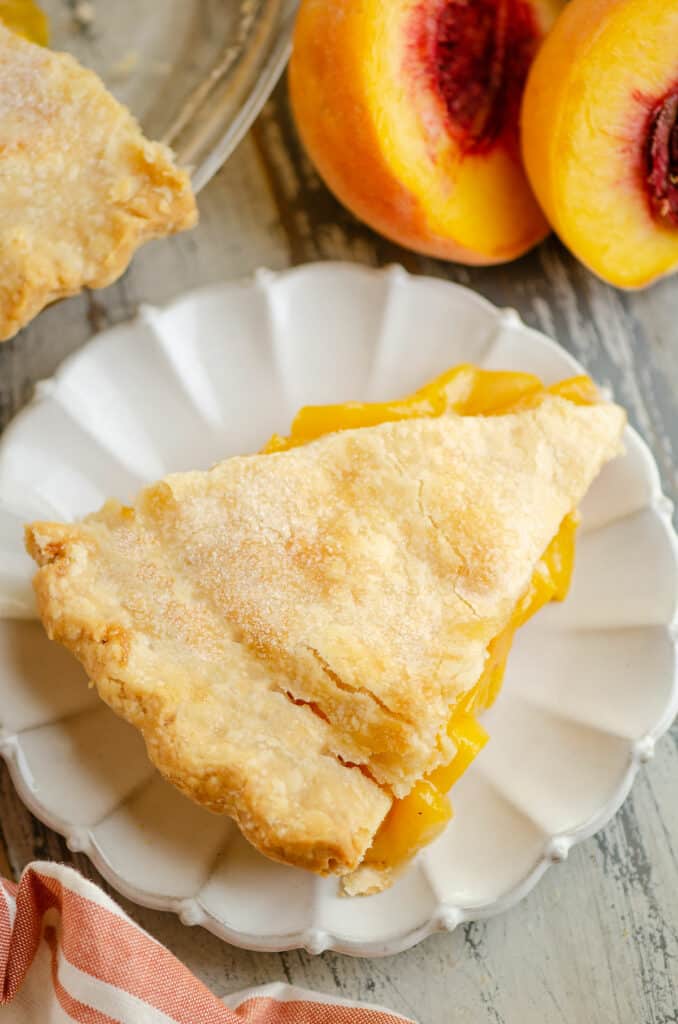 What else can I do with my peach pie?
If you want to dress up your peach pie, then there are some fun ways to add flair to it that don't take a lot of time but add enough extra pizzazz that it looks like you went to a fancy bakery.
Try cutting slices of strawberries or halves of cherries and arranging them in a circle pattern on top of the pie. As they cook the juice flows into the top of the pie and adds excellent color as well as a touch more sweet.
Using mini cookie cutters to cut out a few shapes from the top crust is also a fun way to add flair, kind of like I did with my Cranberry Custard Pie.
What else can I serve with a slice of peach pie?
The great thing about homemade peach pie is how well it goes with so many types of dishes. Since summer finds many of us outside by the grill, the sweet and floral flavor of peaches works really well to balance out the smokiness of charred meats like steak, pork, and chicken.
No surprise why many fairs that hold barbecue competitions also feature pie competitions as well. The two go hand in hand like two kids skipping to the lake for a cool swim on a hot summer's day.
Peach pie also works really well with cheese and charcuterie plates. Everything from a salty tangy cheese like Jarlsberg to a smooth and creamy cheese like chevre (goat cheese) tastes delicious with peach pie. The saltiness of preserved meats like prosciutto or other types of ham go well too. Let your imagination be your guide.
I have a few suggestions to recommend for entrees to enjoy before you move onto the dessert, but these are great for leading the way to an awesome slice of homemade peach pie.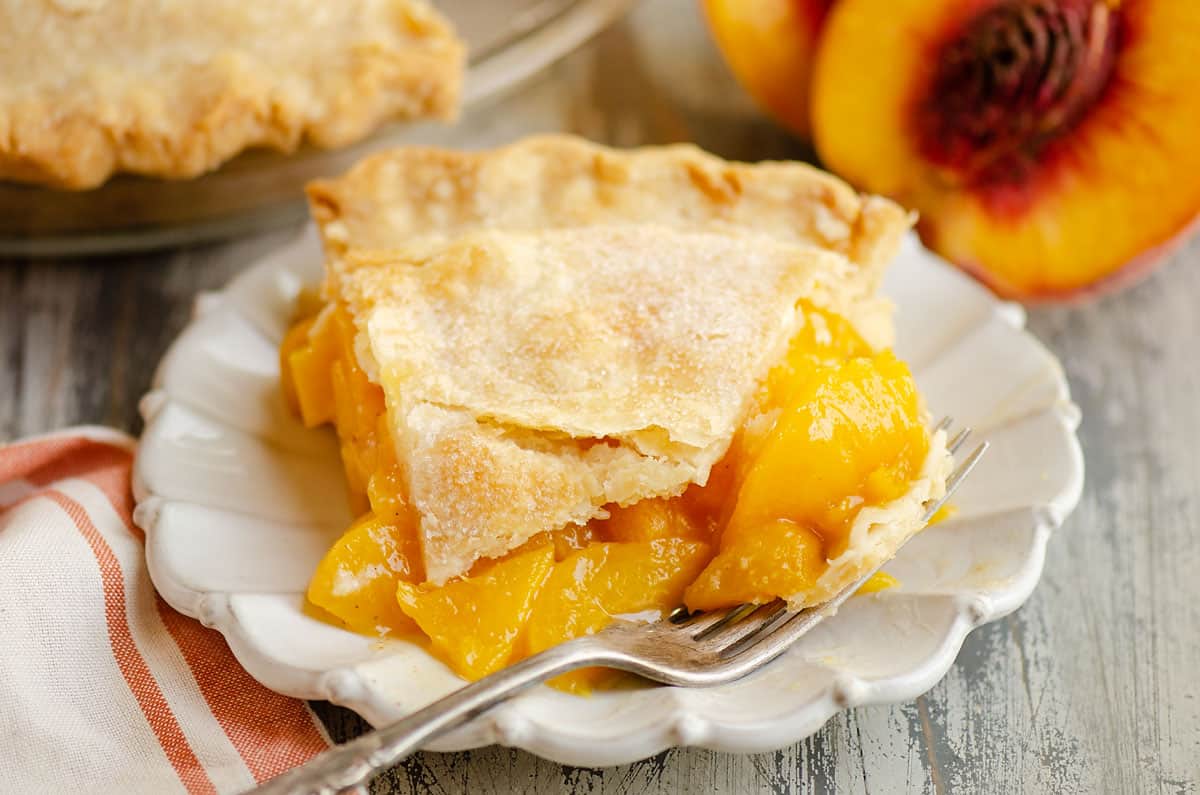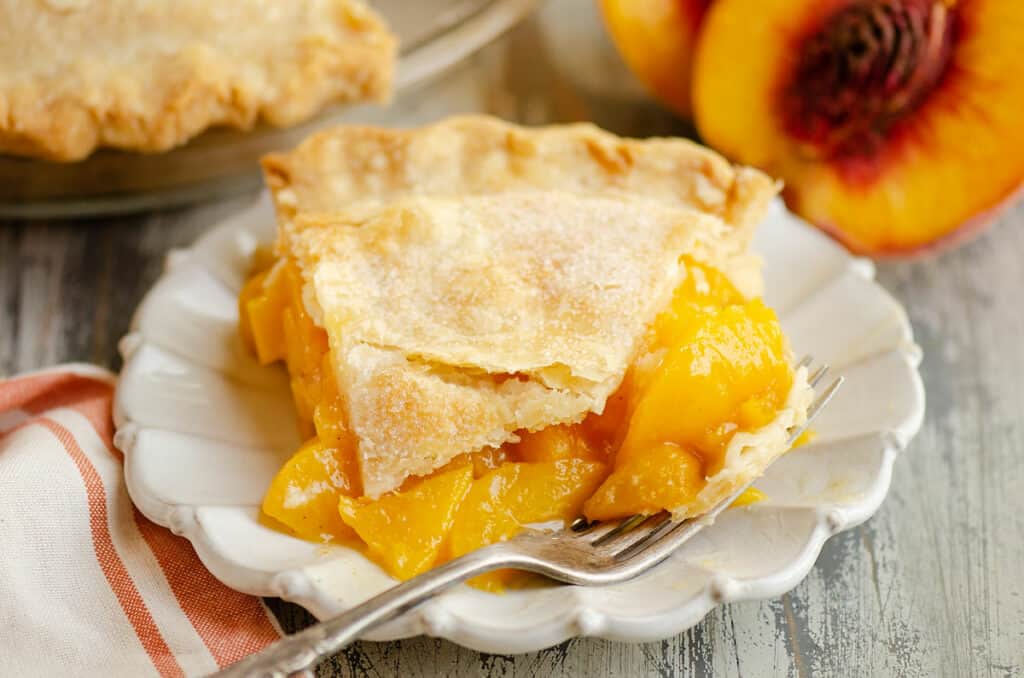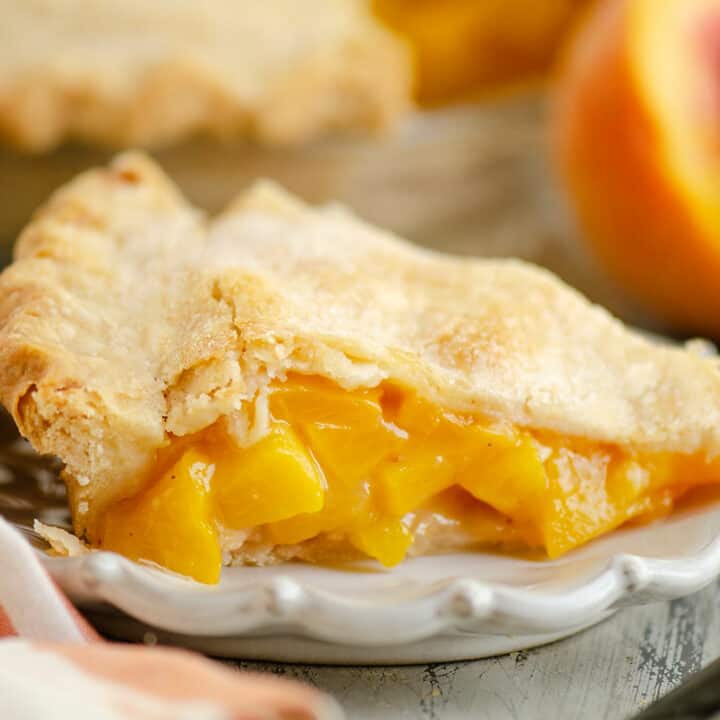 Homemade Peach Pie Recipe
Total Time:
1 hour
15 minutes
A delicious summer dessert with fresh Elberta peaches and a flaky pie crust that will get rave reviews!
Ingredients
2 Tbsp. Minute tapioca
2 Tbsp. butter softened
6 c. fresh peaches, peeled and sliced
1 1/4 c. sugar
1/3 c. flour
1/4 tsp. cinnamon
cream and sugar
Instructions
Preheat oven to 425°.
Place one crust in a 9 in. round pie pan. Stab the sides and bottom of the crust with a fork. Sprinkle 2 Tbsp. tapioca on the bottom of the crust.
Mix the sugar, flour and cinnamon in a large bowl and add the peaches to mixture.
Top the bottom pie crust with the peach mixture. Top the peaches with pats of butter.
Place the second crust on the top of the peaches. Press the edges together with the bottom crust. Trim the crust, leaving 1/2 inch of crust around the edges. Tuck that crust underneath and pinch together with your fingers to make a scalloped edge.
Make several slits in the top of the crust to allow steam to escape. (If you are wanting to freeze your pie, at this point place it in the freezer and seal the frozen pie for baking at a later time)
Lightly brush some cream over the top crust and sprinkle lightly with granulated sugar.
Bake at 425° for 50 to 60 minutes. Allow to cool for 1 hour before serving.
Recommended Products
As an Amazon Associate and member of other affiliate programs, I earn from qualifying purchases.
Nutrition Information:
Yield:

8
Serving Size:

1
Amount Per Serving:
Calories:

489
Total Fat:

19g
Saturated Fat:

8g
Trans Fat:

0g
Unsaturated Fat:

9g
Cholesterol:

12mg
Sodium:

258mg
Carbohydrates:

78g
Fiber:

3g
Sugar:

42g
Protein:

3g
Provided nutrition data is only an estimate. If you are tracking these nutrients for medical purposes, please consult an outside, trusted source.