Peach Pretzel Salad Dessert is a fresh summer twist on the classic fruit and jello pretzel dessert using fresh or canned peaches.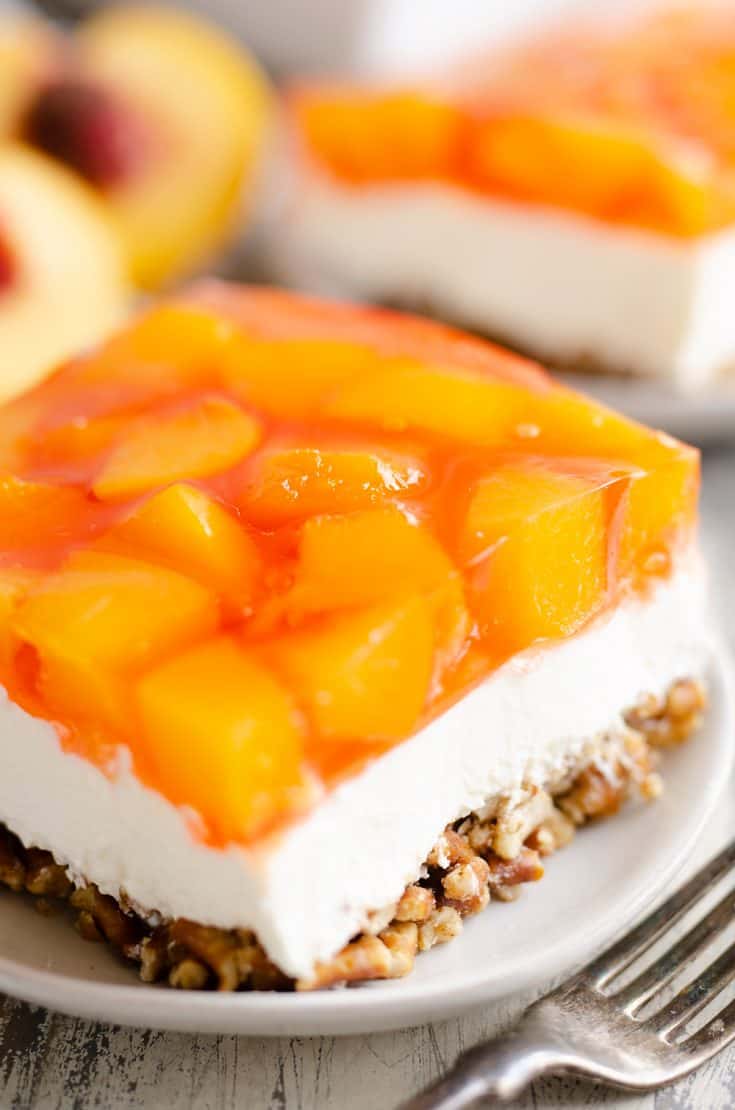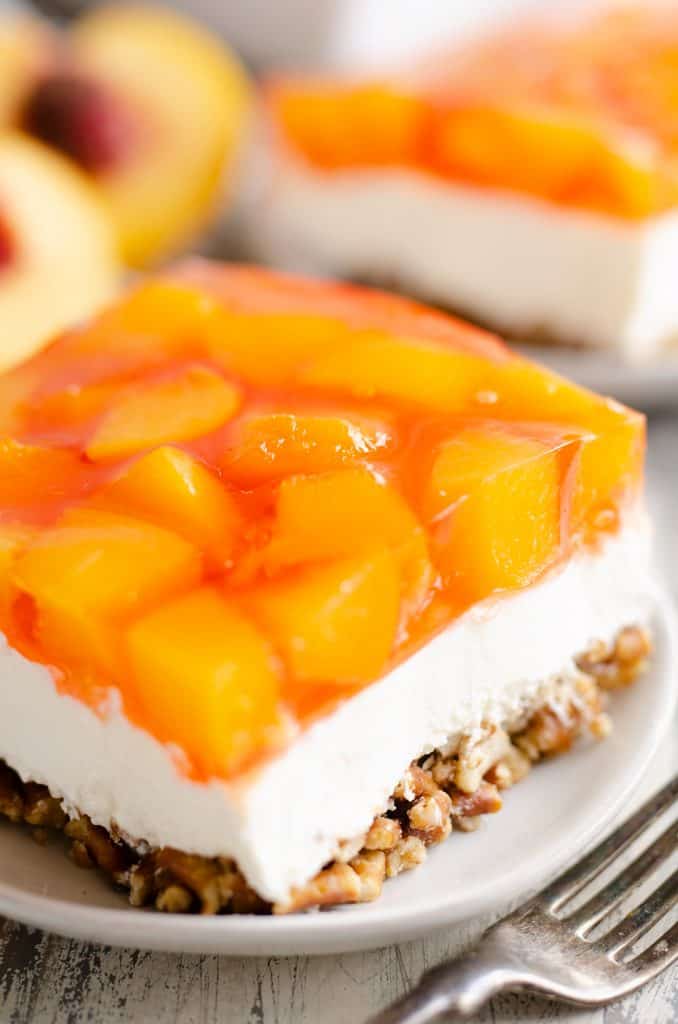 Peach Pretzel Salad Dessert
This Peach Pretzel Salad Dessert is a fresh combination of tangy sweet peaches in peach gelatin, a velvet layer of whipped topping and cream cheese all over a salty pretzel crust. They're the perfect balance of flavors! Peach pretzel jello salad is the easy-to-make, gorgeous layered peach dessert that will be the hit of any summer party!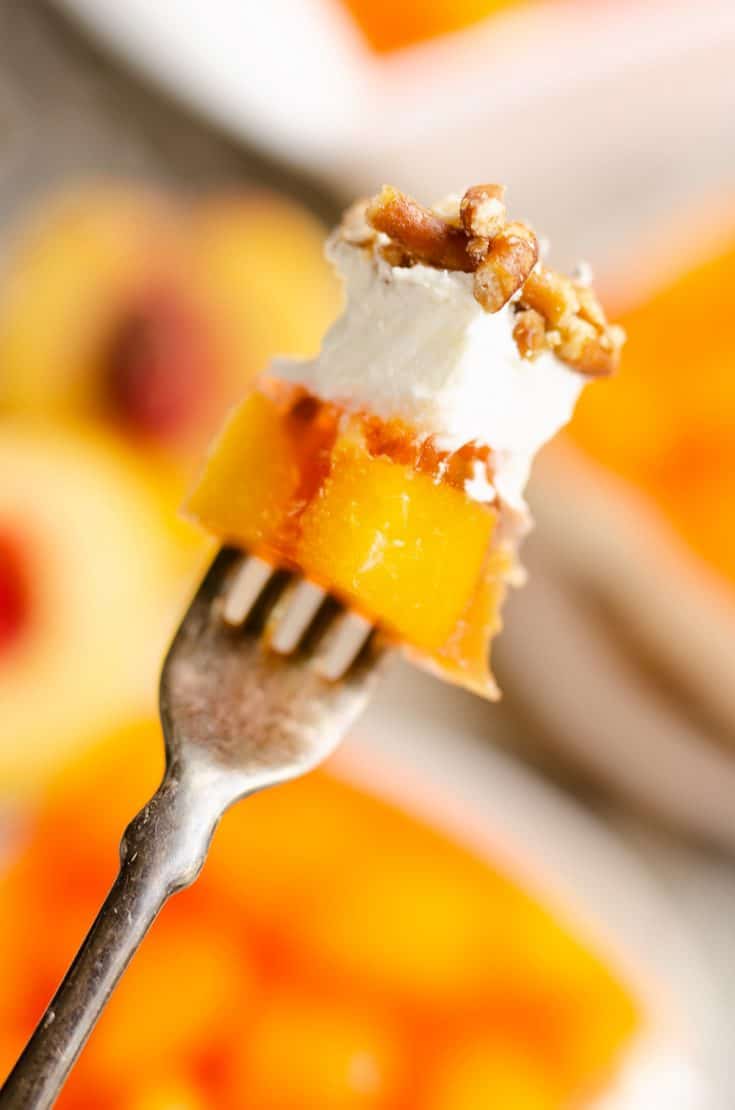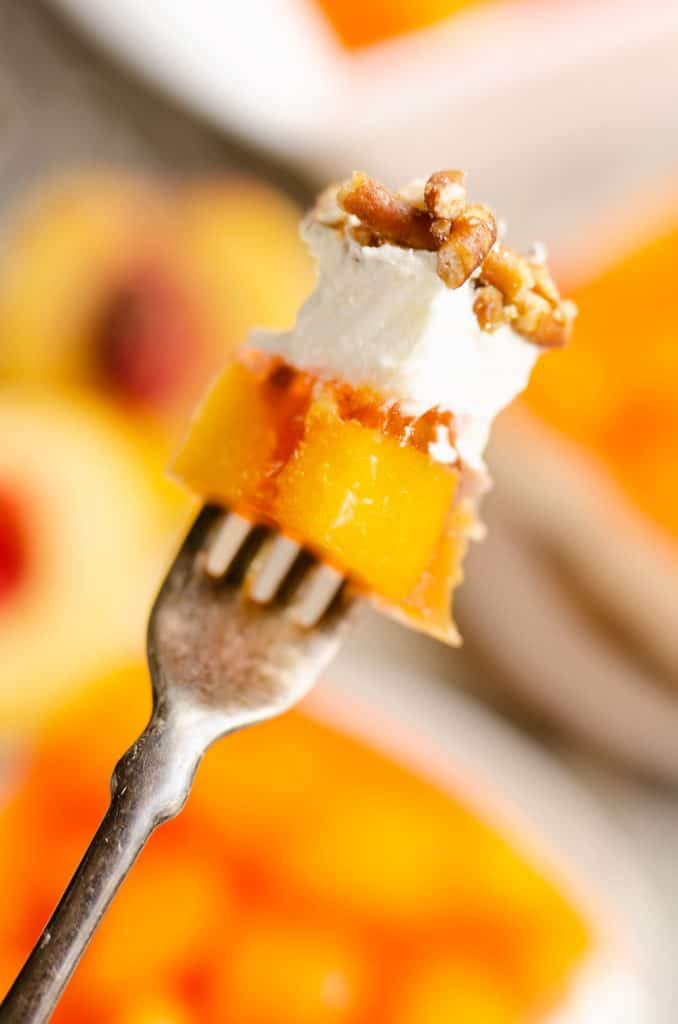 Jello Pretzel Dessert
If you've been following along with me for a while you'll remember the Marshmallow Peach Icebox Dessert recipe that was passed down in my family from my mom to me. We used to make it every August, and I looked forward to it all year. Well, this pretzel dessert recipe is another great family recipe to use up some of those summer peaches!
Jello salads are a staple for summer picnics and potlucks around my neck of the woods, and I love making new recipes that are based on old favorites. This jello pretzel salad is a delicious twist on a classic recipe! Most recipes for Jell-O pretzel desserts use strawberries, like this Strawberry Pretzel Salad. When my mom mentioned a peach jello salad, I knew it would be the perfect fit for one of my favorite fruits!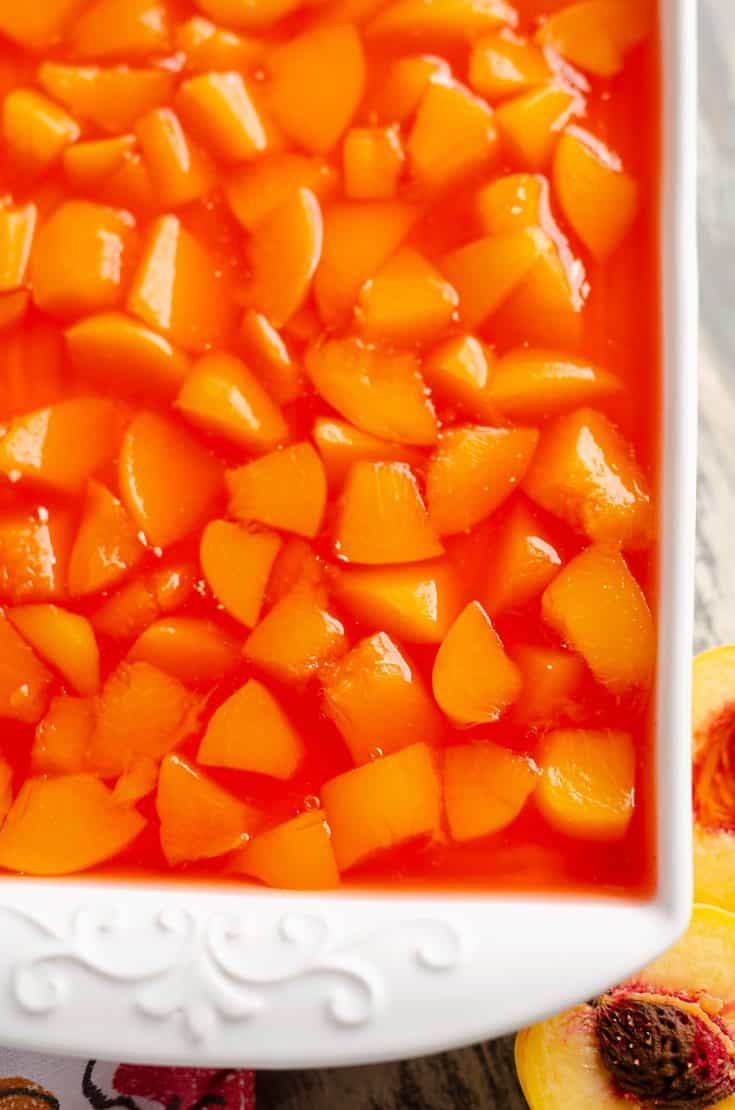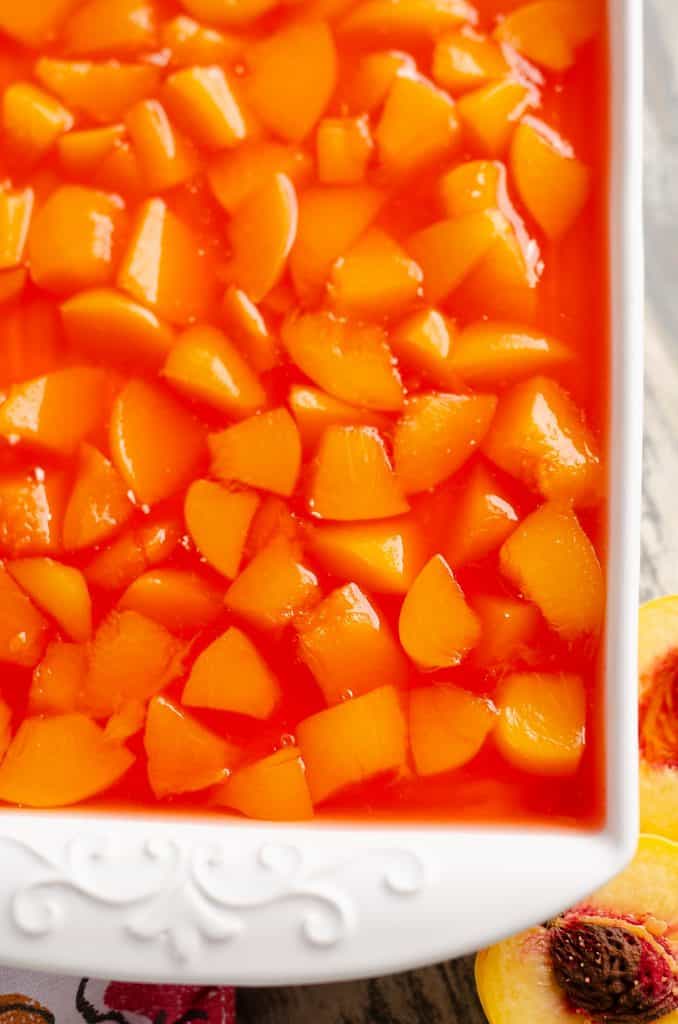 What Can I Do With an Abundance of Peaches?
I love peaches! They're sweet, tart, and they always remind me of that bright summer sun you only get in late July or August. When it gets that hot, there's nothing like biting into a fresh-from-the-orchard juicy peach. It just gets better when you use those peaches in fresh and sweet peach desserts.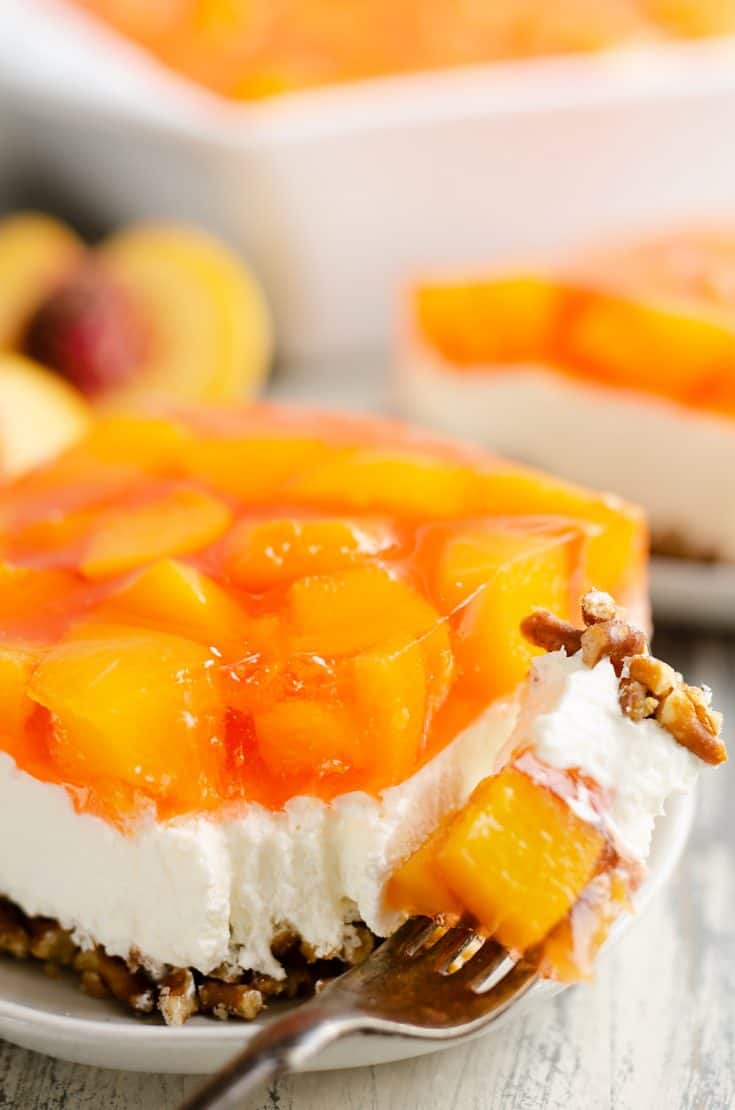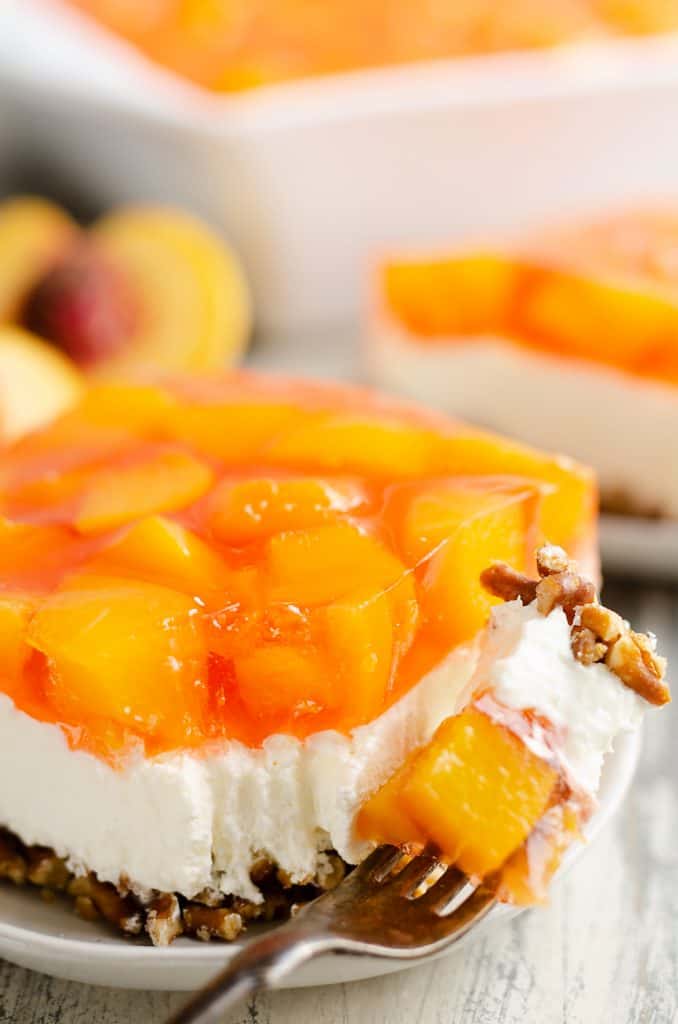 Even better, when peaches are in season, they're everywhere! (Lucky us!) I love using peaches all summer long. I make all kinds of dishes with them! I've made sweet treats like my Light Peach and Berry Tart and my Peach Parfait With Dark Chocolate.
I've also used peaches in savory dishes like this Grilled Peach, Goat Cheese, & Spiced Pecan Salad. And peaches are great in appetizers like my Whipped Honey Goat Cheese With Balsamic Fruit which is another recipe that balances sweet and savory flavors. If you ever need some good, new peach dessert recipes, hit me up! I have tons!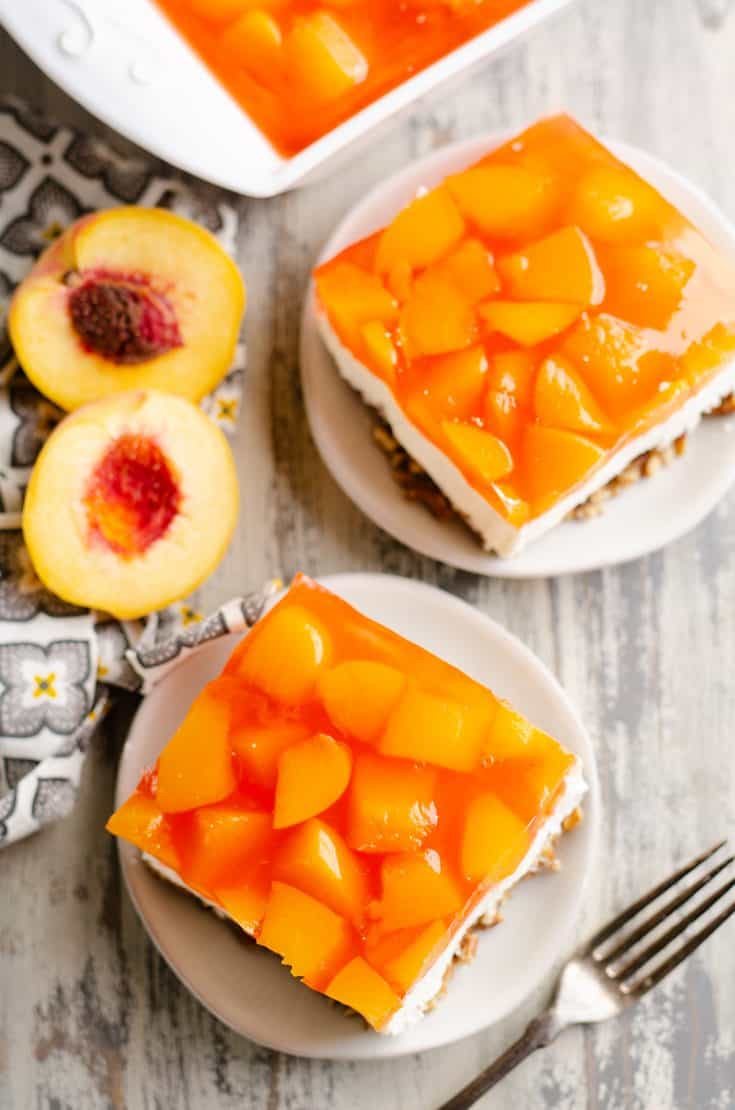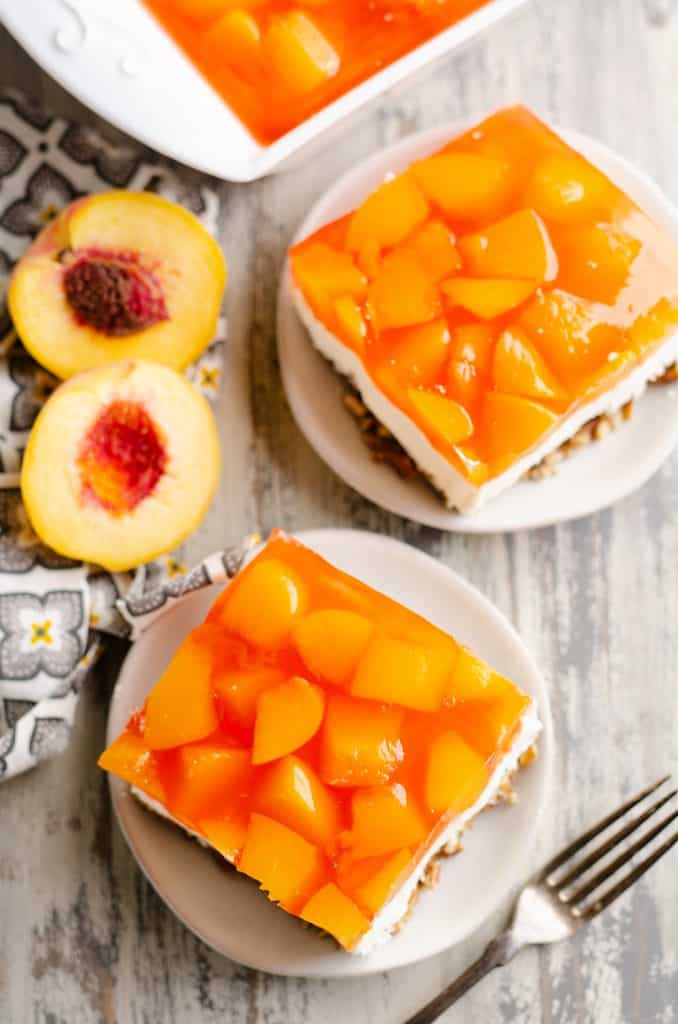 How To Make Jello Pretzel Salad Dessert
Making jello salad is so simple. Just mix the jello, and add chopped fruit. Making a jello salad into a presentation-worthy dessert is just as easy! It just has a few more steps. There's nothing to it, I promise, and the extra time will get you a truly amazing result!
Mix together crushed pretzels, powdered sugar, and melted butter. Press the mixture into the bottom of your pan.
The easiest way to crush pretzels is to put them in a plastic zip bag, squeeze on the extra air, lay it flat on you work surface, and go over it a few times with a rolling pin. You can use a food processor, but then the pretzel crumbs get too fine and you lose that good texture.
Bake your pretzel crust for 10 minutes at 350 degrees. Let it cool down before you add anything to it! Letting it cool will keep the filling from melting.
Beat together the cream cheese and sugar. Fold in the Cool Whip. Be gentle, so it keeps its fluffiness! Put it in the refrigerator until it's cool. If you want an even richer, thicker middle layer, beat a pasteurized egg in with the cream cheese and sugar. It's not necessary, buy my mom swears by it!
After the cream cheese mixture is cooled, spread it over the pretzel crust.
In a separate bowl, mix the boiling water and jello powder, then add peaches.
For this recipe, the jello layer will be pretty spread out, so I don't worry about where the peaches end up in the jello. (If you add them when the jello mixture is completely liquid they'll sink to the bottom. Totally fine.) But if you really want to impress someone with your jello making skills sometime, add the fruit after the jello has cooled in the fridge for 60-90 minutes, when it's semi-solid. They'll float in the middle of the jello!
Spread the jello mixture over the cream cheese/whipped topping layer. Refrigerate until it's set.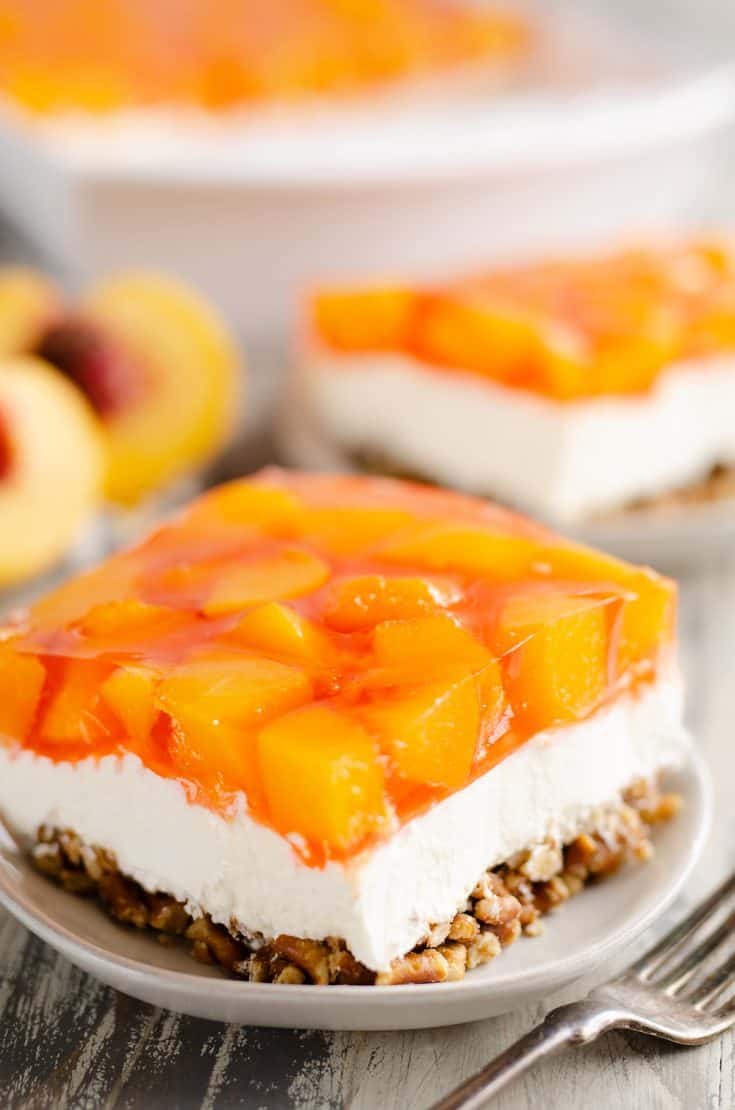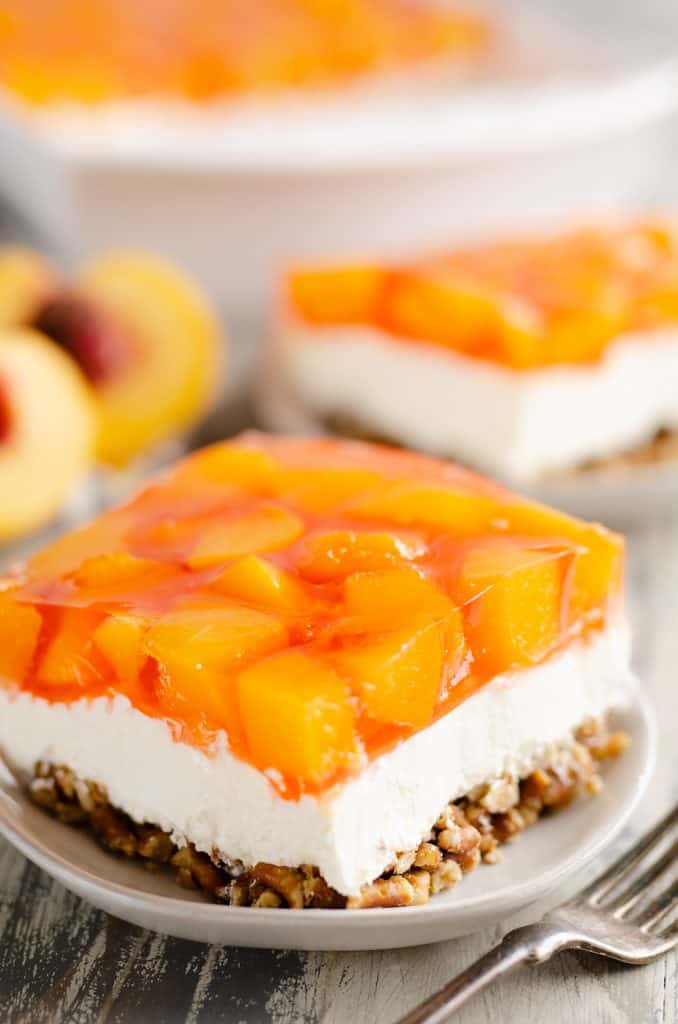 Can You Freeze a Pretzel Dessert Recipe?
Unfortunately, jello doesn't freeze well. While it's possible to freeze jello, it's not recommended because freezing changes the consistency of jello. The jello will separate, and look weird too.
This dessert can be kept in an airtight container in the fridge for several days, but I wouldn't freeze it. Instead, share it with friends, and it will be gone in no time!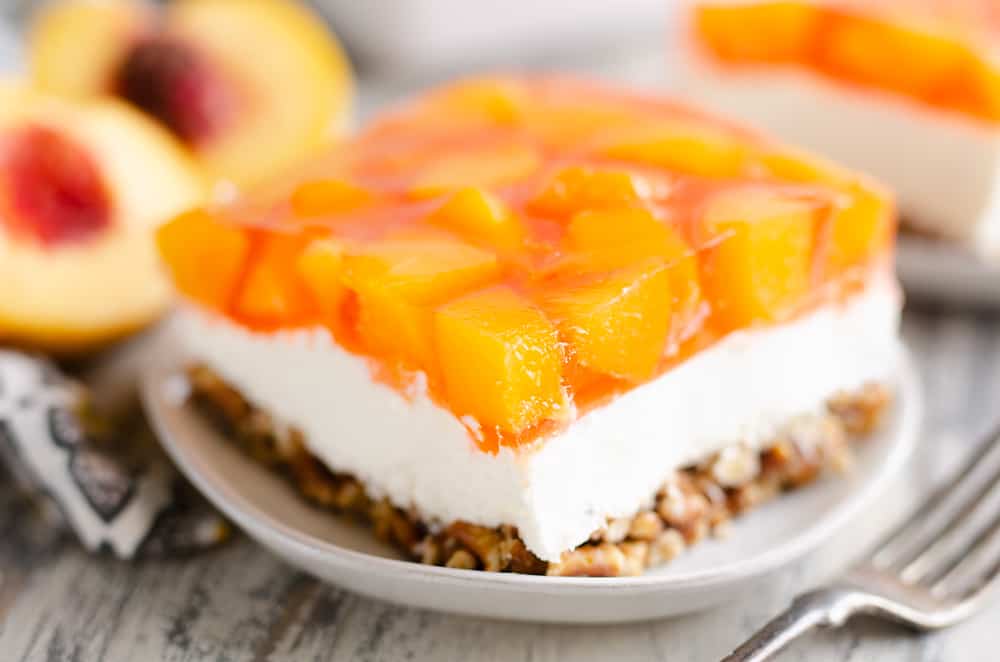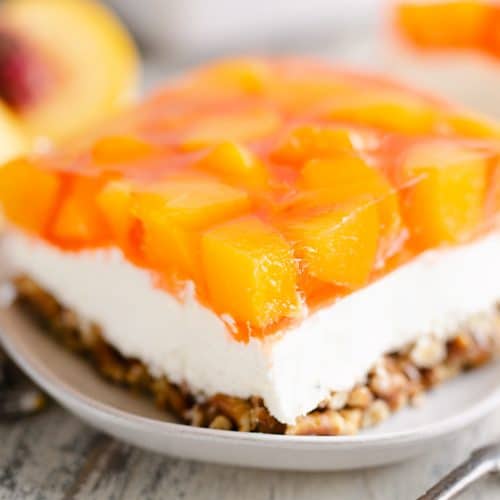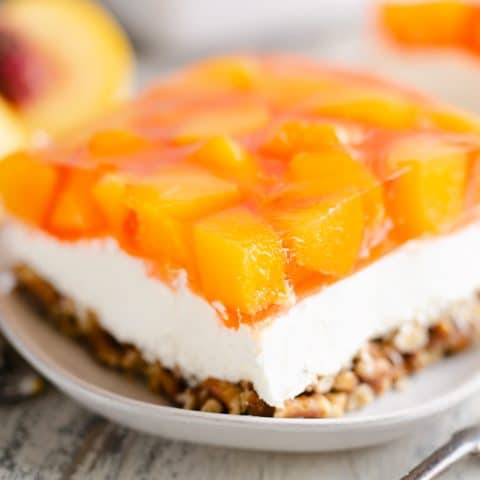 Peach Pretzel Salad Dessert
Ingredients
Peach Gelatin Layer
2 1/3 c. boiling water
1 6 oz. box peach gelatin
4 c. sliced peaches, fresh or canned
Pretzel Crust
2 1/2 c. crushed pretzels
3 Tbsp. powdered sugar
3/4 c. melted butter
Cream Cheese Layer
1 8 oz. package cream cheese
1 c. powdered sugar
1 8 oz. carton whipped topping
1 pasteurized egg , OPTIONAL
Instructions
Preheat oven to 350°.
Combine the gelatin with boiling water in a medium bowl. Whisk until gelatin is dissolved. Roughly chop the peaches and add them to the gelatin mixture. Allow to cool just until it is soft set.
Add the pretzels to a resealable bag and using a rolling pin, crush the pretzels until they are small pieces. Add them to a medium bowl along with the powdered sugar and butter. Mix until the pretzels are coated.
Press the pretzel mixture into the bottom of a 9x13 pan. Bake for 10 minutes at 350°. Cool.
Meanwhile beat together the cream cheese, sugar, and egg (optional) until smooth. Gently fold in the whipped topping. Carefully spread over the pretzel crust.
Pour the soft set gelatin and peach mixture over the cream cheese layer. Refrigerate the dessert until the gelatin is fully set. Serve chilled.
Nutrition Information:
Serving Size:

1 grams
Amount Per Serving:
Unsaturated Fat:

0g