Stuffed Butternut Squash with Apples, Pomegranates & Grains is a healthy holiday side dish or wholesome vegan recipe that is packed with flavors and textures that you will adore!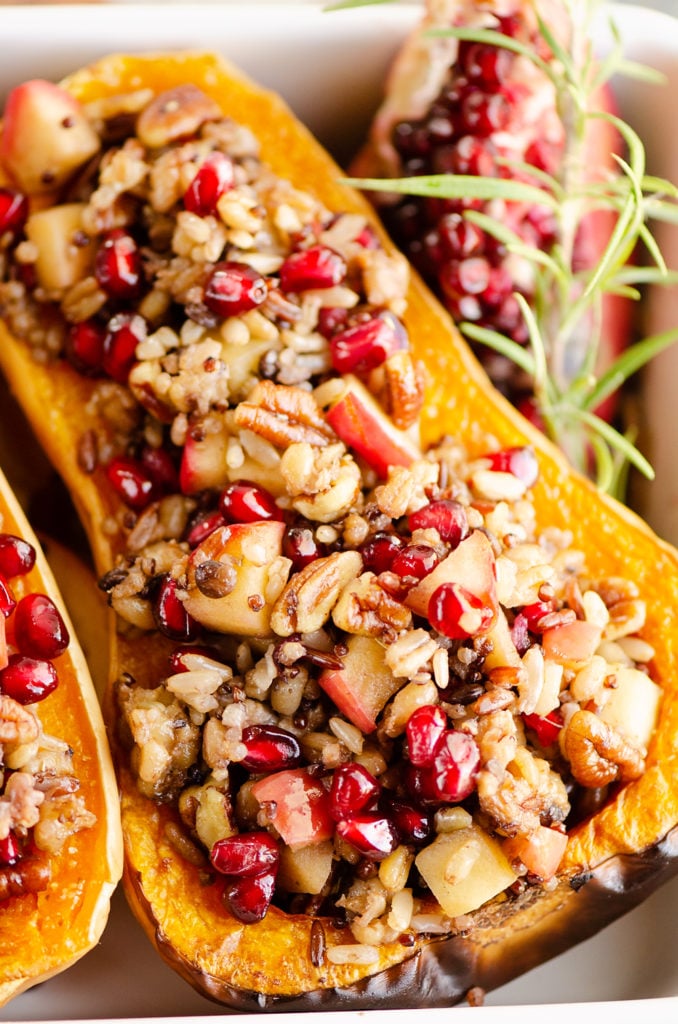 Stuffed Butternut Squash Recipe
My love for butternut squash knows no bounds. From the obvious Butternut Squash Soup to Balsamic Glazed Bacon Wrapped Squash and Air Fryer Squash & Goat Cheese Pizza, the possibilities are endless with this sweet vegetable!
This Stuffed Butternut Squash with Apples, Pomegranates & Grains is now at the top of my list of ways to make a healthy squash recipe. It is absolutely divine!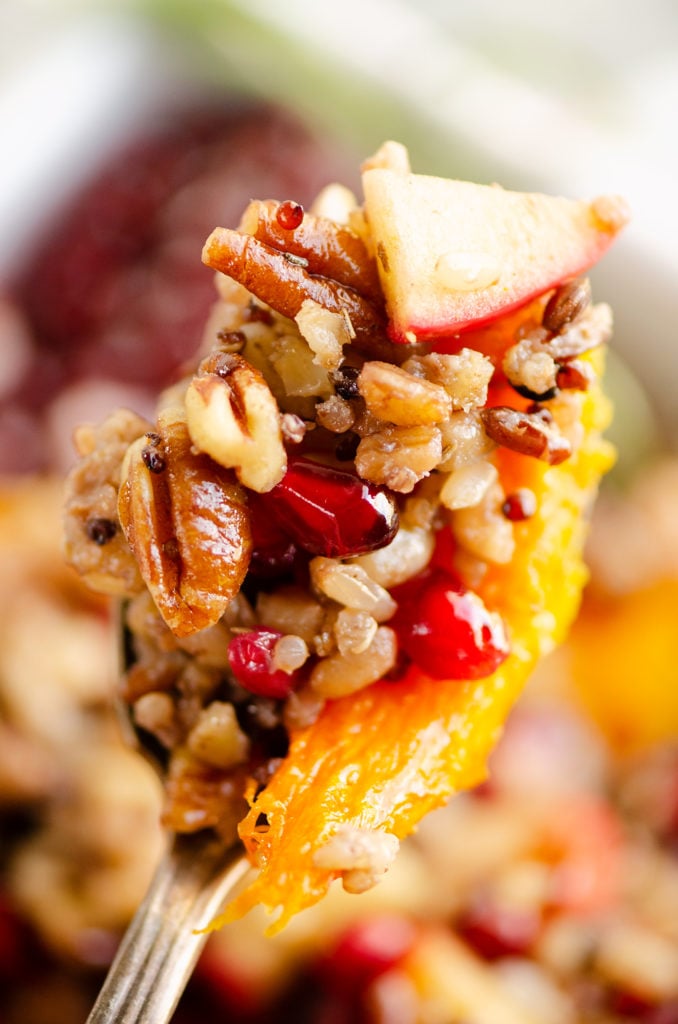 Healthy Holiday Side Dish
I always bring a few side dishes to holiday meals and I was dreaming up something a little bit different this year. I had some some pomegranates from my last Misftits Market box as well as a butternut squash.
The combination of creamy sweet squash with tart pomegranates is a pairing I adore. This Pomegranate Squash Quinoa Salad is another healthy side dish I love to bring for holiday meals.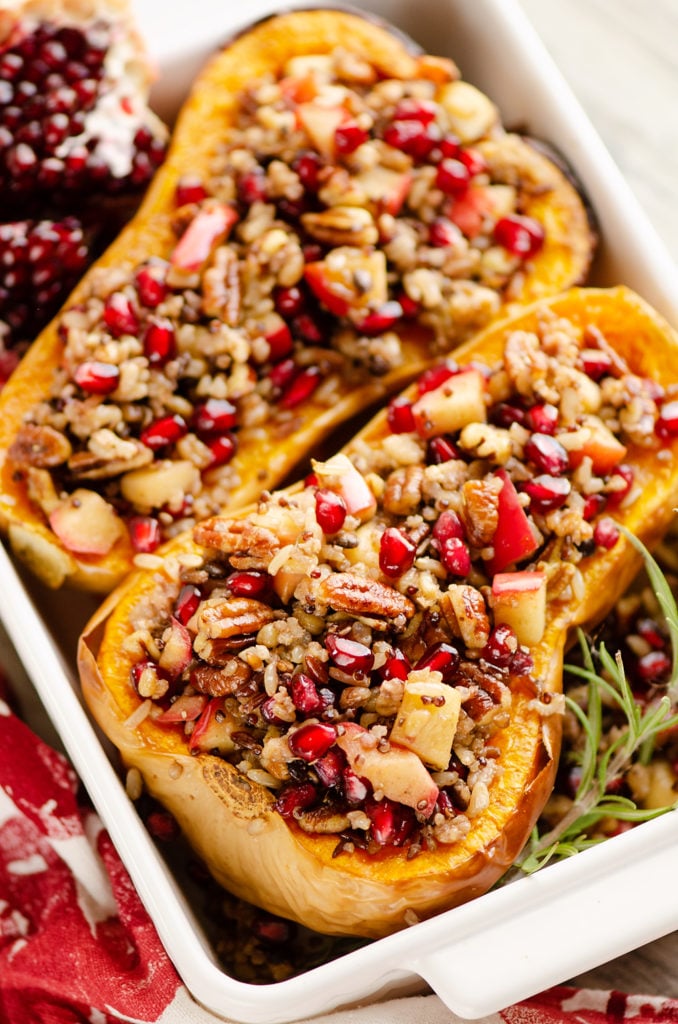 Vegan Stuffed Butternut Squash
For this Stuffed Butternut Squash, I added in some apples and pecans to really make it a hearty vegan meal that can be enjoyed all on it's own.
I rarely make vegan food intentionally unless friends or family who solely eat plant based food will be attending a meal I am hosting or contributing to. This recipe just happened to come together in a way that ended up being vegan!
If you are making this for someone who eats vegan, just be sure to cook your grains in vegetable stock or water and avoid using chicken stock. It's simple things like that which are easy to miss if you aren't regularly making vegan food.
How to make stuffed squash with grains
While the cleaned and seeded squash is roasting in the oven, cook your choice of multi-grains. I used the quick and lazy option of just microwaving a pouch of multi-grains I picked up at Aldi.
If you prefer not to use pre-packed grains, then you can cook up some rice, barley, quinoa or whatever your favorite grains are in some vegetable or chicken stock. I like to use my pressure cooker to make the easiest and fluffiest quinoa.
While a combination of grains adds a nice variety of texture, using one grain like brown rice or quinoa will work great as well.
What should I stuff my squash with
Now we really get to flavor town! Ok, clearly I have been watching too much Guy Fieri on Food Network…
The flavors really start to build by sautéing some garlic, crushed rosemary and pecans in a skillet. This toasts the pecans just a little bit and really brings out the fragrance of the dried rosemary.
Chopped apples are added to the pan and seasoned with a little salt. Cook them just long enough to soften them up a bit. You want the apples to still have a nice bite to them so don't cook them until they are mushy. We really just want to warm them through and soften the outside a tiny bit.
Add the grains, pecans and pomegranates to the pan and turn off the heat. Squeeze in the juice of one orange and stir until well combined.
How to stuff a squash
When the squash is tender and cooked through, remove it from the oven. Being careful using oven mitts, scoop out the inside flesh of the squash with a spoon, leaving 1/2 inch around the edges.
You can save this squash for another use or add it to a little bowl with a scoop of the multi grains for an quick and easy lunch the next day. Serve it with some chicken or turkey for a heartier meal.
Fill the hollowed squash with the apple and rice mixture and it is ready to serve! There is no need to add it back to the oven as everything has already been cooked through.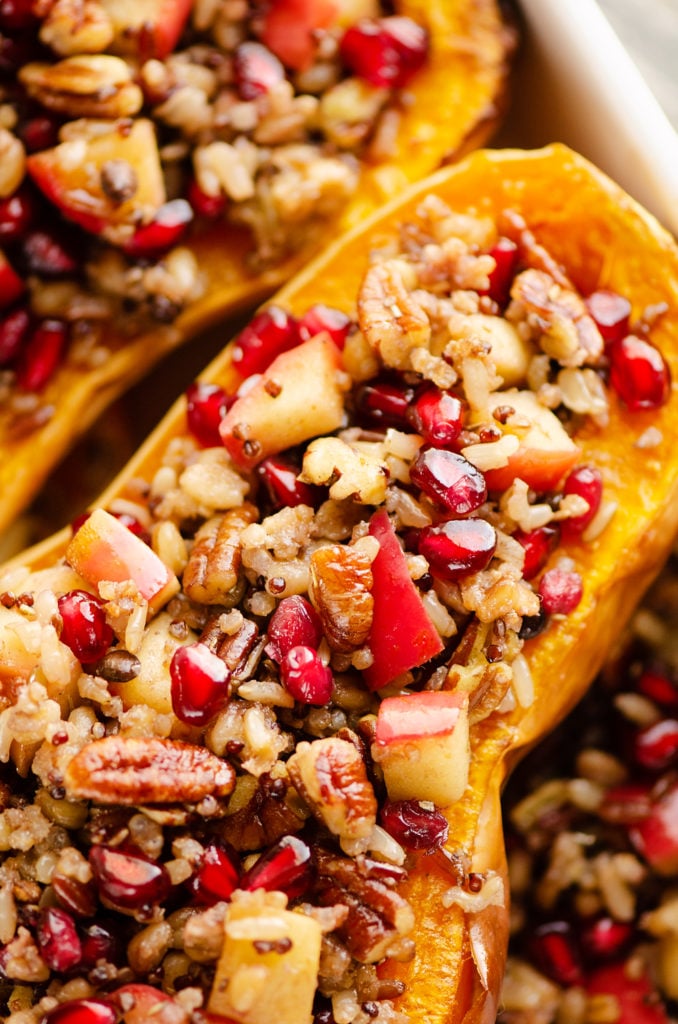 Meal prep stuffed squash
If you are preparing this Stuffed Butternut Squash for a holiday meal, I don't recommend making it too far in advance. It is most ideally enjoyed fresh from the stovetop.
I will say that this does make a good meal prep recipe though. If you are looking for a wholesome lunch, this hearty squash is great.
Enjoy this vegetarian dish just as it is or add in some cooked chicken or leftover turkey to your meal prep containers and you will have an awesome lunch you can reheat in the microwave.
If you know you will be reheating this, I advise adding a bit more orange juice to the grains before you pack them up in the refrigerator, as the multi-grains can dry out just a little bit upon reheating.
More great vegan holiday side dish recipes!
If you are looking for more delicious side dishes for the vegan in your life, check out some of these amazing plant based side dish recipes.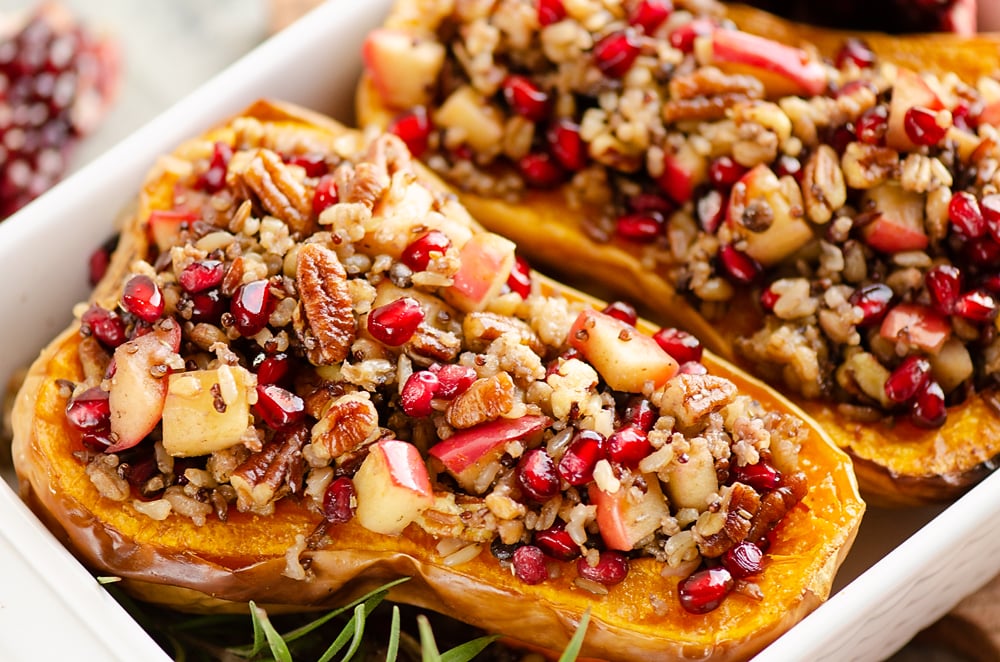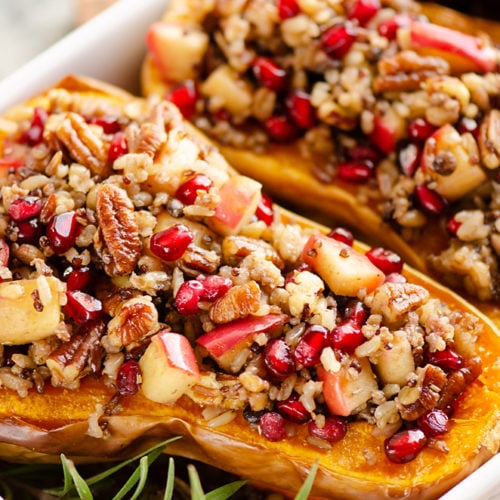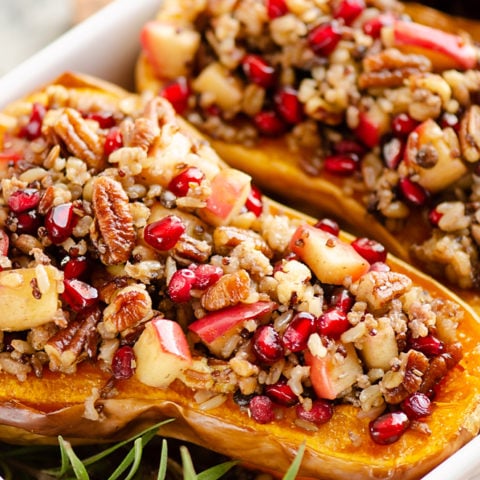 Stuffed Butternut Squash with Apples, Pomegranates & Grains
Total Time:
1 hour
15 minutes
Stuffed Butternut Squash with Apples, Pomegranates & Grains is a healthy holiday side dish or hearty vegan recipe that is packed with flavors and textures that you will adore!
Ingredients
Squash
2-3 lb butternut squash
2 tsp. olive oil
1/2 tsp. garlic salt
1/4 tsp. black pepper
Fruit & Grain Filling
1 1/2 cups cooked multi grains (8 oz. microwave package)
1 Tbsp. olive oil
1/4 tsp. crushed rosemary
1/2 tsp. diced garlic
1/3 cup chopped pecans
1 large baking apple, chopped
1/4 tsp. salt
2/3 cup pomegranate seeds (1 small pomegranate)
juice of 1 orange
Instructions
Preheat oven to 425°
Clean the squash and cut it in half lengthwise. Remove seeds with a spoon and place on a lined baking sheet cut side up.
Drizzle the squash with olive oil and sprinkle with garlic salt and pepper. Bake at 425° for 60 minutes.
With 10 minutes remaining in the squash cooking time, add 1 Tbsp. olive oil to a skillet over medium heat. Add the garlic, crushed rosemary and pecans. Cook until fragrant and pecans are warmed through. Pour the pecans over the cooked multi grains.
Add the diced apples to the pan and season with 1/4 tsp. salt. Cook for 2-3 minutes until just softened. Add the grains, pecans and pomegranates to the pan with the cooked apples and turn off the heat. Add in the orange juice and stir until well combined.
Remove the cooked squash from the oven and using oven mitts, carefully scoop out the flesh of the squash, leaving a 1/2 inch around the edges remaining. Save the squash for a later use, or serve in a bowl with extra multi grain filling.
Scoop the grain and fruit mixture into the hollowed squashes. Serve immediately by scooping squash flesh and grain filling onto a plate.
Recommended Products
As an Amazon Associate and member of other affiliate programs, I earn from qualifying purchases.
Nutrition Information:
Yield:

10
Serving Size:

1
Amount Per Serving:
Calories:

195
Total Fat:

5g
Saturated Fat:

1g
Trans Fat:

0g
Unsaturated Fat:

4g
Cholesterol:

0mg
Sodium:

164mg
Carbohydrates:

39g
Fiber:

10g
Sugar:

13g
Protein:

3g
Provided nutrition data is only an estimate. If you are tracking these nutrients for medical purposes, please consult an outside, trusted source.