Pressure Cooker Creamy Butternut Squash Soup is a healthy and hearty recipe made in your Instant Pot for a quick and easy 20 minute dinner idea.
Pressure Cooker Creamy Butternut Squash Soup
As soon as the weather starts to turn at the start of fall, Butternut Squash Soup is one of my FAVORITE dishes to enjoy. With the brisk weather sweeping into our area a couple of weeks ago, I was craving a rich and delicious bowl of this squash soup. We don't have any nice restaurants  where you can get it and the boxed stuff is always utterly disappointing. My lazy pregnant self wasn't in the mood to roast all my vegetables up and wait for a over an hour for this Roasted Butternut Squash & Bacon Soup. It really is delicious, but I wanted something pronto. That is where my Instant Pot came into play with this Pressure Cooker Creamy Butternut Squash Soup.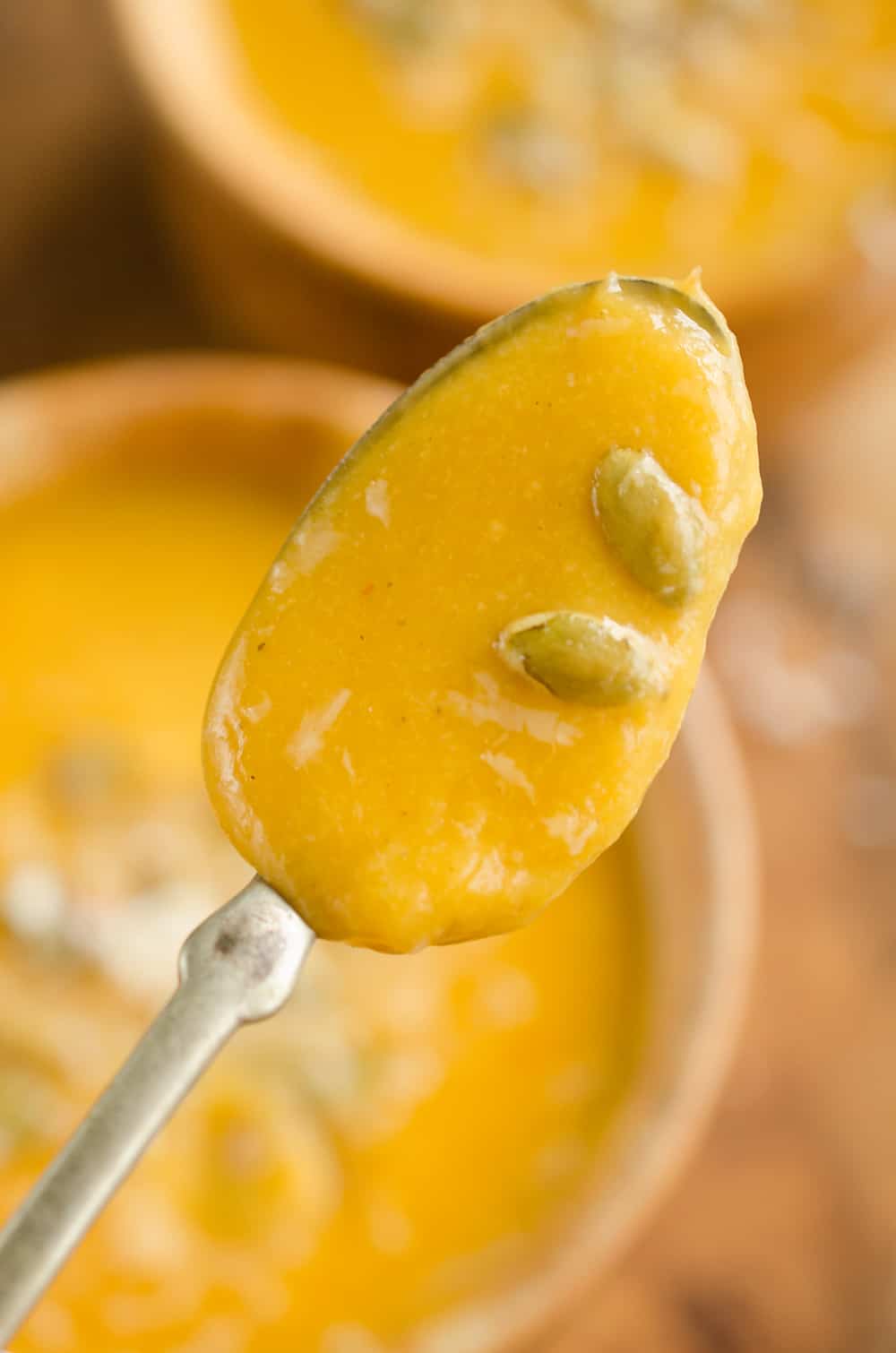 I quickly realized, my beloved electric pressure cooker could whip up this soup faster than any other appliance in my kitchen. I cooked up some onion, bell pepper and garlic on the saute function and added in the remaining squash, apples, spices and chicken broth. I used pre-cut butternut squash to make life even easier. Squash is one of the few vegetables I will pay a few extra bucks for the convenience of having it pre-cut. I really just don't enjoy tackling a squash unless I have to.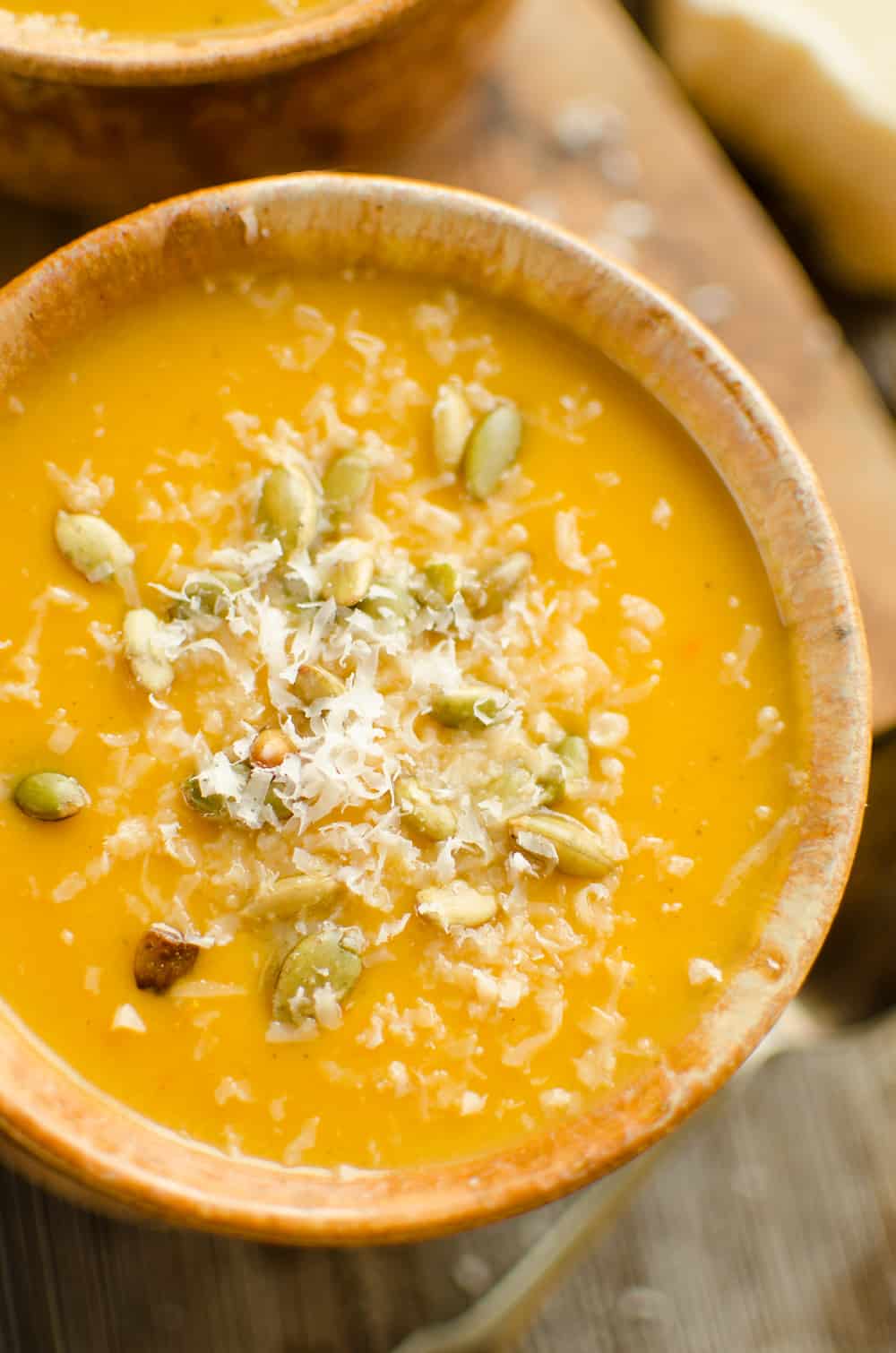 I placed the lid on the Instant Pot and set it for 5 minutes under pressure and the squash and  veggies were perfectly cooked. I popped my Immersion Blender in the pot and began pureeing up the goodness. Once it was almost smooth and still piping hot, I added the goat cheese and Parmesan and then continued to puree it until it was velvety smooth. If you don't have an immersion blender, which I highly recommend for tasks like this, you could transfer the mixture to a regular blender in batches to blend it.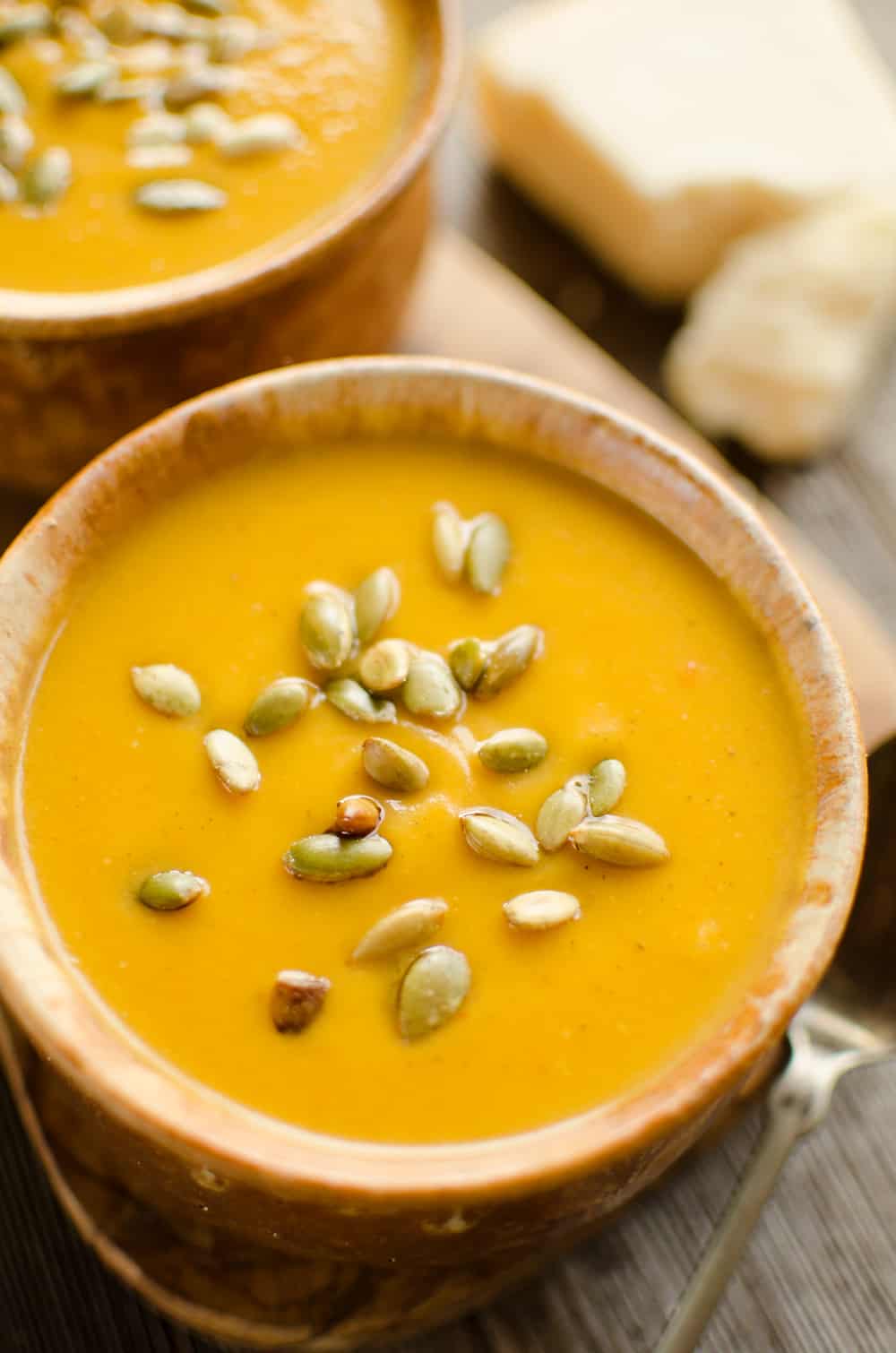 One of my favorite ways to garnish Butternut Squash Soup, apart from crispy bacon, are salty Pepitas. They add the perfect bite to the creamy and smooth soup for a truly amazing dish.
My husband isn't a big soup eater, much less a vegetable soup eater, so I got to enjoy every last drop of this soup all to myself! I had a big bowl for dinner and then packed it up for lunches for the week with a small bag of Pepitas. It was the perfect way to enjoy some much needed vegetables in a mouthwatering recipe throughout the week. Just looking at these photos has me craving it all over again!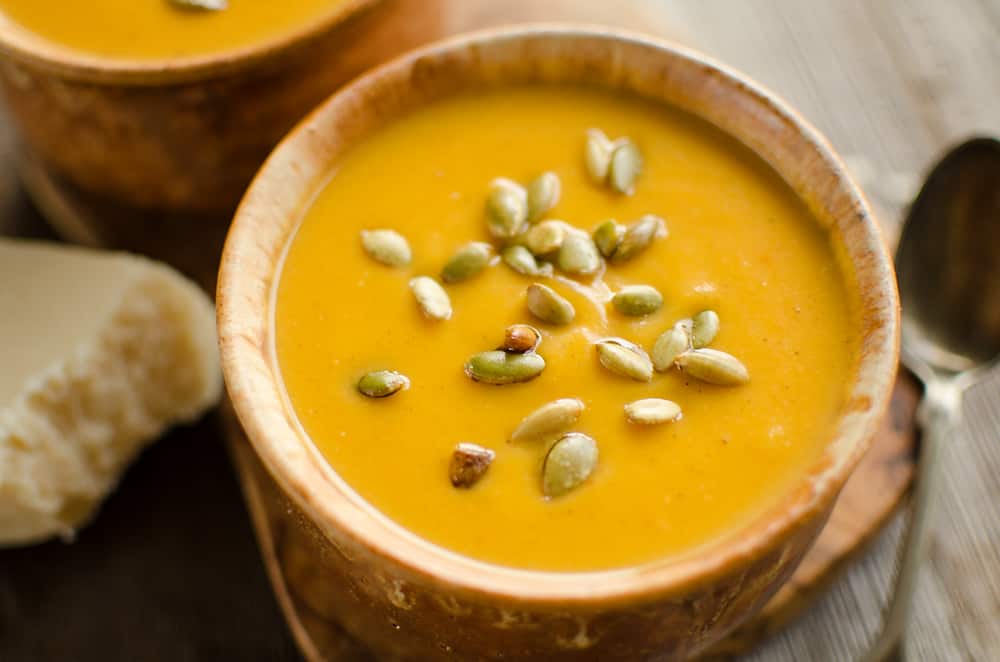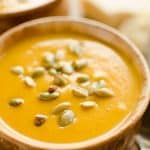 Print Recipe
Pressure Cooker Creamy Butternut Squash Soup
Ingredients
1

Tbsp.

olive oil

1

large yellow onion

diced

1

red bell pepper

chopped

2

tsp.

diced garlic

1

tsp.

fresh ground ginger

2

lb.

butternut squash

peeled and cubed (1 medium squash)

1

medium apple

peeled cored and chopped

1

tsp.

sage

1/8

tsp.

chili powder

1/4

tsp.

sea salt

3

c.

chicken stock

3

oz.

goat cheese or cream cheese

1/3

c.

Parmesan cheese

Salted Pepitas for garnish
Instructions
Turn your Instant Pot on to the Saute function. Add the olive oil, onions and bell pepper. Saute on high for 4 minutes. Add the garlic and ginger and cook for 1 minute. Add the cubed squash, apple, sage, chili powder, sea salt and chicken stock.

Place the lid on your Instant Pot and move the knob to seal. Cook on high pressure for 5 minutes and do a quick release of the pressure.

Using an immersion blender in the Instant Pot, puree the mixture. Add the goat cheese and Parmesan and continue pureeing until very smooth.

Serve garnished with Pepitas.
More Great Butternut Squash Recipes!