Airfryer Squash & Goat Cheese Pizza is an easy 5 ingredient recipe made in your Air Fryer for a quick 10 minute vegetarian dinner.
Airfryer Squash & Goat Cheese Pizza
Butternut squash and goat cheese is one of my favorite savory flavor combinations. From this Roasted Squash & Goat Cheese Pasta to Squash & Cranberry Salad, the balance of sweet roasted squash and sweet & salty honey goat cheese is just so good. An extra drizzle of honey finishes off this Airfryer Squash & Goat Cheese Pizza and takes it over the edge for a recipe that is almost too good for Meatless Monday! Who needs meat when you have a filling pizza full of cheese and sweet roasted squash?!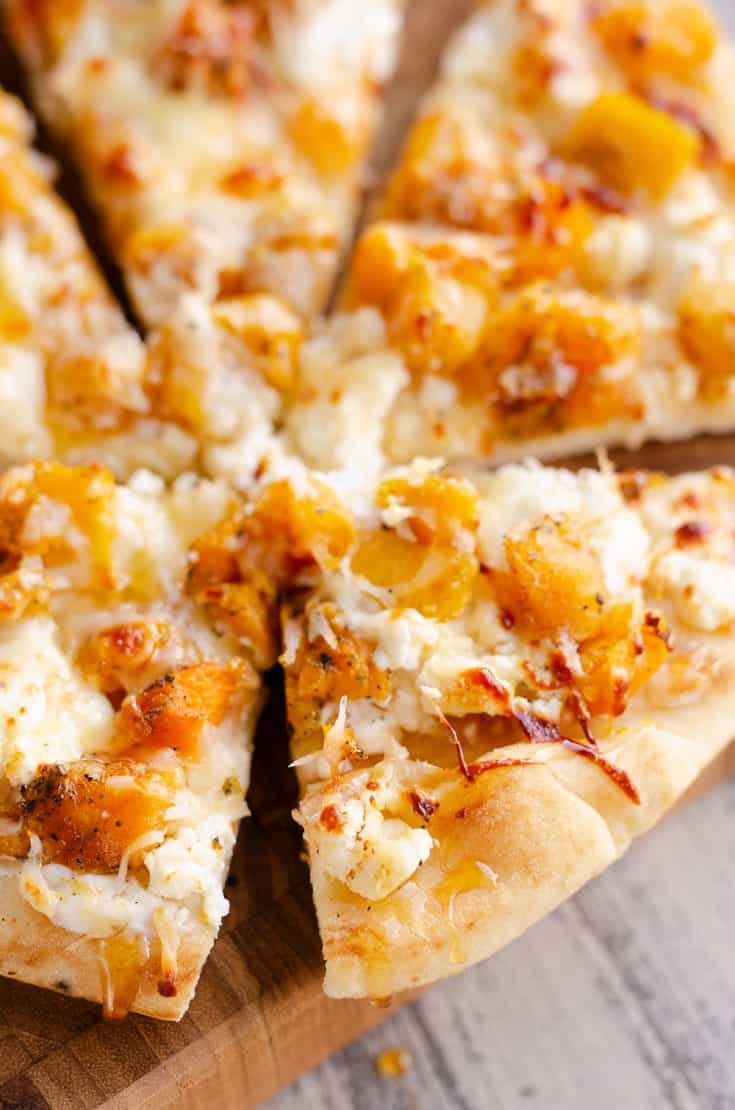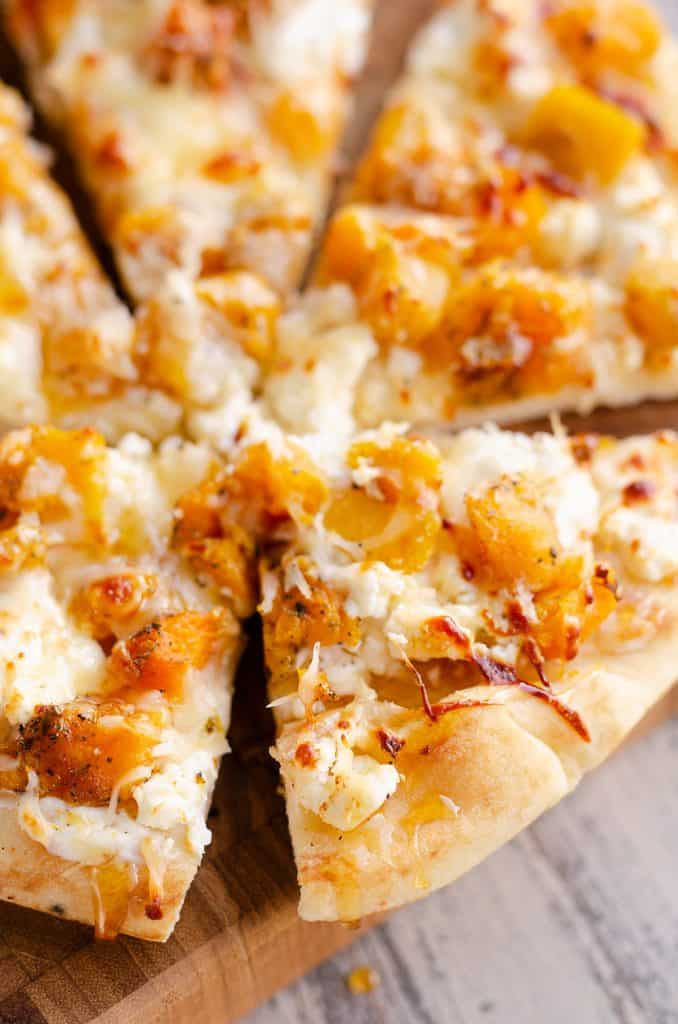 This Airfryer Squash & Goat Cheese pizza could be baked in the oven, but the Air Fryer cuts the preparation time in half! This is why I love my Airfryer. Instead of sitting around and waiting for the oven to preheat and then having to bake food longer to get it crispy and cooked through, the Airfryer will have a cooked dinner on the table in just 10 minutes!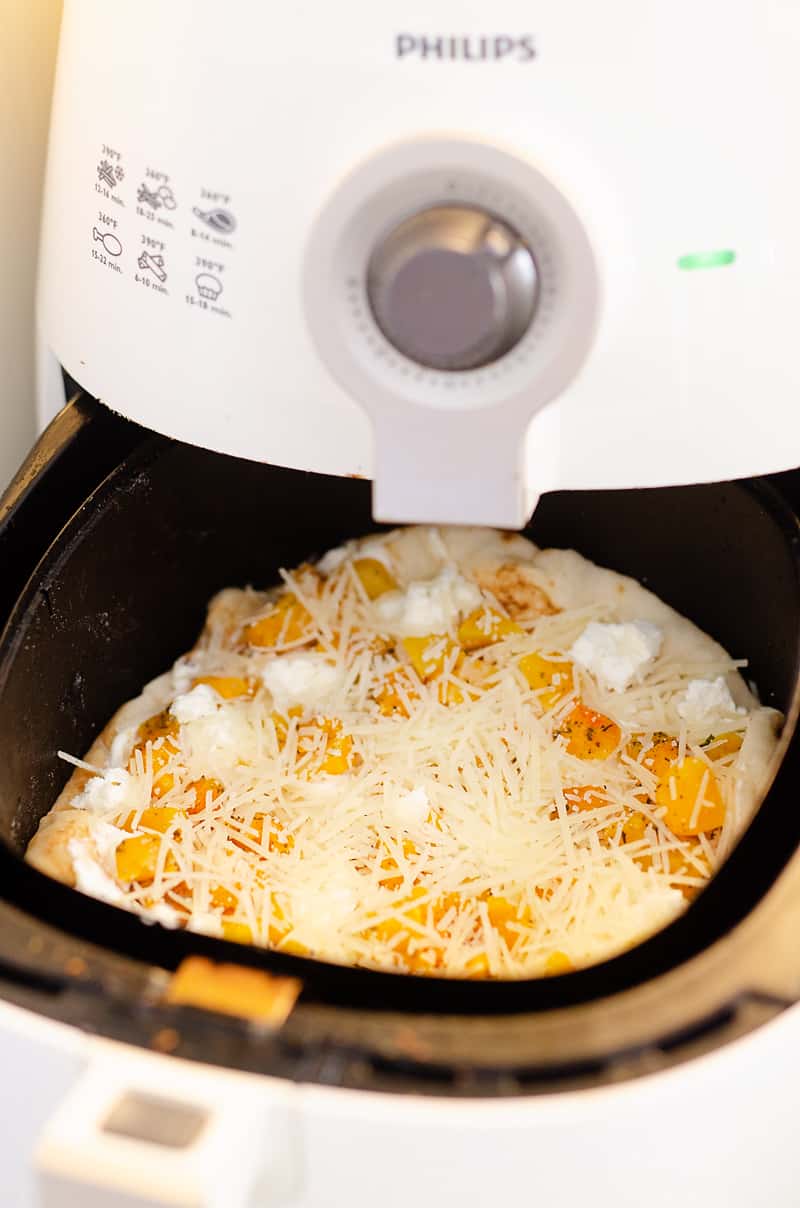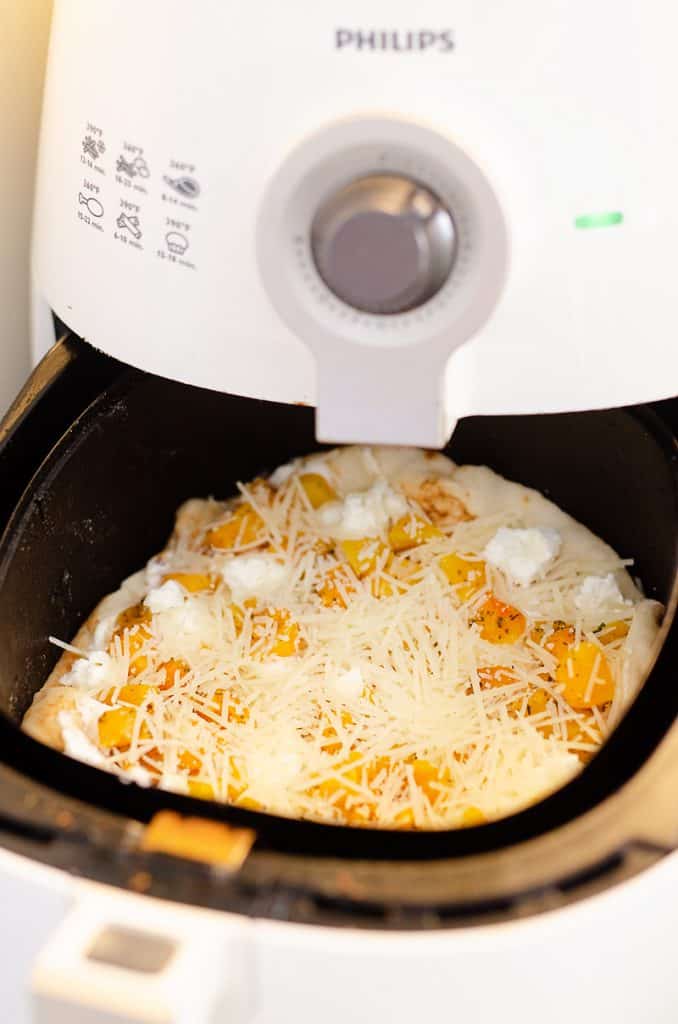 Pizza in Airfryer
I discovered how great pizza is in the Airfryer a couple years ago. I realized I could pop a small frozen pizza in my Airfryer at work and have a crunchy and hot pizza at my desk in just minutes. Yup, you read that right, I had an Airfryer at work! Lol I just love them so much. After leaving my job to stay home with my twins I passed it along to my Mom because I definitely don't need two at home. She is someone who doesn't like any new appliances, but the Airfryer was an exception to the her rule. She has used to to cook meals or heat up garlic bread last minute to go with spaghetti when we forgot to preheat the oven. It's just such a great small appliance!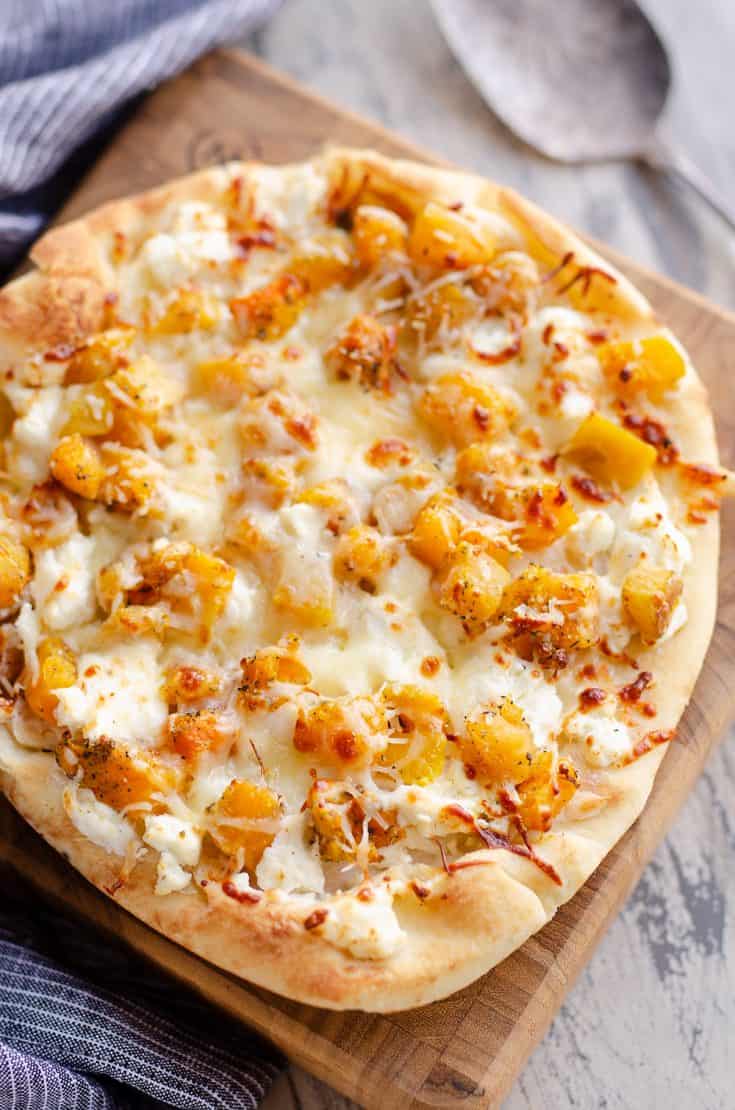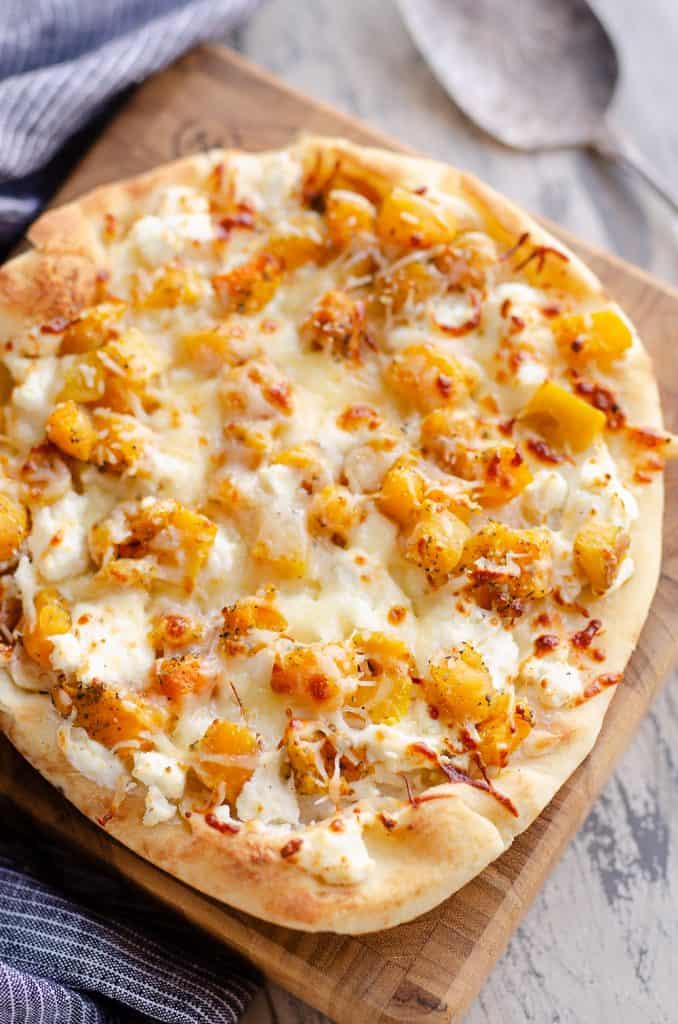 After making frozen pizzas I moved on to making my own personal pan pizzas in the air fryer. I would assemble a quick and easy dinner with a pre-made crust, some sauce, cheese and pepperoni. After making the classic pepperoni pizza on multiple occasions, I decided to change things up with this Airfryer Squash & Goat Cheese Pizza. I paired some of my favorite ingredients to make this vegetarian pizza that has me drooling at the thought of it!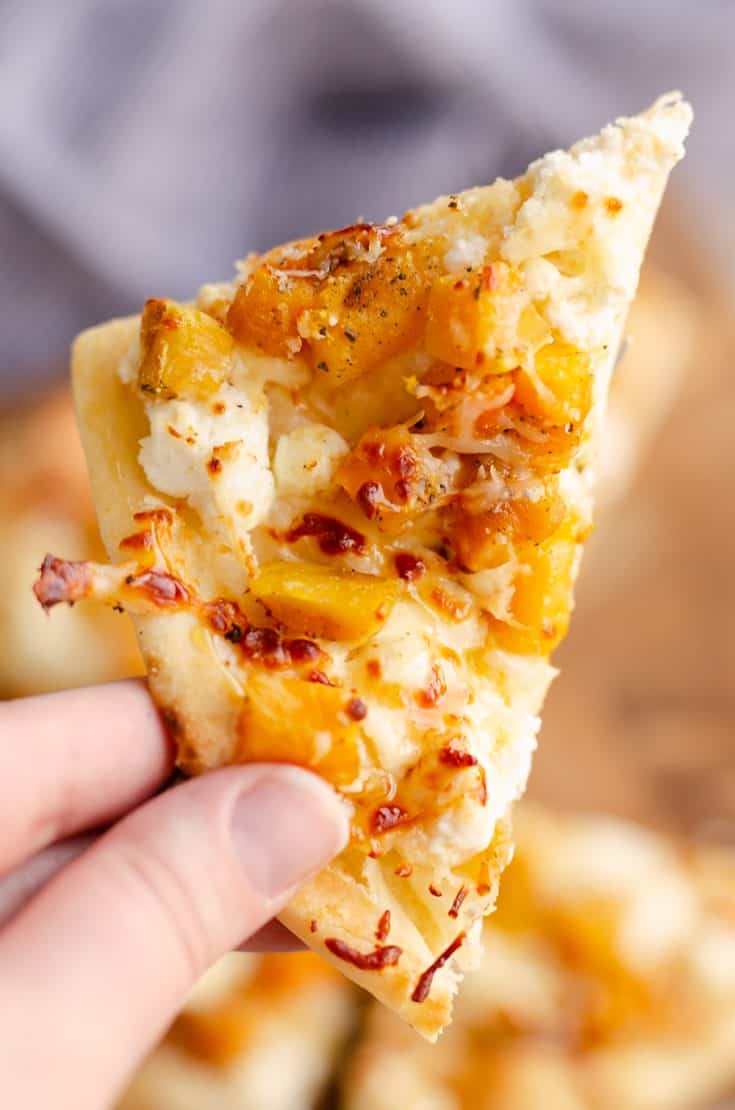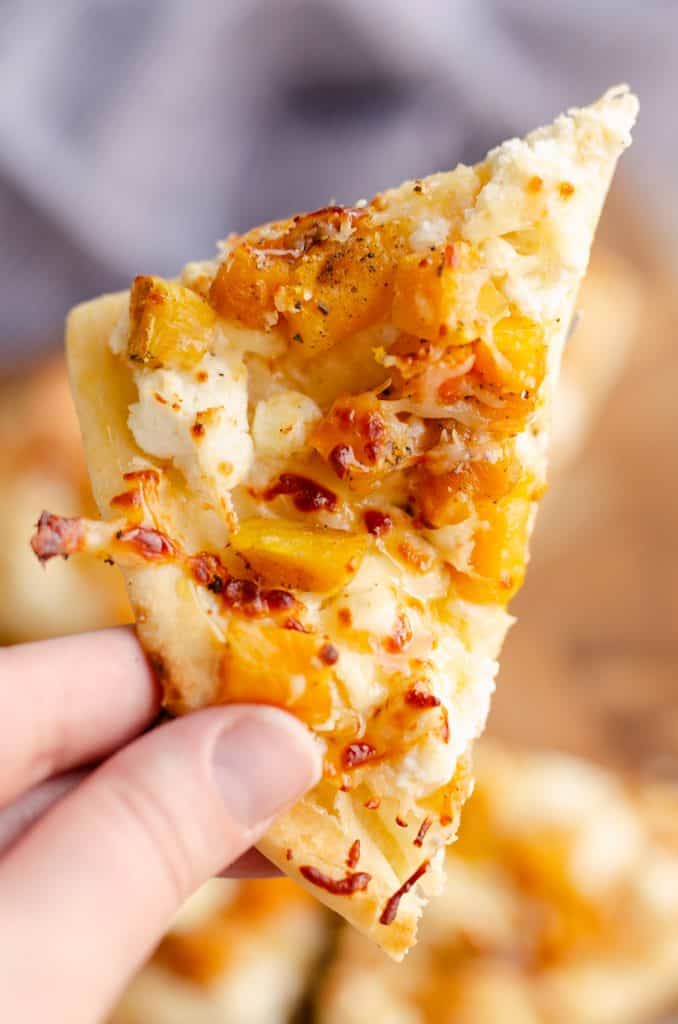 How to Make Airfryer Pizza
Start things out with a pre-made Naan bread for a thick crust and top it with some pre-cooked squash, sage, honey goat cheese, Parmesan and a sprinkle of salt to bring out the flavors. I used some leftover roasted squash I had in the refrigerator but you could also use some pre-cubed and frozen squash you can grab at Target or the grocery store. Just microwave it for a few minutes and add it to your pizza.
Cook the pizza in your Airfryer for 6 minutes or until the shredded Parmesan is golden and melty. To finish the pizza off, you can drizzle it with a little honey. This is optional based on how sweet you like your sweet and savory combos. Enjoy this yummy pizza and try your hardest not to make it for dinner every single night this week. 😉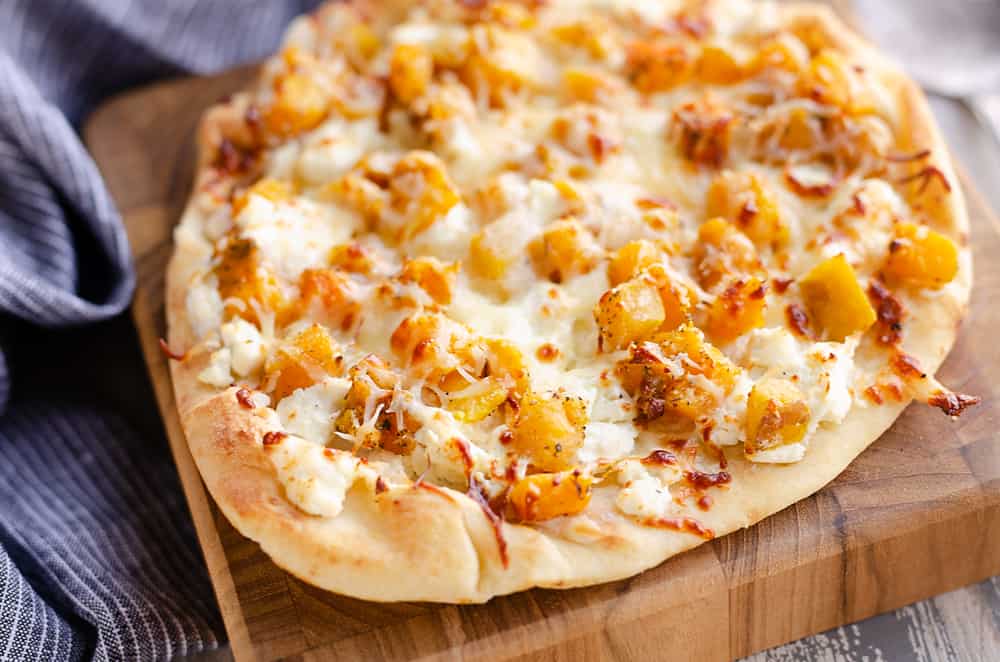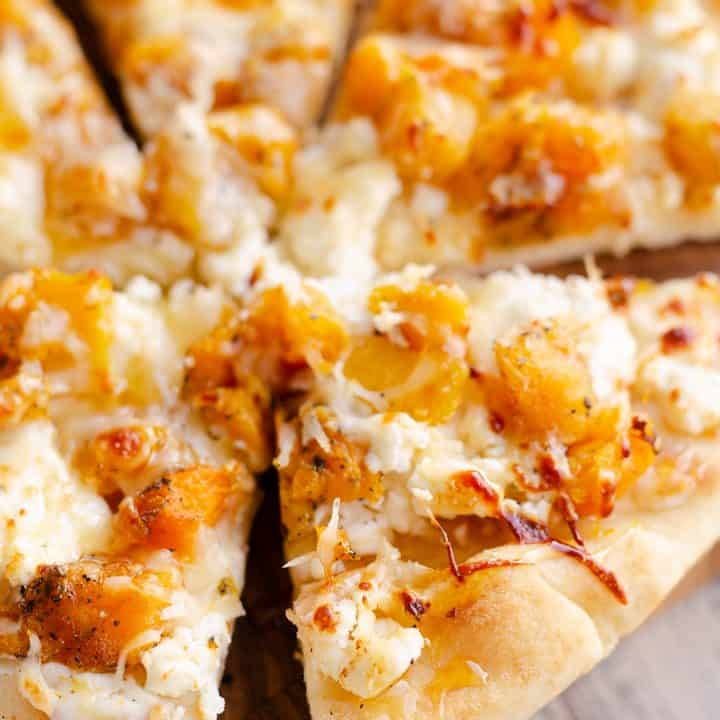 Airfryer Squash & Goat Cheese Pizza
Airfryer Squash & Goat Cheese Pizza is an easy 5 ingredient recipe made in your Air Fryer for a quick 10 minute vegetarian dinner.
Ingredients
1 naan bread
3 oz. honey goat cheese
2/3 c. cubed precooked squash
1/3 c. shredded Parmesan cheese
dash of salt
1/4 tsp. rubbed sage
drizzle of honey, OPTIONAL
Instructions
Add the Naan bread to your Airfryer basket and top it with the cooked squash, goat cheese and shredded Parmesan. Sprinkle a dash of salt and the rubbed sage on top and cook on 6 minutes on the highest temperature setting.
Carefully remove the cooked pizza from the Airfryer basket and drizzle with the optional honey. Serve hot!
Nutrition Information:
Serving Size:

1 grams
Amount Per Serving:
Calories:

896
Total Fat:

42g
Saturated Fat:

23g
Unsaturated Fat:

0g
Cholesterol:

87mg
Sodium:

2074mg
Carbohydrates:

80g
Fiber:

5g
Sugar:

8g
Protein:

47g