These crispy Air Fryer Carrot Fries are an easy 3 ingredient vegan side dish or healthy snack that will satisfy that salty craving!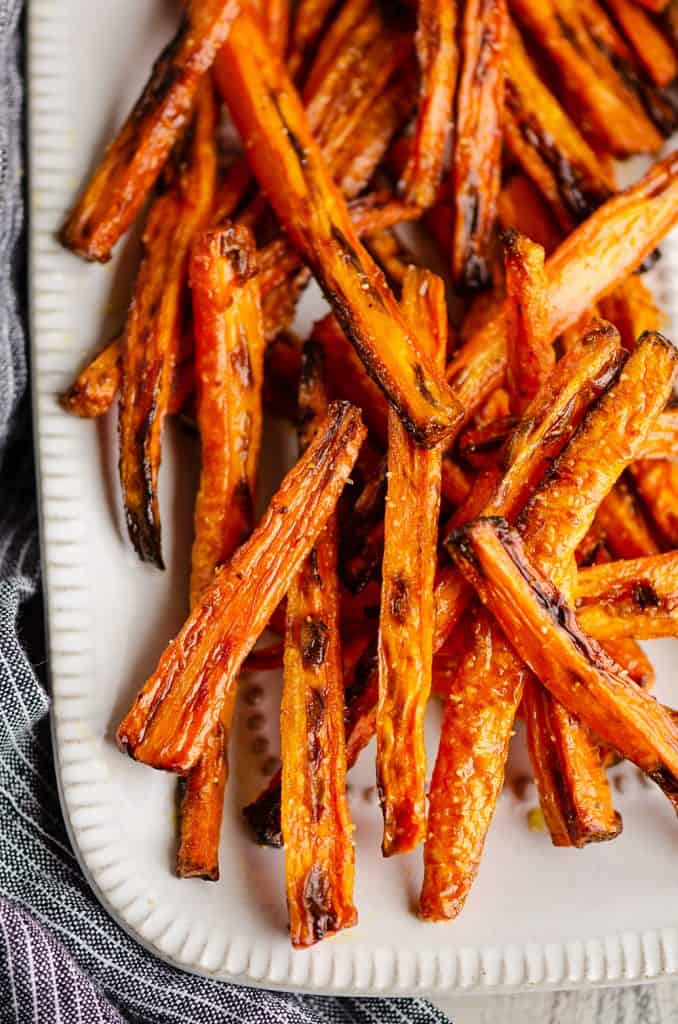 Crispy Carrot Fries
I truly never thought I would be sitting here telling you how flipping amazing carrots are! HAHA! I have never been a big fan of cooked carrots, that is until I started trying some meal delivery kits that introduced me to crunch roasted carrots.
Roasted carrots brings a whole new life to them! Instead of the mushy side dish that I am used to, they are salty, crispy and naturally a bit sweet. I could eat these with just about any meal!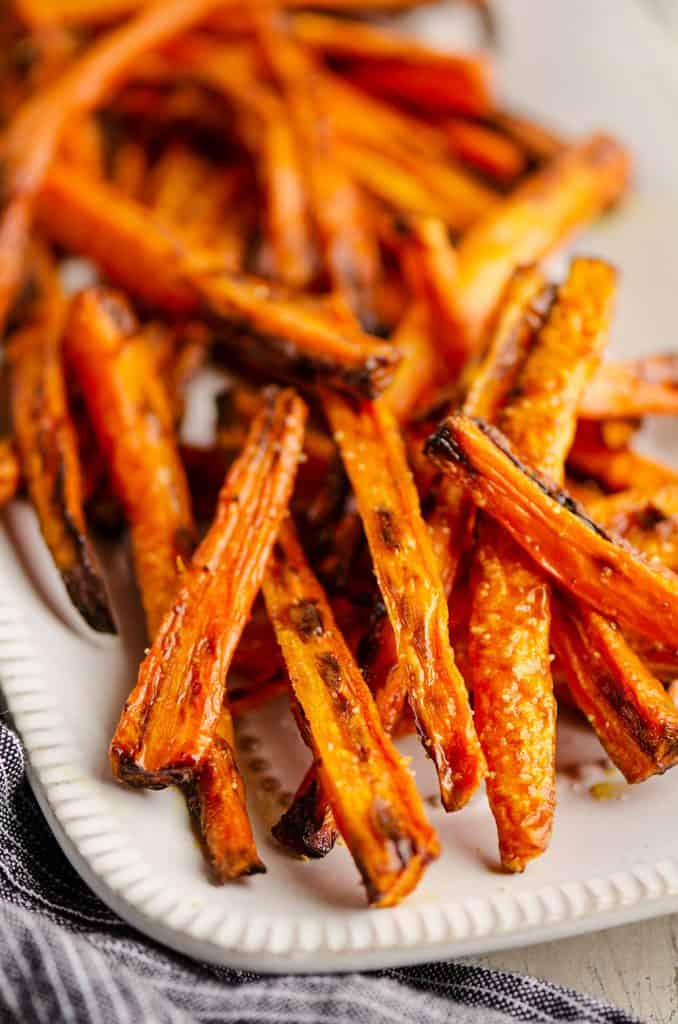 French Fry Alternative
Serve them like traditional fries like with lunches like this Italian Hero Sub or BLT Chicken Salad Sandwich for a healthier alternative to french fries.
Obviously most people are familiar with sweet potato fries as a healthier alternative to fires. Carrot fries have a somewhat similar texture and flavor when roasted, but are even healthier than any potato options.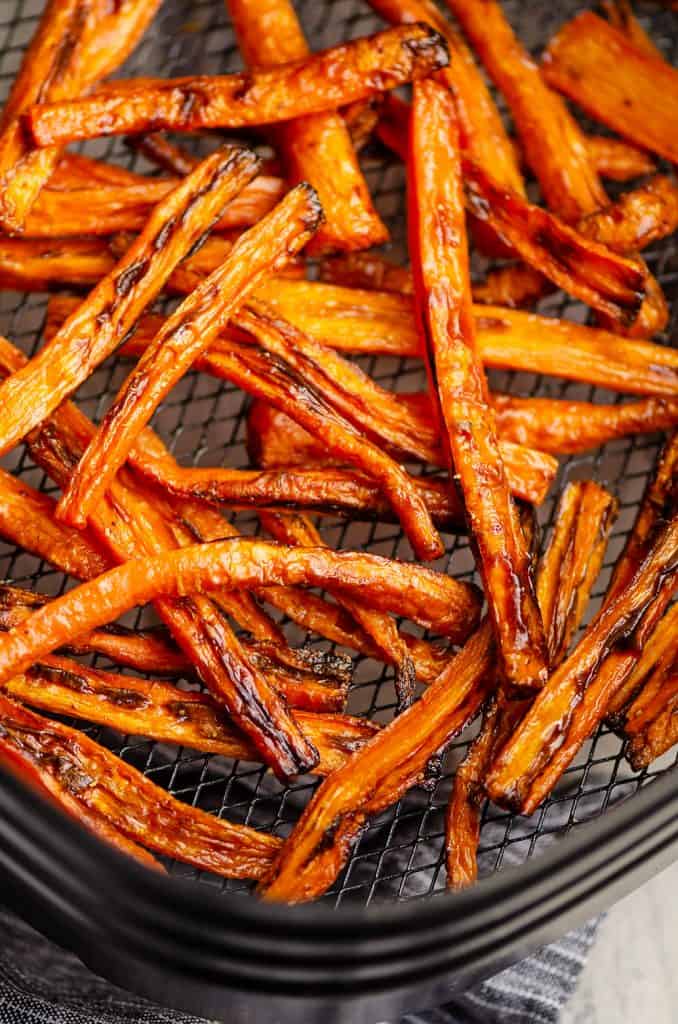 Not only do they taste amazing with just the right amount of crunch and sweetness, it is easier to sell kids and some adults on "fries" as opposed to saying you are making roasted carrots.
They are not only easier to sell to your kids or picky husbands, but they are better for dunking in your favorite dipping sauce! I truly enjoy these all on their own, but served with some ranch really takes them to the next level.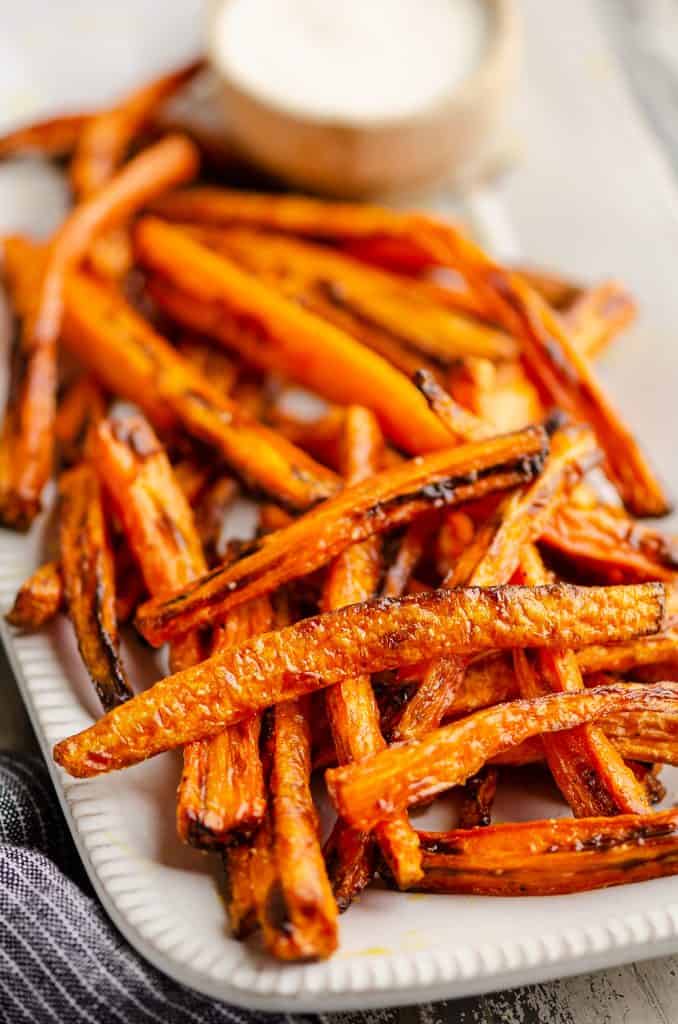 How to make crispy carrot fries?
To makes these carrot fries in your Air Fryer, peel up a pack of carrots and cut them into 1/4 inch thick fries. Toss them with just enough olive oil to coat them and sprinkle them with salt.
I used garlic salt for an added flavor dimension, but if you don't have garlic salt or aren't a fan, any sea salt would do the trick.
Pop them in your Air Fryer basket and cook them on the highest possible temperature for 15-20 minutes until they are crispy on the outside and tender on the inside.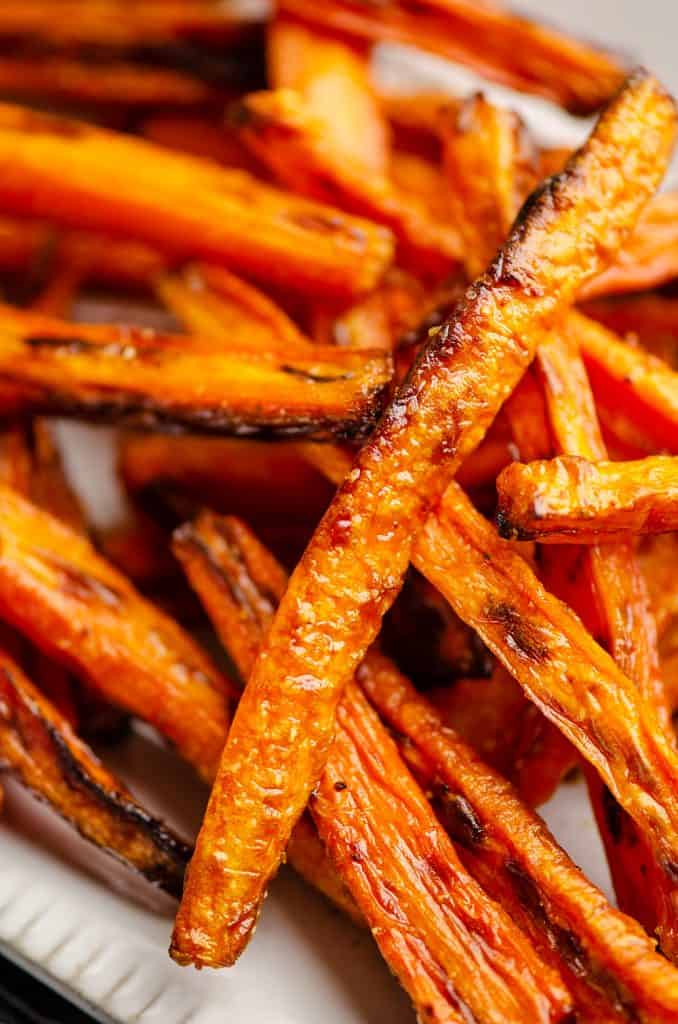 Can I make carrot fries in the oven?
If you don't own an Air Fryer, you can certainly make these carrot fries in the oven. They won't be as crispy, but if you have a convection option on your oven that will help achieve a crispier carrot fry.
The beauty of making these in your Air Fryer is that they are ready in less than 30 minutes, whereas baking them in the oven would take much longer while you pre-heat the oven.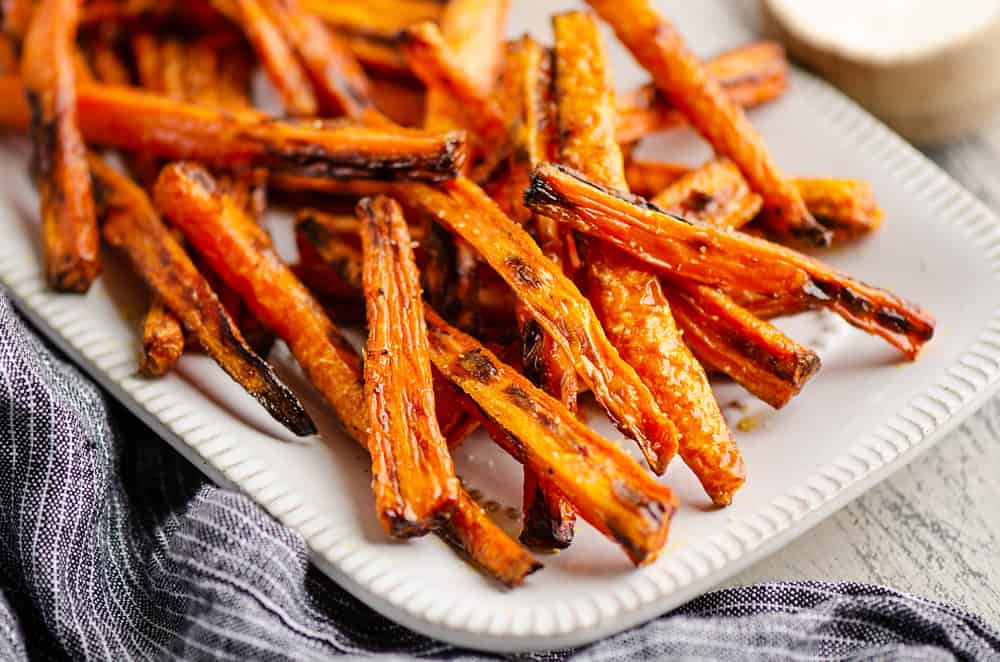 Like any roasted vegetable, they also don't get as crispy in the oven without the air circulation that you benefit from with the AirFryer.
The only way to achieve the same crispy result would be to use the deep frier. That kind of defeats the purpose of making carrot fries for most people though because you are going to be adding tons of unnecessary fats.
More Crispy Air Fryer Appetizer Recipes!
If you love your Air Fryer as much as I do to make quick and simple appetizers or side dishes, check out some of these great recipes.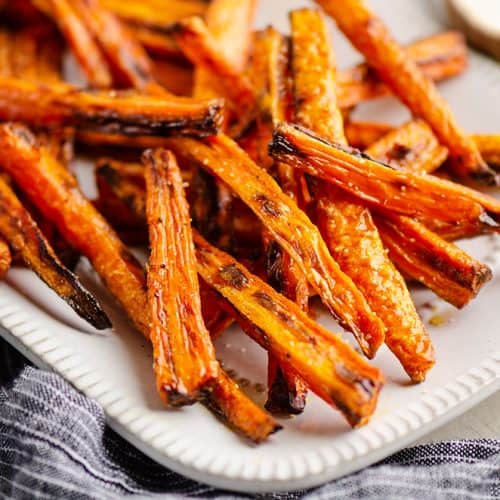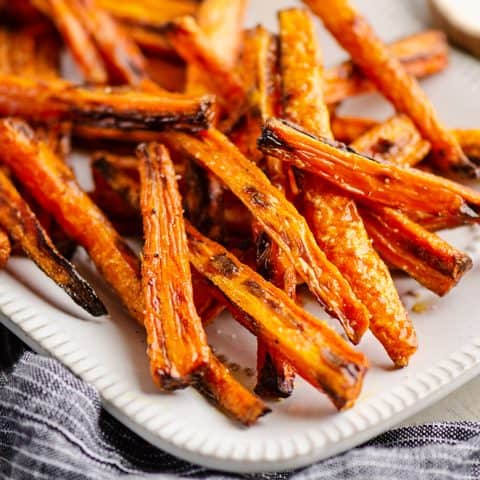 Air Fryer Carrot Fries
These crispy Air Fryer Carrot Fries are an easy 3 ingredient side dish or healthy snack that will satisfy that salty craving!
Ingredients
1 lb. carrots, peeled
2 tsp. olive oil
1/2 tsp. garlic salt
Instructions
Cut carrots lengthwise into 1/4 inch wide fries.
Toss the carrot fries in a large bowl with oil and garlic salt until well coated.
Add the fries to the Air Fryer basket and cook on the highest temperature for 10 minutes. Remove the basket and give a quick shake to ensure good air circulation.
Cook an additional 5-10 minutes, or until crispy and tender on the inside.
Serve immediately!
Recommended Products
As an Amazon Associate and member of other affiliate programs, I earn from qualifying purchases.
Nutrition Information:
Yield:

4
Serving Size:

1
Amount Per Serving:
Calories:

60
Total Fat:

2g
Saturated Fat:

0g
Trans Fat:

0g
Unsaturated Fat:

2g
Cholesterol:

0mg
Sodium:

264mg
Carbohydrates:

9g
Fiber:

3g
Sugar:

4g
Protein:

1g
Provided nutrition data is only an estimate. If you are tracking these nutrients for medical purposes, please consult an outside, trusted source.