Pomegranate Squash Quinoa Salad is a light and flavorful whole grain recipe perfect as a side dish served along grilled meat or as a healthy vegetarian lunch.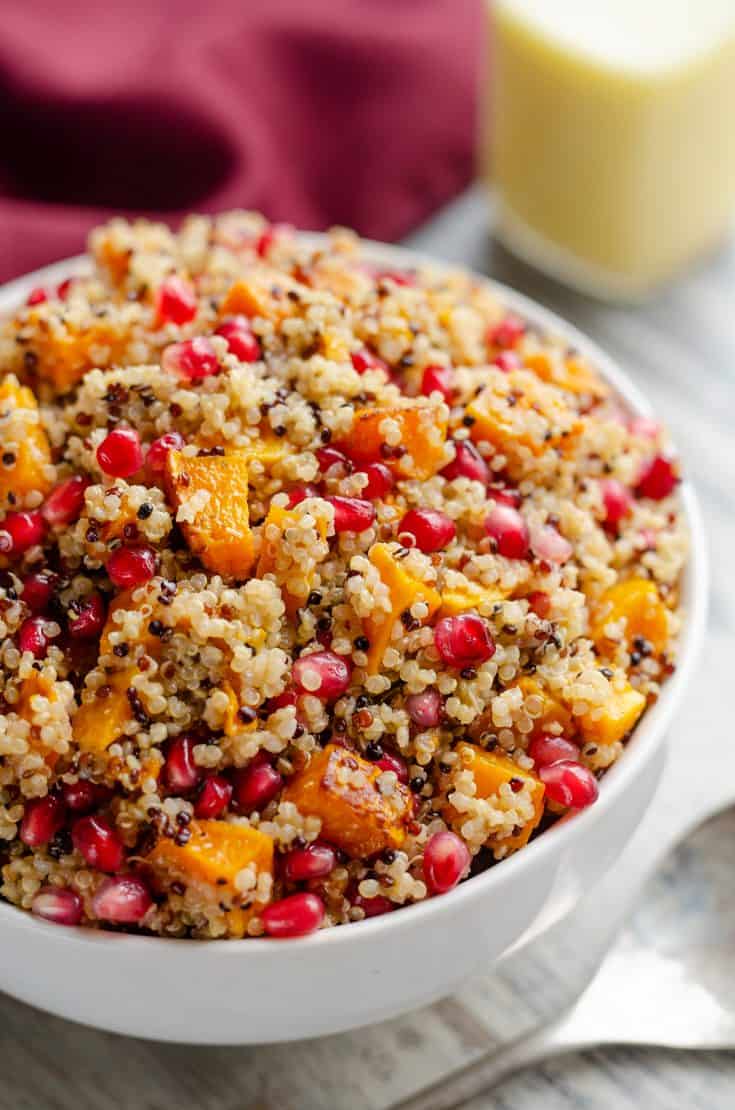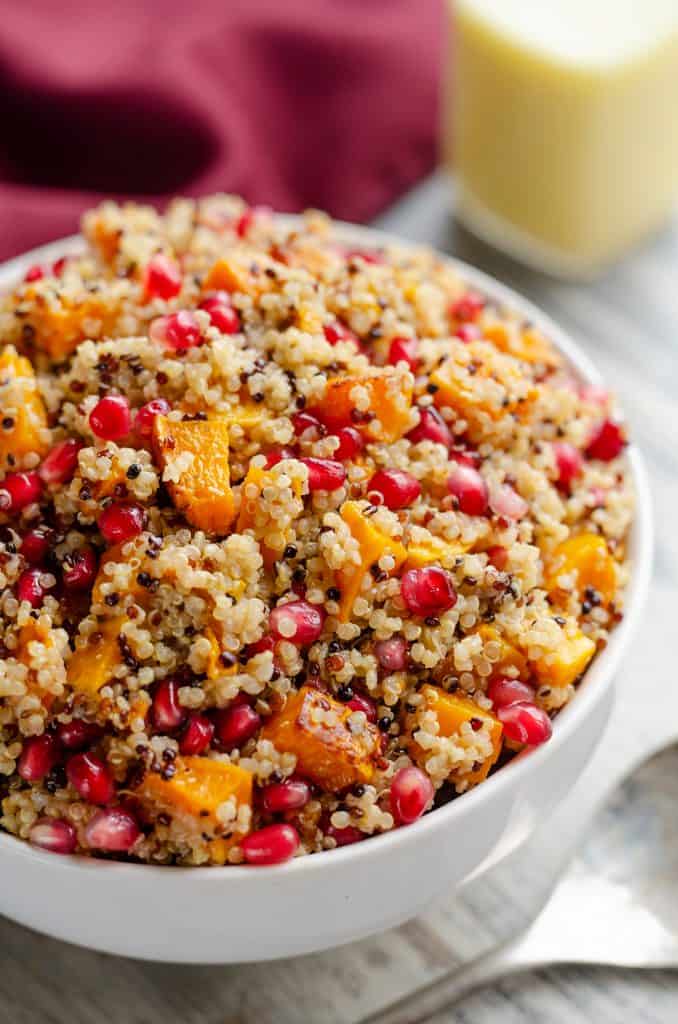 Pomegranate Squash Quinoa Salad
When I made this Pomegranate Squash Quinoa Salad, I actually surprised myself at just how amazing it was! Roasted butternut squash, fresh pomegranate seeds and quinoa are tossed in a Light Apple Cider Vinaigrette for a fantastic combination of flavors and textures. I was wanting to make a healthy quinoa salad with fresh winter produce when I began dreaming up this salad. I was actually planning on adding some chevre goat cheese to it at the end, because well goat cheese makes everything in my book. When I tasted the salad before adding the goat cheese, my mouth lit up and I was in love. It was the absolute perfect balance of flavors just the way it was. I did something I rarely ever do in life…I left out the goat cheese you guys!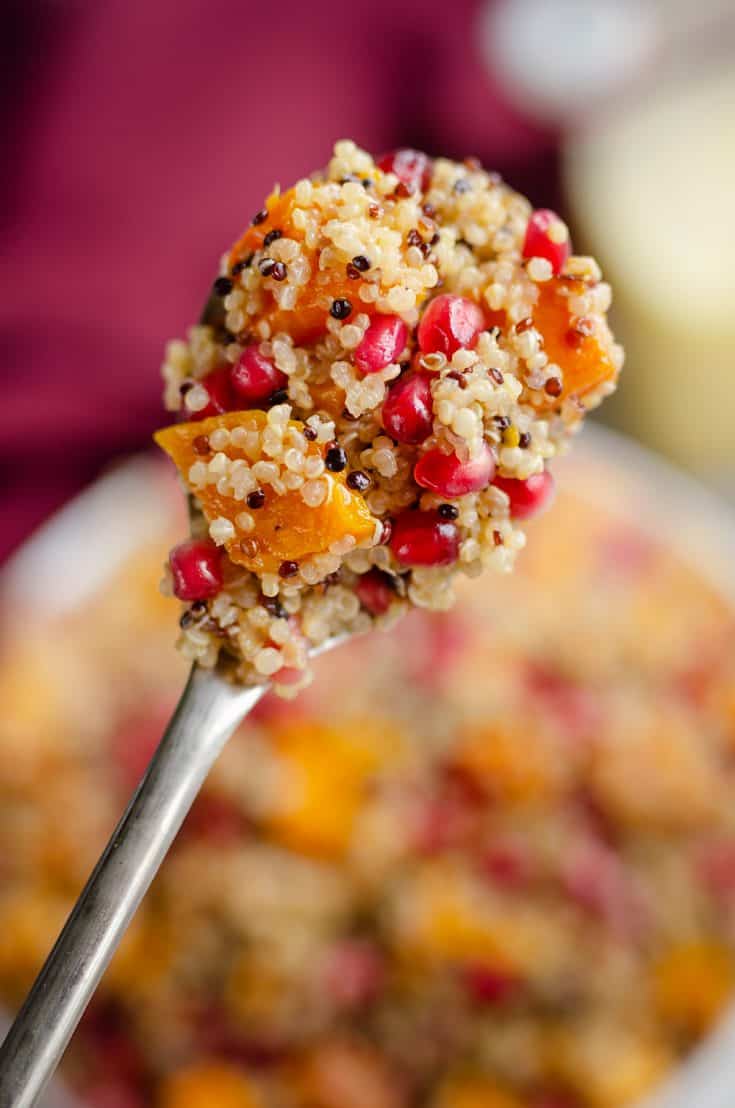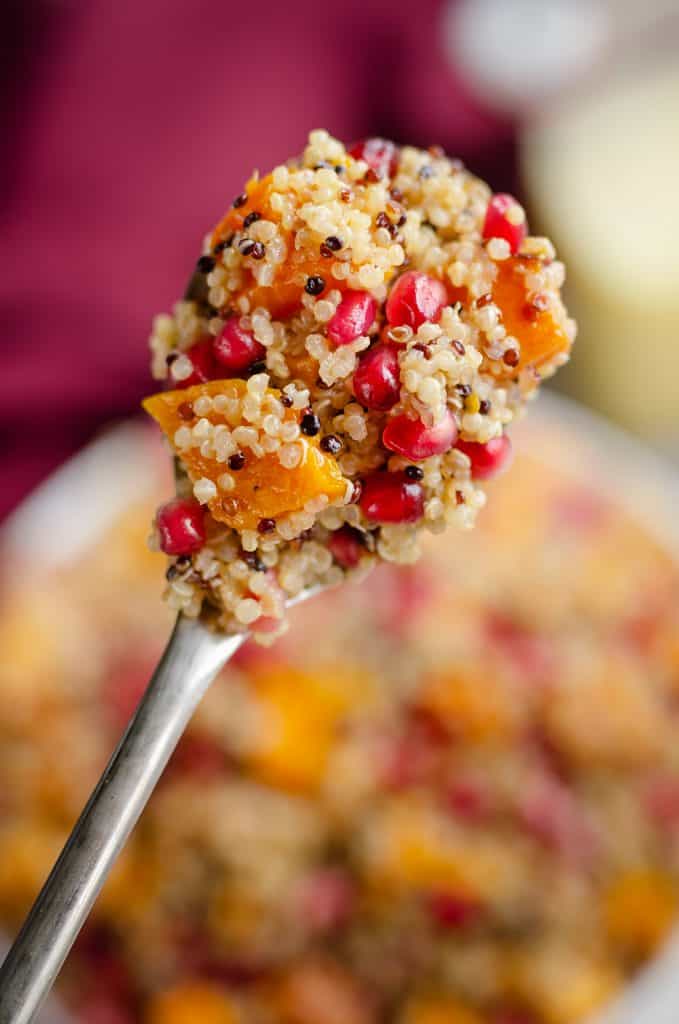 Butternut Squash and Pomegranate Salad
If you are a goat cheese lover like myself, you can certainly add it, but as it stands the salad is perfect the way it is in my book. It's a dairy free and gluten free side dish that pairs perfectly with a grilled steak or chicken breast, but it also stands on it's own. I found myself going back to this bowl of salad day after day for a quick and light vegetarian lunch. It was filling with the hearty squash and quinoa but so light and fresh in it's flavors.
I was so bummed when my batch of Pomegranate Squash Quinoa Salad was gone that the very next week I made it again. I fully understand that it is a pretty salad that looks too healthy to be all that great, but I really can't stress enough how fantastic the flavor and texture is in this recipe.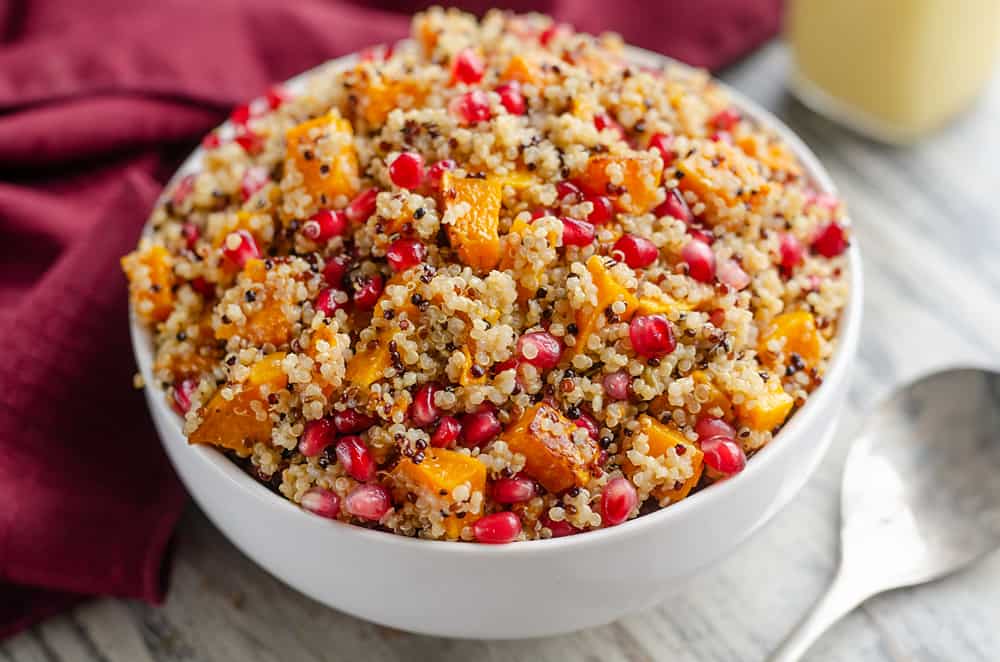 How to Make Quinoa Salad
Quinoa, or as some people like to misspell it Kenwa, is one of my go-to grains. I used to make it on the stovetop which is easy enough, but then I discovered the Easiest Fluffy Quinoa Recipe made in your Instant Pot. You lightly toast the quinoa in IP and then add the broth, put the lid on and let it do it's thing. It really couldn't be easier.
When it comes to butternut squash, this is one of the few things I spend the extra money on buying peeled and cubed. I COULD do it myself, but time is money people, lol. I'm not a big fan of tackling a big squash with a sharp knife, so I almost always opt for the cubed squash in the deli section.
I recently discovered cubed butternut squash in the freezer section at Target and that has been a game changer. It's must more affordable and a great way to feed my kids squash. Roast up your squash with some olive oil and salt for the best results.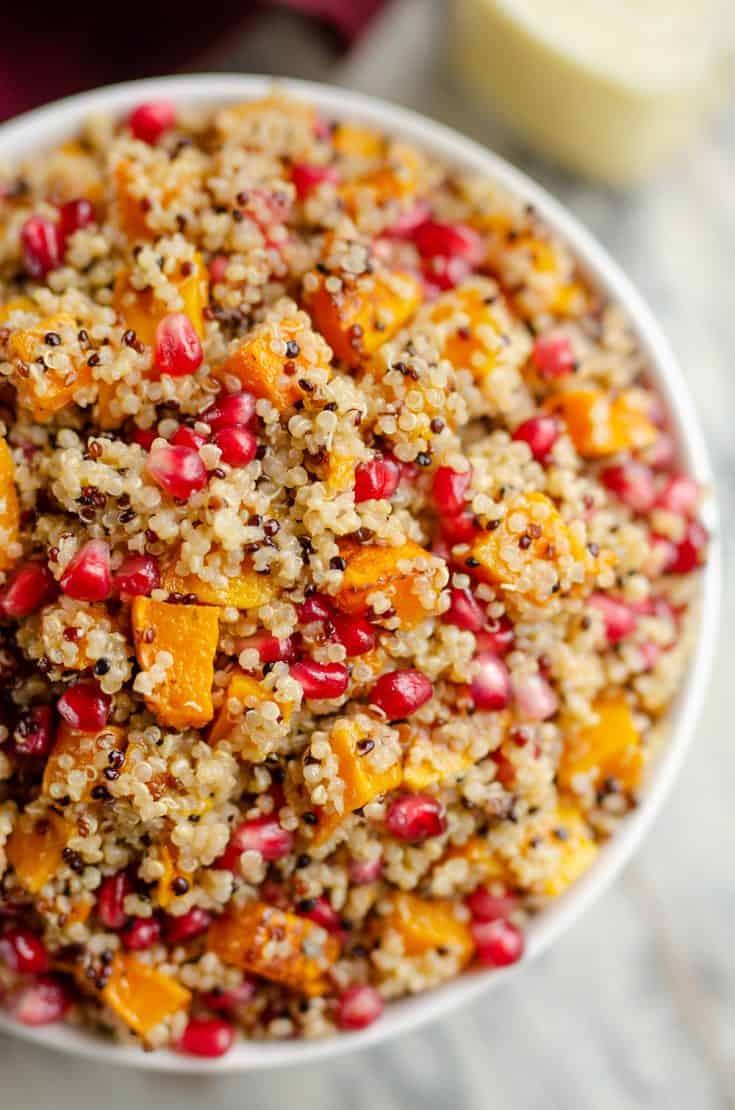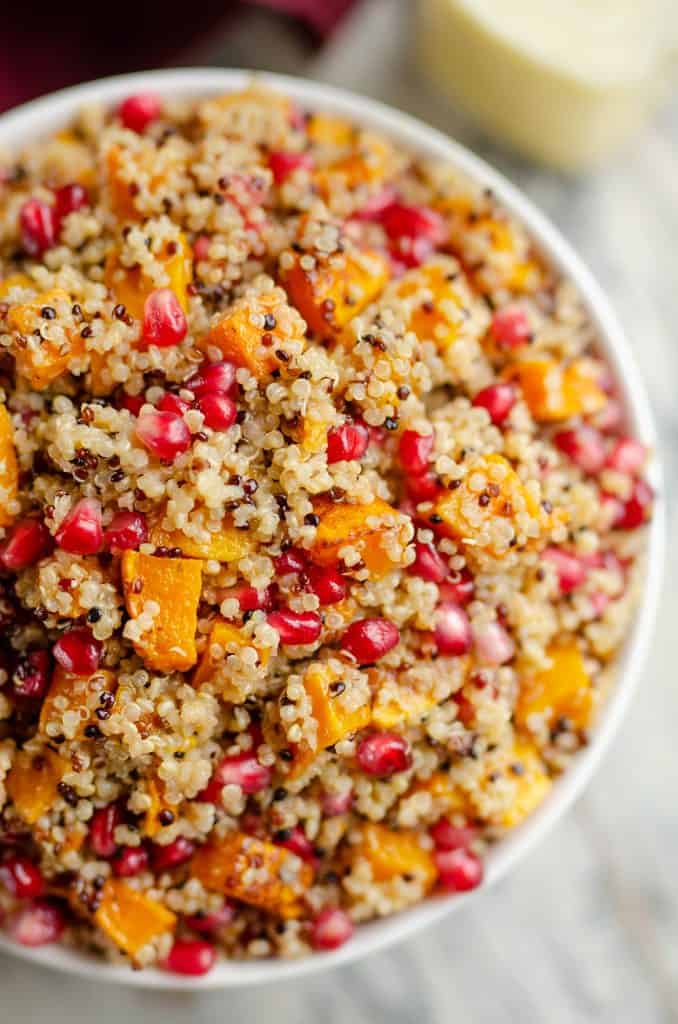 Healthy Quinoa Salad
Once you have cooked quinoa and squash, you can toss this Pomegranate Squash Quinoa Salad together in minutes. Pomegranate are actually another produce item I will sometimes buy already seeded. It's just so much easier to toss a small package of seeds into the salad as opposed to beating on a pomegranate with a wooden spoon.
Toss the quinoa, squash and pomegranate seeds into a medium bowl along with the homemade Light Apple Cider Vinaigrette. Serve it warm or chilled. They are both equally amazing in my eyes!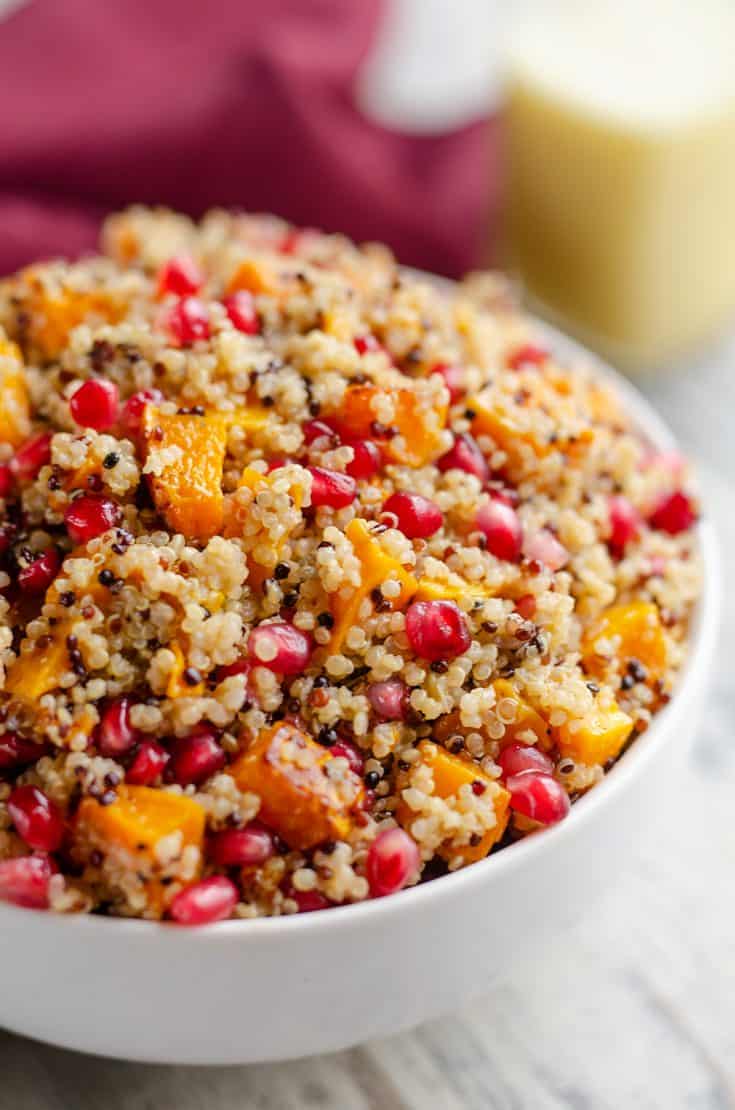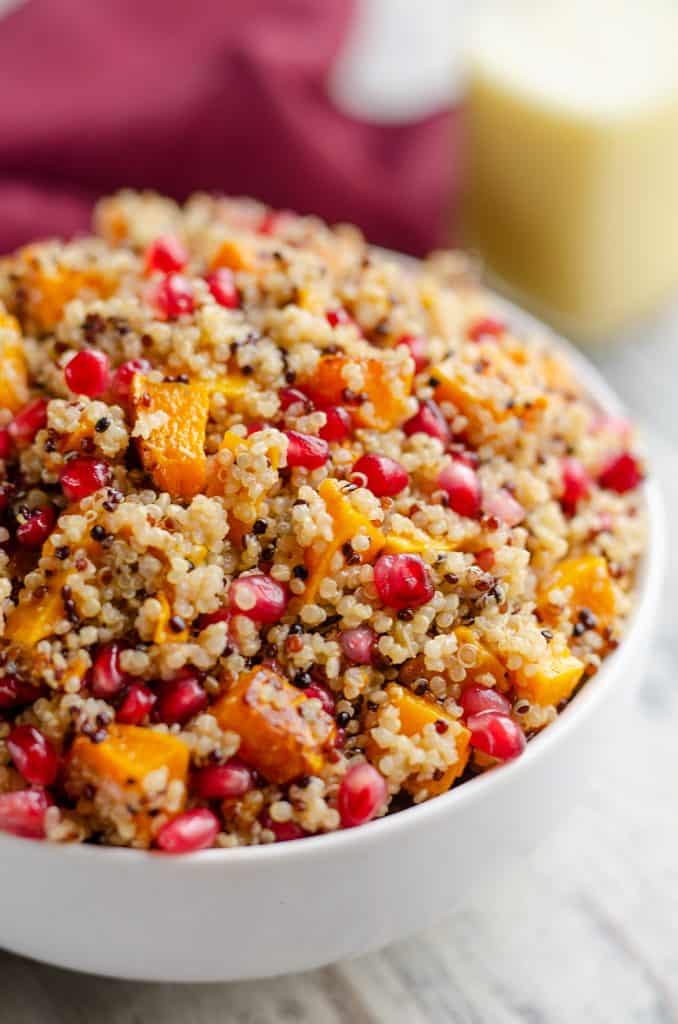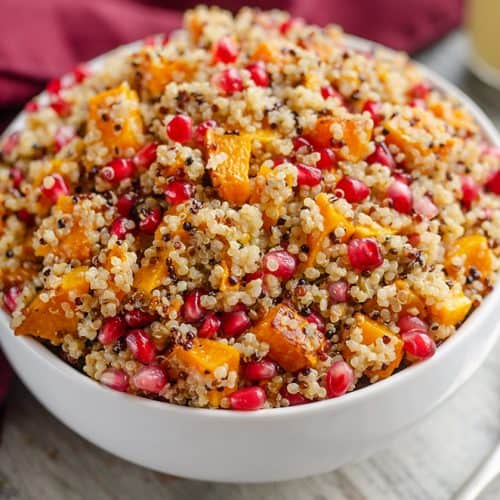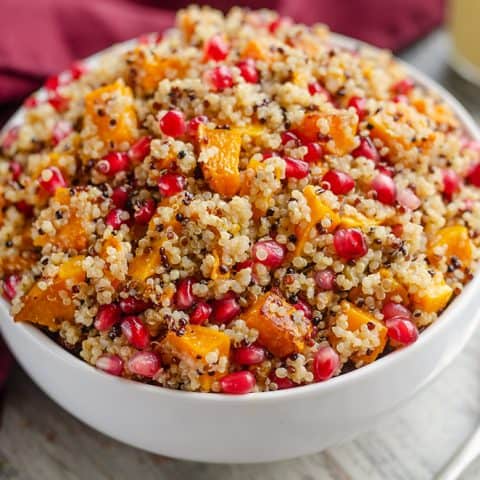 Pomegranate Squash Quinoa Salad
Pomegranate Squash Quinoa Salad is a light and flavorful whole grain recipe perfect as a side dish served along grilled meat or as a healthy vegetarian lunch.
Ingredients
4 c. diced butternut squash
1 tsp. olive oil
sprinkle of salt and pepper
2 c. cooked quinoa
1 c. pomegranate seeds
1/2 c. Apple Cider vinaigrette
Instructions
Preheat oven to 400°.
Add the cubed squash to a cookie sheet and toss with olive oil, salt and pepper. Bake squash at 400° for 20-30 minutes, depending on how caramelized you like your squash.
Toss the squash along with the cooked quinoa, pomegranate seeds and Apple Cider Vinaigrette into a medium bowl. Stir until everything is well coated. Serve warm or chilled.
Nutrition Information:
Serving Size:

1 grams
Amount Per Serving:
Unsaturated Fat:

0g
More Amazing Butternut Squash Recipes!