Brown Rice Honey Feta Squash and Brown Rice Salad is a healthy vegetarian recipe full of wholesome ingredients. Roasted squash, zucchini, tomatoes, cheese, and pecans are tossed with a homemade vinaigrette, rice and fresh spinach.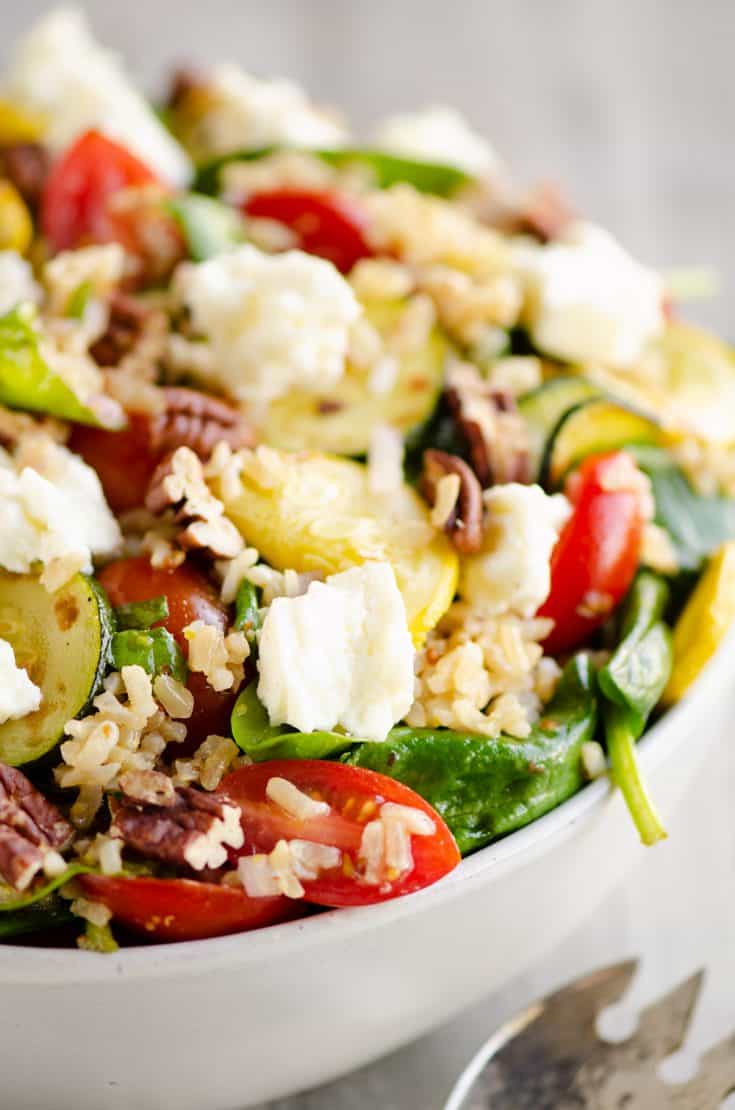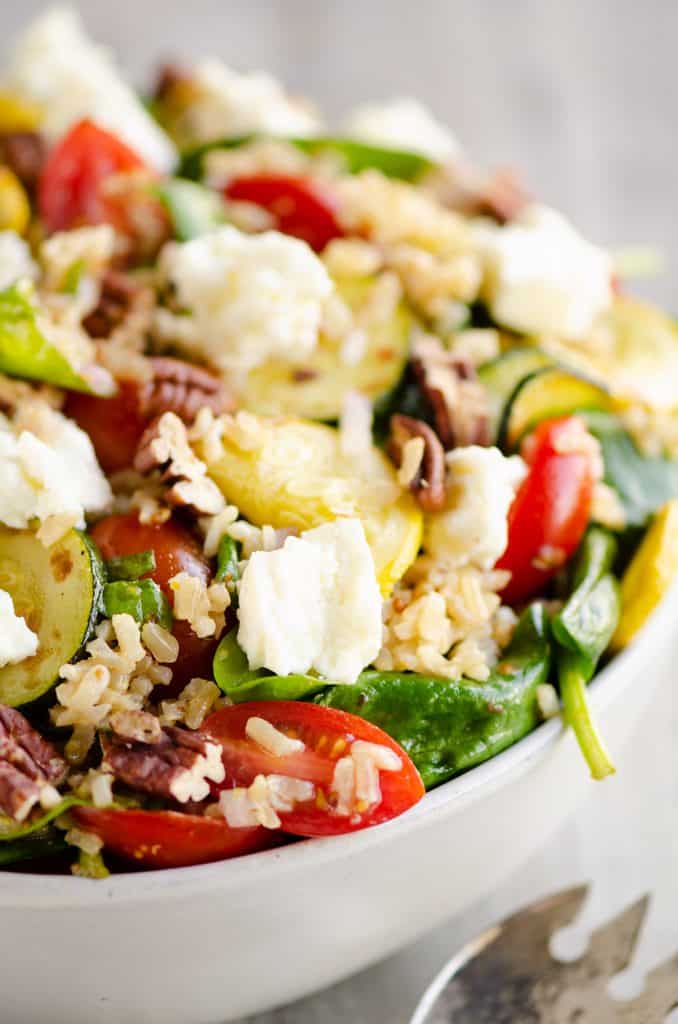 Healthy Baked Honey Feta Squash and Brown Rice Salad
Brown rice honey feta squash and brown rice salad is kind of a mouthful of a recipe, a tasty mouthful! This recipe was adapted from one of my delicious Hello Fresh meal deliveries. I love a good meal delivery kit to kick me out of my comfort zone and try something new. This particular recipe was so good, I just had to share!
Baked honey feta squash and brown rice salad has the sweet, savory, salty, earthy, and sour flavors balanced in healthy harmony. None of the ingredients dominate the other, their flavors compliment each other so well.
Honey helps lesson the acidic quality of the vinegar just right, while the salty feta brings the earthy flavors of the squash and brown rice to life and make them far more interesting.
Considering all the healthful ingredients, the ease of putting it together, and the delicious and filling meal it offers, I put this right up there with any of my other healthy recipes.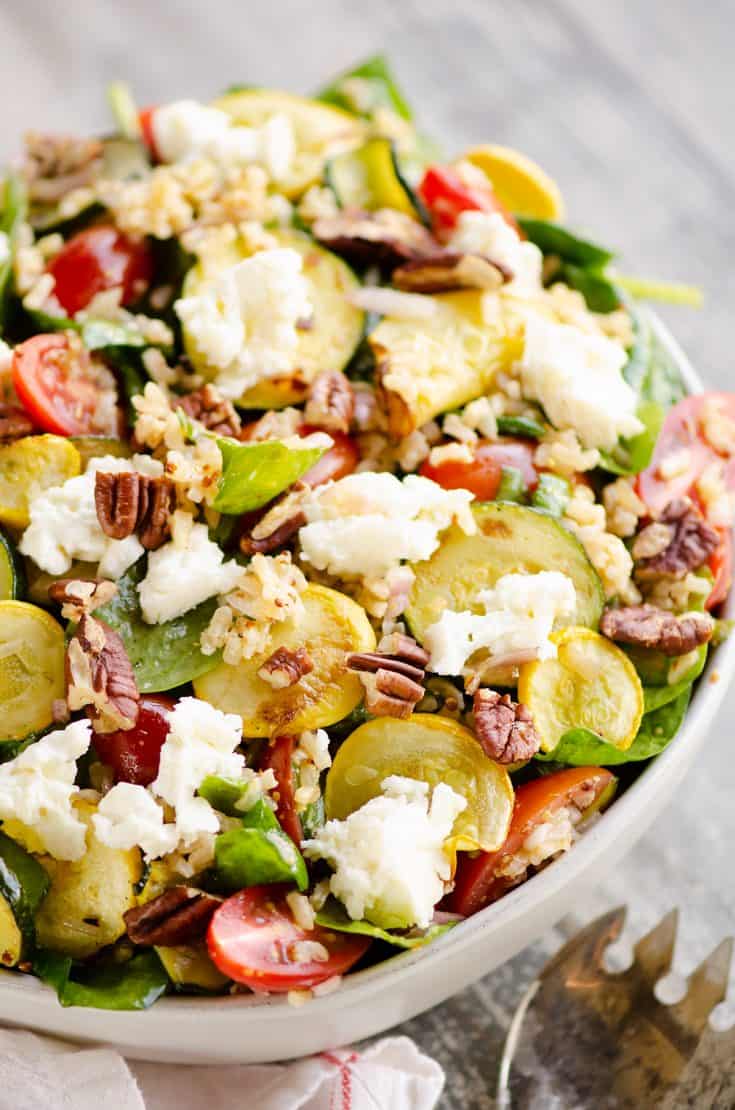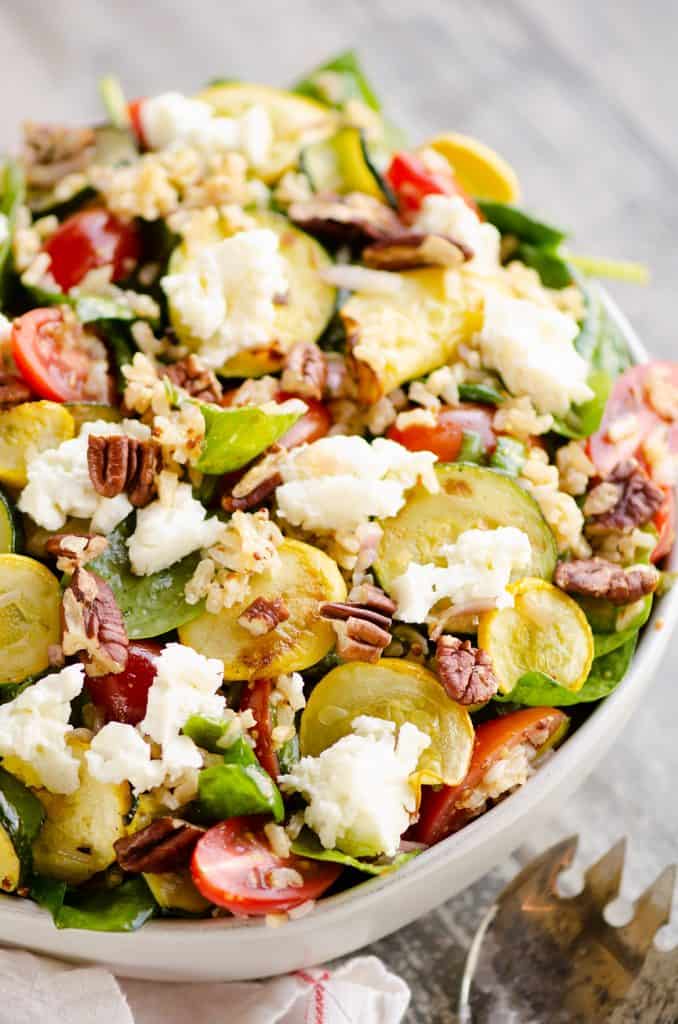 Is it a salad bowl or is it a rice bowl?
The truth is it is both a salad bowl and a rice bowl. You use brown rice that has been cooled to mix with ingredients that by themselves would be similar to a slaw or salad.
The carbs from the always gluten free rice create a more filling meal than just eating the vegetables by themselves. You get more energy while at the same time getting all the benefits of fresh vegetables as well. I recommend this squash salad and rice bowl for lunch as a great way to bridge the appetite between lunch and dinner.
It is also the optimum time of day for successfully using up the carbs for energy when they are needed most.
Squash Salad
This squash salad comes together relatively easy with a single sheet pan. Squash, zucchini and shallots are tossed in olive oil on a sheet pan along with a block of feta drizzled in honey. Midway through baking, add some pecans to the sheet pan to lightly roast them.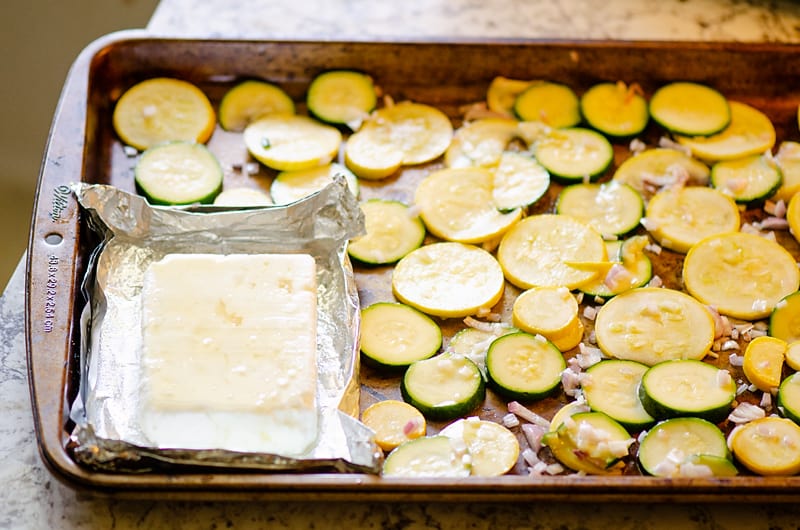 While the vegetables, cheese and nuts are roasting, use the remaining shallots and mix them with olive oil, vinegar, mustard and honey. This makes a light and delicious vinaigrette that will lightly coat all the warm vegetables.
When everything is done baking, toss the vegetables, pecans, spinach and cooked brown rice in a large bowl with the vinaigrette. Top with chunks of the warm honey feta and enjoy! The flavors and textures are truly to die for.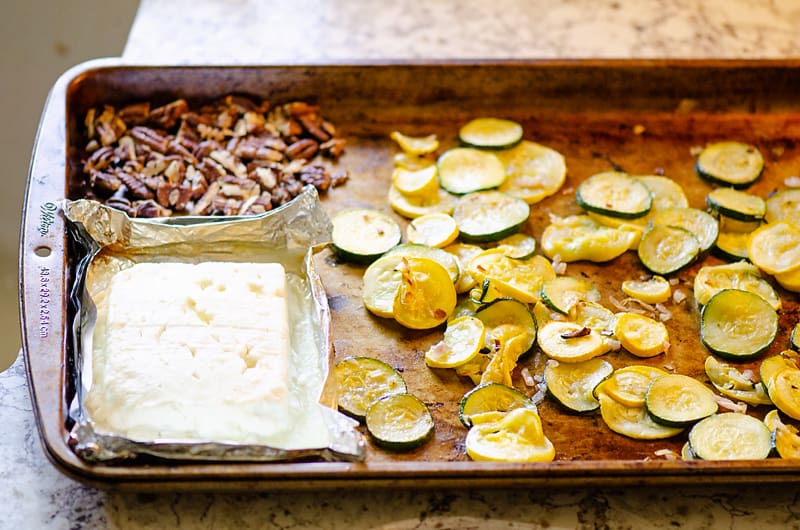 Are there any good substitutions for the listed ingredients?
Not everyone has champagne vinegar handy at all times. If you are like me, then every time you get it then you use it up before you know it and have to remind yourself to get more next time you go to the store.
But there are other vinegars that will create an equally tasty take on things. Apple cider vinegar is sort of similar to champagne vinegar but a touch more acidic as well. For that reason you can use a touch less than the recipe calls for and still get the tanginess desired.
You can also use white wine vinegar, red wine vinegar, or even balsamic vinegar if you like. If all you have is plain white vinegar then I also would suggest a bit of lemon or lime juice too.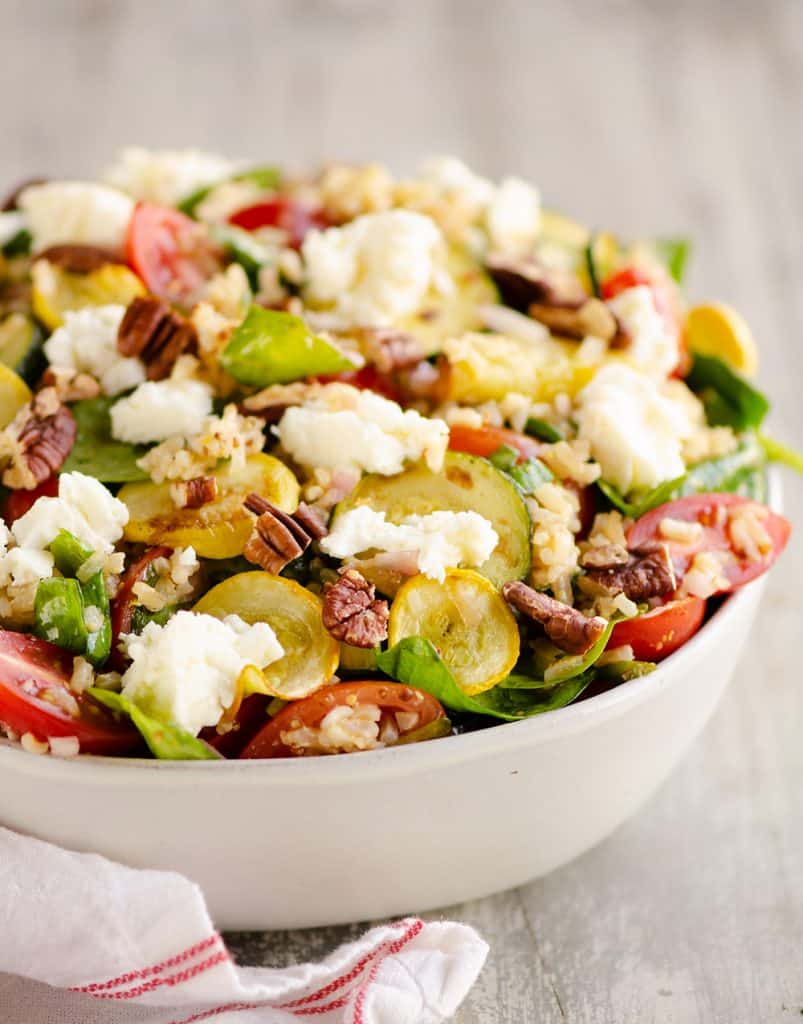 Vegetarian Salad
As far as vegetables are concerned, you can use any type of squash, from acorn to zucchini and every letter of the alphabet for squash in between. You can also grate or rice in broccoli or cauliflower. (Use the cheese grater to create riced cauliflower or broccoli).
If you want to add some heat and add one more flavor type in the process, then you won't be throwing off the balance with some heat or a touch of bitter or both. Get heat with some finely chopped jalapeno.
If that is too hot, then finely chopped poblano are much less hot especially if you leave out the seeds.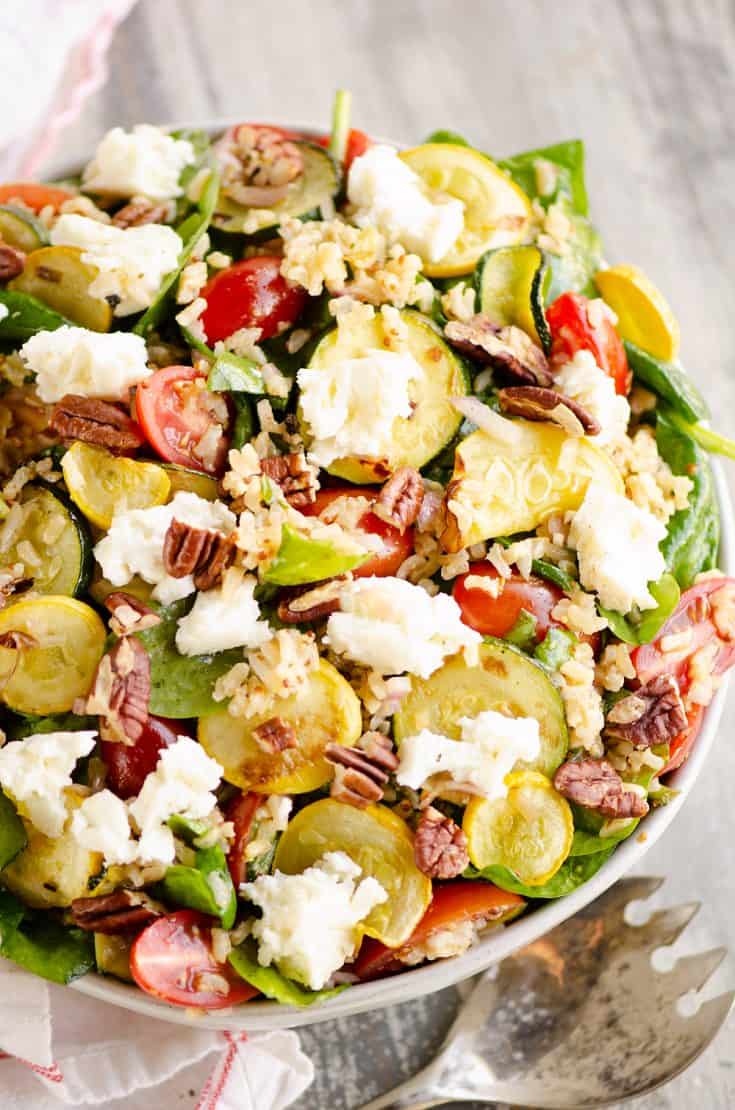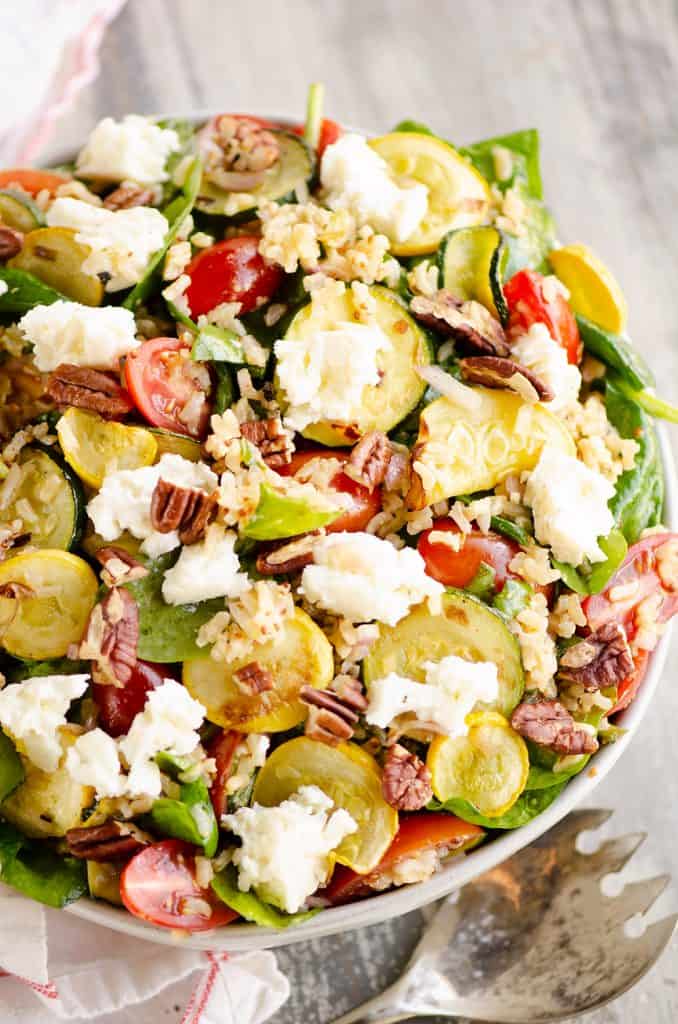 Adding a green like arugula or chopped kale adds a touch of herbal spice and bitterness respectively. Again, the flavor of these greens play very well with the other ingredients in the dish. Balance…it is all about the balance!
This vegetarian salad is almost like a Zen meditation on balance and harmony.
For those folks that don't like squash of any sort, there are ways to still get similar nutrition from other vegetables like chopped cabbage and brussels sprouts. You need to slightly parboil or broil the brussels sprouts first then chop them in after they cool. Cooking time will be about 10 to 15 minutes either way.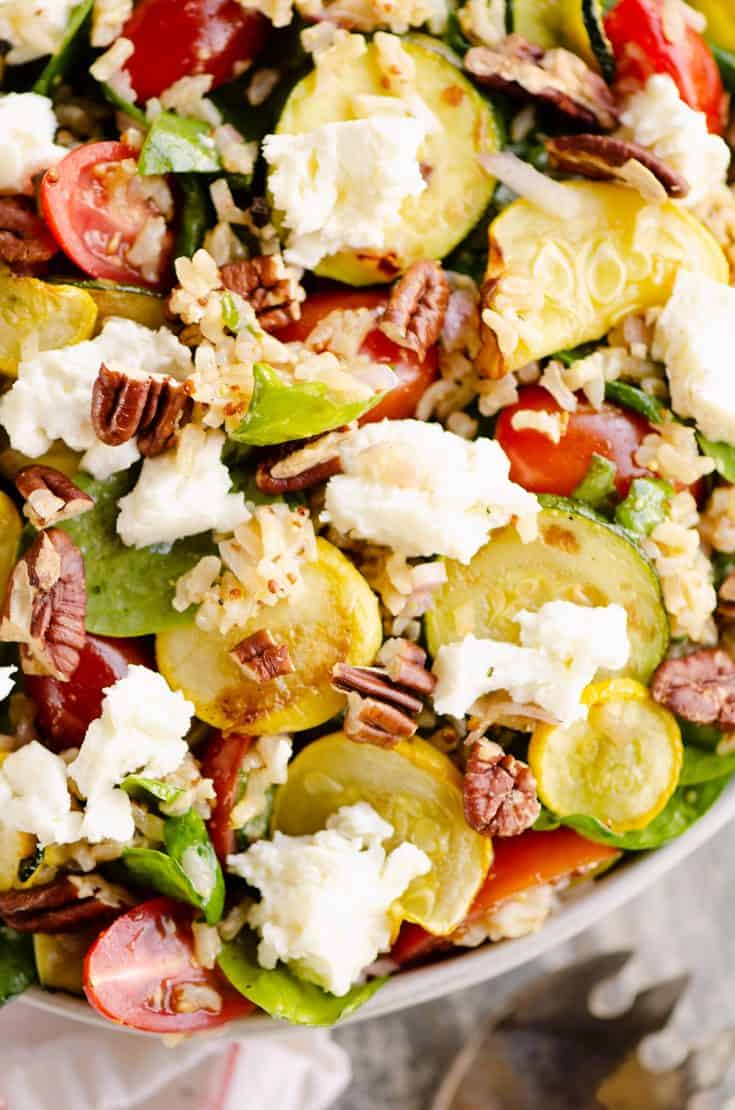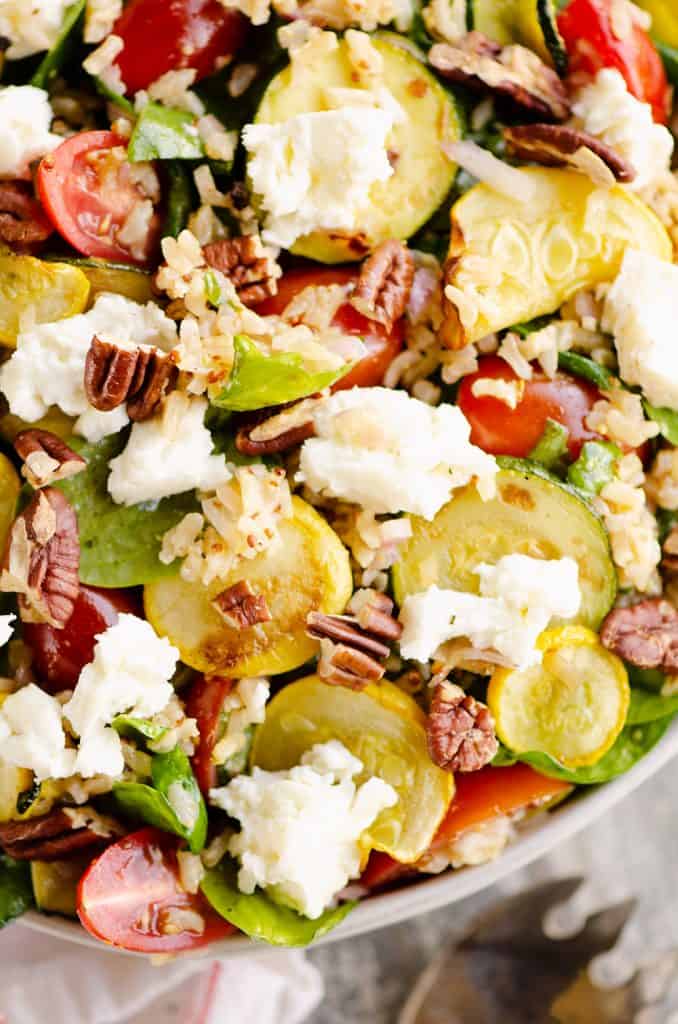 Brown Rice Salad
Brown rice has the most health benefits since it is the least processed and has the most important and nutritious parts still intact. White rice and other forms of processed rice like most basmati rice (unless the packaging says otherwise) all have had the husk, bran, and cereal germ removed.
Turns out those are all the healthy parts of the rice grain. However, what is left is the grain with the flavor and the complex carb sugars. So, you don't lose anything in terms of making a delicious meal with any other rice type. You just don't have quite as nutritious a meal.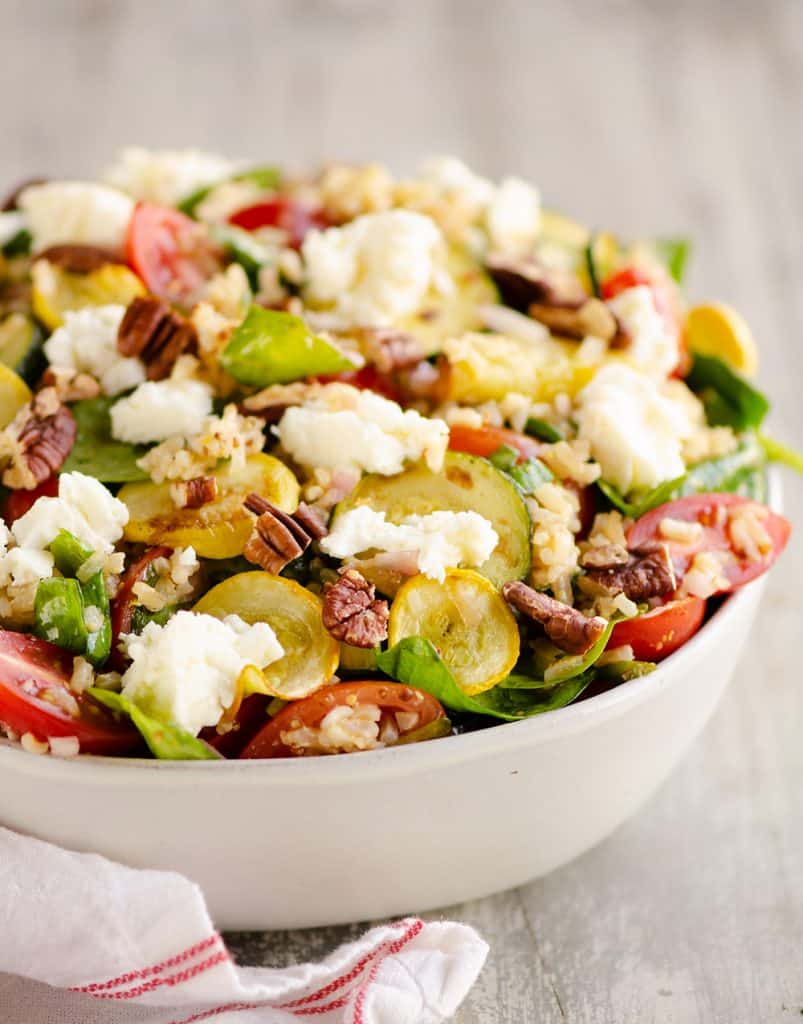 How do I store the brown rice salad bowl?
This brown rice salad is an easy dish to make extra servings that you can portion and eat throughout the week. You can use it as a lunch, or serve smaller portions out as a side for a different entre. If you store the product in an airtight resealable container, then it will keep well for 3 or 4 days.
It actually tastes even better as the flavors really blend together after the first 24 hours too.
You can freeze it, but I don't actually recommend freezing it with the vegetables in it since they won't typically defrost well. If you want to freeze, just season the rice with all the seasonings and vinegar, then adding the fresh cut vegetables after you defrost and prepare to serve.
Tons of ways to approach a rice bowl salad
If you like this recipe and want to check out other healthy rice bowl recipes, then here are some links to check out.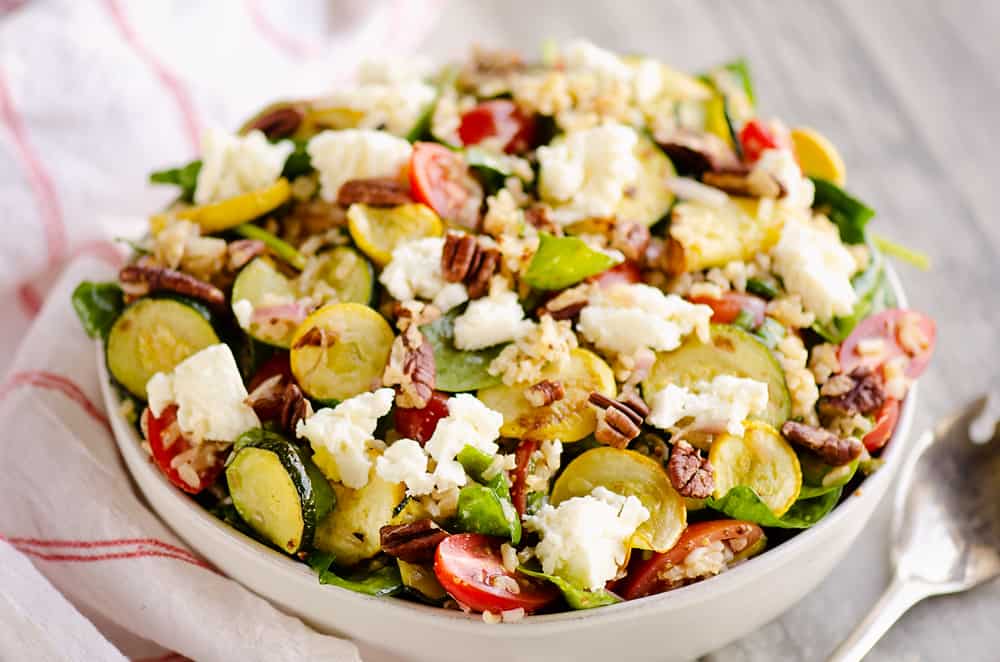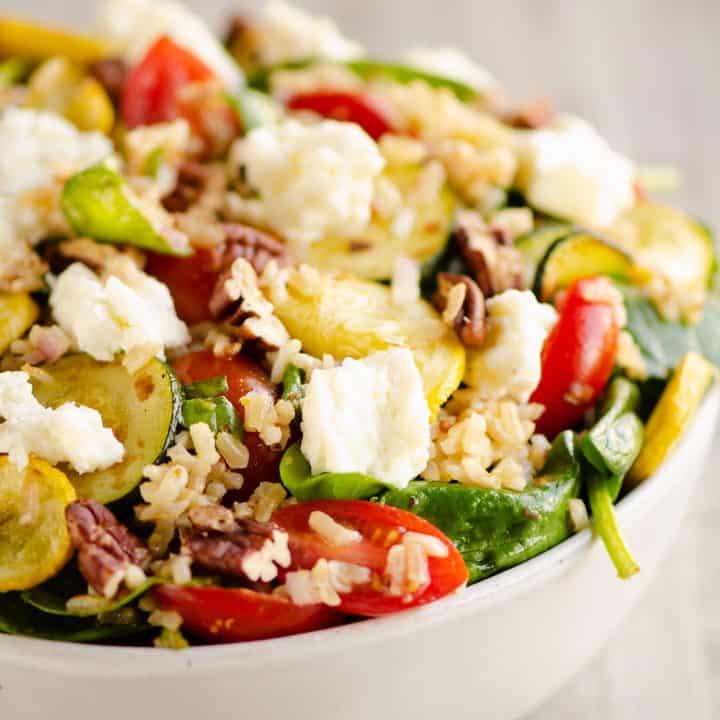 Baked Honey Feta Squash & Brown Rice Salad
Brown Rice Honey Feta Squash and Brown Rice Salad is a healthy vegetarian recipe full of wholesome ingredients. Roasted squash, zucchini, tomatoes, cheese, and pecans are tossed with a homemade vinaigrette, rice and fresh spinach.
Ingredients
1 c. cooked brown rice
2 c. baby spinach
1 medium shallot, finely chopped
1 c. cherry tomatoes, halved
1 summer squash
1 zucchini
1 Tbsp. Champagne vinegar
1 Tbsp. whole grain mustard
2 tsp. honey (Divided)
7 oz. block feta
1/4 c. pecans, roughly chopped
3 Tbsp. olive oil
Instructions
Preheat oven to 400°.
Add half of the chopped shallot to a large bowl along with the sliced squash and zuchinni. Toss with 1 Tbsp. olive oil and a dash of salt. Toss until well coated.
Add the vegetables to a rimmed cookie sheet and spread out in a single layer.
To the corner of the same baking sheet, add a folded piece of tinfoil, with the edges turned up. Place the block of feta on the tinfoil and drizzle with 1 teaspoon honey.
Bake the vegetables and feta at 400° for 7 minutes.
Remove from oven and toss the squash and add the chopped pecans to a small corner. Bake an additional 7 minutes.
Meanwhile, in the same large bowl, add the other half of the shallots along with the vinegar, mustard, 1 tsp. honey and 2 Tbsp. olive oil. Whisk until well combined.
Add the spinach, tomatoes and cooked brown rice to the bowl and toss until everything is well coated.
Top the salad with the roasted squash and pecans. Crumble or slice the baked feta and serve on the top of the salad.
Nutrition Information:
Yield:

2
Serving Size:

1
Amount Per Serving:
Calories:

753
Total Fat:

53g
Saturated Fat:

19g
Trans Fat:

0g
Unsaturated Fat:

32g
Cholesterol:

88mg
Sodium:

1031mg
Carbohydrates:

53g
Fiber:

9g
Sugar:

20g
Protein:

23g
Provided nutrition data is only an estimate. If you are tracking these nutrients for medical purposes, please consult an outside, trusted source.