Grilled Honey Goat Cheese Pizza is an easy vegetarian recipe loaded with bold flavors and textures. Creamy goat cheese, sage, pecans and honey come together on a chewy grilled pizza crust for a meal you will want to make again and again!

Grilled Honey Goat Cheese Pizza
Grilled honey goat cheese pizza is born from one of my favorite recipes I enjoyed while working in restaurants throughout college. A little fine dining restaurant I served at had this appetizer of goat cheese on a crostini with fried sage a drizzle of honey and pecans. It was DIVINE and I ordered it on the regular! I decided to take the elegant appetizer and turn it into a quick and easy vegetarian meal. The chewy grilled crust is the perfect foundation for the creamy goat cheese and toasty nuts. The flavors are out of this world and it is truly a must try!
If you love unique pizza recipes like myself, be sure to try my squash and goat cheese pizza, mini buffalo chicken pizzas, and pineapple chicken and bacon and many more. Just trust that I know some great, unique, and tasty takes on pizza!
Does goat cheese melt on pizza?
Goat cheese pizza looks a bit different because goat cheese does not melt into the stretching strands of hot strings of cheese like provolone or mozzarella do. It does melt though and becomes even more smooth and creamy inside with just a bit of caramelization on the exterior.
It is very savory and it helps highlight the other flavors in the dish. So, instead of covering the entire pizza in shredded cheese as you would with provolone and mozzarella, you basically spoon out little buttons of it all over the pizza.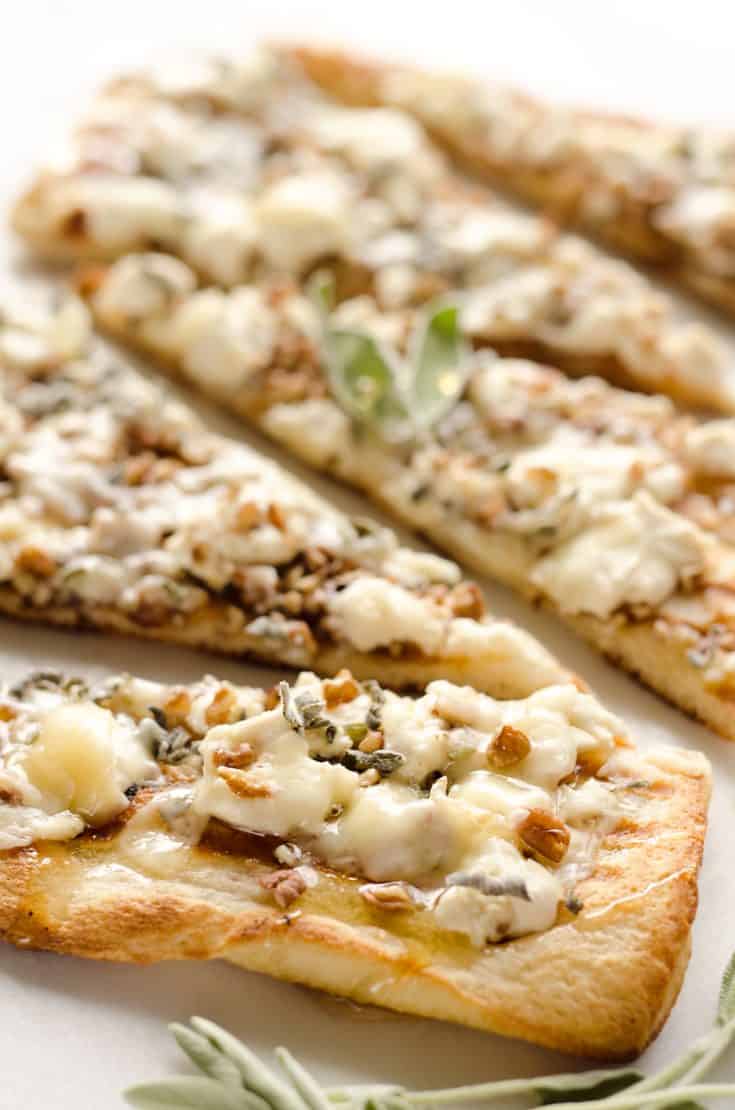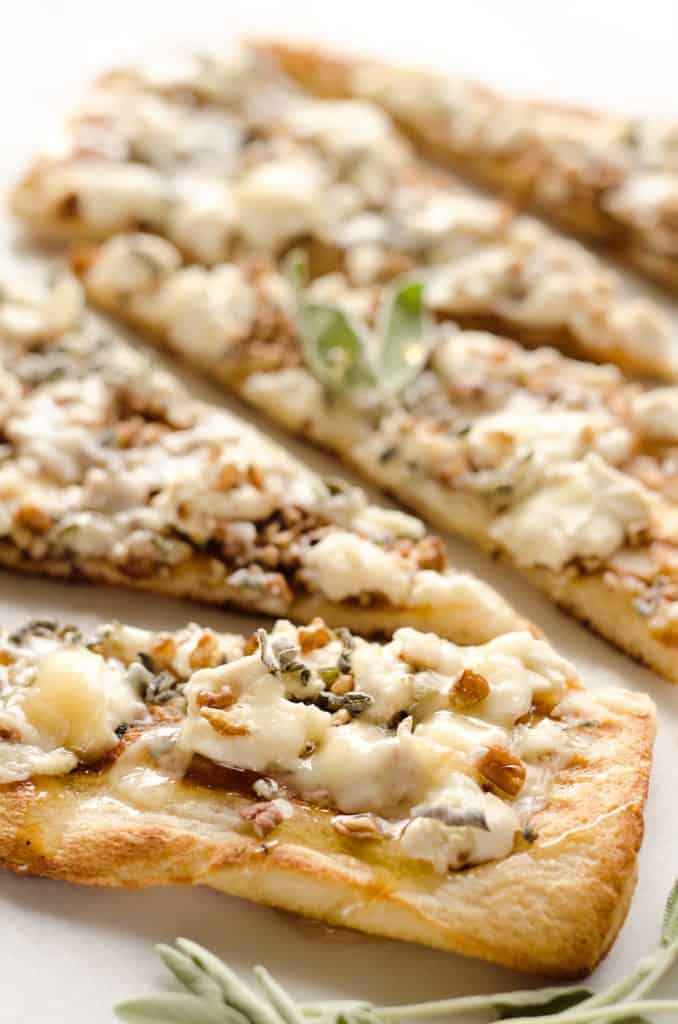 Can I use a different cheese than goat cheese?
Some people claim they just don't like the goat cheese known as chevre. Try it if you haven't tried it because it really is good. It is like cream cheese with a more earthy flavor. I guess I would describe it as a tangy cheese like pecorino and a soft cheese like cream cheese came together and created a cheese with the flavor of the one and the soft creaminess of the other.
However, if you really are averse to using goat cheese, then I suggest going with cream cheese or neufchatel style cheese. You can find those next to each other usually where you find the cream cheese.
What is the advantage of grilling pizza?
Putting pizza on the grill brings you to the heart and soul of what pizza really needs to be about. The high heat creates those perfect grill marks to truly make the pizza crust come alive. The flavor of the smoked and charred dough adds the key flavor to the pizza no matter what topping or cheese you use.
Grilled pizza goes back to ancient times when fires in clay ovens produced this timeless dish. It was just as popular then as it is now. Grilling pizza is still the best way to go.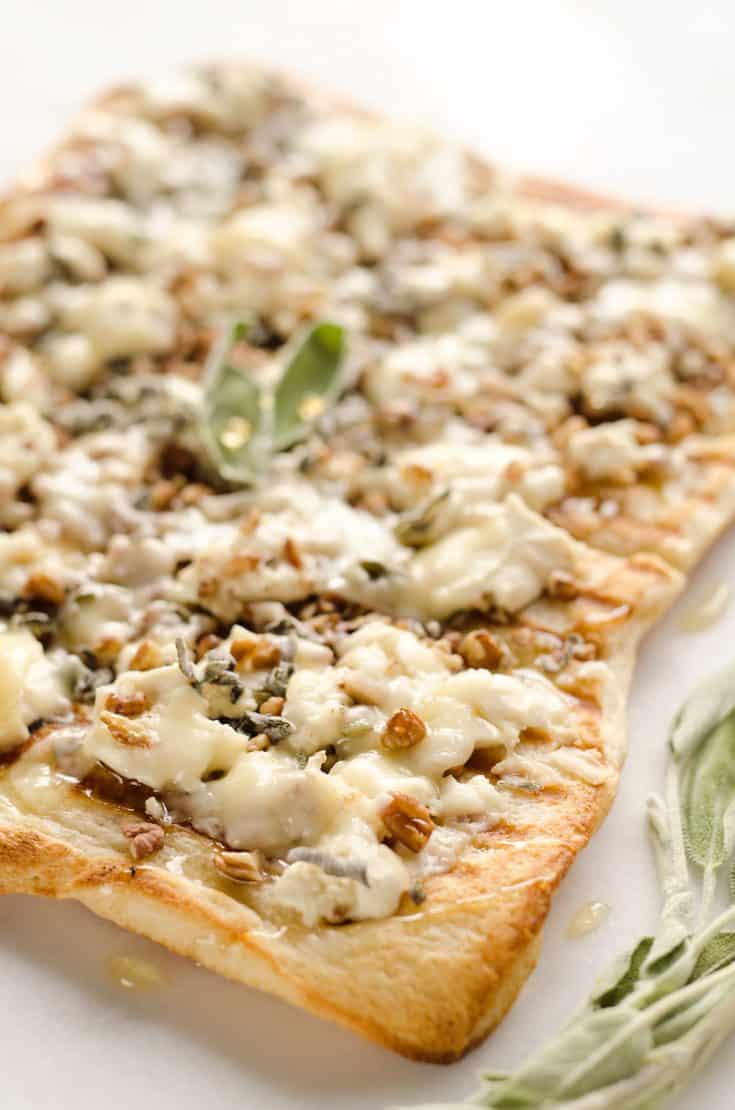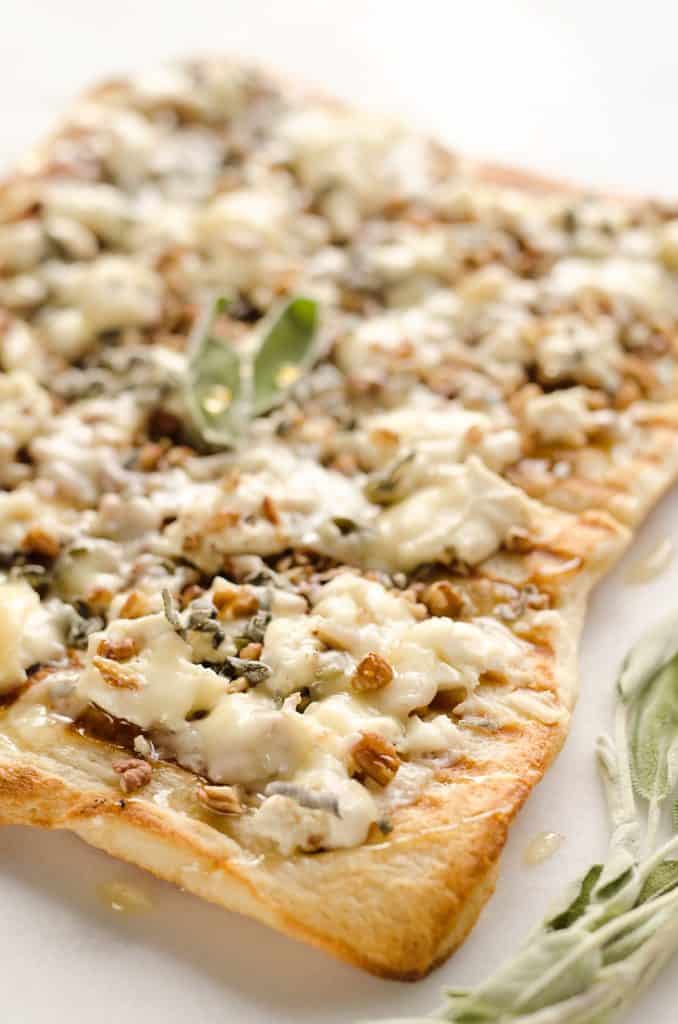 Homemade dough vs store bought pre-made dough
Of course if you do not have time to make your own pizza dough and let it rise and have to knead it and let it rise again. Using a pre-made dough that just needs rolling out works fine. I like this pizza dough option that is easy and makes your grilled honey goat cheese pizza even more special.
Pizza dough is literally the foundation of every great pizza so give it just as much attention as you would the quality of any of the ingredients that get layered on top of if.
Grilled vegetarian pizza with a sweet and savory side
The honey and the sage with pecans and goat cheese creates a bite to savor. I thoroughly enjoy meat toppings on pizza, but this vegetarian topping creates an equally satisfying meatless alternative.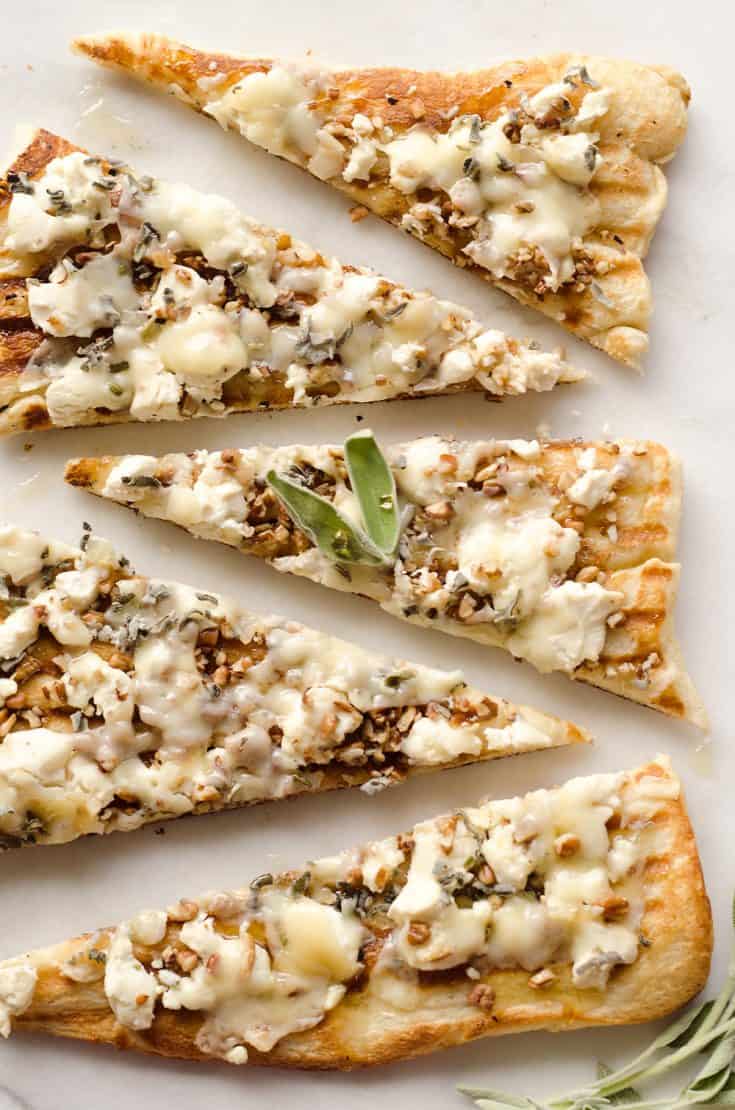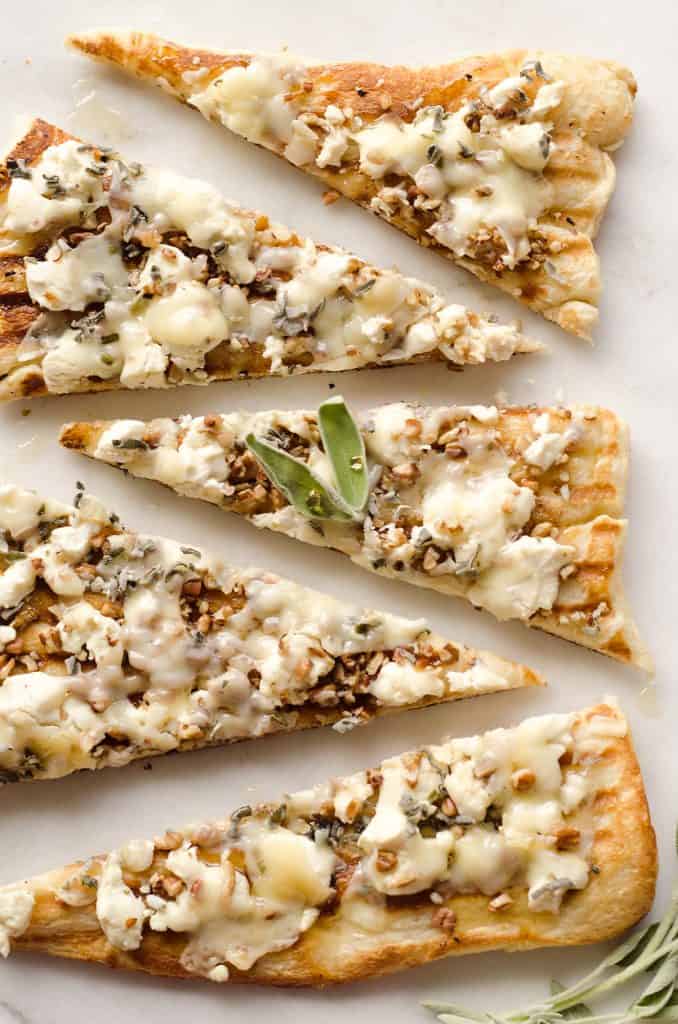 Some options to consider for your grilled honey and goat cheese pizza
Pizza is always a canvas for creativity and invention. You can try other ingredients too depending on what you have handy. I can also recommend a few variations to try as well. All of these go especially well with goat cheese too.
Figs, these go extremely well with all the other ingredients. Fresh figs are pretty hard to find unless they are in season. If you find them, then grab some. You can also grill them briefly first to add even more layers of flavor to the dish as well
Grilled onions. If you grill some onions and hit them with a dash of balsamic vinegar then toss them on top it adds both the umami (earthiness) and the lightest whisper of sour to the sweet and savory with that hint of bitter from the char marks. At this point your taste buds might just go so haywire, so watch out if it makes the rest of your body break out into the happy dance.
You can also go with some meats if you don't necessarily want to go with the vegetarian version. I recommend some ground lamb seasoned with a bit of salt and pepper and with some herbs like parsley, oregano, and or basil chopped in.
Grilled peppadew hot red peppers add a dash of heat while still being a bit sweet too. You can grill them first and just chop some on to the top of the pizza, or sneak the heat in by chopping very finely and mixing thoroughly with the goat cheese first. It will give a nice pinkish hue to the cheese that adds some color to the dish too.
Appetizers that pair with grilled pizza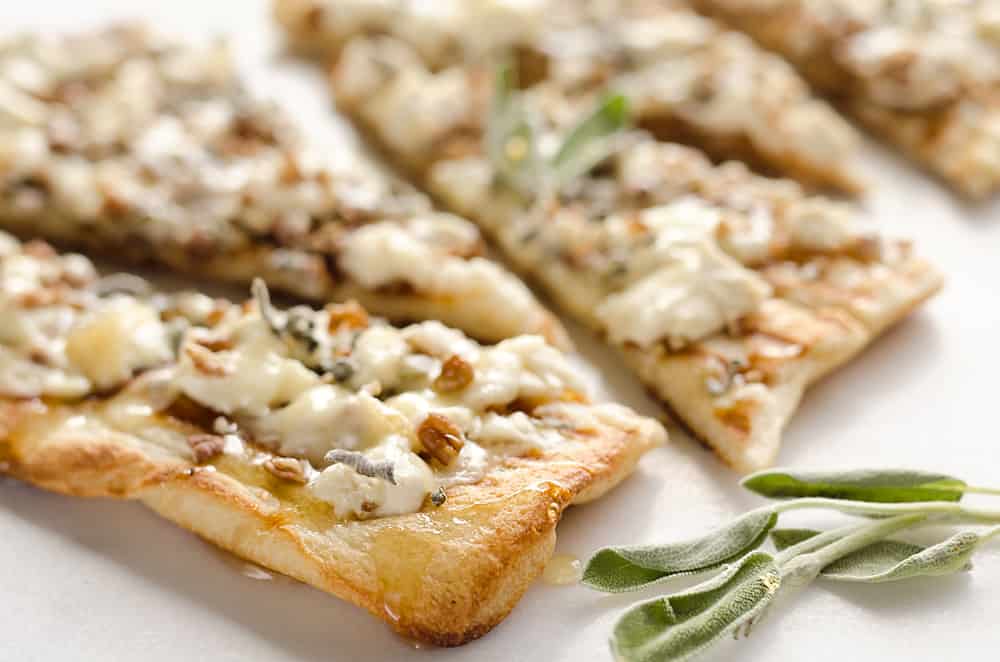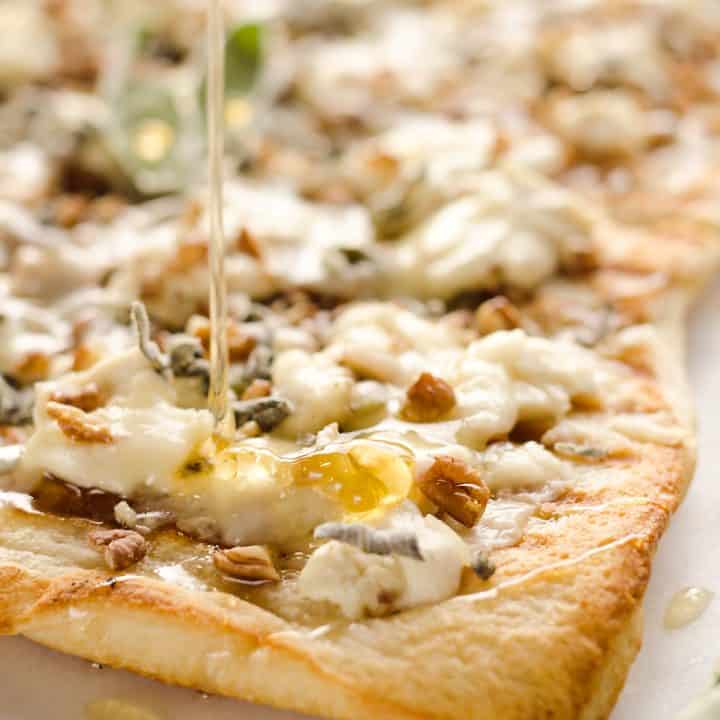 Grilled Honey Goat Cheese Pizza
Grilled Honey Goat Cheese Pizza is an easy vegetarian recipe loaded with bold flavors and textures. Creamy goat cheese, sage, pecans and honey come together on a chewy grilled pizza crust for a meal you will want to make again and again!
Ingredients
1 lb. pizza dough or 1 tube Pillsbury thin crust dough
4 oz. soft goat cheese, crumbled
1/4 c. chopped pecans
2/3 c. shaved Parmesan
2 Tbsp. fresh sage, finely chopped
2 Tbsp. honey
Instructions
Prepare a gas or charcoal grill to high heat. Brush the grill with oil so the crust doesn't stick.
Shape the dough into a thin crust on a floured surface. Let the dough sit for 5 minutes and then press out some more, so it remains thin. If using a tube of pizza dough, simply unroll the dough.
Transfer the dough onto the grill. Grill for 2 minutes on high heat with the lid closed. Using a pair of tongs, lift the lid, and flip the dough over and reduce the heat to low.
Working quickly, add the crumbled goat cheese and pecans and top with Parmesan. Close the lid and cook for 4-6 more minutes, or until the crust is cooked through and the cheese is melted.
Top with the fresh sage and drizzle with honey. Serve immediately.
Recommended Products
As an Amazon Associate and member of other affiliate programs, I earn from qualifying purchases.
Nutrition Information:
Yield:

4
Serving Size:

1
Amount Per Serving:
Calories:

765
Total Fat:

35g
Saturated Fat:

13g
Trans Fat:

0g
Unsaturated Fat:

19g
Cholesterol:

27mg
Sodium:

1073mg
Carbohydrates:

93g
Fiber:

4g
Sugar:

11g
Protein:

19g
Provided nutrition data is only an estimate. If you are tracking these nutrients for medical purposes, please consult an outside, trusted source.