Black Bean & Squash Vegetarian Enchiladas are a healthy Mexican recipe perfect for a hearty and wholesome 30 minute vegetarian meal.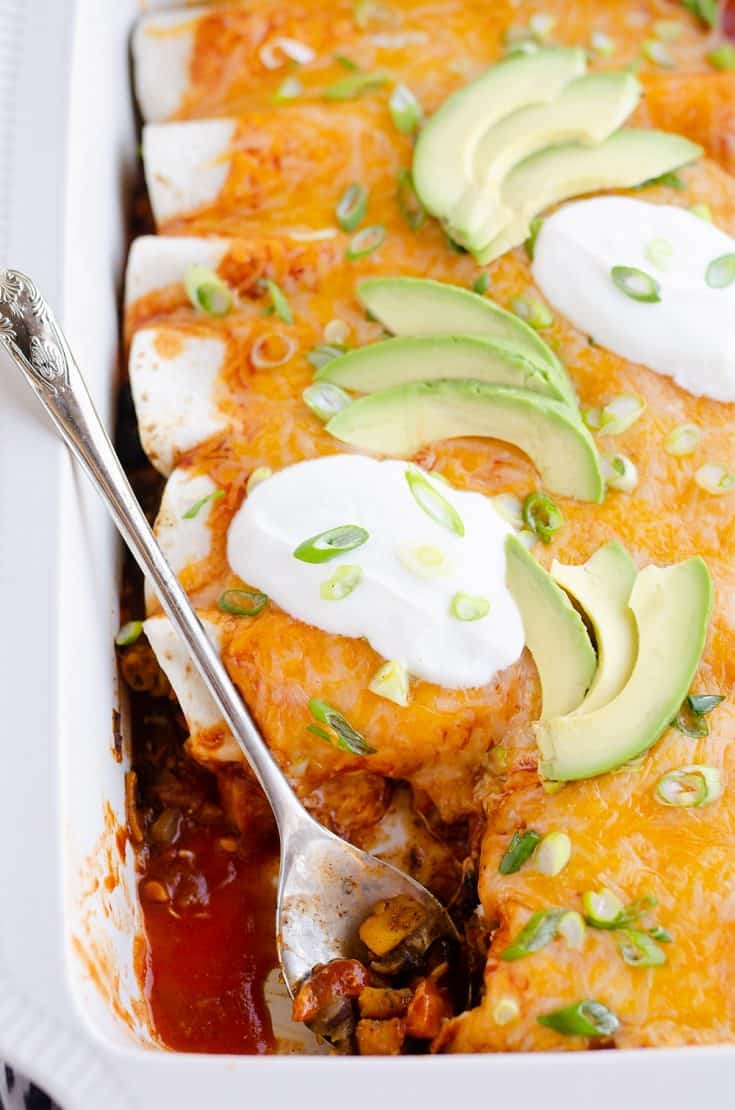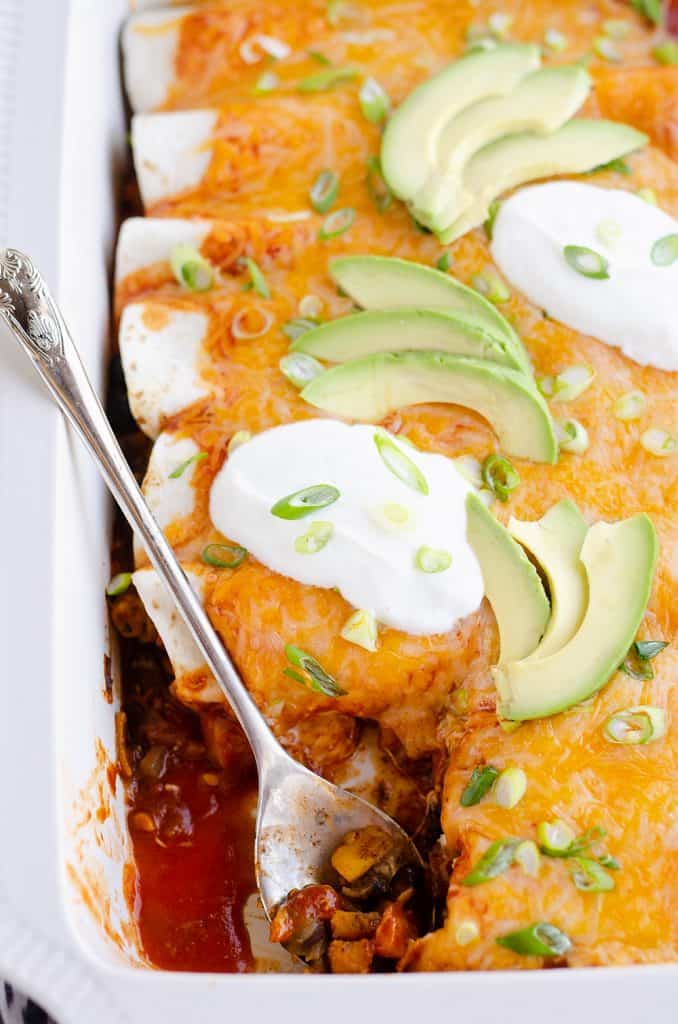 Black beans and squash enchiladas, healthy comfort food
Black beans and squash enchiladas offer a very filling meal that is super high in fiber, protein, and has a wealth of vitamins while remaining low in fat and still staying high in great flavors. As much as I love a traditional chicken enchilada or even a twist on breakfast enchiladas, I was feeling like changing things up. This vegetarian version full of hearty fall vegetables was just as pleasing and perfect for Meatless Monday!
The black bean and squash enchilada can either work as a side dish or as a main course. For me, they are more than enough for a main dish, but if you want to serve them as a side, then I can suggest a few entrees that would accompany it well for lunch or dinner.
Tortilla crusted fish tacos is like a trip to Baja and back and the trip is definitely worth it. If your plan is to stay on the vegetarian side, then I recommend the air fryer buffalo cauliflower tots.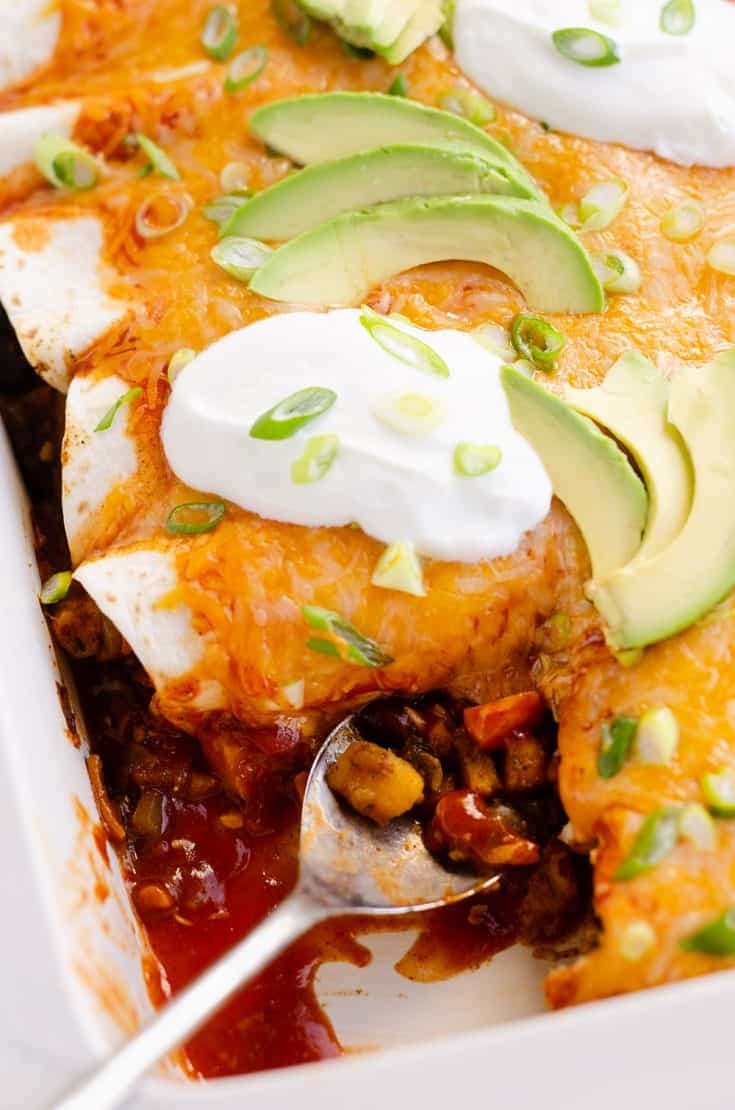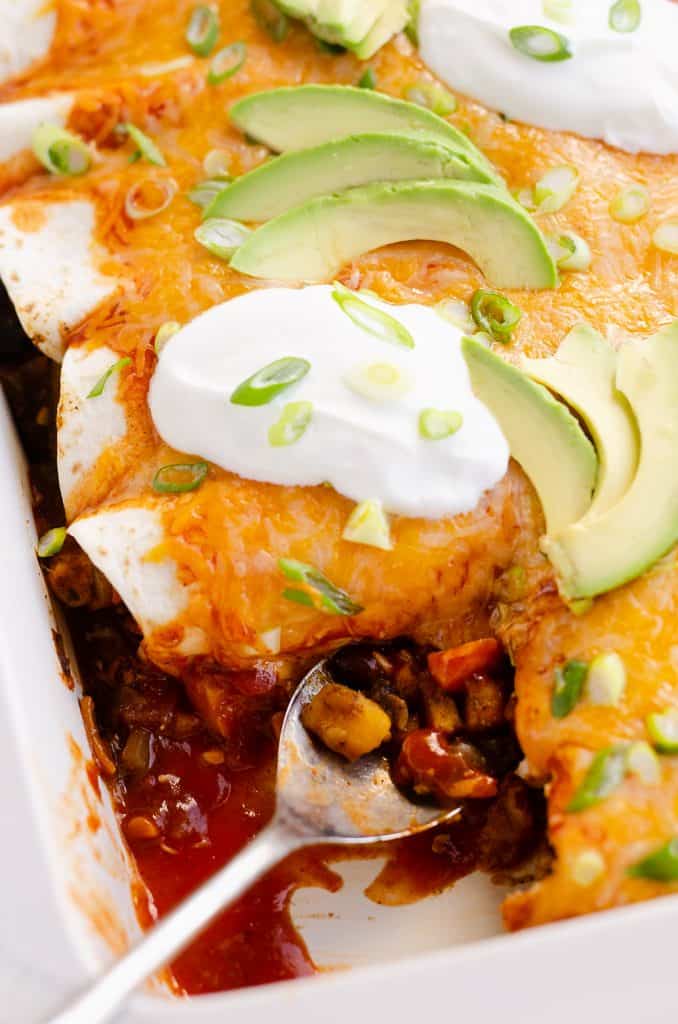 Why are black beans so good for you?
Black beans are a legume and one of the best when it comes to nutritional value. They are full of vitamins, minerals, and fiber. In particular, they are packed with everything you need to build healthy bones including iron, phosphorus, calcium, magnesium, manganese, copper, and zinc.
They also have quercetin and saponins which are shown to be beneficial to the heart. Also good for the heart, they are very low in sodium but super high in calcium, magnesium, and potassium which are all helpful in lowering blood pressure.
Because they are so high in fiber, they are also good for managing blood glucose levels so they have a very practical and important benefit to those with types one and two diabetes.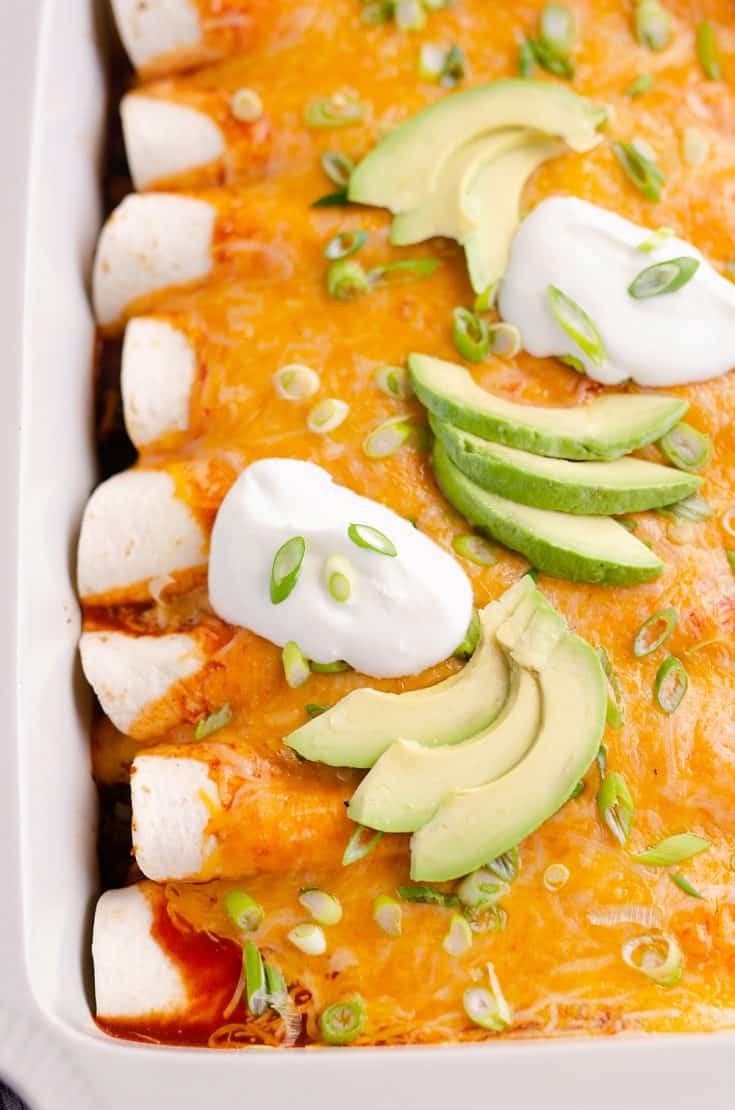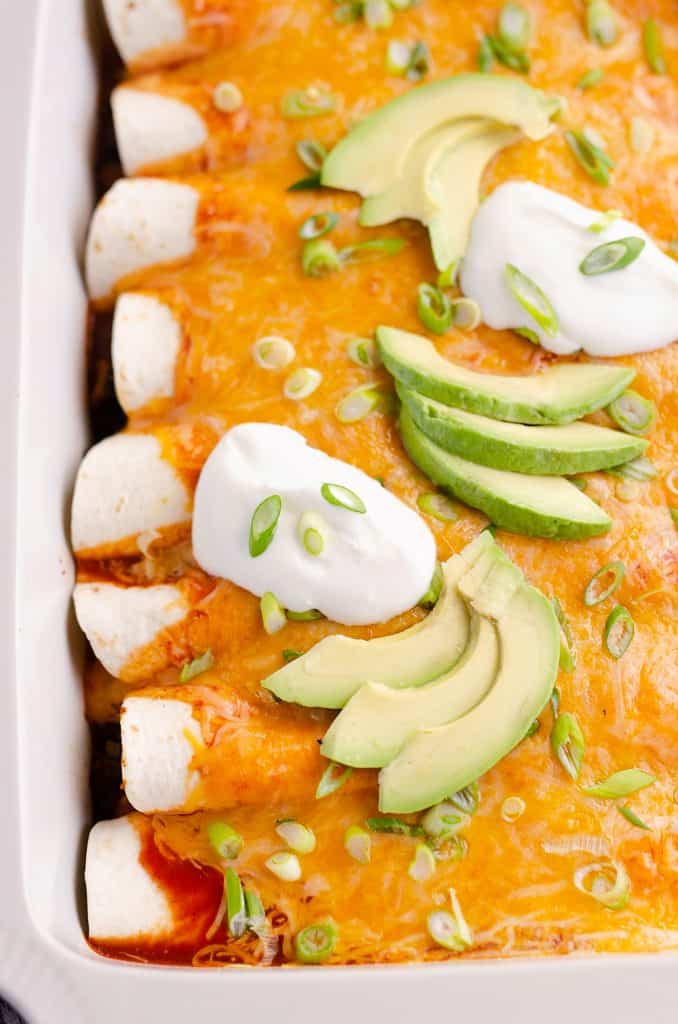 The fiber, potassium, folate, vitamin B6, and phytonutrient content plus lacking cholesterol all are great for the heart too. In fact, the high fiber content even helps lower cholesterol, so black beans can help prevent heart disease.
Vitamin B6 and folate prevent the buildup of a compound known as homocysteine, which is harmful to blood vessels. So it is also a great anti inflammatory and protects you against the effect of LDL cholesterol, otherwise known as "the bad cholesterol". The saponins help lower blood lipid and blood cholesterol levels too.
In short, black beans are on the list of foods that are just amazingly good for you. Eating them on a regular basis is a great idea. There is a reason in some cuisines they are literally served with almost every single meal. I love to sneak them in my chili and chicken soup.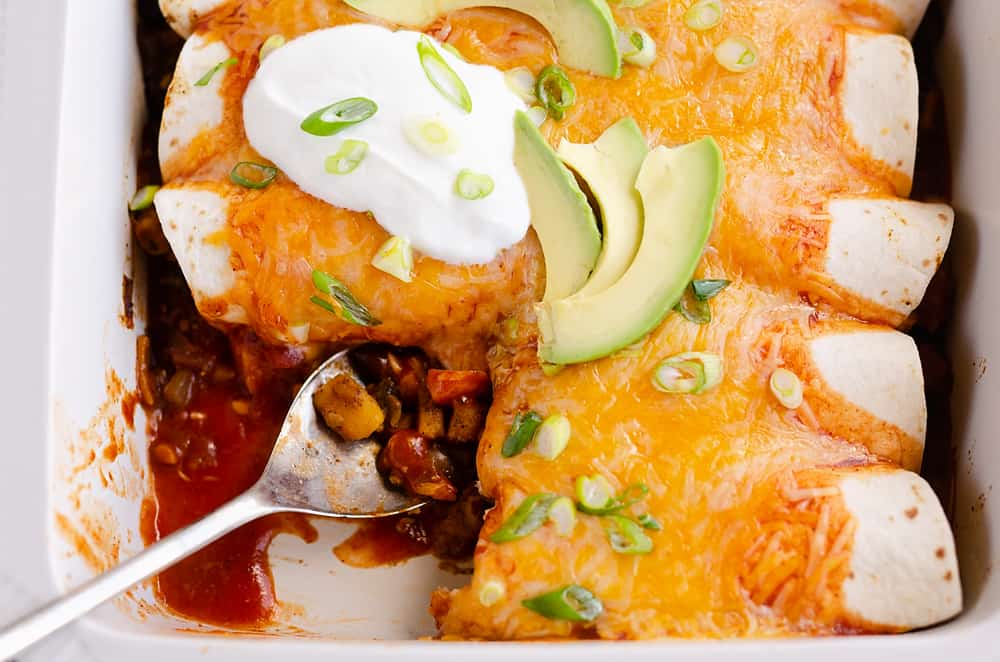 What about squash?
The butternut squash in this recipe is also a great high fiber, high mineral and vitamin super food that also has some protein, tons of vitamin A, C, and B vitamins. A serving of butternut squash actually has more potassium than a banana!
Butternut squash is savory and flavorful, it is a healthy carb and has easy to manage sugars that will not spike your glucose either. So, it is also a food that is particularly great for heart health, and can help manage diabetes issues as well.
Put black beans and squash together and you have a great way to get a very filling comfort food that truly provides all sorts of healthful upsides, and those really should be comforting.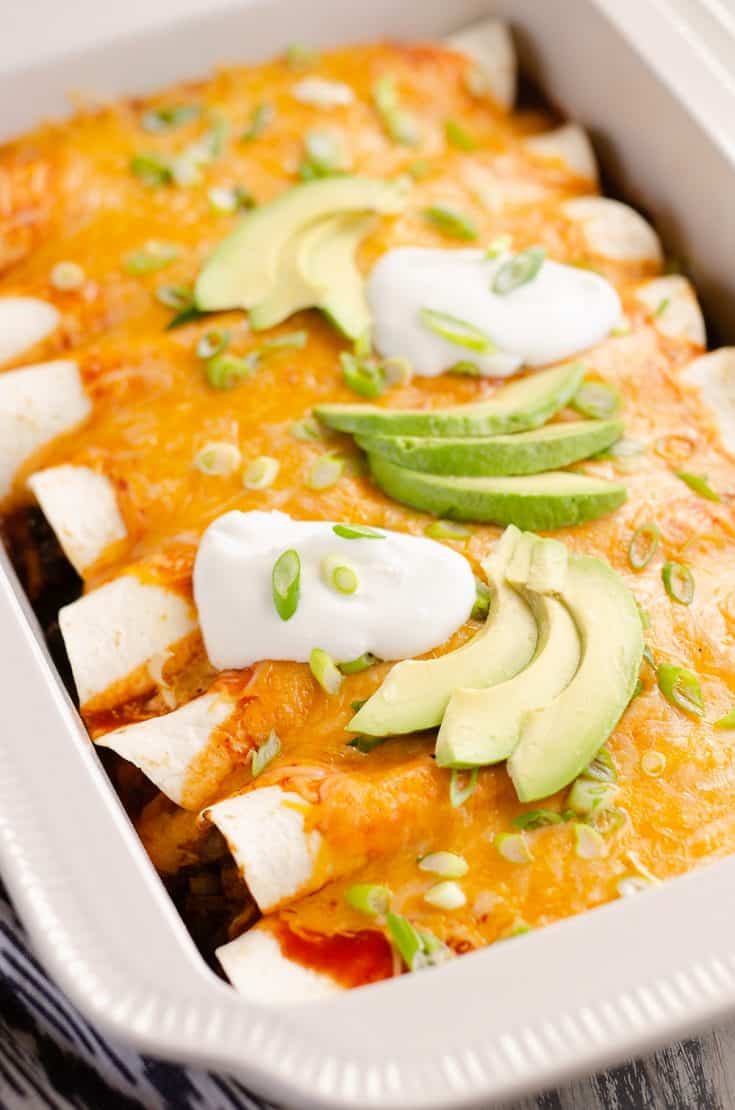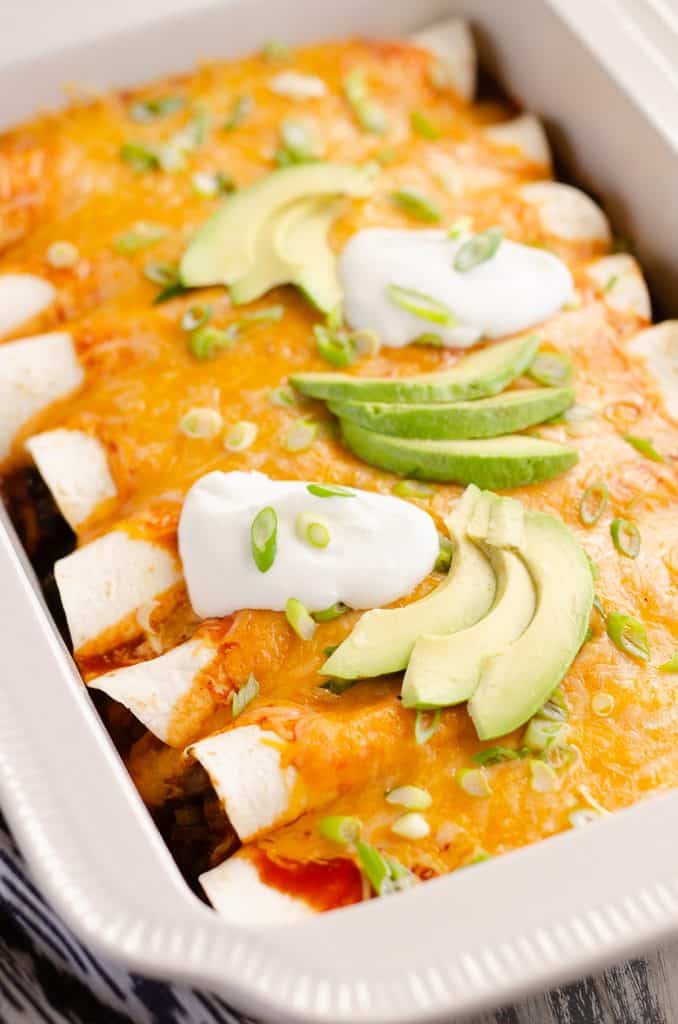 What exactly is an enchilada?
Is an enchilada actually a burrito by another name, or vice versa? Burritos and enchiladas do have a number of similarities. Both hail from Mexico. Both are rolled up tortillas containing a wide range of possible fillings.
However, the differences are distinct as well too. A burrito is a wrap made of flour; whereas, an enchilada has a corn (masa) tortilla wrapper. A burrito may be covered in enchilada sauce from time to time, but an enchilada is always served covered in the chili sauce called "enchilada sauce". The word "enchilada" essentially translates to "decorated in chili".

Are there different kinds of enchilada sauce?
While this recipe calls for red enchilada sauce, there is also green enchilada sauce which is made from those little green tomato looking fruits calls "tomatillos".
You will find the enchilada sauce either in the hispanic food section aisle in the grocery store but sometimes I have seen it on the canned foods aisle close to the various types of canned tomato products like tomato paste, stewed tomatoes, tomato sauce, etc.
If you want, you can also substitute the green enchilada sauce for the red. It tends to be a bit less spicy and it still goes very nicely with black bean and squash enchiladas.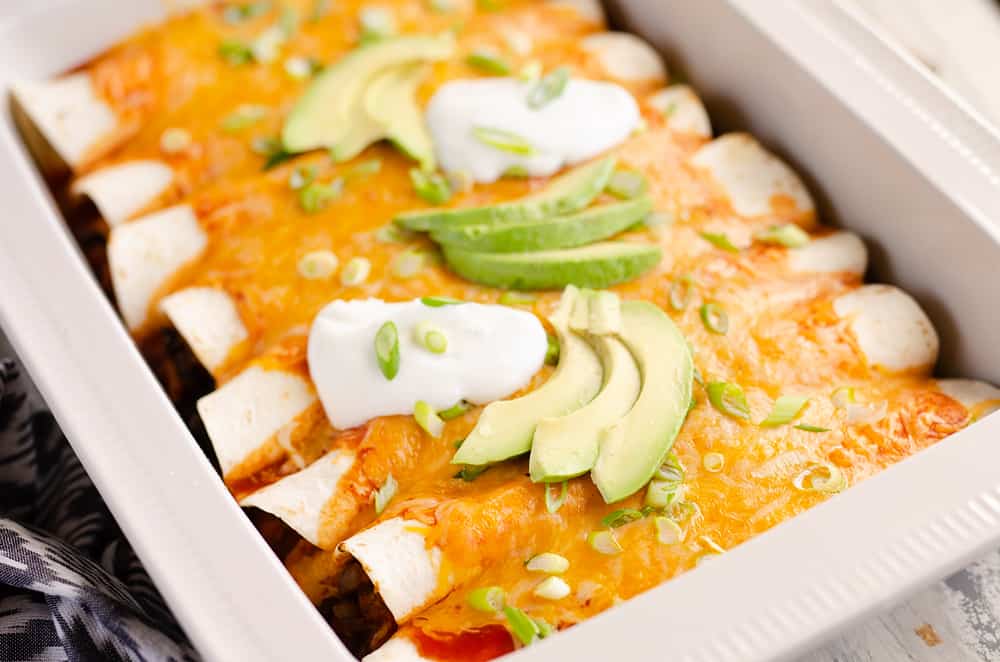 How do I store the leftover bean and squash enchiladas?
This is another dish that actually tastes even better as a leftover so never worry about cooking too much. You can store them in resealable containers in the fridge or the freezer. You are good for about 3 to 5 days storing them in the fridge. In the freezer, you are good for about a month.
You can reheat them in the toaster oven, on a stove top in a shallow pan, or in the microwave. I suggest using the oven or toaster oven because I like to melt a little cheese on top of the leftover portions so it looks like you just cooked it for the first time.
What else could you serve with black bean and squash enchiladas?
Whether you intend for these Black Bean & Squash Vegetarian Enchiladas to be an entree or the appetizer, I have a few options you can run with to make the meal: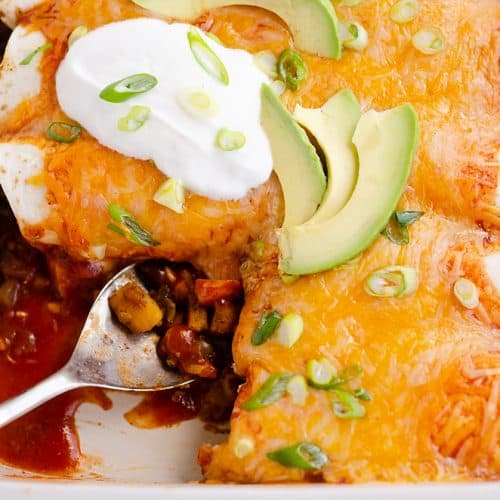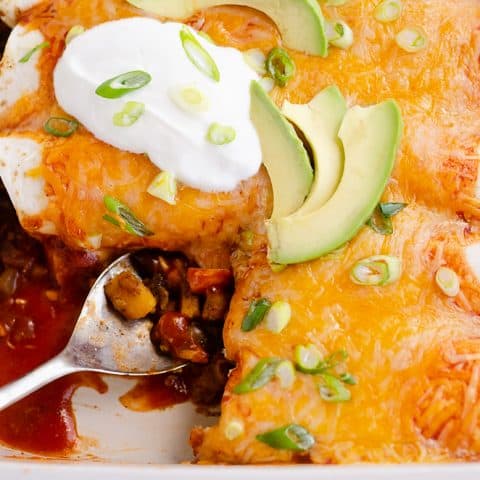 Black Bean & Squash Vegetarian Enchiladas
Black Bean & Squash Vegetarian Enchiladas are a healthy Mexican recipe perfect for a hearty and wholesome 30 minute vegetarian meal.
Ingredients
1 Tbsp. olive oil
1 large yellow onion, diced
1/2 tsp chili powder
1 Tbsp. cumin
1/2 tsp. oregano
2 tsp. diced garlic
2 tsp. paprika
1/4 tsp. salt
1 can Rotel with Lime & Cilantro
2 c. cubed butternut squash, cooked
1 can black beans, rinsed
10 oz. can red enchilada sauce
1 c. shredded Mexican blend cheese
8 10inch tortillas
3 green onions, chopped, sour cream and avocado
2 green onions, diced
1 c. sour cream
1 avocado, sliced
Instructions
Preheat oven to 350°.
Heat olive oil over high heat in a large skillet. Add the diced onion and saute for 2 minutes. Add the spices and cook for another minute or two until they are fragrant. Stir in the Rotel, black beans and squash.
Scoop 2/3 cup of the vegetable mixture into a tortilla and roll up. Repeat with the remaining tortillas.
Arrange the rolled tortillas in a sprayed 9x13 baking dish. Top with enchilada sauce and shredded cheese. Bake at 350° for 10 minutes.
Serve topped with green onions, avocado and sour cream.

Notes
Steam in a bag cubed squash works great for this recipe!
Nutrition Information:
Yield:

6
Serving Size:

1
Amount Per Serving:
Calories:

892
Total Fat:

42g
Saturated Fat:

13g
Trans Fat:

0g
Unsaturated Fat:

25g
Cholesterol:

46mg
Sodium:

2003mg
Carbohydrates:

109g
Fiber:

23g
Sugar:

12g
Protein:

28g
Provided nutrition data is only an estimate. If you are tracking these nutrients for medical purposes, please consult an outside, trusted source.