Mocha Peanut Square Bars are a classic dessert recipe with a piece of spongy homemade angel food cake spread with icing and coated in chopped peanuts. The combination of sweet and salty makes for an amazing treat!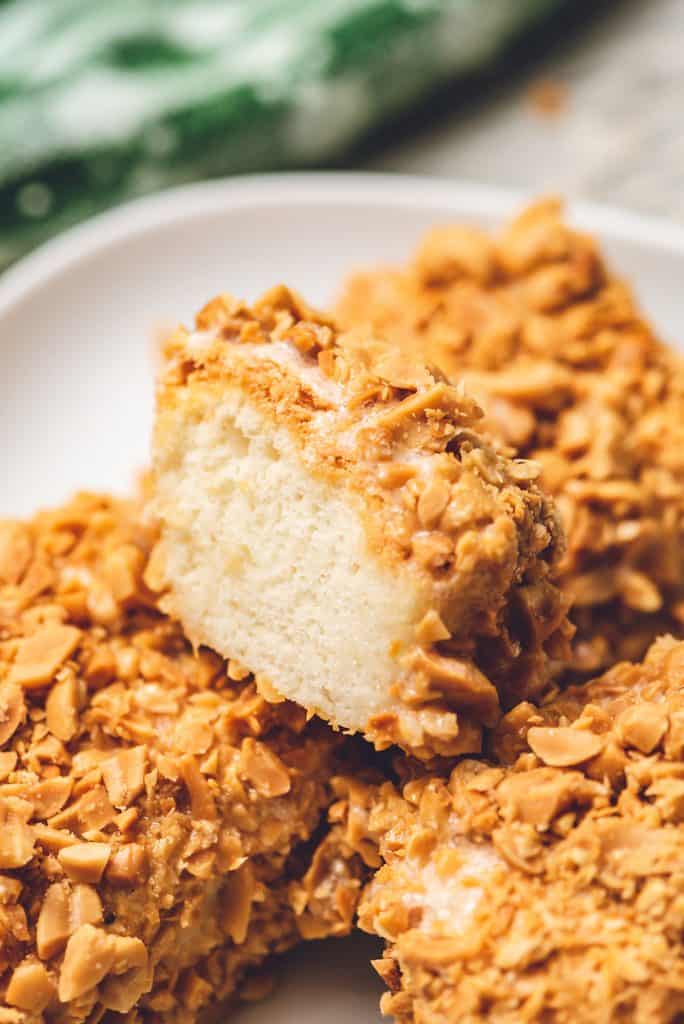 Mocha Bars
We grew up with these Mocha Peanut Square Bars as a special treat on a rare occasion. I think that might be part of the reason they are so beloved. When you only get a special treat like these Mocha Bars on a rare occasion, it makes them all the better when you do get to enjoy them!
The reason we don't get these on a regular basis, is because they do take a little bit more work than your typical dessert like a Caramel Oatmeal Bars or Pumpkin Cake Bars. As any of you who have ever tried these before know, the work is most certainly worth it though.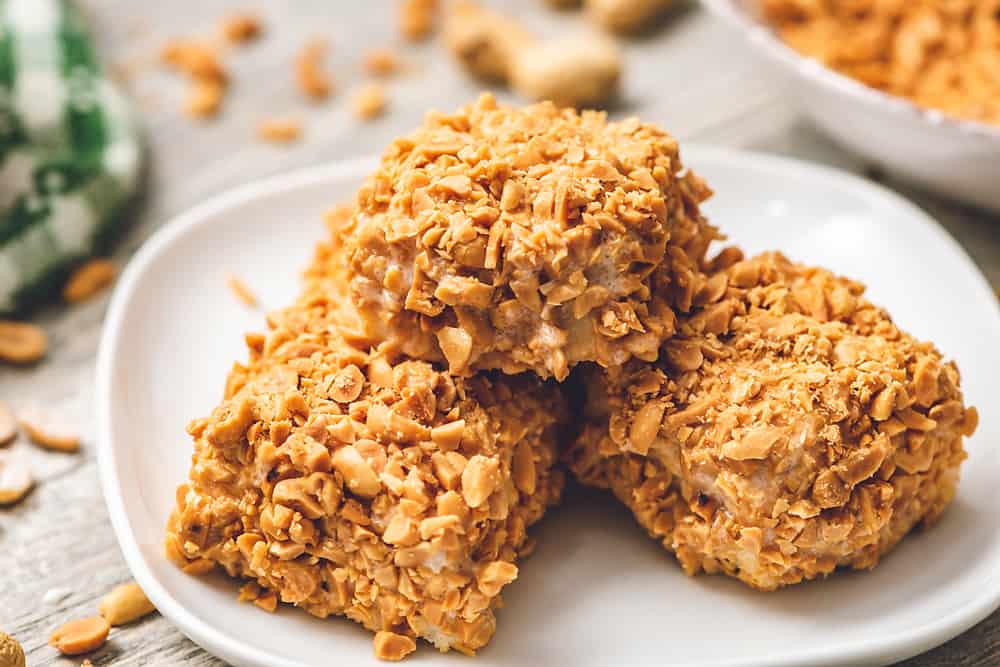 You can often find Mocha Bars in the bakery section of grocery stores, but rarely are they near as good as the homemade version. For those of you local to me, I do suggest you give them at try at Beren's Grocery Store in Milbank, SD. They are one of the best store bought bars I have ever tried!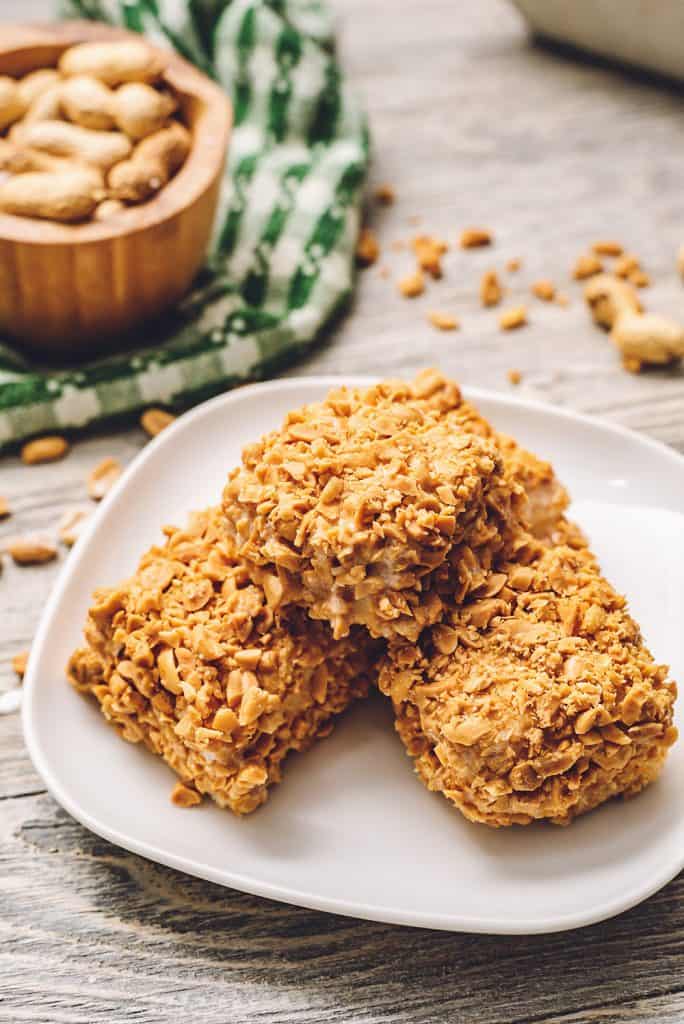 Peanut Squares
Instead of using a regular angle food cake pan, this cake is baked in a 9×13 pan. This allows you to cut out nice even squares to make into bars. I'm honestly not sure why they are called Mocha Bars, but is just what my grandmother always called them. Maybe it's a midwest thing? I see that lots of people these days refer to them as peanut squares.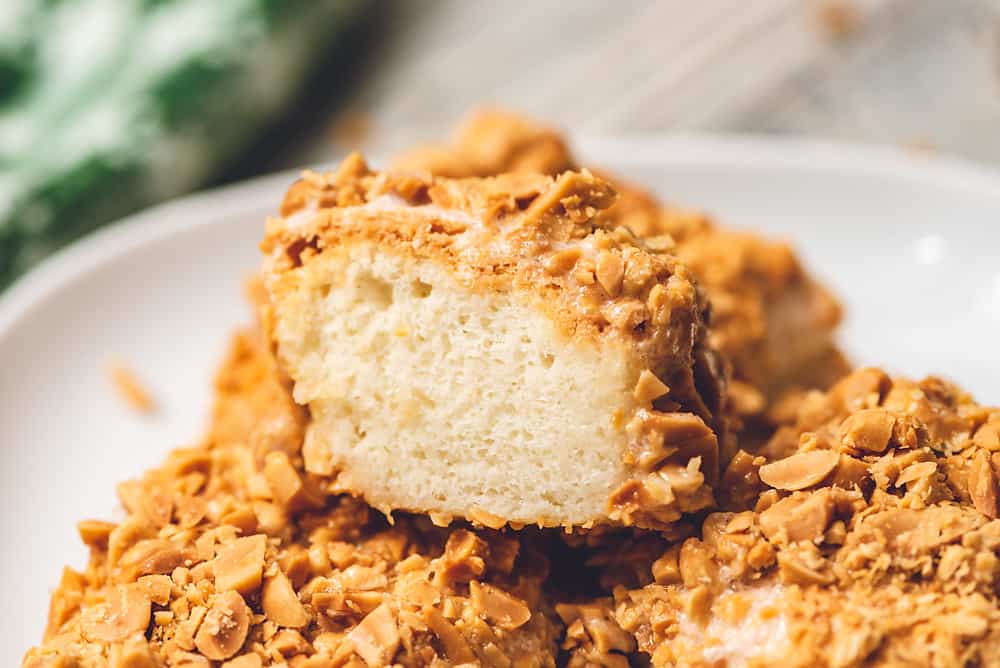 Homemade angel food is denser than the 99 cent box mix version you can get at the store. There is nothing wrong with the box mix, as it is wonderful in it's own right. I actually love it for quick and easy recipes like this Light Berry Angel Food Cake.
For these peanut squares, that cake won't hold up to the icing and peanuts though. A denser homemade cake is required and is the perfect balance to the crunchy peanuts.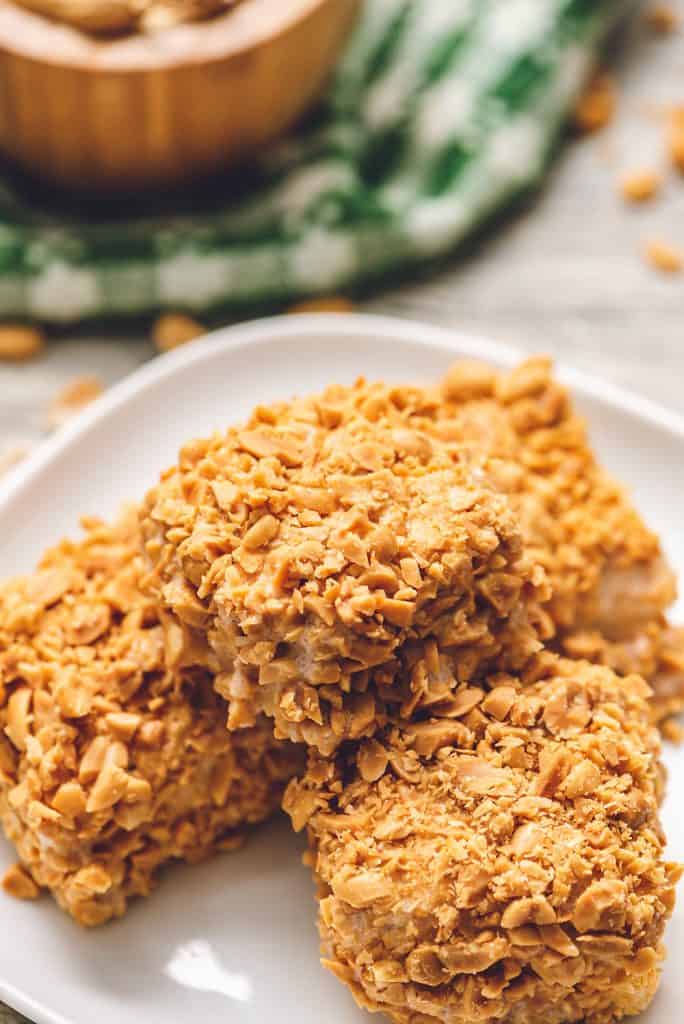 Old Fashioned Peanut Square Recipe
In my opinion, the best dessert recipes are the old fashioned ones from our grandmothers. Whether it is a summer treat like this Marshmallow Peach Icebox Dessert or a Christmas classic like Microwave Peanut Brittle. There is something about enjoying the same go-to recipes during the holidays. This Old Fashioned Peanut Square Recipe is no exception!
That certainly doesn't mean I am going to stop developing new recipes and whipping up fun twists on desserts like this Salted Dark Chocolate Tart!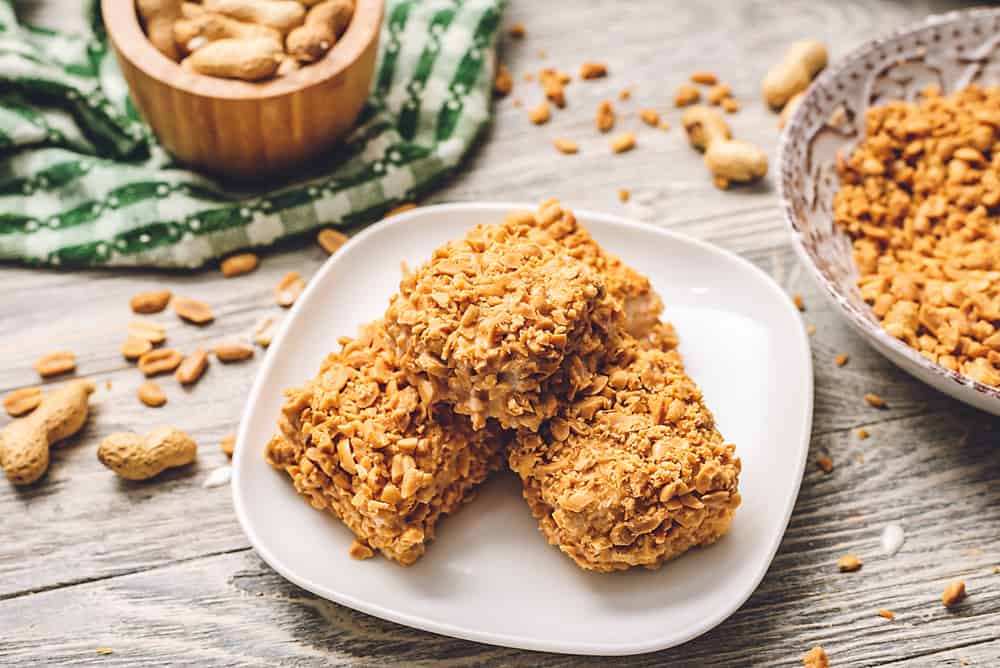 More old fashioned dessert recipes from Grandma!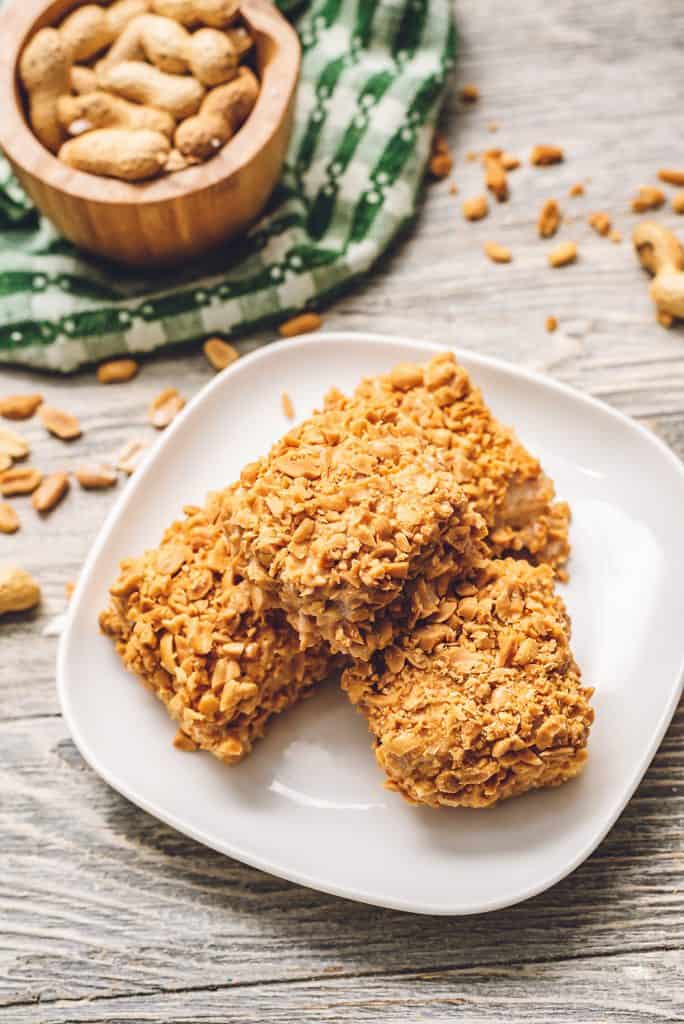 Mocha Peanut Square Bars
Mocha Peanut Square Bars are a classic dessert recipe with a piece of spongy homemade angel food cake spread with icing and coated in chopped peanuts. The combination of sweet and salty makes for an amazing treat!
Ingredients
Cake
1 c. + 2 Tbsp. flour sifted four times
3/4 c. sugar
1 2/3 c. egg whites
1 1/2 tsp cream of tartar
1/2 tsp salt.
1 c. sugar
1 tsp. vanilla extract
1/2 tsp. almond extract
Icing
1 c. shortening
2 tsp. vanilla extract
1/4 tsp. almond extract
2 lbs. powdered sugar
2/3 c. boiling water
Topping
Instructions
Preheat oven to 375°.
Sift the flour into a medium bowl. Add 3/4 c. sugar to the sifted flour and sift again one time.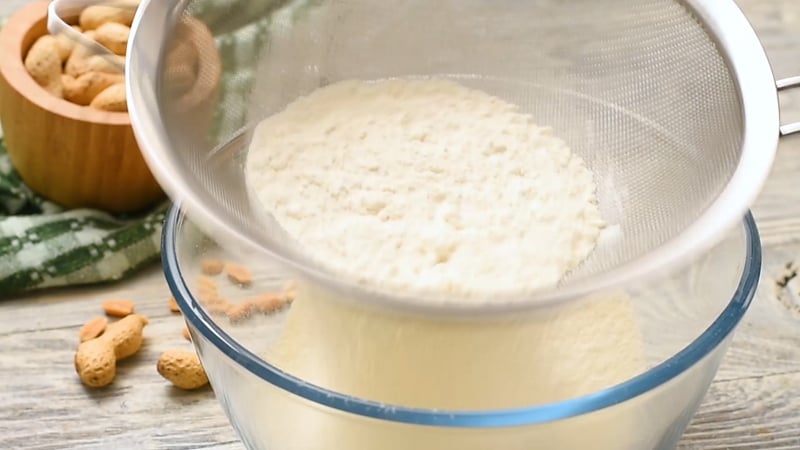 In a separate large bowl, combine egg whites, cream of tartar, and salt. Using an electric mixer, beat until stiff, but not dry.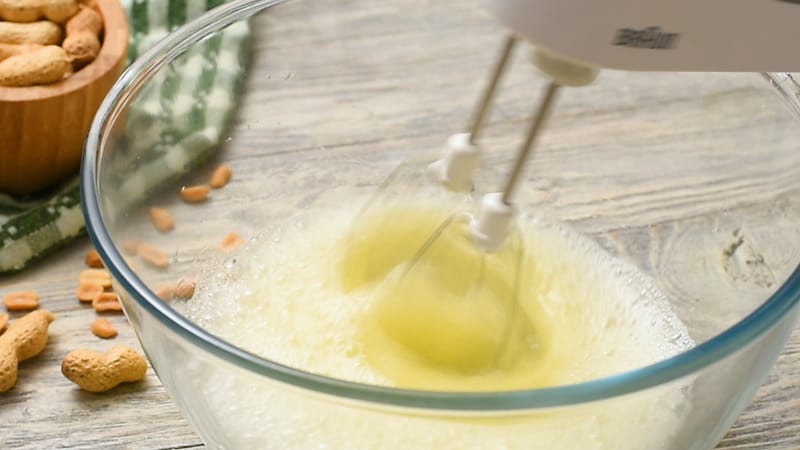 Slowly add 1 c. sugar, mixing well. Add the vanilla and almond extracts.
Add the flour mixture in 4 parts; folding after each addition with a wire whisk.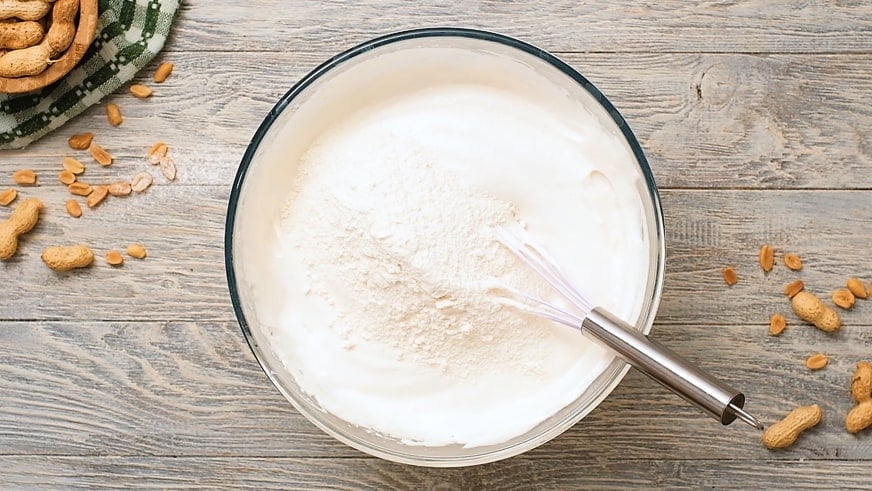 Break any bubbles by slicing a butter knife through the batter. Gently spread the batter into an ungreased 9x13 pan.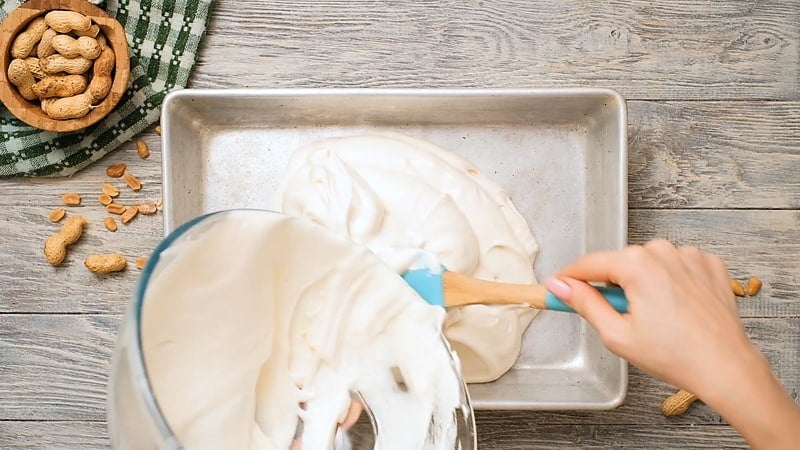 Bake at 375° for 30 minutes. Remove from the oven and allow to cool to room temperature.
In a small bowl, cream the shortening and powdered sugar. Add the vanilla, almond extract and boiling water. Blend well.
Cut Angel food cake into 3"x2"x2" pieces.
Using a pastry knife, coat each square of cake on all sides with frosting. Roll in chopped nuts.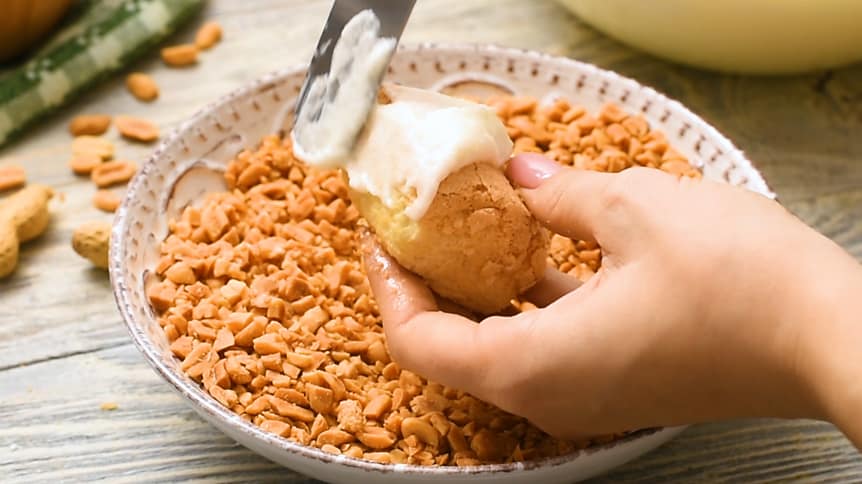 Store bars in an airtight container.
Recommended Products
As an Amazon Associate and member of other affiliate programs, I earn from qualifying purchases.
Nutrition Information:
Yield:

18
Serving Size:

1
Amount Per Serving:
Calories:

483
Total Fat:

19g
Saturated Fat:

6g
Trans Fat:

0g
Unsaturated Fat:

13g
Cholesterol:

6mg
Sodium:

145mg
Carbohydrates:

74g
Net Carbohydrates:

0g
Fiber:

1g
Sugar:

70g
Sugar Alcohols:

0g
Protein:

6g
Provided nutrition data is only an estimate. If you are tracking these nutrients for medical purposes, please consult an outside, trusted source.