Toasted Coconut Straw Hat Cookies are a unique cookie made with an easy sugar cookie and marshmallow coated in a creamy caramel, all finished with toasted coconut. This family Christmas cookie recipe adds a fun and delicious variety to your dessert table or holiday spread!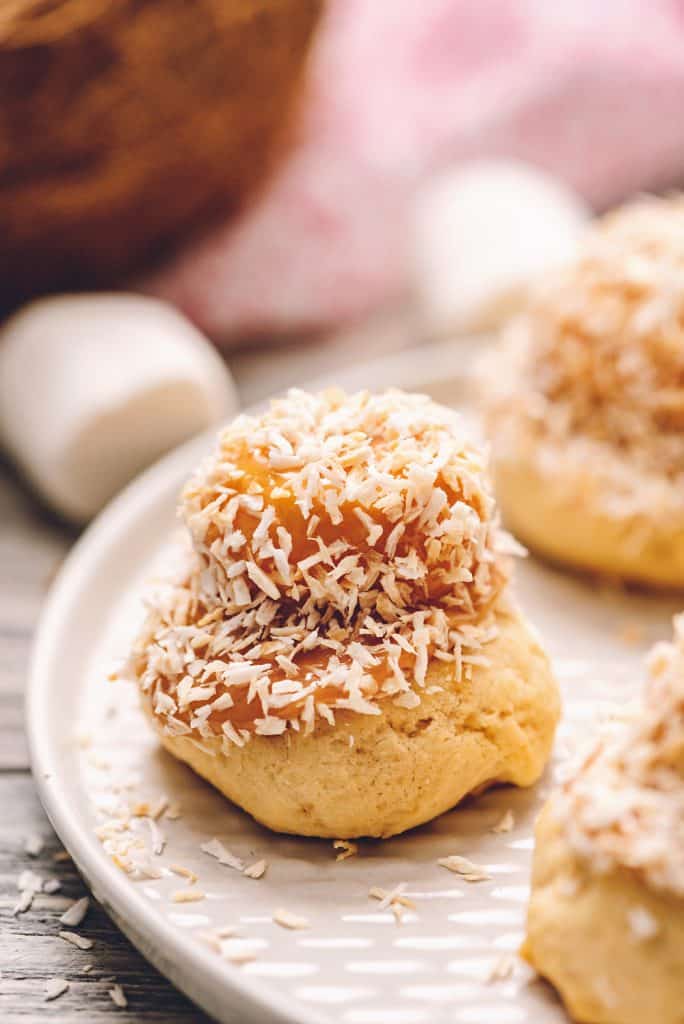 Toasted Coconut Cookies
These Toasted Coconut Cookies, known as Straw Hats by our family have been at every Christmas for as long as I can remember. It is a family recipe that has been passed down from my grandmother and always makes its presence on our holiday cookie platter along with our Sour Cream Cut Out Cookies, Walnut Thumbprint Cookies, Peanut Butter Blossoms, Microwave Peanut Brittle and homemade caramels.
Every family has their unique combination of recipes they serve at the holidays and that just so happens to be ours. It has been the same cookie recipes for as long as I can remember! We have literally never added a new recipe to our holiday rotation at my mom's house. She is a stubborn German who isn't a big fan of change. 😉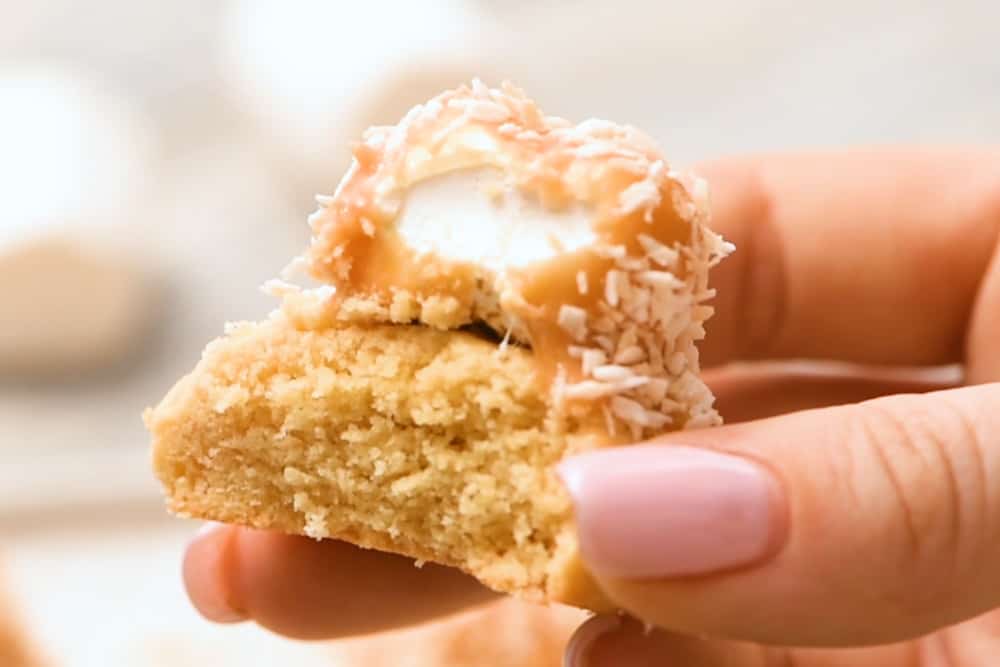 Unique Christmas Cookies
Most of those cookie recipes are pretty common among families, perhaps with their own spin. What I didn't realize until I was writing up this recipe for all of you is that these Toasted Coconut Cookies are actually a very unique Christmas cookie!
I searched high and low on the internet to try and find if they have been shared before and I could only come across one old picture of a newspaper clipping sharing the recipe.
That's insane to me! In this day in age, it sometimes feels like there are never any unique recipes on the internet anymore, so the fact that this family Christmas cookie isn't out there blows my mind a little.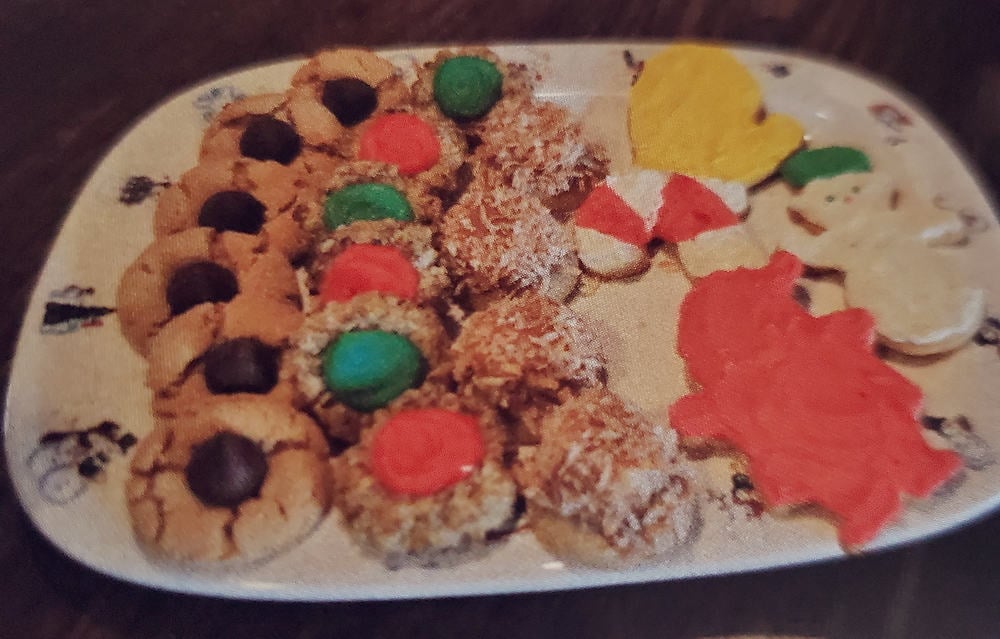 Best Holiday Cookies
I ran across this old family photo from the 90's of our Christmas cookie platter. It's kind of hilarious that my Mom still has the same platter and serves the cookies the exact same way at Christmas to this very day. But when they are the best Holiday Cookies, can you really blame her?!
I'm sure this unique Christmas cookie recipe exists in church cookbooks, where recipes get passed down generations and shared among friends, but I'm excited to be able to share it on a broader scale with all of you!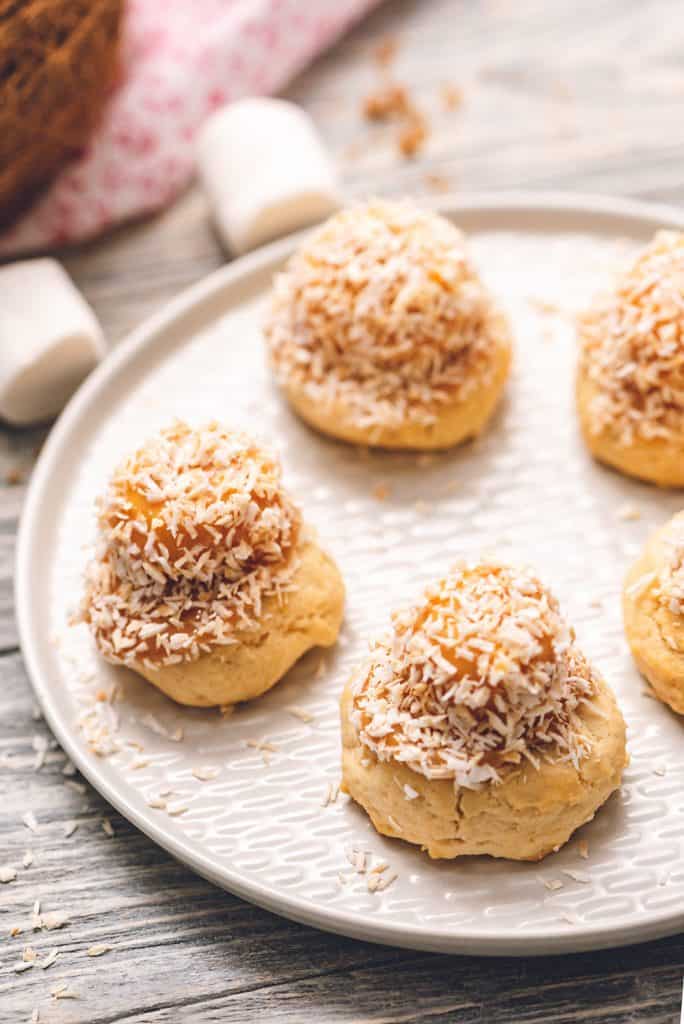 Coconut Marshmallow Cookies
I love the combination of the light and fluffy marshmallow with the rich caramel and crunchy toasted coconut in these Coconut Marshmallow Cookies.
I have found over the years that coconut seems to be a love or hate kind of food with people. If you have some coconut haters in your family, you could roll a few of the cookies in Rice Kripies instead. This would probably be a more kid friendly option as well.
If you are a coconut lover myself, be sure to try these Coconut Macadamia Bites. They are another unique candy recipe that is decadent and delicious!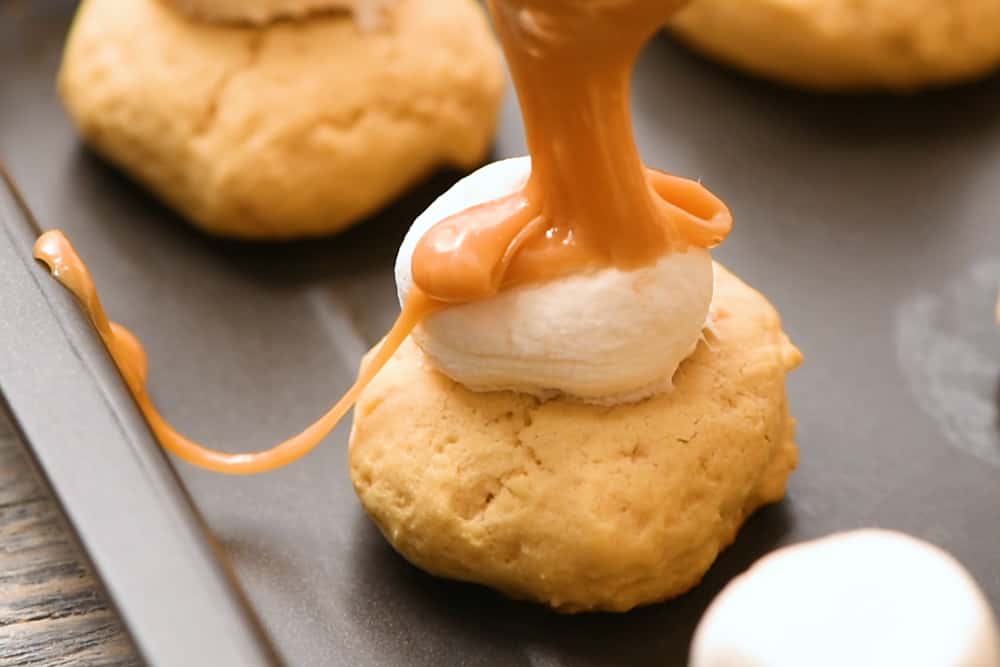 Tips and Tricks when making Coconut Marshmallow Cookies
A little tip for cutting marshmallows is using a kitchen scissors and wetting it. You can slice them on a cutting board the traditional way, but my Mom always had us dip a pair of clean scissors in a glass of water before cutting each marshmallow. This prevented the scissors from becoming full of sticky marshmallow mess.
It is also important to press the dropped cookies down flat before baking. You can use your greased fingers or the back of an oiled spoon to do the job. If you don't press them down they will bake into more of a ball shape and not work well for pressing the sliced marshmallow onto them.
When the cookies come out of the oven be sure to press the marshmallows onto them right away. This helps melt the marshmallow just a little bit and fuse it to the cookie.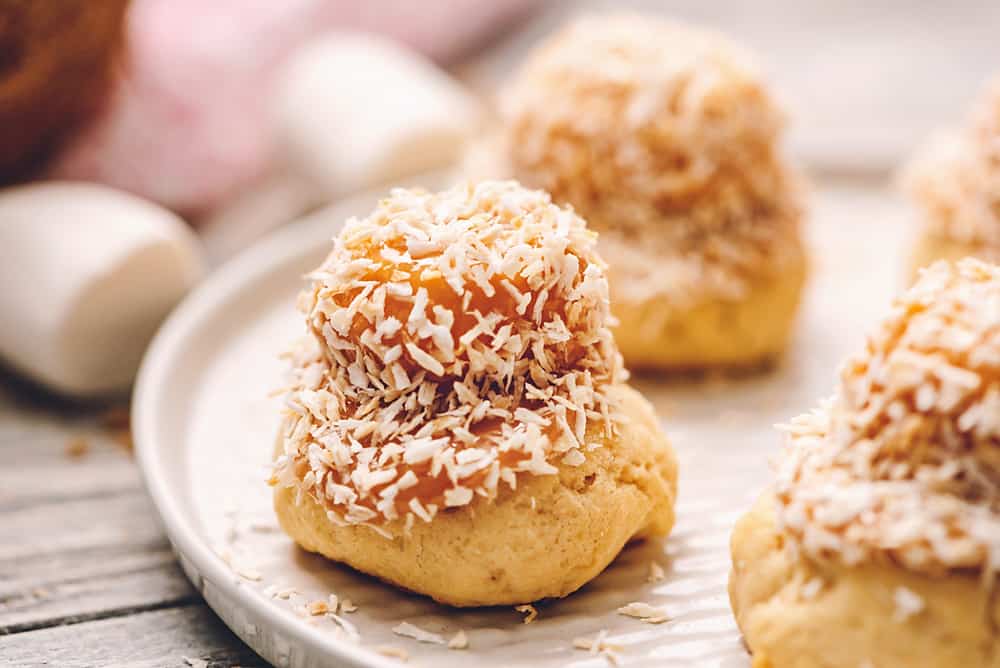 Coconut Cookies Recipe
Most members of my family have a favorite on that Christmas dessert platter and that is probably why my Mom keeps making all of the same ones as well. My sister is all about the Peanut Blossoms, I am obsessed with the Sour Cream Cutout Cookies and my brother's favorite has always been these Coconut Cookies Recipe.
Don't get me wrong, we love them all, but it's funny how each person gravitates to the same cookies each year!
Does your family have a unique cookies recipe that you have never seen shared at potlucks or online? I'd love to hear what it is!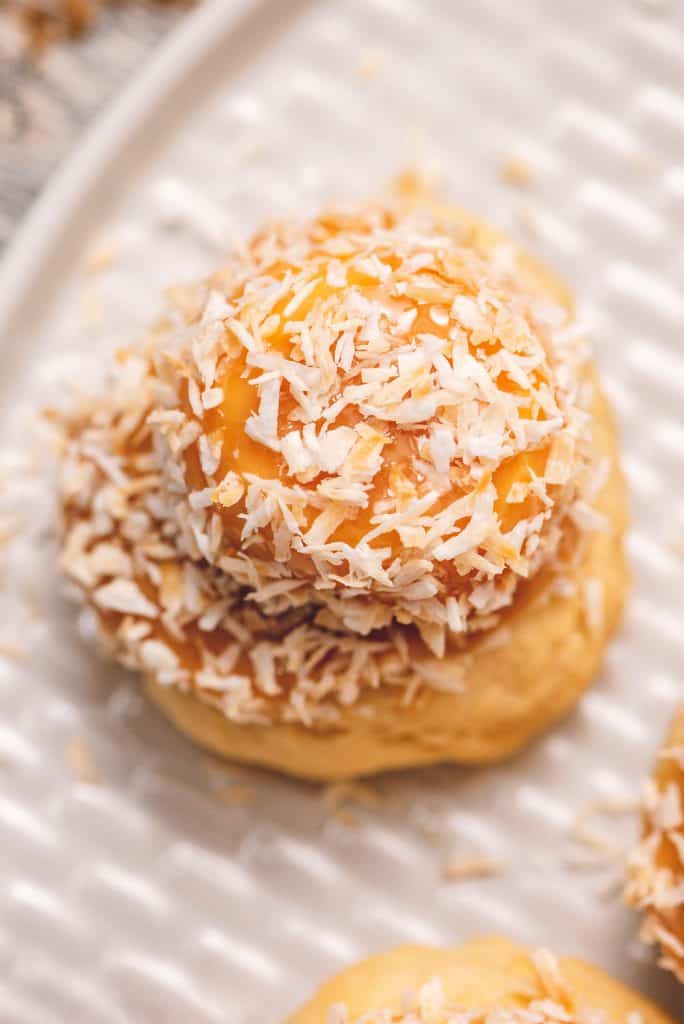 More unique and different types of cookies and treats,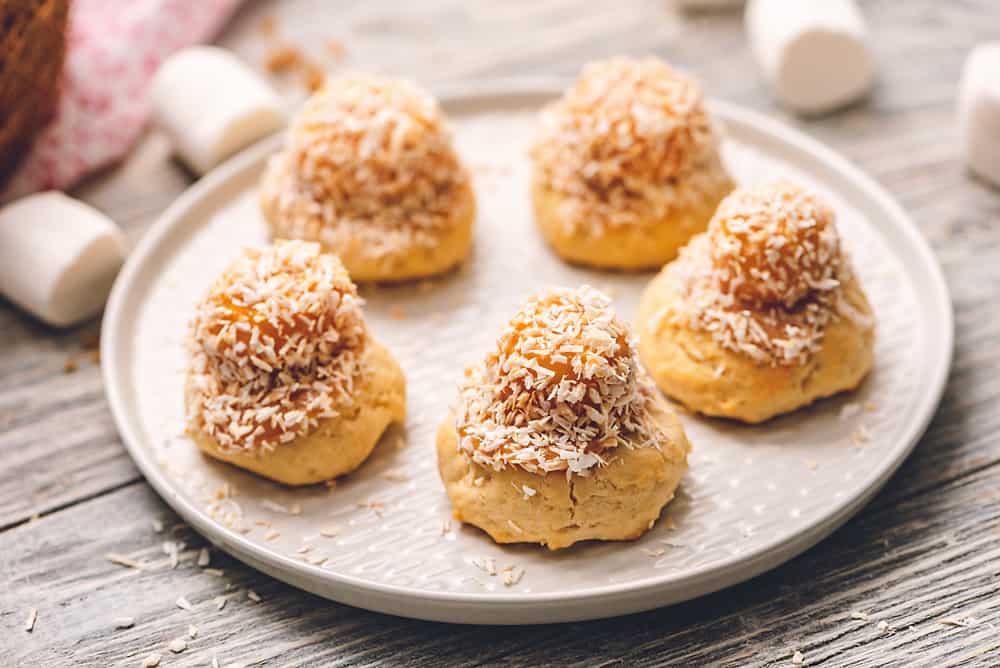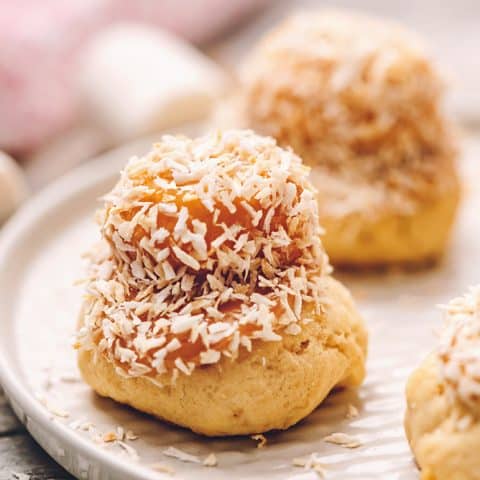 Toasted Coconut Straw Hat Cookies
Toasted Coconut Straw Hat Cookies are a unique cookie made with an easy sugar cookie and marshmallow coated in a creamy caramel, all finished with toasted coconut. This family Christmas cookie recipe adds a fun and delicious variety to your dessert table or holiday spread!
Ingredients
Cookie
1 1/4 c. all purpose flour
1/2 tsp. baking powder
1/4 tsp. salt
1/2 c. butter
1/3 c. brown sugar
1 egg
1/2 tsp. vanilla
Toppings
2 Tbsp. cream
1 c. shredded coconut
16 large marshmallows
Instructions
Preheat oven to 375°.
Sift the flour, baking powder, and salt into a small bowl.
Cream the butter and brown sugar in a separate large bowl. Mix in the egg and vanilla.
Mix in the sifted dry ingredients just until well combined.
Drop the cookie dough by small teaspoonfuls on a greased cookie sheet. Flatten slightly using your greased fingers or the back of a spoon.
Bake at 375° for 7 to 10 minutes or until just lightly golden around the edges.
Meanwhile, cut 16 marshmallows in half width wise.
Place the cut side down marshmallows on the hot cookies, (so it looks like a mini hat). Allow to cool.
Meanwhile, add the coconut to a shallow pan and bake for 5 minutes at 375° or until it is golden brown. Remove from the oven and set aside.
Melt 25 caramels with 2 Tbsp. cream in a double boiler, stirring frequently until smooth.
When the cookies are cooled, spread the caramel mixture quickly over the marshmallow part of the cookie.
Immediately roll the caramel covered portion in the toasted coconut to coat it well.
If the caramel mixture becomes stiff, thin with the addition of a little cream.
Allow the finished cookies to cool to room temperature and store in a sealed container.
Recommended Products
As an Amazon Associate and member of other affiliate programs, I earn from qualifying purchases.
Nutrition Information:
Yield:

32
Serving Size:

1 cookie
Amount Per Serving:
Calories:

140
Total Fat:

11g
Saturated Fat:

8g
Trans Fat:

1g
Cholesterol:

15mg
Sodium:

43mg
Carbohydrates:

10g
Fiber:

0g
Sugar:

5g
Protein:

1g