Glazed Apple Pie Bars are a sheet pan dessert made with a flaky homemade crust and sweet glaze. A square of this apple slab pie is absolutely delicious and the perfect dessert for a crowd!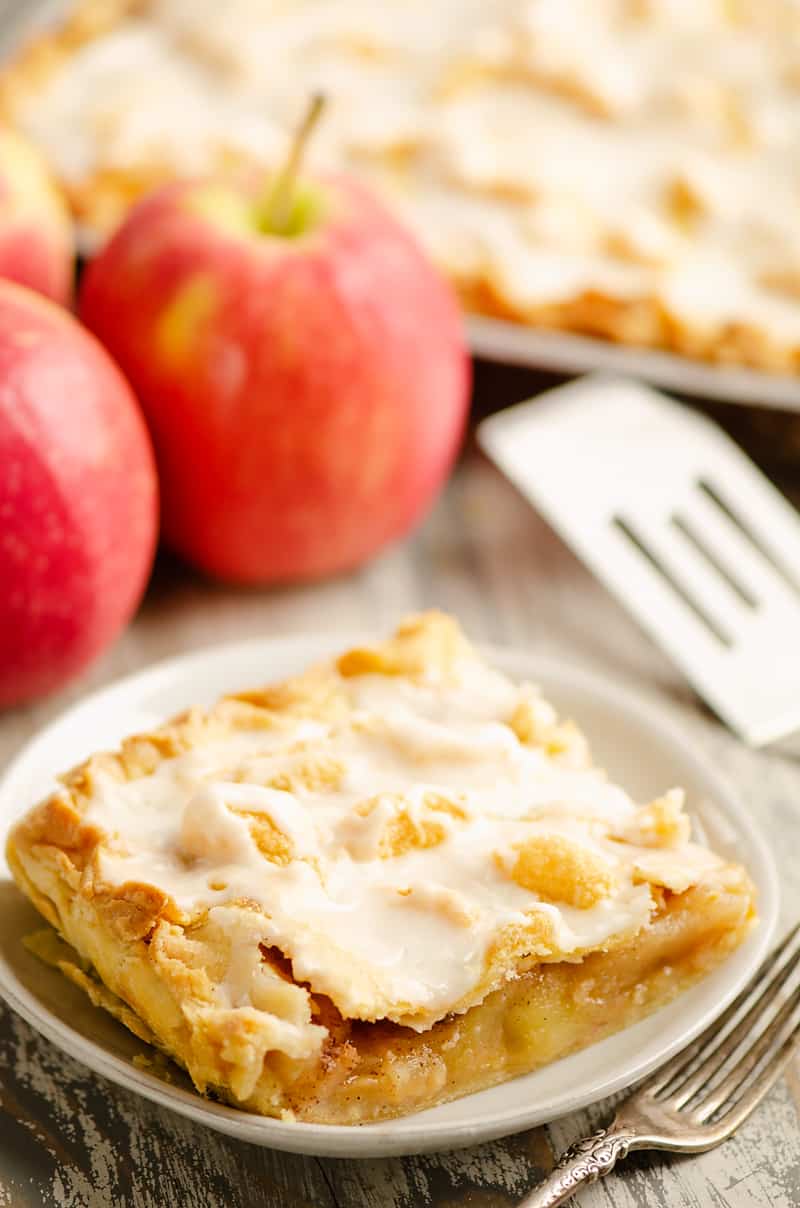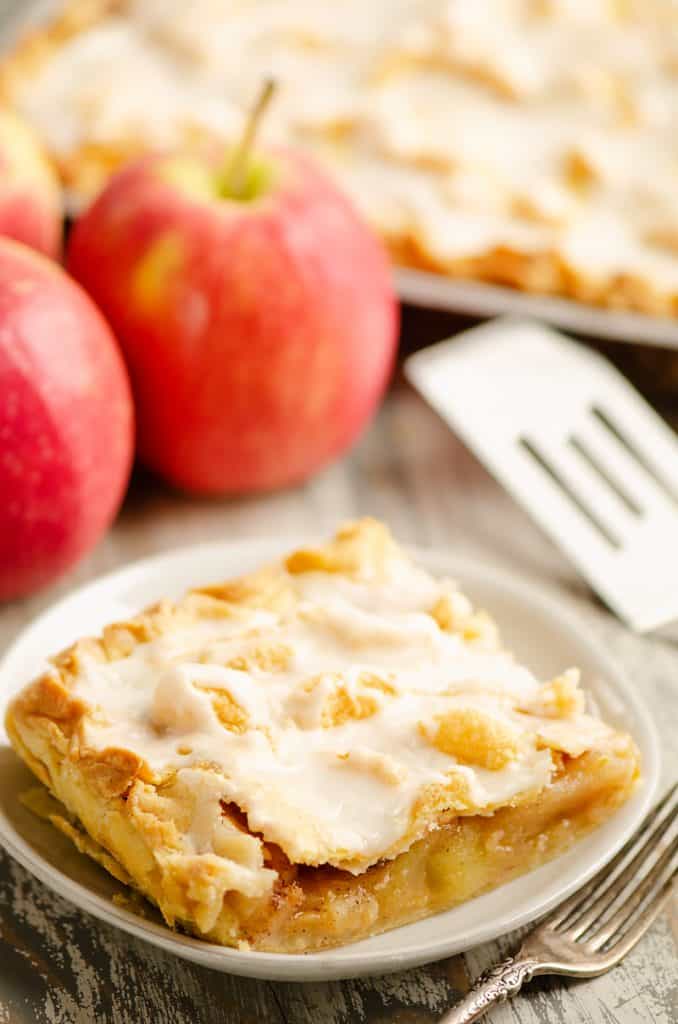 A sweet recipe for glazed apple pie bars
Glazed apple pie bars make an excellent treat or dessert for a large crowd! Apple pie bars benefit from the crunchy corn flake style cereal that forms a crust under the sweet cinnamon covered layer of apples in between. Its the perfect bite of apple pie in the form of a bar that is perfect for a potluck or holiday meal.
Apple pie bars with cornflakes are affordable to make and fun to eat. It is like an apple pie you can eat with your hands!
Glazed fruit pie bars, also known as apple slabs, are one of my favorite fall desserts to make with all of the apples on my tree. This year I have a particularly bountiful crop of apples on my tree and will be making all sorts of sweet and savory apple recipes!
If you love pie in the form of bars as much as I do, be sure to check out the strawberry pie bar recipe and the lemon cheesecake pie bars. These of course take advantage of fresh summer and fall fruit produce.
So what type of apple works best to bake into glazed apple bars?
The best apples for baking are the types of apples that still hold a bit of texture upon being cooked. However, over cooking any variety of apple will eventually make it mushy. But if you start with an apple that is crisp and has a certain amount of crunch to it then you are already better off.
I adore the apples from my tree, but sadly I don't know what variety they are. They are crisp and have a good amount of tart flavor to balance the sweetness. If I am buying apples at the store, I like to use the following: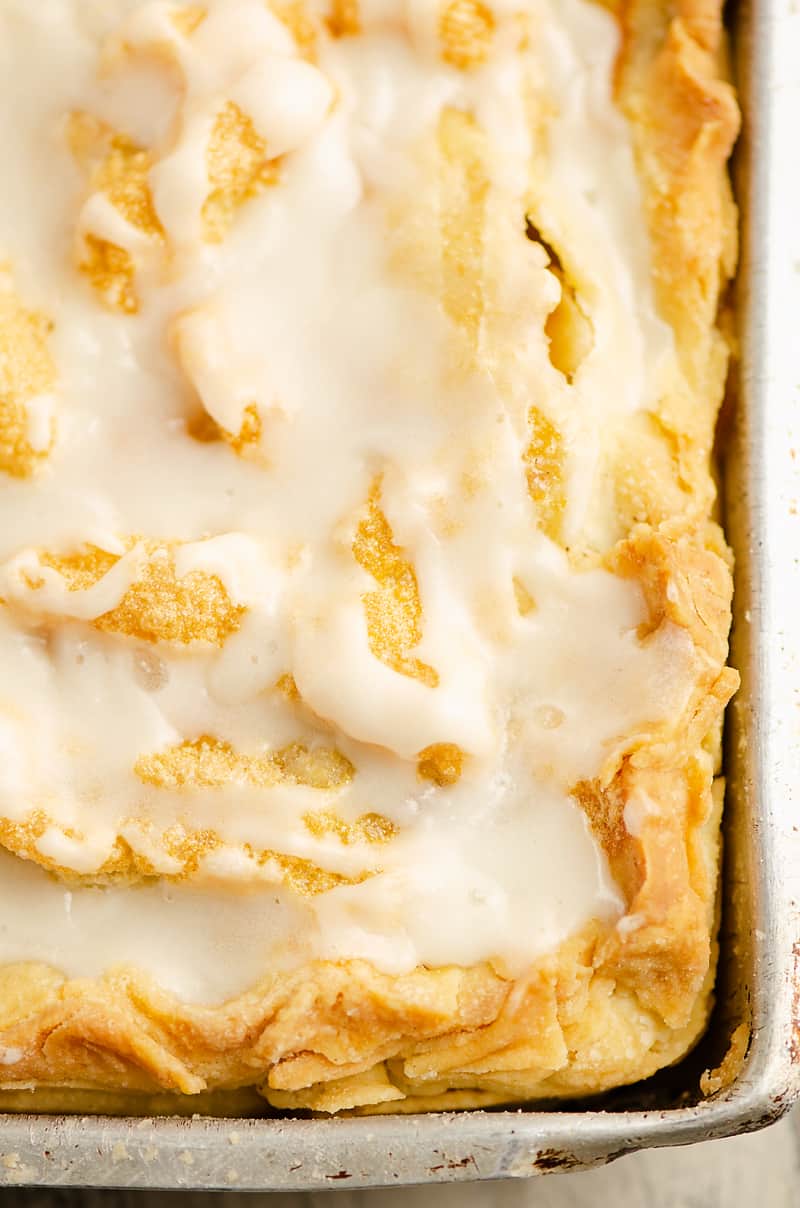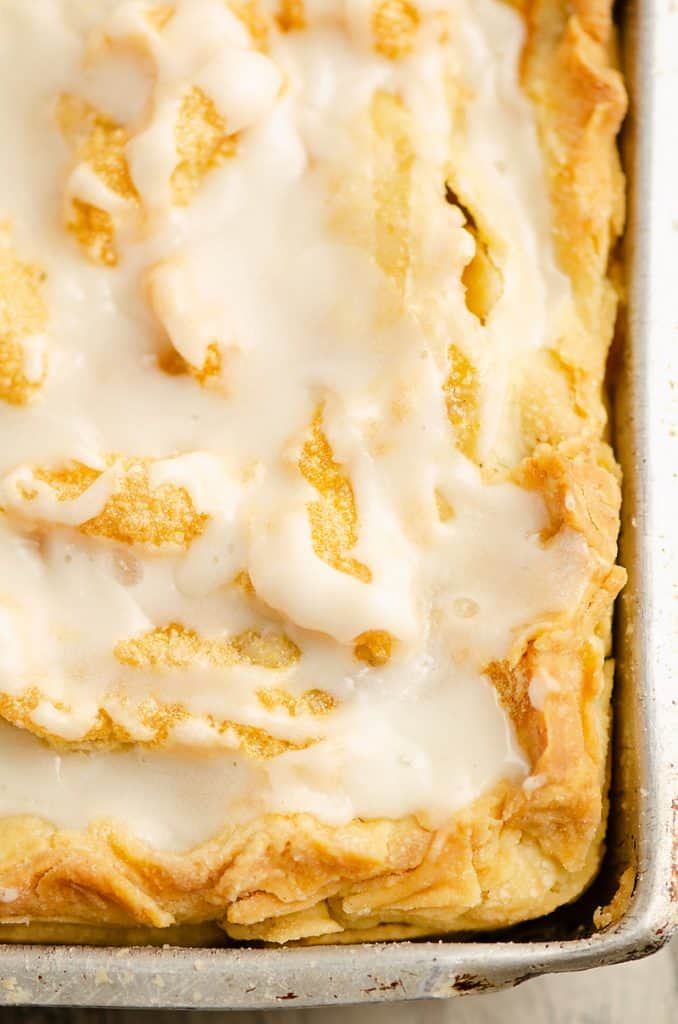 Best Baking Apples
Granny Smith – the tartness, the sweetness, the crispness are all aligned in your typical granny smith apple. They hold up well during baking and the tartness goes really well with the cinnamon in this recipe. I think this is probably my favorite apple for baking just because it is usually easy to find and has a lot of flavor.
Honey Crisp – like the granny smith, honey smith apples also hold together well under baking. They have an amazing flavor too. It is not tart like the granny smith is, but it has a sort of melon sweetness about it that works really well too. I sometimes have a hard time finding them since they tend to be more seasonal, but when they are available I like to get some. They keep well and make a great snack as is too.
Braeburn apples – the braeburn is the essence of apple. It really delivers the sweet clean taste of apple. I am pretty sure when they say "an apple a day keeps the doctor away" that the braeburn apple is the one they are referring too. It is like the flavor of good health. It also has plenty of crunch to it and holds up really well to baking too. Braeburns are pretty easy to find as well.
Pink lady – the pink lady is another apple you don't necessarily see every day unless you live in apple country or have really good farmer's markets to go to. It also has an intense apple sweetness like the braeburn and honey crisp and it works ideally for baking too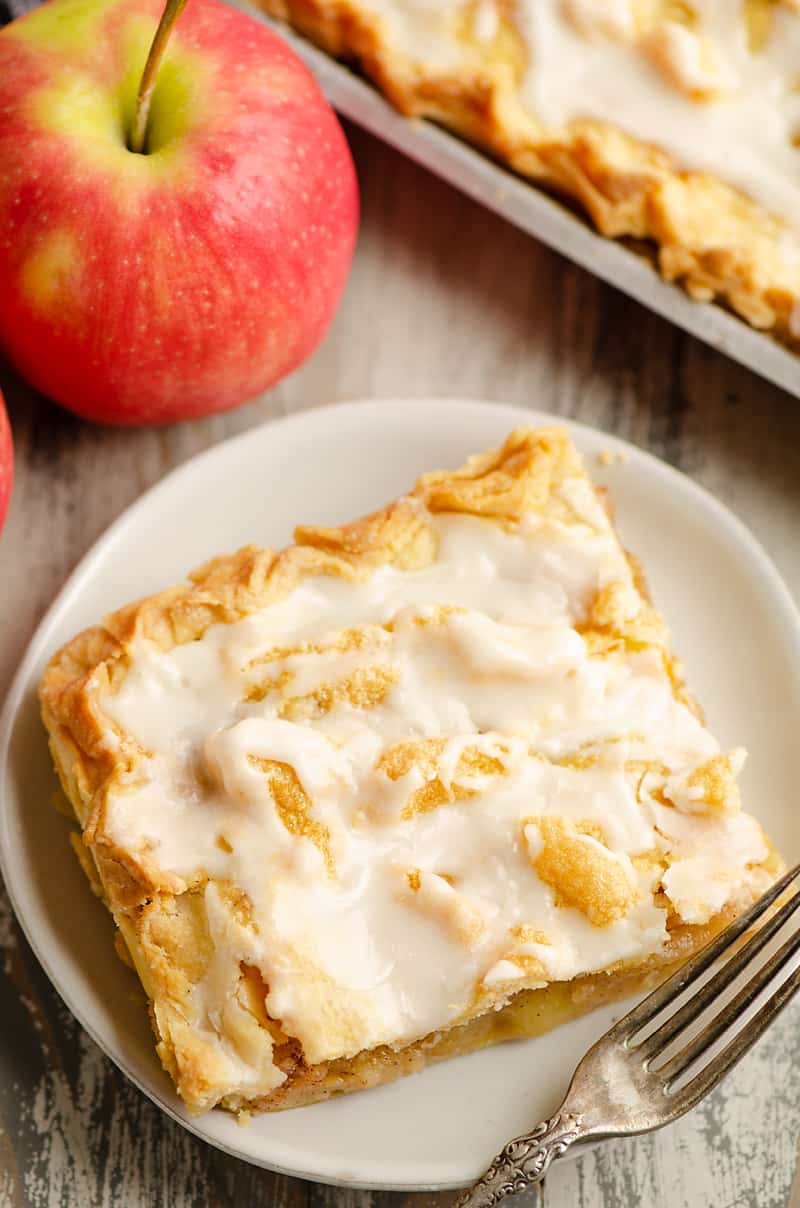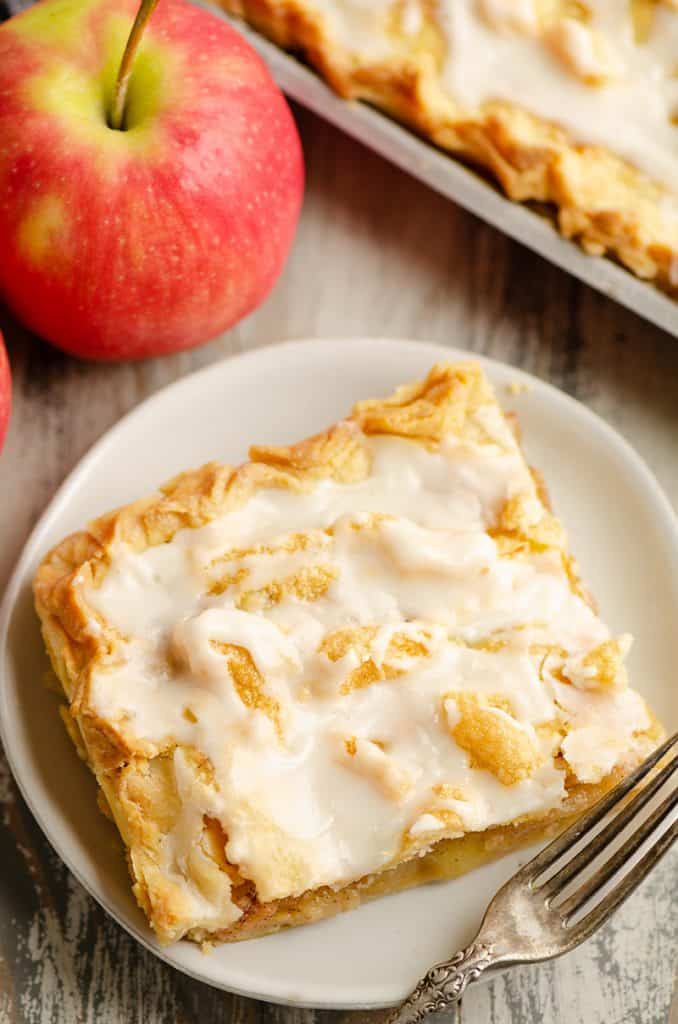 What if I can't find any of the apples you just listed?
Of course, there is always a chance that you may not be able to find any of the apples I just listed. Don't despair! Truly, any apple will work. You can even use frozen apple slices that you would find in the freezer section by other bags of frozen fruit like strawberries, blueberries, etc.
If all you can find are the ever popular red or golden delicious apples, then make sure to pick the ones that feel the most hard and dense. If they are too ripe, then they will have just a bit of softness to them.
Don't squeeze them too hard though. You don't want the grocery clerk coming over and accusing you of bruising the fruit. One, that is embarrassing. Two, no need to ruin the fruit for the next person that might want it just the way it is!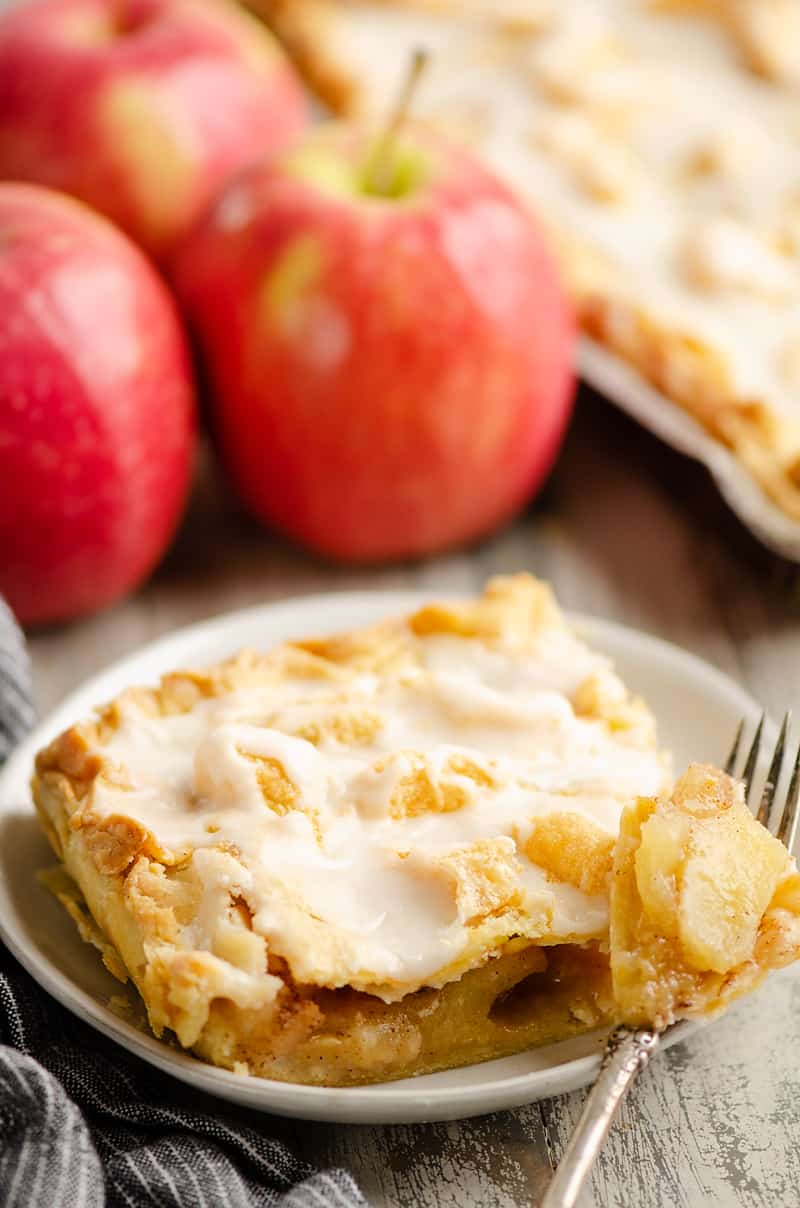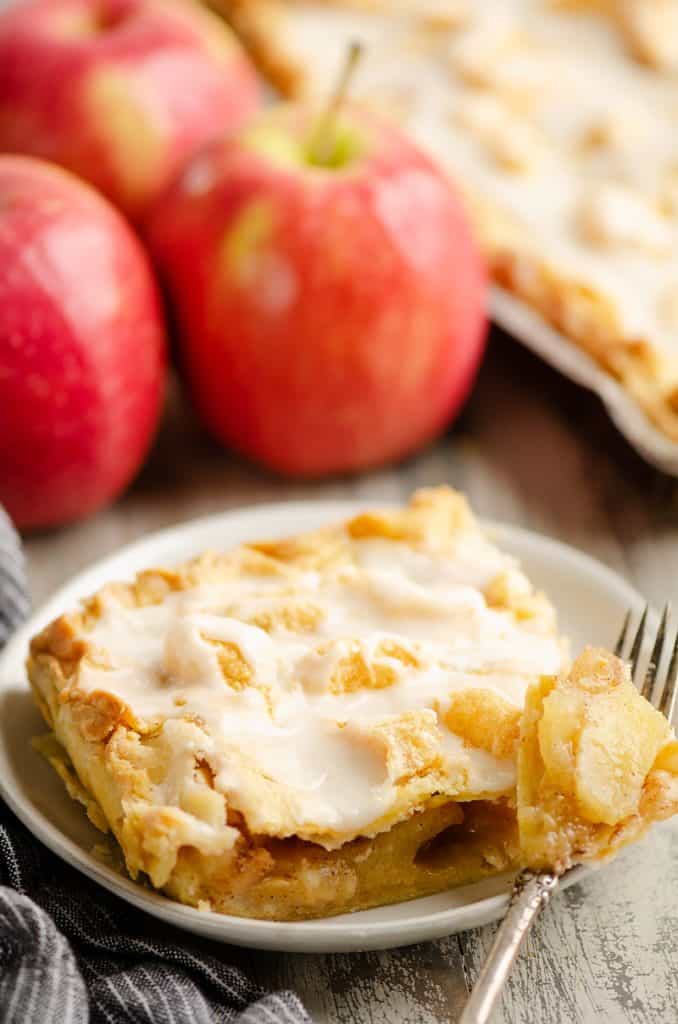 How thick do I make the apple slices?
Here is where having the right apples for baking makes a big difference. You want to slice the apples thickly enough that they bake and still retain a bit of texture and shape. With apples that are particularly crispy, or just a bit under ripe and therefore more crispy, you want to slice the apples so they are about a ¼ to a 1/2 inch thick.
That way you get enough bite from the apple and avoid them overcooking. Apples have so much water in them that they will naturally shrink quite a bit when you cook them. For that reason, be sure to overlap them into the crust before you put the top layer of crust on.
You want to make sure there is plenty of apple deliciousness in every bite!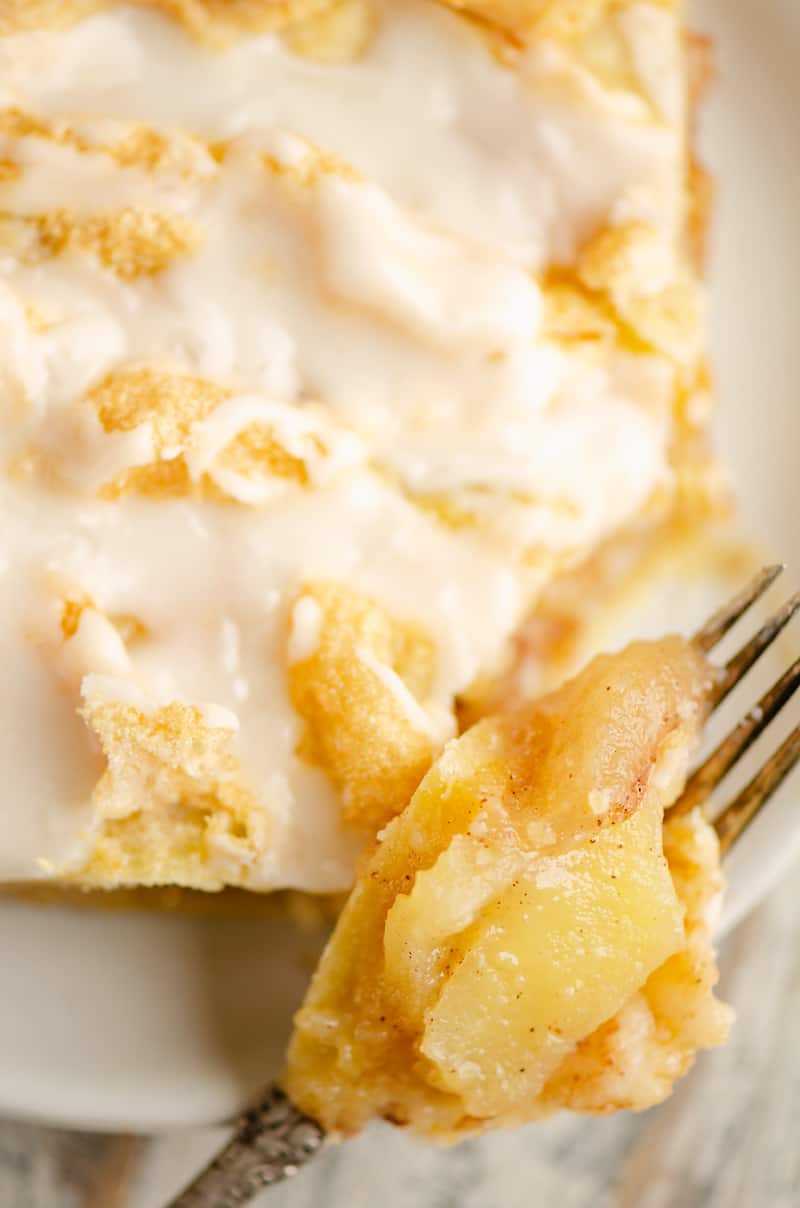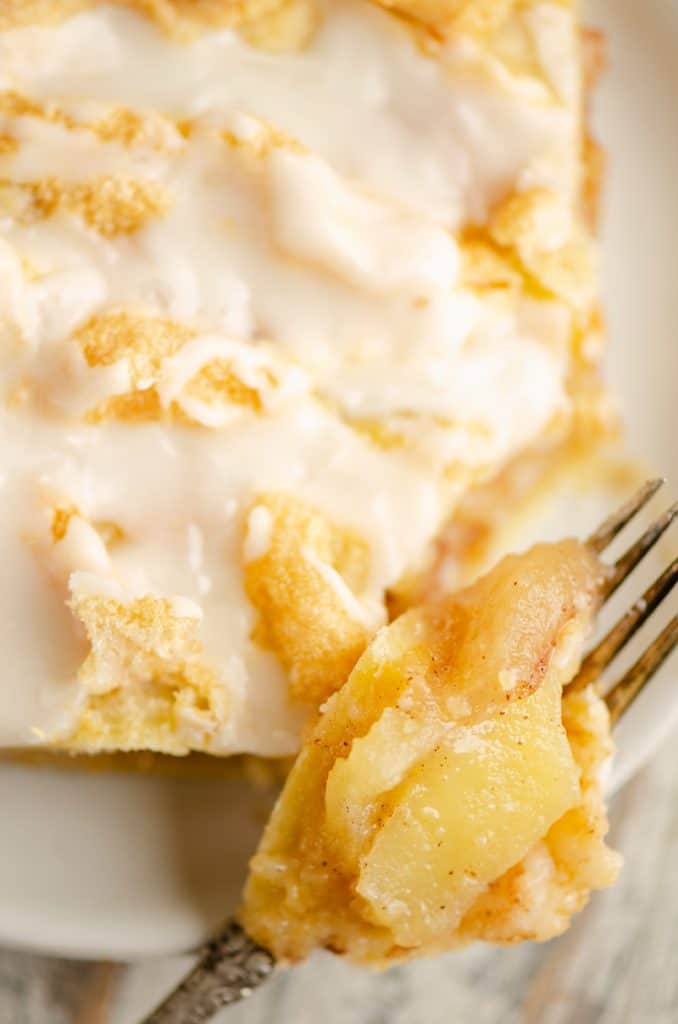 How do I pack up individual servings of glazed apple wedges?
If you are going to be packing up single servings of your apple pie bars for snacks, then cut the bars into squares. You can stack the bars easily if you cut or use a small sheet of wax paper in between each bar.
I recommend keeping them in a rigid and resealable container so it doesn't get smashed. It will still taste just as good, but it is less fun to eat if you are scraping it off the inside of a zip style plastic bag for example.
How do I store the apple pie bars?
You can store on the counter or in the fridge. They are not going to be around long I can pretty much guarantee unless you hide them and forget where you put them.
If you store on the counter, use a piece of foil and loosely cover, or use the cover that accompanies the serving dish.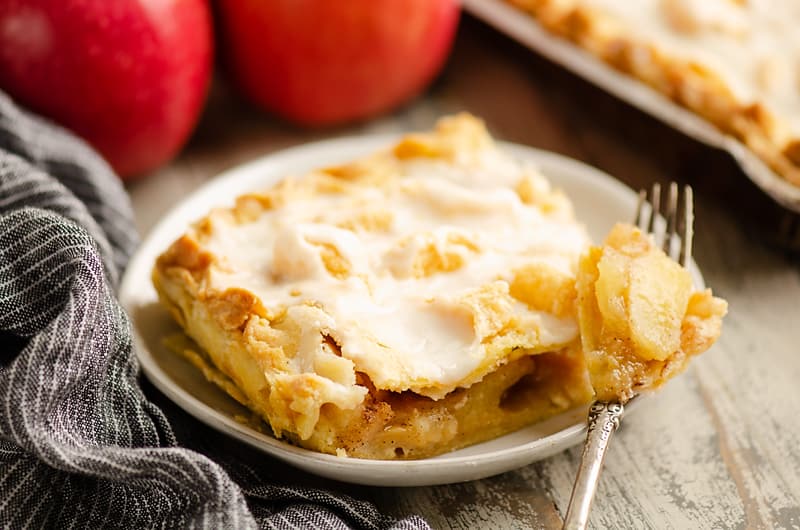 More sweet and savory apple recipe ideas?
Try any of my other dessert ideas too. I try to keep things as simple as well as sweet, delicious, and even nutritious!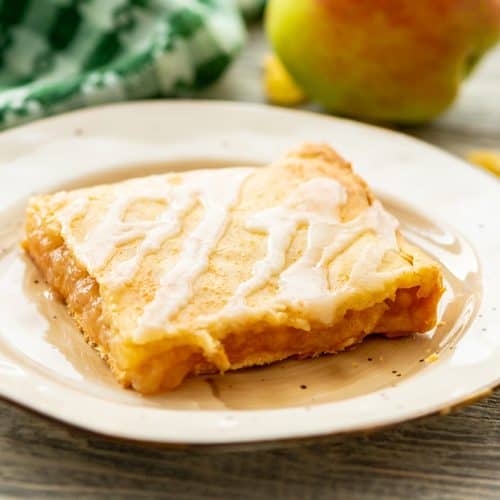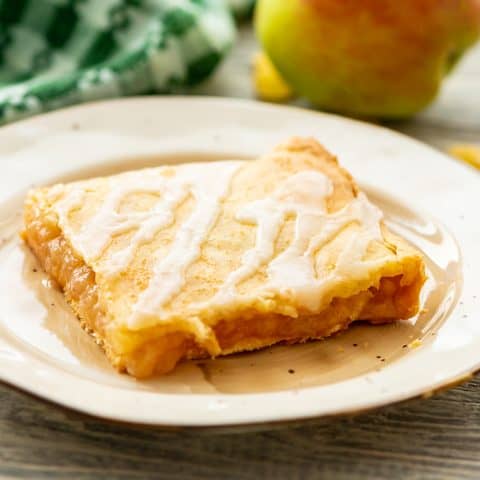 Glazed Apple Pie Bars
Total Time:
1 hour
20 minutes
Glazed Apple Pie Bars are a sheet pan dessert made with a flaky homemade crust and sweet glaze. A square of this apple slab pie is absolutely delicious and the perfect dessert for a crowd!
Ingredients
Crust
2 1/2 c. flour
1 Tbsp. sugar
1 tsp. salt
1 c. shortening
2 egg, separated
1/2 c. milk
Filling
2 c. corn flakes cereal
10 apples, peeled and sliced
1 1/2 c. sugar
1 tsp. cinnamon
Glaze
1 c. powdered sugar
3 tsp. water
Instructions
Preheat oven to 350°.
Sift the flour, 1 Tbsp sugar and salt into a large bowl. Add the shortening and cut into the flour using a pastry knife.
Place egg yolks in a 2/3 cup measuring cup. Fill the remainder of the cup with milk. Add the egg yolk and milk to the dry ingredients and mix well.
Split the dough in half and roll out each piece into a rectangle large enough to cover a 10x15 rimmed cookie sheet.
Cover the cookie sheet with one rectangle of dough. Sprinkle the corn flakes over the crust.
In a separate bowl combine the sliced apples, 1 1/2 c. sugar and cinnamon. Coat apples well and then place on top of corn flake layer.
Place the other rectangle of dough over the apples and pinch the crust together on the edges.
In a small bowl, beat the egg whites until frothy and spread over the top crust.
Bake at 350° for 1 hour.
In a small bowl, whisk together the glaze ingredients. Remove the baked bars from the oven and drizzle frosting over the hot crust.
Allow to cool to room temperature before serving.

Recommended Products
As an Amazon Associate and member of other affiliate programs, I earn from qualifying purchases.
Nutrition Information:
Yield:

16
Serving Size:

1
Amount Per Serving:
Calories:

372
Total Fat:

14g
Saturated Fat:

6g
Trans Fat:

0g
Unsaturated Fat:

8g
Cholesterol:

31mg
Sodium:

179mg
Carbohydrates:

60g
Fiber:

3g
Sugar:

39g
Protein:

4g
Provided nutrition data is only an estimate. If you are tracking these nutrients for medical purposes, please consult an outside, trusted source.