Old Fashion Sour Cream Cut-Out Cookies are the BEST frosted sugar cookie with a cake-like softness, finished off with the most decadent and delicious buttercream!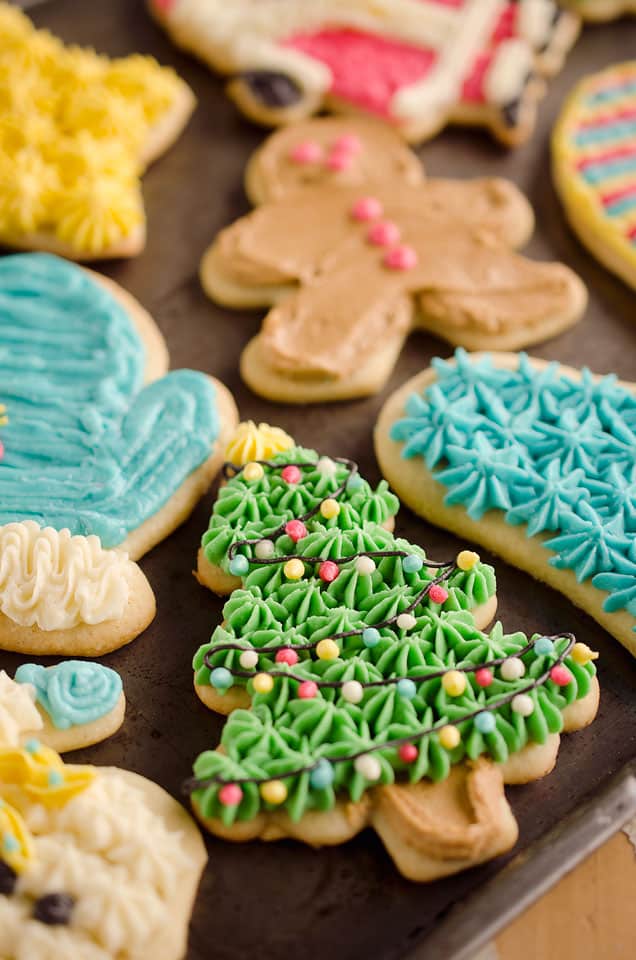 The Best Cut-Out Cookies
These Old Fashion Sour Cream Cut-Out Cookies are EPIC, like seriously the best cut-out sugar cookie I have every had, in my entire life! You know how you see those gorgeous cookies on Pinterest or Instagram that have the most intricate icing designs and the cookies look like they were laser cut to perfection because they don't spread at all?
Yup, those cookies look spectacular…but guess what, they don't taste all that great. That isn't the case with these soft cut out cookies that are perfect for holiday cookie decorations!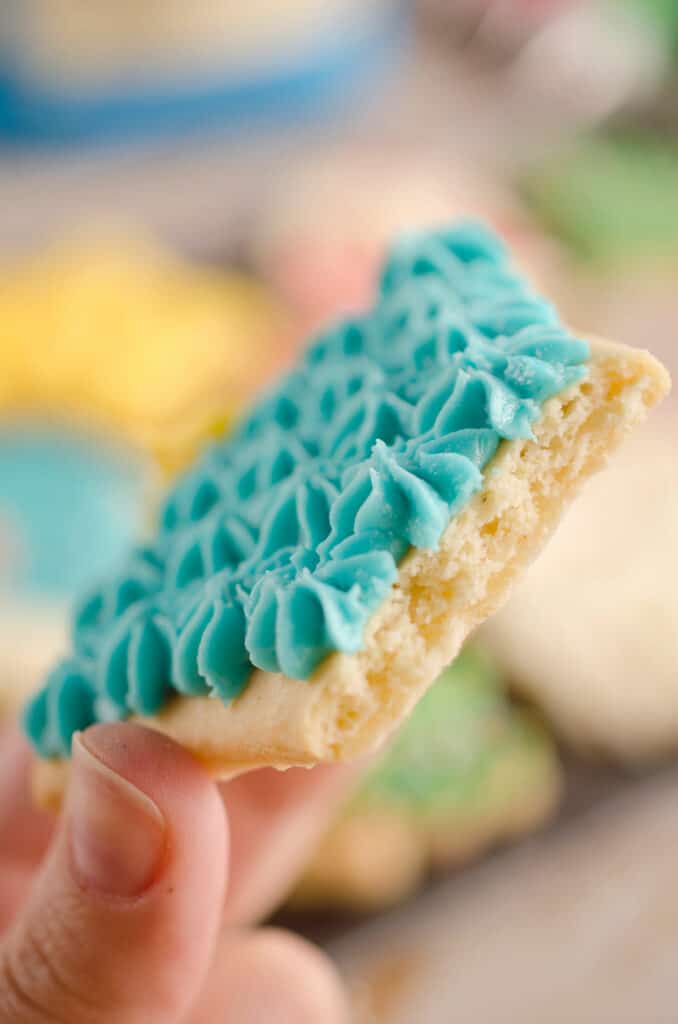 Cut Out Cookie Recipe that tastes good!
Those "perfect" looking cookies are usually dense and bland. These Old Fashion Sour Cream Cut-Out Cookies are neither of those things. The buttercream is laced with vanilla and almond flavoring and the cookies themselves have a hint of nutmeg for flavor and sour cream to keep their soft cake-like texture nice and moist.
Together, the cookies and buttercream have the perfect balance of sweetness with a soft and scrumptious bite. The buttercream also keeps the cookies nice and soft for many days stored in an airtight container.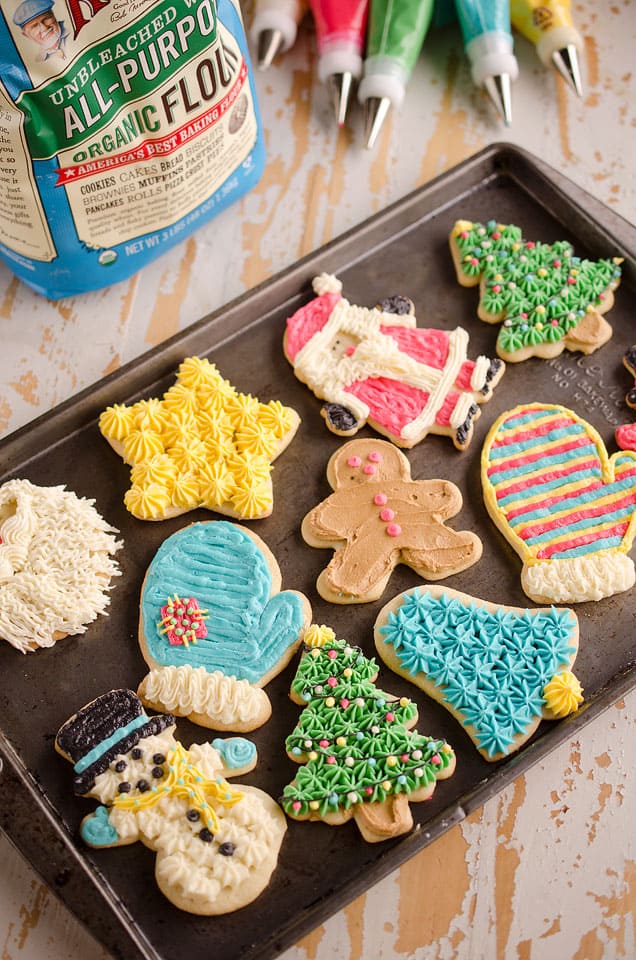 Holiday Cookie Baking
I always enlist the help of my mother when I am making these Old Fashioned Sour Cream Cut Out Cookies, because to be completely honest, she is way better at rolling out dough than me.
Whether it is a perfect pie crust or these cookies, her years of experience serve her well in this department. So why not let the expert do her thing and let's real, more hands make quicker work!
We typically double this recipe, because if I am going to go through all of the work of making these beauties, I may as well have a good amount of cookies to show for it.
This is the same recipe that my mother grew up making with my grandma and I grew up making with my mom. My grandmother perfected the cookie recipe and my mom and I have perfected the buttercream for the perfect piping consistency and flavor. It is the first cookie to fly off our Christmas cookie platter during the holidays. For me, it has nudged out Walnut Thumbprints as my all-time favorite cookie, Christmas or not!
Can I freeze cut out cookies?
These cookies freeze so well unfrosted, and you truly can't tell the difference as they maintain their light cake-like texture after thawing. Pull them out of the freezer right before the holiday and let the whole family join in the fun frosting and decorating!
Just be sure to wait to frost these cookies until they are fully defrosted. The buttercream won't freeze well on the cookies and you will miss out on the amazing texture of these sour cream cookies.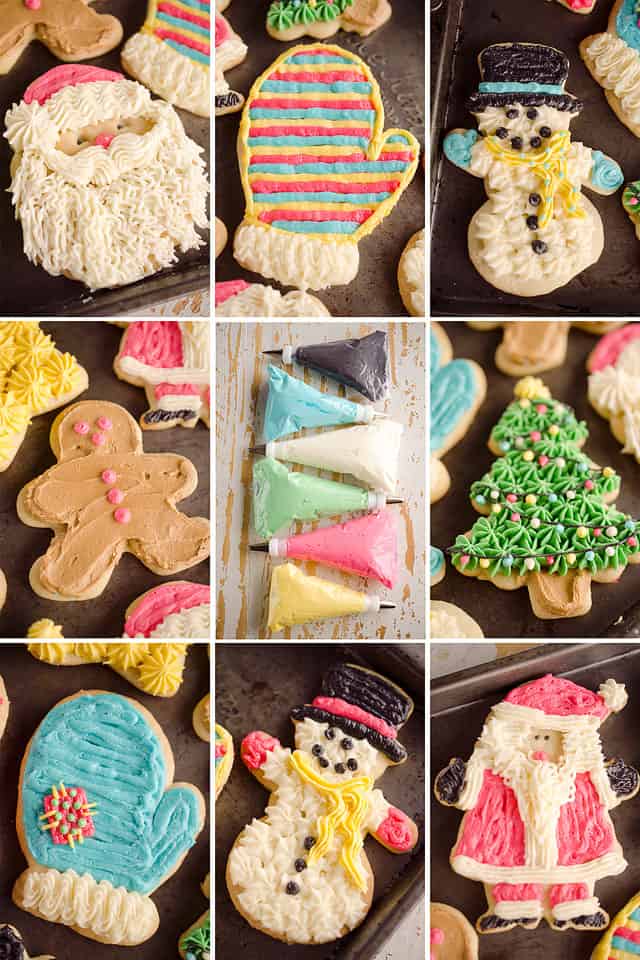 Frosted Sugar Cookies
You don't have to pipe your buttercream onto the cookies. You can do it the old fashioned way and just slather it on there to make quick work of it all.
Either way, as the men in my family tell me EVERY.SINGLE.HOLIDAY, it tastes the same no matter how pretty you decorate them! #NoAppreciation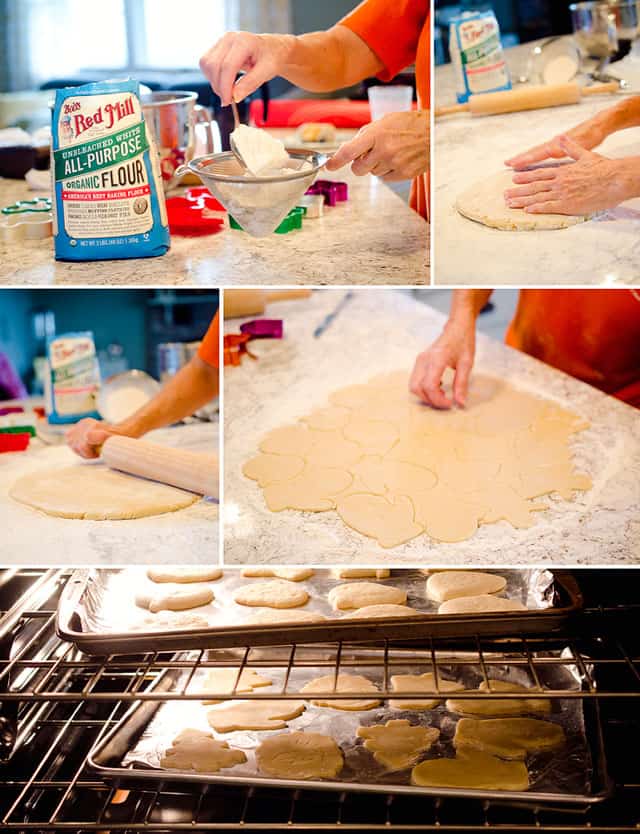 Tips and Tricks for rolling out the best cut-out cookies
When it comes to successfully rolling out cookie dough, it isn't the easiest of tasks the first time you try it. Much like a pie crust, it takes some practice and patience. There are a few things you want to keep in mind that will help achieve the best possible result!
Before you ever get started rolling out cookie dough, you need to let the dough CHILL! We always make our dough the night before and let it really get chilled. If you are in a pinch for time, I suggest letting it refrigerate for at least two hours. If you don't chill the dough, it is going to be a big sticky mess.
The first important thing to remember when it comes to rolling out dough, is that no matter what surface you are working on, it should be generously floured. You don't want a pile of flour on the table, but it should be a healthy coating. I like to use a sifter or mesh strainer to coat the surface evenly and thoroughly.
Coat everything that is touching the dough with flour!

Your hands should be floured before pressing out the dough.
The rolling pin should get dusted before touching the dough.
Cookie cutters should get dunked in flour before each cookie is cut out.
The spatula turner should get dipped in flour before picking up any cut out cookie from the work surface.
FLOUR, FLOUR, FLOUR! I really can't stress this point enough. If you skip the flour, you will need something for the headache later.
Remove the pieces of dough around the cut out shapes with a butter knife before lifting the cookies off the floured surface. This helps prevent the cookies from becoming disfigured when you lift them if they aren't perfectly released from the surrounding dough.
After you have cut out all the cookie shapes you can from the dough, ball all of the scraps up with your hands and roll it out. You can get quite a few more cookies this way. Just keep in mind, this round of cookies isn't quite as spectacular as the first rounds. The texture is usually a tiny bit dry and not as cake like. They are still amazing right out of the oven or slathered with buttercream. Just save these ones for your least favorite family members! 🙂
When baking sour cream cut out cookies, you need to keep a very close eye on them. The cookies should not get golden brown overall. You just want the slightest golden color on the edges, but the tops will still be very light. You may even think they aren't done yet, but I promise, if you pull them out at the right time, you will have the most amazing cake like cut out cookies. Take a peak at the photo above, for what your baked cookies should look like. See that Santa on the bottom right corner. That got overbaked… woops!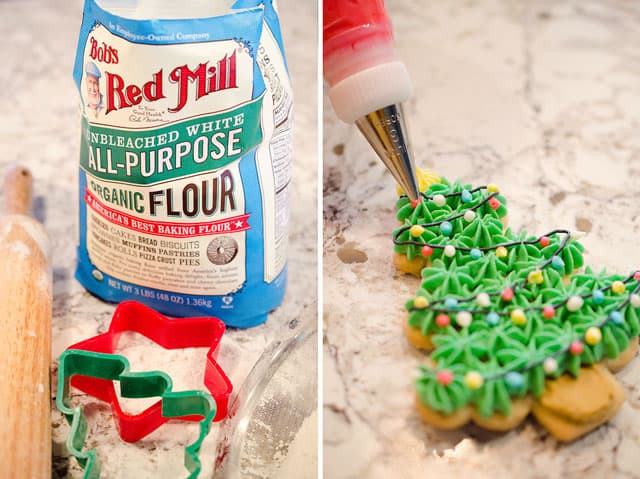 Favorite Old Fashioned Christmas Cookie Recipes
Slap on your apron, tune into your favorite Christmas music and get ready to get messy. These cookies may take an afternoon to make, but I promise you with everything I have, they are totally and completely worth it!
If you are looking for more amazing Christmas cookie recipes, be sure to check out some of our family's favorite recipes for the holidays.
Walnut Thumbprint Cookies – The combination of sweet and salty in these classic thumbprints is one of my favorites!
Toasted Coconut Straw Hat Cookies – We grew up with these cookies as a staple on our cookie platter, but I've come to find out they seem to be unique to our family. If you are looking for something different this holiday season, I beg you to give these a try. You won't be disappointed!
Soft Molasses Cookies – These classic molasses cookies are a great addition to any cookie platter.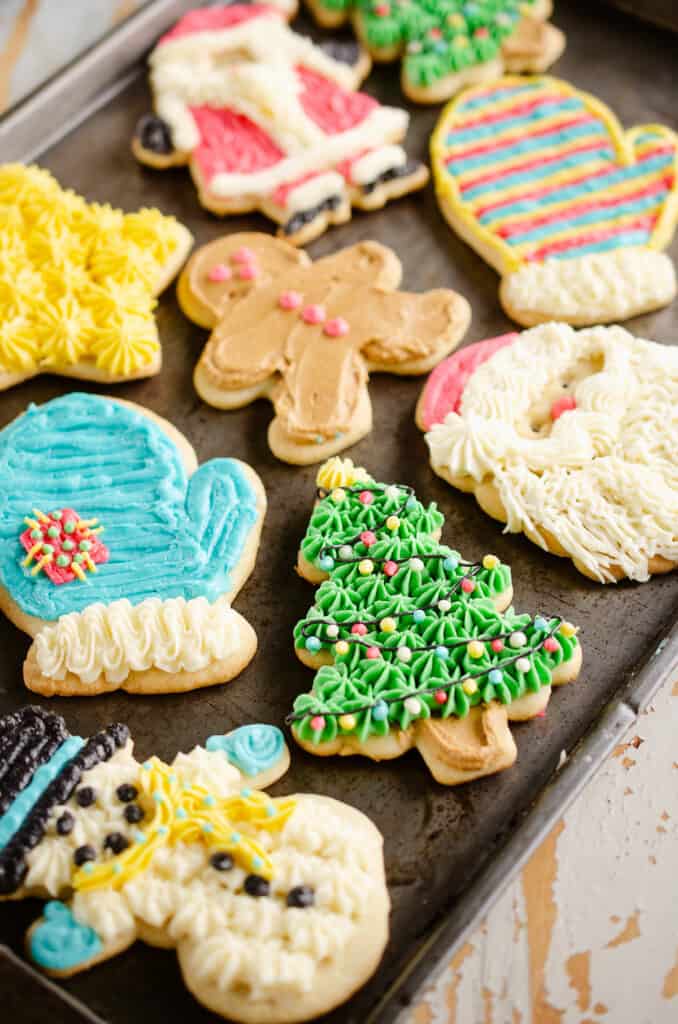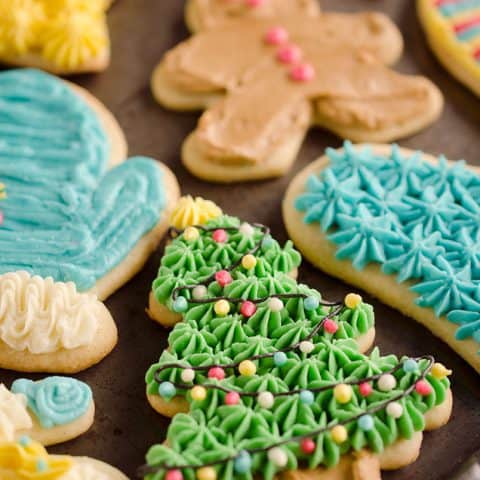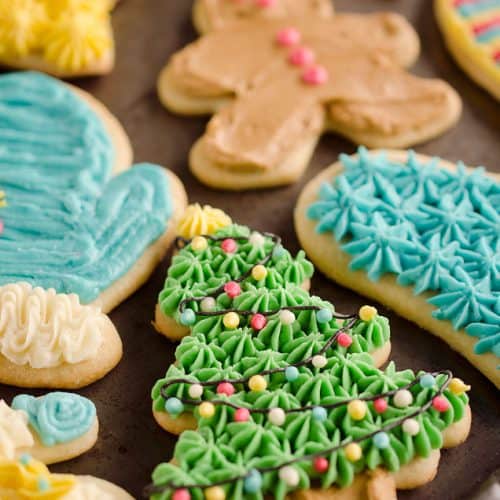 Old Fashion Sour Cream Cut-Out Cookies
Prep Time:
1 hour
30 minutes
Old Fashion Sour Cream Cut-Out Cookies are the perfect sugar cookie with a cake-like softness, finished off with the most decadent and delicious buttercream!
Ingredients
1/2 cup butter flavored shortening
1 cup granulated sugar
1 large egg
1 teaspoon vanilla extract
2 2/3 cup all-purpose flour
1 teaspoon baking powder
1/2 teaspoon baking soda
1/2 teaspoon salt
1/4 teaspoon nutmeg
1/2 cup sour cream
Instructions
Sour Cream Cookie Dough
In a large bowl beat the shortening and sugar until smooth. Blend in the egg and vanilla. In a separate bowl, mix all of the dry ingredients.
Blend in the dry ingredients into the eggs alternately with the sour cream, being sure not to overwork the dough.
IMPORTANT: Refrigerate the dough covered with cling wrap overnight, or at least a couple of hours.
Baking Cut Out Cookies
Preheat your oven to 350°F.
Place half of the dough on floured surface. Press the dough out with your floured hands. Use a flour coated rolling pin to roll the dough out evenly to about 1/8 inch thickness.
Coat your cookie cutters with flour and cut out as many shapes as you can. Using a flour coated spatula, carefully transfer the cookies to parchment lined or non-stick baking sheets.
Repeat steps 2 & 3 with the other half of dough. Don't waste the scraps of dough! Ball them up with your hands and roll them out for more cookies. (These cookies won't have quite as soft of texture as they get slightly overworked, but are still very good.)
Bake the cookies for 10 to 12 minutes at 350°F or until just very slightly golden brown on the edges. Keep a close eye on the cookies, because you want them a beautiful light color for the best texture.
Allow the cookies to completely cool on cooling wracks before frosting. Store in an air-tight container.
Notes
*Texture of the cookies is actually best a few hours after frosting, as they soften some more with the addition of buttercream.
Recommended Products
As an Amazon Associate and member of other affiliate programs, I earn from qualifying purchases.
Nutrition Information:
Yield:

36
Serving Size:

1 grams
Amount Per Serving:
Calories:

90
Total Fat:

4g
Saturated Fat:

2g
Trans Fat:

0g
Unsaturated Fat:

1g
Cholesterol:

14mg
Sodium:

84mg
Carbohydrates:

13g
Fiber:

0g
Sugar:

6g
Protein:

1g
Provided nutrition data is only an estimate. If you are tracking these nutrients for medical purposes, please consult an outside, trusted source.