Garden Salsa Steak Bowl is a healthy 20 minute recipe full of bold flavors and fresh ingredients! 5 simple ingredients come together to make a simple and delicious meal you can feel good about.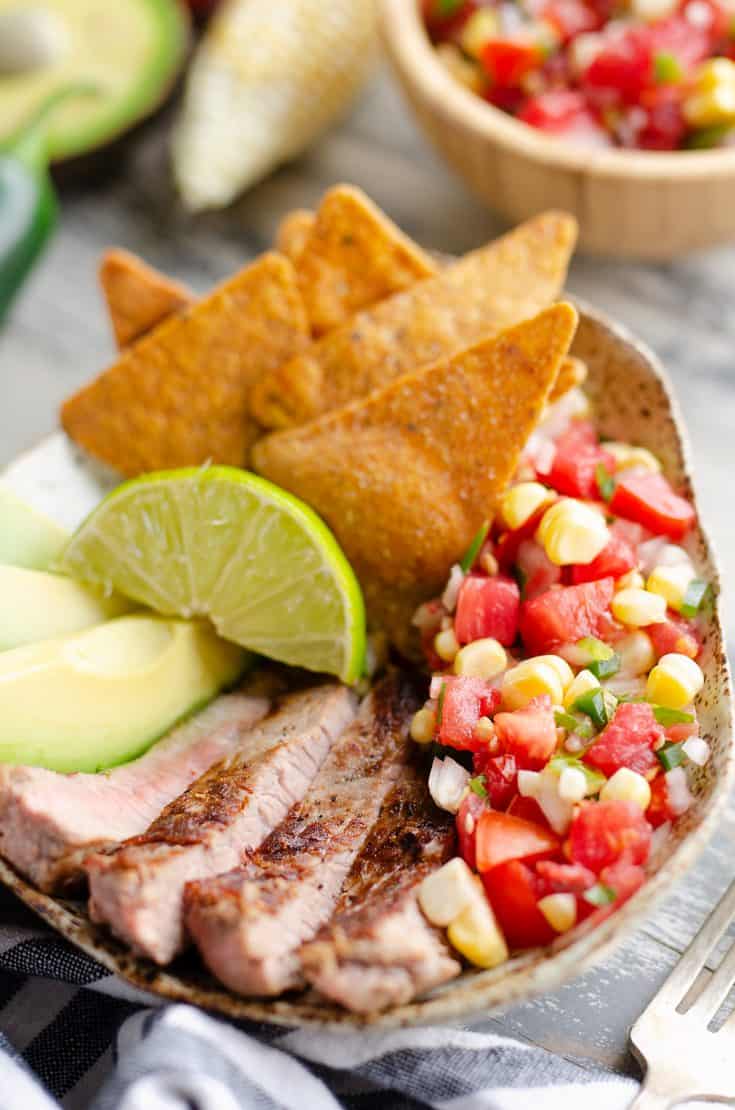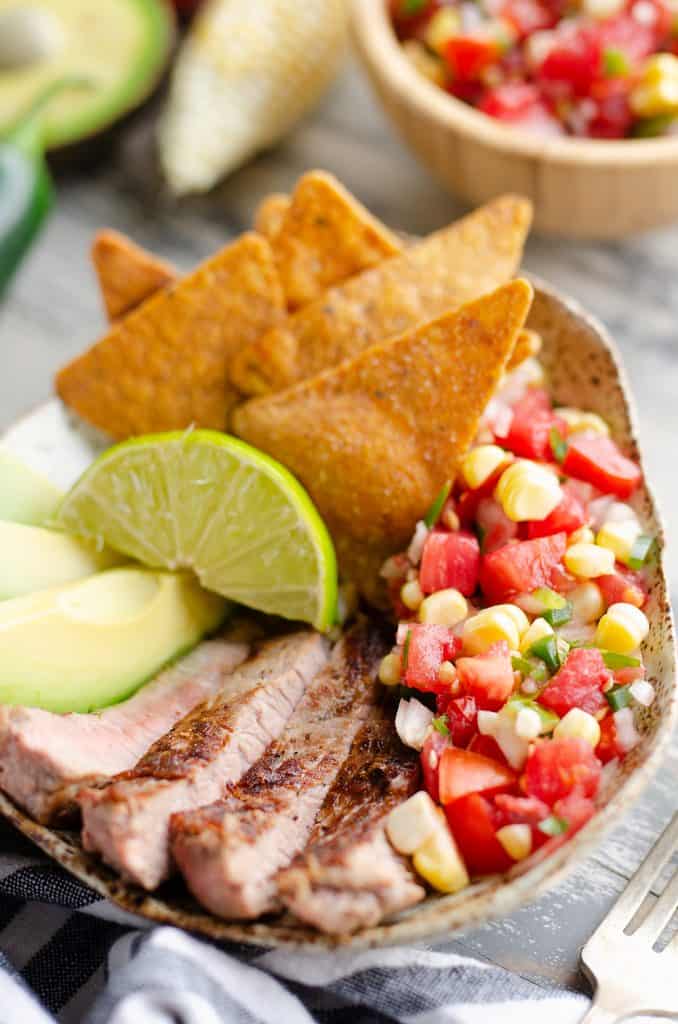 Garden Salsa Steak Bowl
I'm always on the lookout for a new, easy recipe with a healthy flair and great taste. This Garden Salsa Steak Bowl checks every box! With a great Mexican-inspired taste, creamy avocado, and juicy steak slices this bite-size bowl packs major flavor! The Sweet Potato Tortilla Chips add a great crunch to round out the complete meal.
This Garden Salsa Steak Bowl recipe only takes a few minutes from start to finish. It's a perfect dinner for those busy summer evenings!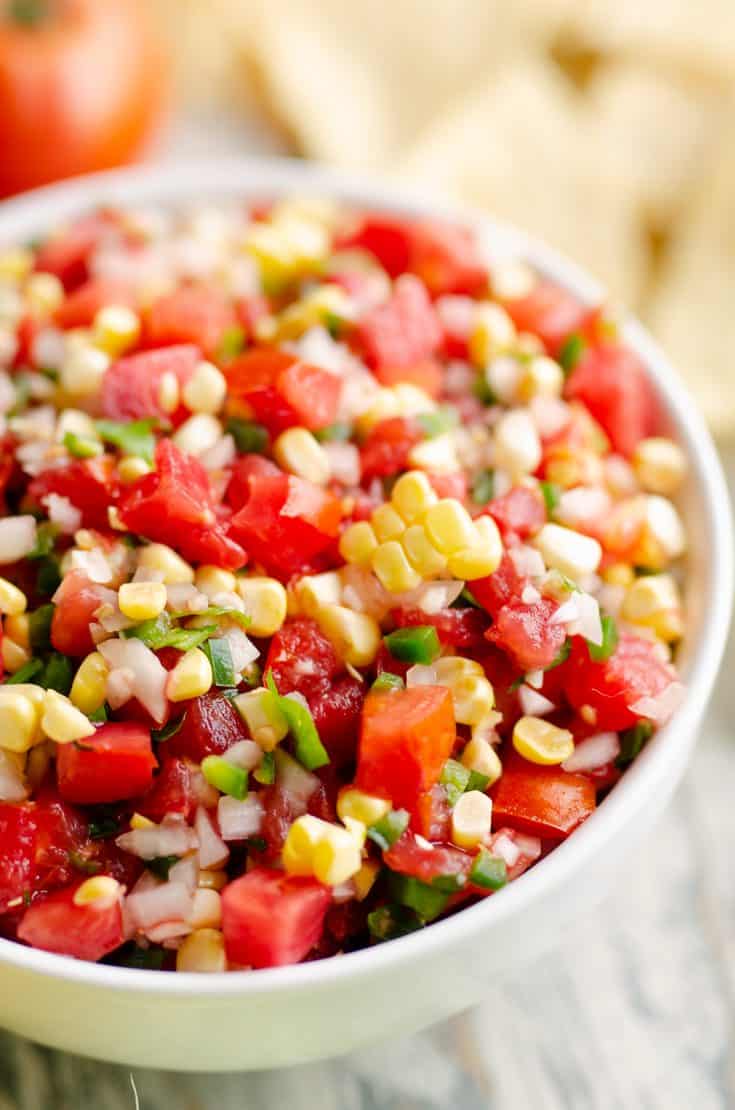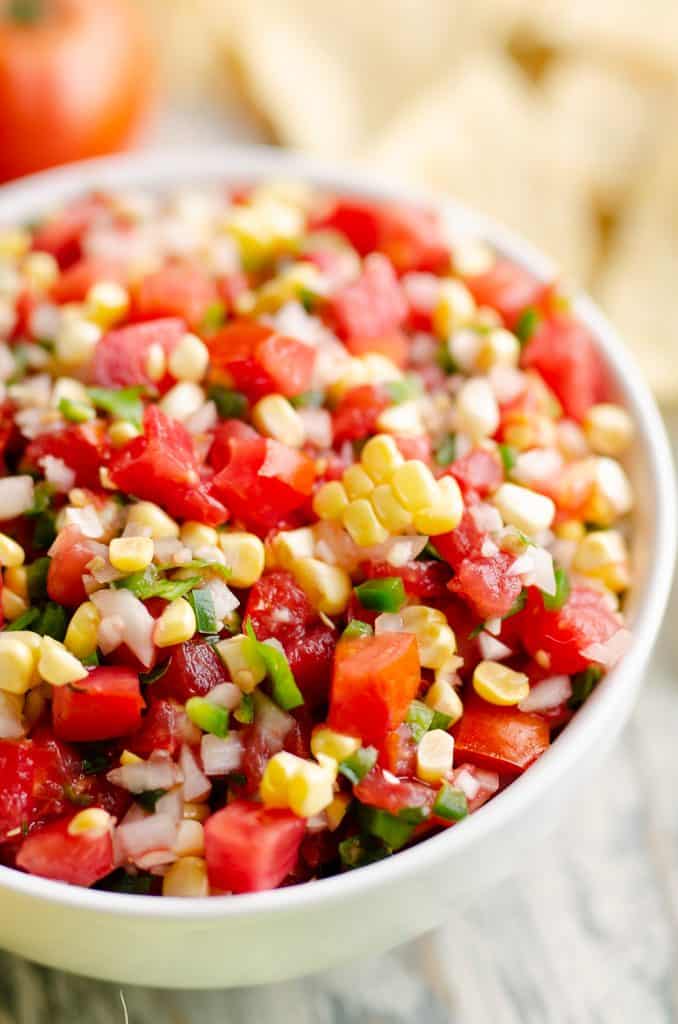 Garden Fresh Salsa
My classic Garden Fresh Salsa is a medley of fresh Mexican flavors that's so good, it needed to be the main dish! This pico de gallo dish is fantastic all on its own, with tomatoes straight from the garden. In my case, straight from my mom's garden. One good thing about gardens is that there is always plenty of produce to share!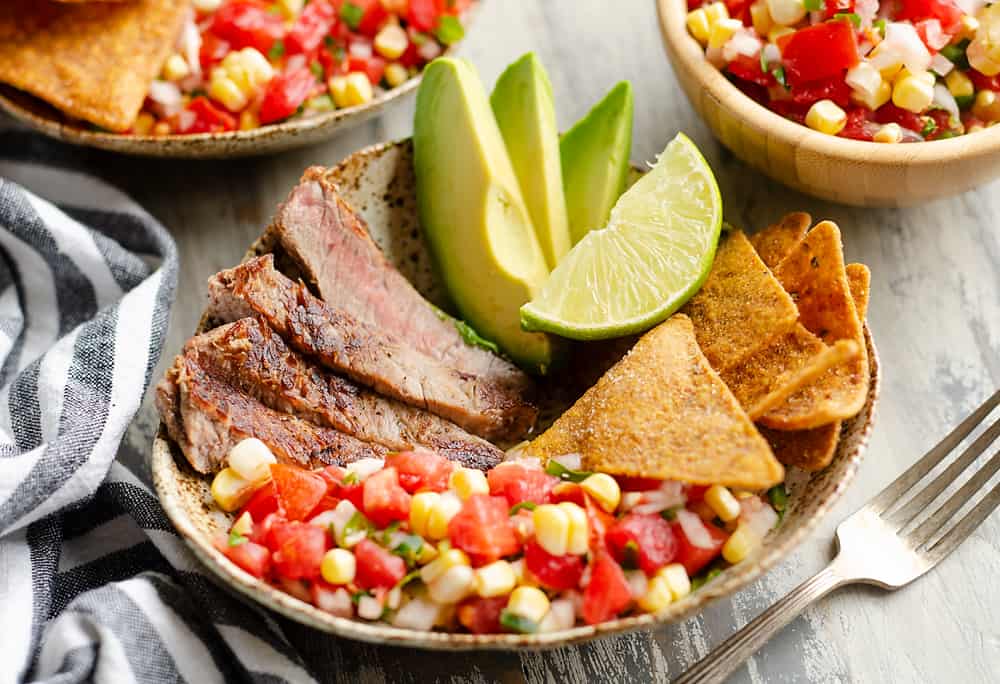 Steak Bowl
One of my favorite ways to serve a meal is in a dinner bowl. Easy to throw together, easy to serve, and you get a mix of flavors in every bite. A little bit of everything in every spoonful. From this Cuban Chicken Rice Bowl to my favorite BBQ Chicken Bowl, it is such a simple and fun way to serve a meal.
This Garden Salsa Steak Bowl uses my Garden Fresh Sweet Corn Salsa as a base to build up a truly amazing bowl. With juicy, seared steak strips, it just doesn't get any better than this!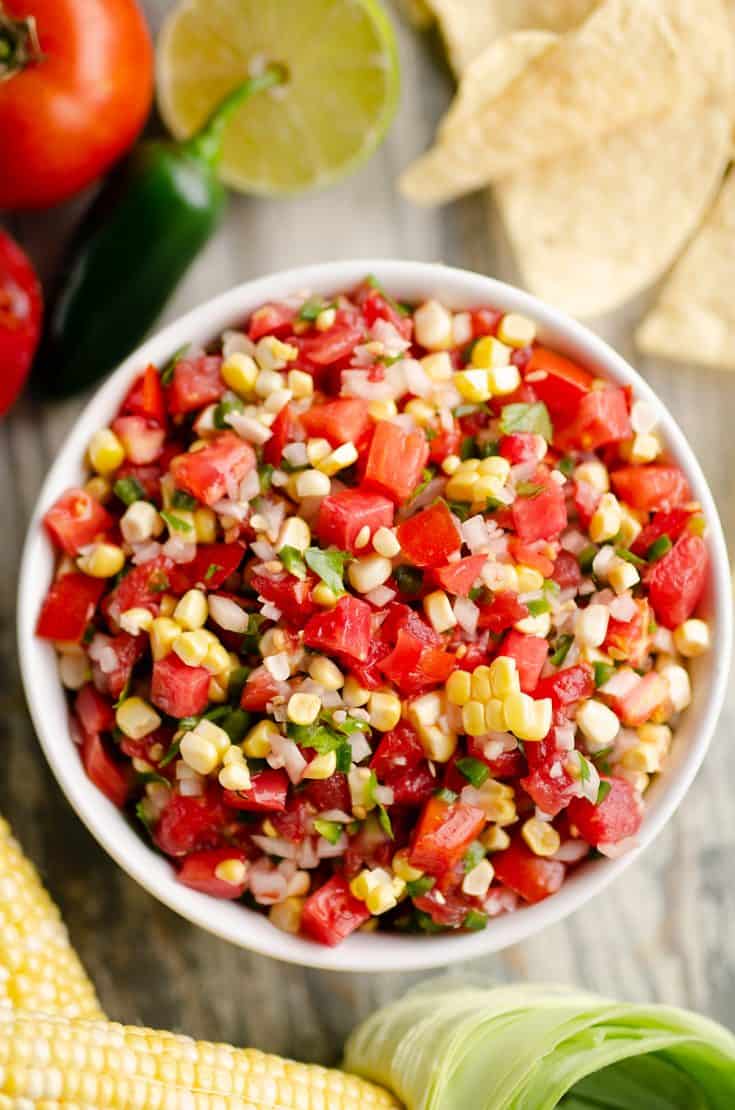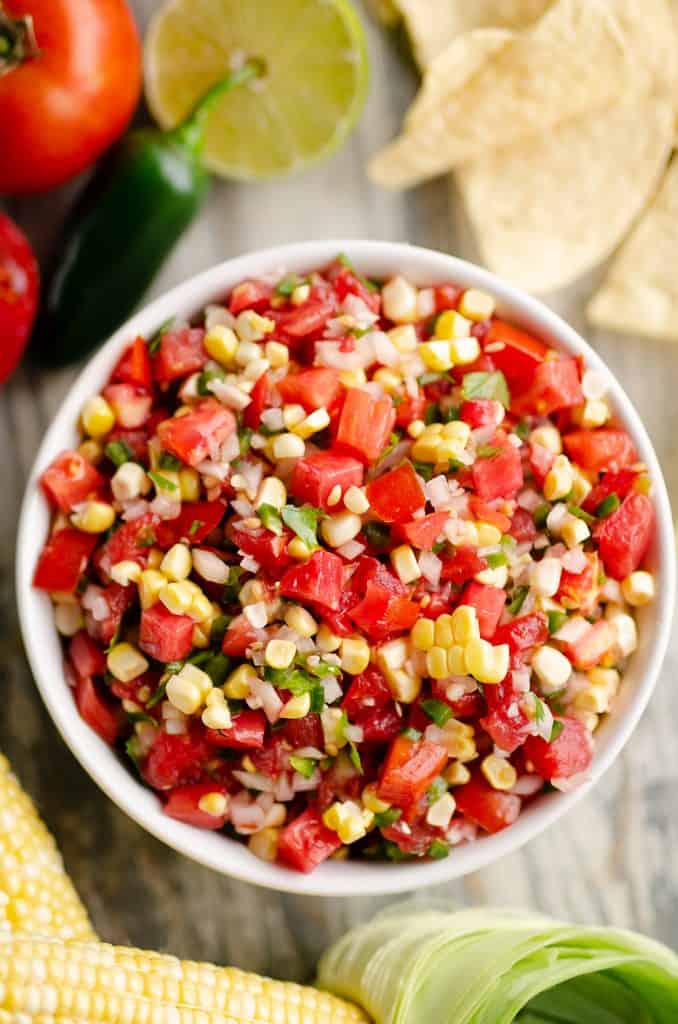 Fresh Garden Salsa Recipe
If you're a gardener, or have a neighbor who gardens, you might be wondering "What can I do with Roma tomatoes from my garden?" Gardeners know the struggle! Tomatoes can be so prolific, especially Roma tomatoes. You can make can after can of salsa, but sometimes you need something fresh from the garden straight to the dinner table. There are tons of things you can do with those tart, tasty Roma tomatoes!
You can try my Fresh Garden Salsa Recipe for a fun, fresh side dish, or keep reading for the complete Garden Salsa Steak Bowl recipe to make it a meal on its own!
If you have even more tomatoes left over, check out some of these great summer recipes.
What to Make With Tomatoes
Are Roma Tomatoes Good For Salsa?
When you're making salsa, you want to use tomatoes that have few seeds and are dense and juicy. Roma tomatoes are perfect for salsa! Whether you're making traditional canned salsa or fresh salsa, you can't go wrong with a good Roma
Should I Peel Tomatoes Before Making Salsa?
This garden salsa bowl is made with fresh tomatoes! No cooking needed. What could be easier, right? But if you choose to cook them, or you're prepping some extras for canned salsa, you might want to peel them first. It's super easy! Just drop your tomatoes in a pot of boiling water for 45-60 seconds (until you see the skin start to wrinkle). After that, dunk them in cold water, and the skins should come right off!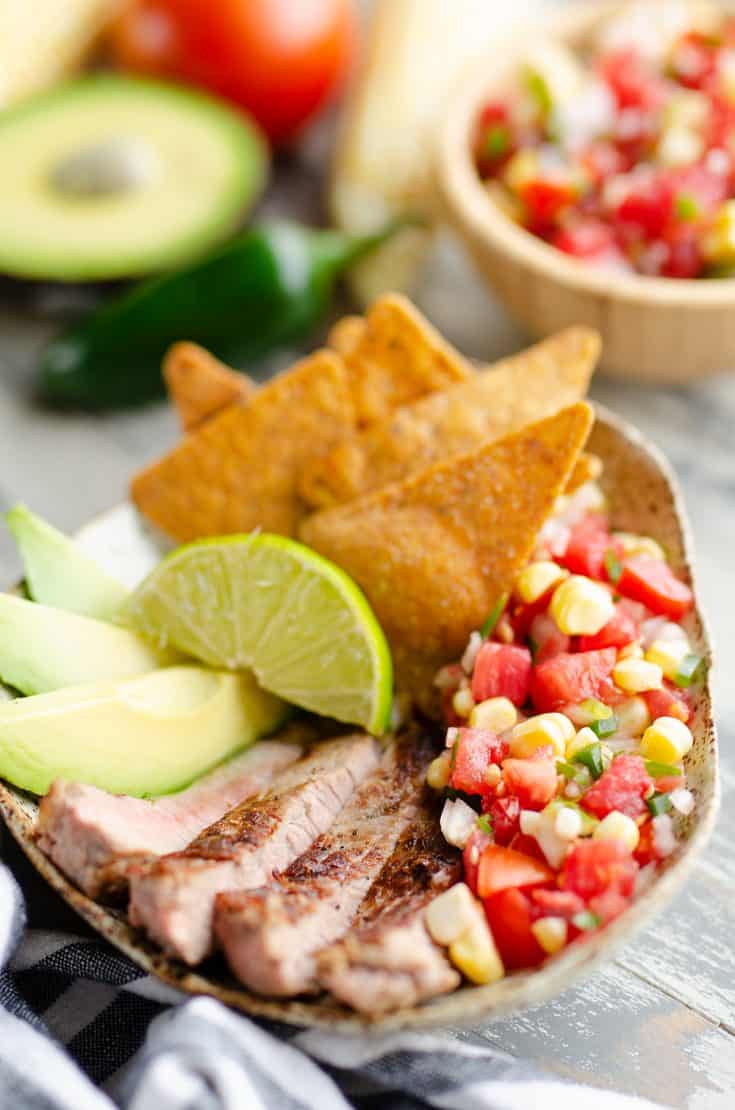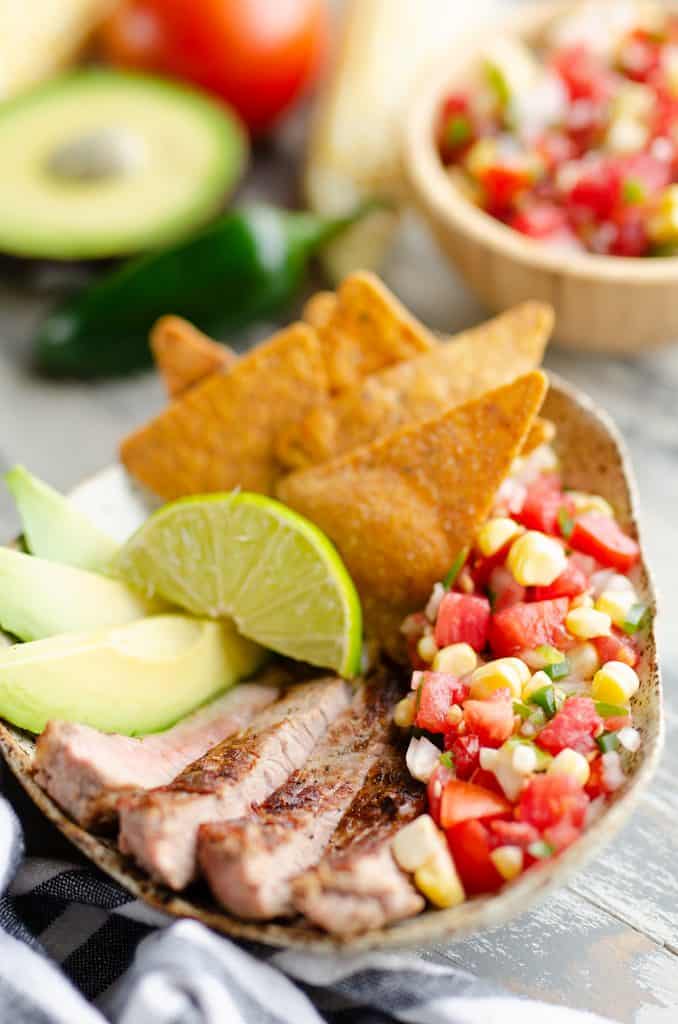 How to Cook a Great Steak
A great steak is surprisingly easy to make! There are just a few things to keep in mind while you work, and in no time at all you'll have a juicy, delicious steak, great for any night of the week!
Put your skillet on medium-high heat
Use cast iron, or stainless steel with a light smear of oil so it doesn't stick. You don't need much!
Season your steak with salt and pepper or a marinade if you prefer
Cook your steak one side at a time- don't flip it back and forth!
The more you flip your steak, the less you'll get that gorgeous sear on the outside. That will help keep in that flavor. Use tongs to flip the steak so you're not piercing it and losing juices.
Cook the each side of a one inch thick steak for 2-3 minutes for a rare steak, 4 minutes for medium, or 5-6 minutes for well done.
Don't move the steak around while it's cooking. Let it sit in the heat and develop that thick crust! It will be great, just hang tight and let it do its thing.
Remove the steak from the heat and LET IT SIT for a few minutes before carving
Letting the steak sit will allow it to cook in its juices just a little longer, and it will let the juices permeate all through the meat. If you cut into too soon, all those juices will come right back out!
After it has had a chance to rest for a few minutes, check the temperature.
The minimum temperature for steak is 145 degrees with a three minute rest time according to the USDA. Some steak lovers consider this overdone, and prefer a temp of 130. Use your best judgement, and stay safe.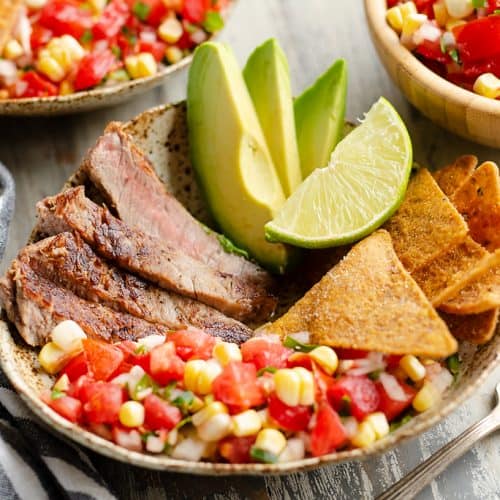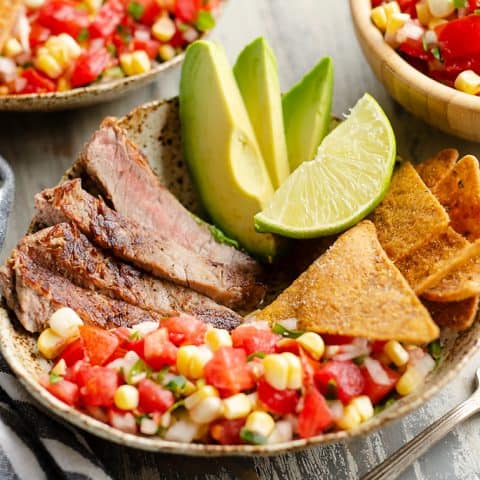 Garden Salsa Steak Bowl
Garden Salsa Steak Bowl is a healthy summer recipe full of bold flavors and fresh ingredients! Grilled Steak, fresh garden salsa, ripe avocado and sweet potato chips come together to make a simple and delicious meal you can feel good about.
Ingredients
8 oz. steak, (I prefer New York Strip)
1/2 avocado, sliced
2 lime wedges
Instructions
Grill your steak to your preferred doneness. Allow the steak to rest for 5 minutes.
Meanwhile, in two bowls divide the remaining ingredients.
Slice the steak and divide among the bowls. Serve immediately.
Nutrition Information:
Yield:

2
Serving Size:

1 grams
Amount Per Serving:
Calories:

421
Total Fat:

24g
Saturated Fat:

8g
Unsaturated Fat:

0g
Cholesterol:

69mg
Sodium:

680mg
Carbohydrates:

29g
Fiber:

5g
Sugar:

8g
Protein:

26g