Fresh Tomato Pesto Pasta Salad is a 5 ingredient cold side dish recipe perfect for your next picnic or grilled dinner. Easy 20 minute recipe!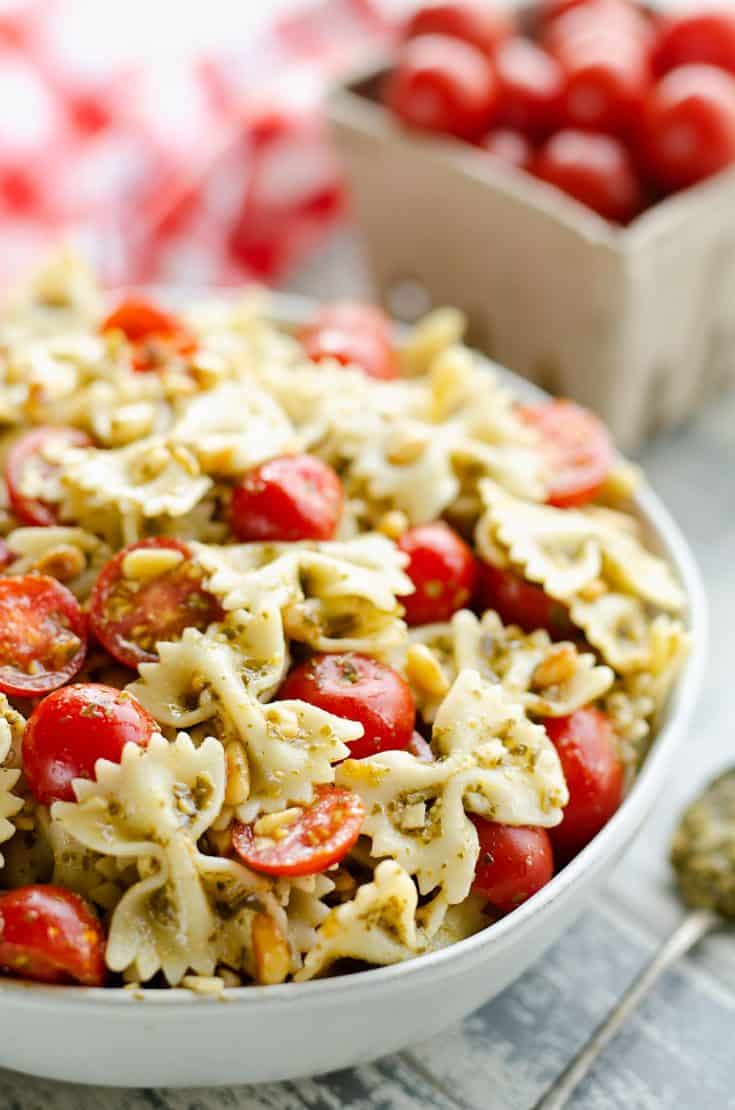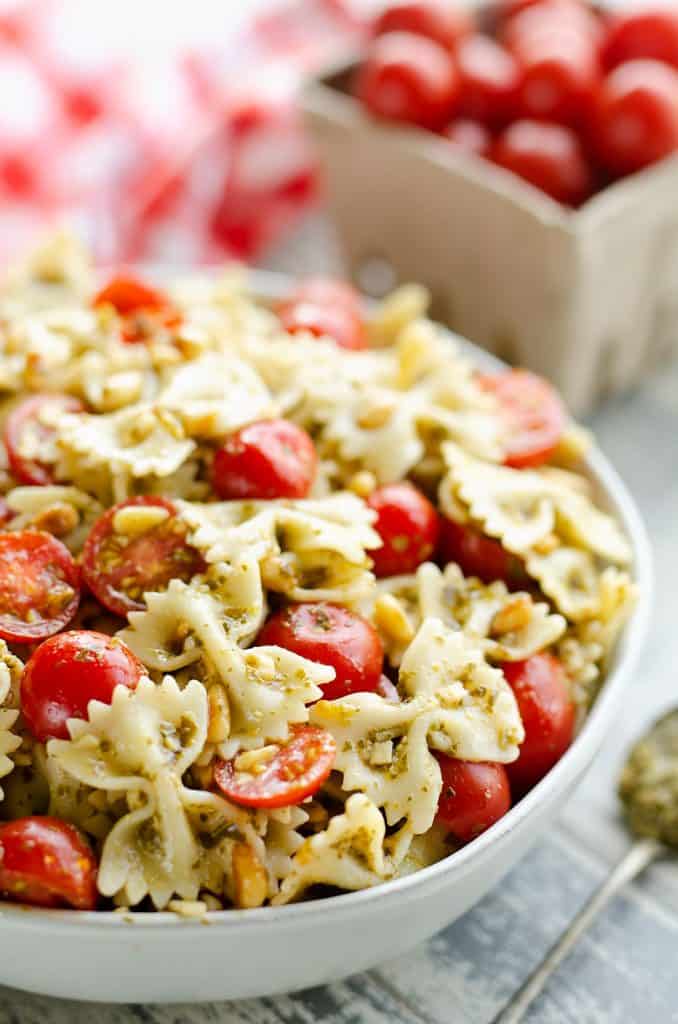 Pesto Pasta Salad Recipe
Pesto Pasta Salad is a fresh and delicious alternative to your traditional cold Italian pasta salad recipe you have been serving up. It's a simple salad made with a light mix of fresh cherry tomatoes, pesto, olive oil, bowtie pasta and toasted pine nuts. The 5 simple ingredients come together in less than 20 minutes for an easy side dish you will love.
If you want to take this recipe to the nest level, whip up a batch of some homemade pesto. Grab some basil from the garden and whip up a batch of this almond pesto recipe for freshness unlike any store bought.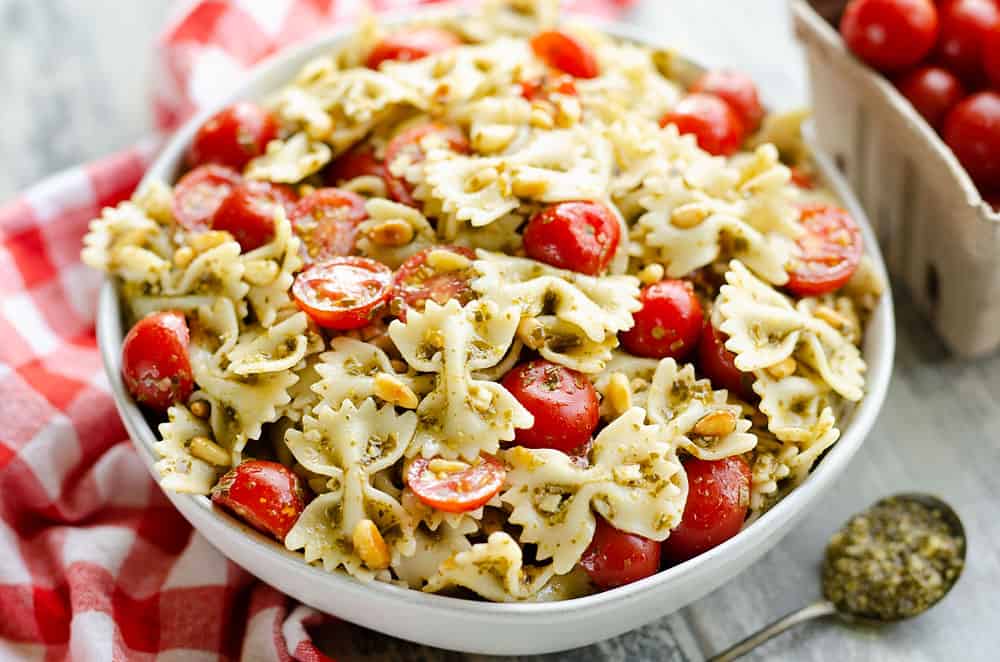 Cold Pesto Pasta Salad
Cold pasta salads are one of the most convenient recipes you can pack for a picnic or serve with some grilled meats. You can whip them up in a hurry and bring them out of the cooler or refrigerator right before dinner is ready. This Poppy Seed Grape Salad is one of my all-time favorite side dishes to serve at any family gathering. It's always a big hit with everyone!
Can I make pasta salad the day before?
The best part about most pasta salads, like this Buffalo Chicken Pasta Salad or Parmesan Pasta Salad is that the flavors just get better over time. Making your cold pasta salad the day before and allow for the rich flavors to soak into the pasta.
You will want to make sure you have a little extra salad dressing or vinaigrette available to stir in the next day though. Sometimes the pasta soaks up more of the sauce than you planned on if you didn't toss the pasta in olive oil first. This can leave you with a dry pasta salad and nobody wants that. Just be sure to check the salad before serving and toss with a little extra dressing if it needs it.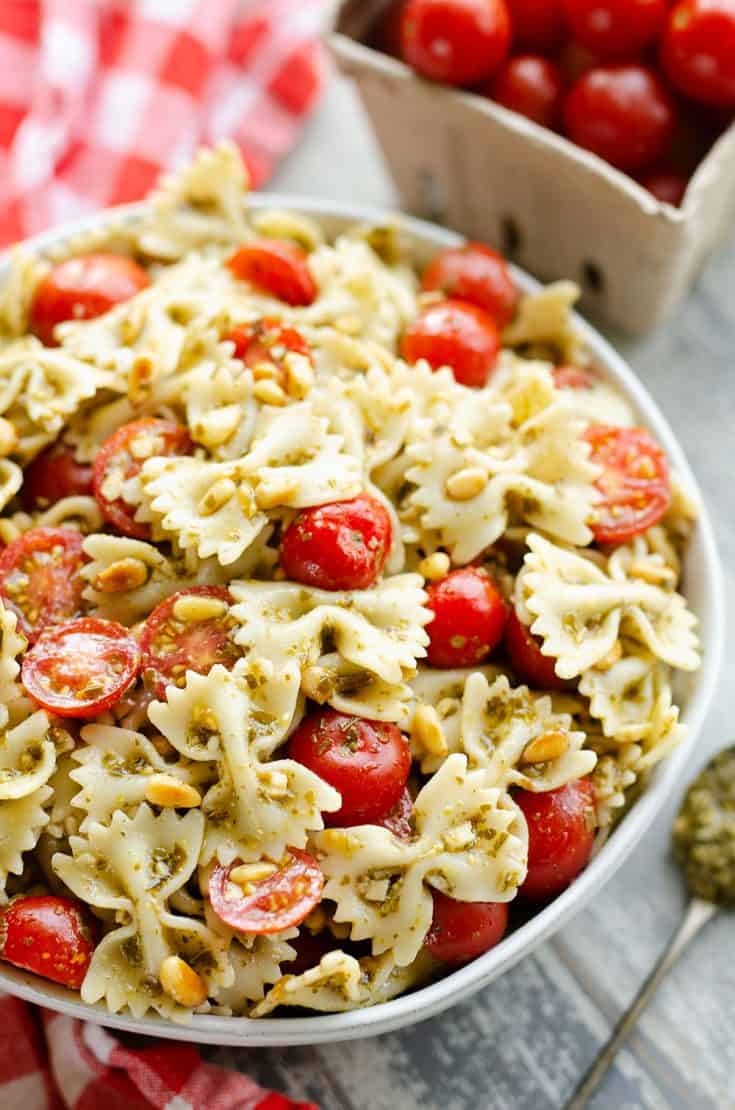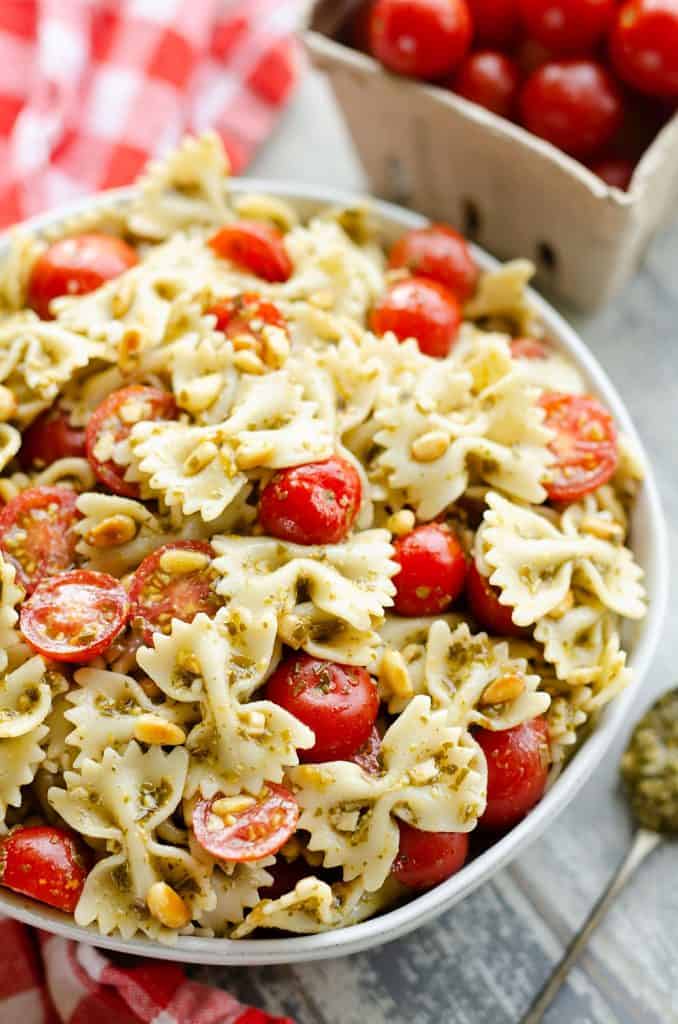 What goes well with cold pasta salad recipe?
Cold pasta salads are the perfect side dish to a grilled piece of steak, chicken, pork or even shrimp! Pair this Fresh Tomato Pesto Pasta Salad with any protein for a complete meal. I stands on it's own great as a vegetarian lunch to pack for work as well. You could even grill up some marinated mushrooms or tofu for a Meatless Monday. That sounds like a delicious and well balanced dinner to me!
Does pasta salad need to be refrigerated?
Cold pasta salads do need to be refrigerated but they can last a couple hours on a potluck table in the summer with the right preparations. Fill an extra large bowl or casserole with ice and place the cold bowl of pasta over the ice. This will ensure that it keeps it at a safe temperature to serve throughout an outdoor meal.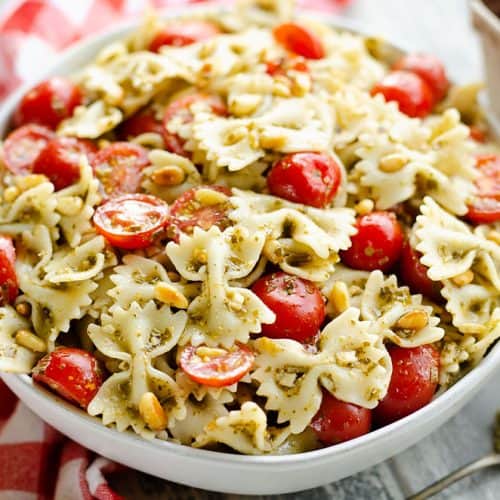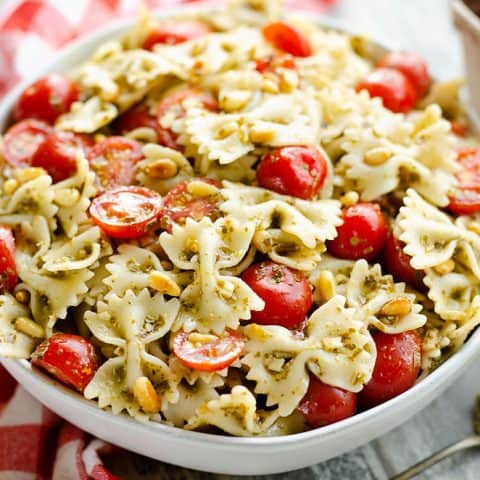 Fresh Tomato Pesto Pasta Salad
Fresh Tomato Pesto Pasta Salad is a 5 ingredient cold side dish recipe perfect for your next picnic or grilled dinner.
Ingredients
12 oz. box bowtie pasta
3 Tbsp olive oil
1 c. prepared pestoge
1 pint cherry tomatoes, halved
2 oz. pine nuts
Instructions
Cook the pasta al dente and rinse under cold water to stop the cooking process. Rinse and toss the pasta with the olive oil.
While the pasta is cooking, toast the pine nuts in a small skillet over high heat for 2-3 minutes, or until golden.
Toss everything in a large bowl until well combined. Chill before serving.
Nutrition Information:
Yield:

8
Serving Size:

1 grams
Amount Per Serving:
Unsaturated Fat:

0g
More cold pasta salad recipes!