Cuban Chicken Rice Bowl is an easy 20 minute weeknight dinner recipe perfect for healthy meal prep. The combination of pineapple, avocado, rice and beans paired with the Cuban mojo chicken is delicious!
Cuban Chicken Rice Bowl
This Cuban Chicken Rice Bowl recipe was inspired by one of recent meal delivery kits. I had to share my take on it with you guys because it was such a simple and healthy meal packed with so much flavor and goodness. This is why I love the meal delivery kits. They not only make for easy weeknight meals, they provide inspiration with the meals you end up loving!
The combination of juicy pineapple, avocado, rice, black beans and chicken breasts smothered in a Cuban Mojo sauce is simply amazing. Best of all, they make for easy leftovers the next day for lunch or are great for meal prep dinners.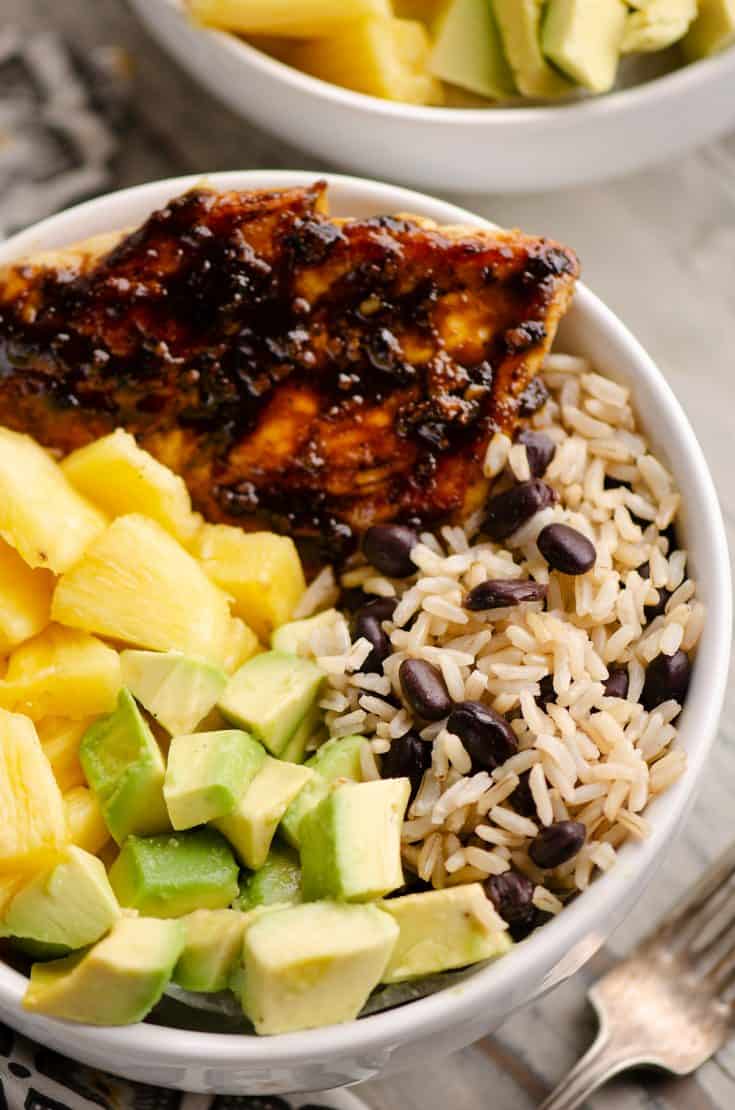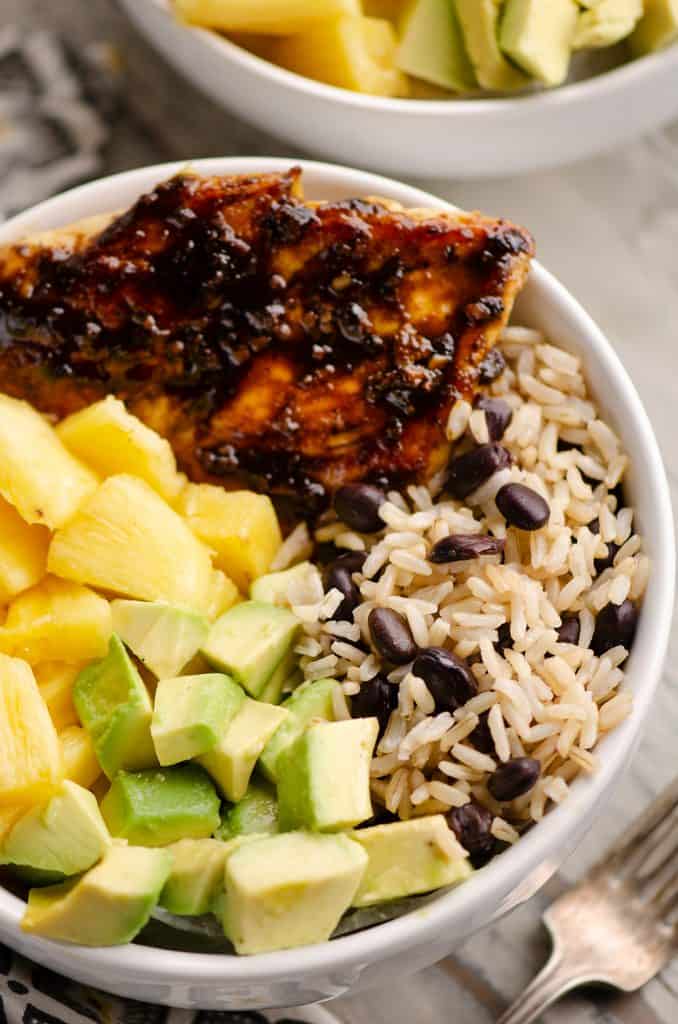 Chicken Bowl Recipe
The original recipe called for cooking rice and beans together, but I was looking to make the recipe as fast and easy as possible. I ditched the jasmine rice and opted to use a quick microwave rice cup and mixed in some canned black beans. The only thing that needs to be cooked is the boneless skinless chicken breasts and the Cuban Mojo pan sauce that goes with them.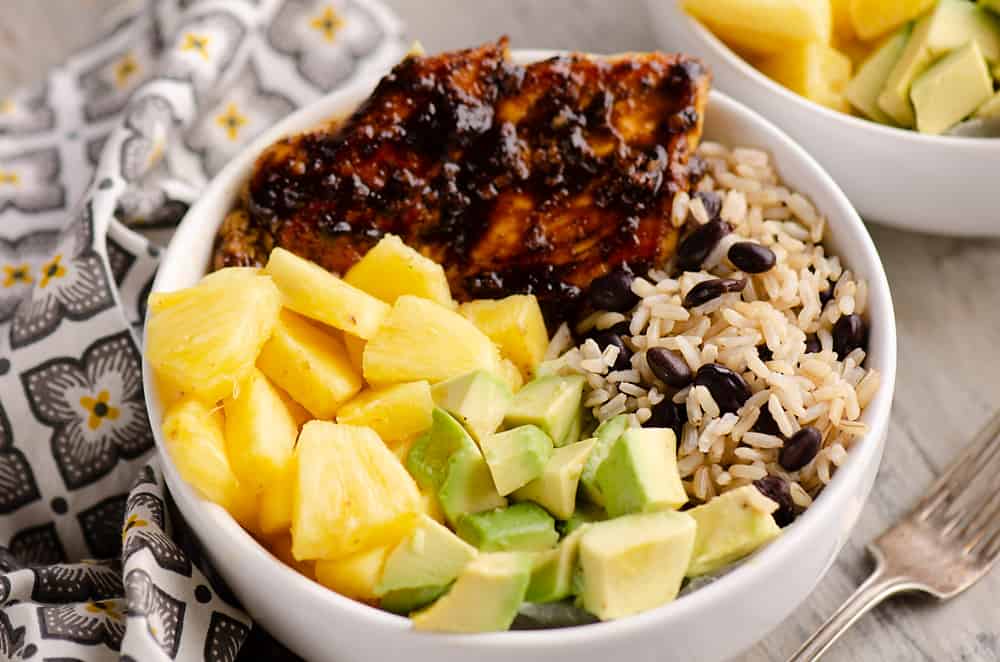 Chicken Rice Bowl
I opted for fresh pineapple, because the flavor is great this time of year, but if it is out of season you could use canned pineapple tidbits like the meal kit. Fresh produce is always a better option when it is available though. This chicken bowl recipe whips up so easily in just 20 minutes and has such incredible fresh flavors!
Rice is a great filler to add to bowls like these Pork Carnita Bowls or 10 Minute Beef & Brocolinni Bowls. The great part about making bowls with rice is that they reheat wonderfully for leftovers. This Cuban Chicken Rice Bowl is no exception. Whether you are just tossing the leftovers in a Tupperware container for lunch the next day, or you make the recipe in divided containers, it makes for great meal prep.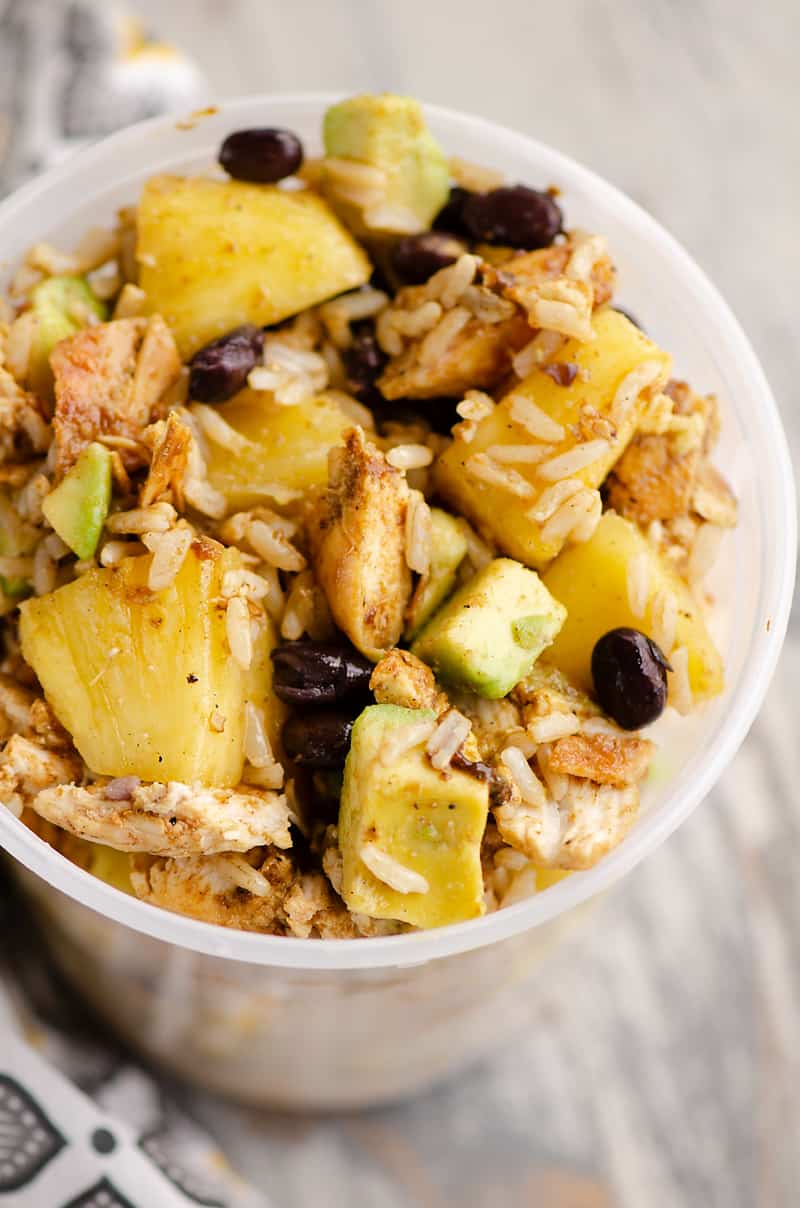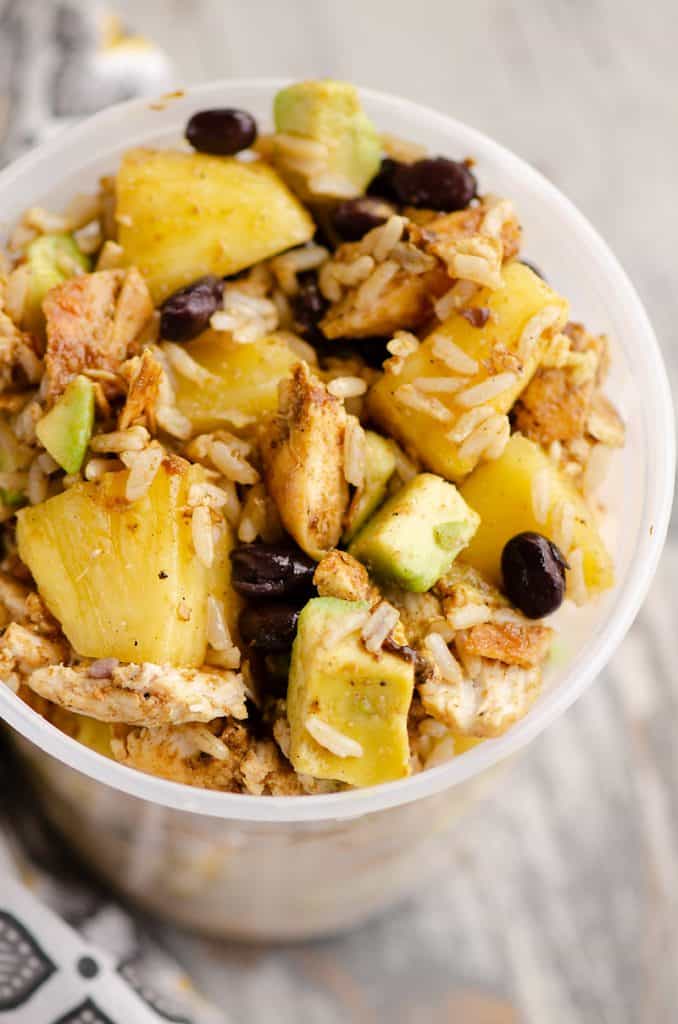 Easy Meal Prep Recipe
The divided containers are nice so you can just reheat the chicken and rice. When you meal prep this way it feel much more like a nice complete meal. sometimes I toss everything into one container and I just eat the meal as a cold lunch. Because who wants microwaved avocado?! This is still a great lunch option as well, especially if you don't have access to a microwave.
You might be wondering why I made a recipe with 3 servings. It's because I wanted a meal for my husband and I along with a lunch for the next day! It's simple enough to increase the recipe for as many people as you need by multiplying the ingredients. I just like a hearty portion of 1/3 lb. chicken in my meals to amp up the protein but you could certainly divide it by four.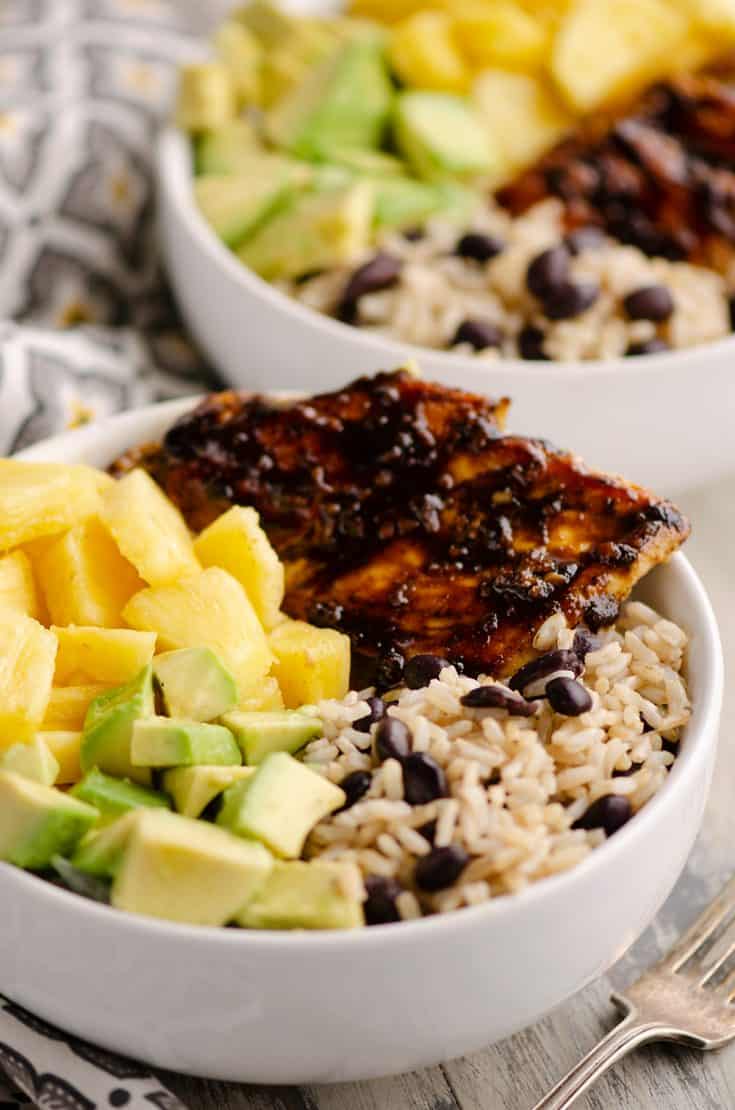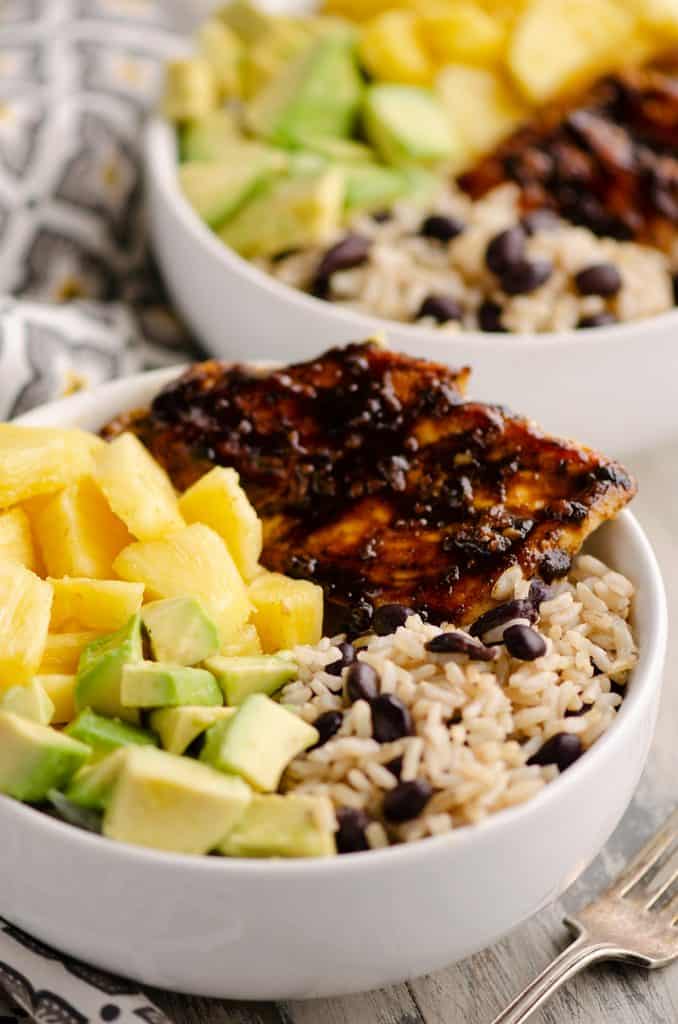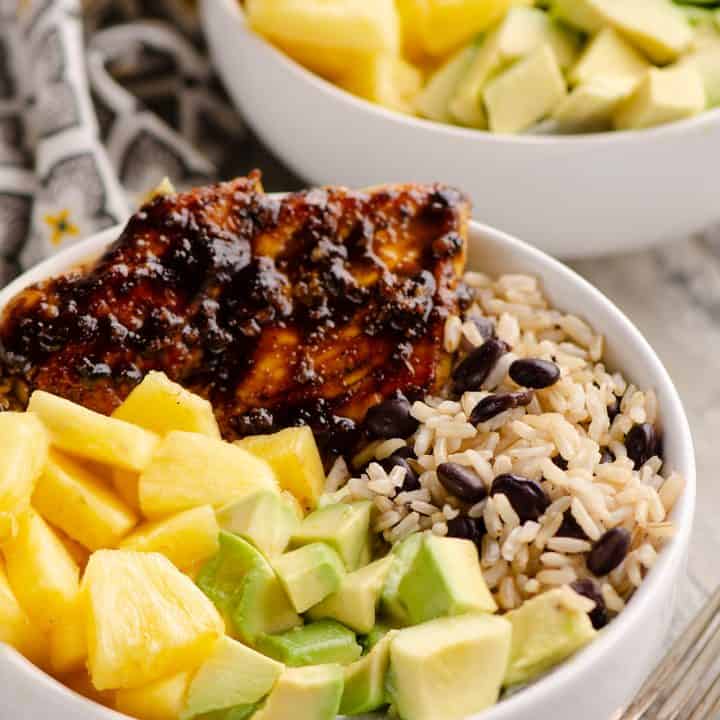 Cuban Chicken Rice Bowl
Cuban Chicken Rice Bowl is an easy 20 minute weeknight dinner recipe perfect for healthy meal prep. The combination of pineapple, avocado, rice and beans paired with the Cuban spiced chicken is delicious!
Ingredients
1 Tbsp. olive oil
1 lb. boneless skinless chicken breasts
pinch salt and pepper
1 c. cooked brown rice, 1 microwave cup
1/3 c. rinsed black beans
1 c. fresh pineapple, cubed
1 avocado, chopped
1 lime
1 tsp. chopped garlic
1 tsp. cumin
1/2 tsp. oregano
1/4 tsp. salt
1 orange, juiced
2 tsp soy sauce
Instructions
divide lime between avocado and mojo sauce
Add the olive oil to a skillet over medium-high heat. Season the chicken with salt and pepper and add to the oil when it is glistening. Cook the chicken on each side for 5-6 minutes, or until the internal temperature of 165°
While the chicken is cooking, chop the pineapple and avocado. Toss the avocado with the juice of 1/2 lime so it doesn't brown.
Remove the cooked chicken from the pan and set aside so it can rest for a few minutes.
Return the pan to medium heat and add the diced garlic, cumin and oregano. Cook for one minute and add the salt, orange juice and soy sauce. Cook until the sauce is reduced by half.
While the sauce is cooking, microwave the rice and mix with the black beans.
Assemble the bowls, each with 1/3 of the pineapple, avocado, rice & beans and chicken. Top the chicken with the Mojo sauce and serve with the other half of lime cut into wedges.
Nutrition Information:
Yield:

3
Serving Size:

1 grams
Amount Per Serving:
Calories:

515
Total Fat:

20g
Saturated Fat:

3g
Unsaturated Fat:

0g
Cholesterol:

96mg
Sodium:

669mg
Carbohydrates:

48g
Fiber:

11g
Sugar:

12g
Protein:

38g
More great chicken bowl recipes!