Garden Fresh Sweet Corn Salsa is a healthy pico de gallo recipe made with crisp vegetables and a spicy kick of flavor.
Garden Fresh Sweet Corn Salsa
With tomatoes and sweet corn hitting the end of their season here in the Midwest, I had to put them to good use in one last recipe full vegetables in their prime. This Garden Fresh Sweet Corn Salsa is a classic pico de gallo recipe, but made even better with garden tomatoes and a crunchy sweet corn twist!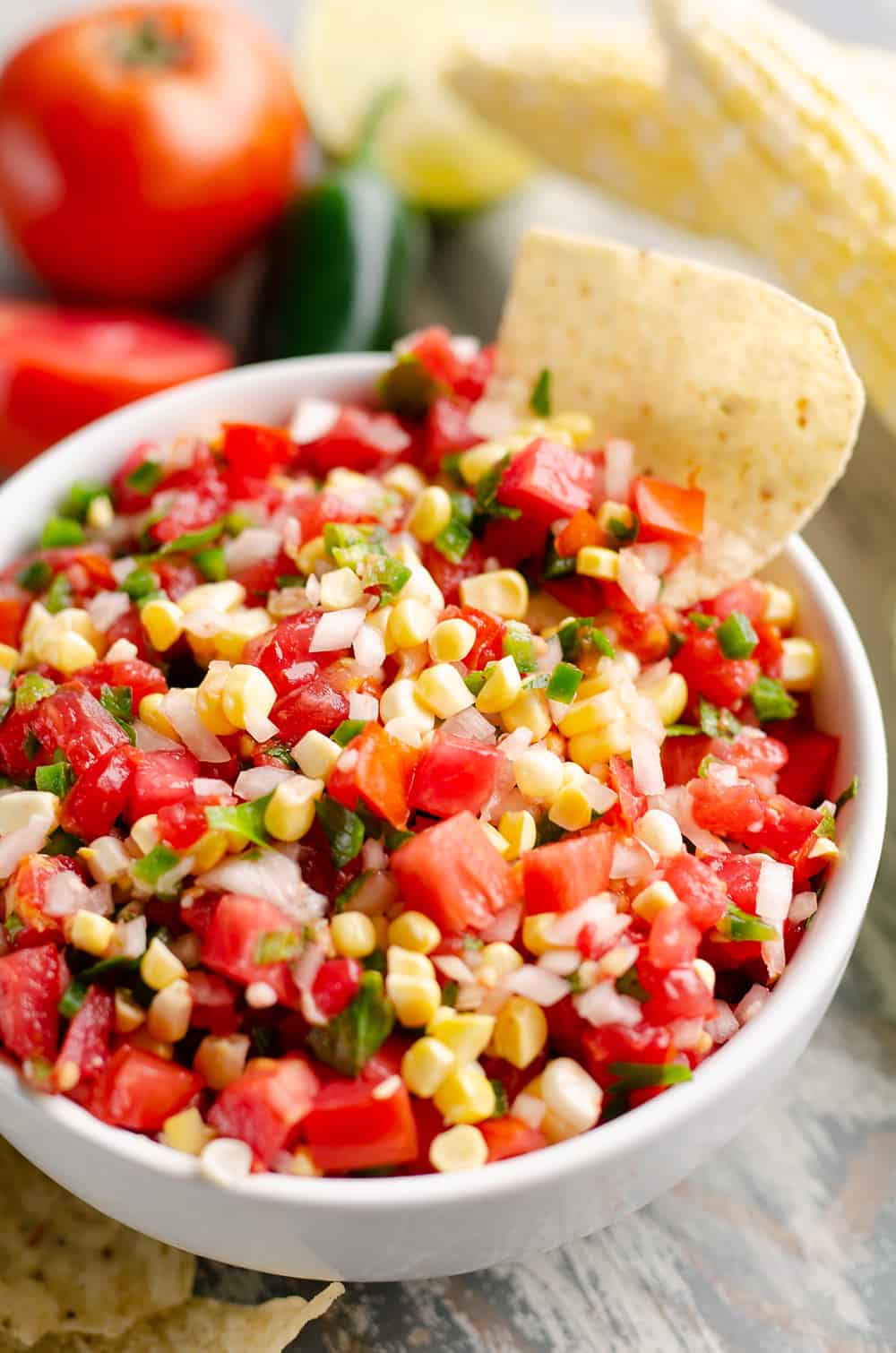 The sweet corn in our garden was actually done for the year, but one of the many awesome parts about living in the country is that it means our neighbors have a whole patch of sweet corn that they generously shared from. My husband planted a garden this year and the only thing that made it was the sweet corn, because he never weeded it once. I am no better though.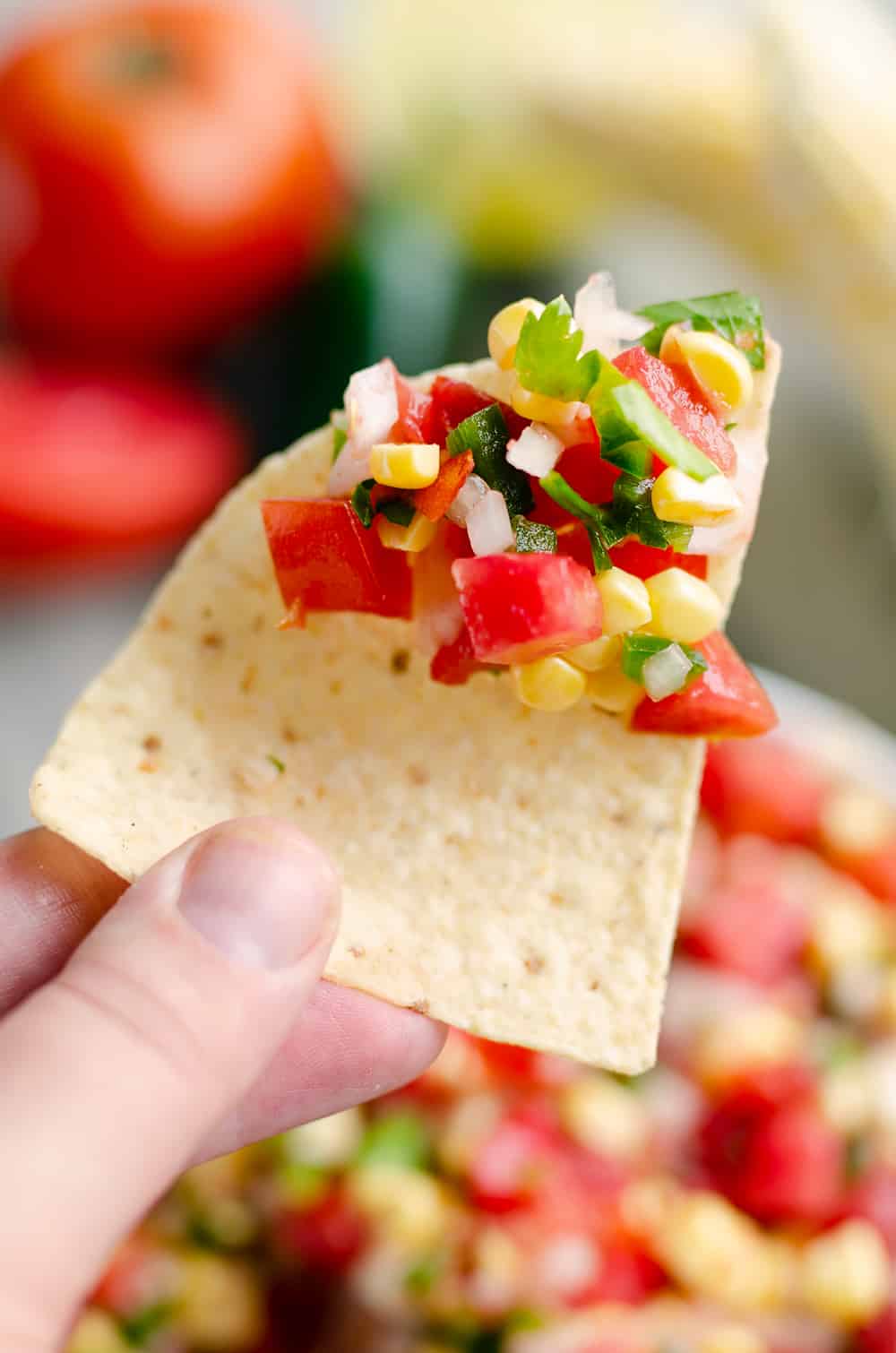 I have never ever been a gardener. I tried the first year we bought a house with a large garden already on the property. I put all the time and sweat into planting lots of vegetables, herbs and flowers…and then I rarely weeded or tended to it and it got completely out of control. After that, I hung up my gardening gloves and resided to the fact that I just wasn't going to take the time to tend to a garden all summer. Heck I barely keep my small patch of flowers weeded!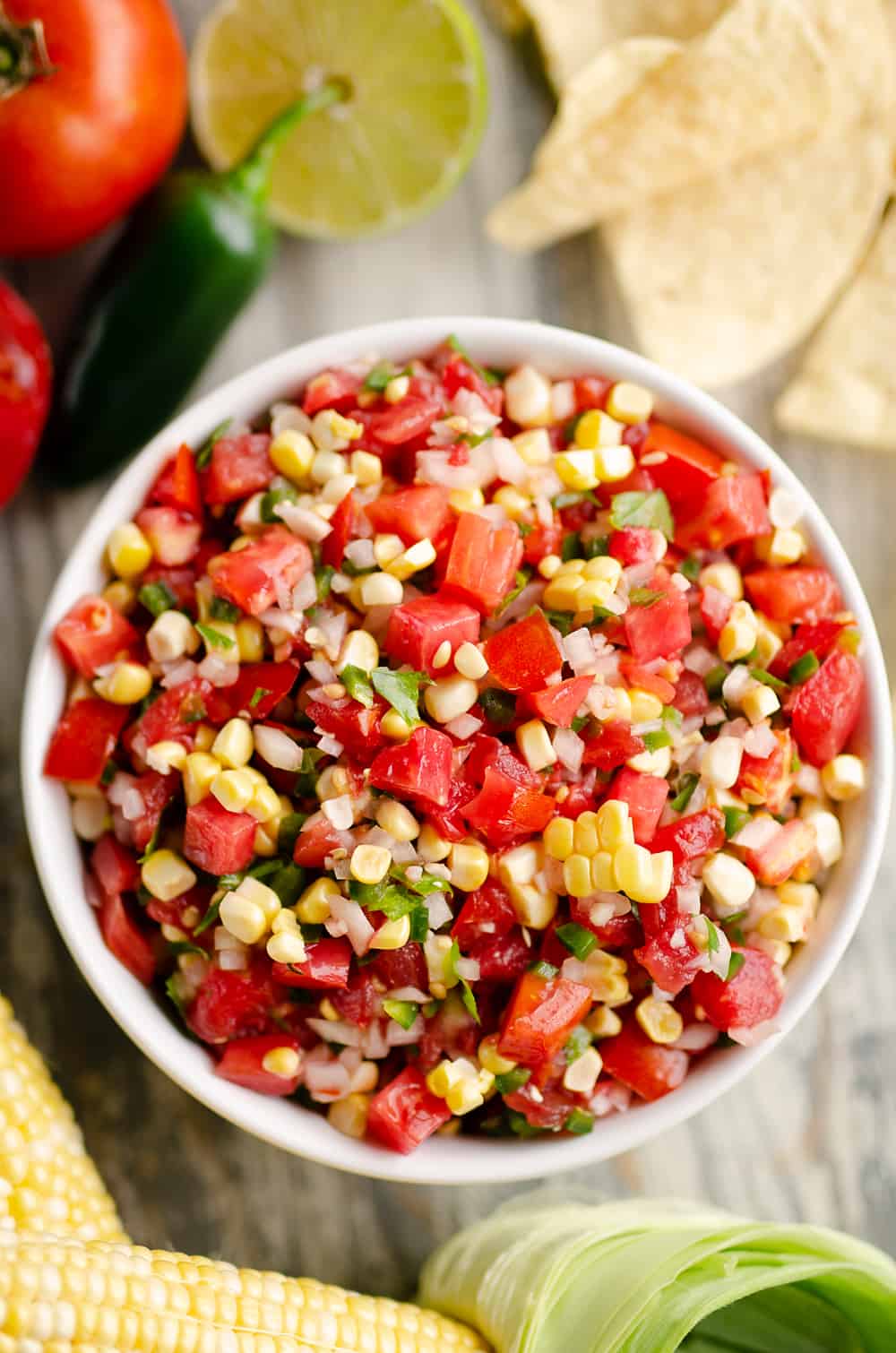 That doesn't mean that I don't absolutely love garden produce though. Lucky for me, my parents plant about five times more than they need each year, so I happily steal their tomatoes along with a few other vegetables. My Mom had tomatoes coming out of her ears this summer and was giving them away to anyone in town who would come and pick them! I happily took as many as I could off her hands to make a fresh bowl of this Garden Fresh Sweet Corn Salsa.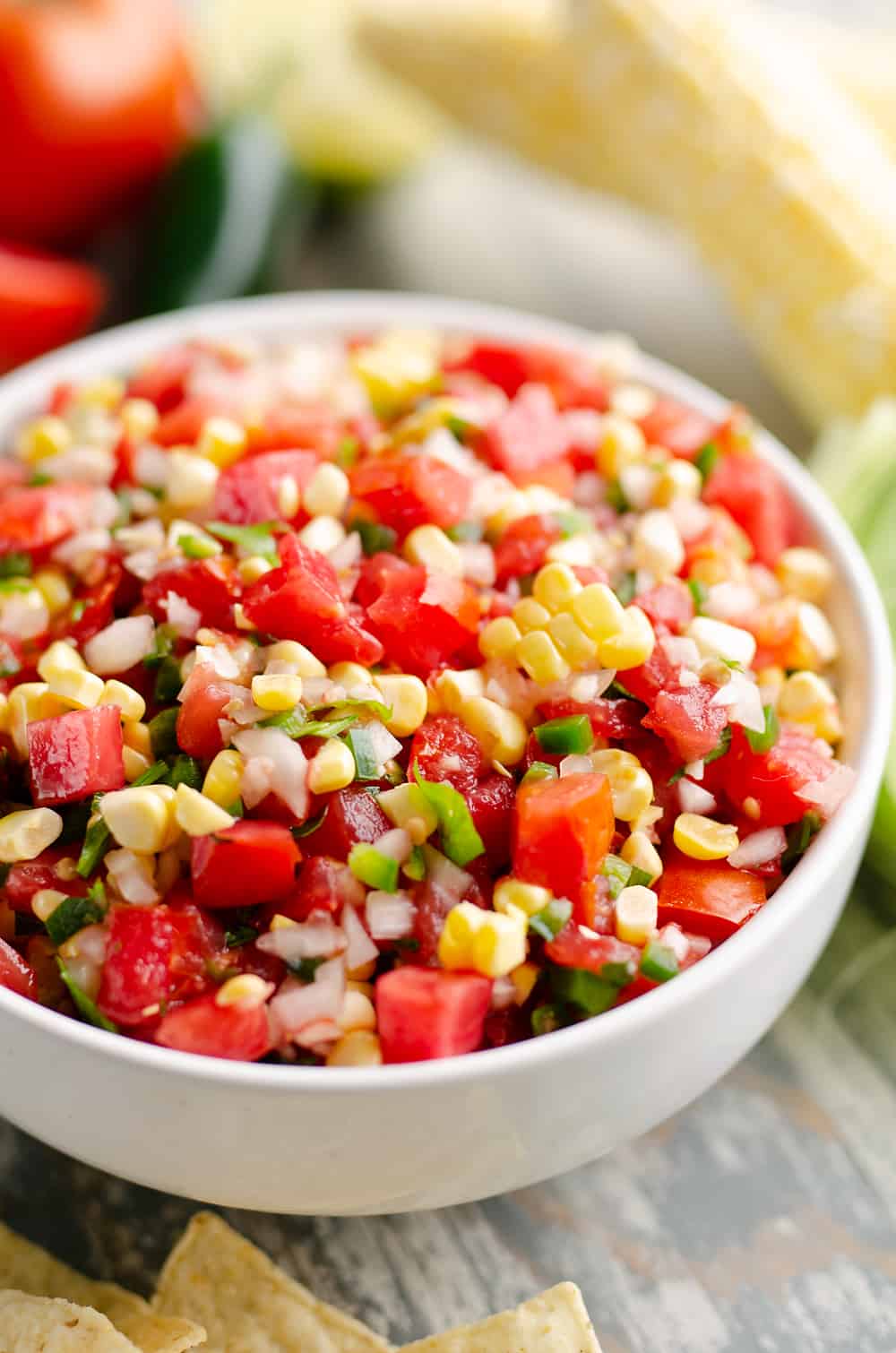 I even went so far as helping my Mom can tomatoes this year into regular quarts of tomatoes and pints of canned salsa. There is really no beating the flavor of garden tomatoes, so it is ashamed not to preserve as many as you can to enjoy throughout the winter months. Our family always plants Big Boy tomatoes, but just about any garden variety will work.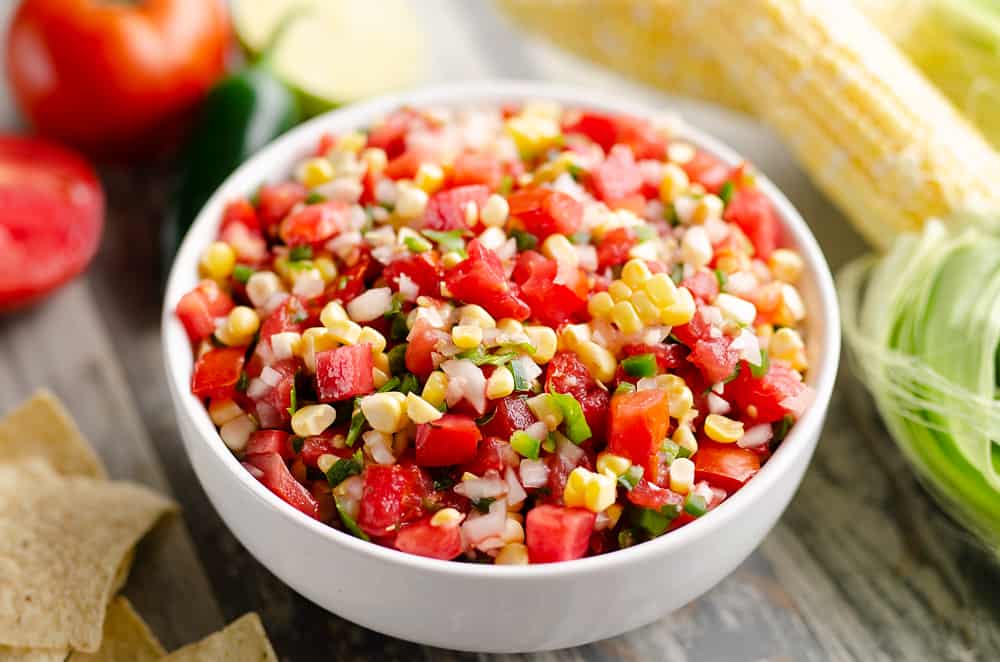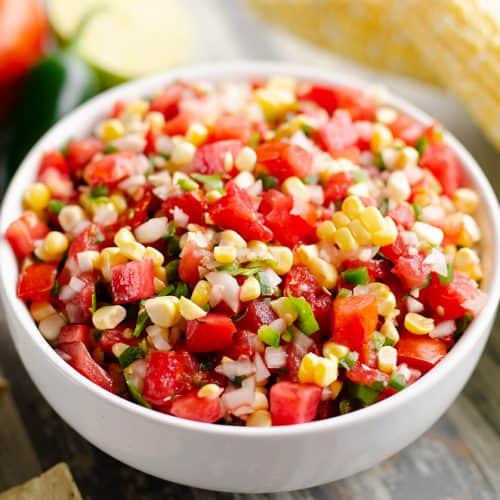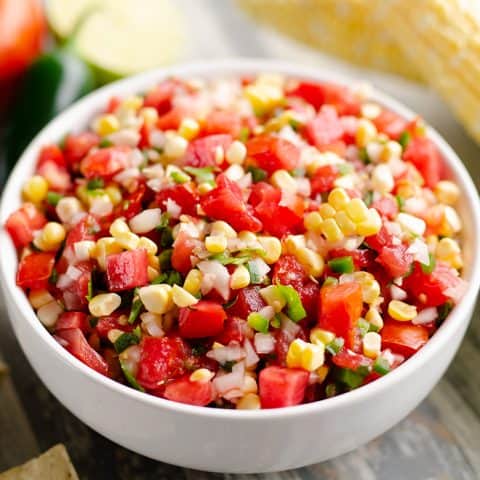 Garden Fresh Sweet Corn Salsa
Garden Fresh Sweet Corn Salsa is a healthy pico de gallo recipe made with crisp vegetables and a spicy kick of flavor.
Ingredients
1/4 c. Cilantro, diced
3 Garlic cloves, diced
1 Jalapeno, diced
juice of 1/2 Lime
3/4 c. onion, yellow or red, diced
2 c. fresh tomatoes, chopped
1 cob sweet corn, cut off the cob
1/4 tsp. salt
Instructions
Toss all of the ingredients in a bowl and serve fresh. Store refrigerated up to 3 days.
Nutrition Information:
Yield:

4
Serving Size:

1 grams
Amount Per Serving:
Unsaturated Fat:

0g
More great salsa recipes!