If you're hosting a fun and unique dinner party and want to learn how to fondue with some of the best fondue recipes, I've got you covered with this complete guide! We have everything from cheese and chocolate to meat with oil and broth, along with lots of great fondue dipper ideas.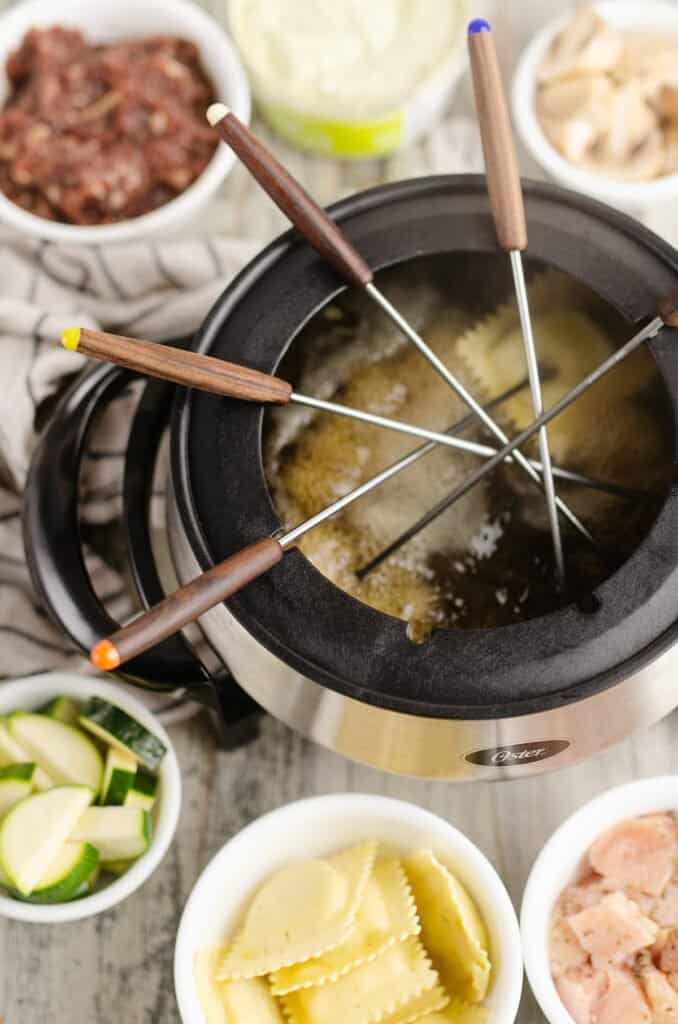 How to Make Fondue
If you didn't live through the 1960's and 70's you might not be familiar with how to make fondue. We are here to help! Fondue is one of the best ways to socialize at a dinner party while enjoying a variety of delicious foods. You can make fondue as healthy or indulgent as you'd like, and we are here to share a variety of amazing fondue recipes.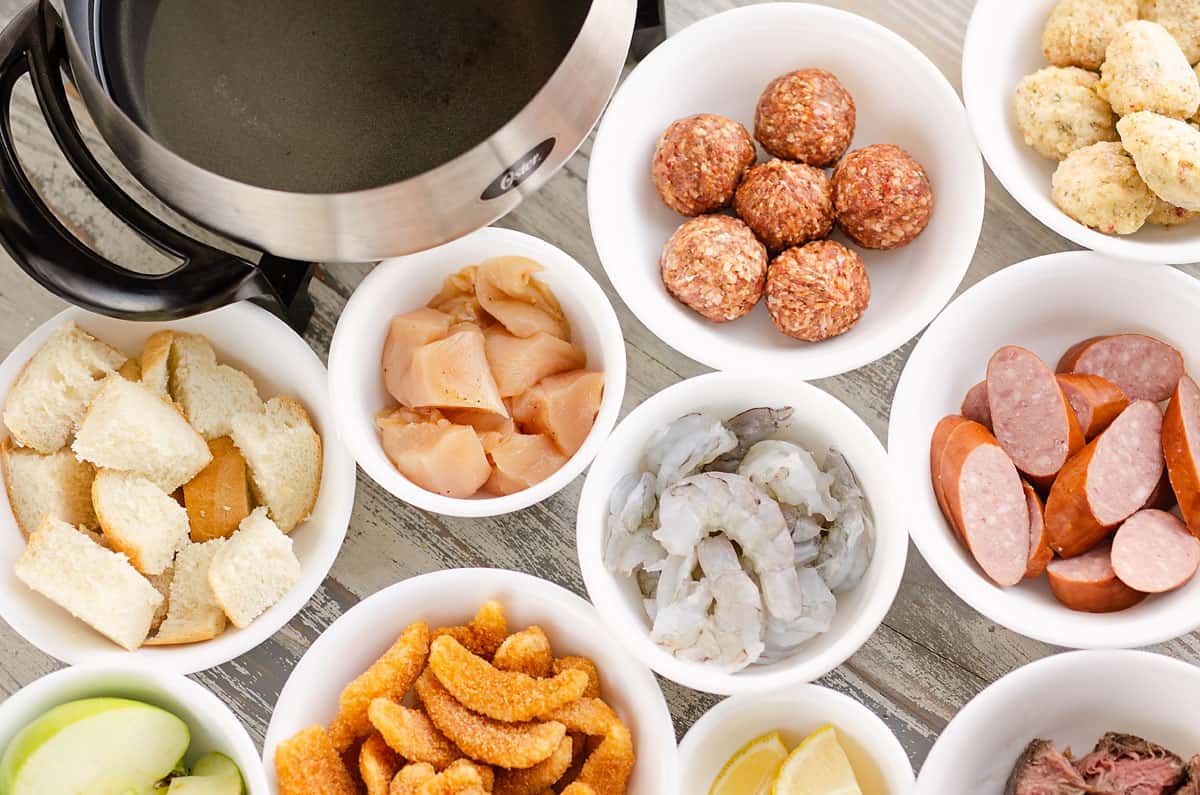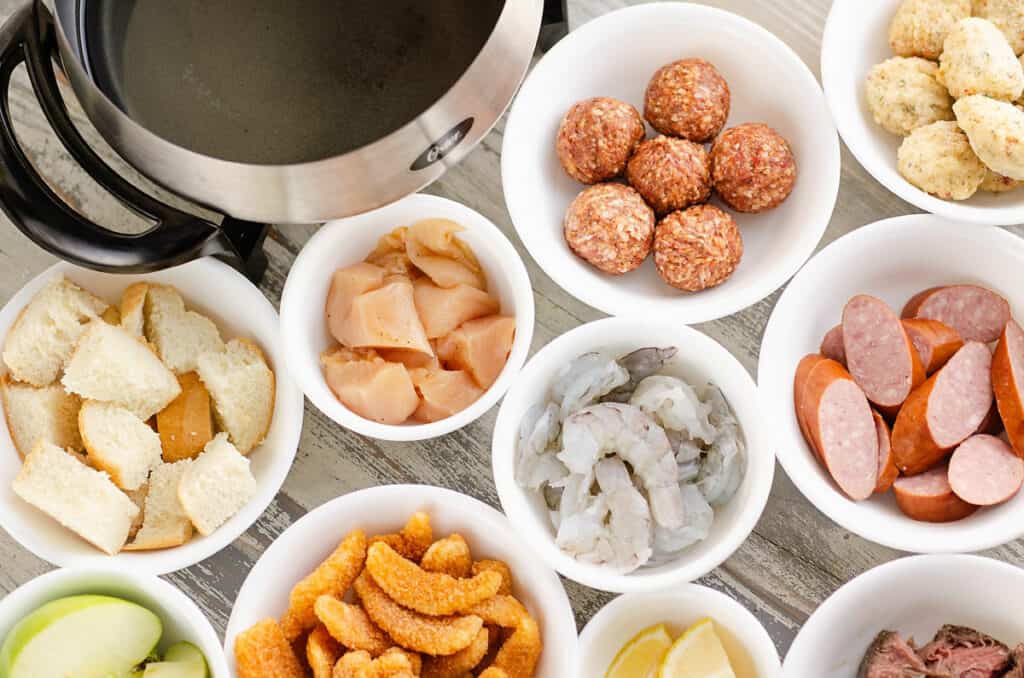 What is Fondue
Fondue by definition is a dish in which small pieces of food are dipped into a hot sauce or a hot cooking medium such as oil or broth. The only special equipment you will need are fondue pots and sticks.
You can serve a single fondue recipe for an appetizer or host a retro fondue party with the whole shebang, including cheese fondue, hot oil, broth and dessert fondue.
History of Fondue
Fondue originated in Switzerland as a way to stretch families resources. Some cheese mixed with a bit of wine was served with stale bread. The bread softens as it is covered in cheese fondue and results in a delicious and frugal meal. Later on it became a meal enjoyed by the more affluent, despite it's origins. This wonderful tradition was introduced to Americans in the 1960s.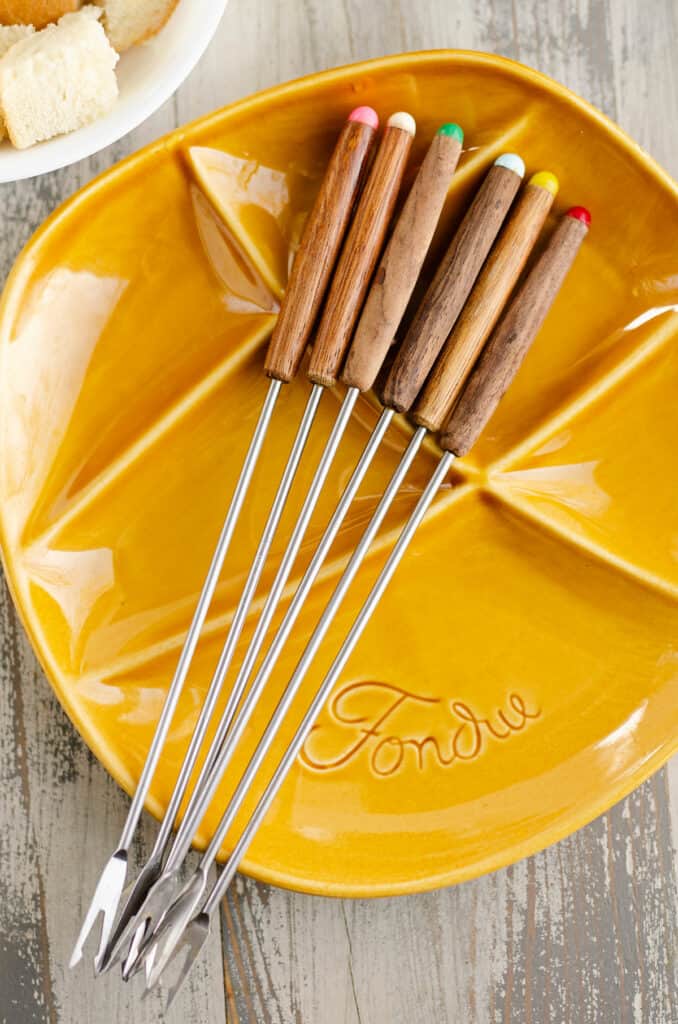 What equipment do you need to fondue
In addition to a fondue pot, there are a few things you will need to successfully host a fondue dinner party. Here is the equipment that will help your fondue be a success.
Fondue Pot
Fondue Forks
Fondue Plates – Check out eBay for a cool selection of vintage plates!
Extension Cords – You will need a couple cords to run the pots to your outlets safety.
What pots to use for Fondue
I was fortunate enough to inherit my Mom's fondue pots from the 70's, but if you aren't so lucky you can buy a variety of different fondue pots. There are electric fondue pots or pots that are warmed with candles or Sterno. Electric is my preference because you are able to control the heat my better.
I love my vintage pots for oil fondue because they have a tray around the edge that is perfect for setting your cooked meat for a few minutes to let any excess oil drip off. They just don't make them like they used to!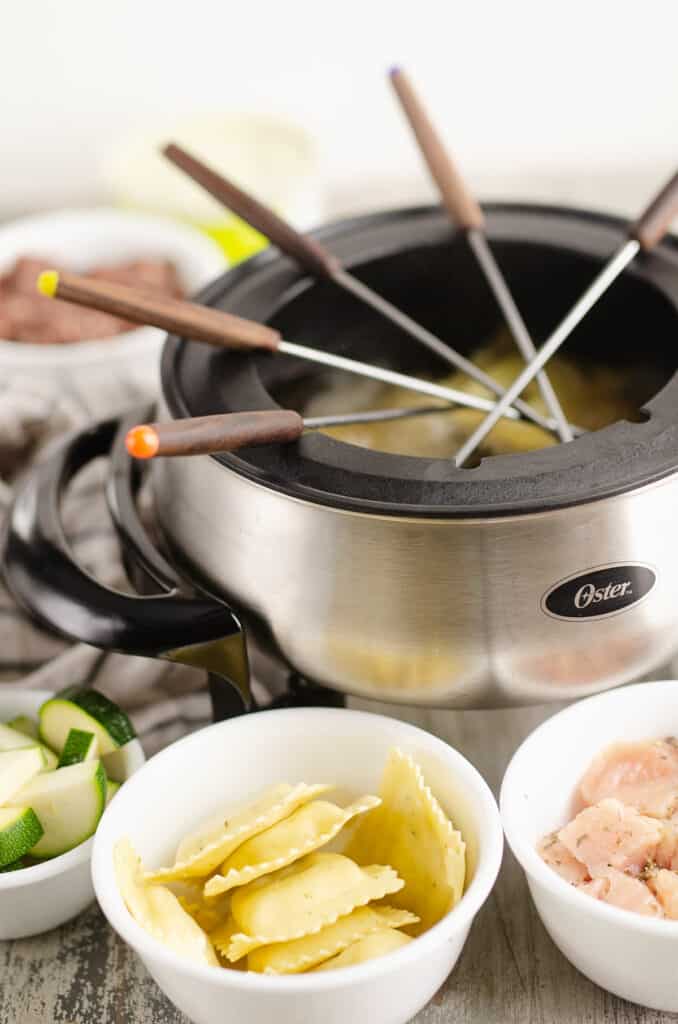 Where to buy fondue pots
Amazon is the obvious choice, where you can find just about any kind of modern fondue pot. Target also carries some electric fondue pots which are great for adding to wedding registries like my sister did!
If you want to really go retro for your fondue party and embrace the 60s and 70s vibe, then I suggest heading to eBay. Not only will you spend a fraction of what new pots currently sell for, you will find some unique and colorful pots!
One word of caution when it comes to vintage pots. Their electrical isn't as good as current pots, so you will want to pay attention to how many pots you have plugged into a single breaker. Our family has definitely tripped a few breakers in our day hosting fondue parties. Woops!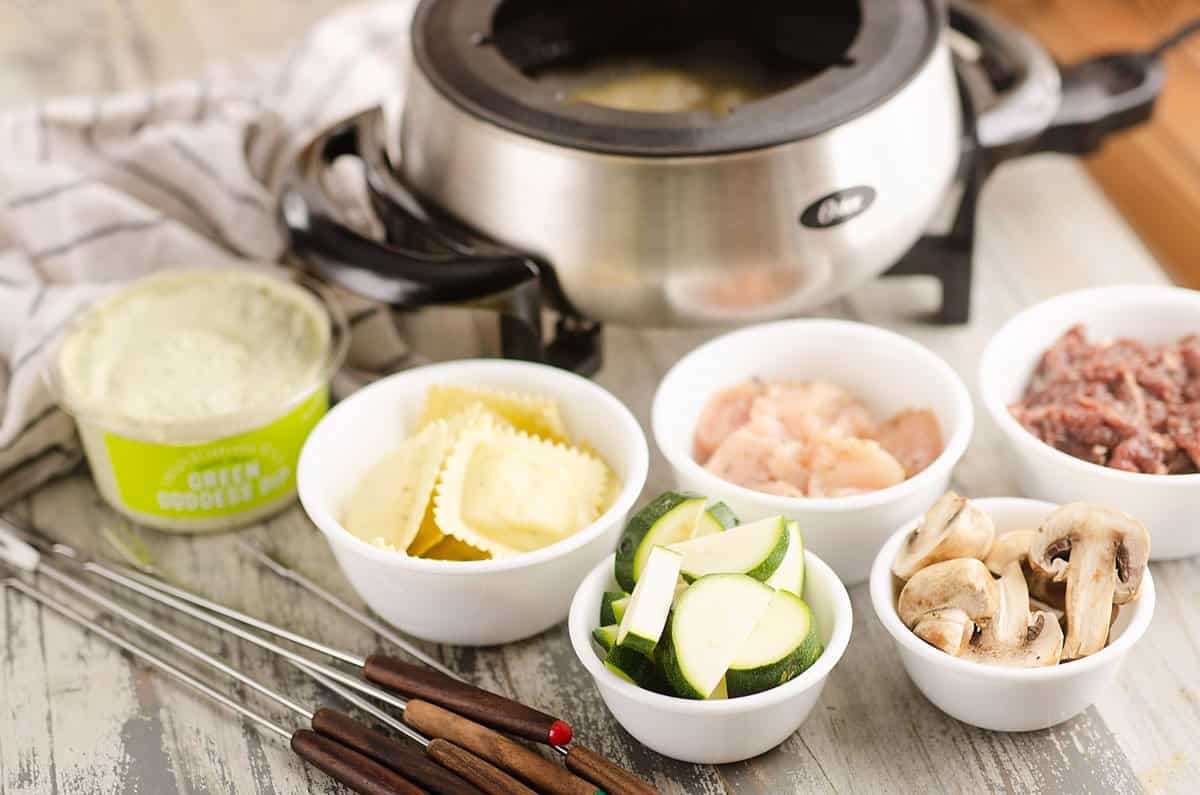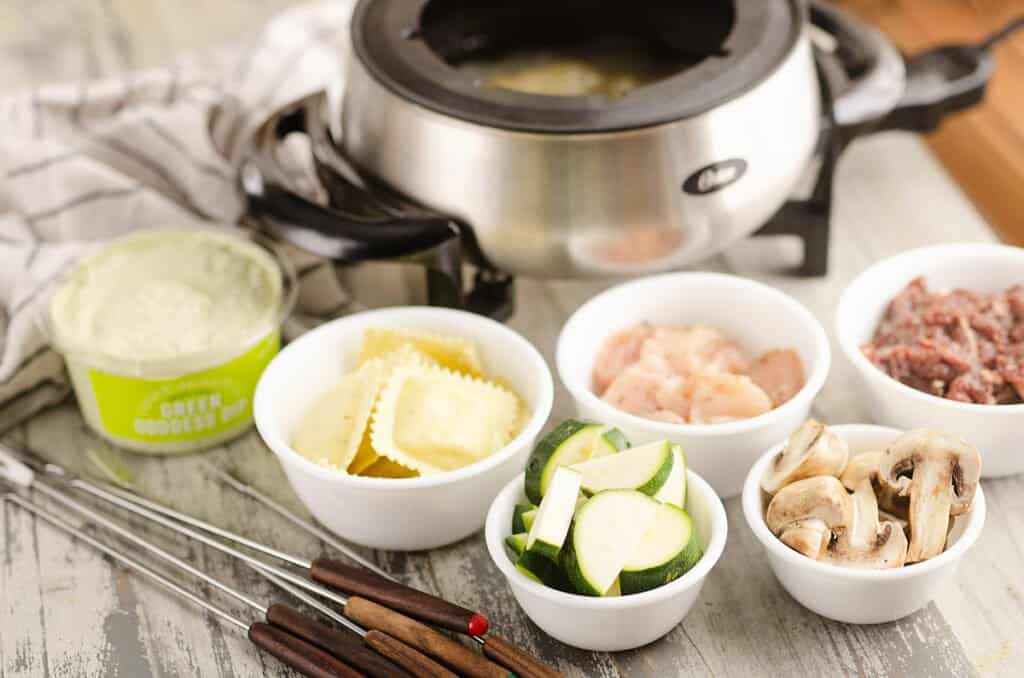 How to make fondue without a fondue pot
If you don't have a fondue pot, you can easily serve cheese fondue in a small ceramic dish or cast iron pot. You want to serve it in something thick that will retain heat well. Ideally you would have a heat source underneath, such as a a chafing dish over candles or a single portable burner.
If you don't have a heat source, then you may need to return the pan to the stovetop if the cheese isn't devoured right away. Heat it up a few minutes until it is a smooth consistency again and let your guests dig in.
If you are wanting to make broth or hot oil fondue, then you will need a heat source. Use an electric burner, a hot pot or even try your Instant Pot with an abundance of caution!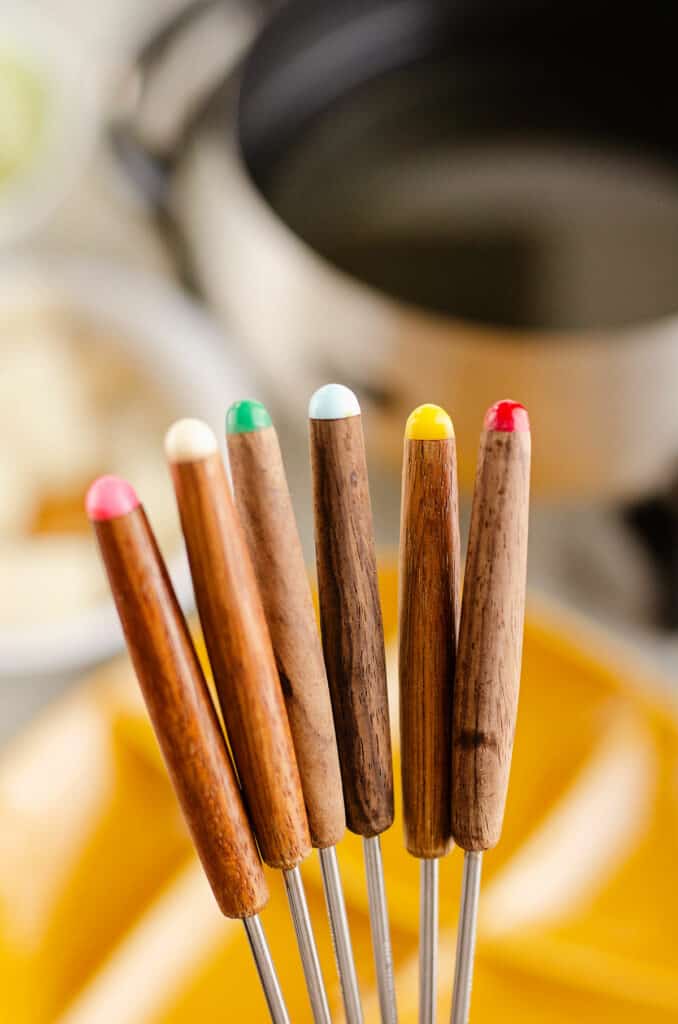 How to use Fondue Forks
One fun element to fondue is the colored forks that are usually included with a fondue pot set. They typically include two forks per color. This lets you cook one item of food in the broth or oil and then perhaps use the other fork for dipping some bread in cheese.
Whatever you do, don't eat off of the forks. Not only is it unsanitary because they are being put back in the oil, broth and cheese pots, but it can be incredibly hot as well! No need to burn your mouth. When your food is done cooking, use your dinner fork to take it off the fondue fork and onto your dinner plate.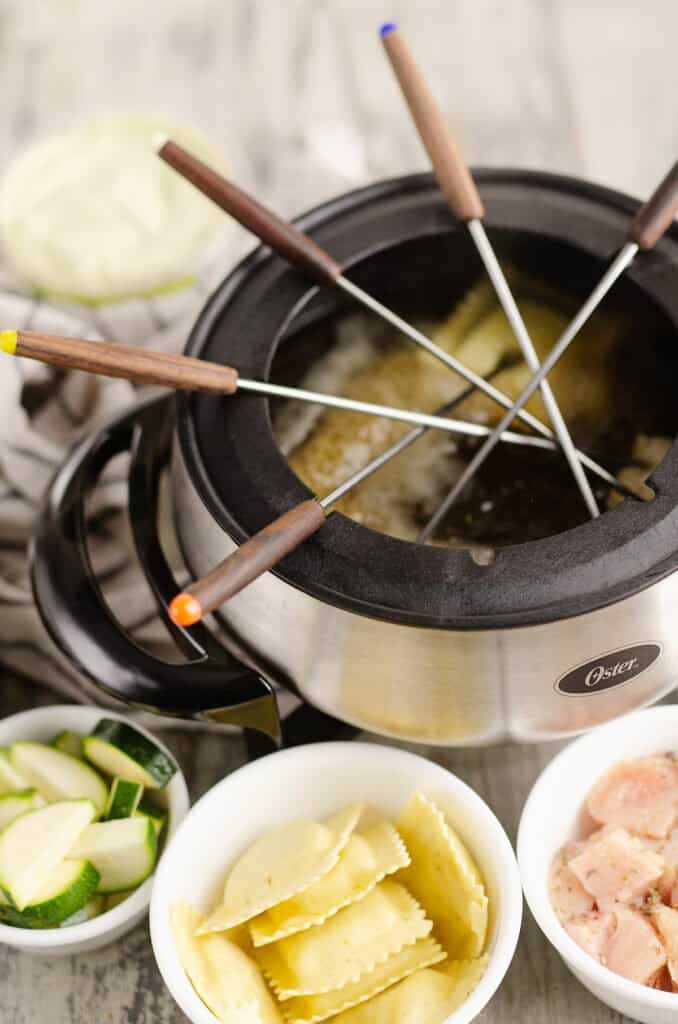 Tips for Fondue
There are a couple important things to keep in mind when enjoying Fondue. First and foremost is cross contamination. It is important for everyone to keep in mind that the raw meats should only be transferred directly from their original bowl right to the pot of oil or broth. Don't ever place any raw meat on your dinner plate!
Here are a few more of my tips and tricks to having a successful fondue dinner party,
Secure the cords to the electric pots so no one accidently trips on a cord and knocks over a pot of hot oil or broth.
Give each guest 2 forks so they can cook one item in broth or oil and while they are waiting, dip items in the cheese.
Spend a few minutes at the start of the dinner partying explaining how fondue works to your dinner guests and how to use their forks properly. Most people haven't tried fondue before and will appreciate the guidance.
Don't overdo it! I'm often guilty of this and I want to add a hundred different variety of meats, sides, sauces, etc. At the end of the day, that just makes it overwhelming or your guests. Stick to a few meats, a few sides and a few cheese dippers. This will offer more variety than you expect. It will make your guests happy and you will be happy to not have to prep so much food and do so many dishes!
Don't serve too much booze with fondue or everyone will forget food safety and which color fork they have. Not speaking from experience or anything… 🙂

Cheese Fondue Recipes
When most people think of cheese fondue, the classic Swiss cheese fondue comes to mind. While it is an amazing recipe that my family always gravitates towards, the possibilities for cheese fondue recipes are endless! Here are a few great cheese fondue recipes to try at your next fondue party!
Cheese Fondue Recipes
A variety of cheese fondue recipes that are perfect to serve as an appetizer or add to a fondue dinner party spread!
Meat Fondue Recipes
If you are looking for a main course for your fondue party, you will likely want to add a pot of hot oil or broth that you can cook meat in. Growing up, we only ever had hot oil fondue parties, which were delicious. The one major downside to oil fondue is that it will leave your house smelling like the inside of a kitchen restaurant for a couple days.
If you are looking for an alternative or addition to oil fondue, you can simply heat some broth or stock in the fondue pot. If you want to get a bit fancier, then you can add some flavors to the broth with a recipe like this Coq Au Vin Fondue.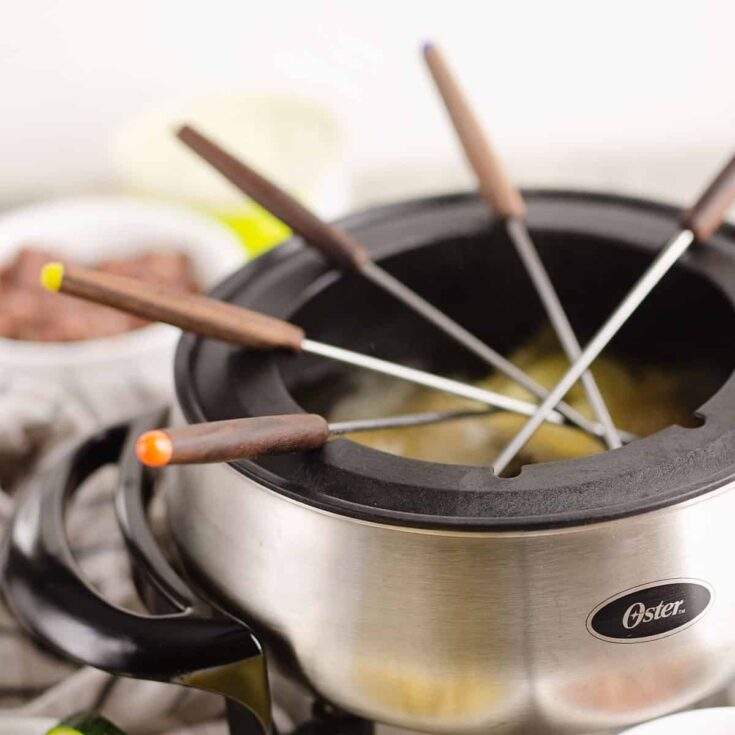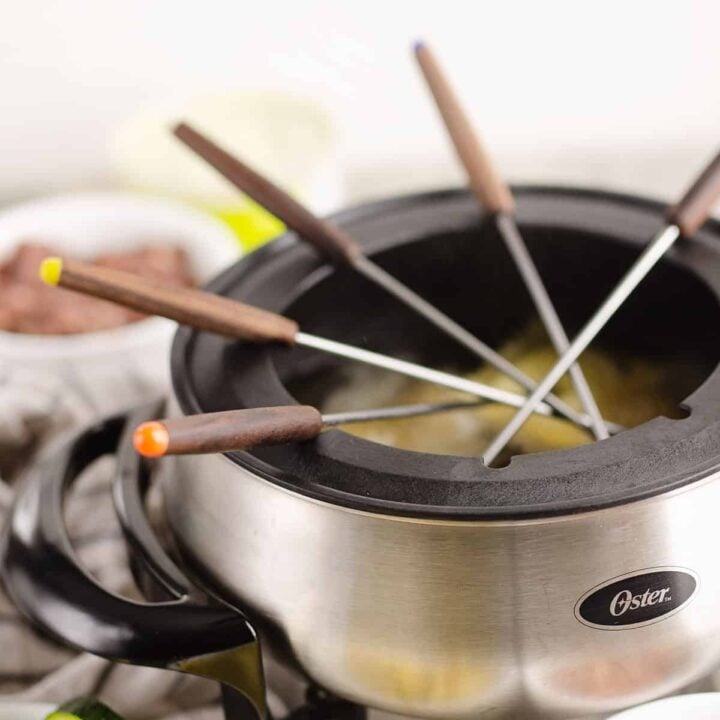 How to Fondue with Oil
Hot oil fondue is a classic recipe for deep frying your favorite meats and breaded foods at the table!
Ingredients
24 ounces vegetable, canola or peanut oil
Meats - cubed steak, breaded chicken, sausage, breaded shrimp
Vegetables - potatoes, zucchini, cauliflower, asparagus
Frozen Sides - onion rings, fries, cheese curds
Instructions
Place your electric fondue pot on the dinner table where it will be served. Add oil to our fondue pot, being sure not to fill it pass the max fill line. Secure the electric cord so no one trips over it!
Plug the pot in and turn the pot to 375°F.
Meanwhile, add the raw meats and frozen items to individual bowls.
When the oil is hot, begin cooking food in the pot. Allow each guest (up to 5) to add one raw item to their colored fondue fork directly from the serving bowl and set in the pot. (Do not have guests transfer raw meat to their dinner plates.)
Each dinner guest can keep an eye on their own food as it cooks, paying attention to what color fondue forks they have. Don't allow too many foods in the oil at one time or it will bring the temperature of the oil down too low. When their food is done, carefully place it on their dinner plate and enjoy with dips or sauces.
Notes
If you have more than 5 guests, you should serve two pots of oil.
Recommended Products
As an Amazon Associate and member of other affiliate programs, I earn from qualifying purchases.
How much fondue should I make
A fondue dinner for 4 is fabulous and a romantic meal for 2 is impressive, but this meal also can work for larger groups. I have served fondue for up to 10 people at a time. I honestly wouldn't recommend hosting a fondue dinner for many more than that. It starts to become logistically difficult with electric cords, pots, etc.
For every 4-5 people at your dinner, you should have one pot of oil or broth fondue and one cheese fondue. When I hosted 10 people I served one pot of broth, one pot of oil and two different cheeses.
I serve about 4 ounces of meat per person. So If I am hosting 4 people and serving three different kinds of meat, I would serve about 6 ounces of each meat. If I was serving meat at a traditional dinner, I would plan for 8 ounces per person, but because of the nature of how slow you eat fondue and the wide variety of foods. Four ounces per person has always been enough, even for my farm family with big appetites!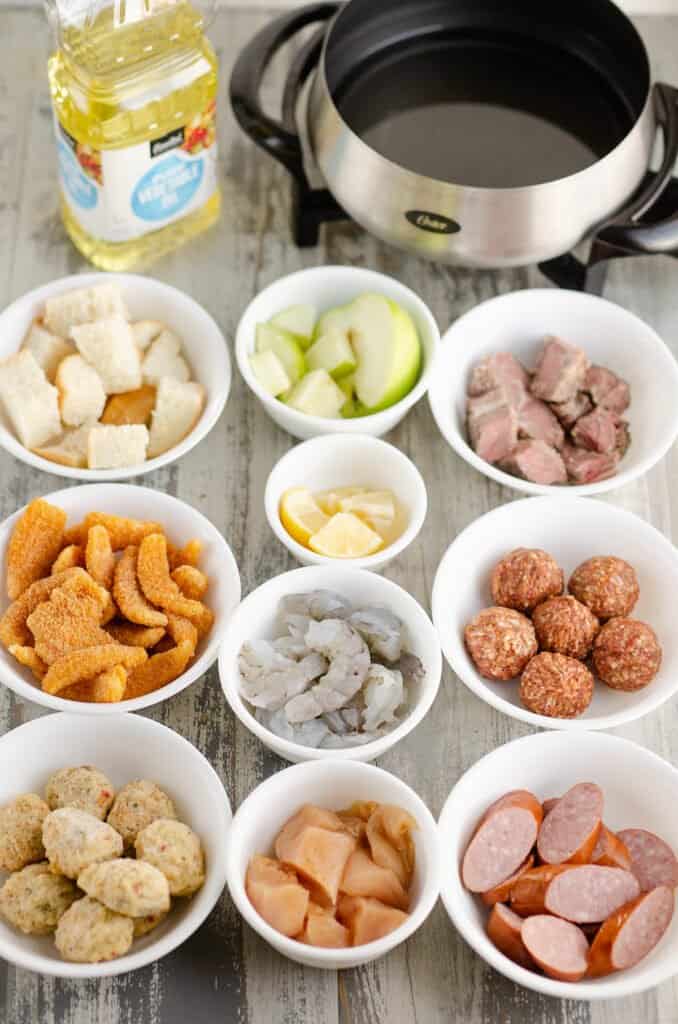 Fondue Dipper Ideas
Fondue dippers are what add lots of variety and flavor to your dinner party. You can get really creative and marinade a variety of meats in different flavors, or keep it simple and buy mostly ready to serve items. Here is an extensive list of different fondue dipper ideas for a variety of fondues.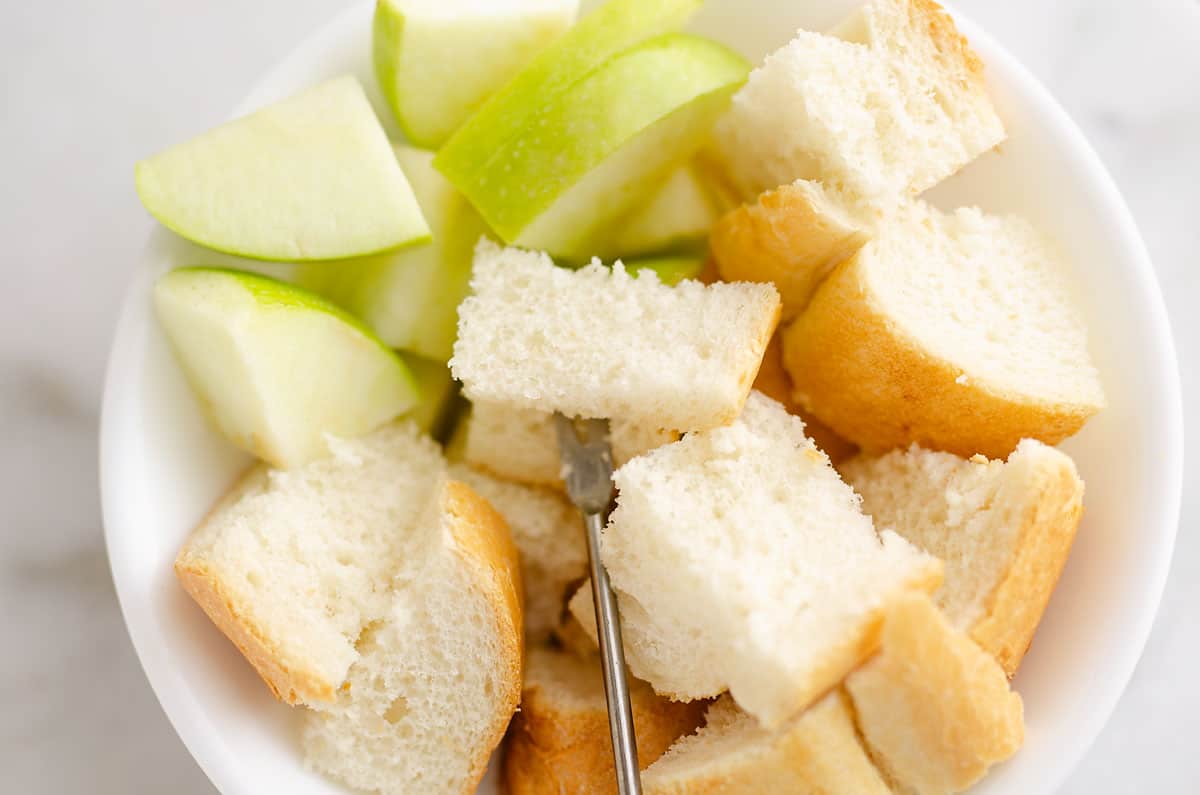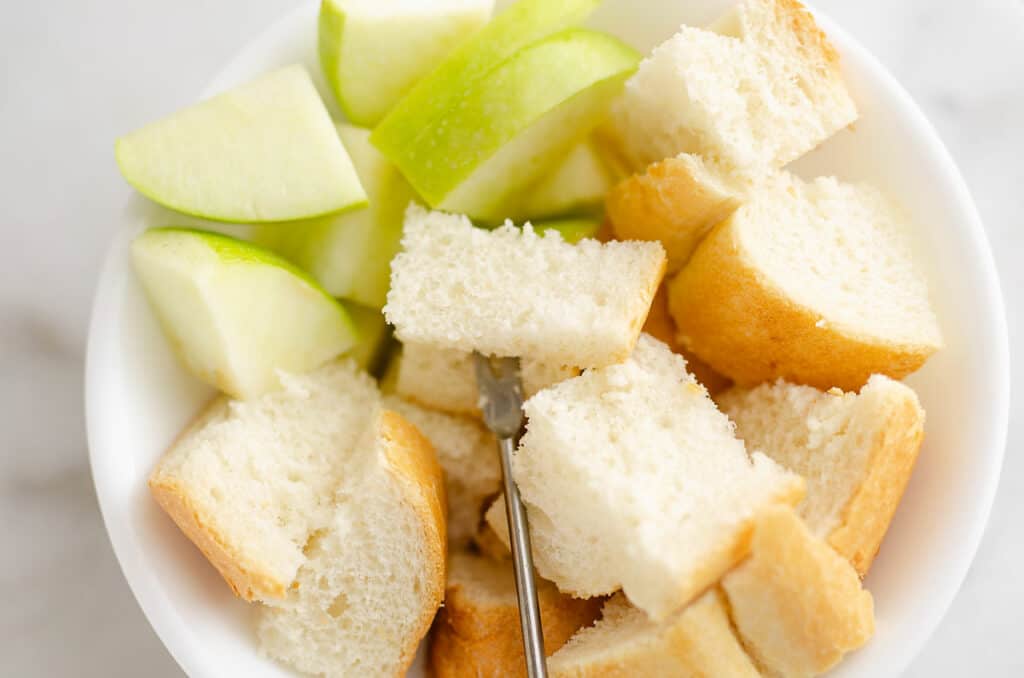 Cheese Fondue Dippers
One of the great parts of a fondue dinner party is that you can use many of the components together. Cook some of the items in the oil or broth and then bring them over to your favorite cheese fondue to dip in!
Cubed Bread – French, Rye, Sourdough
Chips
Granny Smith apples
Raw Vegetables
Cubed Ham
Cooked Vegetables (vegetables that are cooking in the oil or broth are fantastic dipped in the cheese)
Cooked Pasta (chicken ravioli cooked in the broth is great in cheese fondue)
Cooked Shrimp
Cooked Meatballs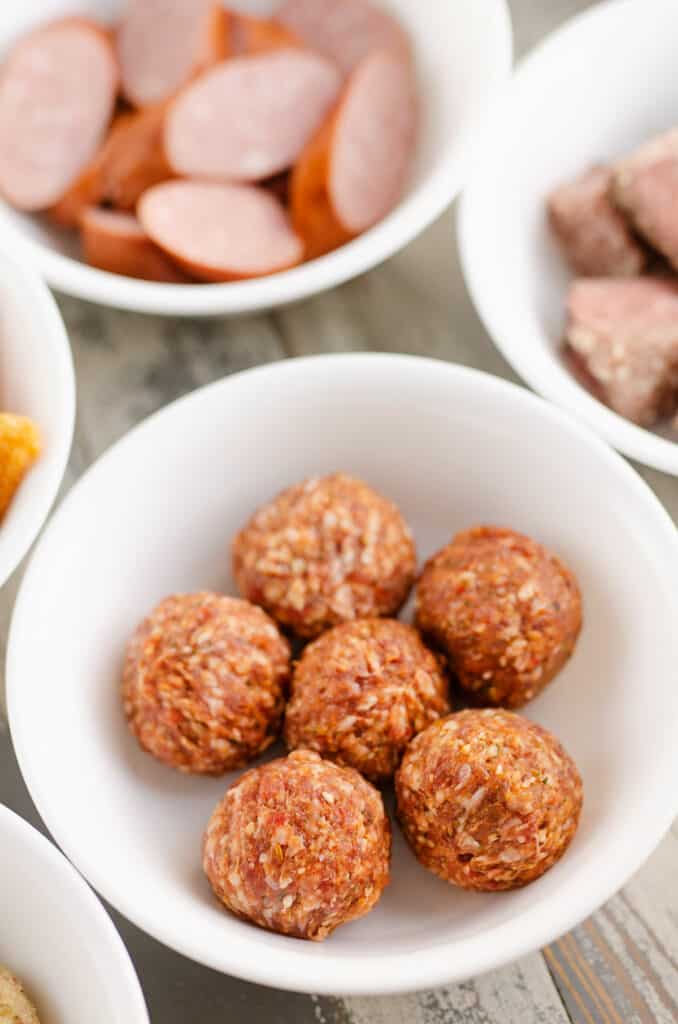 Hot Oil Fondue Dippers
One thing I like to include with a hot oil fondue is a bowl of tempura batter. This allows people to bread items like shrimp, vegetables, etc. before cooking them in the oil. This adds a great variety to the dinner. Just be sure everyone knows that it is batter, so someone (like my brother one year) doesn't try use it as a dipping sauce! 🤦‍♀️
Meat Dippers for Oil Fondue
When serving meat, be sure they are all cut in cubes or are small enough for a bite sized piece.
Steak
Chicken
Meatballs
Shrimp
Andouille Sausage
Leftover medium rare Prime Rib (serve Prime Rib for Christmas, and then make fondue for New Year's Eve with the leftovers!)
Frozen Dippers for Oil Fondue Fondue
Just about anything you can find in the appetizer section of the frozen aisle will work for oil fondue.
Onion Rings
Cheese Curds
Breaded Ravioli
Sweet Potato Fries
Tater Tots
Breaded Shrimp
Jalapeno Poppers
Fish Nuggets
Breaded Chicken
Vegetable Dippers for Oil Fondue
Most of these vegetables will be best if they are first dipped in tempura batter and then cooked in the hot oil.
Summer Squash
Cauliflower
Green Beans
Carrot Slices
Zucchini
Asparagus
Mushrooms
Cubed Potatoes
Broth Fondue Dippers
Most of the meats and vegetables that you can cook in hot oil also work great in broth. In fact, many of them are even better in broth! They aren't full of oil and they cook into a nice tender piece of meat. The only foods that don't work in the broth are breaded items.
Meat Dippers for Broth Fondue
Potstickers
White Fish
Salmon
Filled Pasta
Shrimp
Thinly Sliced Marinated Steak
Thinly Sliced Marinated Pork
Leftover medium rare Prime Rib
Hotdogs- if you have some kids at dinner, this is a fun addition for them!
Vegetable Dippers for Broth Fondue
Potatoes
Broccoli
Zucchini
Summer Squash
Cauliflower
Green Beans
Carrot Slices
Asparagus
Mushrooms
Marinade recipes for fondue meats
You can easily serve the meats without any marinade and just include some great dipping sauces for flavor. Or you can plan ahead a bit and marinate your meat in a variety of flavors to offer something a little extra special.
If you want to keep things quick and simple, head to the grocery store and buy a couple bottled marinates. If you want to take the extra step and make your own, check out some great marinade recipes below that would work with different fondue meats.
Chicken is always better with a marinade in my opinion. It doesn't have much flavor and can take on just about any flavors and spices. I will usually cut up one large chicken breast and divide it between two different marinates for some easy variety.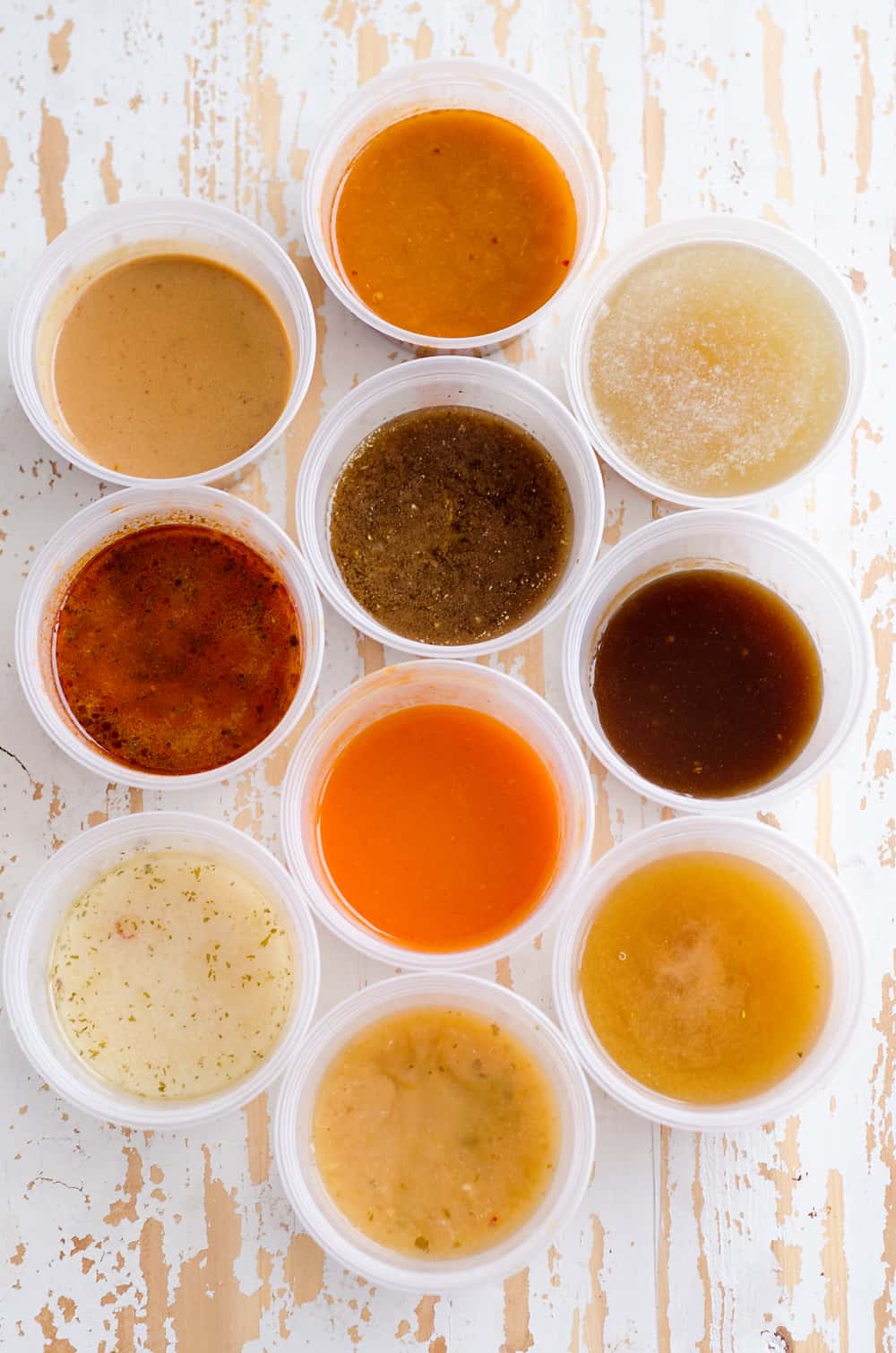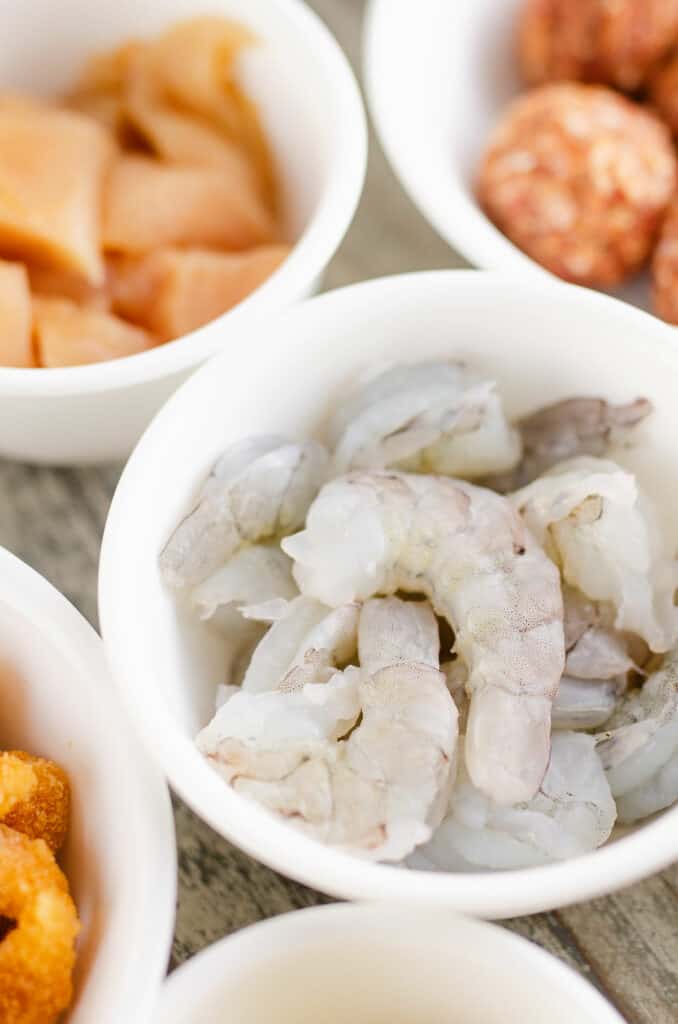 Sauces to serve with fondue
Variety is the name of the game with fondue, and sauces are no exception. Whether you go the extra mile and make homemade sauces, or buy some from the store, you need sauce! Keep in mind you should have at least one sauce that goes with each protein you are serving.
If you are serving ravioli, be sure to serve marinara sauce. If you are serving steak, serve steak sauce. You get the idea! Here is a list of some of my favorite sauces to serve with fondue.
Green Goddess – This is a must have at every fondue party I host. It is such an incredibly versatile sauce and goes so good with vegetables and meat!
BBQ Sauce
Steak Sauce
Teriyaki
Cocktail Sauce
Tartar Sauce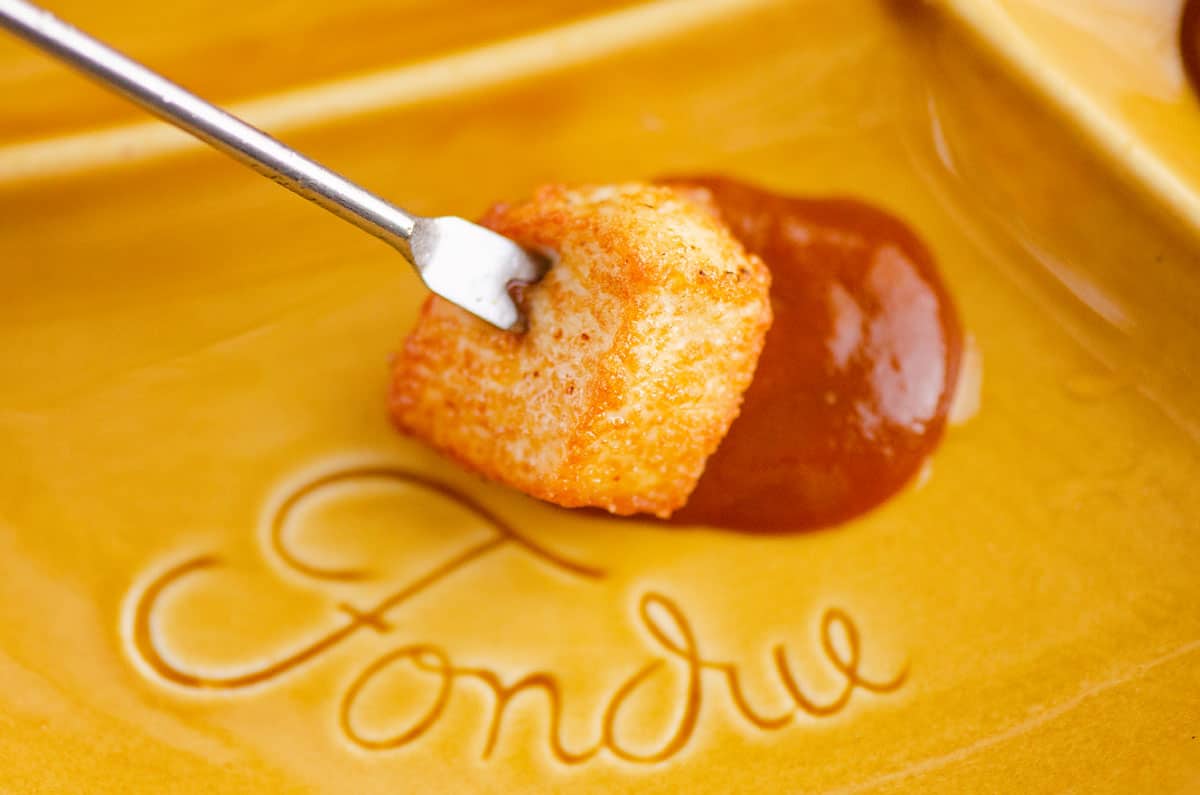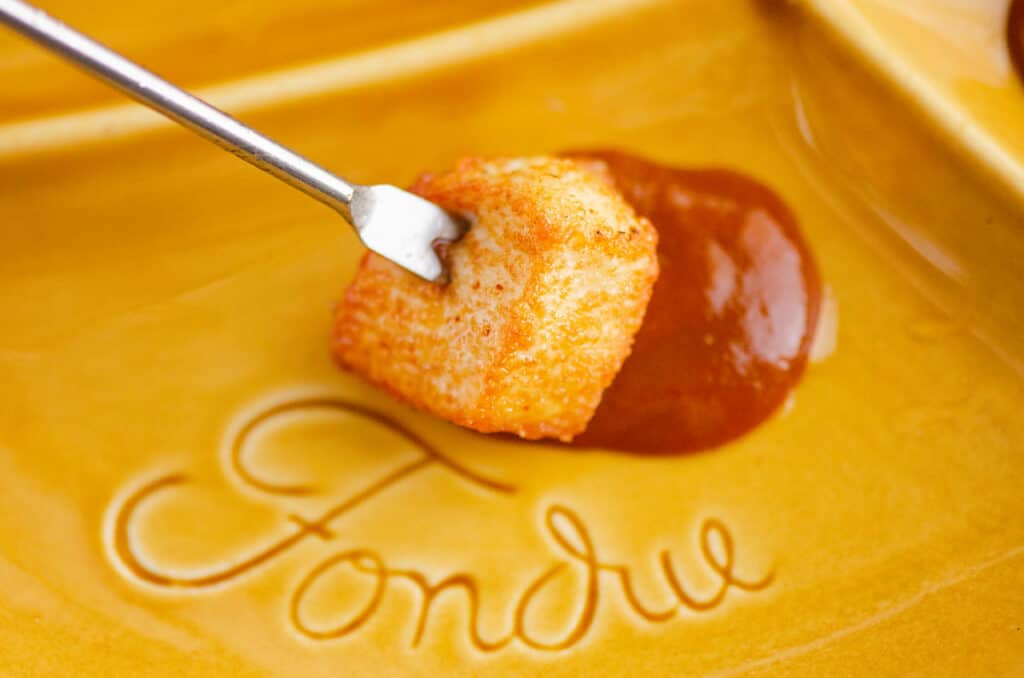 Dessert Fondue Recipes
If I'm being completely honest, I usually skip dessert fondue when hosting a fondue dinner party. Fondue is a fantastically healthy meal when made with broth. Not only do you enjoy lean meats and vegetables, but you eat at a nice slow and healthy pace.
When eating slow, you tend to feel full with less food. This means that by time you enjoy a full spread of cheese and meat fondue, you are way too full for any dessert.
Our family's tradition is to serve these Cinnamon Sugar Biscuit Donut Holes with the oil fondue. Pop open a can of biscuits and quarter them. Serve them in a bowl in addition to a bowl of cinnamon sugar. Guests can make hot donuts in the oil and roll them in the cinnamon sugar themselves. This is always one of the most popular items at fondue!
Chocolate Fondue
If you want to to go over the top and add a dessert to your fondue dinner, then I suggest this chocolate fondue recipe. It is an easy and delicious two ingredient dark chocolate fondue that takes minutes to whip together. Add some fresh fruit and store bought dippers and you have a decadent dessert everyone will love.
While I don't usually include chocolate fondue in my fondue dinners, it doesn't mean it isn't an amazing dessert. It is a great addition to a regular meal where guests might have more room after their main course. Chocolate fondue is also great at parties where you want to add lots of variety to a dessert spread.