Zesty Cheddar Fondue is an easy and delicious appetizer perfect for a party. It is a creamy cheese fondue filled with rich sharp cheddar, onions, garlic and cilantro that pairs perfectly with bread and apples for a unique holiday recipe.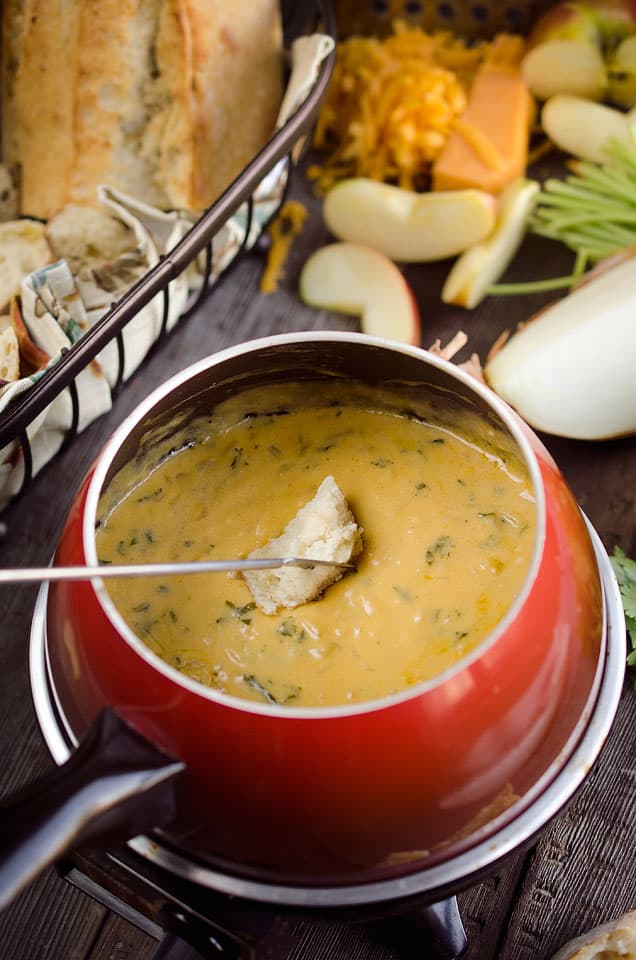 Cheddar Cheese Fondue Recipe
I am so excited to share one of my favorite family traditions with you today. FONDUE! From a very young age we started the Christmas Eve tradition of enjoying a full fondue. In my mom's typical fashion, it was the same every year. This cheddar cheese fondue recipe wasn't apart of our childhood tradition, but it is a new staple as adults.
In the 90s when my Mom served her holiday fondue, she would make Swiss Cheese fondue with two pots of oil that we would use to fry meatballs, cheese curds, steak, chicken, onion rings, and basically anything else you could buy in the freezer section to fry. It was a cheesy and greasy mess, but it was oh so good!
This Zesty Cheddar Fondue is a new favorite in our family and is served with Swiss fondue for a full holiday appetizer spread.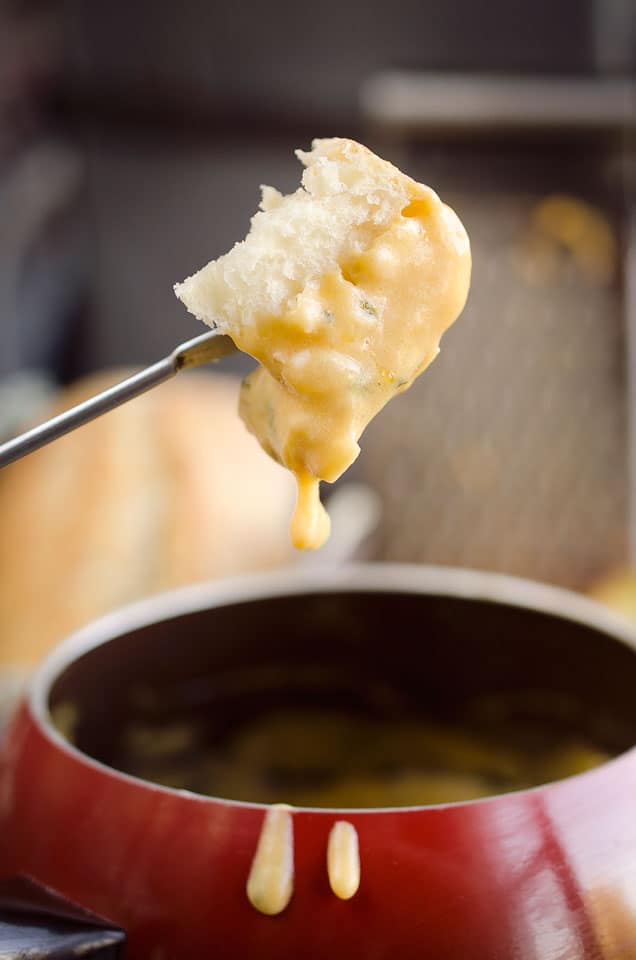 Unique Holiday Appetizer Idea
Before we started the fondue tradition, all of us kids would constantly be nagging my parents about when we could be done eating and start opening gifts. Once we began the fondue tradition we were so engrossed in making our own food and enjoying all the fried and cheesy goodness, that we were in no rush to open presents. That is saying a lot for four kids at Christmas!
After we all grew up, left home and came back with spouses, there were just too many people crowded around the table to make a full fondue work anymore. We now enjoy a prime rib dinner every Christmas Eve, but to keep the old tradition alive, we start the meal with a fondue.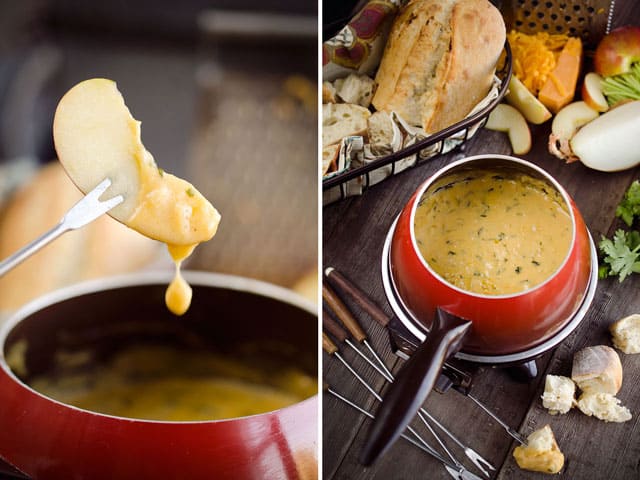 Cheese Fondue
Now that I am in charge of dinner, I like to add something to the standard Swiss fondue and try something new each year. The first year I made this Zesty Cheddar Fondue, it was a big hit. It is a fun change from the traditional Swiss fondue with a bit of crunch from the onion and a fresh twist with cilantro. It pairs particularly well with apples.
If you are wanting to make a big fondue spread for a special party, I highly recommend this cookbook, Dip Into Something Different from my favorite fondue restaurant, The Melting Pot. It was gifted to me many years ago and to this day I always reach for it around the holidays!
How to serve fondue
There are lots of modern fondue pots you can purchase on Amazon, from Target and much more. In fact I was gifted some of these Cuisinart fondue pots for my shower and use them at most fondue parties I host.
With that said, there is nothing like vintage serving ware when hosting a fondue party. Fondue is a retro tradition from the 60s and 70s. If you are going center a party theme around fondue, why not go all out?!
I found some cool divided fondue plates on eBay that I love. They are great for separating sauces, meats, vegetables, bread, etc. I am fortunate enough to have inherited my Mom's fondue pots and forks from the 70s, but they are also readily available on eBay and sometimes you can score one super cheap at a thrift store.
ATTENTION: If you decide to go all out and host a big fondue party with vintage pots, be sure to run extension cords to different plugins that run on different breakers. I can't tell you how many times we have popped a breaker running too many pots. Woops!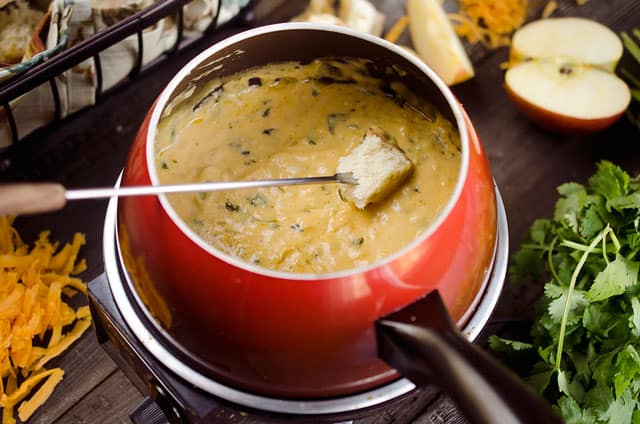 What dippers to serve with cheese fondue?
While we could all probably spoon this amazing cheese fondue all on it's own, it is best enjoyed with a variety of dippers. Bread is the obvious choice, but even that can have some variety added.
Bread – Focaccia, Sourdough, French and Rye
Apples
Raw Vegetables – Carrots, Cauliflower & Broccoli
Cooked Vegetables – Potatoes and Zucchini cooked in fondue broth
Meats cooked in oil or broth fondue
The possibilities are virtually endless. Just about anything goes well with cheese and would make a good dipper for this delicious Zesty Cheddar Fondue.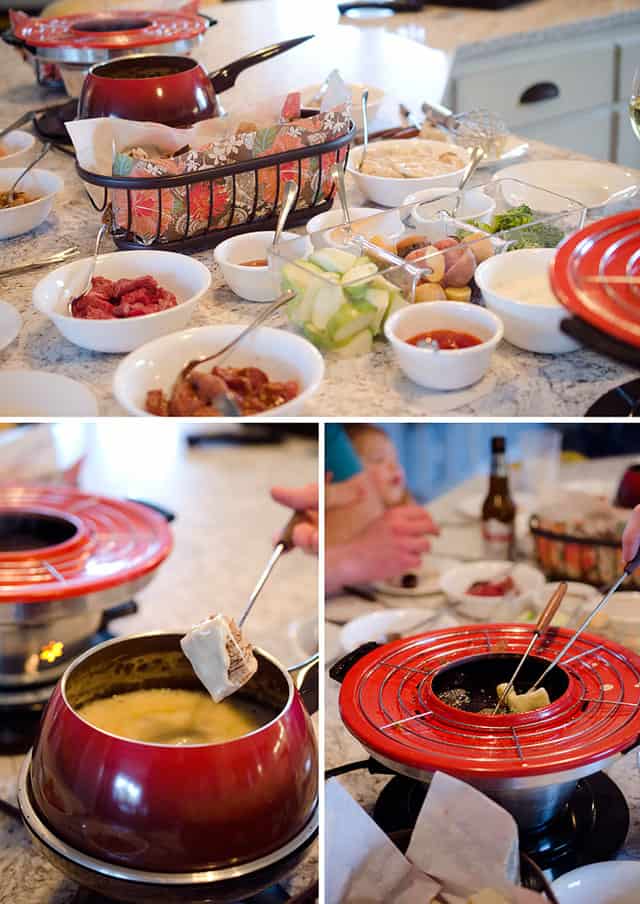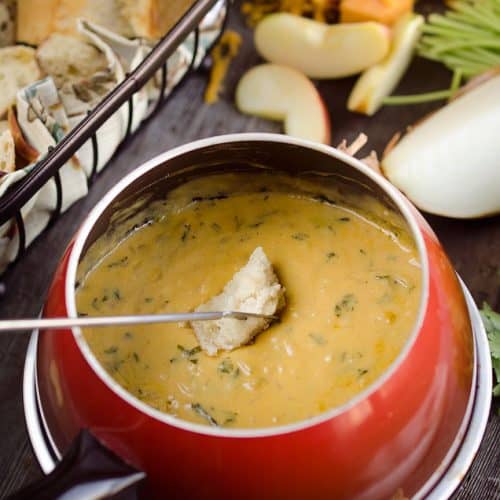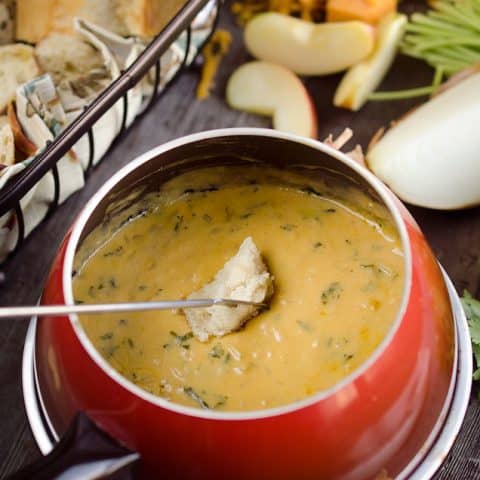 Zesty Cheddar Fondue
Zesty Cheddar Fondue is an easy and delicious appetizer perfect for the holidays. It is a creamy cheese fondue filled with rich sharp cheddar, onions, garlic and cilantro that pairs perfectly with bread and apples.
Ingredients
1 tsp. olive oil
1/3 c. onion, finely diced
2 tsp. garlic, finely diced
2/3 c. chicken broth
1 tsp. Dijon mustard
1 Tbsp Kirchwasser liquor, optional
8 oz, shredded sharp cheddar (Shred a quality block of cheese, not a bag of pre-shredded cheddar)
1 Tbsp. flour
1/3 c. sour cream
2 Tbsp. fresh cilantro, chopped
Instructions
In a fondue pot, over medium-high heat, saute the onions and garlic in the olive oil for 3-4 minutes. Add the broth, Dijon and liquor.
Toss the shredded cheese with the flour and add to the pot. Cook over medium-high heat for 5 minutes, or until the cheese is melted and smooth. Add the sour cream and cilantro and cook for an additional 2 minutes.
Place the fondue pot on a warmer and serve with chopped apples and cubed sourdough bread.
Recommended Products
As an Amazon Associate and member of other affiliate programs, I earn from qualifying purchases.
Nutrition Information:
Yield:

6
Serving Size:

1 grams
Amount Per Serving:
Unsaturated Fat:

0g