Learn how to make donuts with Grands biscuits in this easy Cinnamon Sugar Biscuit Donut Holes recipe that only requires 3 simple ingredients. You can make them in your deep fryer, Air Fryer or baked in the oven!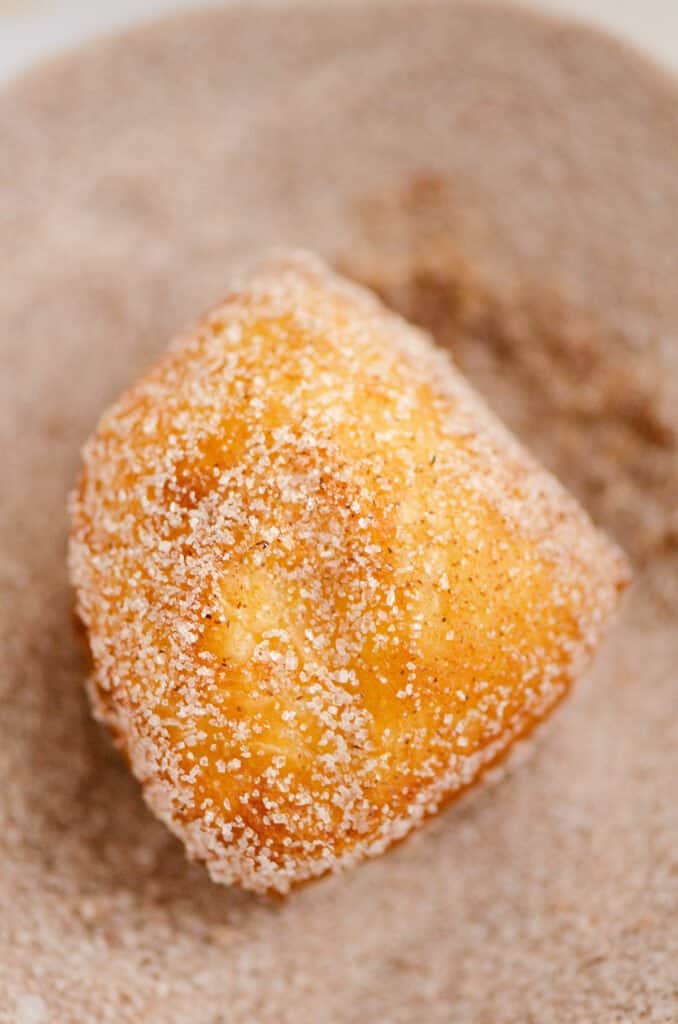 Biscuit Donuts
Whether you are a donut fanatic or you could pass on them, it is hard to deny that a hot donut that was just freshly rolled in cinnamon and sugar is a delicious bite. I'm not going to lie, I'm by no means a donut fanatic and I usually skip the half stale donuts at meetings, but these biscuit donuts are absolutely the exception!
The donuts are fried to golden perfection on the outside and the inside is a beautifully soft donut. When the donuts are still hot, roll them in cinnamon sugar for the perfect balance of flavor and textures. These make an incredible dessert or indulgent breakfast.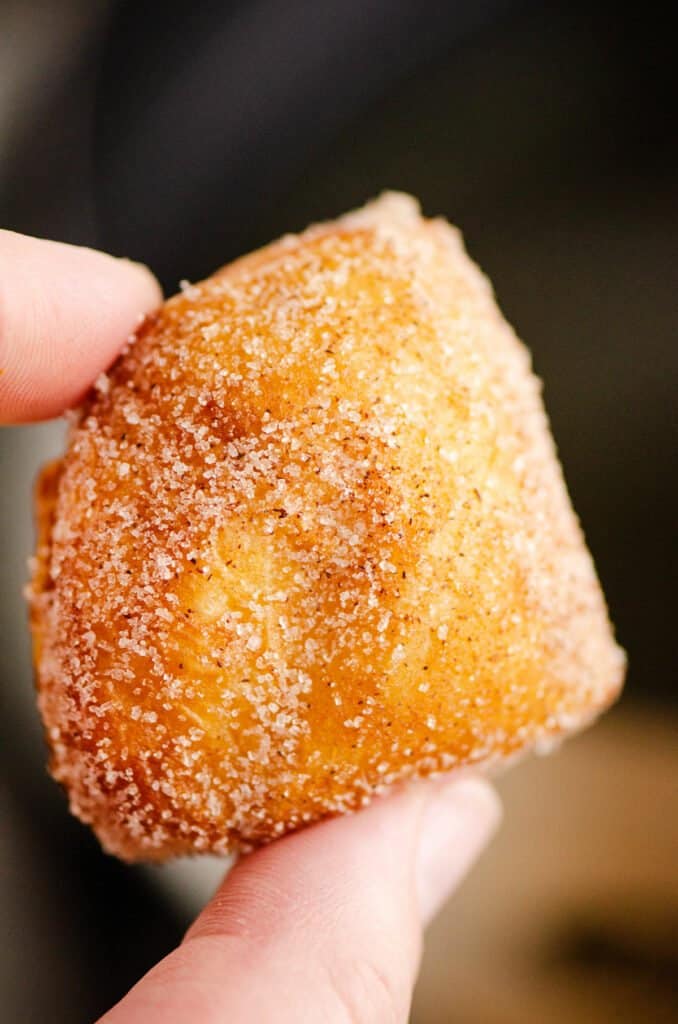 How to Make Donuts with Grands Biscuits
The best part of this easy biscuit donut recipe is that they are so incredibly easy to make and only require 3 simple ingredients!
I make my biscuit donuts into small bite sized donut holes for the optimal ration of crunchy outside fried in oil with a perfectly fluffy inside. Sometimes when making full size donuts, it is trickier to get the insides fully cooked before the outsides get a little too brown. This easy biscuit donut recipe solves all that!
Instead of only getting a few donut holes when making traditional donuts, you can make the entire tube of biscuits into donut holes by quartering the biscuits.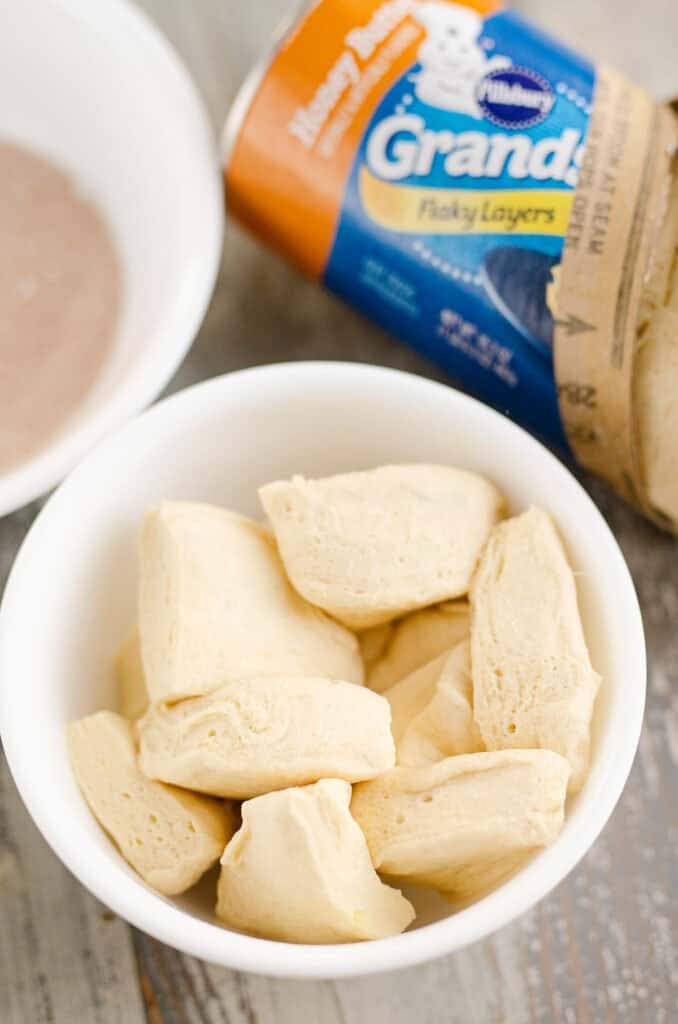 Easy Biscuit Donut Ingredients
Here is what you will need,
Granulated sugar
Ground cinnamon
Pillsbury Grands Biscuits
Canola or Vegetable oil for deep frying
Pop open the can of Grands biscuits and separate the pieces of dough. Cut each piece into 4 equal pieces. Add to a bowl.
What type of canned biscuits to use for donuts
Almost any variety will work, but I opted or the sweeter Honey Butter flaky layers variety. You can grab a tub of off-brand biscuits, but this is one of those few ingredients where I do think the name brand is better quality. The flaky biscuits are going to be the best bet for a soft and fluffy inside of your donuts.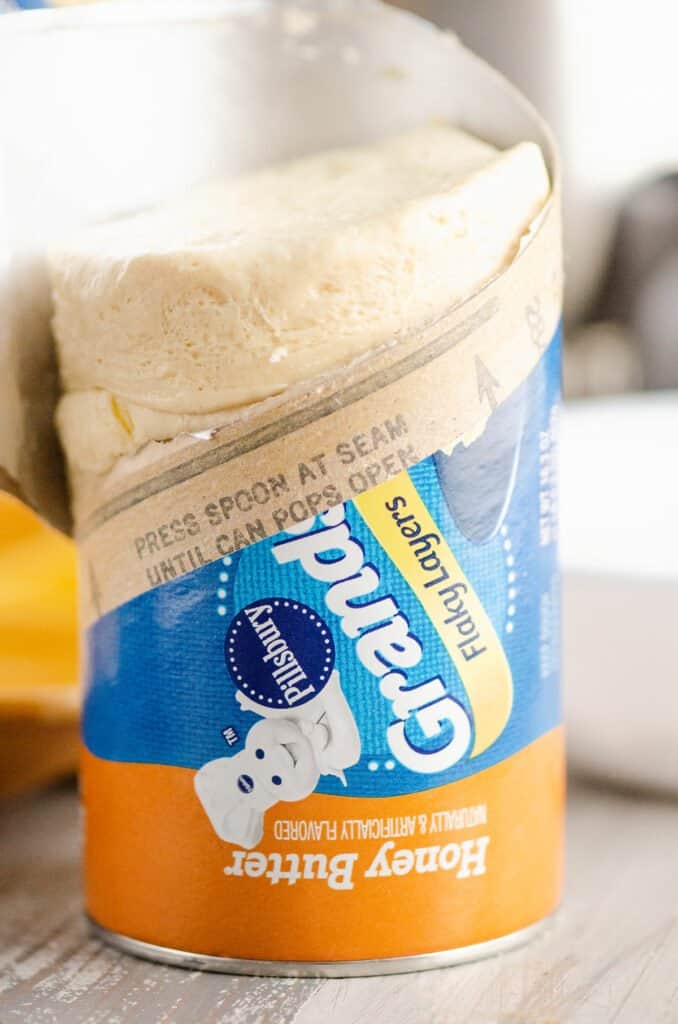 Cinnamon Sugar for Donuts
When mixing the granulated sugar and ground cinnamon, it is up to you how much cinnamon you like in your mix. Some people like to eyeball it, but the best ratio that I always recommend is 1:4.
For every teaspoon of cinnamon, add 4 teaspoons of granulated sugar. For this biscuit donut recipe, I recommend mixing 2 Tablespoons of cinnamon with 1/2 cup sugar.
You will have some leftover cinnamon mixture when you are done coating your donuts, but just sift out any clumps and add it to a spice jar to save for later. Sprinkle it on some buttered toast when you are looking for a quick and easy treat that brings you back to childhood!
Deep Fried Donuts Using Biscuits
We are going to start with the traditional method for making donuts, and that is in a big hot pot of oil! There is no question that these have the best flavor and texture of any donuts.
You can use a deep heavy duty pan on the stovetop, or my favorite an electric fondue pot. This makes it easy to control the temperature and is a great way to serve up some cinnamon sugar biscuit donuts at a dinner party.
You can just put out the pot of oil for dessert along with the cut biscuits and cinnamon sugar. Let your guests fry their own donuts and roll them for the absolute freshest possible donuts!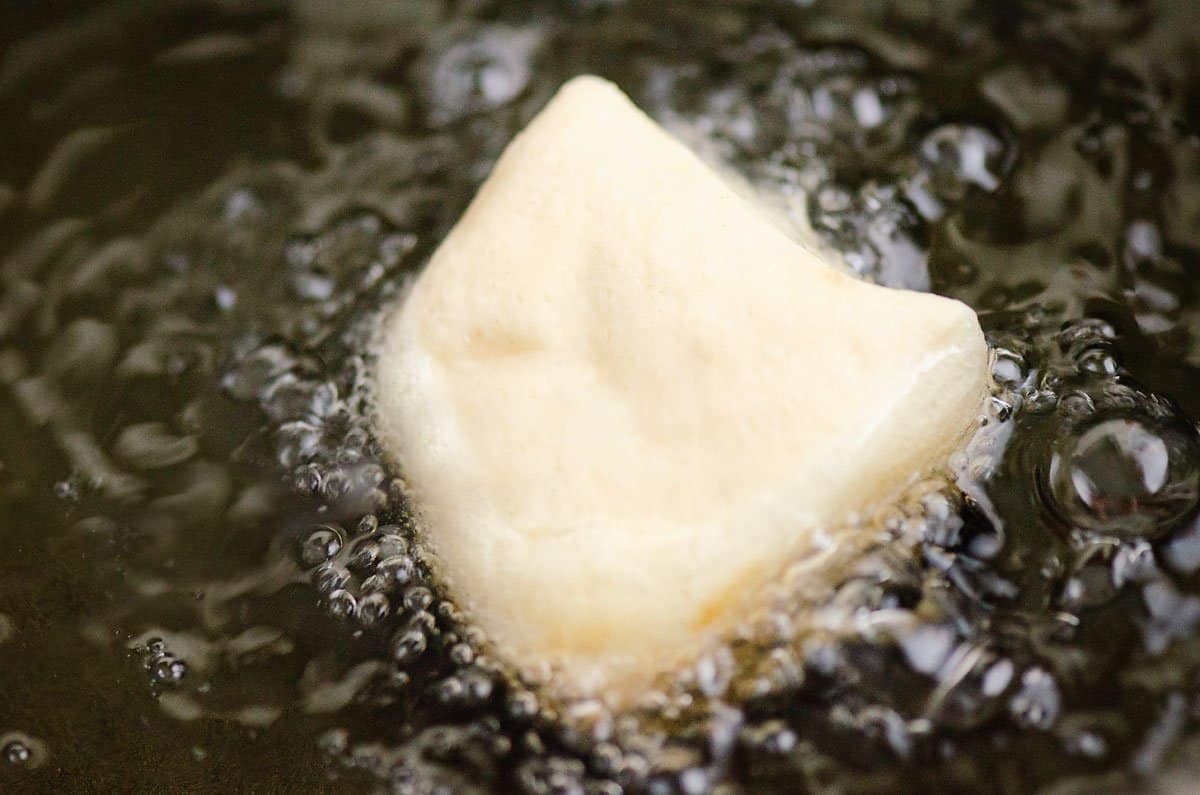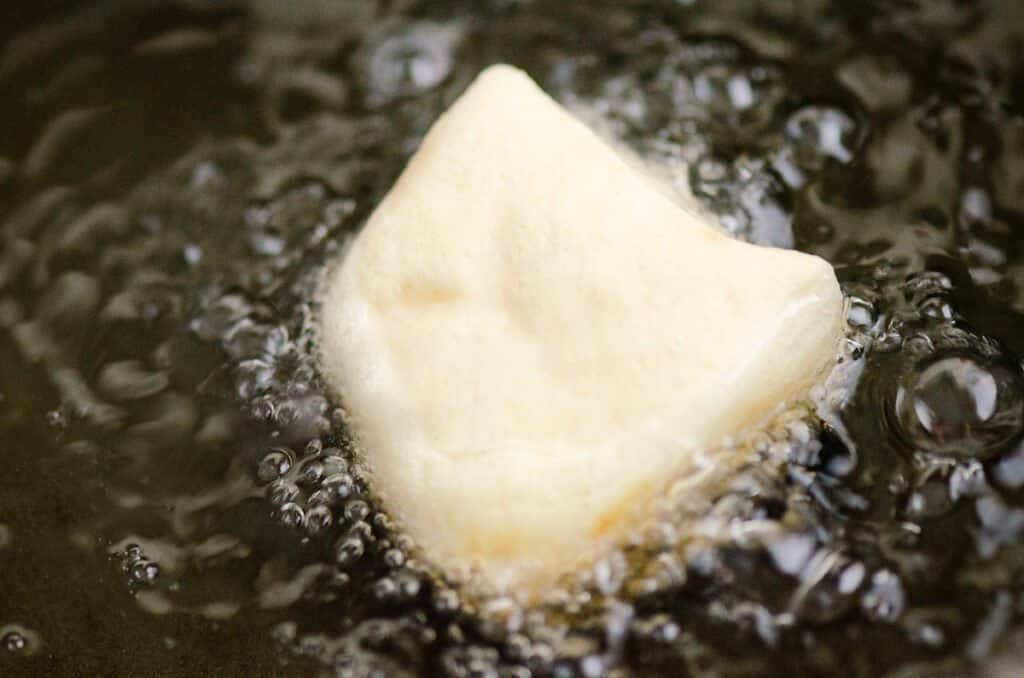 When is the oil ready to fry donuts
For the fondue pot, you can set it to 375F and it will bring the oil to the right temperature. If you are heating the oil on the stovetop the best way to know if the oil is ready is using a wooden spoon.
When the oil is fragrant and you think it might be ready, dip a clean wooden spoon in the oil. If it starts to slowly bubble around the spoon, it is ready. If it immediately bubbles rapidly, then the oil is too hot.
You don't want too hot of oil or it will cook the outside of the biscuit donuts before the inside is done. If the oil isn't hot enough, then the donuts will become bogged down with oil.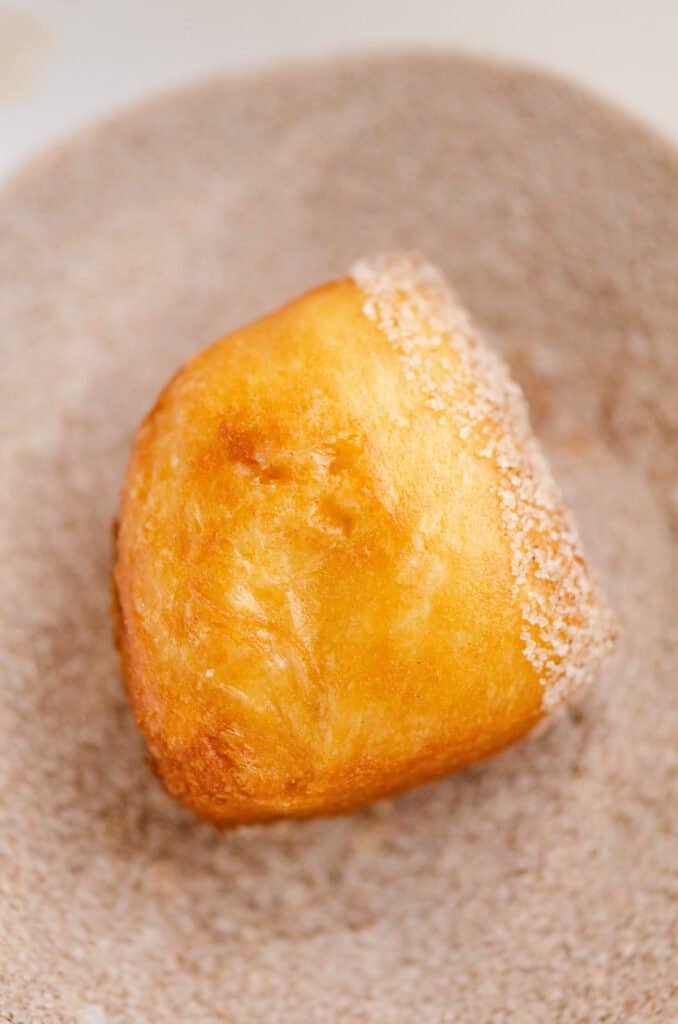 How Long To Cook Biscuit Donuts
Once the oil is ready, add some of the biscuit holes to the oil. Be sure not to crowd the oil with too many donuts or with will bring the temperature of the oil down.
Cook until the bottom is golden brown. Turn them over and cook the other side until it is golden brown. This will only take 1-2 minutes, so keep a close eye on them!
Remove the donuts from the oil onto a paper towel lined plate. Dab off any excess oil and immediately add them to the cinnamon sugar mixture and toss to coat. If you don't add them while they are still hot, the cinnamon sugar won't stick very well.
Enjoy the donuts while they are still warm and melt in your mouth!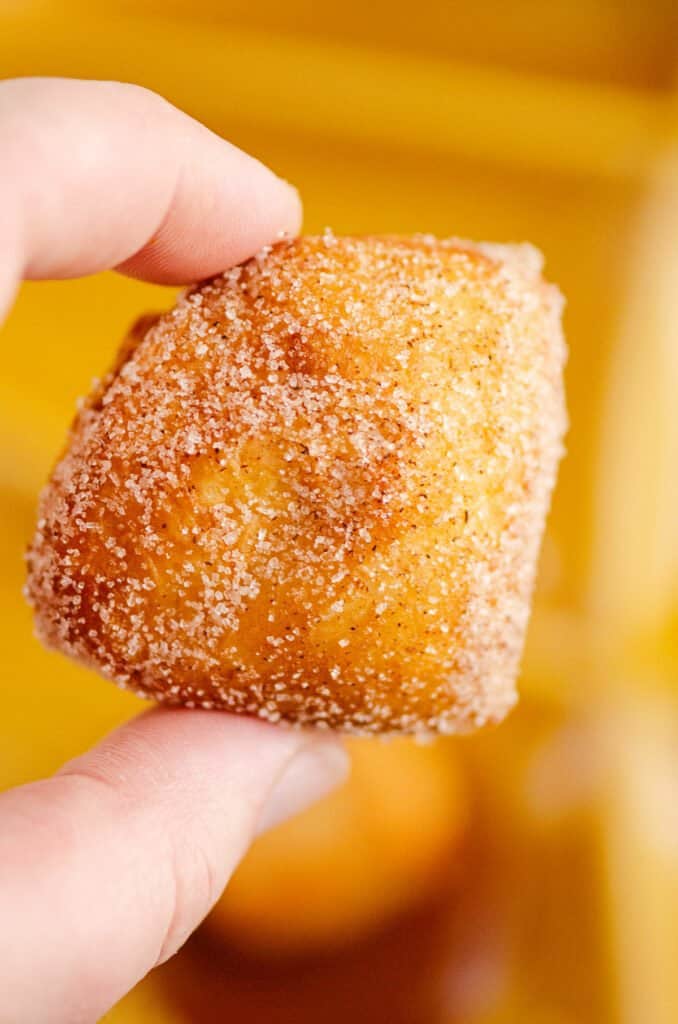 Baked & Air Fryer Donuts
If you are looking to make these Grands Biscuit Donuts without stinking up your whole house with hot oil, then baking them in the oven or Air Fryer is a decent alternative. I can't lie though, they won't taste nearly as good and the texture won't quite be the same. They will end up being more like a biscuit than a donut.
Add the donuts to a cookie sheet or your Air Fryer basket. Bake the donuts at 375F for 10-12 minutes or Air Fry for 5-7 minutes.
When the donuts are done, coat them with melted butter and roll them in the cinnamon sugar mixture. At the end of the day they really aren't much healthier with the added butter replacing the oil. The only real advantage is that they are easier to make, but you are sacrificing a lot in terms of flavor and texture.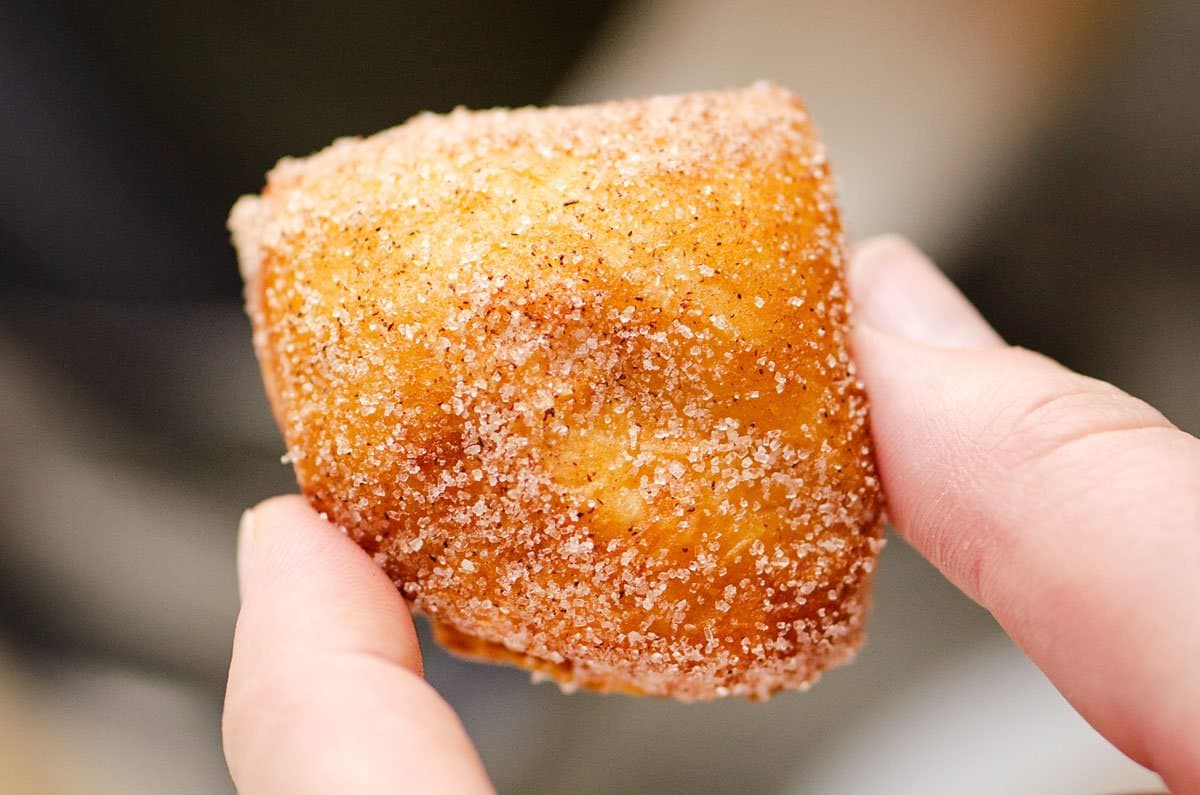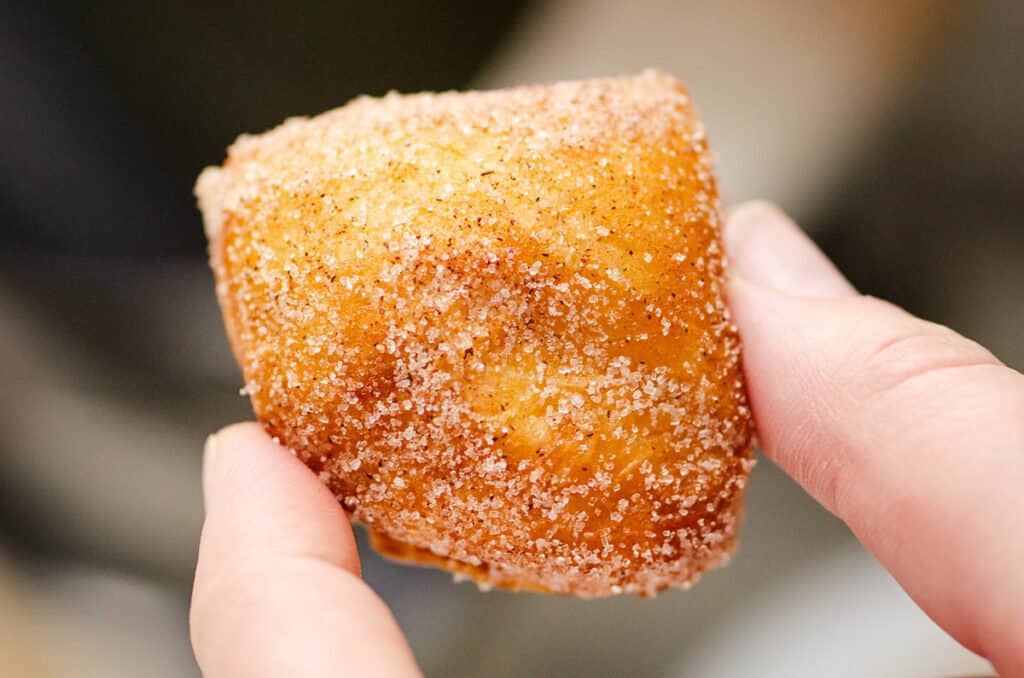 More ways to coat biscuit donuts
This easy biscuit donut recipe calls for cinnamon sugar, but that is by no means the only option for a sweet addition to the fried donuts. Here are some other great options,
Chocolate Glaze – 1 1/2 cups powdered sugar, 1/4 cup cocoa powder, 2 tablespoons milk, 2 teaspoons vanilla extract
Plain granulated sugar
Vanilla Glaze – 2 cups powdered sugar, 1/4 cup milk and 1 teaspoon vanilla extract
Cinnamon Glaze – Grab the glaze recipe from these Cinnamon Glazed Scones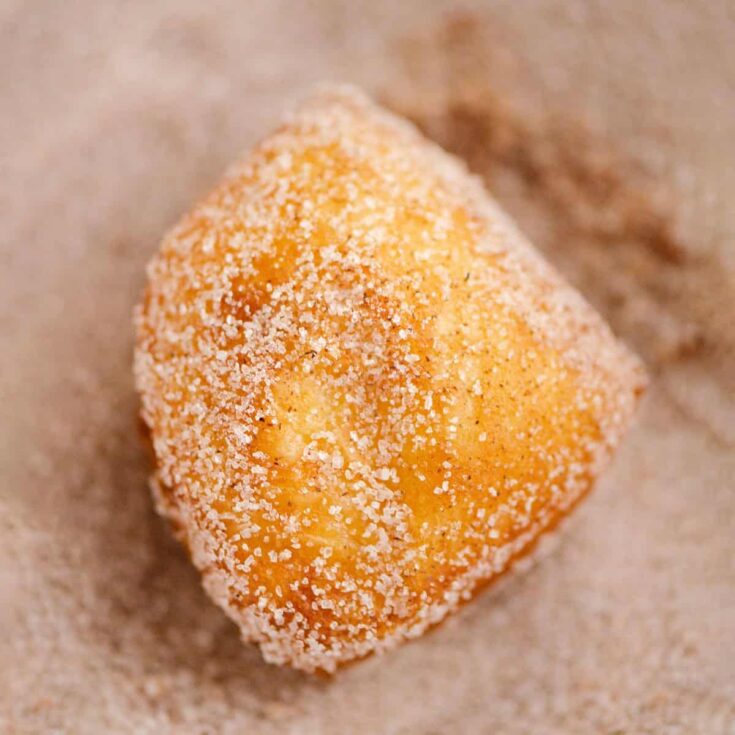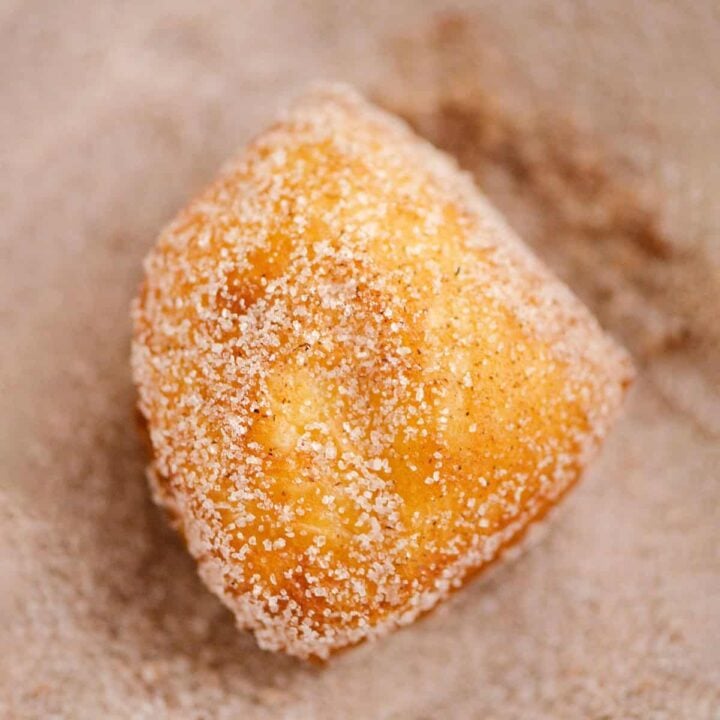 Biscuit Donut Holes
Learn how to make donuts with biscuits in this easy Cinnamon Sugar Grands Biscuit Donut Holes recipe that only requires 3 simple ingredients. You can make them in your deep fryer, Air Fryer or baked in the oven!
Ingredients
1 tube Pillsbury Grands Flaky Biscuits
1/2 cup granulated sugar
2 Tablespoons ground cinnamon
Canola, Vegetable or Peanut oil for frying
Instructions
Add 2 inches of oil to a deep pan over medium high heat. Alternatively you can heat your oil in an electric fondue pot or deep fryer at 375°F.
Meanwhile, open the tube of biscuits and cut each biscuit into four equal pieces.
Add the cinnamon and sugar to a small bowl and stir until well combined.
Check the oil to see if it is ready by dipping a wooden spoon in the oil. If it slowly bubbles around the spoon, the oil is ready. If it is an eruption of rapid bubbles, the oil is too hot.
When the oil is ready, add the donut holes in batches of 6-8, being sure not to overcrowd the oil.
Cook until they turn golden brown on one side. Flip and cook until both sides are golden brown. This will take 1-2 minutes.
Remove the cooked donut holes to a paper towel lined plate. Dab off excess oil and immediately toss in cinnamon sugar to coat well.
Repeat until all donut holes are cooked. Serve immediately!
Notes
While you can store the donut holes up to 2 days in an airtight container, they are best served warm. The texture changes significantly after they cool completely off.
Recommended Products
As an Amazon Associate and member of other affiliate programs, I earn from qualifying purchases.
Nutrition Information:
Yield:

32
Serving Size:

1 donut hole
Amount Per Serving:
Calories:

31
Total Fat:

1g
Saturated Fat:

0g
Trans Fat:

0g
Unsaturated Fat:

1g
Cholesterol:

0mg
Sodium:

30mg
Carbohydrates:

6g
Fiber:

0g
Sugar:

3g
Protein:

0g
Provided nutrition data is only an estimate. If you are tracking these nutrients for medical purposes, please consult an outside, trusted source.