Chocolate Fondue is an easy two ingredient dessert recipe that is perfect for a party or special occasion! Dark chocolate and cream combine into a silky ganache that is served with fresh fruit, cookie and pretzel dippers.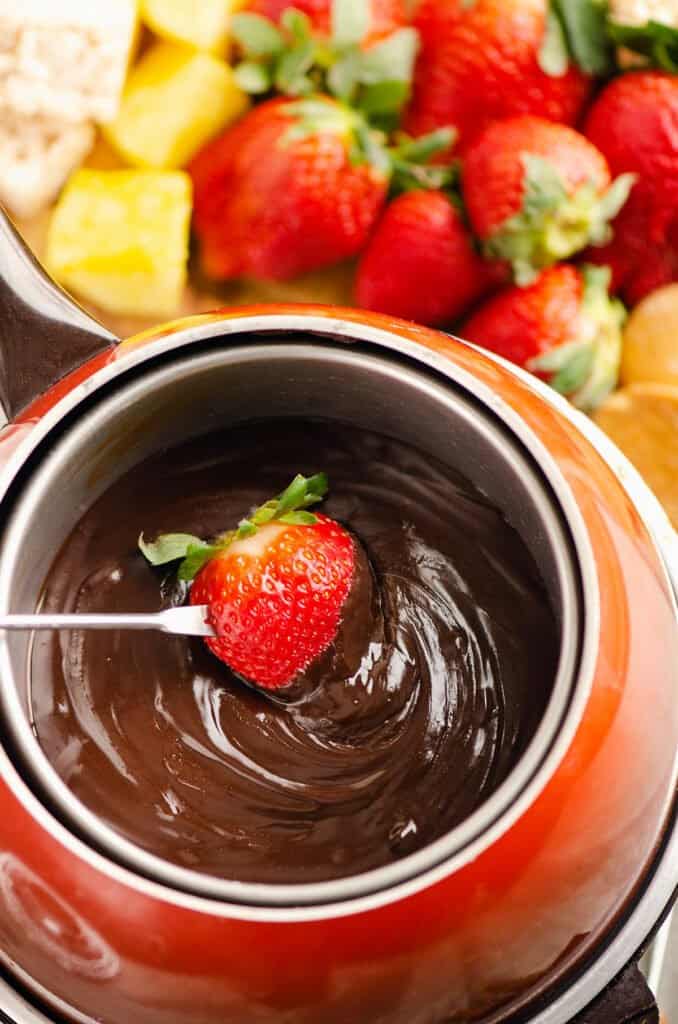 Chocolate Fondue Recipe
It doesn't get much easier than this easy Chocolate Fondue recipe. Dark chocolate and cream combine together to make a silky smooth ganache that is perfect for dipping in a fondue pot with a variety of dessert dippers. Add a pinch of sea salt to really highlight the sweet flavors!
Fondue is such a fun dinner party idea that everyone always has a blast enjoying. Whether you serve a full dinner spread with Swiss Cheese Fondue and Oil Fondue or just want to make chocolate fondue as a treat for a special occasion, you can't go wrong!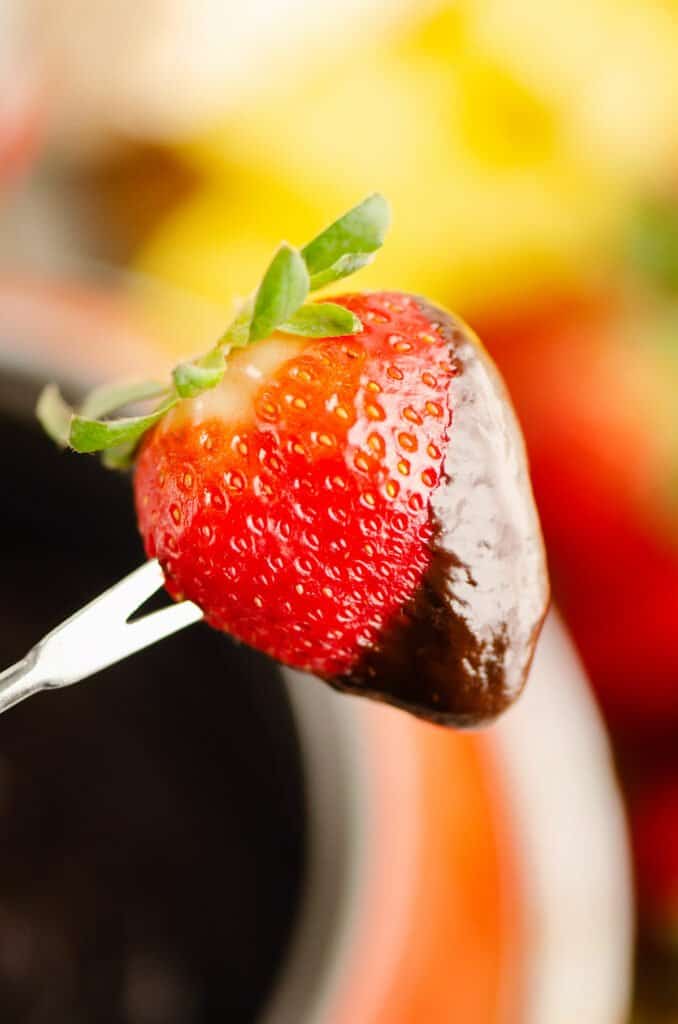 What kind of chocolate for dessert fondue
Chocolate fondue can be made with a wide variety of flavors and chocolates. From sweet white chocolate to dark chocolate and everything in between, there is something for everyone. The only thing you want to avoid when making chocolate fondue is cheap waxy chocolate.
Obviously the better the chocolate you use, the better texture and flavor you will get in the end, but you don't have to use expensive chocolate by any means. I use Hershey's Special Dark Chocolate Chips and it ended up being silky smooth and tasted amazing.
Just don't grab a pack of cheap off brand chocolate chips as they may not melt so well into a smooth chocolate fondue for dipping.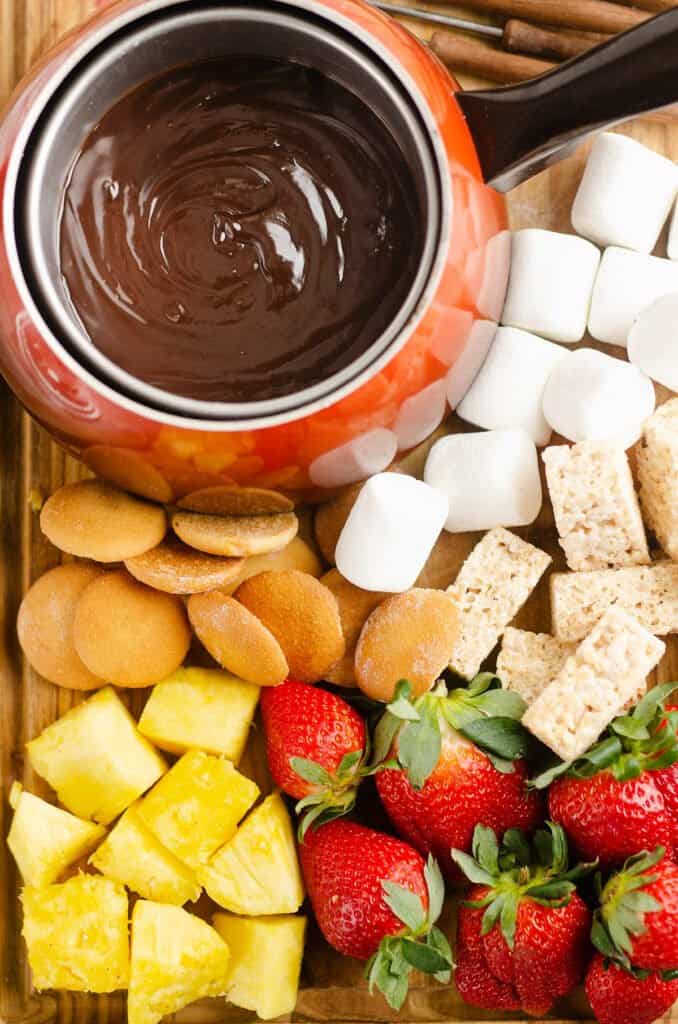 How to Make Chocolate Fondue
To get started, you only need two simple ingredients. Chocolate and cream! Grab a 12 ounce bag of chocolate chips. You can use semi-sweet, milk chocolate or dark chocolate. You could also chop up chocolate bars as well.
Add the chocolate to a double boiler. I used my fondue pot and added some water and then placed the chocolate in the insert. Pour the cream over the chocolate and heat over low heat. Stir often so the chocolate can melt evenly.
If you don't have a double boiler, just heat some water in a saucepan and place a glass or metal bowl over the pan with your chocolate and cream. If that is still to much work, you can also microwave the chocolate and cream in 30 second intervals until it is melted and smooth. Just be sure not to overcook it or it can seize up. Same goes for the double boiler!
Salted Chocolate Fondue
If you love salted chocolate, add a sprinkle of some sea salt or flaky salt to the chocolate and whisk it in. It doesn't take much, but that added salt really helps highlight the flavors of the chocolate and make it even more delicious.
When most of the chocolate is melted, take the bowl off of the water and whisk the chocolate vigorously. This will melt the remainder of the chocolate and smooth it out.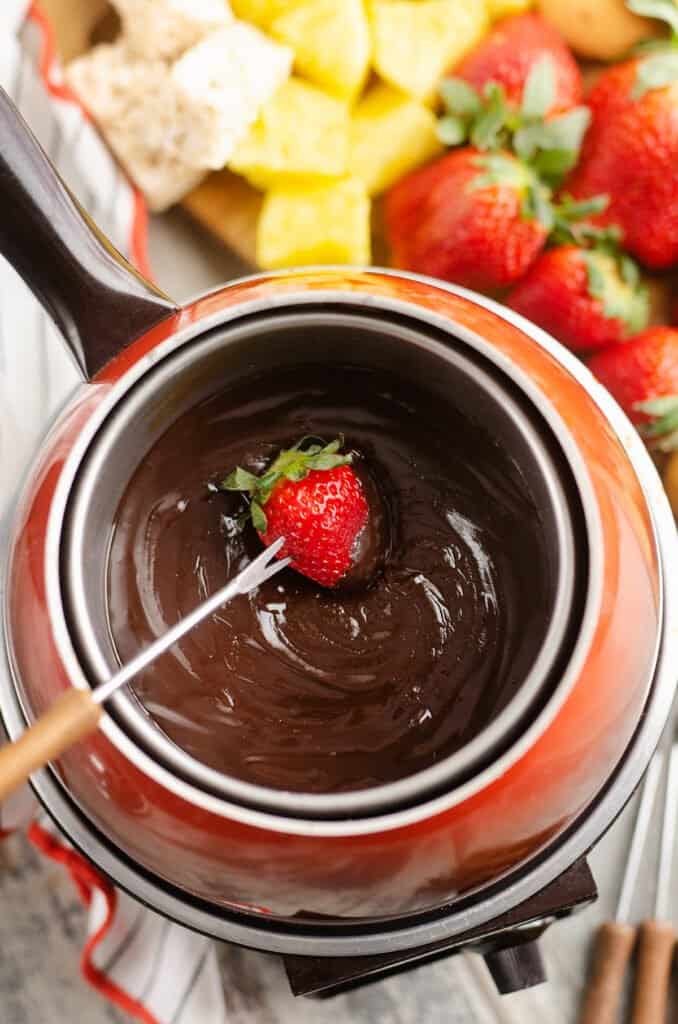 How to make fondue without a fondue pot
Fondue pots are a specialty kitchen small appliance and not everyone has them on hand. If you are wanting to make this chocolate fondue but don't want to invest in a fondue pot, it's not a problem!
Prepare your chocolate fondue in a double boiler or in the microwave. When it is ready to serve, here are a few options that will work well for serving.
Small Crock Pot – Little Dipper
Serve each guest their own little chocolate fondue in butter warmers. Not only will it keep the chocolate warm, but no one has to worry about double dippers!
Ceramic serving dish – If you don't have anything to keep the chocolate fondue warm, you can simply serve it in a ceramic dish. The ceramic will help retain the heat better than other materials. If the chocolate starts to thicken up, just pop it in the microwave for 30 seconds and give it a quick stir to thin it out.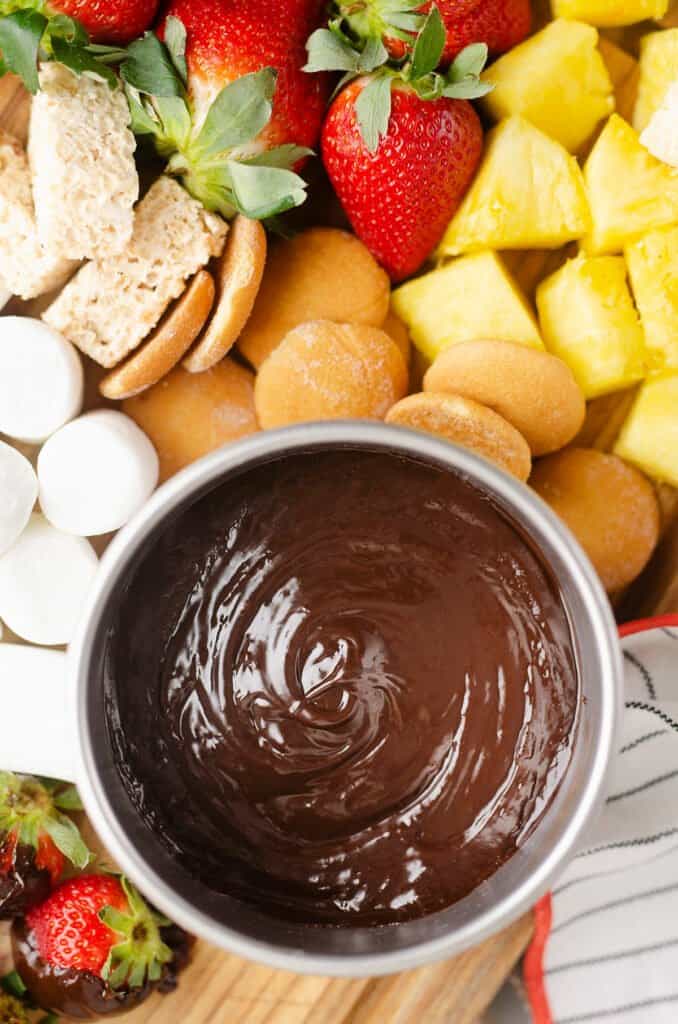 What to dip in Chocolate Fondue
Your chocolate won't take long to cook, so before you ever get started with melting chocolate for the fondue, you will want to get your chocolate fondue dippers ready.
Just about any fruit, dessert or snack that is good paired with chocolate can make a great chocolate fondue dipper. The only requirement is that it isn't delicate and won't fall apart in the melted chocolate.
Chocolate Fondue Dippers
Here is a comprehensive list of lots of different dipper ideas for the dessert fondue. I always suggest picking at least one fruit, one cracker and one sweet item that is a bit unexpected.
Delicious things to dip in chocolate

Cookies & Wafers
Frozen Edible Cookie Dough
Marshmallows
Cheesecake Squares
Dried Fruit

Savory Dippers

Peanut Butter sandwiched between Ritz crackers

Fresh Fruit

Strawberries
Pineapple
Oranges
Mangos
Bananas
Apples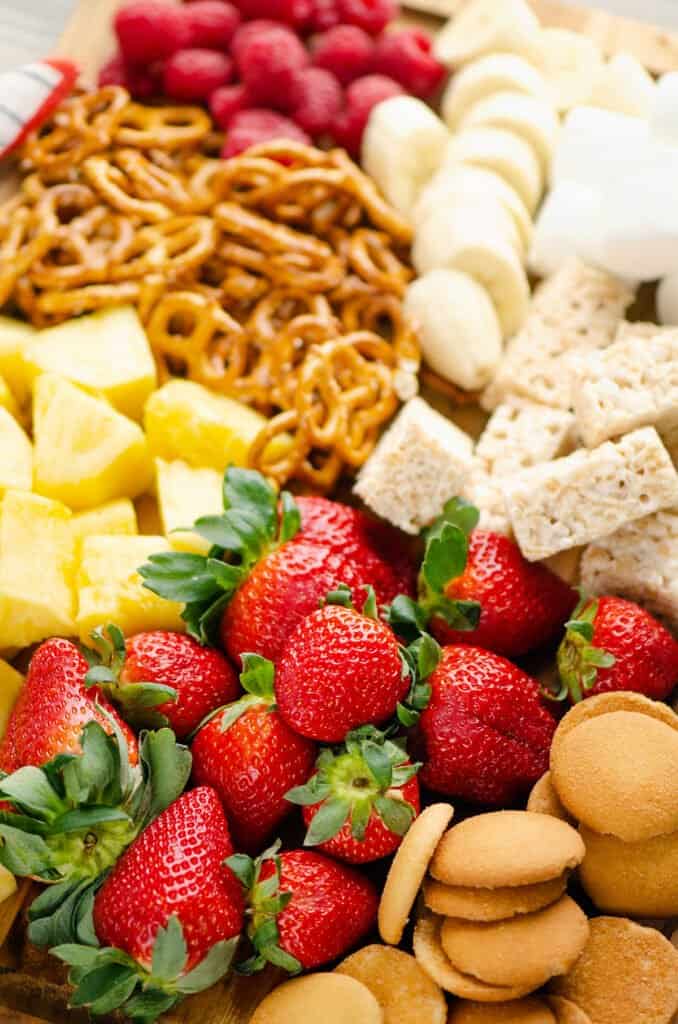 Home many dippers should I serve with dessert fondue
For one dessert fondue, which will serve around 6 people, you will want to serve 2-3 kinds of fruit. Strawberries are a classic must have when it comes to dipping in chocolate. Add one pint of strawberries and 2 cups of another fruit to your spread. Add in one salty item and one special sweet and you are good to go!
All of these sweets can be homemade, or you can press the easy button and buy them at the grocery store. Dippers go a long ways, so think about buying small portions of items.
Buy one slice of cheesecake or one large brownie from the store and then cut it up in to cubes. Pick up a snack size bag of pretzels and chips. This is a great way to add lots of variety to your chocolate fondue dippers without having way too much food.
More fondue flavors
If you want to put a spin on the classic chocolate fondue, then there are some great flavor options that will add a unique twist to your dessert fondue. Here are some more chocolate fondue recipes variations inspired by our favorite fondue restaurant, The Melting Pot.
Dark Chocolate Raspberry – Add 3 tablespoons of raspberry liqueur
Chocolate Cream Pie- Use milk chocolate and add in 4 ounces cream cheese and 1/4 teaspoon vanilla extract.
Heavenly Chocolate – Stir in 6 ounces caramel topping, 3 tablespoons peanut butter, 1 teaspoon rum and 1/4 cup diced Oreos
Chocolate S'mores – Use milk chocolate and mix in 3 teaspoons marshmallow crème and 3 Tablespoons rum. Top with crushed graham crackers.
Flaming Turtle – Use milk chocolate and add 1/4 cup caramel topping, 4 teaspoons rum and 1/4 cup chopped pecans.
Chococcino – Add 1/4 cup espresso or 4 teaspoons instant coffee to your chocolate fondue.
Chocolate Mint – Add 3 tablespoons crème de menthe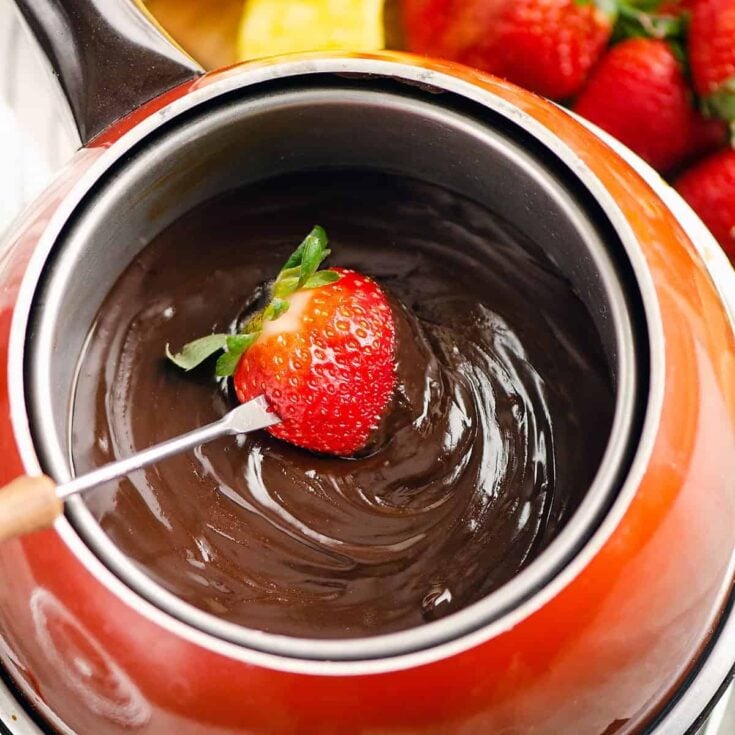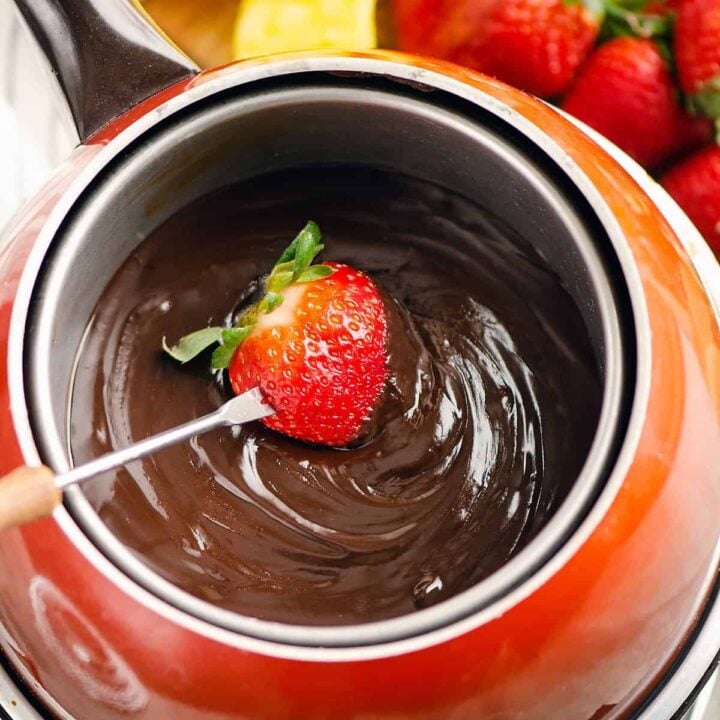 Easy Chocolate Fondue
If you are looking for an easy dessert that will impress your guests, this Chocolate Fondue is the perfect recipe! A simple two ingredient salted chocolate ganache is served with fresh fruit, cookie and pretzel dippers.
Ingredients
Chocolate Fondue
12 ounces dark chocolate
1/2 cup heavy cream
OPTIONAL - up to 1 teaspoon sea salt
Dippers
Fruit, crackers, cookies, pretzels, etc.
Instructions
Add the chocolate and cream to a double boiler. Whisk over low heat until the chocolate is melted and smooth.
Stir in the optional sea salt 1/4 teaspoon at a time if you would like.
Serve in a warming dish or fondue pot on low with dippers. Enjoy!
Notes
If you don't have a double boiler, add the chocolate and cream to a microwave safe bowl. Microwave in 30 second increments, whisking each time until the chocolate is melted.
Recommended Products
As an Amazon Associate and member of other affiliate programs, I earn from qualifying purchases.
Nutrition Information:
Yield:

6
Serving Size:

1/6 of chocolate
Amount Per Serving:
Calories:

377
Total Fat:

25g
Saturated Fat:

15g
Trans Fat:

0g
Unsaturated Fat:

8g
Cholesterol:

27mg
Sodium:

371mg
Carbohydrates:

35g
Fiber:

4g
Sugar:

28g
Protein:

3g
Provided nutrition data is only an estimate. If you are tracking these nutrients for medical purposes, please consult an outside, trusted source.