This easy recipe for boneless Prime Rib is coated in a thick layer of garlic herb butter and roasted for a perfectly done medium rare piece of tender and juicy steak topped with a simple and delicious gravy!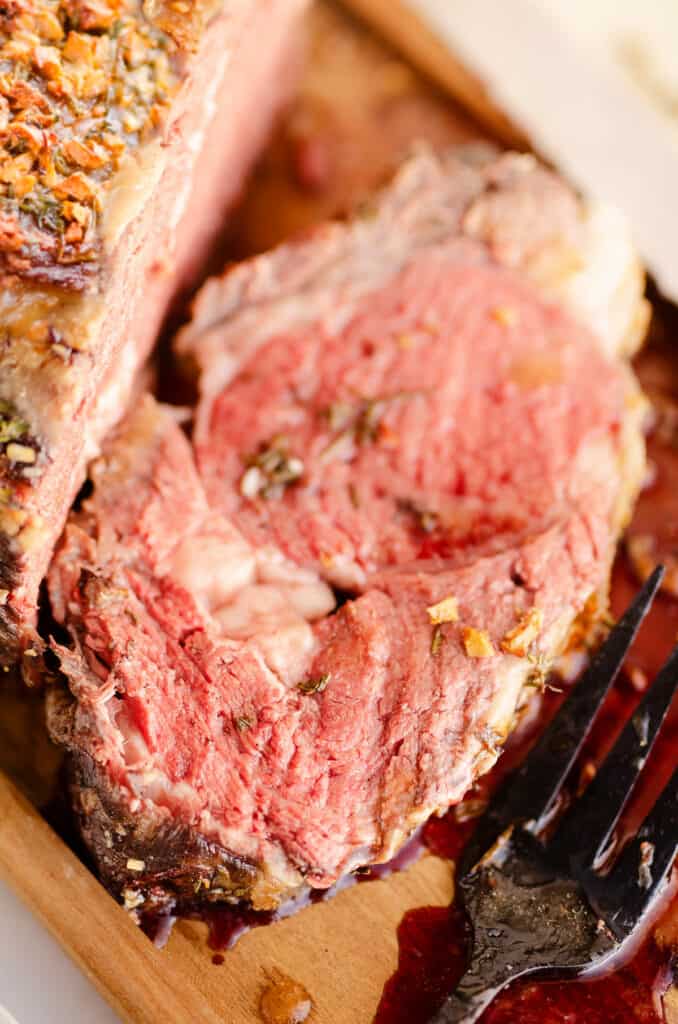 Easy Prime Rib Recipe
When it comes to one of the best cuts of beef there is, so many people are afraid of messing it up. It's not cheap by any means and is usually served at a special occasion or holiday like New Year's Eve, so there is a lot on the line. That's why I'm so excited to share this fool proof recipe for the easiest prime rib recipe!
My family has been using this garlic butter prime rib recipe for 7 years at every Christmas celebration and it comes out amazing every single time! We've cooked everything from 5 to 10 pound prime rib roasts, and this technique works regardless of size. The Prime Rib just keeps getting bigger every year as we add more people to the family!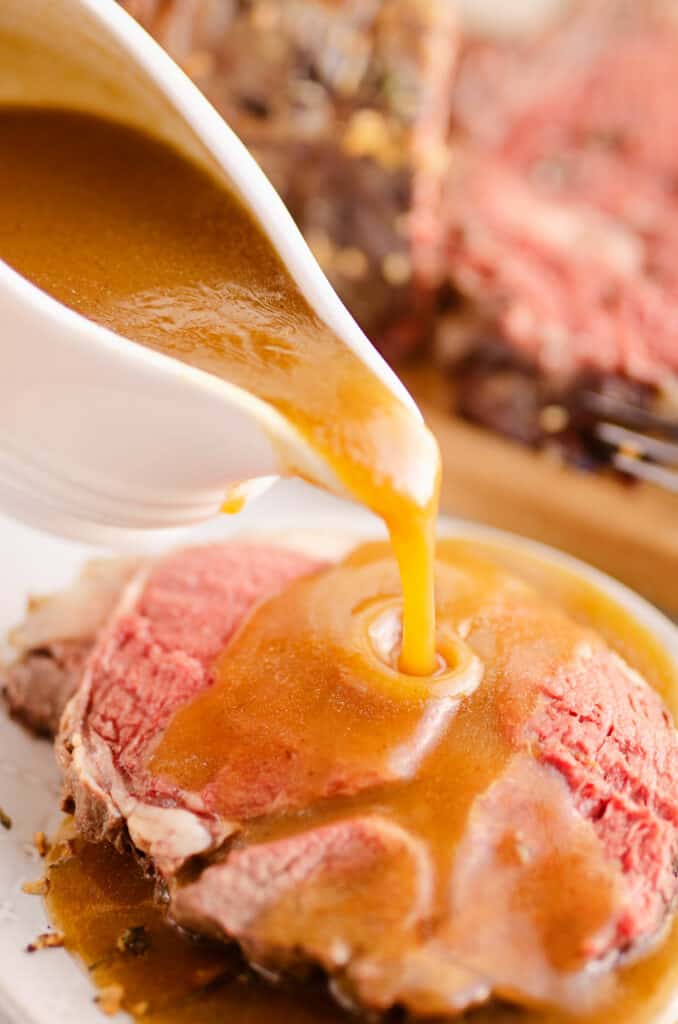 How big of a prime rib should I order?
We have found over the years that 1/2 pound per adult is just right for our holiday dinner served with cheesy potatoes, asparagus and pomegranate spinach salad and cheesecake. If you want to err on the side of caution, you aren't serving many sides or you have big meat eaters in your family, then I would plan for 3/4 pound per person when making a boneless prime rib.
I know this is a big expenditure for most families, so you may want to cut it as close as possible at 1/2 pound per person. For others, you want to splurge and know that you will use up the leftover prime rib with lots of great meals like this leftover prime rib pasta in white wine cream sauce.
To be completely honest, we don't waste the prime rib on the young kids. My mom makes a Crock Pot pineapple ham which they are thrilled to eat and we are happy not to have to waste the best meat on them! If you have lots of kids in your family that you are planning to feed prime rib, I wouldn't plan any more than 1/4 pound per child.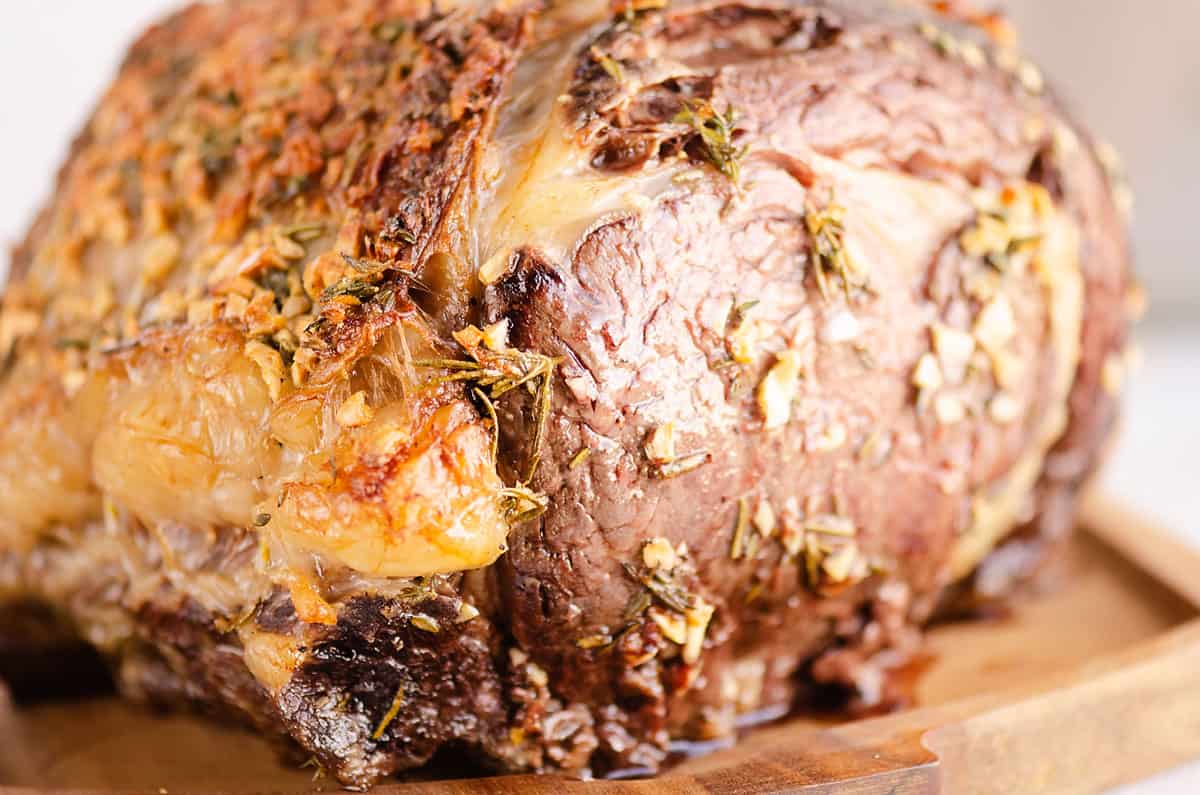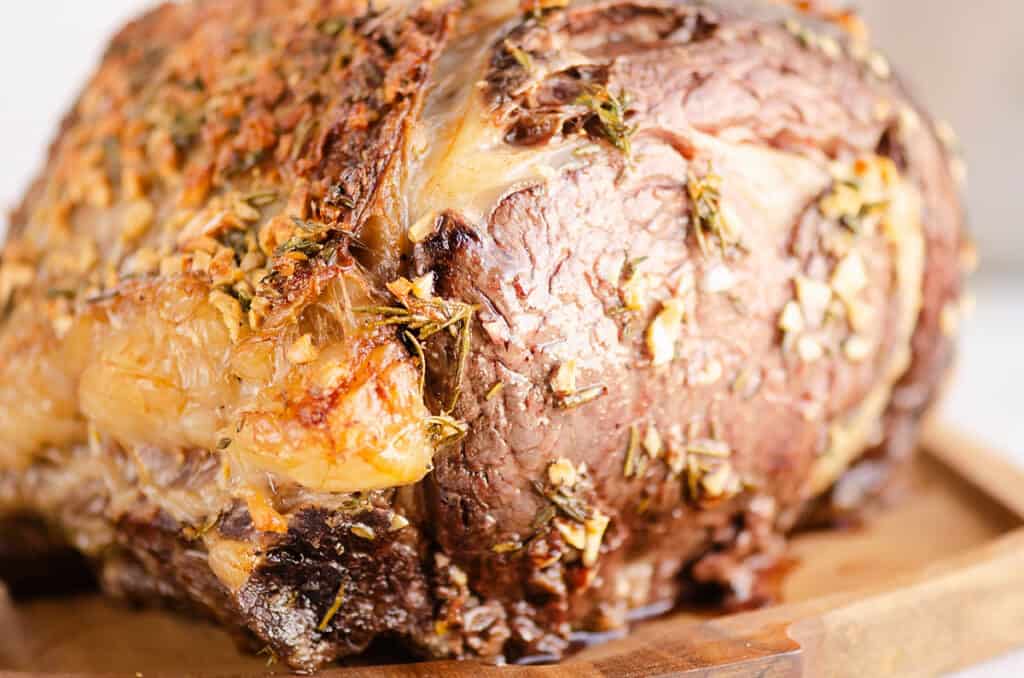 Are ribeye roasts and Prime Rib the same thing?
You may see your grocery store advertising ribeye roasts for sale during the holidays. This is just another name for boneless prime rib. Our local grocery store will tie if up for us before we pick it up as well, to take one messy step out of the pretty easy recipe.
Heck, you can even get them pre-seasoned if you are really looking for a shortcut. If you order a pre-seasoned roast, just coat it in garlic herb butter and skip the salt and pepper.
Prime Grade Vs. Choice Grade Prime Rib
Beef is graded into three categories based on the marbling of fat. The best grade is Prime with the most marbling, the next is Choice with some marbling and the lowest quality is Select with very little marbling. When you enjoy Prime Rib at a restaurant it is most likely going to be Prime Prime Rib.
You need to keep a close eye on the grades at the grocery store though. Often times the grocery stores will be selling Choice grade and they just aren't as good. Sure they are still make a decent Prime Rib, but they don't result in that melt in your mouth meat that you can cut with your fork.
There have been a couple years where we couldn't get our hands on a Prime grade Prime Rib and boy oh boy, could we tell the difference. The cost difference is usually about $4 per pound, but if you are going to make Prime Rib for the holidays, I promise you it is worth the extra expense of getting USDA Prime.
If your local grocery store only carries Choice, ask the meat department if they can get Prime in. If that isn't an option, head to a higher end grocery store or butcher. Always be sure to order your Prime Rib in advance of the holidays so you know you have procured your meat!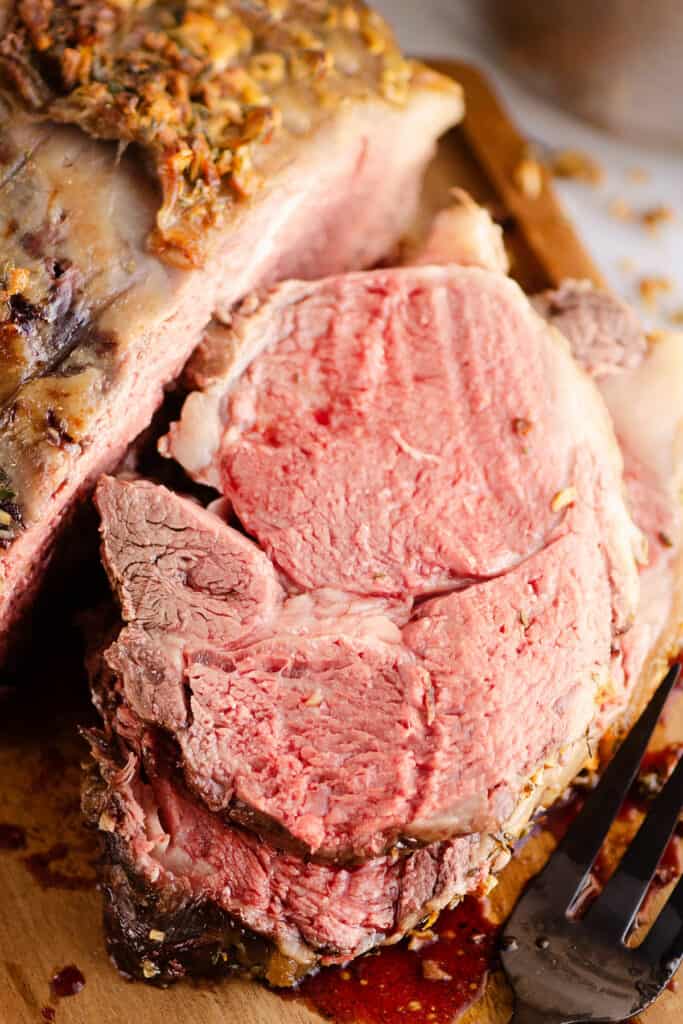 Do I have to tie my Prime Rib?
Tying your prime rib helps the meat cook uniformly as it keeps the big piece of meat in an even size. Grab some butcher twine and tie it off every 2-3 inches. To be honest, I found my butcher twine in my craft room because it's not something I ordinarily use in the kitchen otherwise.
If you don't tie your prime rib, it's not the end of the world. It will still be a great piece of meat, but some areas of the roast may be more or less done than others.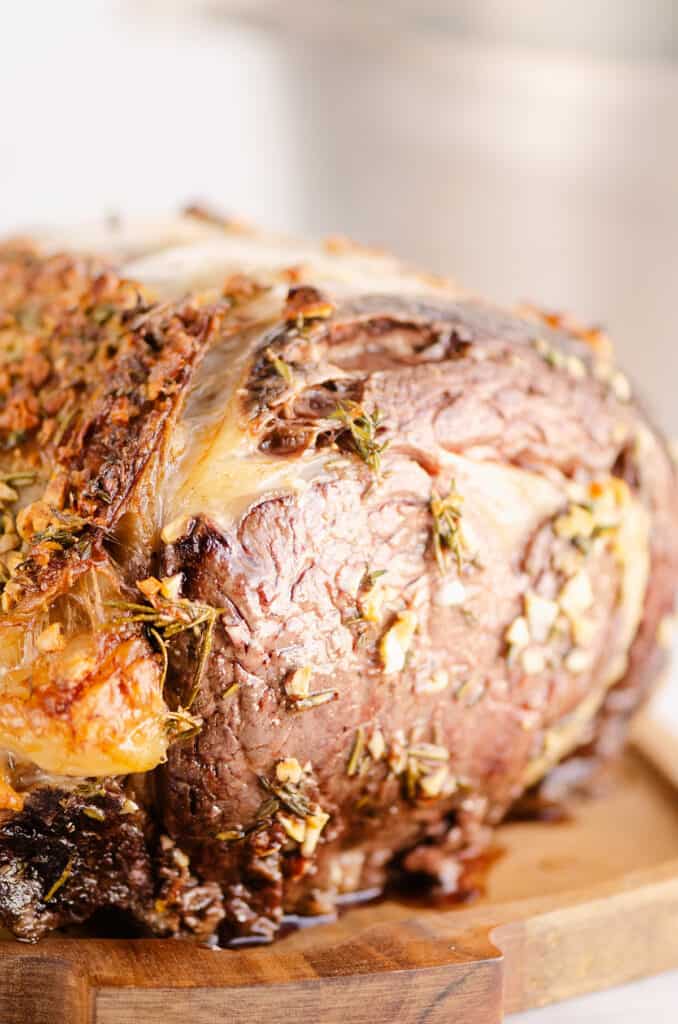 Garlic Herb Butter crusted Prime Rib
The garlic herb butter that crusts your beautiful Prime Rib is very simple to make. You just need the following ingredients,
1 cup softened butter
1 head garlic
1/4 cup fresh herbs
salt and pepper
Break up the head of garlic and smash each clove on a cutting board with the side of your chef's knife. This makes light work of peeling the garlic. After all the garlic is peeled, chop it up and add it to a bowl with the softened butter. Season it with salt and pepper.
For the fresh herbs, you can use whatever you would like, but I enjoy the combination of rosemary and thyme for my garlic herb butter. I was being cheap and didn't want to buy a pack of each, so I actually grabbed the "poultry mix" that had fresh rosemary, sage and thyme. It was more than enough to get 1/4 cup of fresh thyme and rosemary for the butter. I saved the sage to use in this Crispy Sage Roasted Delicata Squash that is a wonderful side dish for Prime Rib!
How long to roast Prime Rib
After you slather your tied ribeye roast in the garlic herb butter, place it on a rack in a roasting pan. Cook the Prime Rib for 4-5 minutes per pound at 500°F. We like our Prime Rib quite rare so we go for 4.25 minutes per pound on larger roasts. If you prefer more of a medium roast, then I would suggest doing 5 minutes per pound.
If you are making a large 10 pound roast, 5 minutes per pound will get you closer to medium-well and 4.5 minutes per pound will get you closer to medium.
When the cooking time is done DO NOT OPEN THE OVEN! This is of utmost importance. If anyone opens the oven, it will release a good amount of the residual heat that is needed to continue slowly cooking the Prime Rib.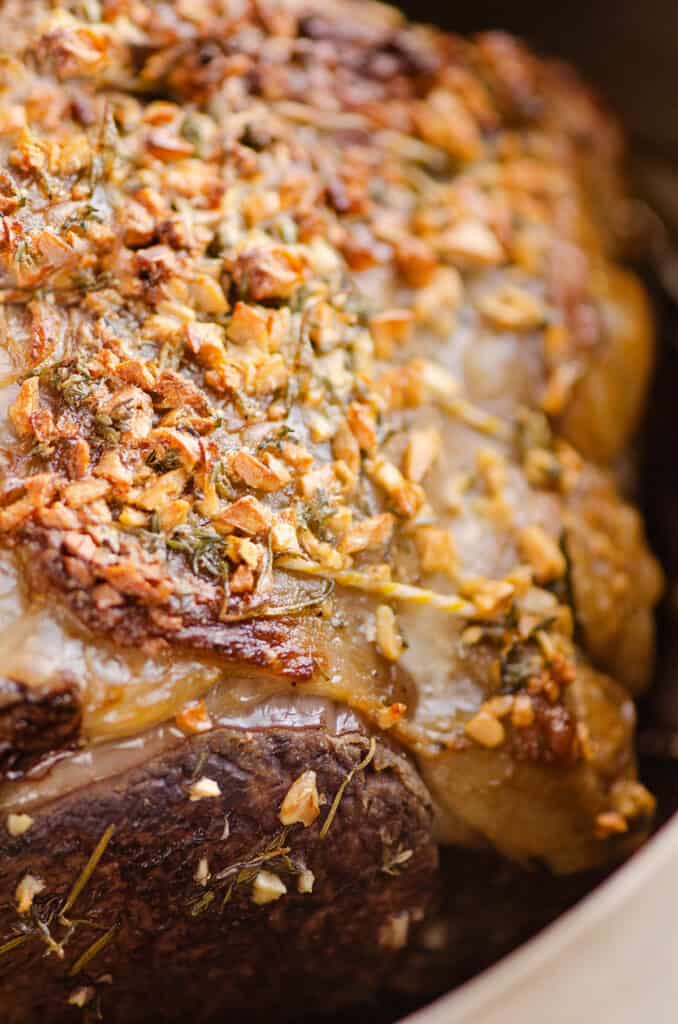 What should I do if someone mistakenly opens the oven?!
Thankfully this has never happened to us, because I lecture everyone that ever enters the kitchen AND put a sign on the oven. But if you do have someone make this terrible mistake, I would try to add some more heat to the oven, depending on how long it has been resting.
If someone opens the oven within the first 30 minutes, I would reheat the oven to 450°F and then turn off as soon as it reaches that temperature.
Between 30-60 minutes, I would reheat the oven to 350°F and then turn off as soon as it reaches that temperature.
If it happens last hour of the rest time, I would reheat the oven to 200°F and then turn off as soon as it reaches that temperature.
These are rough approximations to help you get that needed heat back in your oven and won't result in the same precise medium rare roast, but it should get your pretty close in the case of a mistake.
Do I need to let the Prime Rib rest before cutting?
Most of the time when you are cutting into any roast or steak, so all the juices don't come running out. With this recipe, you just need to let it rest while you make your gravy. This will take about 5 minutes and is sufficient time seeing it has cooled down as the oven dropped in temperature.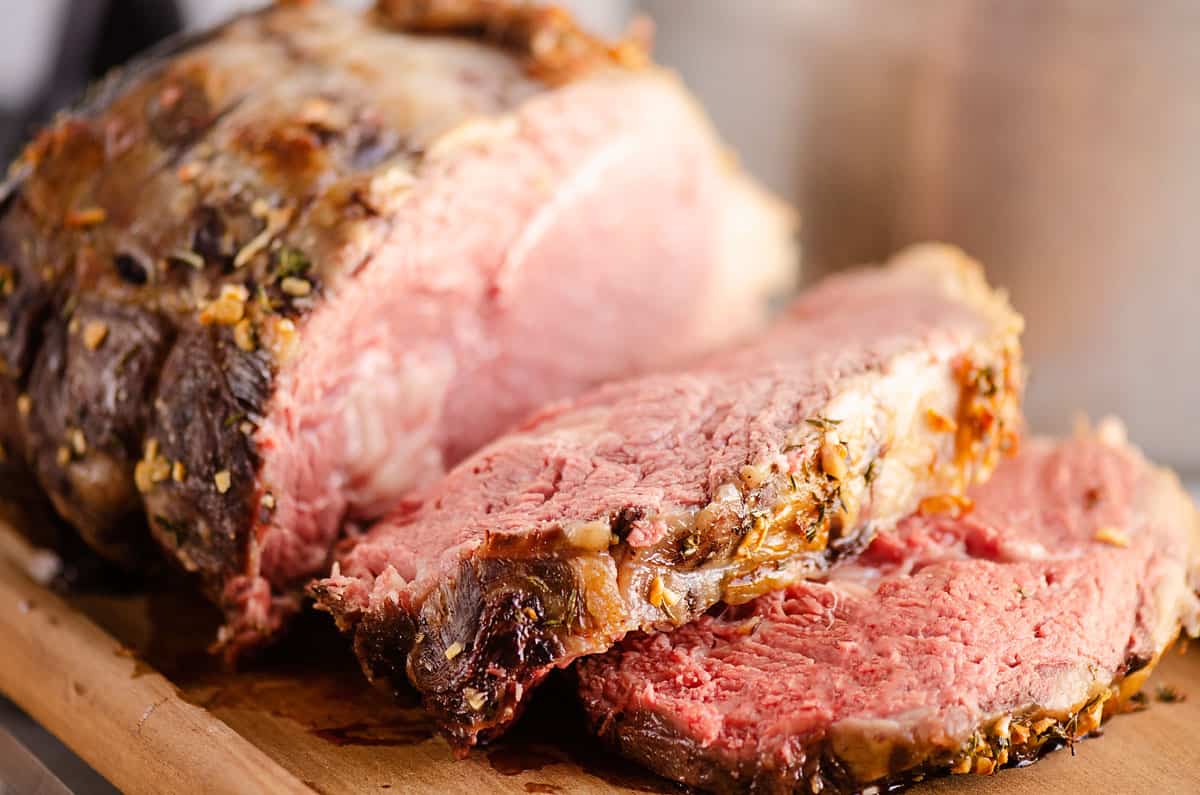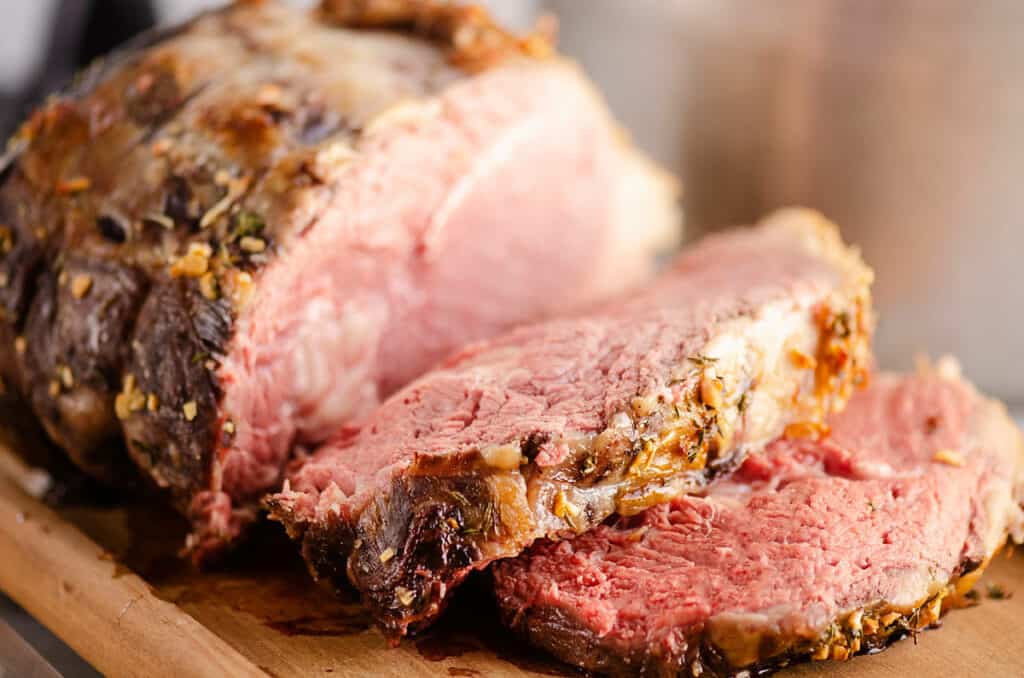 Will the Prime Rib be hot?
This easy and effective method of cooking Prime Rib will not leave you with a piping hot piece of meat. Not worries though, because it will be warm and you can serve with with some hot Au Jus that you can dip it in. This will heat up the individual bites of meat without overcooking it.
We like to serve little cups of Au Jus with each plate for this purpose. You can take the drippings from the pan and add it to a small saucepan along with some beef broth and heat it up. Or you can just buy a bottle of Au Jus from the grocery store if you are feeling lazy like we are many years.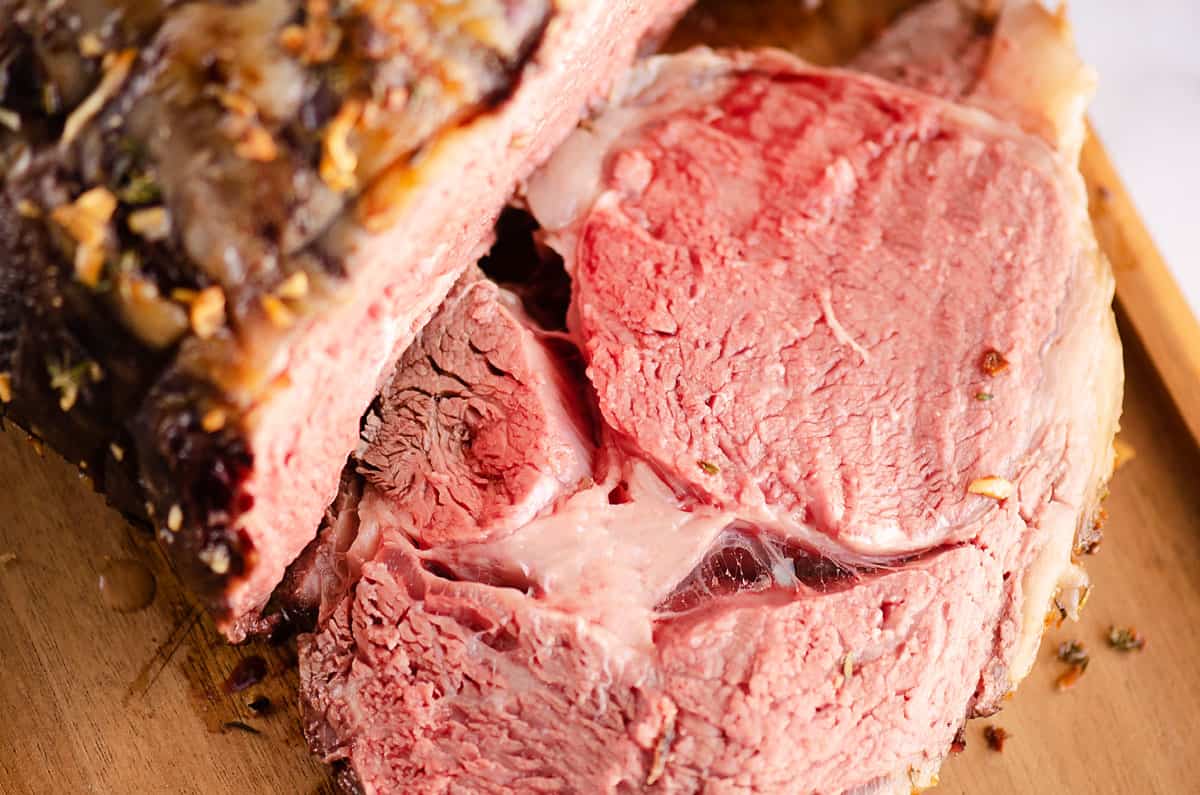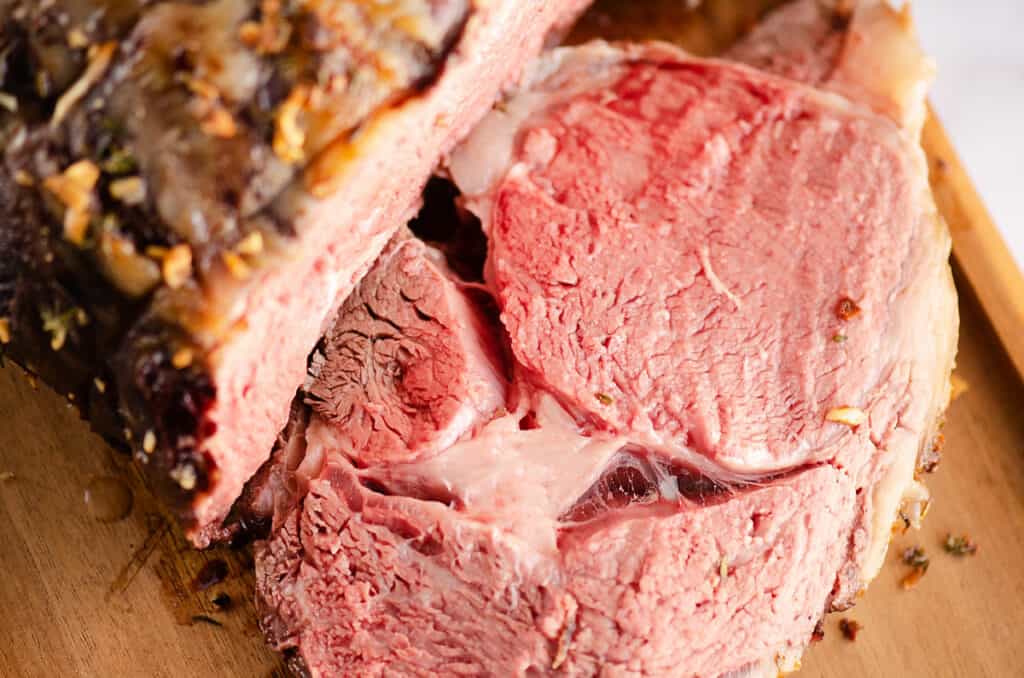 How to serve Prime Rib
One important lesson we have learned over the years is that you do NOT want to slice up the Prime Rib on a plate and cover it with tinfoil on the table. The steam that gets trapped inside the tinfoil tent will continue to cook the meat and this will leave you with a medium well piece of meat.
The ideal method to serving prime rib is slicing off pieces as you serve them to each individual plate. If this is too cumbersome for you, then just slice it up and place it on a platter, but don't pile the pieces on top of each other or tent it.
What to serve with Prime Rib?
Most of my family enjoys the Au Jus that I previously mentioned. Au Jus is just a fancy French word for the meat drippings. Just be sure to strain the drippings before serving.
I personally enjoy a good horseradish cream sauce to dunk those tender pieces of meat in. Some will say that this is bastardizing the meat, but I don't really care. I like what I like and will enjoy my meat any which way I please.
This Garlic Butter Prime Rib recipe includes a recipe for gravy as well. This is a traditional take on serving just about any meat and is always enjoyed with some mashed potatoes as well.
As for what side dishes to serve with Prime Rib, the possibilities are endless. Anything you would serve with your Ham holiday dinner is a good bet with Prime Rib as well. Some of our favorites include, twice baked potatoes, cheesy hash browns, salad, squash, asparagus, corn and of course you can never forget dinner rolls!
Garlic Butter Prime Rib Gravy
If you don't like the simplicity of Au Jus, you can turn your drippings into a gravy with the addition of 1 Tablespoon flour, 1 Tablespoons cornstarch and 2 cups beef broth.
Add the flour and cornstarch to the drippings and whisk until smooth. Stir in the beef broth and heat over high until it is thickened. Be sure to strain the gravy in a mesh strainer before serving to remove any big pieces from the drippings or little lumps that may have gotten missed.
Oh an, pay attention when straining your gravy into the gravy boat, because if your boat is like mine, there may be a bit too much gravy to fit inside. Whoops!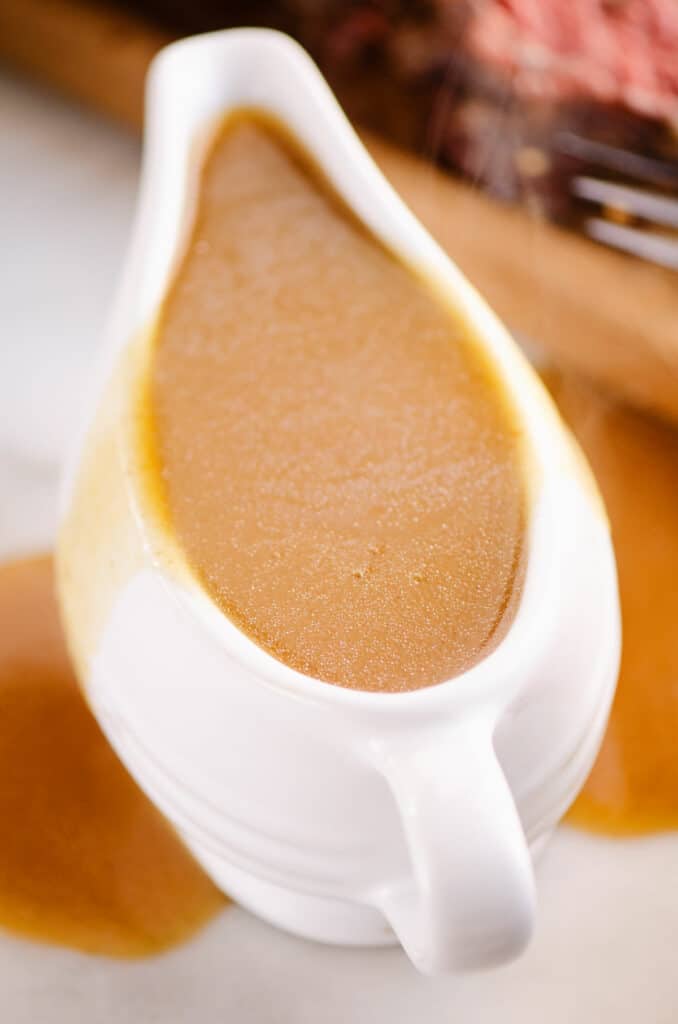 How to reheat Prime Rib
If you have leftovers or you just need to make your Prime Rib ahead of time (which I wouldn't suggest unless absolutely necessary), the best way to reheat it is with Au Jus. This is the technique the restaurants I worked in always use and I swear by.
Heat up some Au Jus or beef broth in a skillet and dunk the cold piece of Prime Rib in for just a few seconds on each side to warm it up. Keep in mind, that you would likely rather a tender and juicy piece of medium Prime Rib that may be only luke warm as opposed to a piping hot piece of well done meat that sat in the hot juices too long.
This method also works great for those few odd people in the family who just can't stomach eating red meat. Whether it's a pregnant sister or Grandma who just can't eat anything but well done meat, you can further cook the slices of meat in some hot Au Jus until it is done to their liking.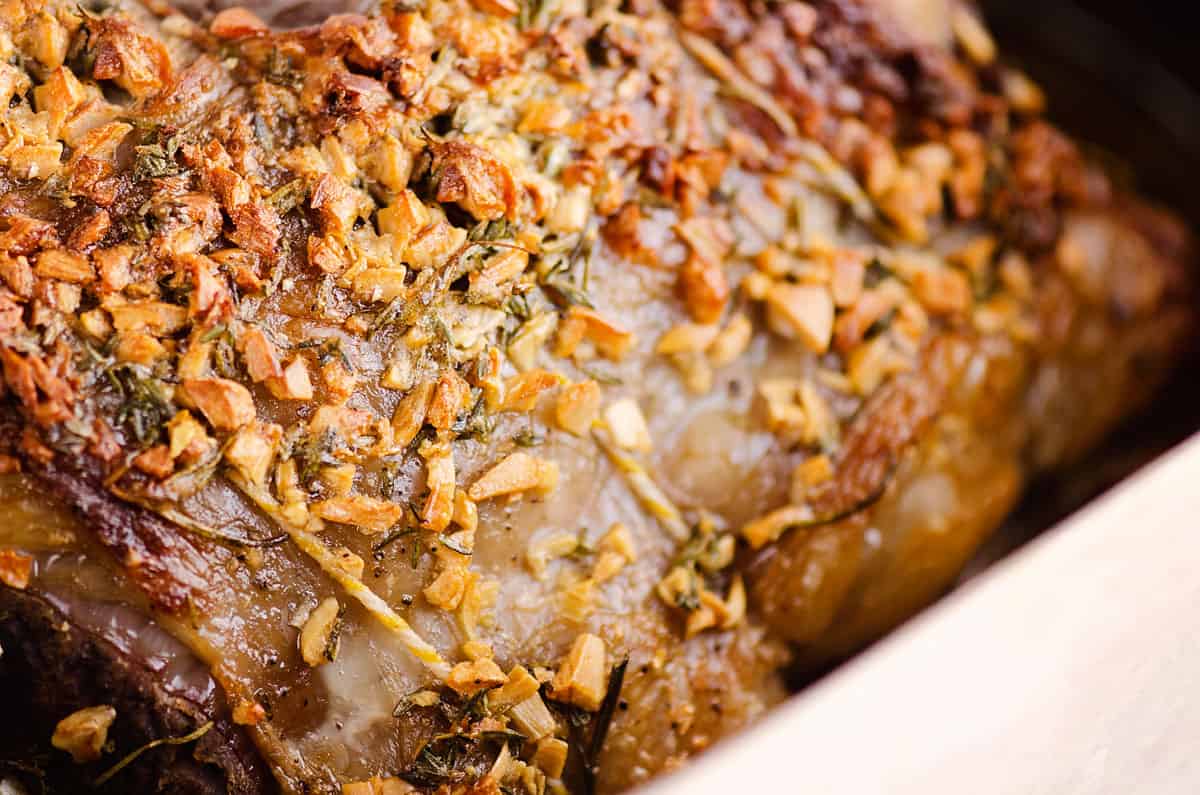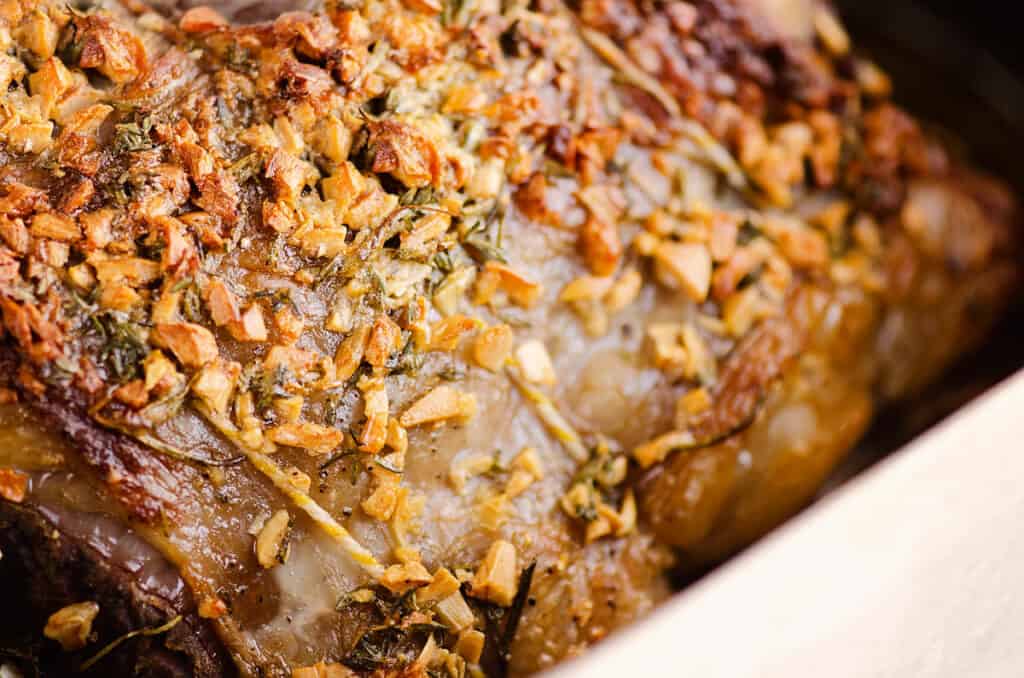 What to make with leftover Garlic Butter Prime Rib
We like to thinly slice some of our leftover prime rib and make French Dips out of it with some crusty bread and cheese dipped in the leftover Au Jus. Pretty much anything you would make with cooked steak, like salads, flatbreads, tacos, etc. are all great options for the leftover Prime Rib.
These Breakfast Steak and Cheddar Toasts would be an amazing way to use that Prime Rib for breakfast the next morning! Just keep in mind when reheating the Prime Rib, to not overdo it!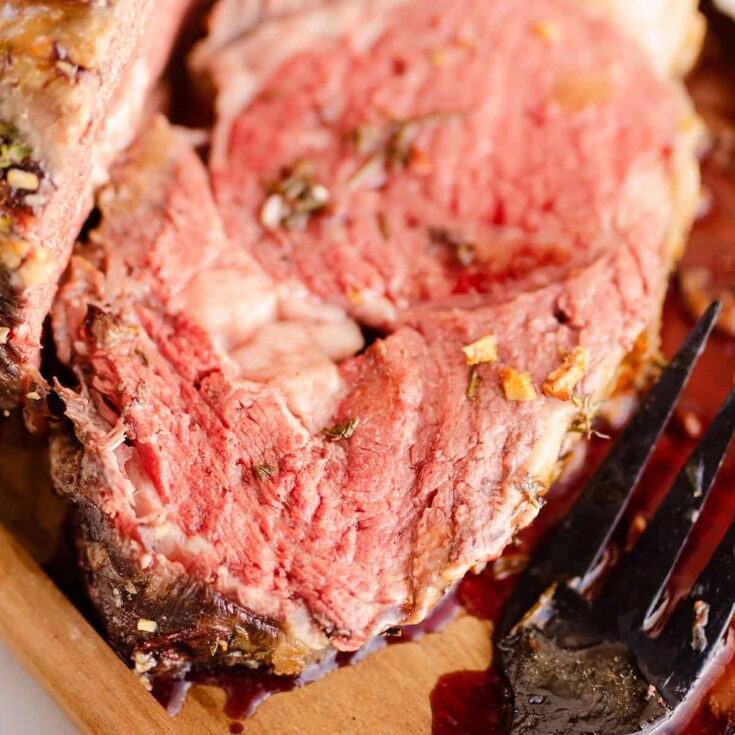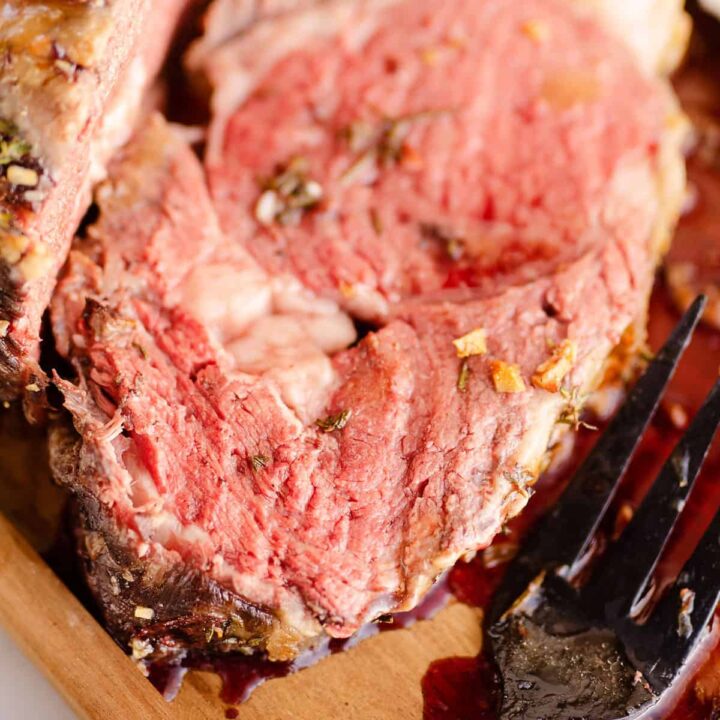 Garlic Butter Prime Rib
Total Time:
2 hours
32 minutes
This easy recipe for boneless Prime Rib is coated in a thick layer of garlic herb butter and roasted for a perfectly done medium rare piece of tender and juicy steak!
Ingredients
Garlic Butter Prime Rib
1 cup salted butter, softened
1 Tablespoon salt
2 teaspoons black pepper
1 medium head garlic
1/4 fresh herbs
5 pound ribeye roast
Gravy
1 Tablespoon all purpose flour
1 Tablespoon cornstarch
14.5 ounce can beef broth
Instructions
Garlic Herb Prime Rib
Preheat oven to 500°F.
Break apart the head of garlic and smash each clove with the side of your chef's knife. Peel and dice the garlic. Add the garlic to a small bowl with the softened butter, fresh herbs, salt and pepper. Mix until well combined.
If your boneless Prime Rib is not already tied, do so with butcher twine every 2-3 inches. Coat the roast with the softened butter.
Place the garlic butter Prime Rib on the rack in a roasting pan. Bake at 500°F for 4-5 minutes per pound, depending on your preference for doneness. (This works for sizes ranging from 4-10 pounds)
When the cooking time is done, do NOT open the oven door. Turn off the oven and let it rest in the warm oven for 2 hours.
After the 2 hours, remove from the oven and slice. Serve directly on plates. Do NOT tent the slices of meat with tinfoil or a lid. This will continue to cook them.
Prime Rib Gravy
Add the drippings of the roast pan to a medium saucepan over medium high heat. Whisk in the flour and cornstarch until there are no lumps. Stir in the beef broth and cook over high heat until thickened.
Strain the gravy with a mesh strainer into a gravy boat. Serve over Prime Rib and potatoes.
Notes
If you are making a larger 10 pound roast, double the amount of garlic herb butter on the roast and ingredients for the gravy.
Recommended Products
As an Amazon Associate and member of other affiliate programs, I earn from qualifying purchases.
Nutrition Information:
Yield:

10
Serving Size:

1
Amount Per Serving:
Calories:

947
Total Fat:

80g
Saturated Fat:

36g
Trans Fat:

1g
Unsaturated Fat:

34g
Cholesterol:

237mg
Sodium:

1076mg
Carbohydrates:

2g
Fiber:

0g
Sugar:

0g
Protein:

52g
Provided nutrition data is only an estimate. If you are tracking these nutrients for medical purposes, please consult an outside, trusted source.