This easy Swiss Cheese Fondue recipe from The Melting Pot is velvety smooth and full of rich flavors from Gruyère, white wine, cracked black pepper and nutmeg.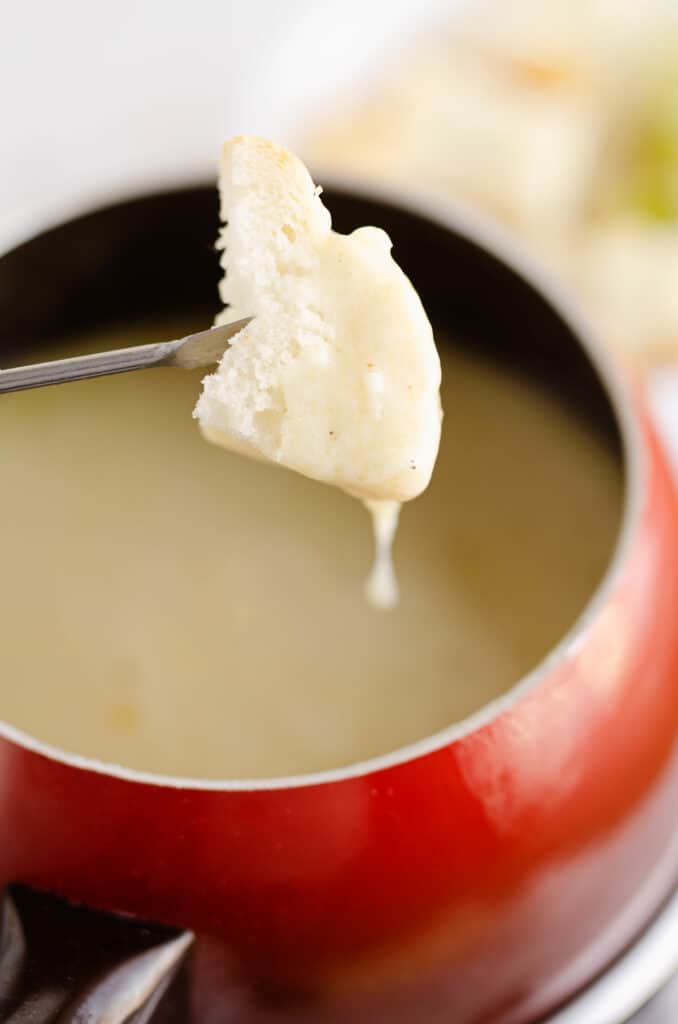 Melting Pot Cheese Fondue Recipe
If you've never had a fondue dinner party before, you are most definitely missing out. Now is the time to give it a try! It requires buying a fondue pot and forks but it is so completely worth it. This easy cheese fondue recipe can be whipped up in just 10 minutes for a party appetizer or addition to your fondue dinner.
If you've ever been to a fondue restaurant like The Melting Pot, then you know just how delicious and fun it can be. From meats cooked in oil or broth, to cheese dipped in bread and apples. Its such a great spread of food that you can slowly enjoy and savor every bite.
I was gifted The Melting Pot cookbook many years ago and it has been a wonderful addition to my collection of cookbooks. It has a wide variety of cheese, dessert and broth fondues along with dipping sauce and batter recipes. It really has everything you need to host a fondue party.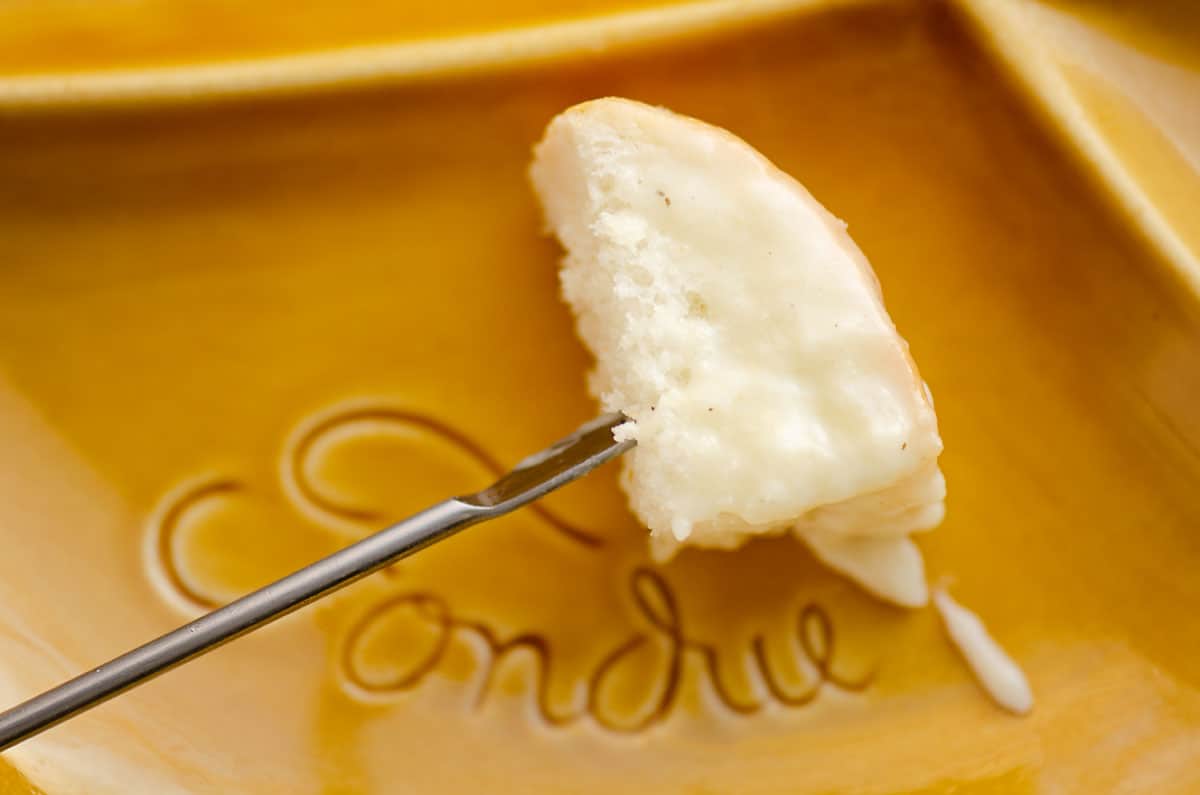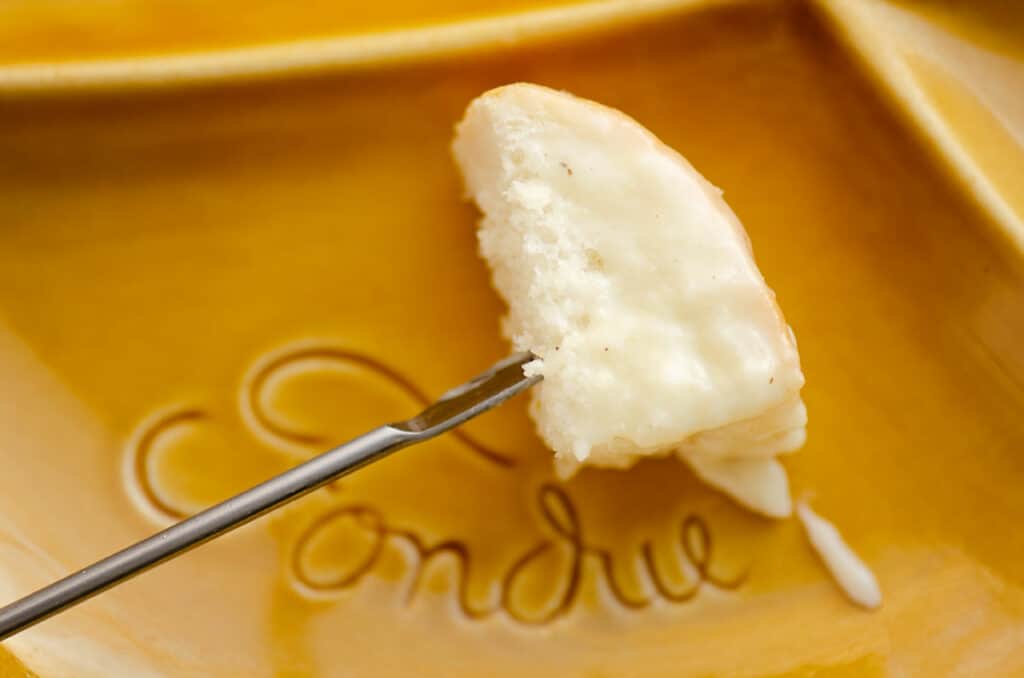 Traditional Cheese Fondue
The traditional Swiss Cheese Fondue is what most people think of when it comes to fondue. It is a classic that is so good and versatile. It's by no means the only cheese fondue to try though. This Zesty Cheddar Fondue is another favorite cheese fondue.
If I'm hosting a large fondue party with 8+ people, I like to make one pot of each for more variety. My family tends to prefer the traditional Swiss Cheese fondue, so that is what we stick to at most holidays.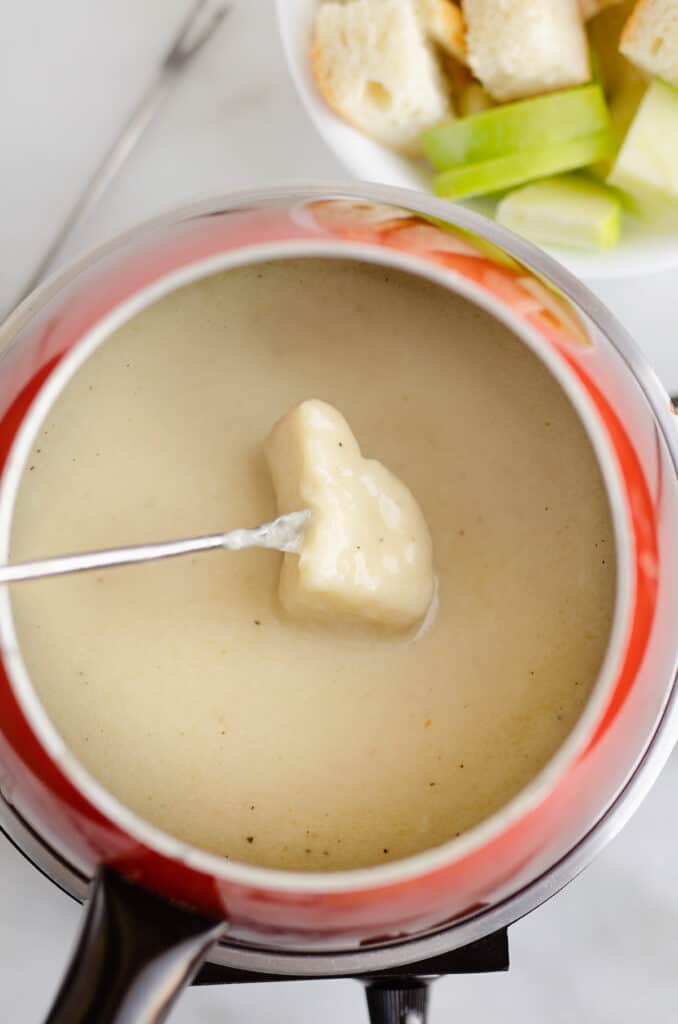 Vintage Fondue Party
My parents started hosting 70s fondue parties many moons ago. I was lucky enough to inherit my Mom's vintage fondue pots. My harvest gold and poppy red electric fondue pots are treasured appliances in my home and will continue hosting many parties throughout the year.
Growing up as kids in the 90s, my Mom would make fondue dinner for Christmas Eve. It was such a special holiday tradition that we all loved. Unlike most kids on Christmas Eve who are blowing through their ham dinner in hopes of getting to their presents faster, we savored and enjoyed the meal.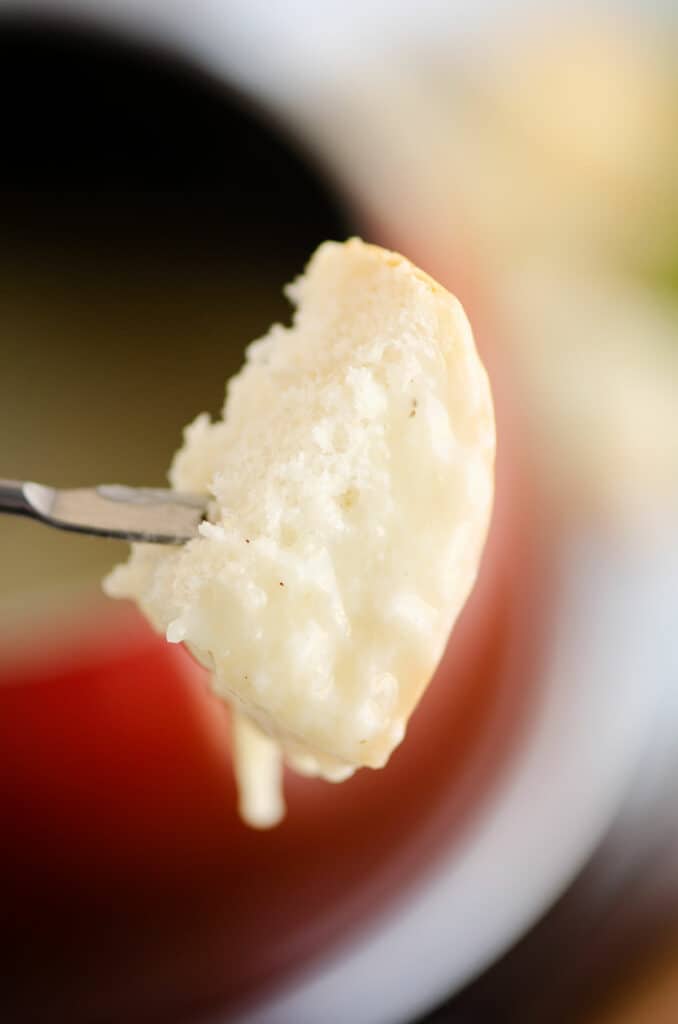 What pot to use for cheese fondue
The only issue we have ran into is making sure that you run your vintage fondue pots on two different breakers, because when we are hosting a big party with four or more pots, we have definitely blown a breaker or two. This doesn't seem to be near the same problem if you are using modern fondue pots.
Many vintage pots, including some of mine I have inherited, use Sterno to heat the pots. I personally much prefer the electric pots as they allow me to better control the heat. If you let your Swiss Cheese Fondue get too hot, it can separate and become grainy. If it gets too cold, it will clump up.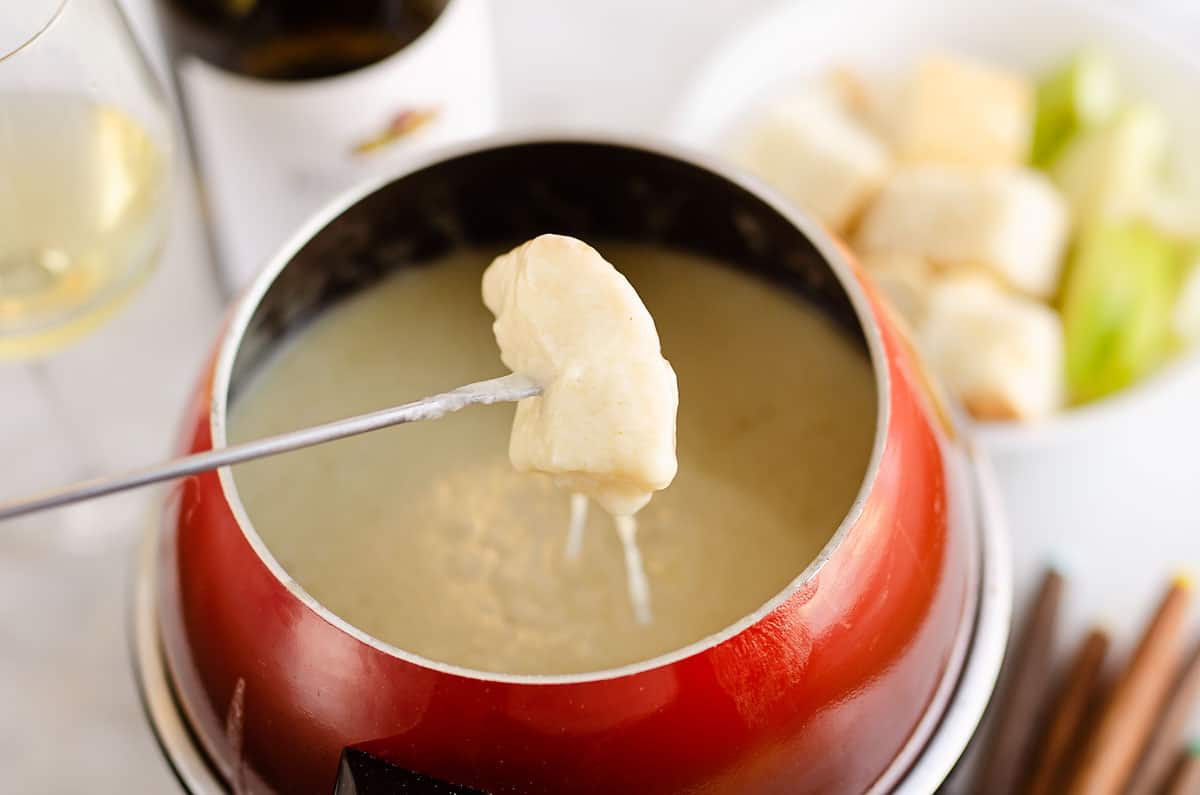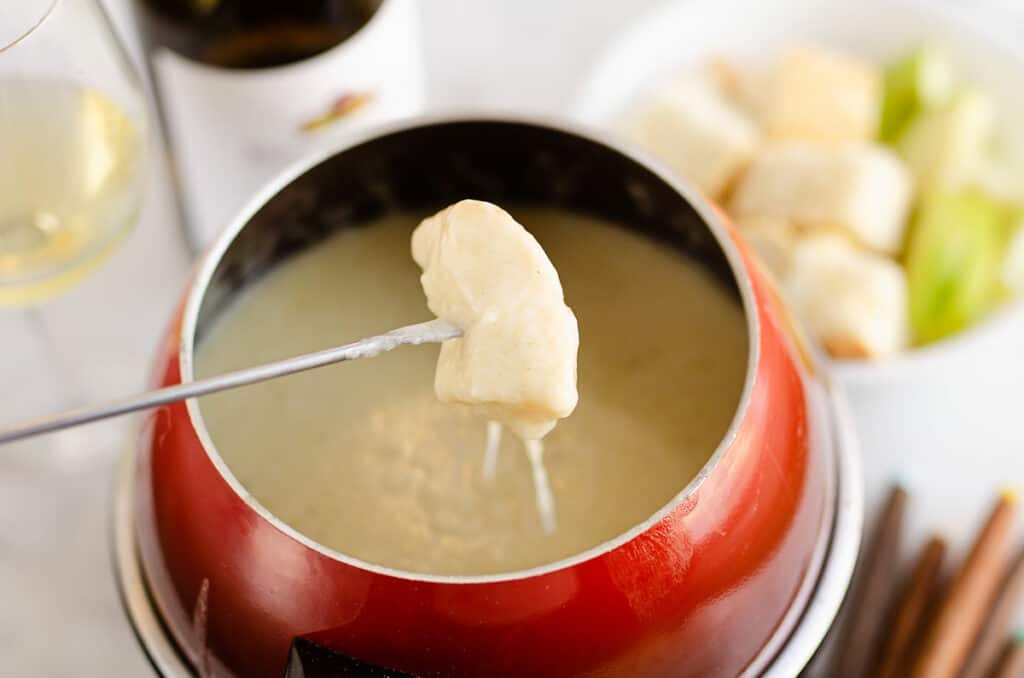 Cheese Fondue Appetizer
Fondue doesn't have to be an all or nothing thing. While I love throwing a full blown retro fondue party, sometimes it just isn't practical. As our family has grown over the years, we are now up to 20 people, with half of them being kids. Fondue is best enjoyed with 10 people or less in my opinion.
Now that we can't do fondue for Christmas anymore, we still keep a bit of the tradition alive with this Swiss Cheese Fondue for an appetizer to our Prime Rib dinner.
Everyone loves having a bite of nostalgia that tastes amazing!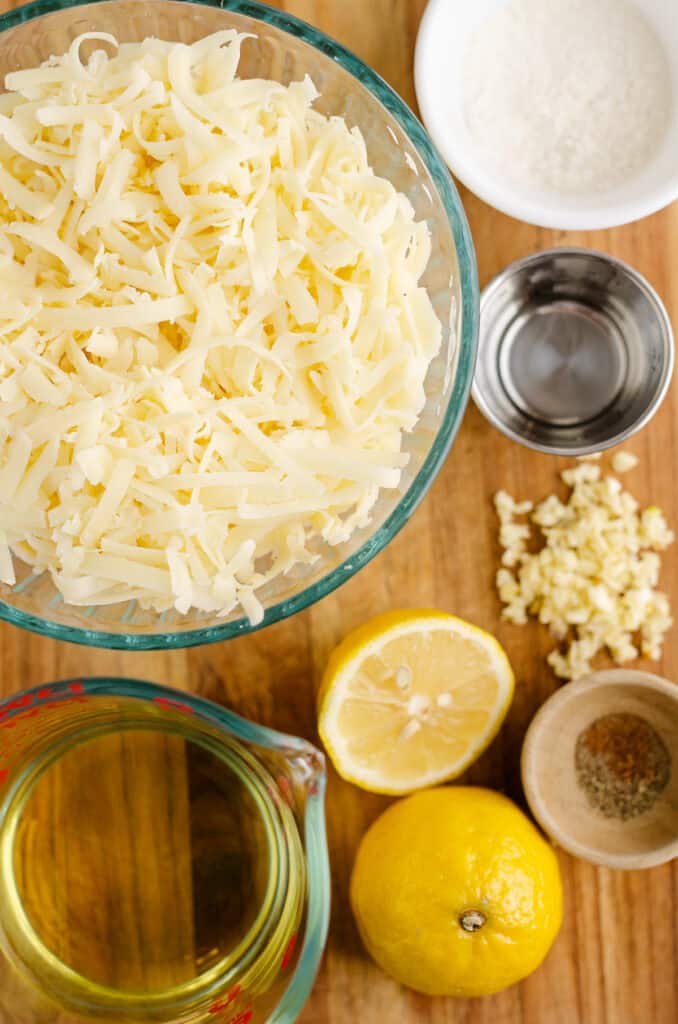 How to make cheese fondue
There are a couple ingredients you will need to grab from the store to make Swiss Cheese fondue. When it comes to buying cheese, be sure to avoid the bags of pre-shredded cheese with powder. They won't melt into a beautiful creamy fondue and can clump up. This is one recipe where it is mandatory that you take the extra few minutes to shred your cheese fresh.
Here is what you will need,
8 ounce block Swiss or Emmentaler cheese
6 ounce Gruyère cheese
All-purpose flour
1 cup dry white wine
1 lemon
garlic
Kirschwasser (cherry flavored liqueur)
ground black pepper
ground nutmeg
Toss the grated cheese with 2 Tablespoons flour and set aside. Warm your fondue pot over the stove or heat source to medium. Add the white wine, lemon juice and garlic to the pot. Be sure that your garlic is very finely diced. You don't want to bite into a big piece of garlic when dipping in your cheese fondue.
Cook for a couple minutes until heated through and add half of the cheese tossed in flour. Stir until it is melted and smooth. Add the remaining cheese and stir until smooth. Using a spatula pull the cheese away from the edge and add the Kirschwasser. Let the alcohol cook off for 30 seconds and stir into the cheese.
Add in the fresh cracked black pepper and grated nutmeg. Stir until well combined. The cheese should be the consistency of warm honey. If it is too thick add a splash of white wine. If it is too thin, add some more cheese.
What to dip in Swiss Cheese fondue
Bread is the obvious choice for any cheese fondue, but you don't have to limit yourself to one dipper. Slice some apples and toss them in a little lemon juice so they don't turn brown.
Granny smith apples are my favorite with Swiss Cheese fondue. We would have never bothered with apples in cheese if it wasn't for eating at the Melting Pot restaurant and being served apples with the cheese there. They are surprisingly delicious with the creamy cheese fondue.
Vegetables like broccoli, carrots, potatoes, etc that you cook in a broth fondue are also great dipped in the cheese.
More cheese fondue dippers
If you are making this Swiss cheese fondue the star of your party, here are some more great dipper ideas that pair well with the creamy cheese,
Whatever you do, don't forget to use that leftover white wine and pour yourself a glass to serve with the cheese fondue. It is the perfect pairing!
Best bread for Swiss Cheese fondue
Our family's go-to bread for any cheese fondue is always fresh French bread. Whether it's softy or the crusty crust, it's a beautiful blank canvas for the flavorful cheese.
Marble rye is another good addition to your spread if you want to add a little more variety.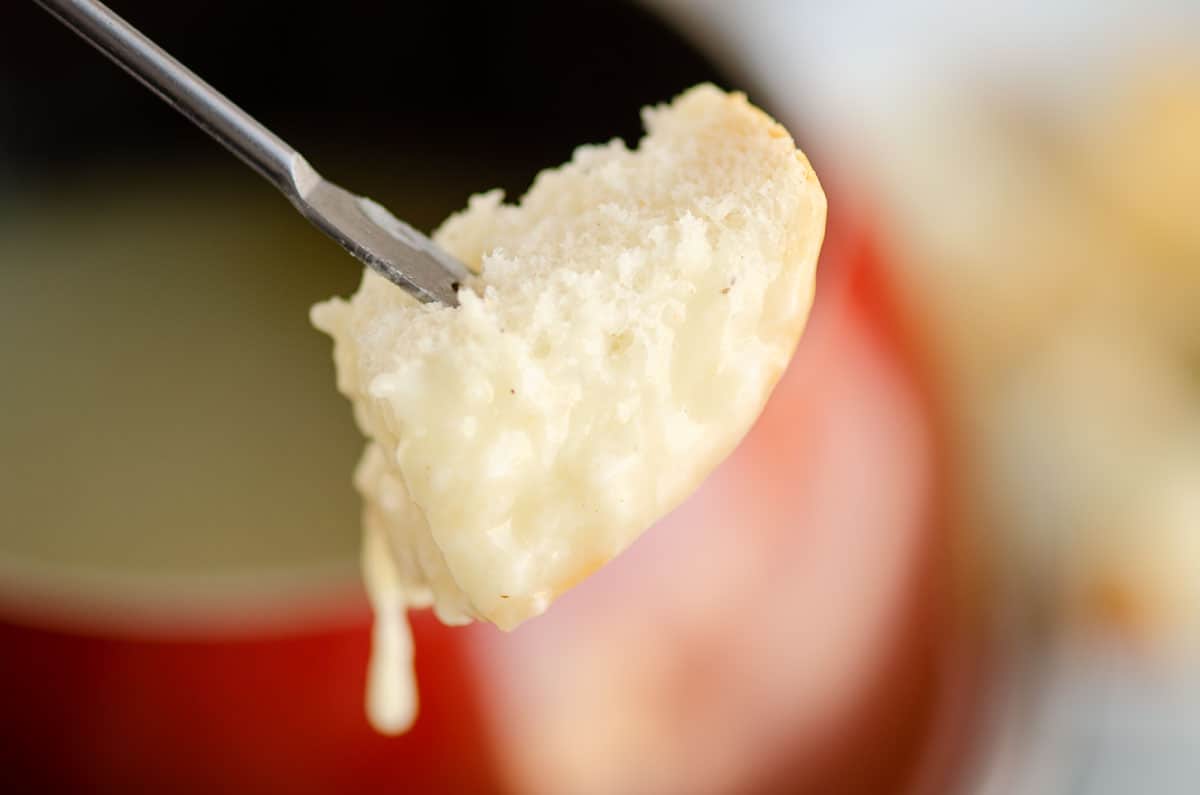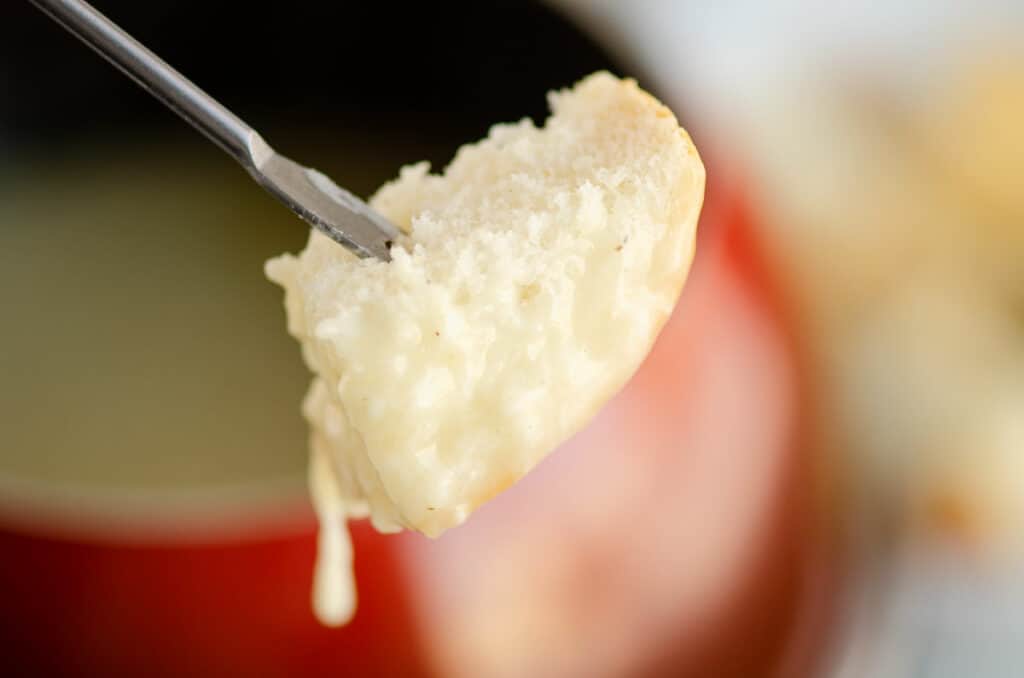 Special Holiday Dinner Idea
Whether you are hosting a dinner party for Christmas or New Years or want to make a special meal for Valentine's day or a birthday, fondue is such a fun and different way to enjoy a unique dinner.
I have hosted groups of girlfriends, friends and their families and of course family dinners. It is a hit every single time and people still talk about it for years to come!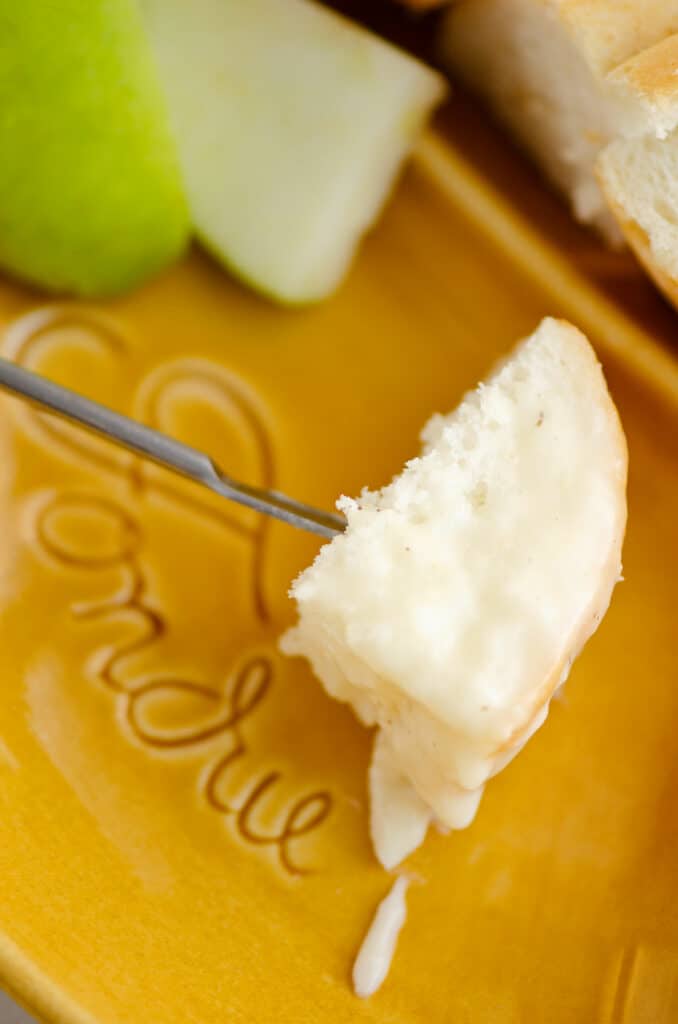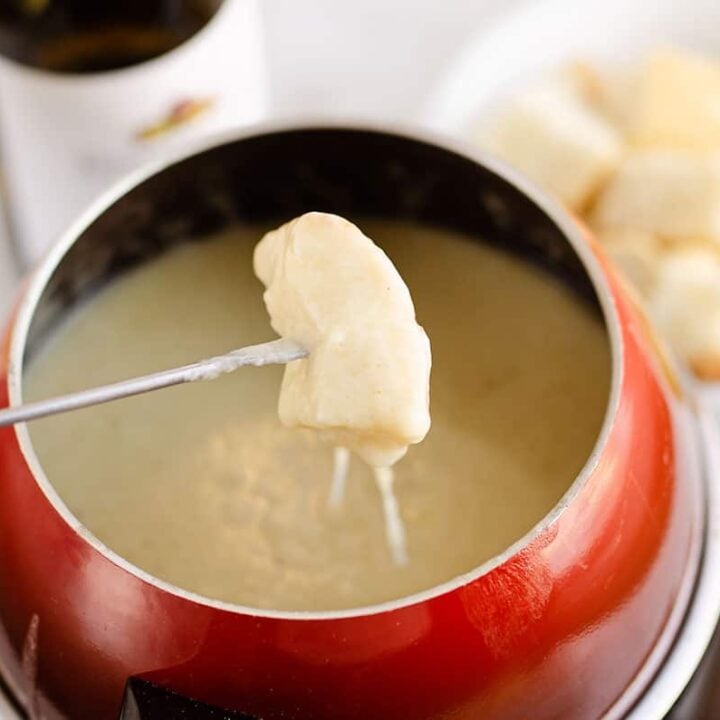 Swiss Cheese Fondue
This easy Swiss Cheese Fondue recipe from The Melting Pot is velvety smooth and full of rich flavors from Gruyère, white wine, cracked black pepper and nutmeg.
Ingredients
Cheese
8 ounces Swiss or Emmentaler cheese
6 ounces Gruyère or Grand Cru cheese
2 Tablespoons all-purpose flour
Fondue
1 cup dry white wine
2 Tablespoons fresh lemon juice
1 Tablespoon finely chopped garlic
1 ounce Kirschwasser (cherry flavored liqueur)
1/2 teaspoon ground black pepper
1/4 teaspoon ground nutmeg
Dippers
1/2 loaf French bread, cubed
1 Granny Smith apple, sliced
Instructions
Shred the cheese and toss with the flour in a large bowl. Set aside.
Using a double boiler or fondue pot over medium heat, add the white wine, lemon juice and finely diced garlic. Heat for 1-2 minutes.
Add half of the cheese to the pot and whish until melted and smooth.
Add the remaining cheese and whisk until melted and well combined.
Using a spatula, pull the cheese from the edge and add the Kirschwasser to the side of the pot. Cook for 1-2 minutes until the alcohol has a chance to cook off a little bit.
Whisk in the black pepper and nutmeg and serve with cubed bread and apples.
Recommended Products
As an Amazon Associate and member of other affiliate programs, I earn from qualifying purchases.
Nutrition Information:
Yield:

8
Serving Size:

1
Amount Per Serving:
Calories:

349
Total Fat:

19g
Saturated Fat:

11g
Trans Fat:

0g
Unsaturated Fat:

6g
Cholesterol:

57mg
Sodium:

413mg
Carbohydrates:

21g
Fiber:

1g
Sugar:

3g
Protein:

19g
Provided nutrition data is only an estimate. If you are tracking these nutrients for medical purposes, please consult an outside, trusted source.