These Air Fryer Chicken Thighs made with zesty ranch butter are a flavorful 3 ingredient recipe perfect for a quick family friendly dinner.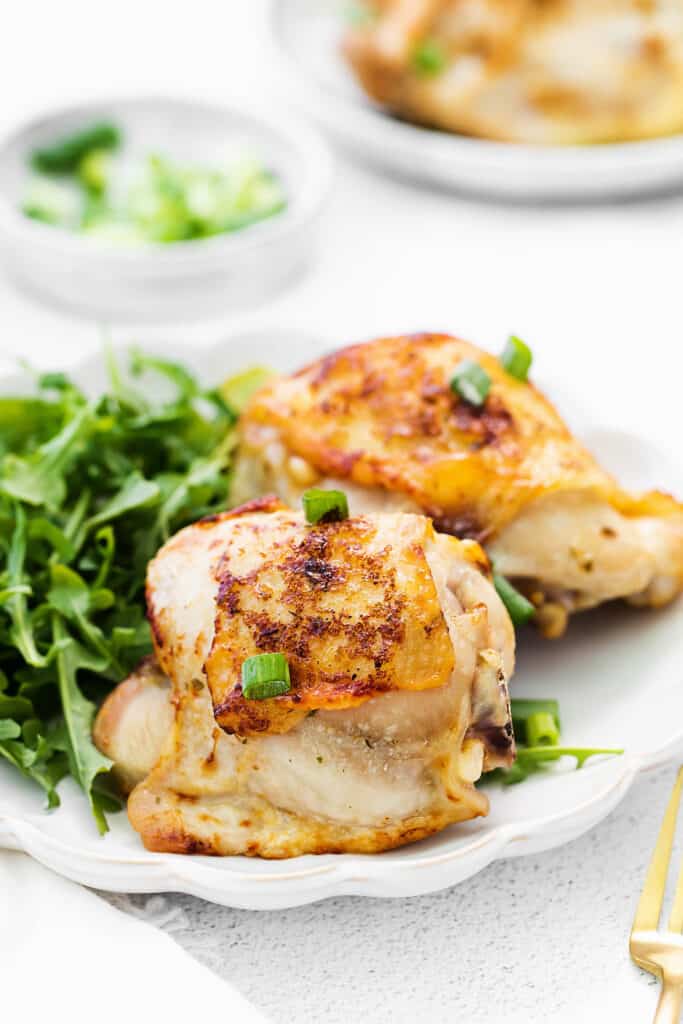 Air Fryer Chicken
Air fryer ranch chicken adds great zesty flavor to the crispy skin on chicken thighs with only 3 simple ingredients. The skin crisps up in the air fryer and a bit of herb ranch seasoned butter melts into the chicken for juicy chicken meat that is delicious.
If you love how tender chicken thighs are, then this Air Fryer Recipe is for you. Much like Instant Pot Honey Soy Chicken Thighs or Apricot Glazed Chicken Thighs you can't beat this cut of meat when it comes to chicken. It stays nice and juicy and the skin crisps up into something wonderful.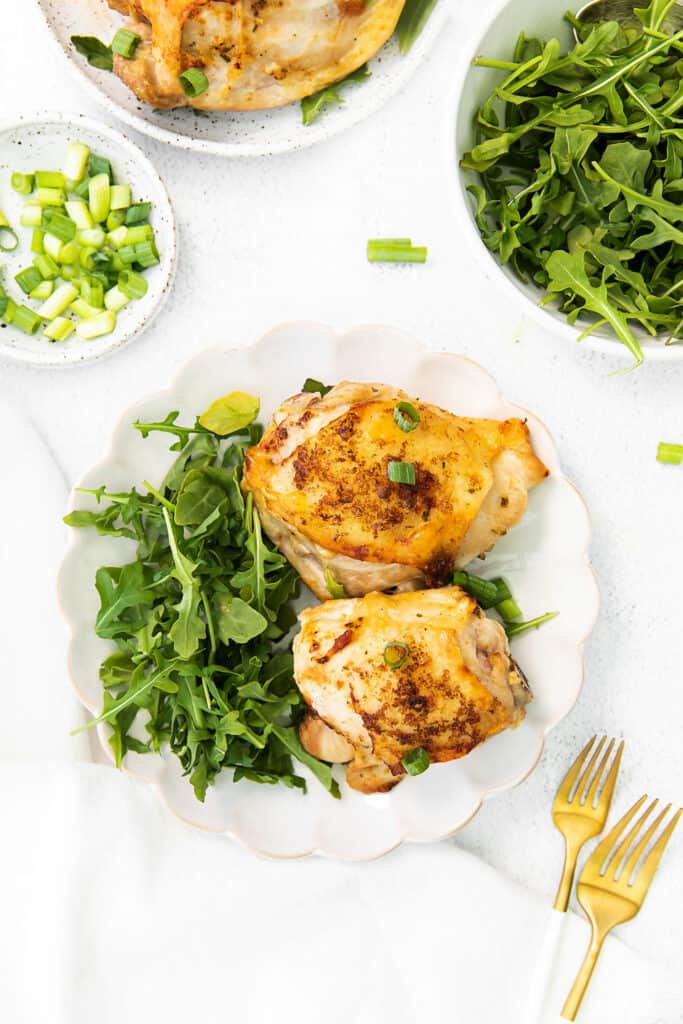 Making Easy Air Fryer Chicken Thighs
An XL air fryer is your friend when you need to get a tasty dish done in the least amount of time possible for the family. This is the sort of chicken recipe that leaves no leftovers unless you make twice as much as you need. The only obstacle is the size of your air fryer. Because the first rule of air fryer cooking… keep plenty of space around each piece of chicken. The more air circulation you get, the more crispy the skin gets.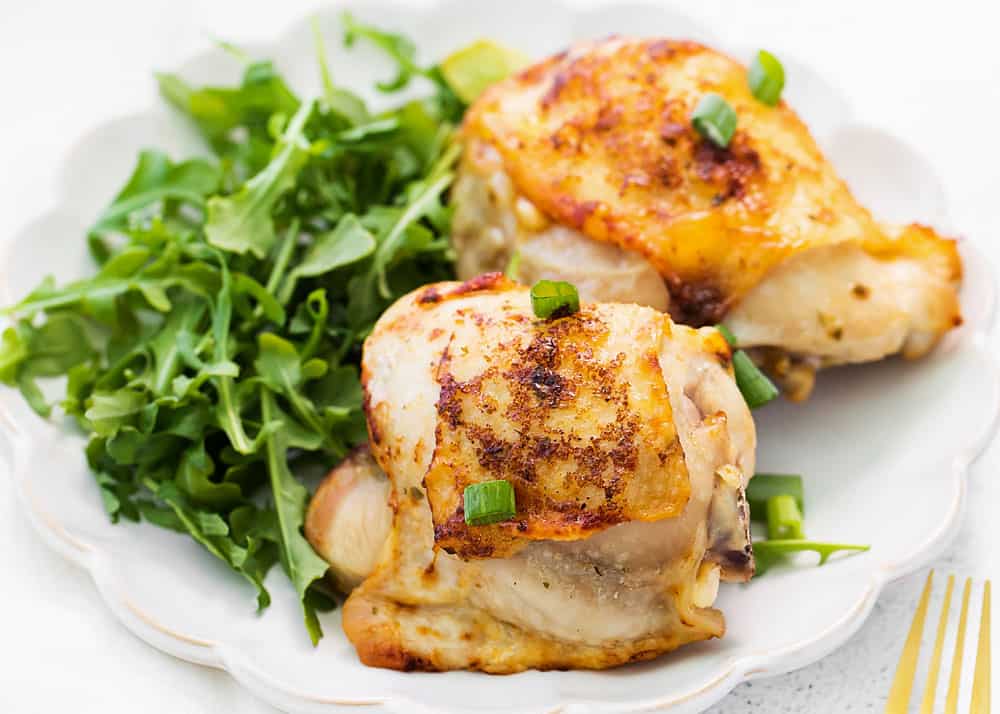 What Exactly Is Ranch Seasoning?
Ranch seasoning typically consists of a few key ingredients, parsley, dill, chives, garlic and onion powders. The pre-mixed packages also usually uses powdered buttermilk as well. So, if you don't have a package of ranch seasoning handy, then you can always mix a homemade ranch mix.
The zesty side comes from the dill and buttermilk powder, while the chives, onion powder, and parsley all bring on the savory flavor profile. By mixing the ranch seasoning into the butter, you create the perfect transportation for the seasoning to infuse the meat thoroughly with flavor for days.
There are so many ways to use a packet of ranch seasoning for a punch of great flavor. From Chipotle Ranch Chip Dip to Ranch BLT Chicken Salad, it's an easy way to add lots of great flavor.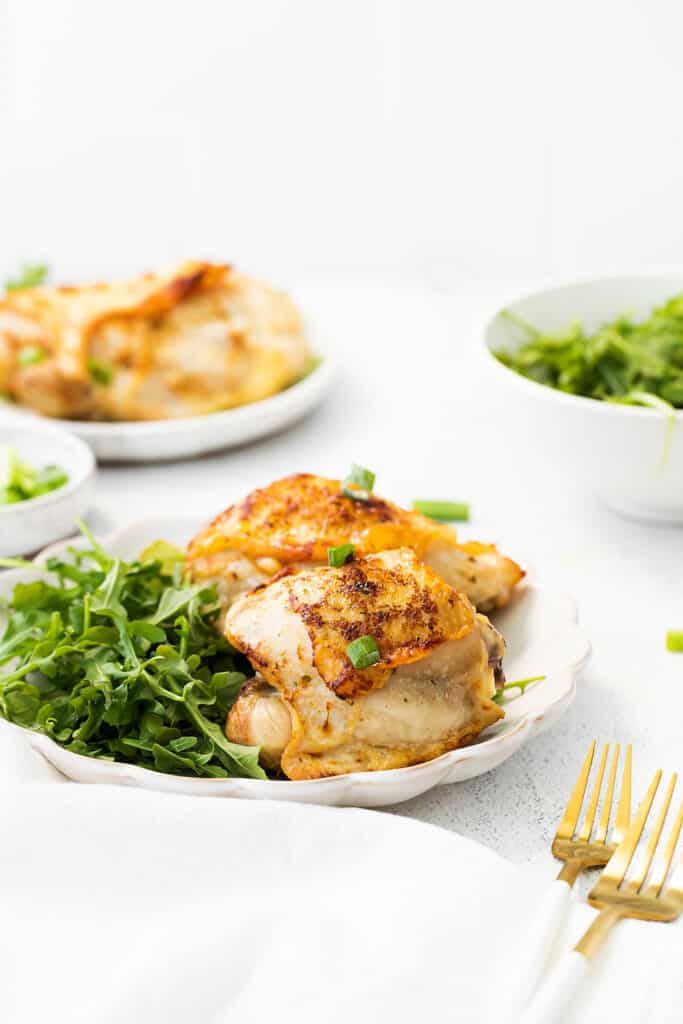 Cooking Ranch Chicken In An Air Fryer
It depends on your air fryer how many pieces you can cook at once. Avoid the temptation of trying to do them all at once for time and convenience if you have a small Air Fryer. They will take much longer to cook and the skin won't crisp up as well.
You want to have about a half inch of space around each chicken thigh. The convection method of cooking relies on hot air circulation. The more heated air whips around the chicken thigh, the faster it cooks and the better it crisps. And this is also the secret to making sure it is still nice and moist on the inside.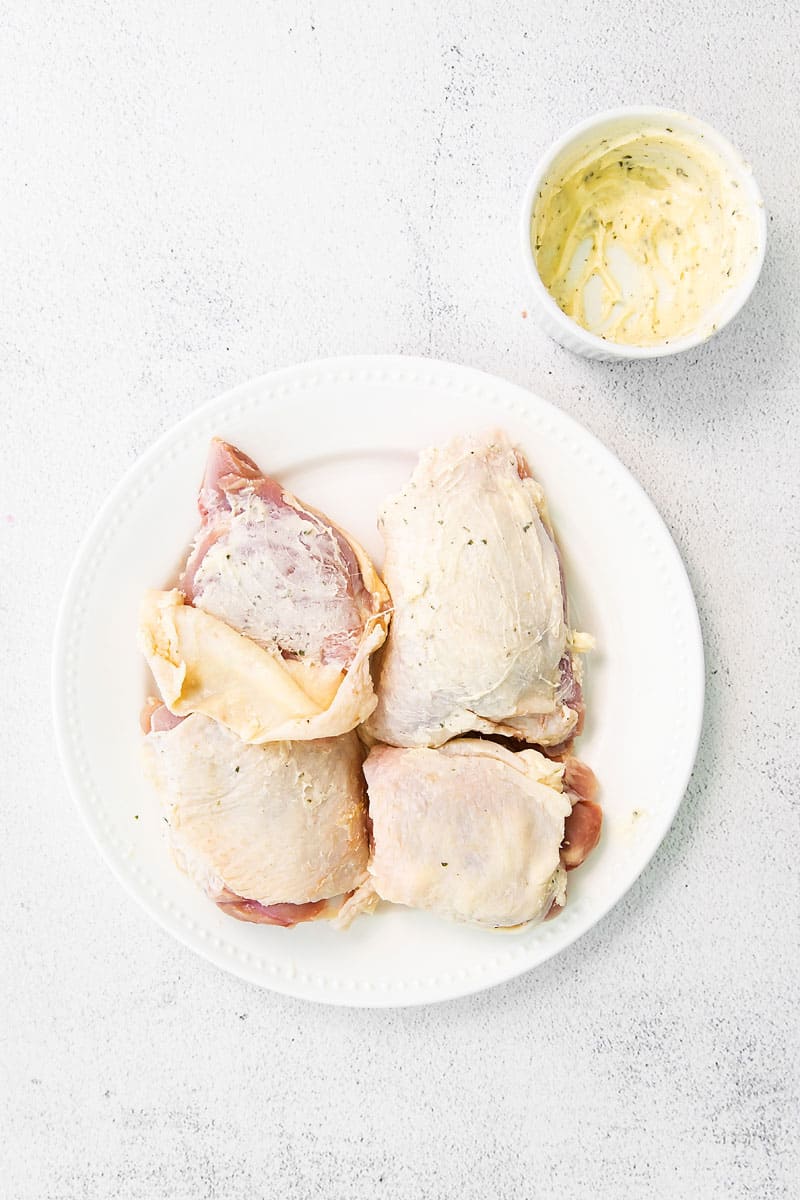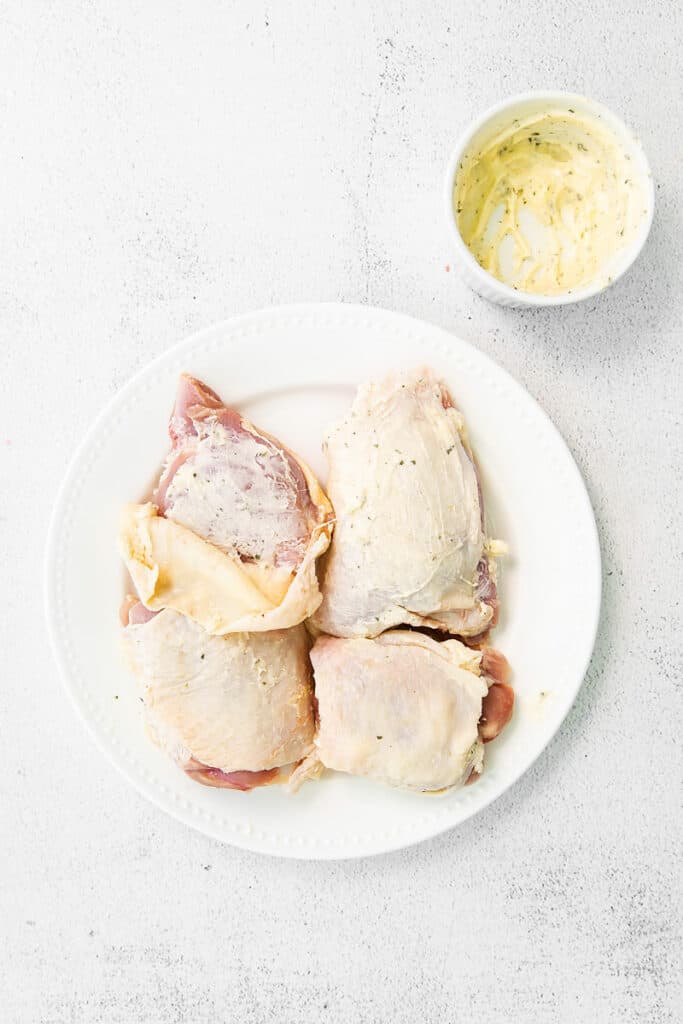 Crispy Skin On Ranch Chicken
Even if you don't enjoy eating crispy chicken skin, make sure to leave it on for cooking. You want it to crisp up regardless since this helps hold in the moisture in the meat. You can always remove it if necessary after you cook the chicken.
But if you look forward to enjoying that nicely crisped up chicken skin full of ranch seasoning, then you want to get it just right. The trick is rubbing some of the herb butter underneath the skin and next to the meat. Then you also want to put a bit of butter on the top of the skin as well. The fats from the chicken and butter will create all the flavor you would expect of a fried chicken, but without as much excess oil and breading.
What to Serve with Ranch Chicken Thighs
A juicy chicken thigh with crispy skin is a fantastic dinner idea, but it needs something to go along with it. Here are just a few great side dishes that will pair wonderfully with this easy Air Fryer Chicken.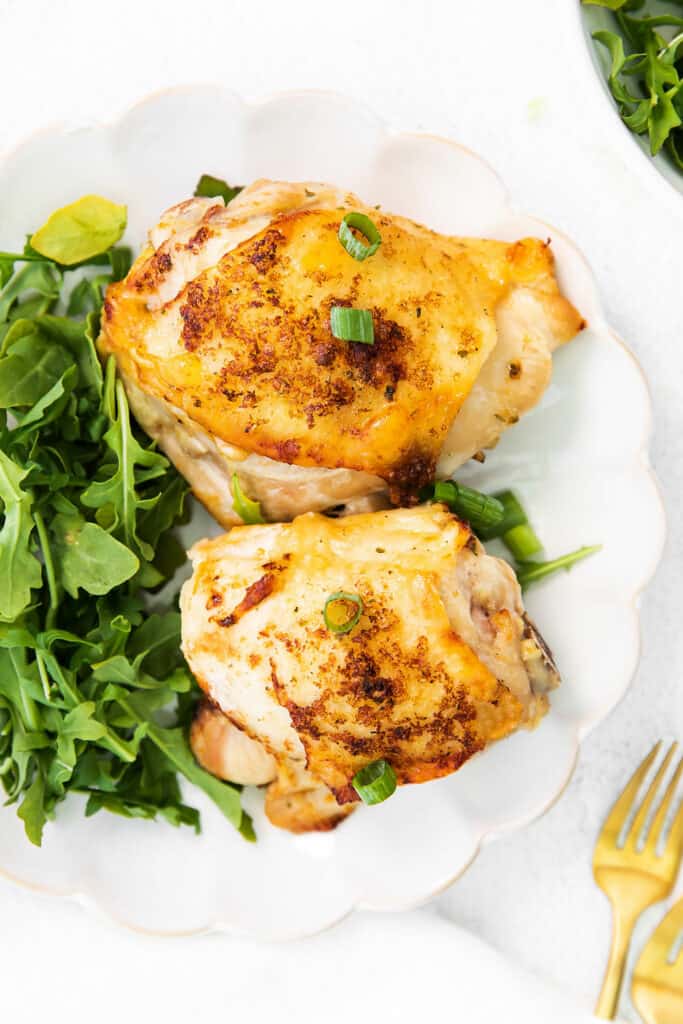 Advantages Of Using An Air Fryer To Cook Chicken
The advantages of using an air fryer to cook chicken are clear, especially if eating healthy is a priority. Here are just a few of the benefits,
You use less oil which means less saturated fat in your recipe.
The free radicals that are problematic in deep frying no longer present an issue.
Easier to clean up and doesn't smell up your kitchen!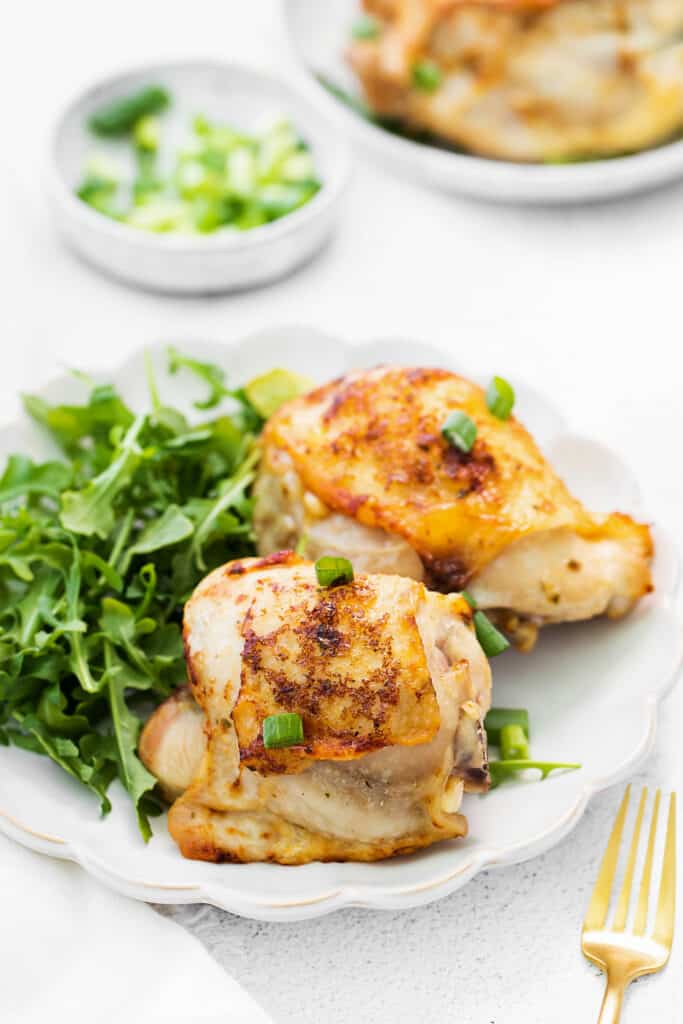 More Air Fryer Recipes You Might Like
An air fryer is such a handy tool in the kitchen, and works nicely with chicken but also vegetables and other meats as well. While it isn't quite the same as deep frying foods, the texture and taste differ slightly, but the health benefits and easy of cooking and cleaning more than make up for it.
Here are some more recipes you might enjoy: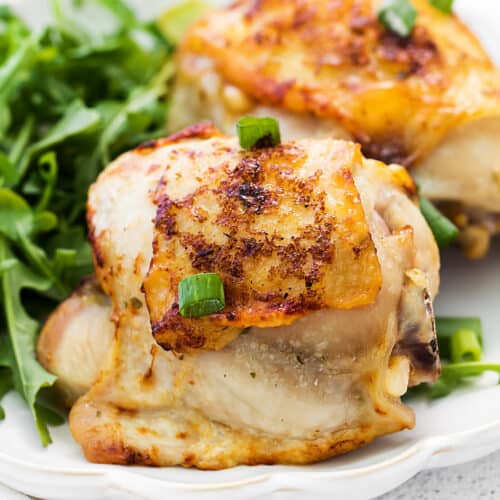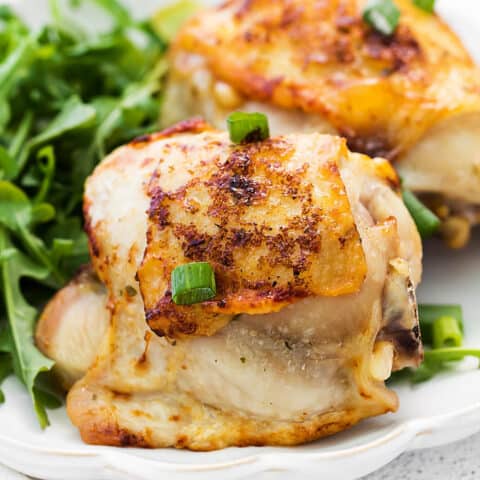 Air Fryer Ranch Chicken
These Air Fryer Chicken Thighs made with zesty ranch butter are a flavorful 3 ingredient recipe perfect for a quick family friendly dinner.
Ingredients
4 bone-in, skin-on chicken thighs
4 tablespoons butter, softened
2 teaspoons Ranch seasoning
Instructions
Pat the chicken thighs dry with a paper towel and season them with salt and pepper.
In a small mixing bowl, combine the softened butter and ranch seasoning.
Lift the skin off the top of the chicken thigh and stuff about 2 teaspoons of the butter mixture under the skin of each thigh. Then, use the remaining butter mixture to spread over the top of each chicken thigh.
Add the chicken thighs, skin side up to the Air Fryer basket.
Cook at 400°F until golden brown until the internal temperature of the chicken reaches 165°F, about 14-16 minutes.
Serve immediately.
Notes
If you don't have ranch seasoning, you can use 1/2 teaspoon dried parsley, 1/2 teaspoon dried Italian seasoning, 1/2 teaspoon garlic powder, 1/4 teaspoon dried dill, and 1/4 teaspoon celery salt.
Recommended Products
As an Amazon Associate and member of other affiliate programs, I earn from qualifying purchases.
Nutrition Information:
Yield:

4
Serving Size:

1
Amount Per Serving:
Calories:

175
Total Fat:

16g
Saturated Fat:

9g
Trans Fat:

0g
Unsaturated Fat:

7g
Cholesterol:

72mg
Sodium:

244mg
Carbohydrates:

1g
Fiber:

0g
Sugar:

0g
Protein:

8g
Provided nutrition data is only an estimate. If you are tracking these nutrients for medical purposes, please consult an outside, trusted source.