Air Fryer BBQ Pork Sweet Potato Skins are an easy and delicious recipe with amazing flavors from pulled pork, cheddar and green onions. This finger food makes a family friendly weeknight dinner or great appetizer!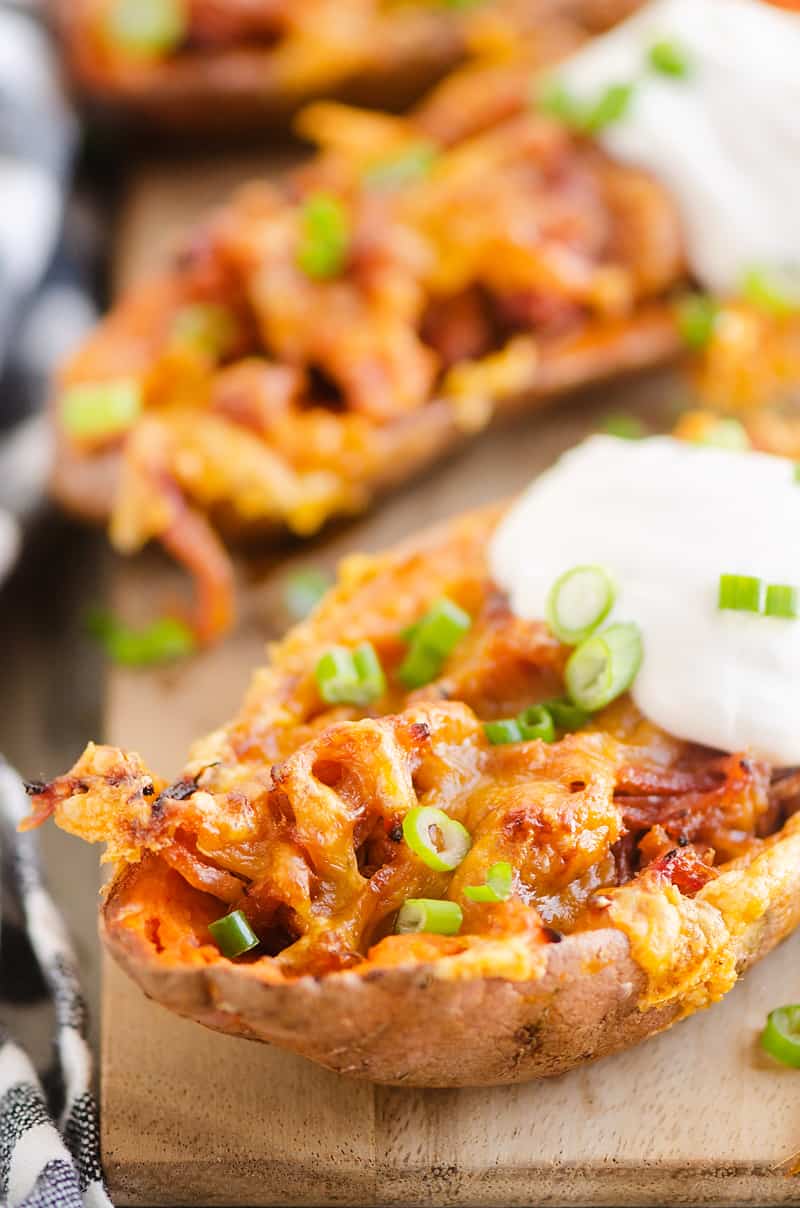 Sweet Potato Skins
These BBQ Pork Sweet Potato Skins are one of my new favorite recipes with AMAZING flavors! This delicious meal has many of the great flavors similar to my healthy chicken and sweet potato recipe. The combination of roasted sweet potatoes with sweet and zesty BBQ pulled pork is undeniably great. These sweet potato skins take it to the next level with cheesy goodness!
This easy Air Fryer recipe takes less than 30 minutes to make, which is a fraction of the time that regular potato skins in the oven do. That is one of the amazing benefits to the AirFryer. It cuts cooking times way down seeing it doesn't require any preheating and circulates hot air for faster cooking.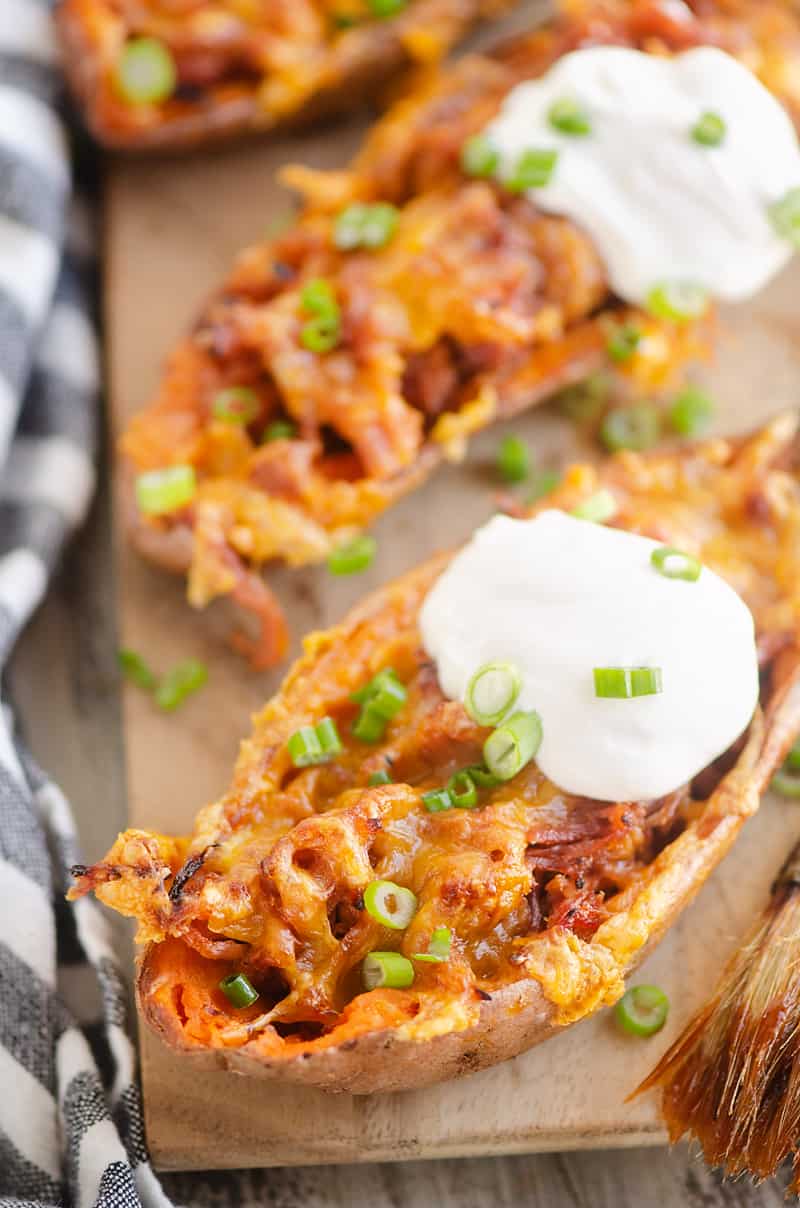 BBQ Pork Stuffed Sweet Potatoes
We keep these BBQ Pork Sweet Potatoes super simple with quick and convenient ingredients. For the easiest option, grab some store bought pulled pork, your favorite BBQ sauce, a block of extra sharp shredded cheddar and some sweet potatoes. This easy 30 minute recipe comes together so easily!
If you have some more time, a homemade pulled pork is always the best option for the maximum flavor. It's also the healthiest option with the least amount of preservatives and packaging. At the end of the day, we are all busy and just trying to get dinner on the family, so we gotta do what we gotta do!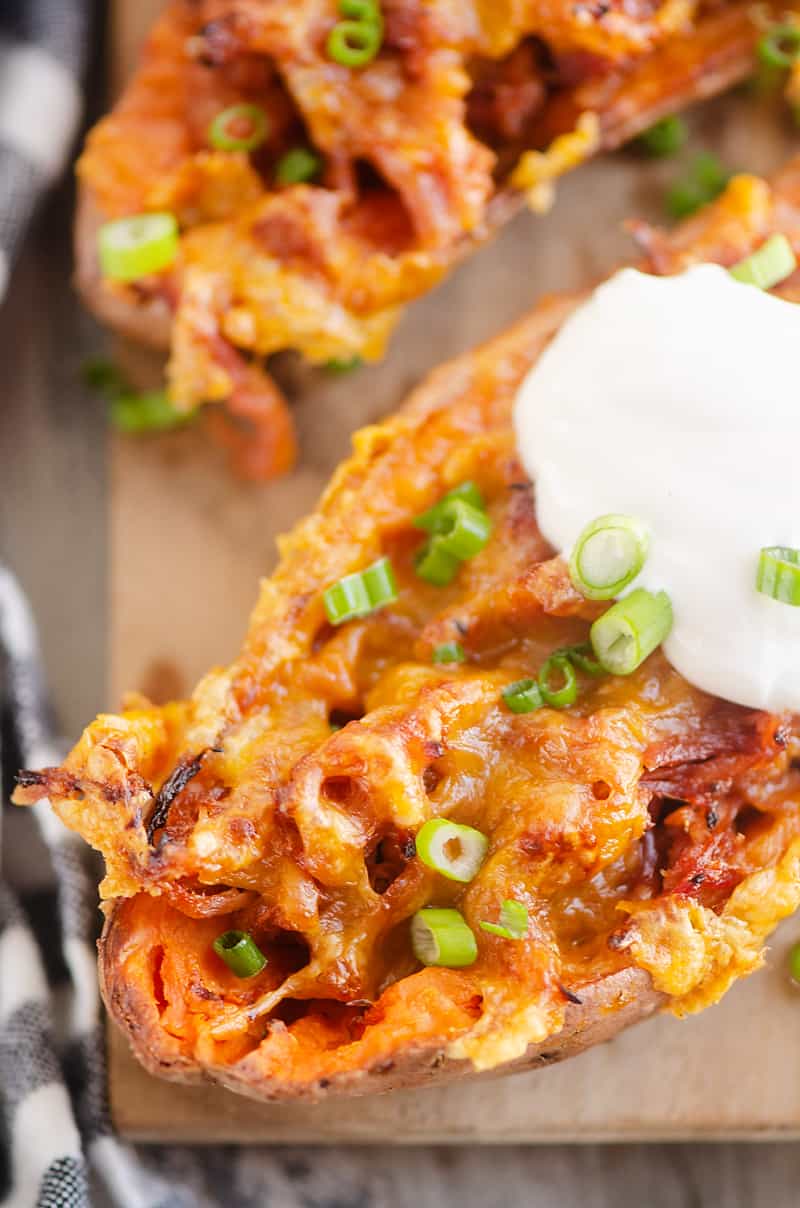 How to make BBQ Sweet Potato Skins
Using a potato brush, scrub your potatoes so they are clean. Using a towel, pat them very dry. Slit the potatoes in 3-4 places and pop them in the microwave for 8 minutes.
After the sweet potatoes are cooked, add the pulled pork with 1/2 c. BBQ sauce to the microwave and warm through. Any BBQ sauce will work but I prefer one with a little bit of zesty kick for more flavor. Spice pairs great with the pulled pork and sweet potatoes.
The sweet potatoes will be very hot, so use an oven mit to handle them. Slice them in half lengthwise and scoop out all but 1/4 inch of the potato meat around the edges.

Save the scooped sweet potato for another use. Add a little cream, salt, pepper and Parmesan for a great mashed sweet potato as a side dish with another meal.

Rub the potato skins with olive oil and sprinkle with sea salt. Arrange them in the Air Fryer basket and cook for 8-10 minutes at 400° until the skins are nice and crisp. I fit 6 medium skins (3 potatoes) in my XXL fryer, but you may need to them in batches if you have a smaller Air Fryer. You can also use an Air Fryer rack for more capacity.
Top each skin with 1/4 c. BBQ pulled pork and shredded cheddar. Cook for another 3-4 minutes until the cheese is melted and bubbly and the meat is warmed through.
Serve topped with sliced green onions and sour cream.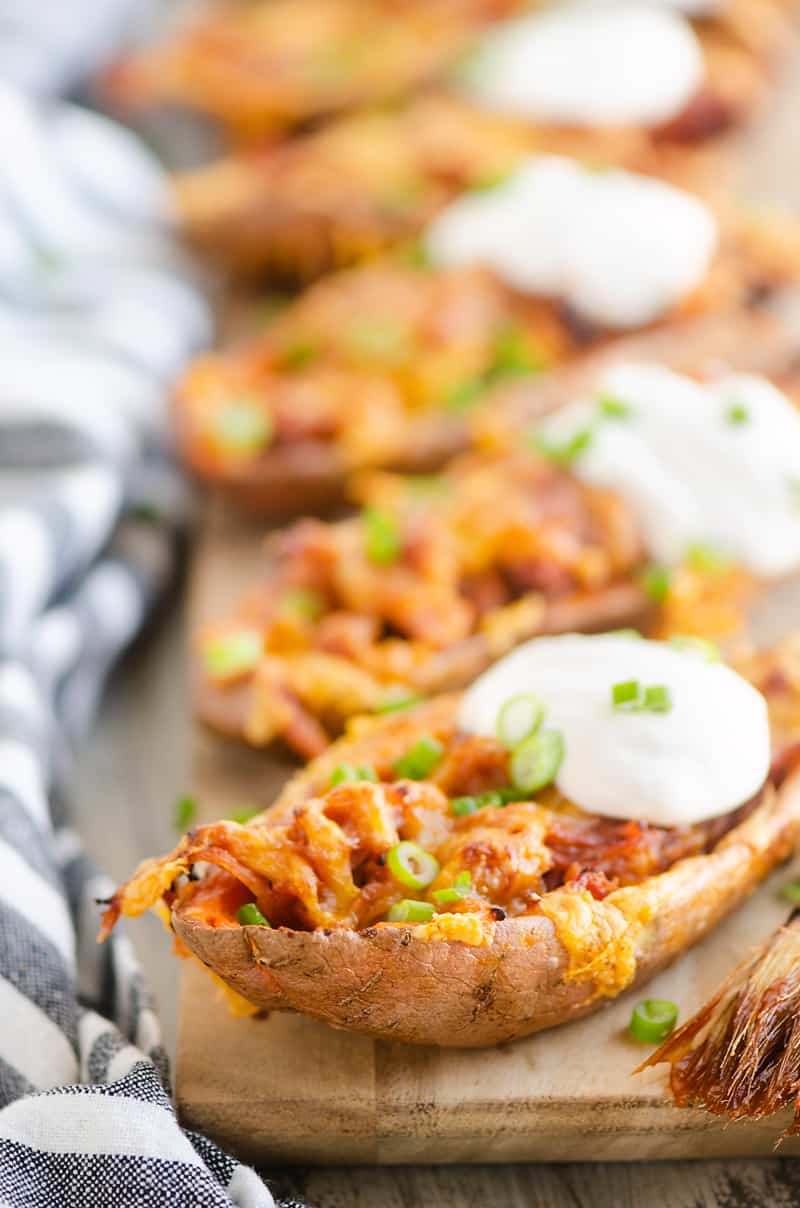 Air Fryer Sweet Potatoes
These Air Fryer Sweet Potato Skins hold up really well as a finger food. Just be sure not to buy the biggest sweet potatoes. I like to get the smaller potatoes for this potato skin recipe. They would make for an amazing dish at a game day gathering or party.
For me, these are now on regular rotation for weeknight dinners. They are a great family friendly recipe that you can serve to even picky eaters. They might think they don't like sweet potatoes, but I promise you this recipe will change their minds!
My parents never ate sweet potatoes growing up so naturally they thought they didn't like them. I have been making them some meals like Sweet Potato Taco Bowls and Sweet Potato Spirals to slowly change their mind. Now they are even ordering sweet potato fries at restaurants. This is a huge step for their very square box they stay in with food. Haha!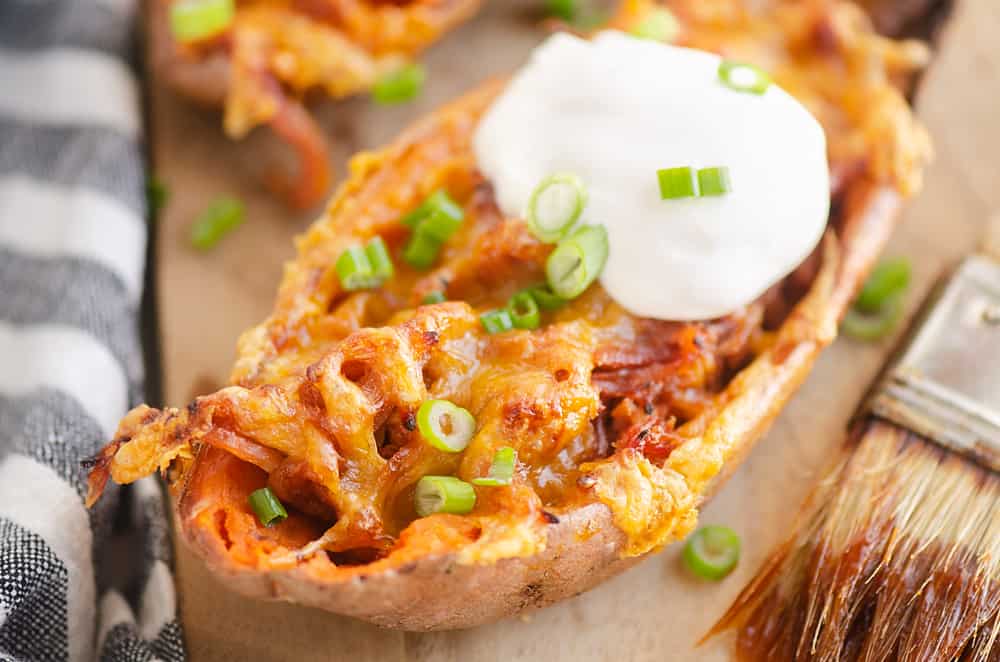 Meal Prep Sweet Potato Skins
I can't tell you how many times I have made these already! One of the beautiful things about these potato skins is that you can meal prep them ahead of time for a quick 10 minute meal. They honestly turn out a little better this way because the potato skins dry out a little in the refrigerator which helps them crisp up better in the Air Fryer.
To Meal prep the potatoes, microwave all of your sweet potatoes and scoop out the centers. Store the skins in an airtight container for up to a week. Use the extra sweet potato meat for a Sweet Potato Casserole or freeze it for later.
If you didn't buy the pulled pork from the store, you will want to make that ahead of time and refrigerate it as well. A note of caution when it comes to buying, don't get the pork with BBQ sauce already mixed in. This stuff is over sauced and overly sweet in my opinion. It might work good for a sandwich, but a lightly coated pulled pork with your favorite BBQ sauce is idea for these potato skins.
When you are ready to make your potato skins for a quick lunch or dinner, simple grab a couple sweet potato skins from the refrigerator, coat them wiht olive oil and sea salt and pop them in the Air Fryer. To really speed things along, microwave the pork wtih the BBQ sauce so it won't have to cook through in the Air Fryer.
Once the potatoes are crispy, add the warm pork and top with shredded cheese. Cook for 2-3 more minutes in the Air Fryer and you will have beautifully crispy potato skins that are perfect with a dollop of sour cream!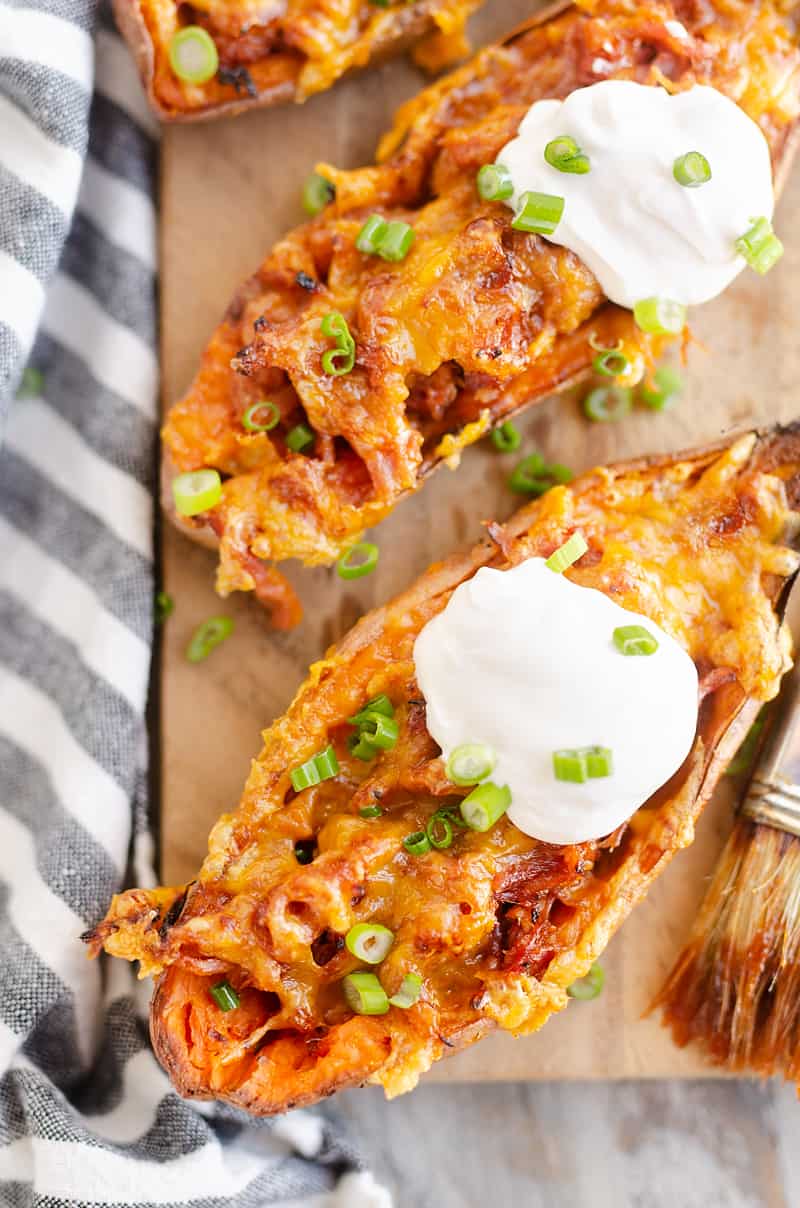 More Easy Air Fryer Recipes
If you love easy recipes in your Air Fryer as much as we do for a quick and delicious dinner, be sure to check out some more of our favorites!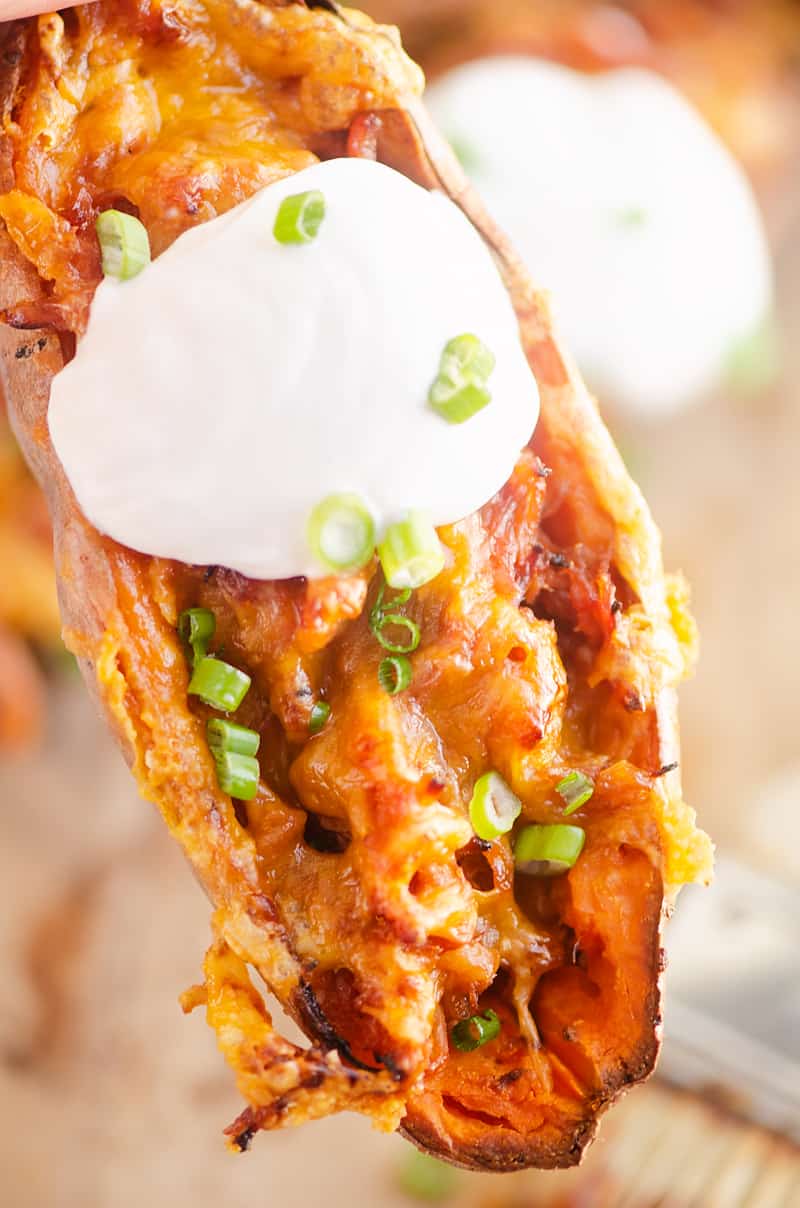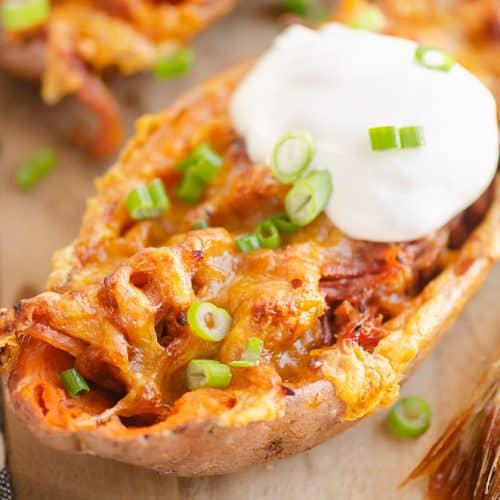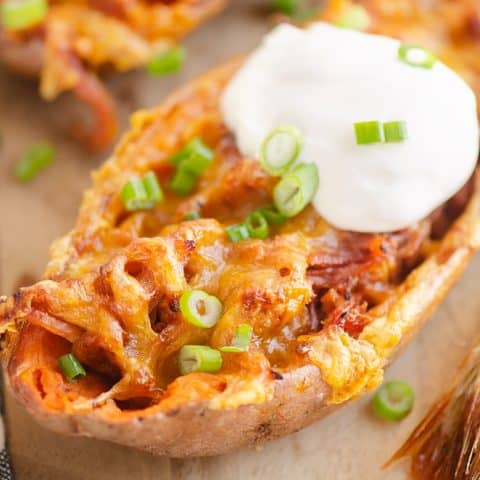 Air Fryer BBQ Pork Sweet Potato Skins
Air Fryer BBQ Pork Sweet Potato Skins are an easy and delicious recipe with amazing flavors from pulled pork, cheddar and green onions. This finger food makes a family friendly weeknight dinner or great appetizer!
Ingredients
3 small sweet potatoes
2 Tbsp. olive oil
1 tsp. sea salt
1/2 c. BBQ sauce
1 c. shredded sharp cheddar
2 green onion, diced
1/2 c. sour cream
Instructions
Wash the sweet potatoes and add 3-4 cuts to the potatoes. Microwave for 6-8 minutes, depending on their size, until they are soft.
Using an oven mitt, slice the potatoes in half lengthwise. Scoop out the potato flesh, leaving 1/4 inch around the edges. Save the scooped sweet potato for another use.
Brush the potato skins with olive oil and sprinkle with sea salt. Arrange the skins in your Air Fryer basket and cook at 400° (or the highest available temp) for 10 minutes.
Meanwhile, mix the pulled pork with BBQ sauce and microwave for 2 minutes.
Top each cooked skin with about 1/4 cup BBQ pork and cover with shredded cheese. Cook for 3 minutes, or until the cheese is melted.
Serve topped with green onion and sour cream.
Recommended Products
As an Amazon Associate and member of other affiliate programs, I earn from qualifying purchases.
Nutrition Information:
Yield:

6
Serving Size:

1
Amount Per Serving:
Calories:

346
Total Fat:

22g
Saturated Fat:

10g
Trans Fat:

1g
Unsaturated Fat:

9g
Cholesterol:

58mg
Sodium:

1074mg
Carbohydrates:

23g
Fiber:

2g
Sugar:

15g
Protein:

14g
Provided nutrition data is only an estimate. If you are tracking these nutrients for medical purposes, please consult an outside, trusted source.