Grilled Corn Avocado Salad is a fresh and healthy side salad served with grilled meat or a salsa perfect with salty tortilla chips.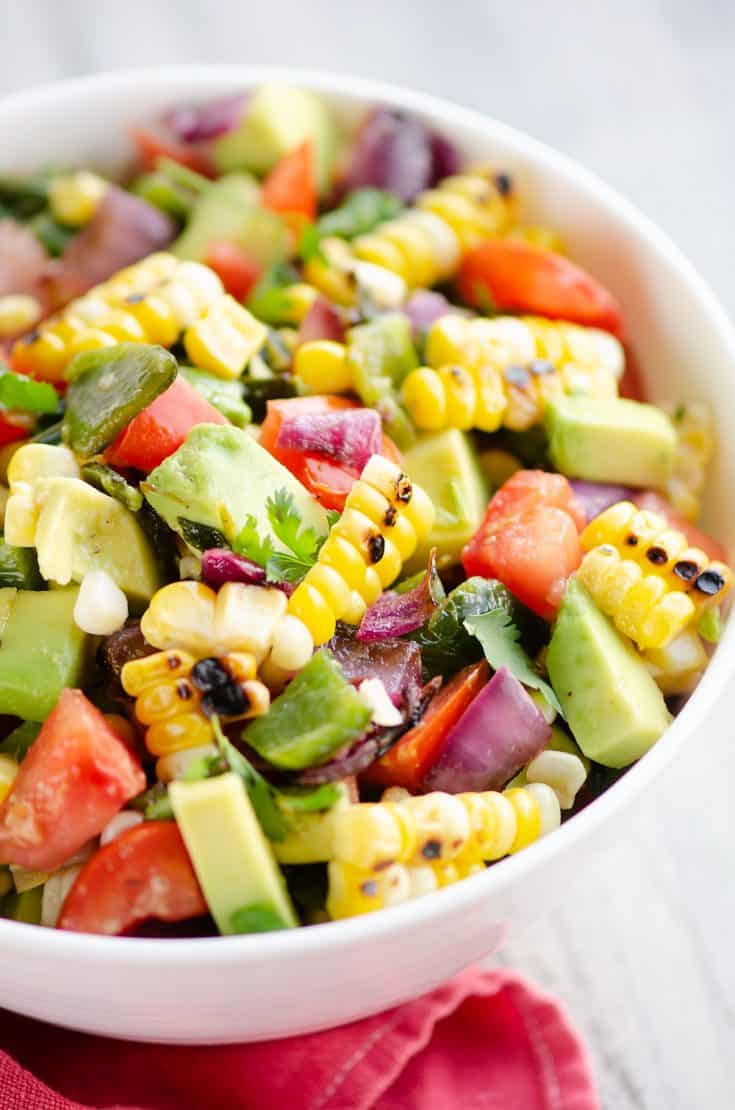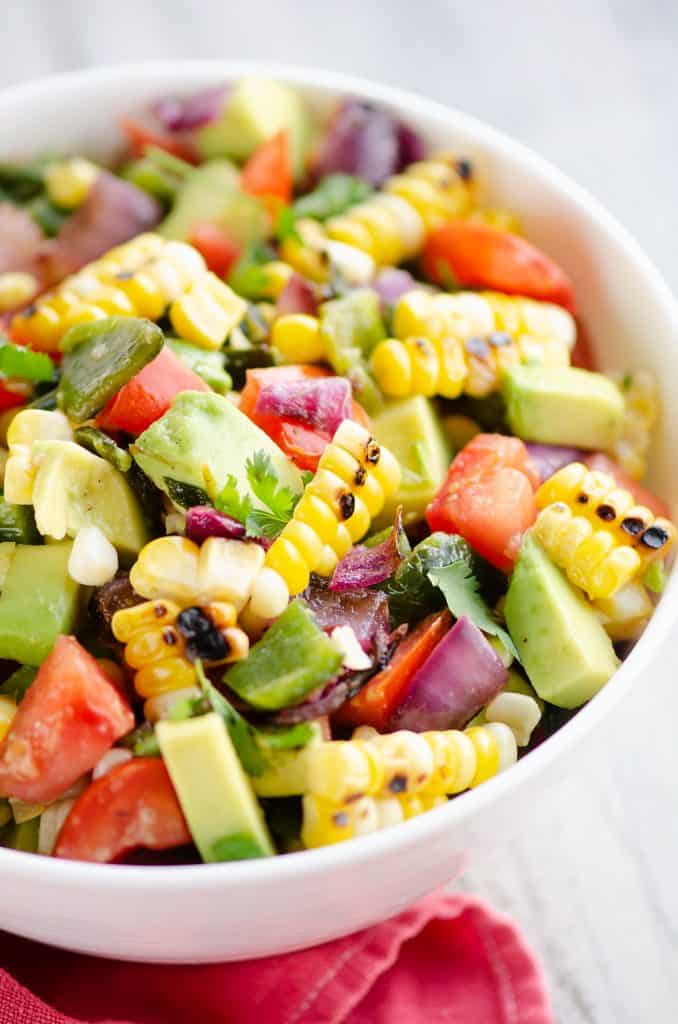 Grilled Corn Avocado Salad
This Grilled Corn Avocado Salad is a fresh, healthy side dish that's perfect for summer! To me, grilled corn just screams "summer", and smooth creamy avocado is the perfect complement. Make it a picnic with a classic Sub Sandwich or this tangy and fun Fruit and Pecan Chicken Sandwich.

Avocado Corn Salad
I love grilling in the summer, and this little grilled corn and avocado salad is my new favorite way to eat grilled veggies! Made with delicious tangy red onion, fresh corn grilled on the cob, and poblano pepper for a little sweet kick, everyone will love this corn avocado salad!
Easy to make, and quick to get together, this is a great meal that you can serve on its own or as a show-stealing side dish.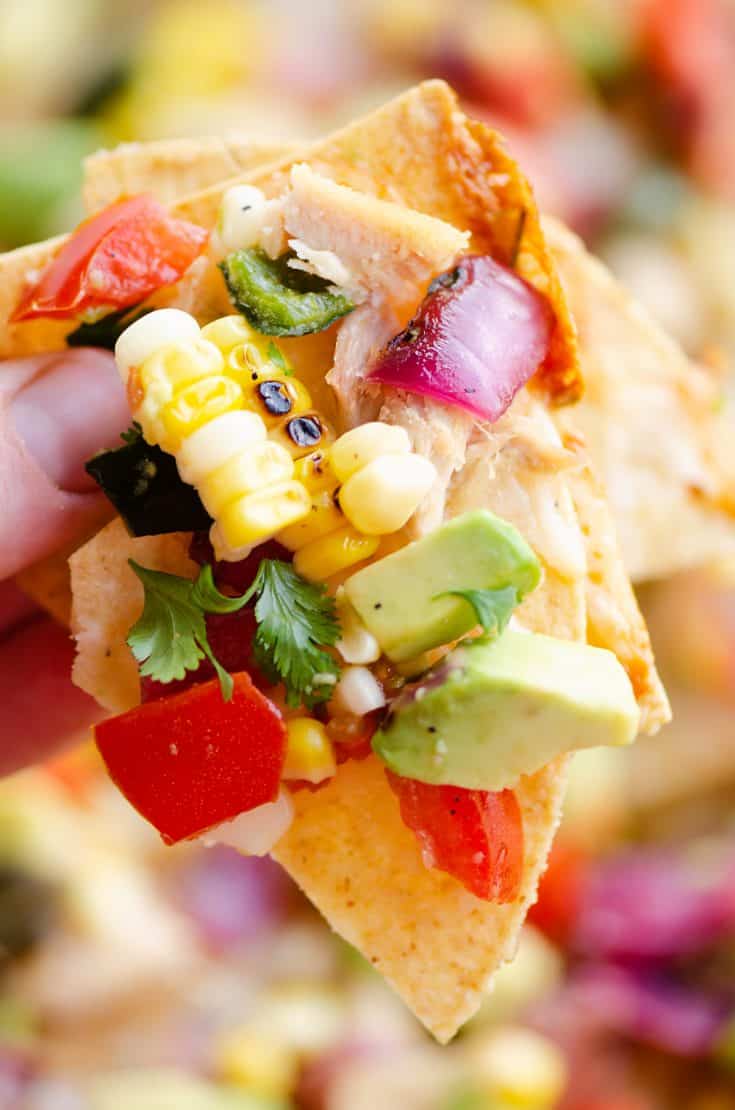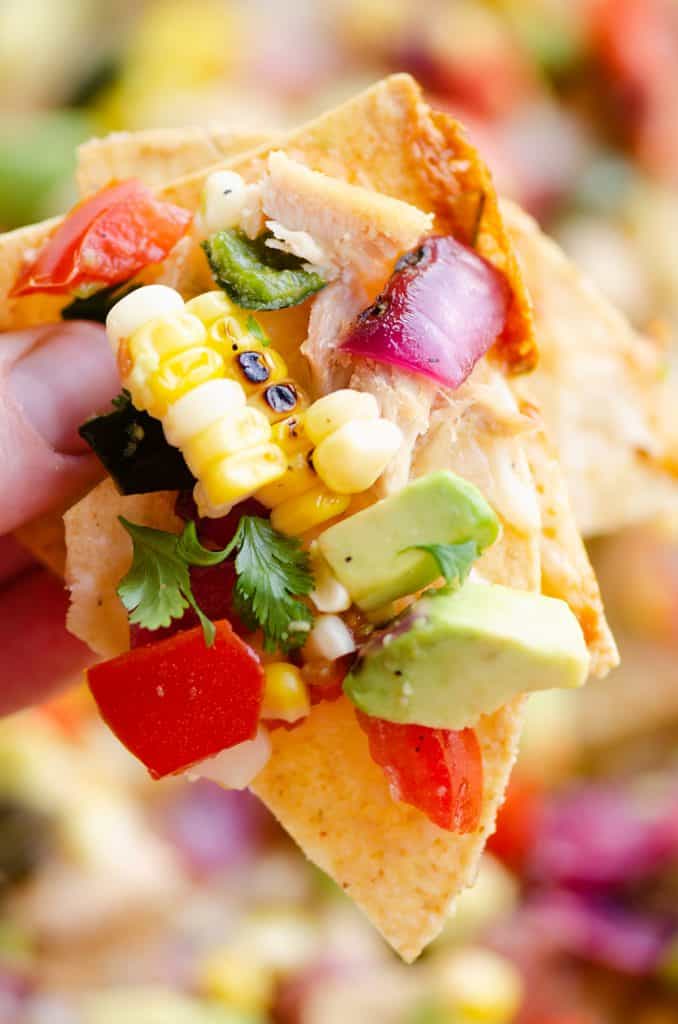 Avocado Corn Salsa
This mexi-inspired corn avocado salad doubles as a fresh salsa. It uses poblano peppers to add a hint of heat. If you've never cooked with poblanos before, you are in for a real treat! Poblano peppers are some of my all time favorite peppers. They have a touch of heat without being overpowering or painful, and they have a sweetish, citrusy flavor that adds a ton of great taste to any dish.
I use green poblanos, which are not as hot as red (fully ripened) poblanos. Green poblano peppers are about a 1,000 units on the scoville scale. Some poblanos might be as high as 2,000. That's still pretty mild, so don't worry if you're not into heat. We're here for flavor!
The scoville scale rates the heat of peppers. For reference, sweet bell peppers are zero units, while jalapenos can range from 2,500 to 5,000 units. Habanero peppers clock in at a whopping 100,000 – 350,000 units.
Most grocery stores carry poblano peppers, but if you can't find them, a decent subsitutie is Anaheim. Even though they're a little hotter, they're a pretty good match. They are usually around 3,000 to 4,000 units scoville, so if you are looking for a little extra heat, they might be a good option anyway! They have a similar hint of citrus, and the same delicious crunch as a poblano.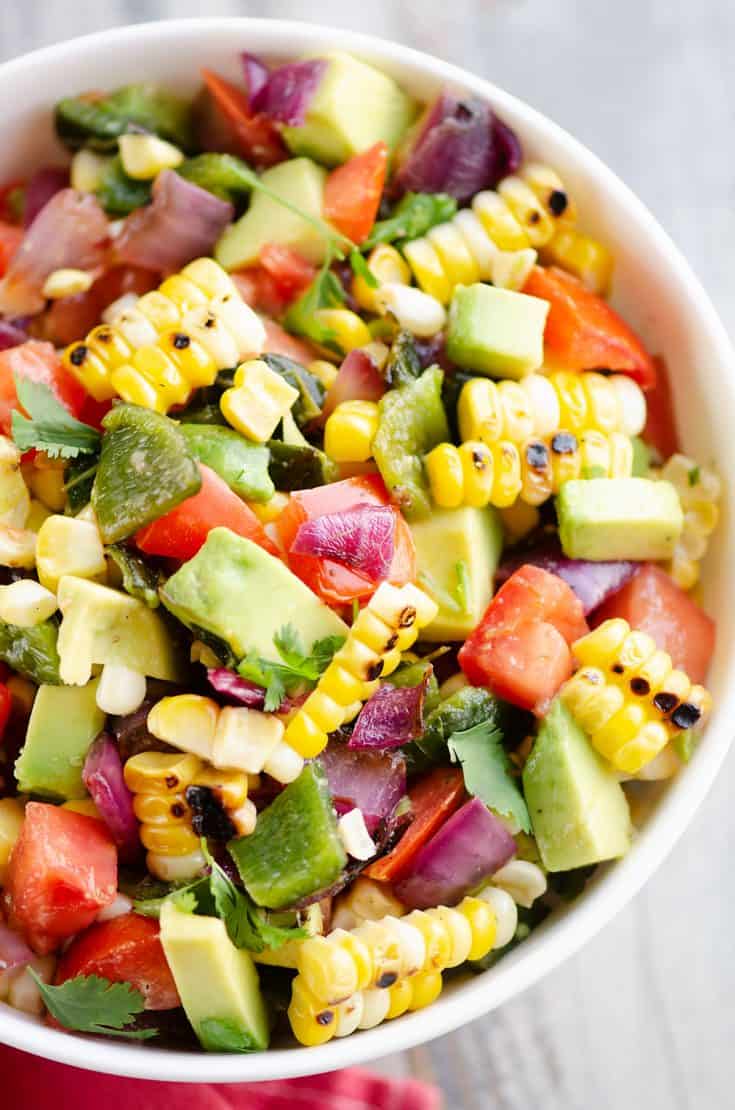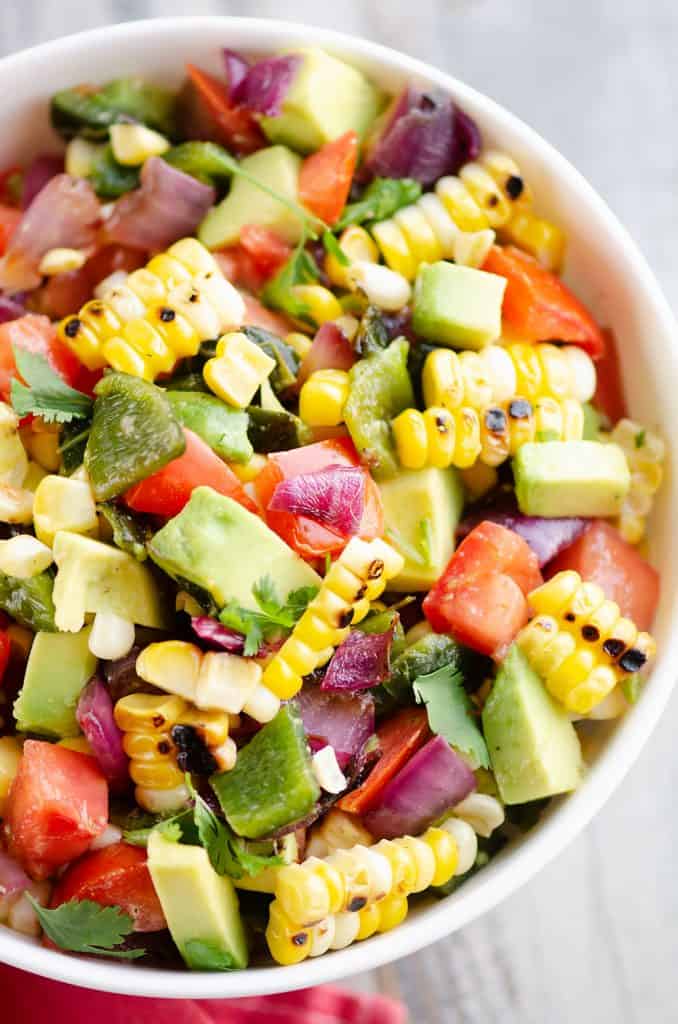 How to Buy Corn on the Cob
Have you ever stood looking at a pile of fresh corn on the cob still in the the green husks at a grocery store or farmers market, wondering how on earth to tell which ones to take home? It can be a tricky task to choose a good cob of corn without opening it up right there, but there are a few tips to guide you! Keep these in mind next time you're wondering if that farm-fresh corn is just right.
Look for golden or brown, silky tassels. They might be a little sticky.
Brittle, black, dry tassels mean that corn was harvested quite a while ago
Choose corn with a bright green husk that's wrapped tightly against the corn
Feel the kernels through the husk
If there are any empty spots, look for a different cob–that one's no good
Of course, if the cob has mushy spots or a bad smell it's bad
Discard any cobs that have holes through the husk, especially near the silks. Those are worm holes!
The corncob should feel firm and thick, and the kernels under the husk should feel plump
Once you've chosen your corn, try to use them as soon as possible. The longer corn is kept, the less sweet it will be. If you have to hold onto it for a couple days, leave it in the husk. That will keep it fresher, longer! If you have to remove the husk wrap the corncob in plastic and refrigerate it.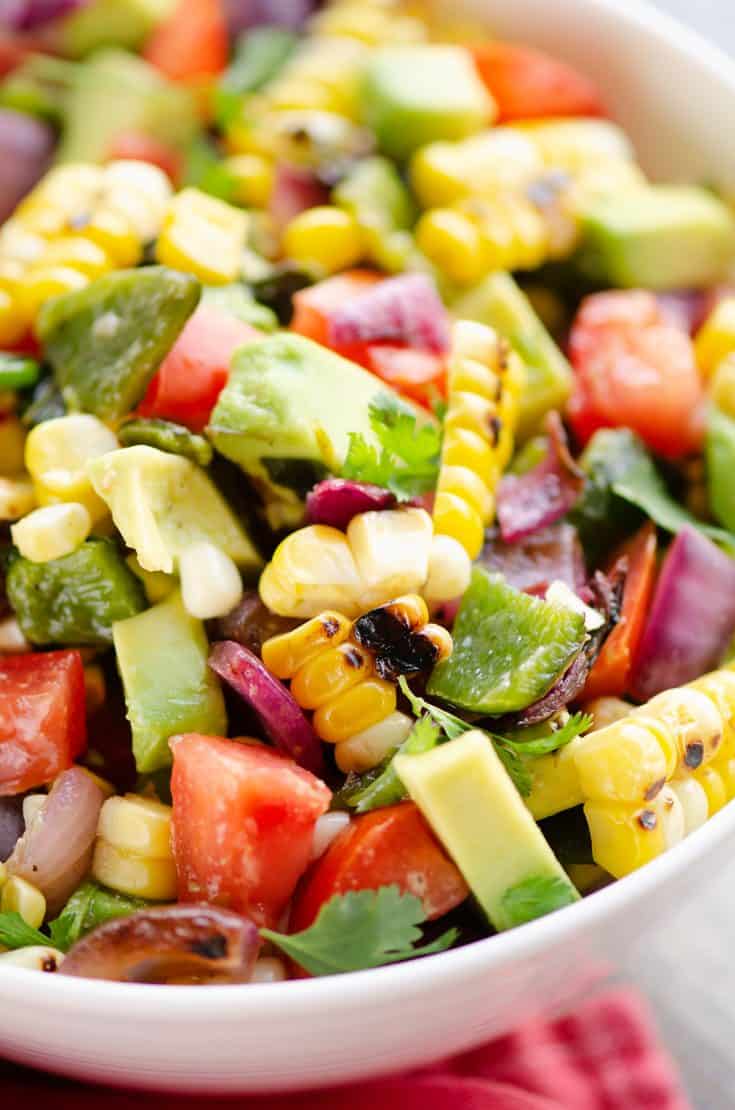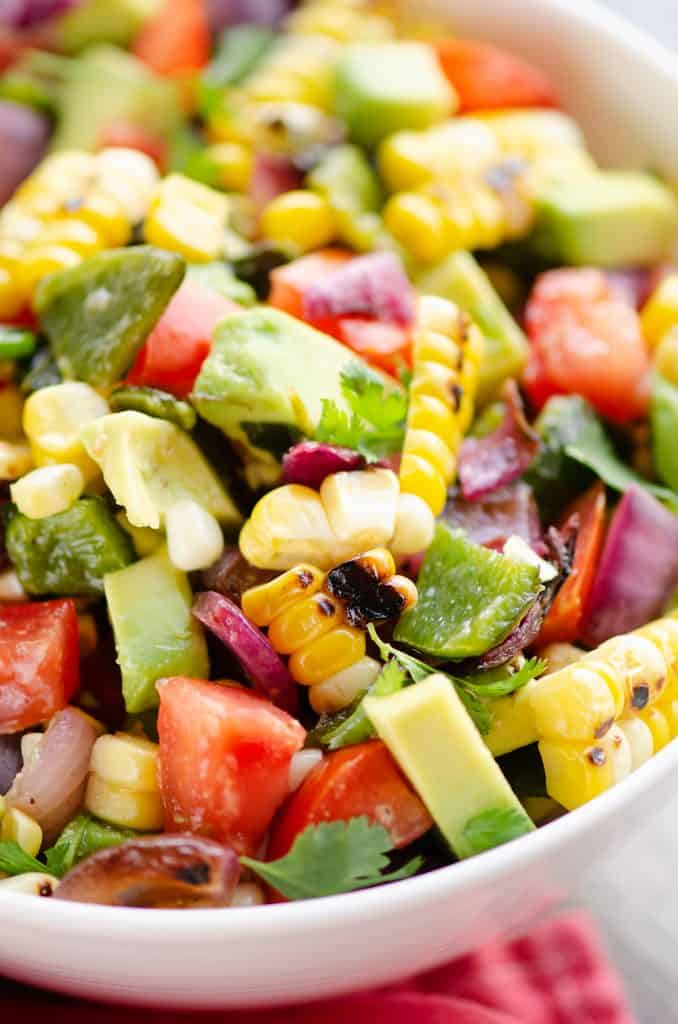 Can I roast vegetables instead of grilling them?
Even though I love roasted vegetables, I know sometimes there just isn't time. There are a thousand things to do in the evening. If you need to skip the grill, follow these steps to roast your veggies instead.
Preheat the oven to 425 degrees.
Toss the veggies in olive oil until well coated.
Spread them out on a baking sheet in a single layer.
Bake for about 20 minutes, stirring occasionally.
Roast until vegetable are tender and slightly browned.
Garden Fresh Corn Recipes
If you enjoyed this Grilled Corn Avocado Salad, then you'll LOVE these!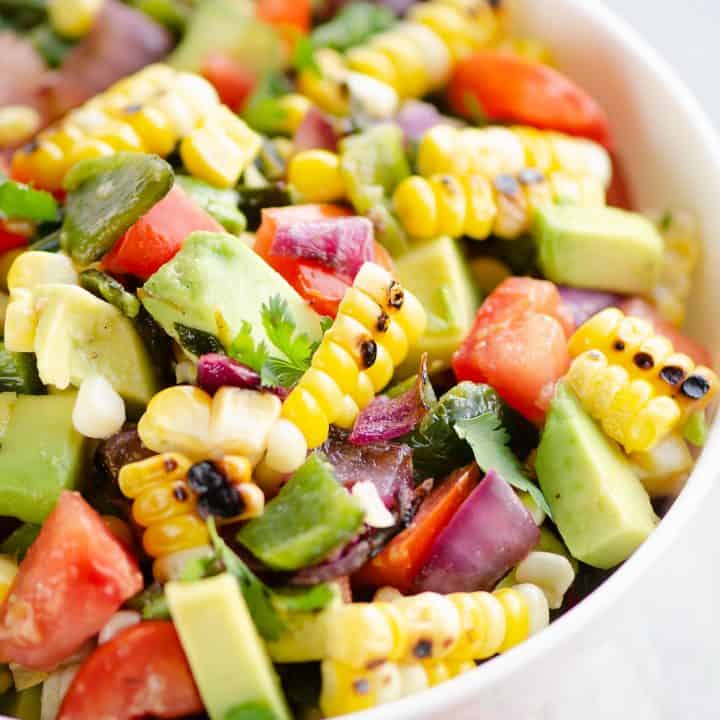 Grilled Corn Avocado Salad
Grilled Corn Avocado Salad is a fresh and healthy side salad served with grilled meat or a salsa perfect with salty tortilla chips.
Ingredients
1 poblano pepper
1 ear sweet corn, husked
1 large tomato, chopped
1/2 small red onion
2 tsp olive oil
1/8 tsp salt and pepper
1 avocado
1/2 lime, juiced
1/4 c. cilantro, chopped
Instructions
Slice the onion into 1/2 inch thick rings. Keep the chunks of onion together. Brush olive oil on the onion slices, poblano pepper and ear of corn and season with a dash of salt.
Cook the vegetables over high heat on the grill or in a skillet for 6-8 minutes or until tender. Rotate them midway through cooking.
Remove the seeds and stem and roughly chop the poblano pepper. Cut the kernals of corn off of the ear and chop the red onion.
Add the chopped avocado to a small bowl and gently toss with lime juice until well coated. Add the remaining ingredients to the bowl along with salt and pepper to taste.
Lightly toss everything just until combined. Serve immediately.
Store leftovers refrigerated up to 3 days.
Nutrition Information:
Yield:

6
Serving Size:

1 c.
Amount Per Serving:
Calories:

91
Total Fat:

7g
Saturated Fat:

1g
Unsaturated Fat:

0g
Sodium:

59mg
Carbohydrates:

8g
Fiber:

3g
Sugar:

2g
Protein:

2g