Sweet Potato Taco Bowls are an easy and healthy 30 minute dinner recipe perfect for the family. This grain free bowl has just 5 simple ingredients and is packed with familiar taco flavors. It's perfect for meal prep lunches!

Healthy Sweet Potato Taco Bowls
A sweet potato taco bowl brings all the seasoning of a taco salad into a dish that is higher in nutrition, lower in fat, and every bit as tasty as any regular taco bowl. This healthy twist on tacos with roasted sweet potatoes is a must try recipe perfect for a weeknight dinner or easy meal prep.
Sweet potatoes are rich in beta karotene, vitamin C, vitamin A and many other crucial nutrients.. They are considered one of the healthiest foods because they are so rich in vitamins and minerals. Not to be confused with yams, sweet potatoes are similar but have many important differences.
The greens of sweet potatoes are also highly nutritious so if you are growing your own, then be sure to take advantage of those as well. Sometimes you can find them in the greens section of the produce area.
I love sweet potatoes and have a lot of ways to prepare them; check out my twice baked buffalo chicken sweet potato and chipotle lime chicken sweet potato bowl too. Sweet potatoes store well so it is easy to always have some ready to go!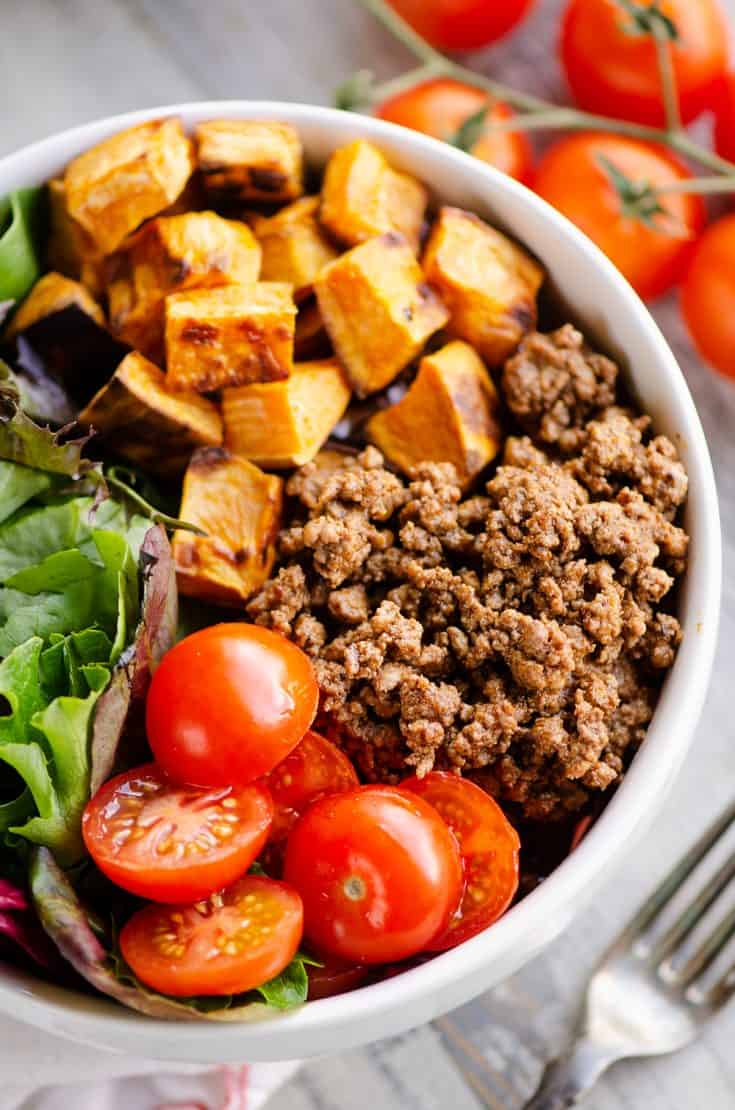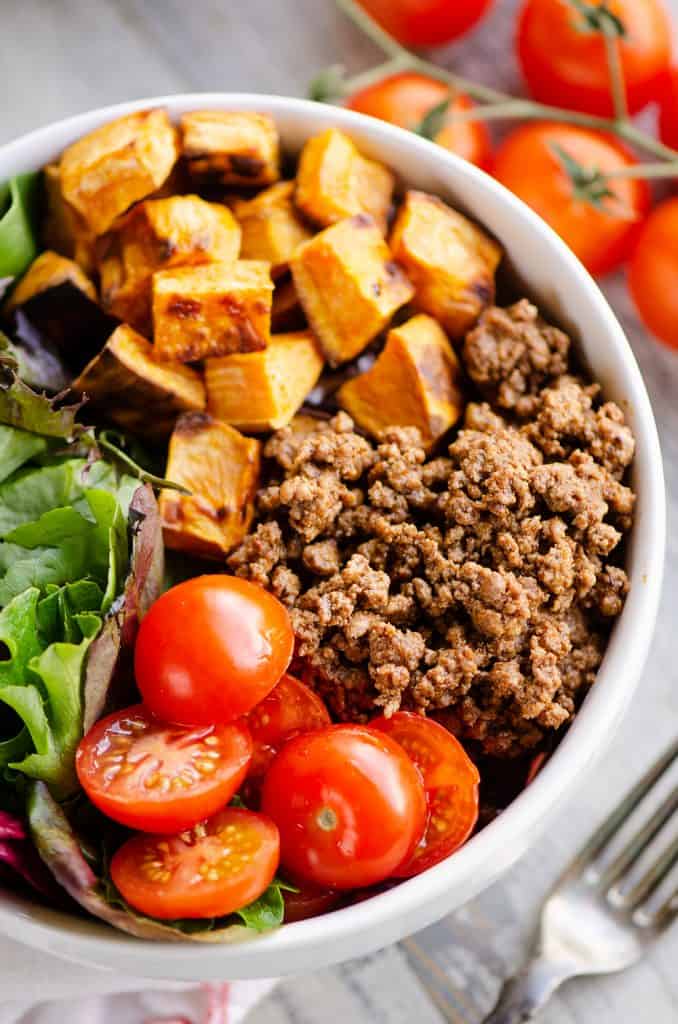 What is the difference between yams and sweet potatoes?
Yams are typically light brown skinned and sort of scaly. They have less moisture and more starch. The flesh of the yam is pale yellow to whitish in color. Yams have far less nutritional value than the sweet potato.
Sweet potatoes are typically sort of pale rose colored, smooth skinned, and typically have very orange flesh. It has more beta carotene than carrots. There is more sugar in the sweet potato than the yam, but it comes packed with so many healthy vitamins and minerals it is considered a "super food".
It is confusing though, because there are varieties of sweet potatoes that have pale tan skin as well, and whiter flesh too. Trust the store to mark the difference properly if you have any questions.
The good news for anyone confused is that yams work just as well in the recipe. They tend to take a bit longer to cook, and they lack the same powerful nutritional value, but they are still delicious and nutritious and work too.
So, don't panic if you get home and realize you picked up yams instead of sweet potatoes. A great taco bowl is still on the way.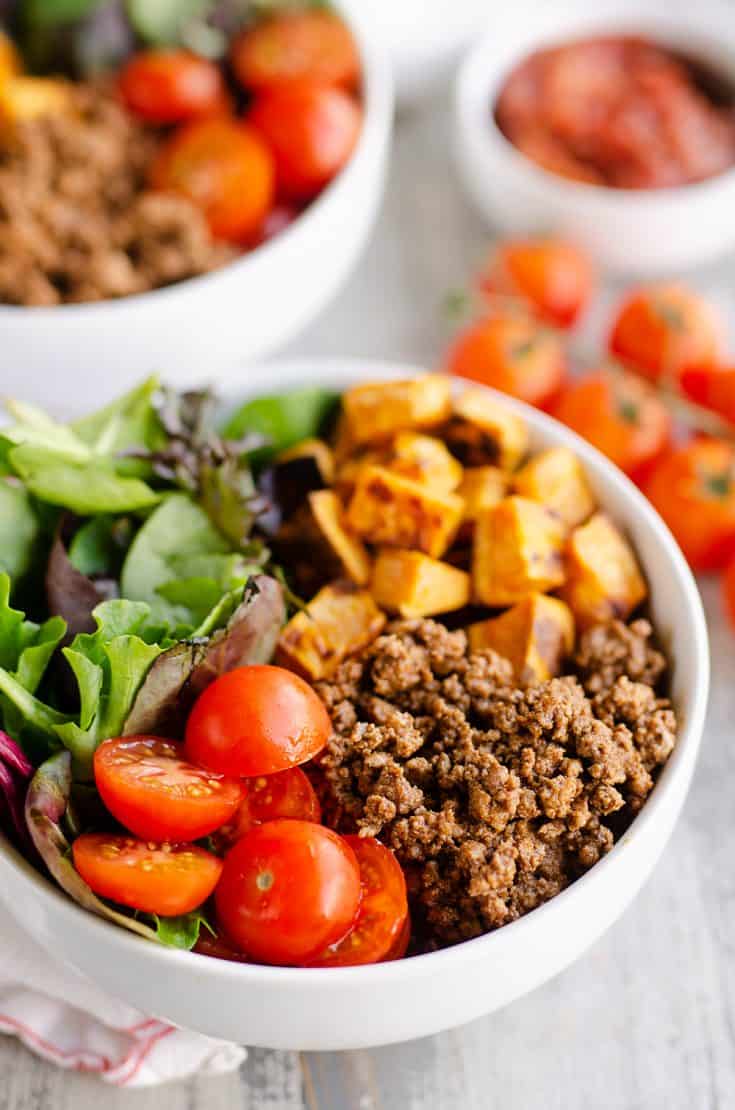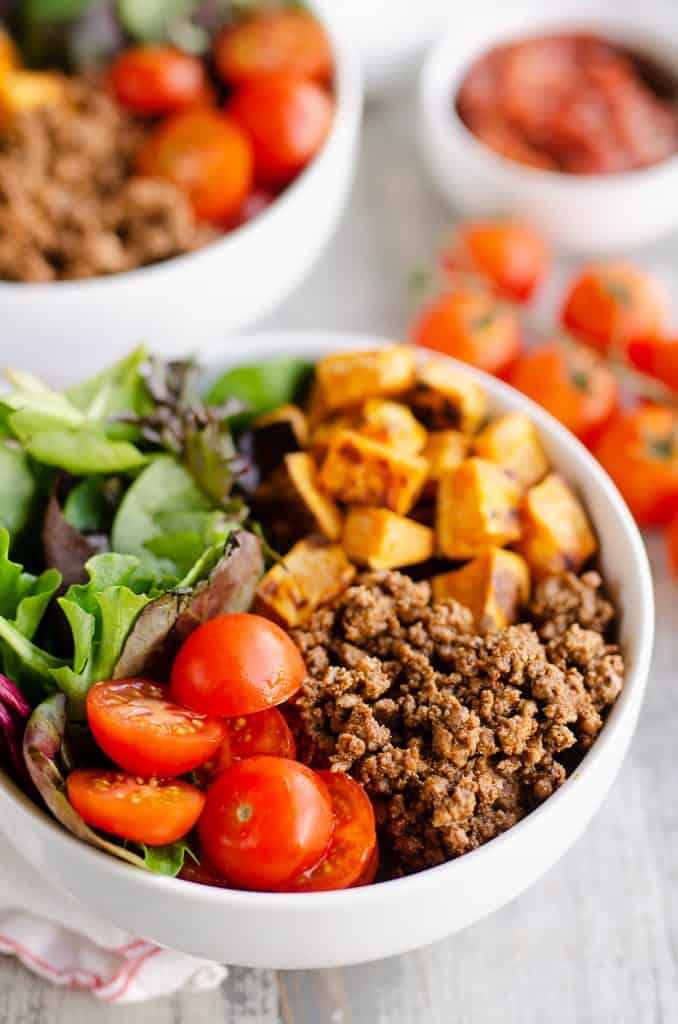 Keep your sweet potato taco bowl low in saturated fats
When you prepare the hamburger for your sweet potato taco bowl, make sure to drain off all the liquids. Don't worry about losing the flavor benefits because the taco seasoning will still wave the flavor flag high.
Also, the sweetness of the sweet potato helps add flavor too. Plus, sweet potatoes deliver a satisfyingly full feeling. In this case, eating healthy does not come at any discount on enjoyment.
Indeed, for me, this is a dish that feels absolutely energizing. It makes you full without feeling like a gut buster. It makes you feel happy you are eating healthy without making you feel like you are sacrificing the fun of actually enjoying what you eat.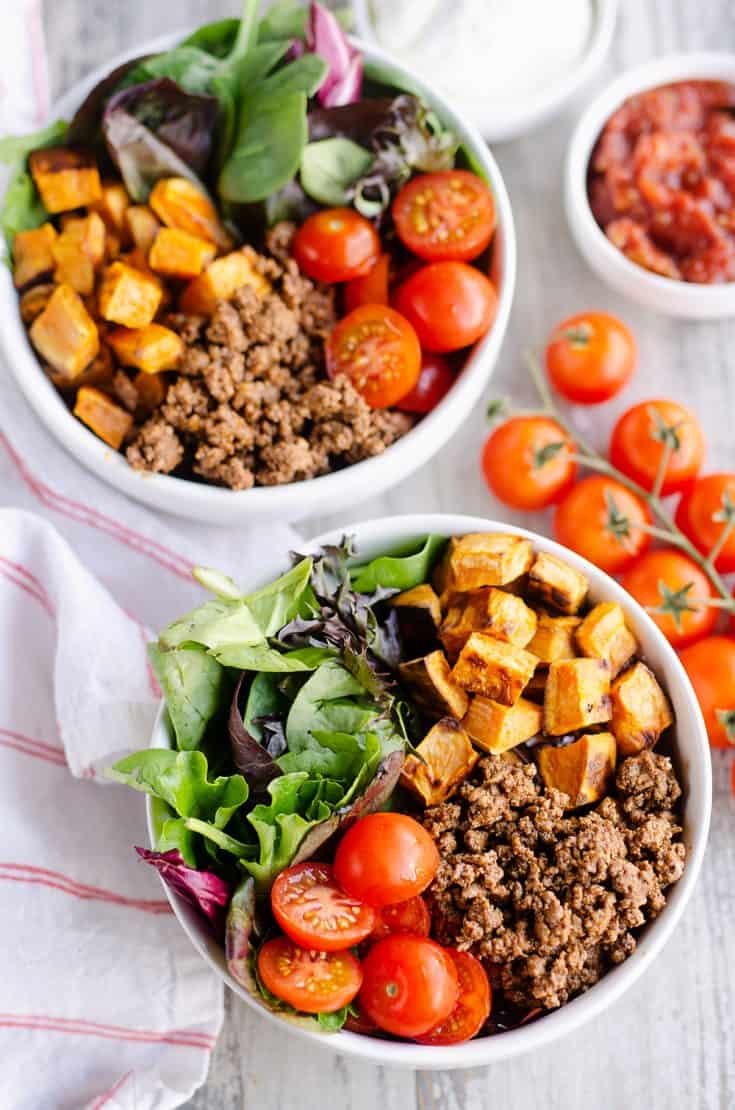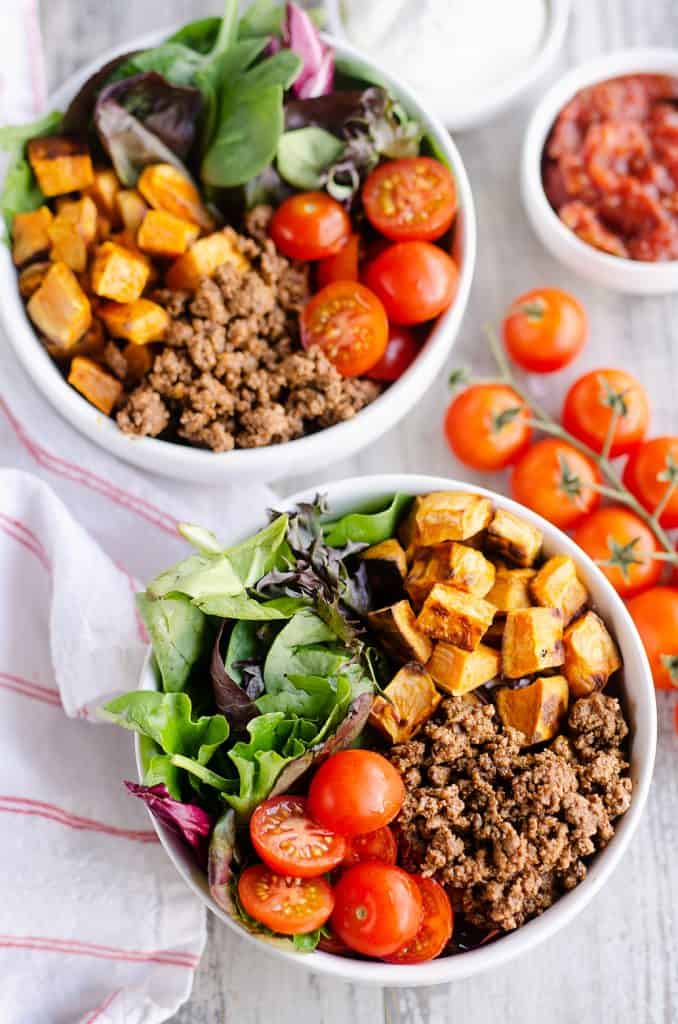 What is in taco seasoning?
Taco seasoning is easy to find either on the Hispanic food aisle in your local grocery store or by the seasonings section if the store doesn't feature a Hispanic foods section. Getting premixed taco seasoning for your sweet potato taco bowls is easy, but if you don't have any handy, then you may still have some of the ingredients handy.
The most popular and consistent ingredients in taco seasoning are a bit of cayenne pepper, a bunch of cumin, some onion powder, garlic powder, smoked paprika, salt, pepper and a pinch of ground oregano.
If you decide to make your own then just play around with the proportions until you get the flavor you like. Some folks like more cumin, others go heavy on the smoked or regular paprika. It all depends on what you like.
The premixed versions of taco seasoning are easy to find though. You can also doctor the premixed versions too if you prefer more heat for example.
Sweet potato bowls in 30 minutes
Since a sweet potato taco bowl does take about 30 minutes to prepare and cook, you may want to store some to eat later. If you meal prep a few servings in a resealable container and throw it in the fridge, it is good for 3 to 5 days depending on how chilly you keep the fridge.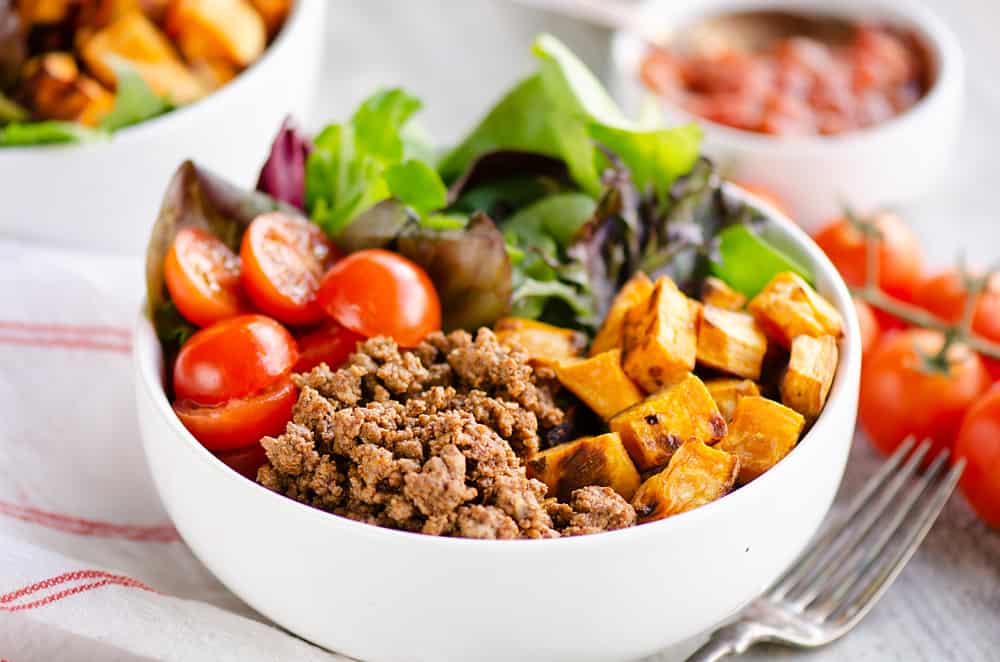 A simple take on the taco bowl
There are only five ingredients in the sweet potato taco bowl. This is a case where "less is more". A sweet potato taco bowl has it all in terms of flavor, nutrition, and satisfying.
But… variations and additions always allow the creativity to flow.
Try any of the following to play with the recipe too:
You can make a fully vegetarian version of course by dropping out the hamburger. Replace the hamburger with some small diced cubes of jicama or roasted mushrooms.
Add some more greens on top like chopped and lightly parboiled Kale, or some finely chopped sweet potato greens if you can find them. They are not as tough as Kale so you don't have to pre-cook. They will cook enough just being added to the other hot ingredients
Add some of my lime green avacado Goddess sauce over the top of it for a creamy twist.
What goes with the sweet potato taco bowl?
The sweet potato taco bowl provides a very nutritious grain free meal. You don't need anything else to go with it to feel like you are getting a complete meal. If you want to make the servings smaller so you can also do a different course for the meal too, then I can suggest: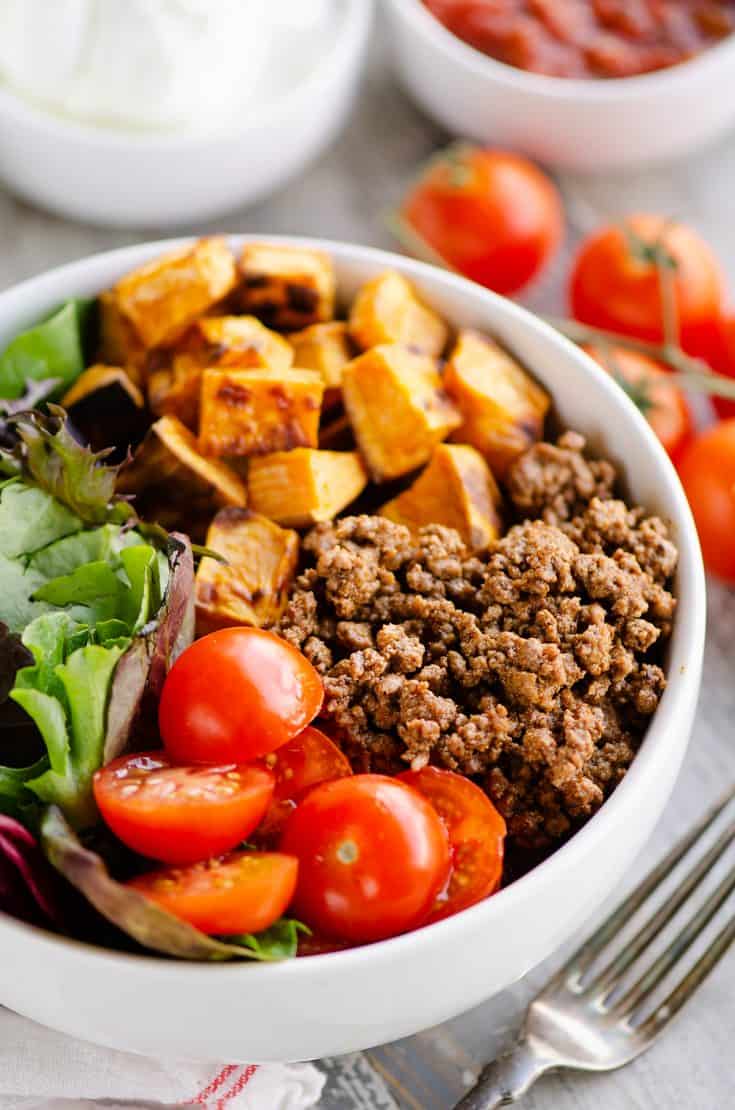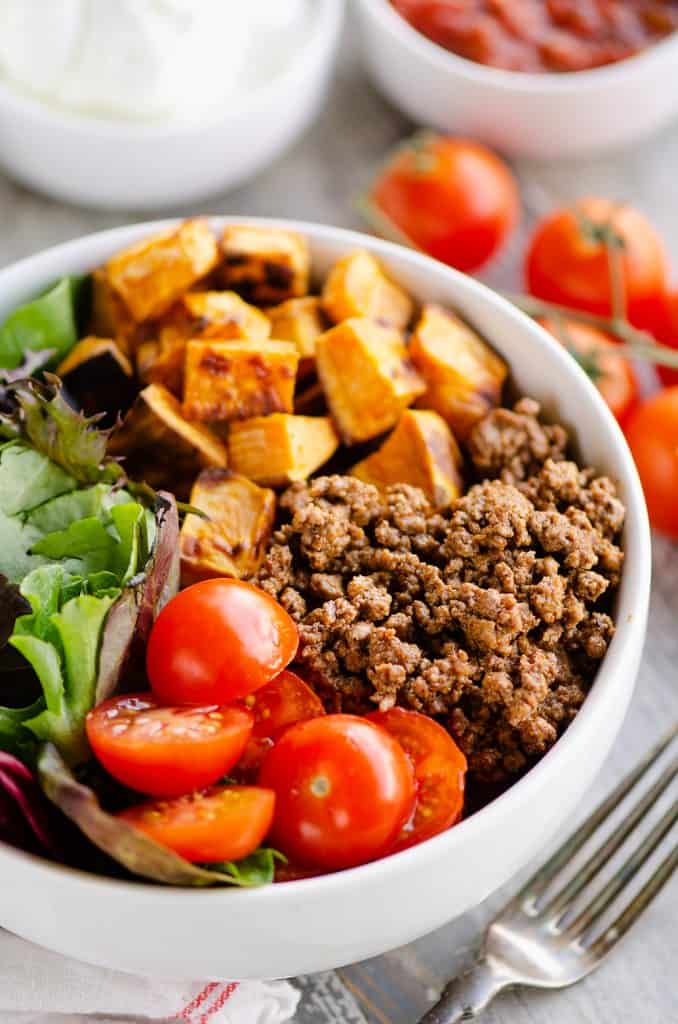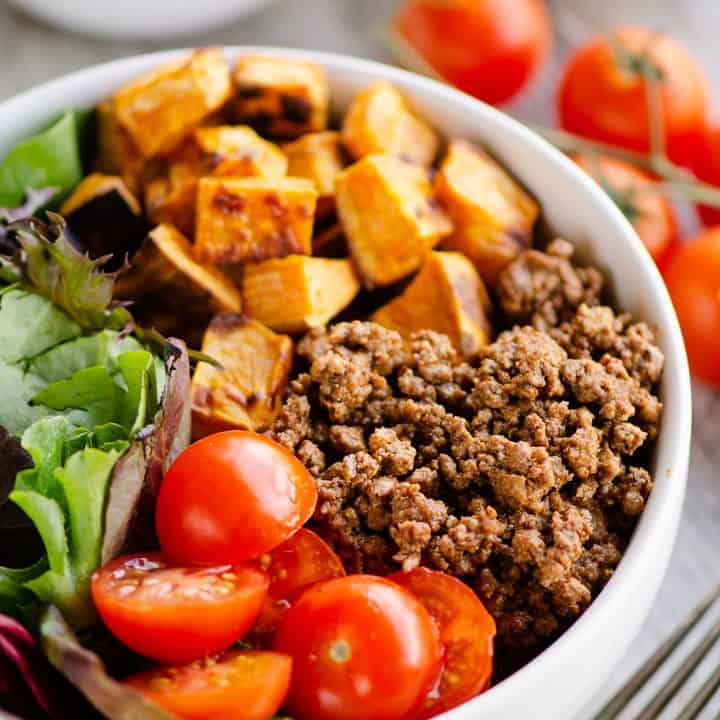 Sweet Potato Taco Bowls
Sweet Potato Taco Bowls are an easy and healthy 30 minute dinner recipe perfect for the family. This grain free bowl has just 5 simple ingredients and is packed with familiar taco flavors. It's perfect for meal prep lunches!
Ingredients
1 large sweet potato
1 tsp. olive oil
1 lb. hamburger
1 pkt. taco seasoning
1 c. cherry tomatoes
2 c. mixed greens
Plain Greek yogurt and Salsa for serving
Instructions
Preheat oven to 400°.
Peel and cube the sweet potato into 1/2 inch pieces. Toss with the olive oil and a sprinkle of salt and bake at 400° for 20-25 minutes.
Meanwhile, saute the hamburger in a large skillet over medium high heat for 3-4 minutes. Add the taco seasoning and cook for a few more minutes, until the meat is no longer pink. Remove from heat.
Assemble 4 bowls with 1/4 each of the hamburger, roasted sweet potatoes, mixed greens and tomatoes.
Serve with plain Greek yogurt and salsa.

Notes
Nutritional information does not include yogurt and salsa.
Nutrition Information:
Yield:

4
Serving Size:

1
Amount Per Serving:
Calories:

353
Total Fat:

15g
Saturated Fat:

6g
Trans Fat:

0g
Unsaturated Fat:

8g
Cholesterol:

63mg
Sodium:

598mg
Carbohydrates:

32g
Fiber:

2g
Sugar:

5g
Protein:

23g
Provided nutrition data is only an estimate. If you are tracking these nutrients for medical purposes, please consult an outside, trusted source.