Crispy Air Fryer Breaded Pork Chops are crunchy on the outside and juicy on the inside! With only six ingredients, they're an easy and healthy weeknight dinner recipe ready in just 20 minutes.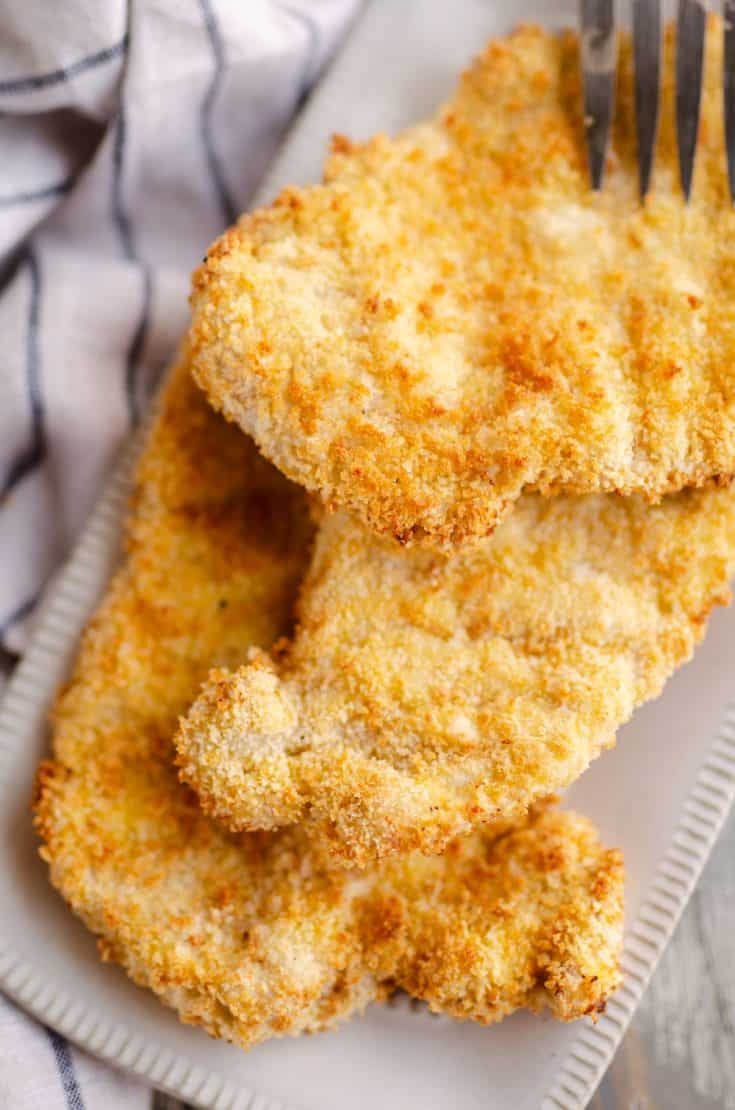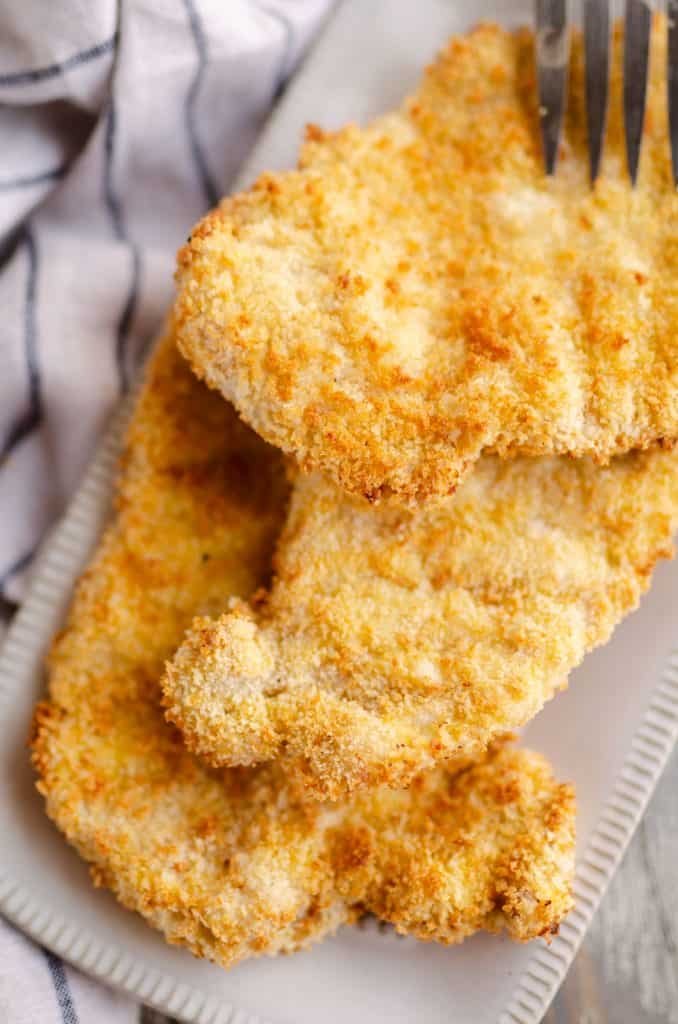 Crispy Air Fryer Breaded Pork Chops
Crispy Air Fryer Breaded Pork Chops are such a simple and delicious recipe made in your Airfryer. Are you looking for a delicious, healthy breaded pork chop recipe? You're in the right place! I use panko breadcrumbs for the breading on my crispy pork chops, which gives them that extra flaky, crispy crunch that you really want with a good breaded pork chop recipe!
Air Fryer Pork Chops Recipe
Air fryer pork chops are a great way to serve up some delicious pork cutlets. I love pork chops, and I'm always on the lookout for a better way to make them! Fried, breaded pork chops are always a family favorite, but everyone knows frying in oil isn't the healthiest option.
The great thing about air frying your pork chops is you don't need to use oil at all! You get a crispy coating without all the fat.
While this might not be a traditional schnitzel recipe I loved so much when I lived in Germany, they are a great weeknight dinner that is fast and delicious!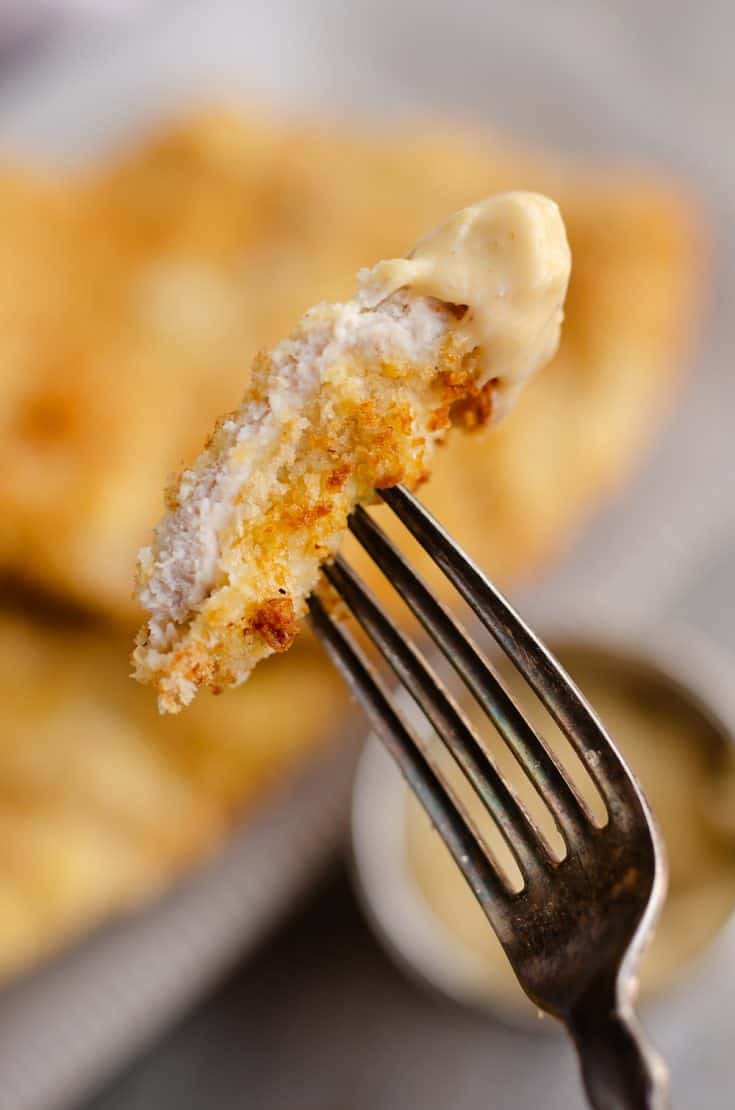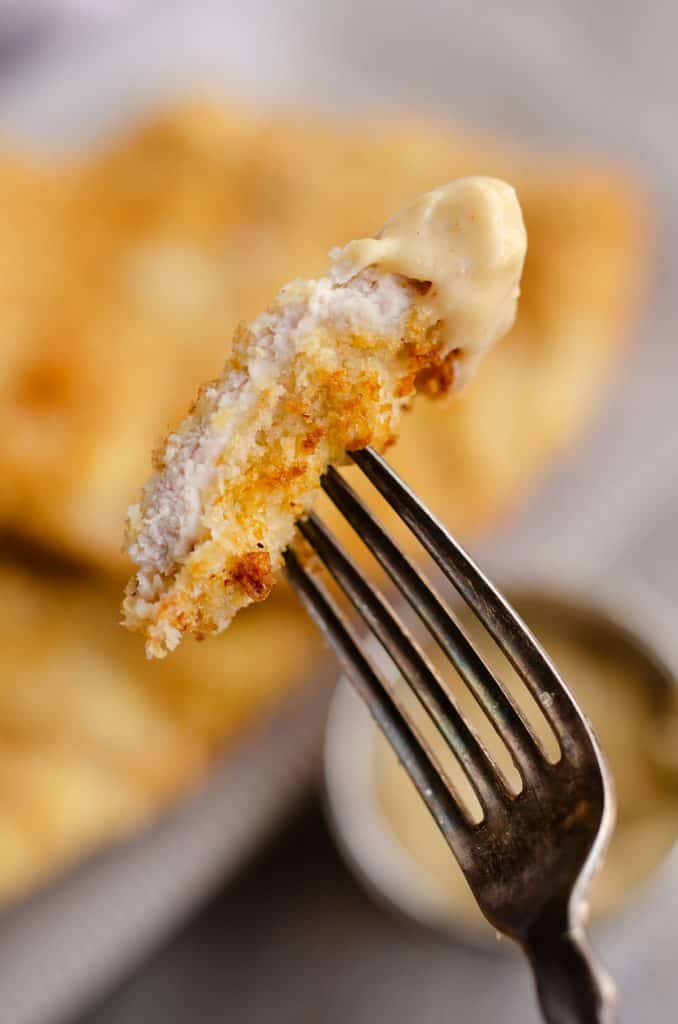 How Long Do Pork Chops Take in and Air Fryer?
You guys know I've been using an air fryer for a while, and how much I love it! Well, air frying is perfect for breaded crispy pork chops, because it is so quick and easy. One inch pork chops only take 12 minutes in an air fryer. You'll want to turn them halfway through the cooking process so they cook evenly.
If the pork chops are 2 inches thick, cook them for 20 minutes, and be sure to check and turn them halfway through.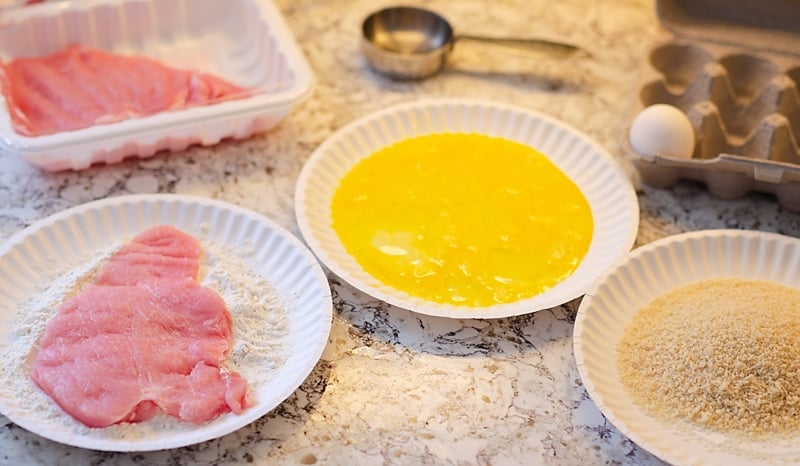 What Temperature Should Pork Chops Be?
For pork chops, set your air fryer to the highest temperature setting. In my case that is 390 degrees. Some air fryers recommend putting your food in while the fryer heats up, which should take only a few minutes. Check your air fryer's instructions to see what your model recommends. I personally never pre-heat my Airfryer and it always works great.
When you pull the pork chops out, make sure to temp them with a meat thermometer. I personally love my Thermapen for a quick and easy temperature reading. The USDA recommends an internal temperature of at least 145 degrees for pork at the thickest part of the meat, followed by a three minute rest time.
That rest time is important! Remove the chops from the heat and wait three minutes before you cut into them. The meat will maintain temperature and even keep cooking a little bit longer even though it away from a heat source. That extra "cook" time helps guarantee that the meat is safe to eat.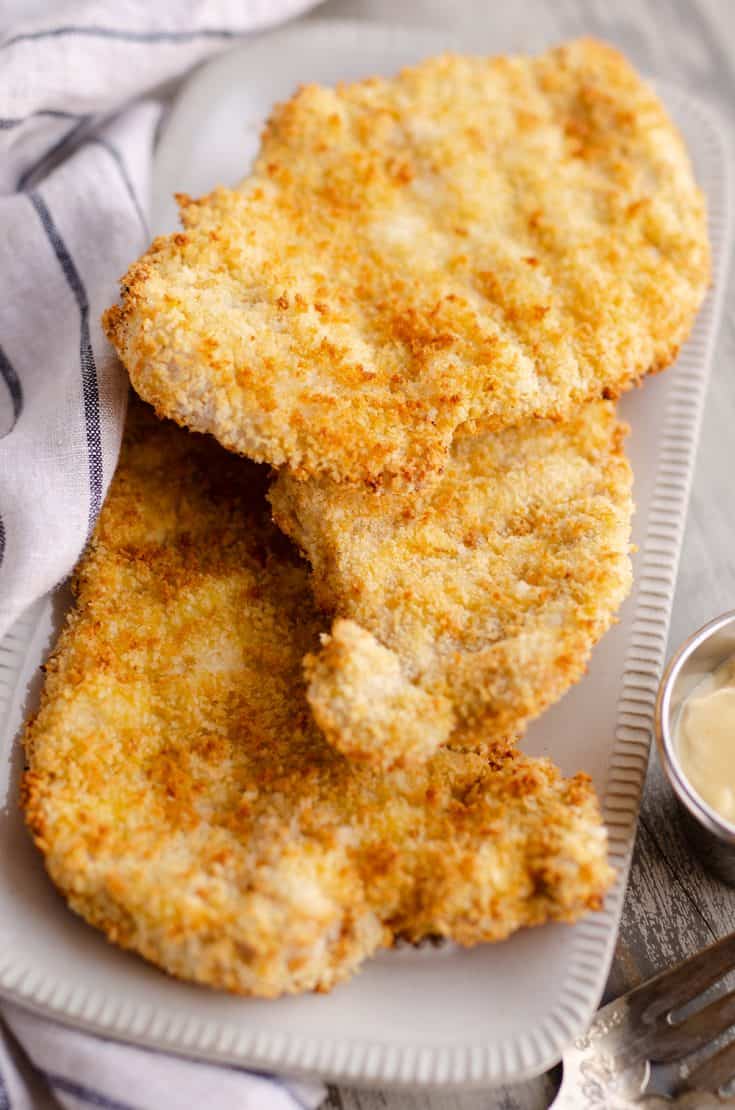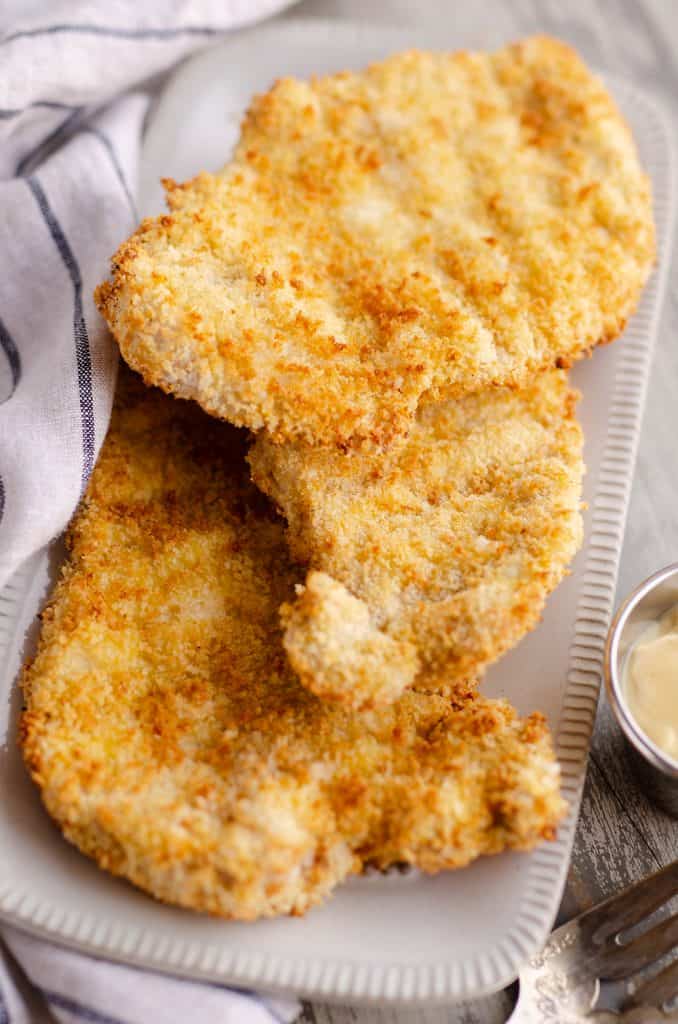 Can You Stack Food in an Air Fryer?
Lots of people wonder whether you can stack food (like pork chops) in an air fryer. After all, it would be so efficient, and air fryers seem like magic! But you have to keep in mind that the cooking action in an air fryer comes from the super heated air circulating around your food.
If parts of the food are covered, they're not going to cook as well! Leave plenty of room around your food for the hot air to cook it effectively. When you're cooking meats, turn them halfway through. If you're making fries or veggies, or anything in small pieces, give the basket a shake every once in a while to expose all sides of the food and prevent cold spots from forming.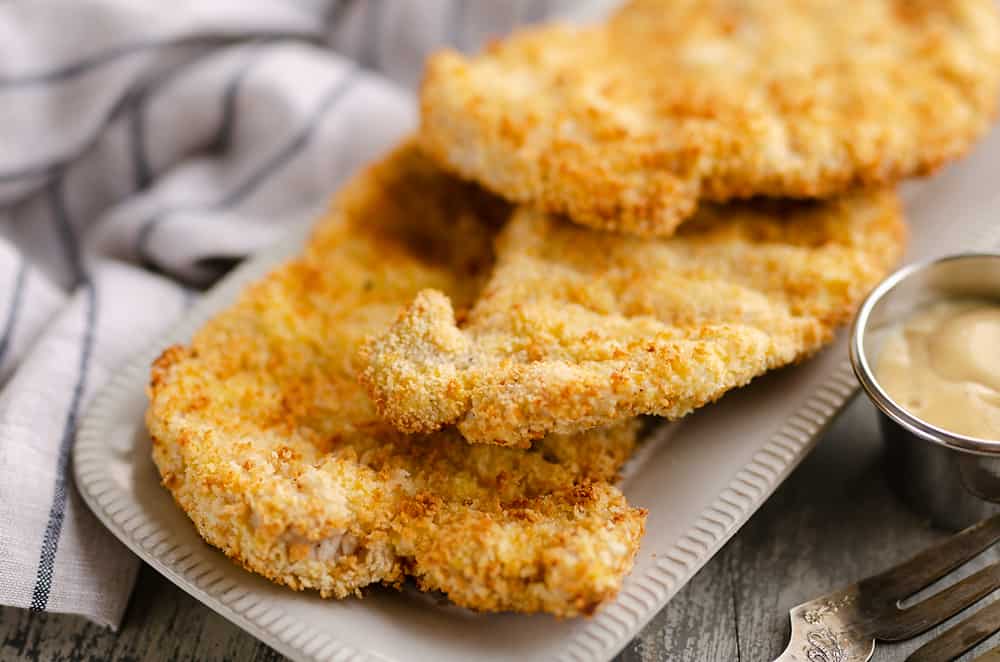 How Do You Reheat Breaded Pork Chops?
Reheating leftover breaded pork chops might seem tricky if you want them to keep that delicious crunch, but it's easier than you think. Simply pop them in your Air Fryer and cook on the highest temperature for 5-6 minutes, or until they are heated through. That is the beauty of the Air Fryer. It is so versatile that it is great for cooking and reheating recipes while keeping their crunch!
What Else Can You Make With an Air Fryer?
This breaded pork chop recipe is one of my new faves. It's the easiest it's ever been to make fried pork chops! I love using my air fryer for a healthy twist on all kinds of delicious comfort food.
If you loved making these Crispy Air Fryer Breaded Pork Chops, you're definitely going to want get more use out of that air fryer! Check out more great Air Fryer Recipes!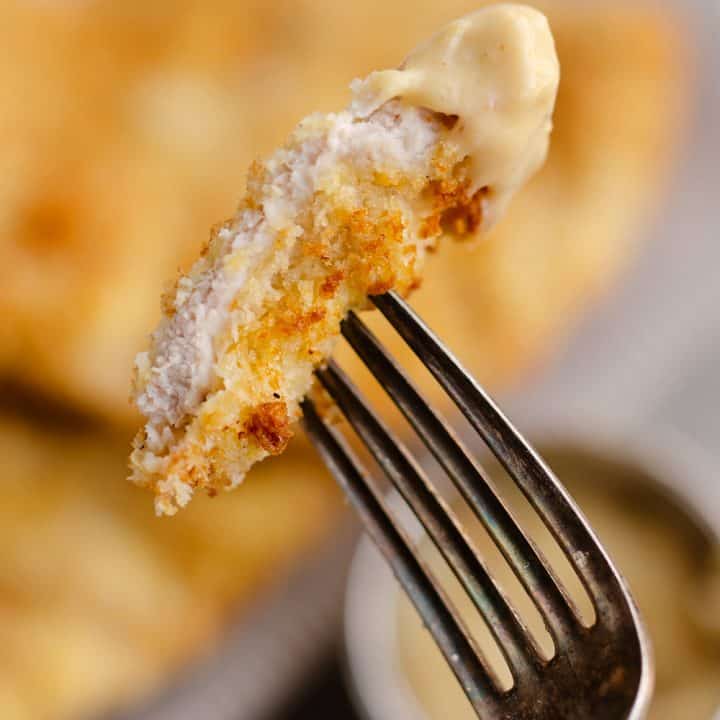 Crispy Airfryer Pork Cutlets
Crispy Air Fryer Breaded Pork Chops are crunchy on the outside and juicy on the inside! With only six ingredients, they're an easy and healthy weeknight dinner recipe ready in just 20 minutes.
Ingredients
1 lb. boneless pork chops
1/4 c. all purpose flour
1/2 to p salt
1/4 tsp. pepper
2 eggs
3/4 c. panko breadcrumbs
Honey Dijon Dipping Sauce
2 Tbsp mayonaisse
2 tsp. dijon
1/2 tsp apple cider vinegar
2 tsp. honey
dash of salt
Instructions
Between two layers on saran wrap, evenly pound the pork chops until they are 1/4 inch thick.
Add the flour, salt and pepper to a large plate and stir with a fork until well combined. In a medium bowl, whisk the two eggs. On a separate plate add the Panko breadcrumbs.
Dip each pork cutlet into the flour, shaking off any excess. Then dip the floured pork into the egg wash. Finally, dip the pork into the breadcrumbs. Press the meat into the breadcrumbs so there is a good coating.
Arrange the cutlets in the Airfryer and cook at 390 degrees Fahrenheit for 10-12 minutes, or until the pork reaches an internal temperature of 145 degrees Fahrenheit.
Meanwhile, prepare the honey dijon dipping sauce, but stirring all of the ingredients together.
Serve the cooked pork with the sauce.
Recommended Products
As an Amazon Associate and member of other affiliate programs, I earn from qualifying purchases.
Nutrition Information:
Yield:

4
Serving Size:

1 grams
Amount Per Serving:
Calories:

493
Total Fat:

18g
Saturated Fat:

5g
Unsaturated Fat:

0g
Cholesterol:

161mg
Sodium:

483mg
Carbohydrates:

46g
Fiber:

3g
Sugar:

5g
Protein:

35g