This low carb Smoked Cheese Curd Burger Salad is a hearty and healthy dinner recipe. Cheesy hamburgers are served over a bed of mixed green with roasted peppers, crispy onions and a Greek yogurt Chipotle lime southwest dressing for amazing flavors.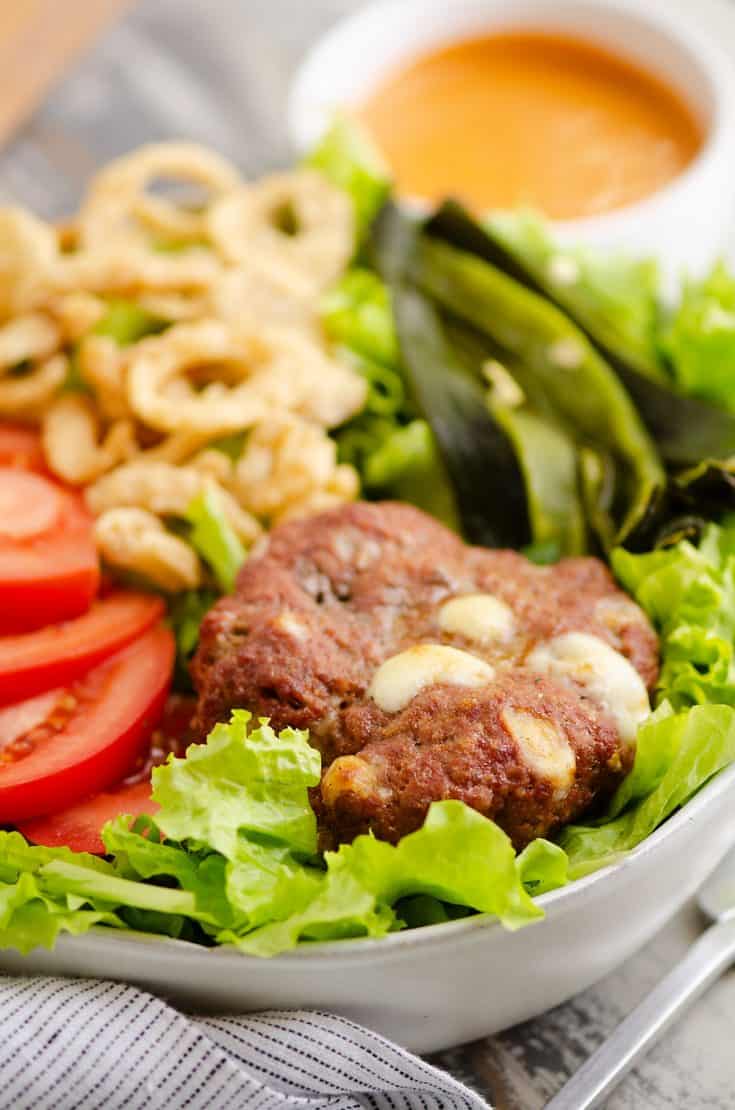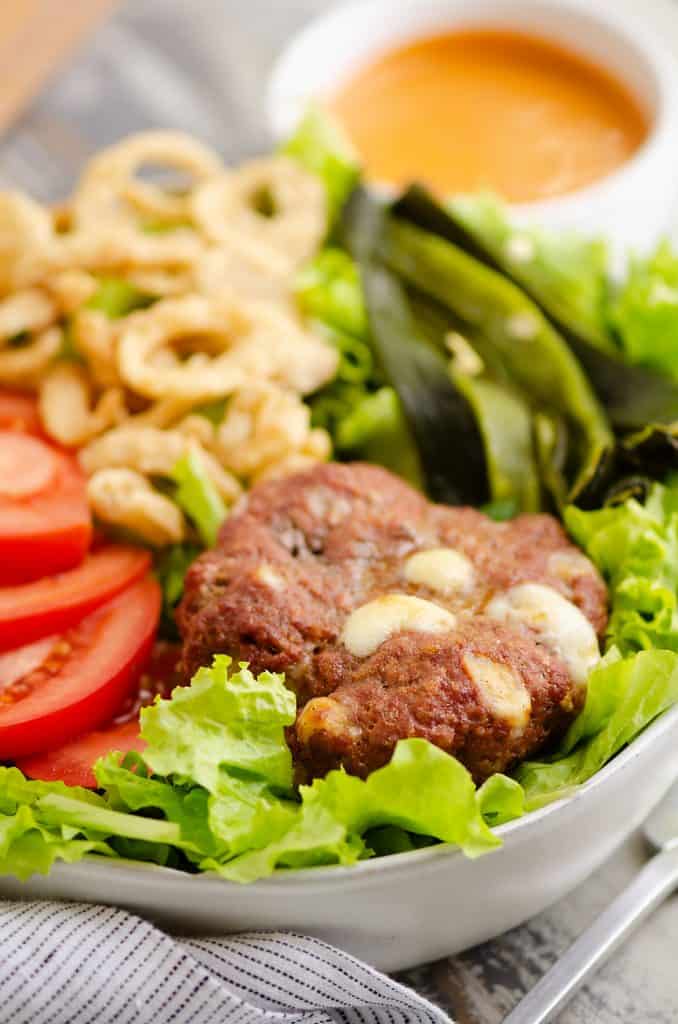 Hearty Burger Salad Recipe
I love a salad as much as the next person. From this Southwest Chicken Cobb Salad to Sweet Potato Taco Bowls, a good dinner salad is my jam. This Smoked Cheese Curd Burger Salad is no exception.
It is loaded with a hearty homemade hamburger well seasoned and studded with cheese curds. Crispy shallots or onions, roasted pepper and a homemade Chipotle lime southwest dressing put it over the top.
The cheese curds hold up to the high temperature but melt down to a stringy cheese that takes on some of the smoke from your pellet grill.
I'm from the Midwest, so cheese curds are easily accessible here. If you can't find them in the cheese aisle, any sharp cheese will make a good substitute.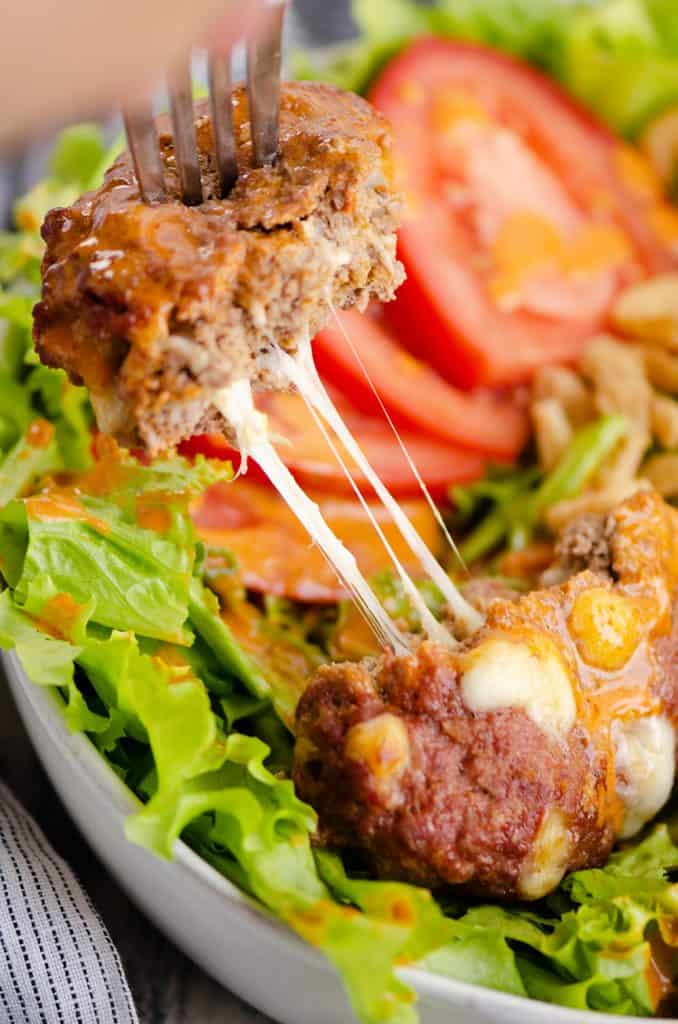 Traeger Pellet Smoker
I have a Traeger grill I used to smoke my burgers, but they can be grilled up on whatever grill you have access to. Pellet grills are the simplest way to smoke, and I'm all about simple and easy!
I am by no means an expert smoker, so having a machine take the guess work out grilling is a win for me. It really is difficult to screw up with the grill maintaining an even temperature.
My friend Nicole on the other hand is a master and shares so many drool worthy Easy Traeger Grill Recipes that you should definitely check out.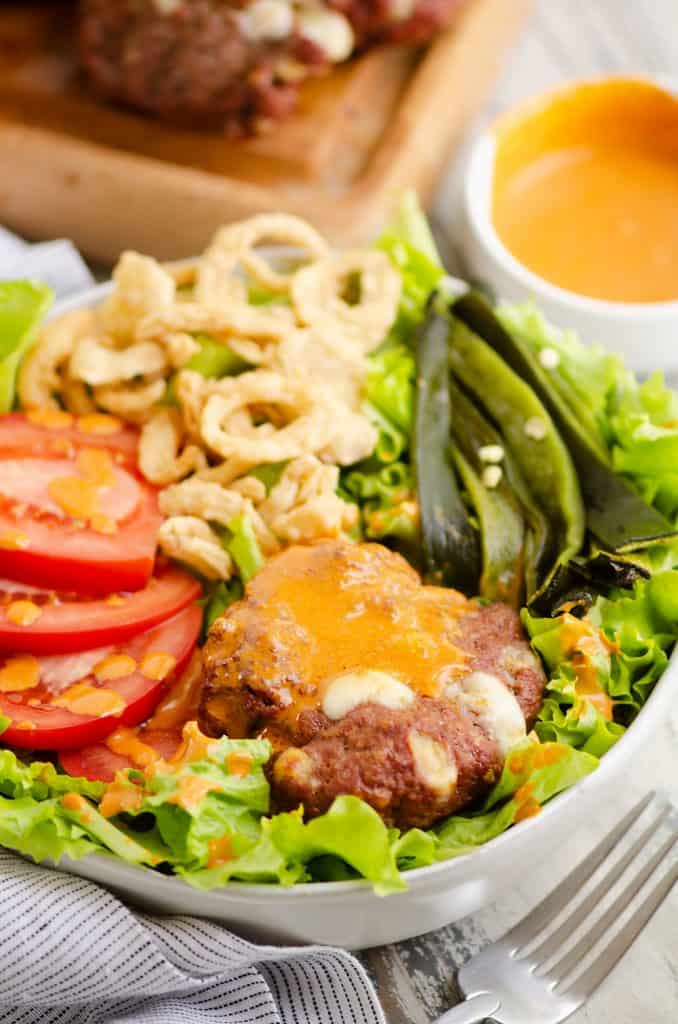 Grilled Hamburger Salad
If you have a basic grill, you can absolutely grill up these hamburgers on charcoal, gas or whatever suits you. Just add a dash of some liquid smoke if you are wanting a nice smokey flavor. The Chipotle lime southwest dressing adds a great bit of smokey flavor as it is though.
One of the downfalls of a smoker is that the maximum temperature is a little limited. Some of them reach 500°, but mine maxes out at 450°. While high temperatures aren't as optimal for infusing the smoke flavor into your cooking, they are great for getting a nice caramelized sear on meat.
This is one of the trade-offs of using a wood pellet grill. That and the high cost!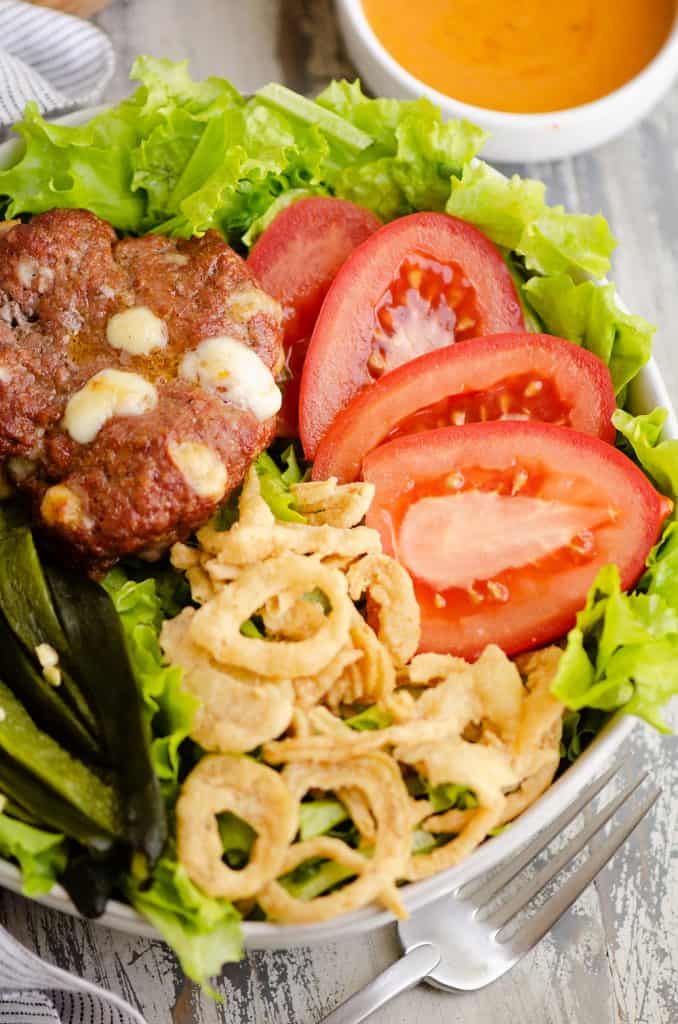 Roasted Poblano Peppers
While your smoker is all fired up, we are going to add a pepper or two to the grill for more great flavor. I used a Poblano pepper, but bell peppers and jalapenos would work great as well, depending on your spice preference.
The pepper smokes while the burger is cooking. A couple minutes before your burgers are done, pull the pepper from the grill and add carefully remove the skin by rubbing it with a paper towel.
Chop it up and add it to the bed of mixed greens and crispy onions.
Poblanos add such great flavor to any recipe. From this Roasted Poblano Chorizo Egg Casserole to Roasted Poblano Sweet Corn Chicken Salad, they add a smokey and just slightly spicy kick to any dish.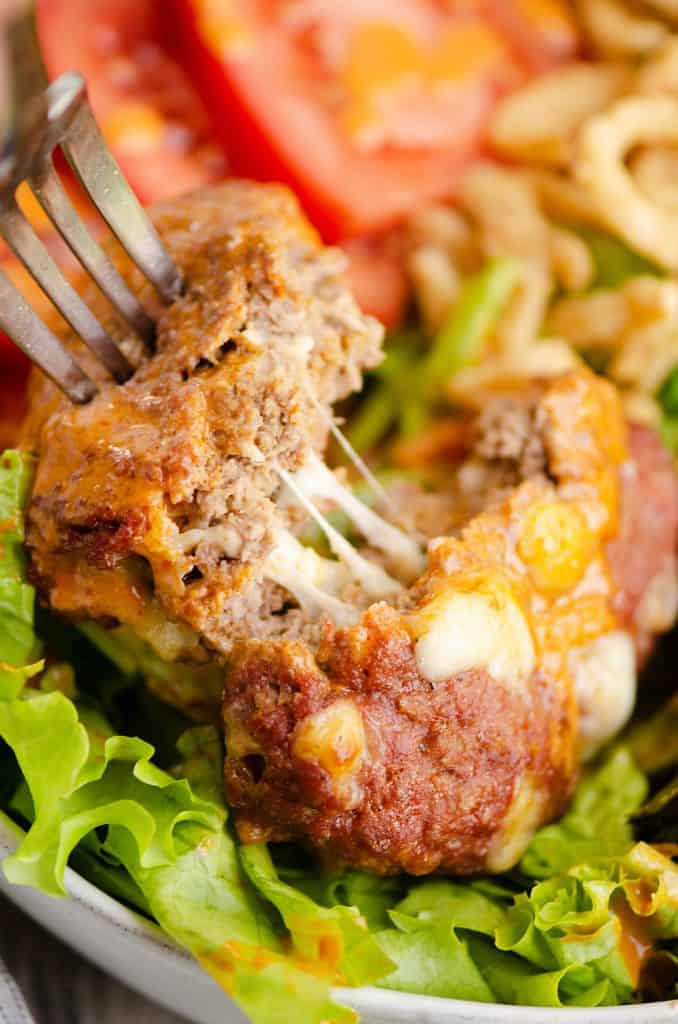 Mixed greens burger salad
Speaking of mixed greens, I have been loving my lettuce I planted in my small garden this year. Those beautiful greens in this burger salad were grown from seed and couldn't be prouder!
I do NOT have a green thumb, but I keep trying to plant some of my favorite vegetables. Garden home grown vegetables are always far superior to what we can get at the grocery store, so it is worth the effort.
This was the first year I planted lettuce and was shocked at how easy it was! I planted Grand Rapids lettuce in zone 7 and it took off early and continues to produce a nice sweet lettuce after I harvest it.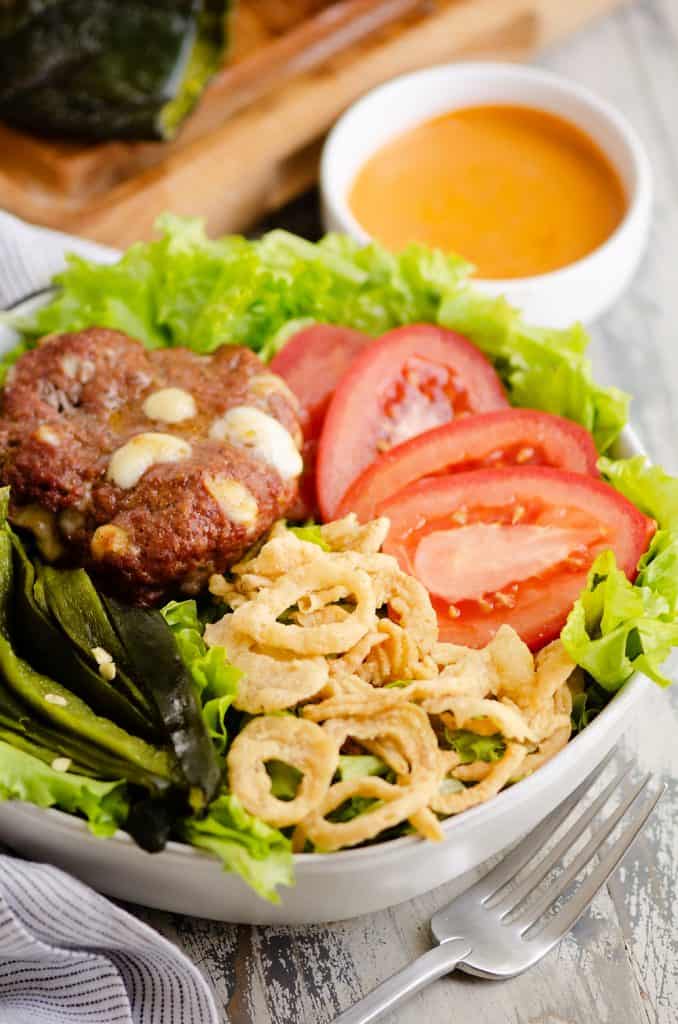 I will say that I also planted a patch of some heartier mixed greens and they were a total flop. I got one small 6 inch patch that actually came to fruition. I will definitely be sticking with the Grand rapids in the future!
If you are buying your lettuce at the grocery store, any mixed blend or baby spinach will work will with this Smoked Cheese Curd Burger Salad.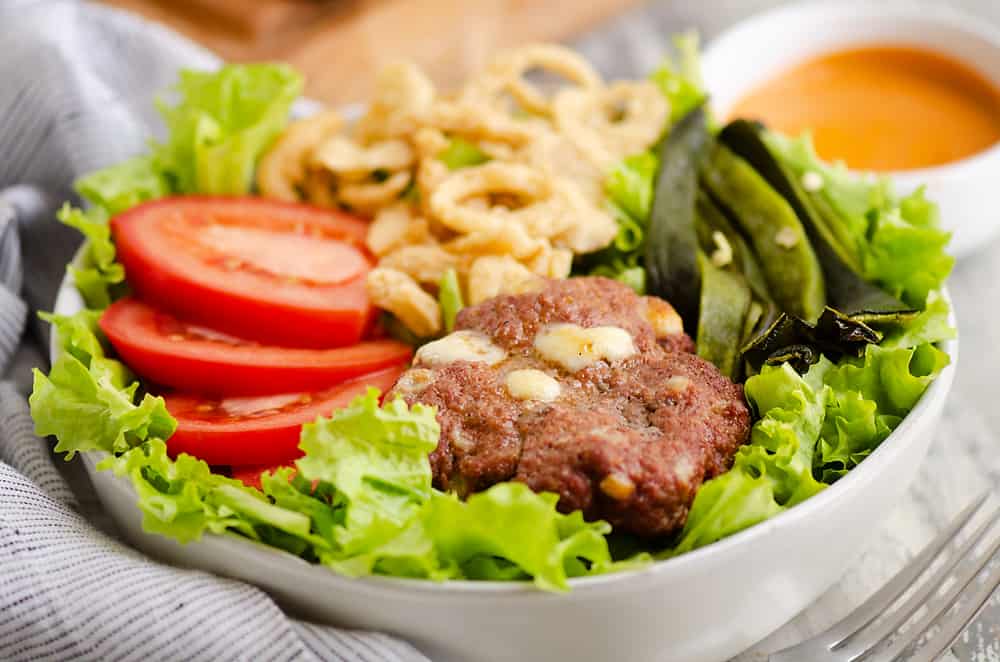 More hearty salad recipes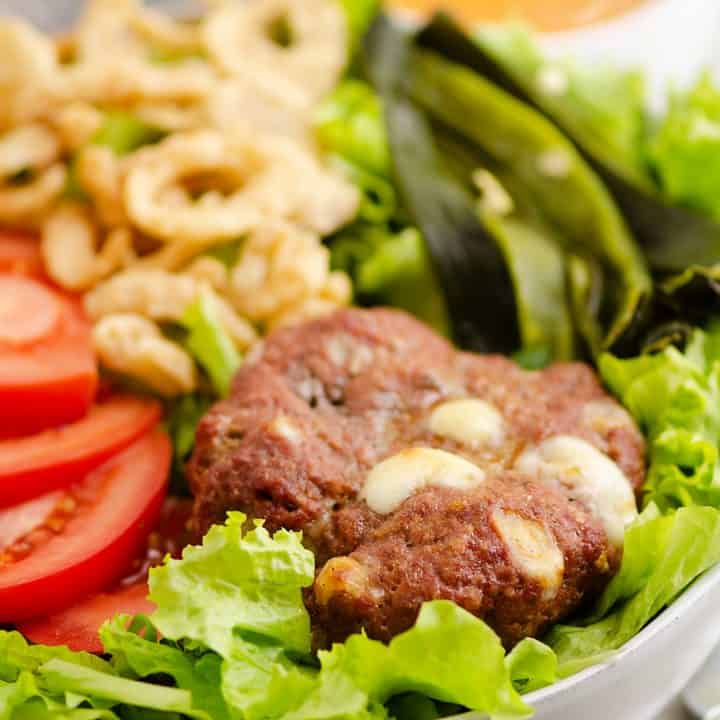 Smoked Cheese Curd Burger Salad
This low carb Smoked Cheese Curd Burger Salad is a hearty and healthy dinner recipe. Cheesy hamburgers are served over a bed of mixed green with roasted peppers, crispy onions and a Greek yogurt Chipotle lime southwest dressing for amazing flavors.
Ingredients
Hamburgers
1 lb. ground beef
1 tsp. paprika
1/2 tsp. ground mustard
1 tsp. garlic powder
1 tsp. onion powder
2 tsp. Worcestershire sauce
1/2 tsp salt
3 oz. cheese curds, chopped
Salad
1 Poblano or bell pepper
8 c. lettuce
2 Roma tomatoes
1 c. French fried crispy onion strings or crispy shallots
Instructions
Preheat smoker to 450°.
In a medium bowl, combine all of the hamburger ingredients. Mix well with your hands and form into four patties.
Add the burgers and pepper to the grill. Cook the burgers and pepper on each side for 6 minutes or until the hamburgers reach and internal temperature of 155°.
Remove the pepper and burgers from the grill. Using a paper towel, wipe the outside skin off of the pepper. Chop the pepper.
To four bowls, divide the lettuce, tomatoes, crispy onions, roasted peppers and burgers. Serve with the Chipotle dressing and enjoy!
Recommended Products
As an Amazon Associate and member of other affiliate programs, I earn from qualifying purchases.
Nutrition Information:
Yield:

4
Serving Size:

1
Amount Per Serving:
Calories:

437
Total Fat:

27g
Saturated Fat:

12g
Trans Fat:

1g
Unsaturated Fat:

12g
Cholesterol:

122mg
Sodium:

572mg
Carbohydrates:

10g
Fiber:

3g
Sugar:

4g
Protein:

38g
Provided nutrition data is only an estimate. If you are tracking these nutrients for medical purposes, please consult an outside, trusted source.