This shop has been compensated by Inmar Intelligence and its advertiser. All opinions are mine alone. #UndeniablyDairy #gotmilkrecipe
Pressure Cooker Ham & Broccoli Cheese Soup is an easy 20 minute dinner recipe made in your Instant Pot using leftover ham, whole milk and sharp cheddar cheese!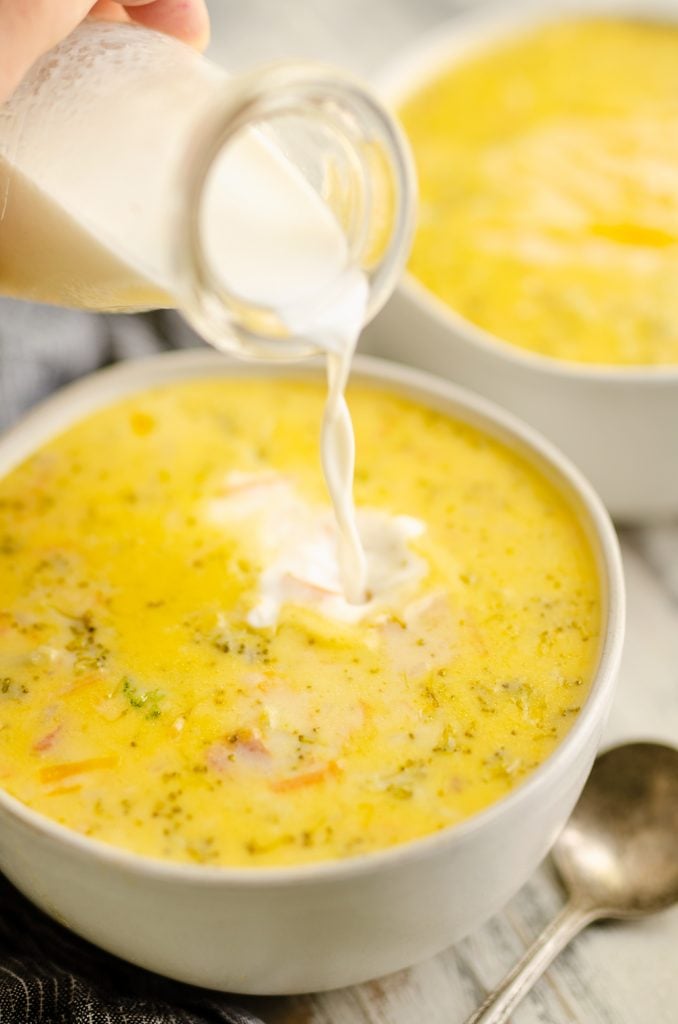 Leftover Ham Soup
Tis the season to enjoy a roasted ham dinner! The holidays will be upon us before we know it and that means lots of classic comfort foods to enjoy. That also means lots of leftover ham for recipes like this Pressure Cooker Ham & Broccoli Cheese Soup!
The best part of a ham dinner, apart from the obvious quality family time, are the leftovers. From delicious ham sandwiches for lunch throughout the week to using it up in easy recipes like this Broccoli Cheese Soup.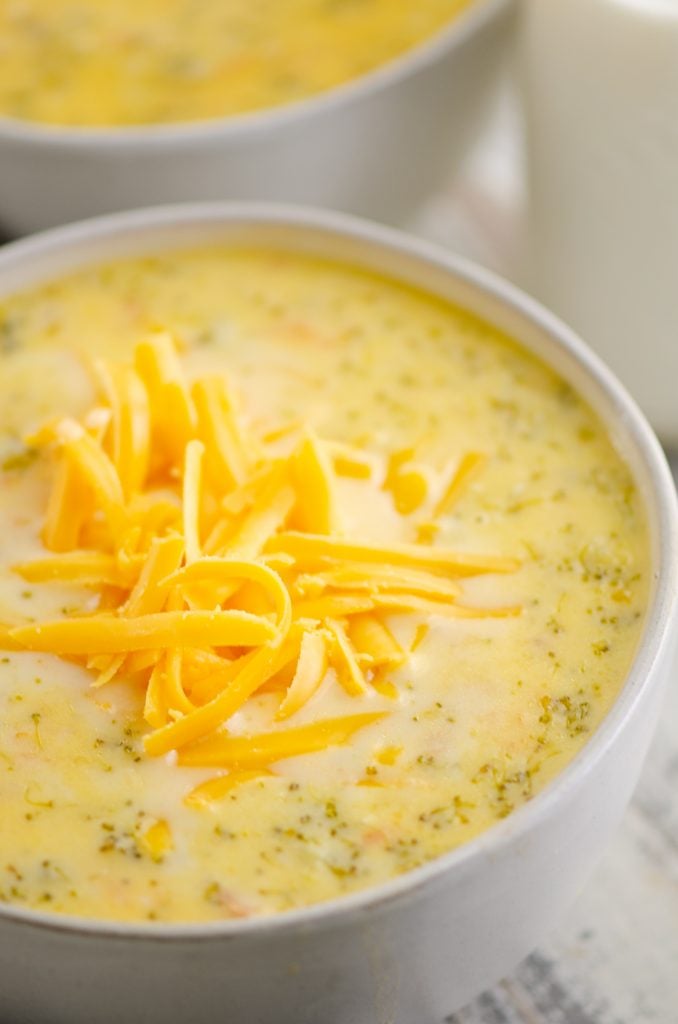 Family friendly recipe
Growing up, family dinner at 6 o'clock sharp was a tradition I may have not appreciated enough at the time, but is certainly something I look back at now with great fondness.
I grew up on a Midwest farm and apart from a few weeks in the fall where my Dad was frantically trying to harvest the crop before it snowed, he always found his way to the dinner table with all six of us.
My parents are both amazing people, but one of their best qualities is how they prioritize their families. Despite how hard they worked, they rarely missed out on these important family bonding moments.
There were a few staples at our family dinner table on the farm no matter the season. Bread with butter and a tall glass of milk are the two items I can recall at the table just about every night. These usually complimented a Hamburger Hotdish, pot roast or hearty soup.
This Pressure Cooker Broccoli Cheese Soup would have been a big hit with a loaf of my Mom's homemade bread!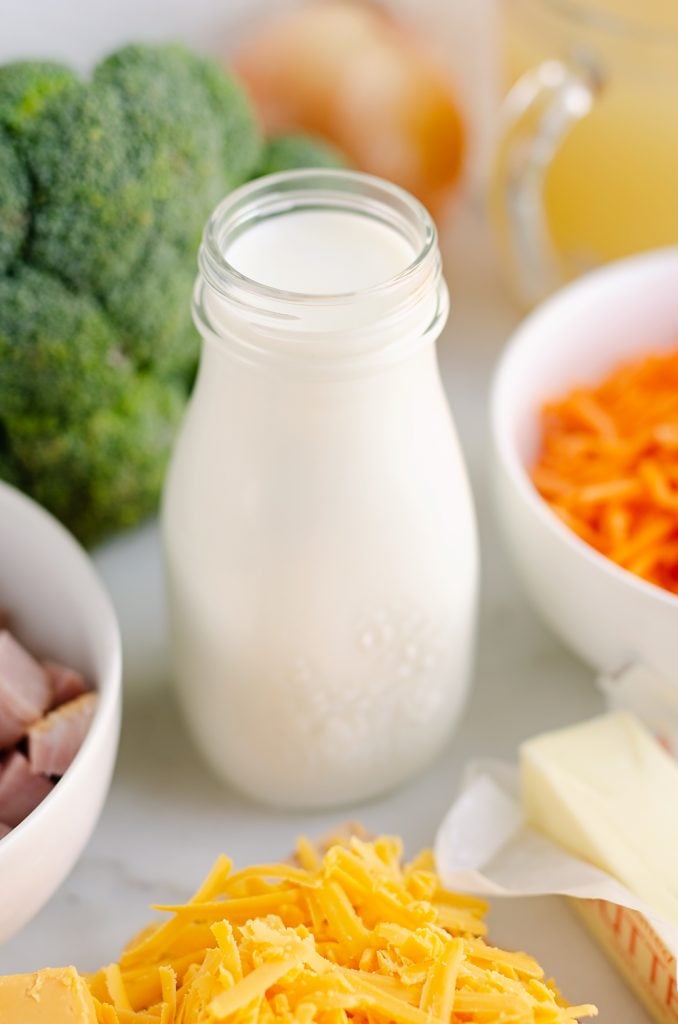 Milk fueling modern wellness
While I enjoyed a tall glass of milk with just about every meal as a child, I didn't appreciate the quality nutrition it provides until I became a mother myself.
My toddlers look forward to nothing more than their tall glass of milk every morning. I on the other hand, look forward to them getting a healthy dose of protein as well as Vitamin A & D.
These are important for their little immune systems and keeping them full so they don't come crawling back later begging for snacks! Milk is such an easy way to get them in our daily diet.
Once I really started looking more into what I wanted to feed my family, I realized dairy really is important in contributing to wellness needs.
Recipes Using Milk
Milk isn't just the beverage of choice in our house, it is a regular ingredient in recipes like this Pressure Cooker Ham & Broccoli Cheese Soup. It also makes an appearance in our daily Banana Smoothie.
From this Overnight Sausage Egg Casserole to Cheesy Ham & Broccoli Tater Tot Hotdish, which is also a great way to use that leftover ham, there are so many great recipes using milk. It's a fantastic way to add some good nutrition to family friendly comfort food.
How to make the Best Broccoli Cheese Soup in the pressure cooker
This Broccoli Cheese Soup comes together in just 20 minutes using your Instant Pot. Gather the following ingredients at Target and add them to your inner pressure cooker pot to make the best broccoli cheese soup. See the recipe card below for a printable version of the recipe with exact ingredient amounts, and click the badge below to add these ingredients to your shopping cart!
Leftover ham
Butter
Yellow onion
Garlic
Paprika
Black pepper
Seasoning salt
Carrot
Broccoli
Chicken broth
After the soup has cooked under pressure for 5 minutes, remove a cup of the liquid and whisk in the flour. Return the flour slurry to the pot and stir until slightly thickened. Add the following ingredients and stir until smooth.
Whole milk
Sharp cheddar cheese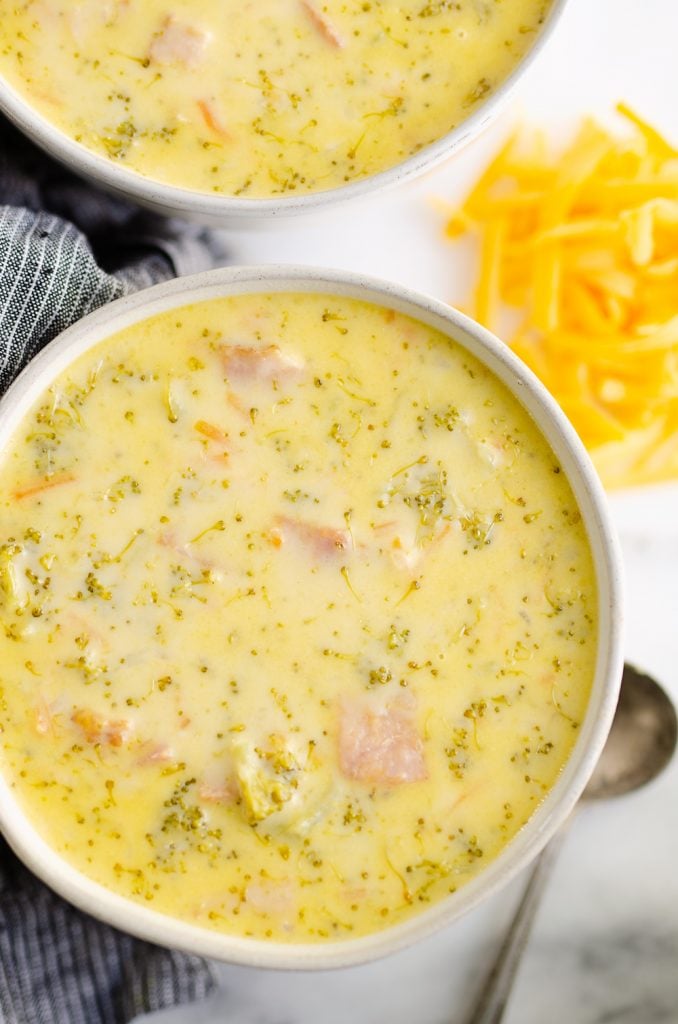 Can I use frozen broccoli?
Frozen broccoli will work just as good as fresh broccoli for this soup recipe. Frankly it is easier than cutting a head of broccoli down into florets.
Just be sure to pay attention to the broccoli you are buying, because I find some frozen brands include mostly stem and far less florets. I would also recommend adding a couple extra minutes to the cook time to ensure it cooks through.
If you prefer to use fresh broccoli but want a shortcut, just grab a bag of broccoli florets in the refrigerated section next to the baby carrots.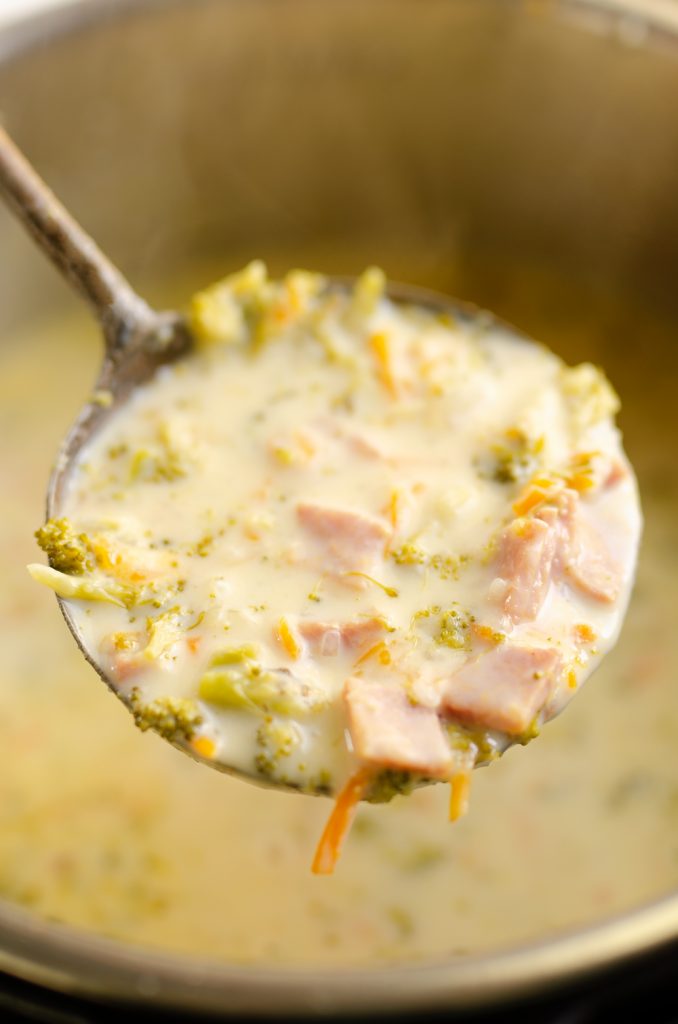 Stovetop Cooking Instructions
If you don't have an electric pressure cooker you can make this Pressure Cooker Broccoli Cheese Soup on the stovetop.
In a kettle sauté the onion and garlic in the butter. Add the flour and cook for a couple minutes until it is thickened and browned.
Add the remaining ingredients (except the whole milk and cheese) and cook on high for 10 minutes until it is heated through well and the onions are translucent. Stir in the milk and cheese until melted and enjoy.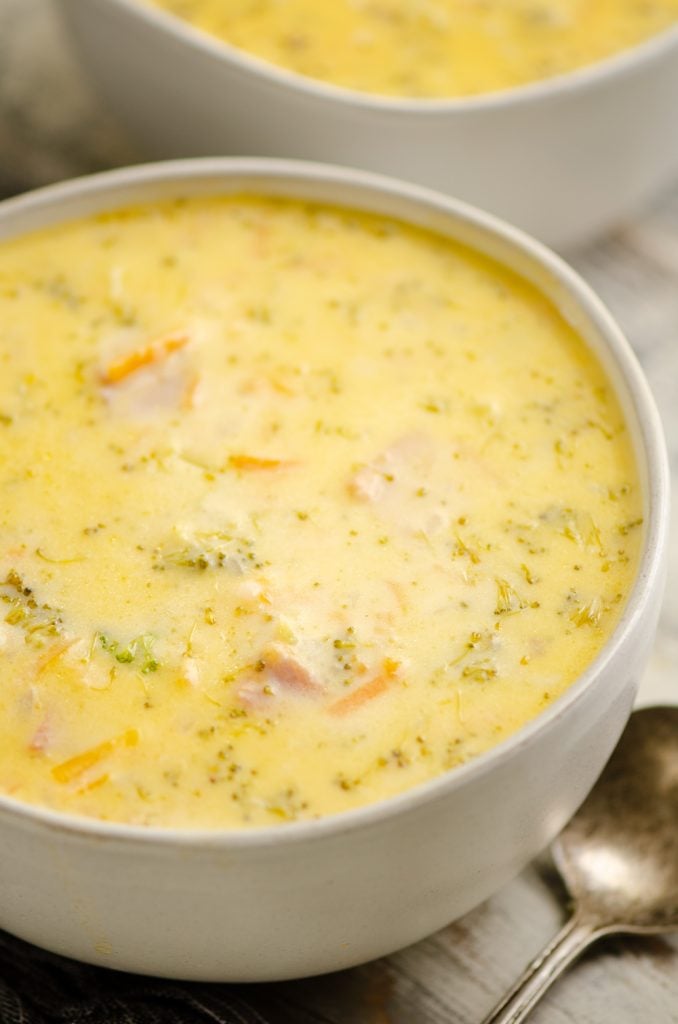 What goes with Broccoli Cheese Soup?
Crackers are the obvious garnish for Cheesy Ham & Broccoli soup, but if you really want to take the richness of the soup over the top, some crumbled bacon adds amazing texture and flavor.
Diced green onions, croutons, a dollop of sour cream or grated Parmesan cheese are some more delicious garnish options.
Aside from garnishes, you may be wondering what you should serve with Broccoli Cheese Soup. My go-to is a couple slices of homemade bread. There really is nothing better than soft bread and homemade soup.
If you are entertaining or serving your family a big meal, then a salad is a great side dish for this cheesy soup. These salads area are all great options.
And don't forget that tall glass of milk to compliment the hot soup!
Can you freeze broccoli cheese soup?
Life can be hectic and sometimes as much as you want to get a wholesome dinner on the table for the family, time doesn't permit. This Broccoli Cheese Soup only takes 20 minutes to make, but it is also works to meal prep.
Like most soups, you can freeze the leftovers for easy dinners at a later time. It is important to let the soup cool to room temperature before adding to a freezer container.
If you don't have any freezer containers, you can add the cooled soup to freezer resealable bags and freeze them laying flat on a sheet pan.
The important thing to keep in mind when freezing soup with dairy is to reheat it gently so it doesn't curdle. Allow the soup to thaw completely in the refrigerator overnight and reheat it over low heat on the stovetop. You can also microwave it in minute increments, being sure not to overheat it.
The soup may separate a bit when reheating it, but simply whisk it back together and add a little more fresh cheese into the soup to bring it all together nicely.
Take the Broccoli Cheese Soup out the day before and you will have a fantastic meal in minutes for your family before you hurry off to your kids game or rush to get all the homework and things done before bedtime!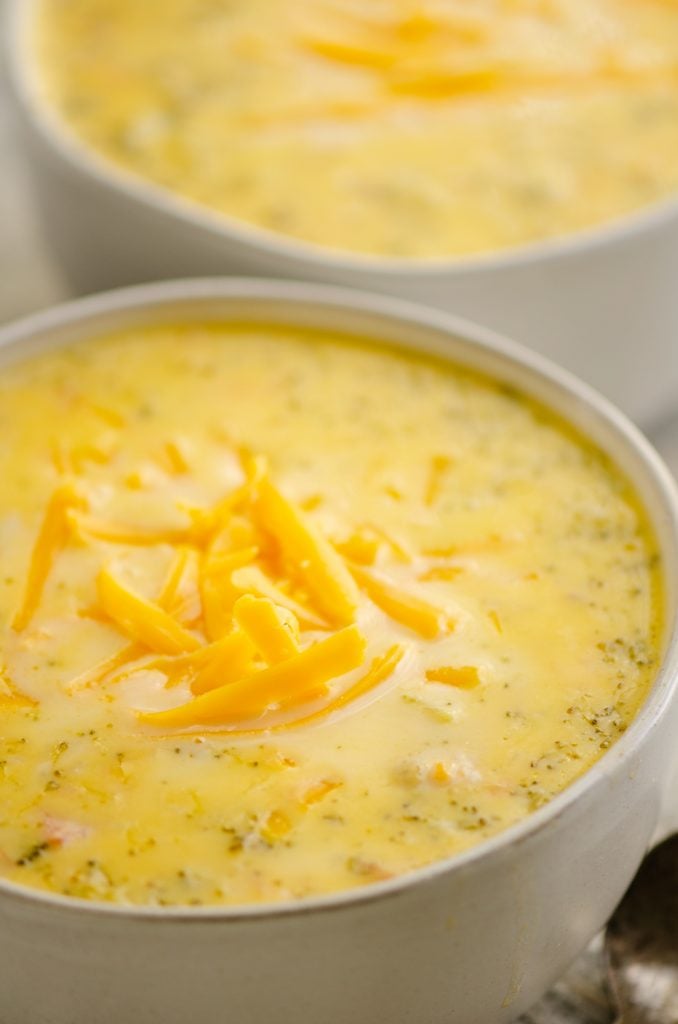 More recipes using milk!
If you are looking for more delicious recipes using milk, check out some of these dinners and desserts!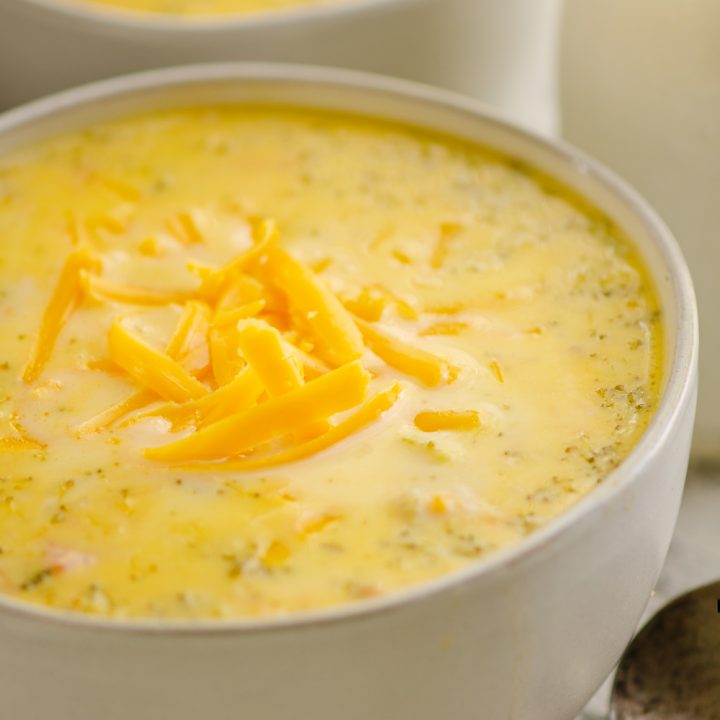 Pressure Cooker Cheesy Ham & Broccoli Soup
Cook Under Pressure:
5 minutes
Build Pressure:
10 minutes
Pressure Cooker Cheesy Ham & Broccoli Soup is an easy 20 minute dinner recipe made in your Instant Pot using leftover ham, whole milk and sharp cheddar cheese!
Ingredients
2 c. whole milk
16 oz. extra sharp cheddar, cubed
1/4 c. butter
1 medium yellow onion, diced
1 Tbsp. minced garlic
1 tsp. paprika
1/4 tsp. black pepper
1/4 tsp. seasoning salt
2 c. chopped ham
2 c. matchstick carrot
4 c. broccoli florets
4 c. chicken broth
1/4 c. flour
Instructions
Turn your electric pressure cooker to saute and add the butter to the inner pot.
When the butter is melted, add the onion, garlic, ham, carrots, broccoli, seasoning salt, Paprika, black pepper, and chicken broth. Stir just until combined.
Place the lid on the pressure cooker and lock in place. Turn the knob to seal and set to cook on high pressure for 5 minutes.
When the cooking is complete, very carefully using oven mitts, turn the knob to vent. Allow all of the steam to release from the pot. When the pin has dropped and the pressure is released, open the lid.
Remove 1 cup liquid from the pot. Whisk the flour into the liquid. Remove this flour slurry to the pot and stir until the soup is thickened a bit.
Add the shredded cheese and milk and stir until all the cheese is melted and the soup is smooth.
Serve immediately.
Notes
STOVETOP INSTRUCTIONS
If making this Broccoli Cheese Soup over the stovetop in a kettle, sauté the onion and garlic in the butter. Add the flour and cook for two minutes.
Add the remaining ingredients (except the milk and cheese) and cook on high for 10 minutes. Stir in the milk and cheese until melted. Enjoy!
Nutrition Information:
Yield:

8
Serving Size:

1
Amount Per Serving:
Calories:

445
Total Fat:

31g
Saturated Fat:

17g
Trans Fat:

1g
Unsaturated Fat:

10g
Cholesterol:

99mg
Sodium:

1385mg
Carbohydrates:

20g
Fiber:

5g
Sugar:

7g
Protein:

25g
Provided nutrition data is only an estimate. If you are tracking these nutrients for medical purposes, please consult an outside, trusted source.