Asparagus & Feta Quinoa Salad is a fresh and healthy salad full of vegetables and dressed in a light champagne vinaigrette. It's perfect for a lunch salad or served on the side with grilled meat.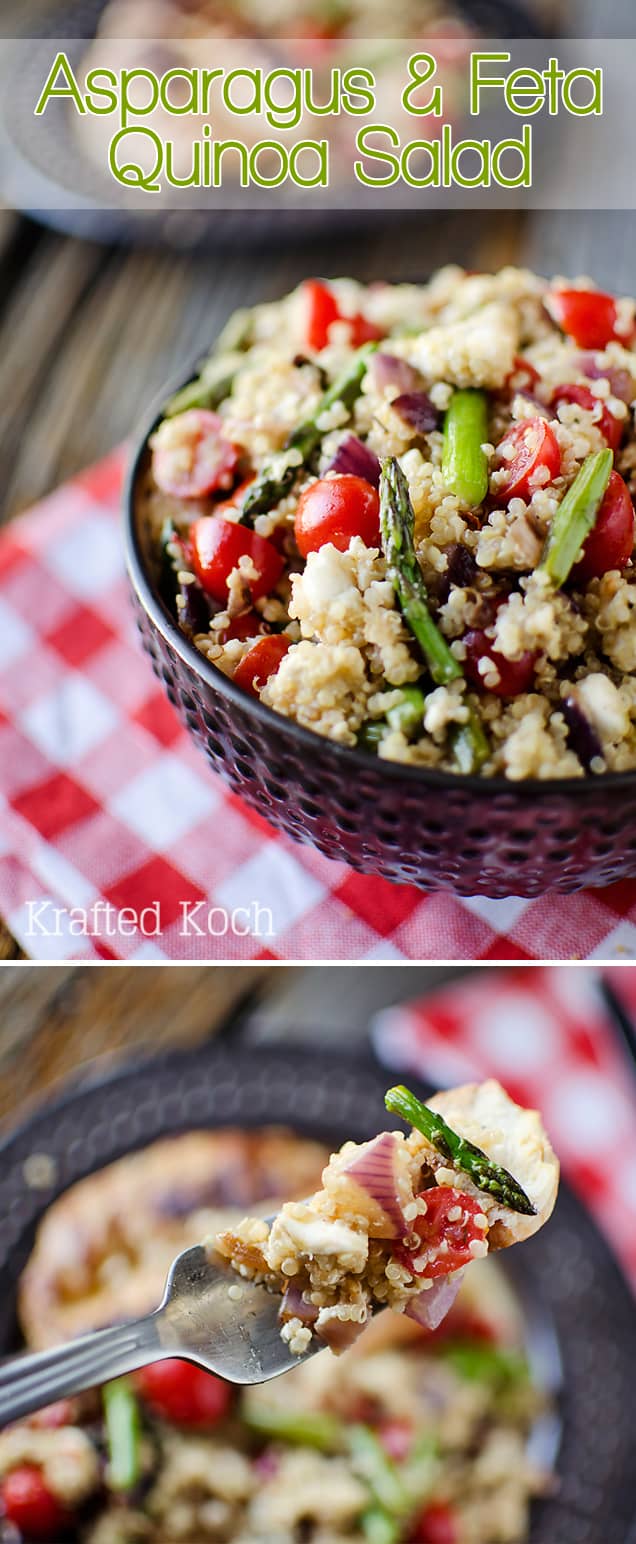 Do you ever have those foods, more often than not health foods, that you see everyone else eating and raving about, but you find yourself resisting the trend? Then you finally give in and try it, and wonder why you have been holding out so long because it is fantastic! I have had that happen on more than one occasion. A couple that come to mind are Greek yogurt and quinoa. I used to see people using Greek yogurt in place of sour cream, thinking, "You are crazy! Who wants to eat yogurt on their tacos?!". Or I would see all the pictures of quinoa dishes and curl my nose up at those weird spirally little grains. They just looked…well scary! Needless to say, as soon as I tried both of these foods, I soon realized why they were such a big hit.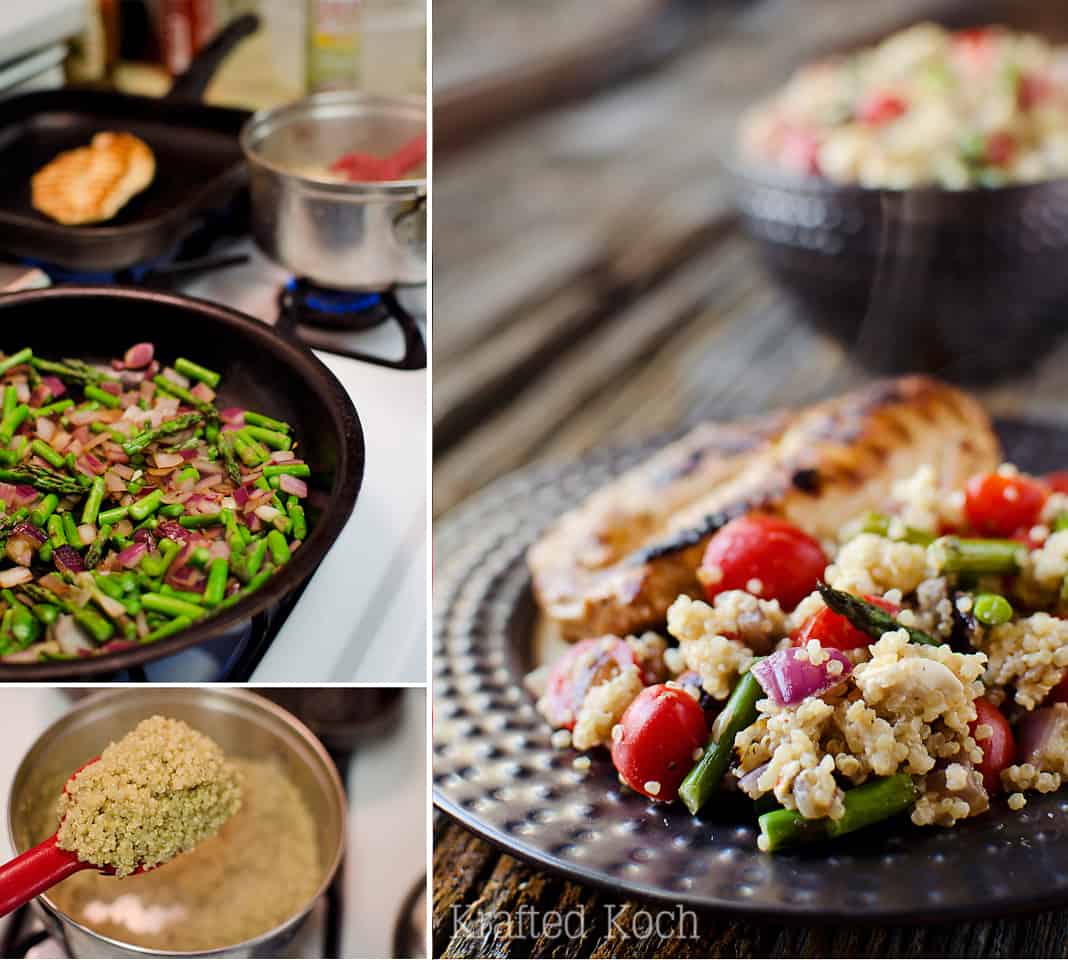 Learn from my mistakes, and don't resist the urge to try some of these great foods. The only thing you will regret is waiting so long to actually give them a go! Not only is quinoa tasty but it is extremely healthy. It is considered by most to be a superfood and is classified as a whole grain which is naturally gluten-free. The great part about any dish with quinoa, is that it can be served as a side dish to any cut of meat, or it can stand alone as an entree with all of it's fiber and protein. This Asparagus & Feta Quinoa Salad was one of the first quinoa dishes I ever made, and it continues to be a delicious staple in my menu.
There are a couple of important things I have learned over time when it comes to quinoa. First of which, is that if you find it has a bitter flavor that you aren't so fond of, be sure to rinse the uncooked grains vigorously before cooking. This will wash away some of the bitter coating on the grain. Most quinoa has already had this done, so I rarely find myself needing to do this, but if you are unsure or run across a box of bitter quinoa, this will help eliminate most of the bitter flavor.
Secondly, find it in the bulk section! Not only can you get the exact amount you need, but it is much more affordable. A couple of years ago, I couldn't even get quinoa at our small-town grocery store, so I ventured over to the local food coop. I found it in the bulk section there for a very reasonable price and have always continued to buy it there, despite our local grocer finally becoming wise to the quinoa trend. I have noticed that it costs substantially more in the supermarkets pre-packaged.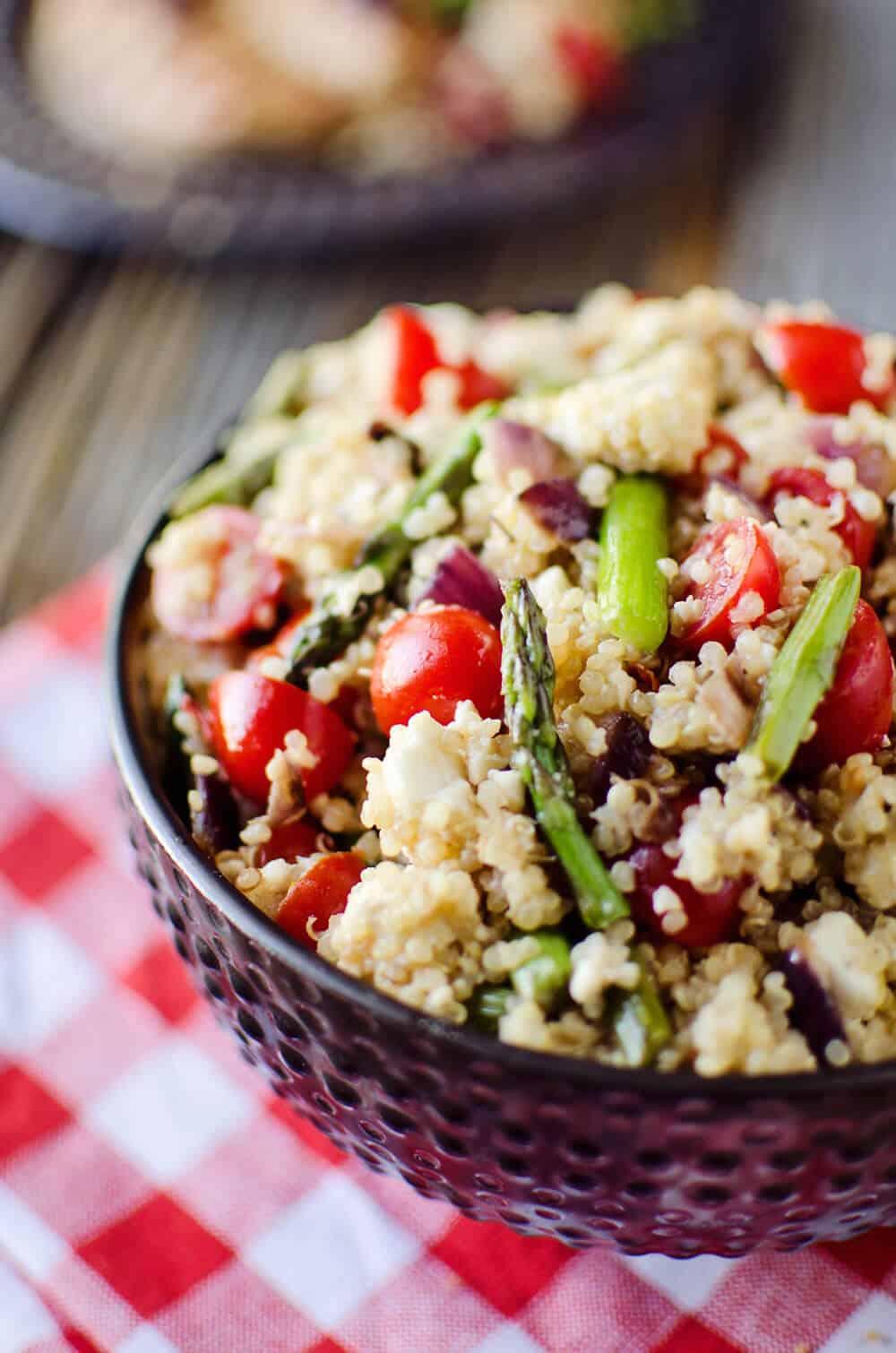 I finally convinced my sister to try her first quinoa dish, this Cajun Shrimp Quinoa Casserole, a couple of months ago and she called to tell me how much she loved it! She did not, however, love the high price tag at the large chain supermarket. I asked her how much it was, and it ended up being DOUBLE what I pay for it in the bulk section of the food coop. Needless to say, the next time she came to visit, I sent her home with a 2 lb bag of quinoa. 🙂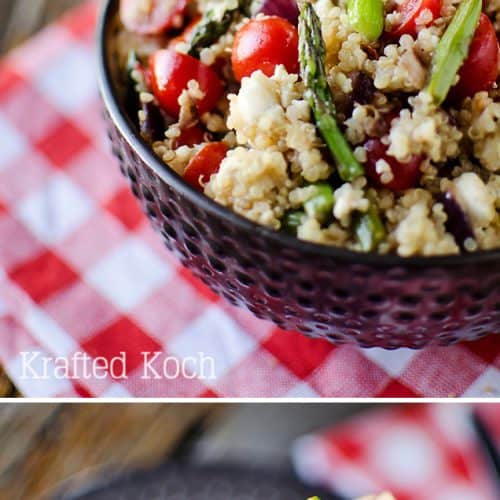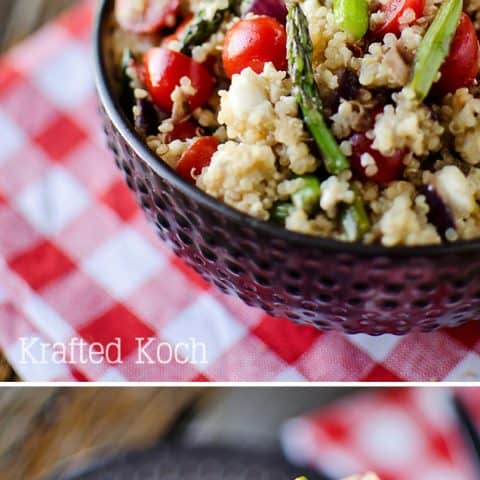 Asparagus & Feta Quinoa
Hearty quinoa tossed with crisp vegetables, feta and a honey Dijon vinaigrette for a flavorful and healthy side dish or perfectly light lunch!
Ingredients
1 c. quinoa
2 c. chicken broth or water
1 small red onion diced
1 Tbsp. olive oil
1/2 tsp. salt
1 c. asparagus cut in 1" pieces
6 oz. feta
1 c. tomatoes diced
1/3 c. olive oil
1 Tbsp. dijon
2 Tbsp. Champagne or Balsamic vinegar
2 tsp. honey
1/4 tsp. salt
Instructions
In a medium saucepan, add quinoa and chicken broth and cook on high. Once it comes to a boil, reduce the heat to low and cover. Let cook for 15 minutes. Quinoa is done cooking when you see the tiny spirals curling around the grains. Remove from the heat and set aside.
Meanwhile, in a saute pan over medium-high heat, cook onions in 1 Tbsp. olive oil for 5 minutes then add the asparagus pieces and 1/2 tsp. salt and cook for an additional 3-5 minutes until just tender. Add the vegetables and feta to the warm quinoa.
In a separate large bowl, whisk together the olive oil, dijon, vinegar, honey and salt. Toss the vegetable and quinoa mixture with the dressing and tomatoes.
This salad is best served warm, but is also great leftover for lunch served cold!
Recommended Products
As an Amazon Associate and member of other affiliate programs, I earn from qualifying purchases.
Nutrition Information:
Yield:

6
Serving Size:

6 Servings
Amount Per Serving:
Calories:

272
Total Fat:

21g
Saturated Fat:

6g
Trans Fat:

0g
Unsaturated Fat:

14g
Cholesterol:

27mg
Sodium:

937mg
Carbohydrates:

14g
Fiber:

2g
Sugar:

6g
Protein:

7g
Provided nutrition data is only an estimate. If you are tracking these nutrients for medical purposes, please consult an outside, trusted source.
21 Day Fix Approved Recipe – 1/3 Yellow, 1/2 Green, 1/3 Blue, 1/5 Orange
More Great Quinoa Dishes!