Overnight Sausage Egg Casserole is any easy and delicious make ahead breakfast egg bake recipe with Jimmy Dean sausage, cheese and bread, perfect for brunch or dinner!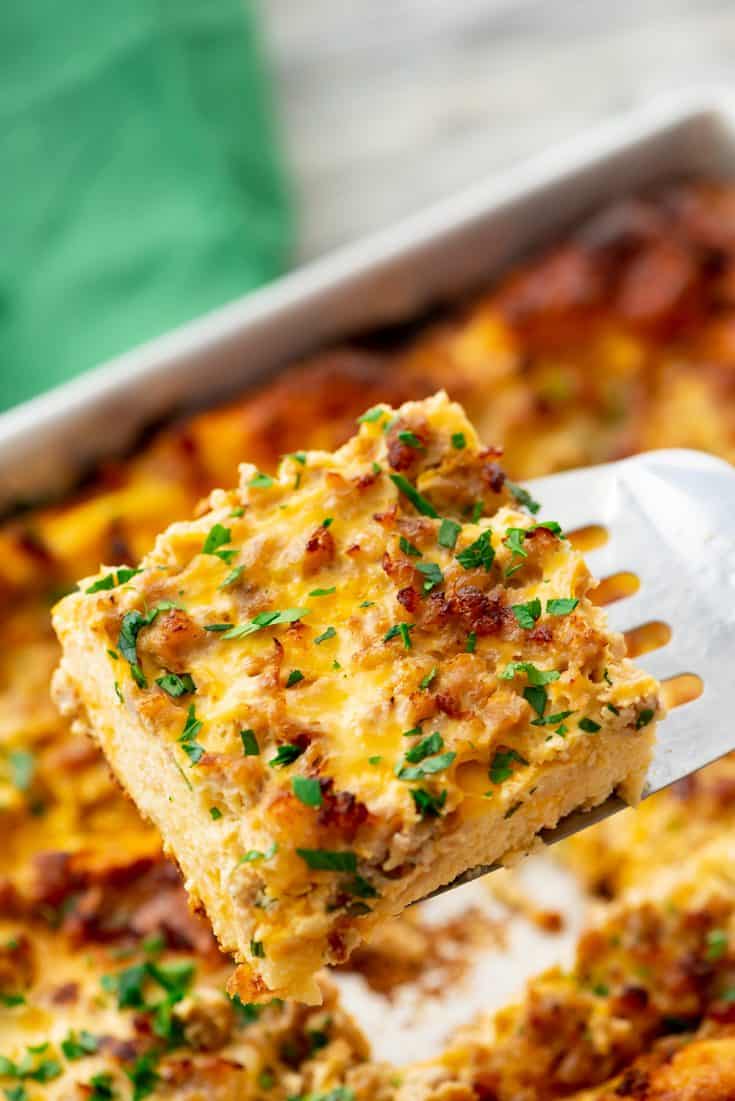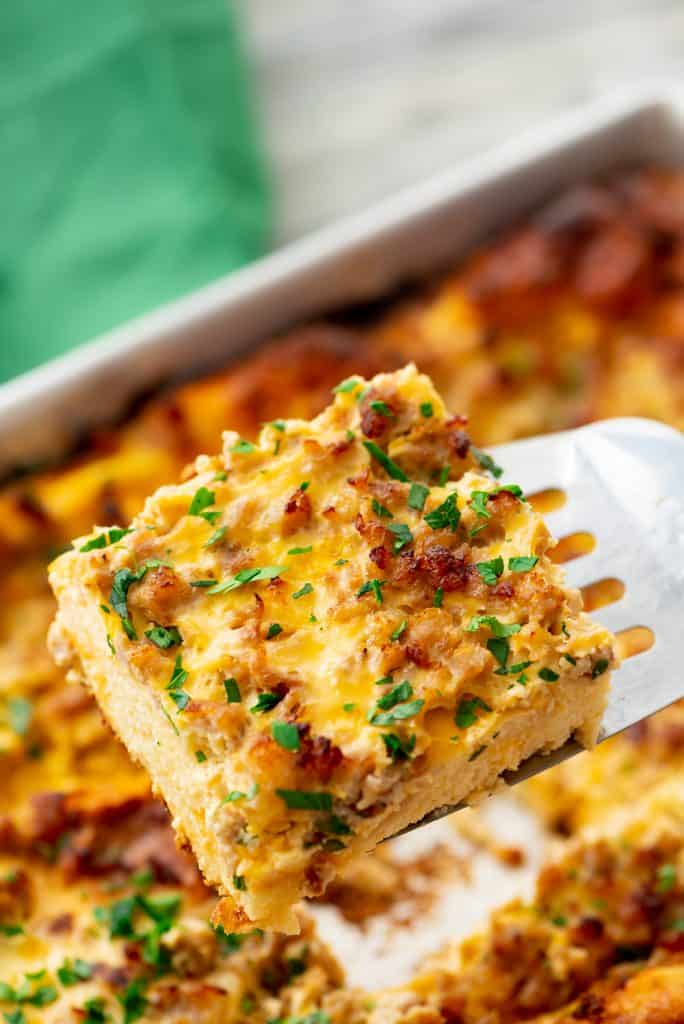 Jimmy Dean Sausage Breakfast Casserole
With this Jimmy Dean overnight egg casserole, you prep the dish a day in advance so that all the ingredients get set up overnight in the fridge. All that is required after that is to pull it out of the fridge and bake it in the oven.
With the holiday season upon us, there are lots of weekends hosting family or friends and this easy egg bake can take one big thing off your plate in the morning. Prep the dish the evening before and just pop it in the oven in the morning. Or if you are like my Mom, just make me put it in the oven when she is at church. 🙂
Although an egg casserole definitely works great for a brunch dish, you can serve them for breakfast, lunch and dinner too. The leftovers reheat fantastically as well.
Overall this breakfast egg casserole is a filling and delicious meal for just about any time of day!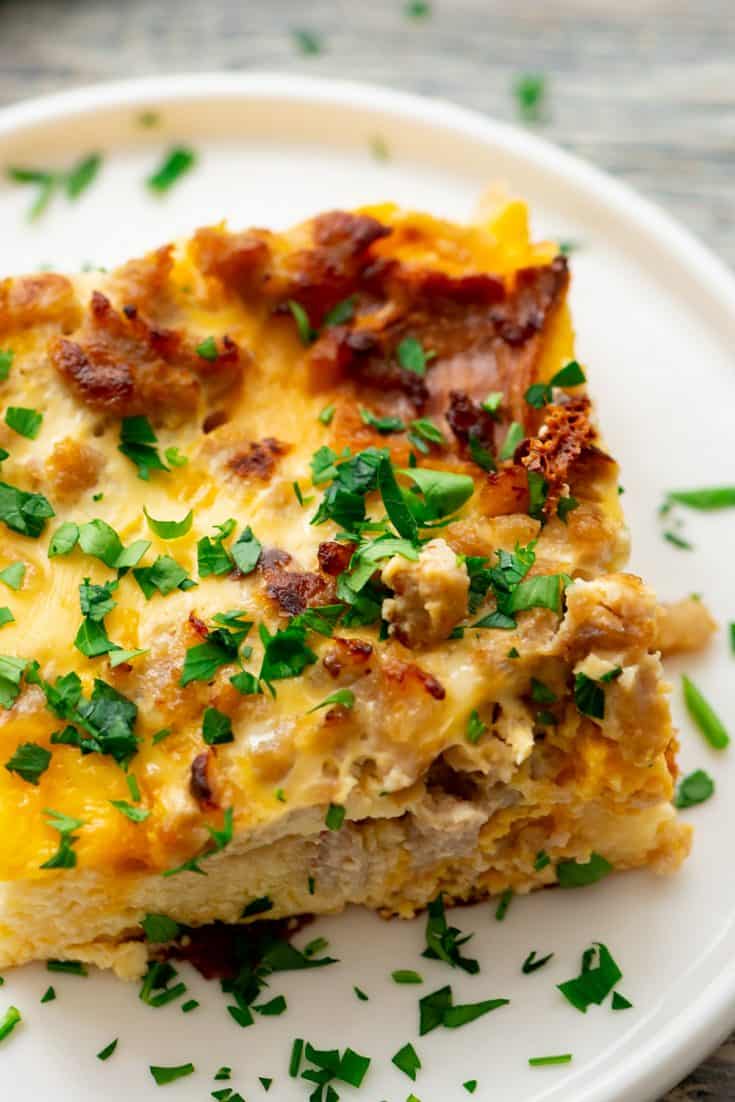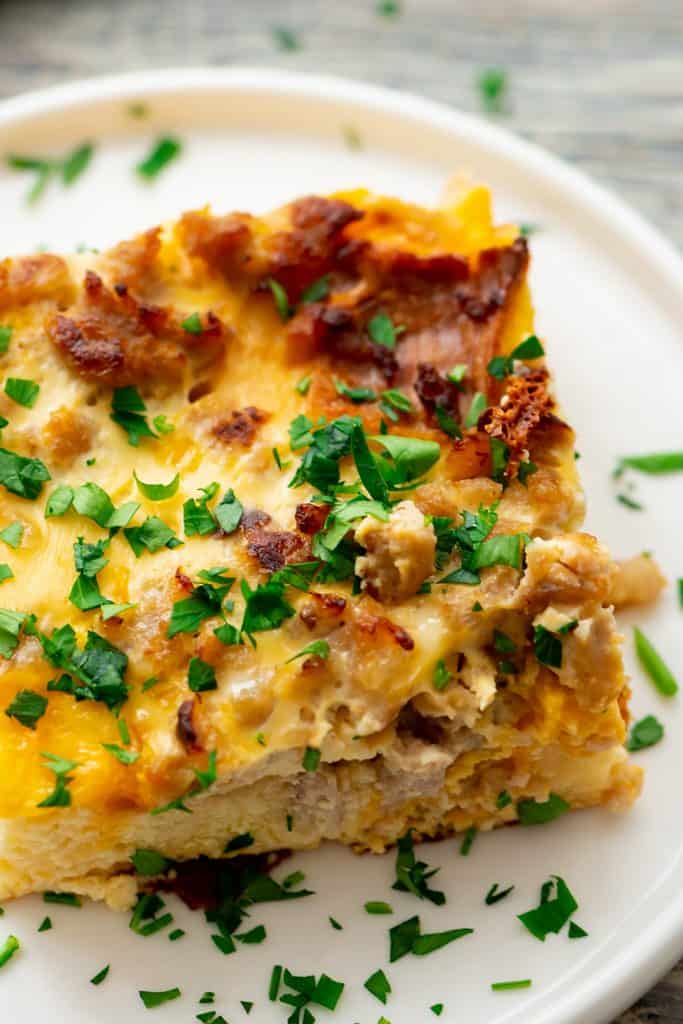 What is the advantage of setting the casserole up in the fridge?
The overnight egg casserole, also sometimes referred to as an egg bake too, takes advantage of the time it sits to let the wet ingredients absorb properly into the day old bread. You don't necessarily have to let it sit overnight, but it helps the dish look, feel, and taste more like a casserole and not just like eggs and toast.
How far in advance can I make the dish?
If you don't plan on cooking your egg casserole right away, then don't worry. Letting it sit another day or two before you pop it in the oven will be fine as long as you cover it tightly.
You don't want the eggs to dry out, but you do want them to seep into the bread. For this reason, a bit of extra time is not an issue.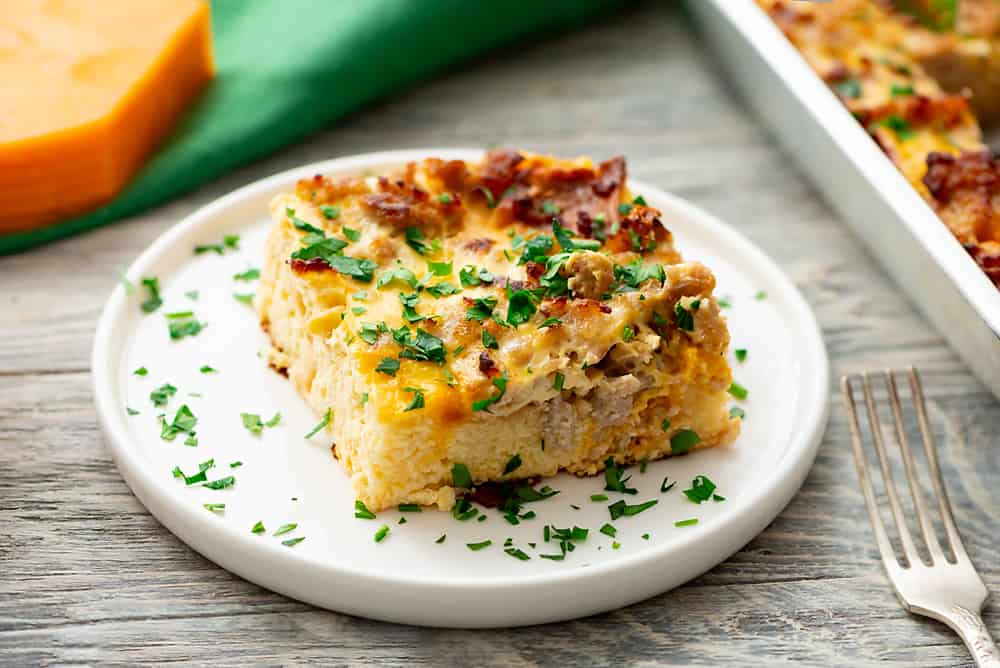 Why do I use day old bread and what if I use fresh bread?
The advantage of using day old bread is that it has less moisture in it. When the casserole cooks you don't want a lot of moisture in the dish since it will end up steaming the eggs rather than letting them bake. It makes a difference in the flavor because steamed eggs don't have as pleasant a consistency as baked ones and as a result end up with less flavor.
So, if you are pressed to prep the casserole and you don't want to wait for the bread to dry out, then just give it a bit of help. You can set the bread in your oven or toaster oven and heat it up on very low heat, about 175 degrees f for approximately 20 minutes ought to do the trick.
You don't necessarily want the bread to cook, but you do want to dry it out.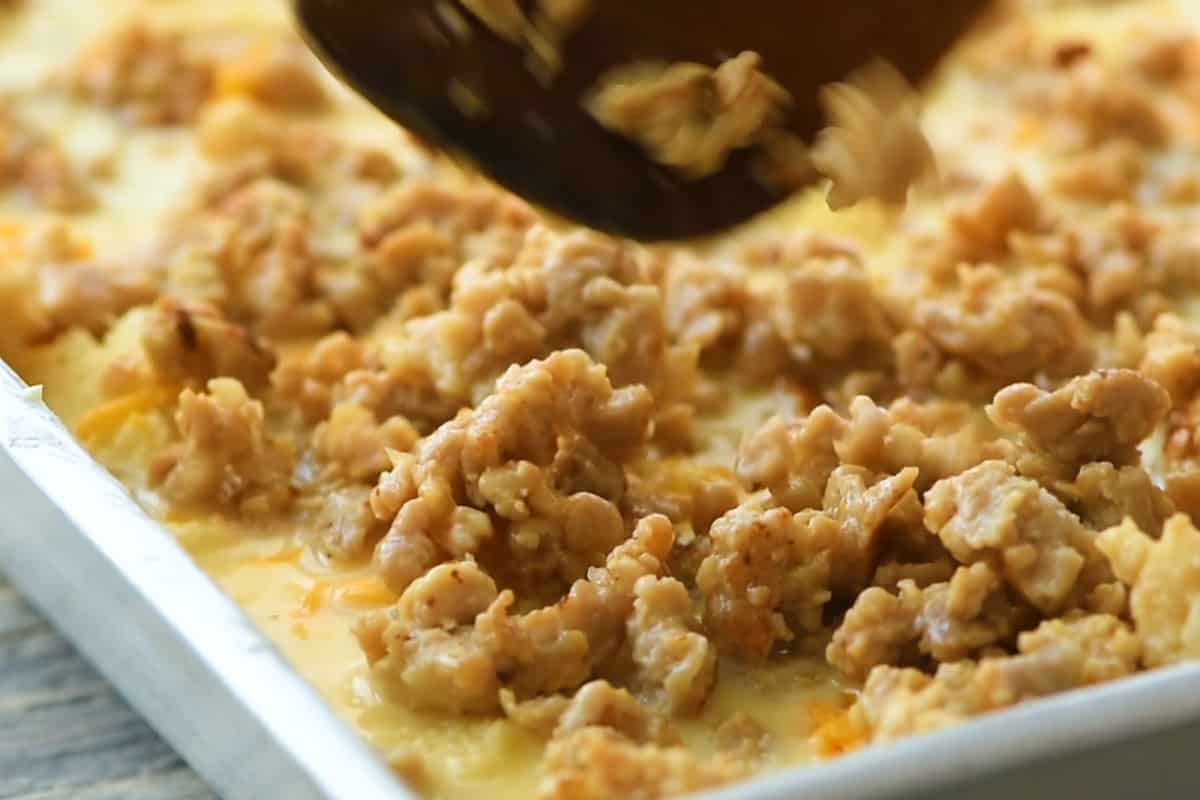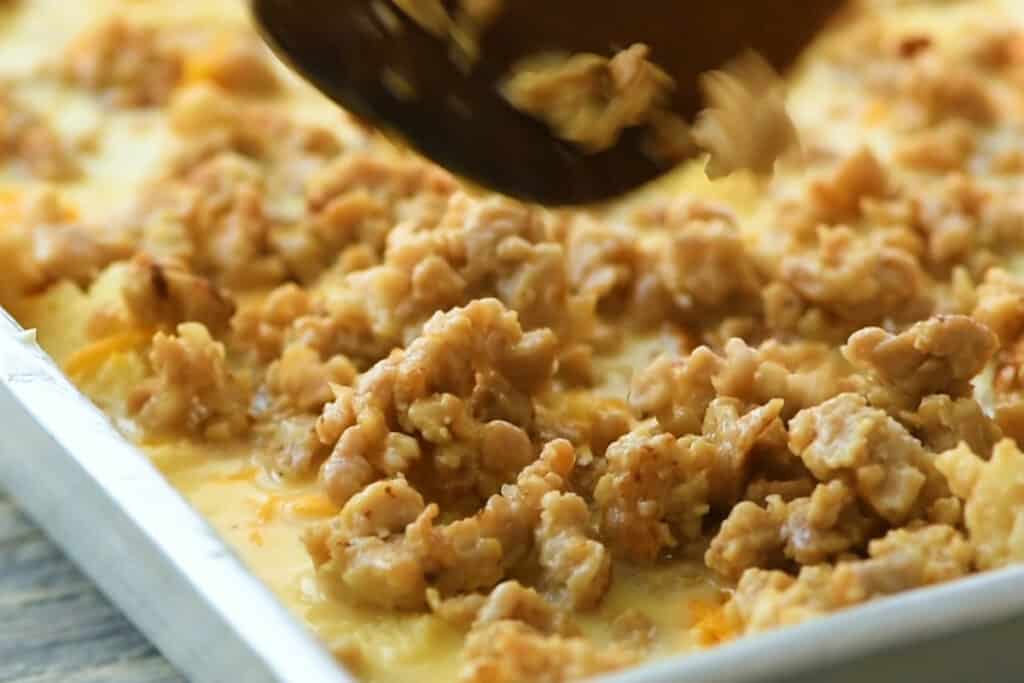 Add Jimmy Dean breakfast sausage for a great breakfast and brunch dish
I recommend adding a slightly peppery breakfast sausage. Break up a package of Jimmy Dean sausage or something similar, or chop up some Jimmy Dean sausage links and generously cover the egg casserole so that it is evenly distributed.
I like the Jimmy Dean sausage, links or patties, because they have just the right amount of pepper to add seasoning to the dish. If you don't have Jimmy Dean sausage to work with, then you certainly can use plain ground pork. I suggest adding a good amount of black pepper and a bit of salt to it.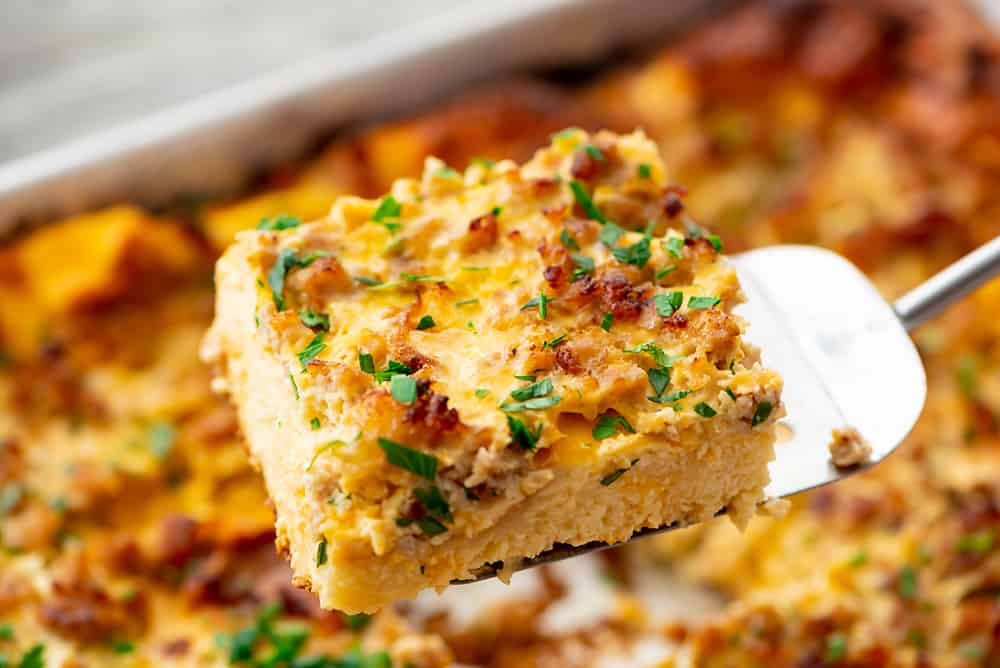 What are some other suggestions for things to add to the egg bake?
An egg casserole is merely a blank canvas upon which a wide range of flavor profiles can be painted. Feel free to let the creativity flow (or the necessity of whatever you have available) help guide you.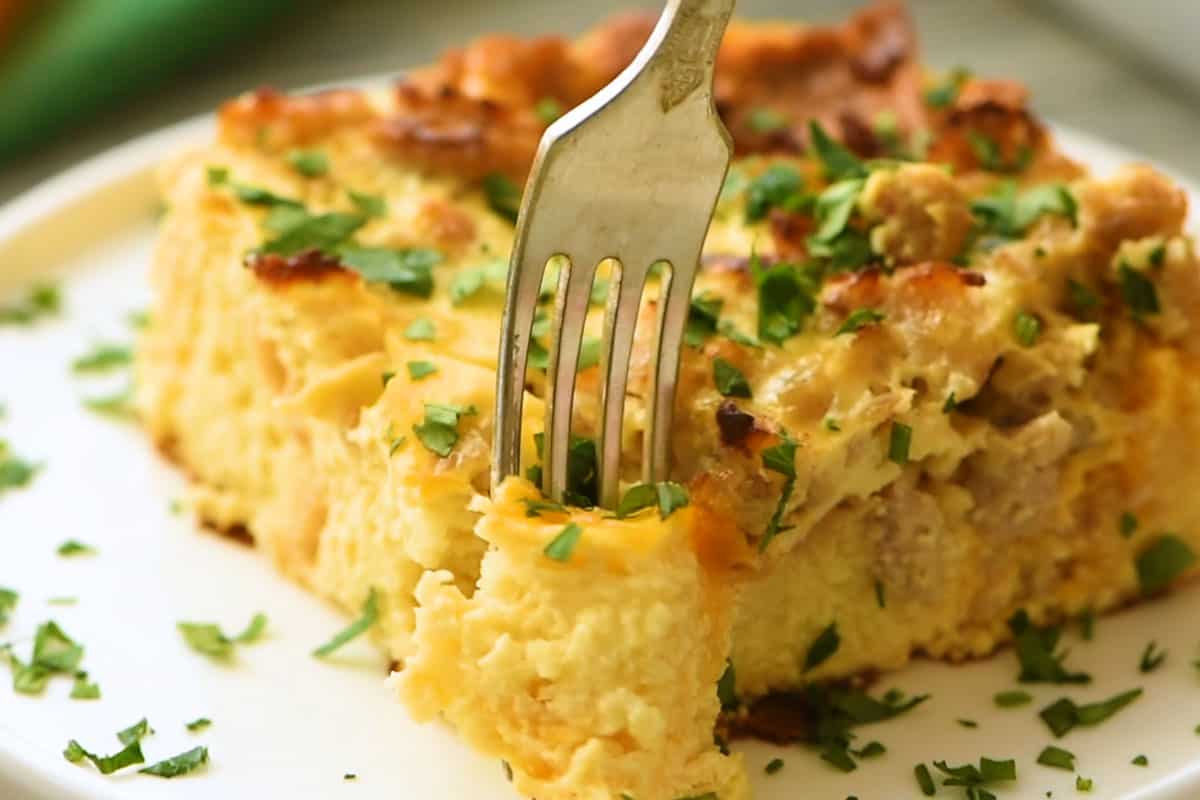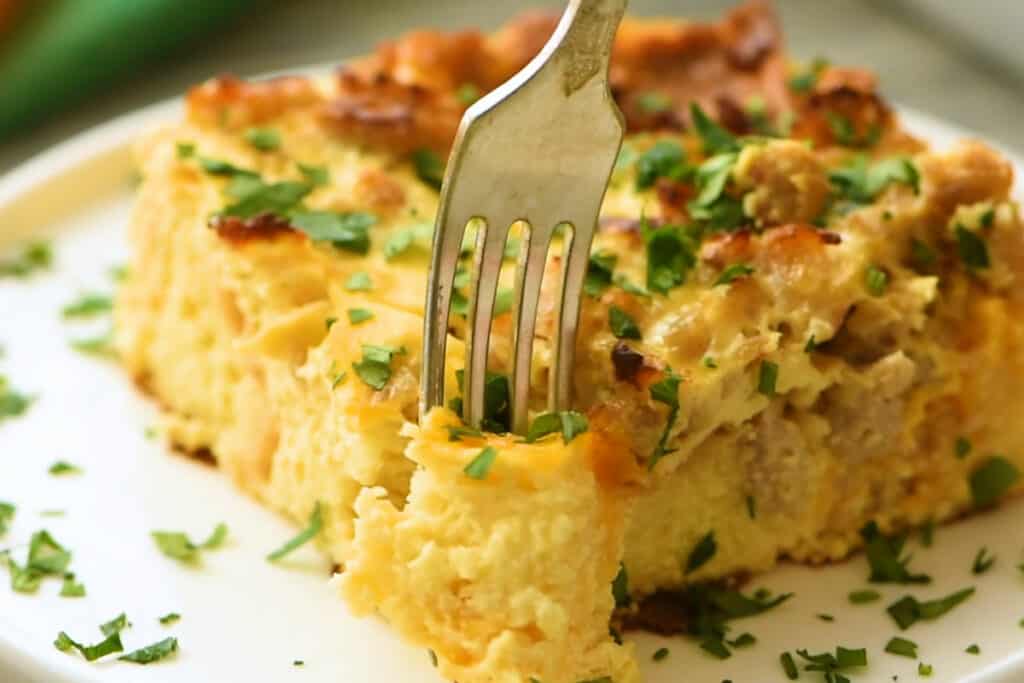 A few variations that work well:
You can make it "Denver" style by using little cubes of ham, green pepper, and onions. Or make it as seafood style egg bake with some cut up chunks of shrimp, or even a bit of crab meat if you want.
Go full veggie, and lower fat and cholesterol, by just using some vegetables. Broccoli, cauliflower, red, green, and yellow peppers, any type of squash like zucchini works great too.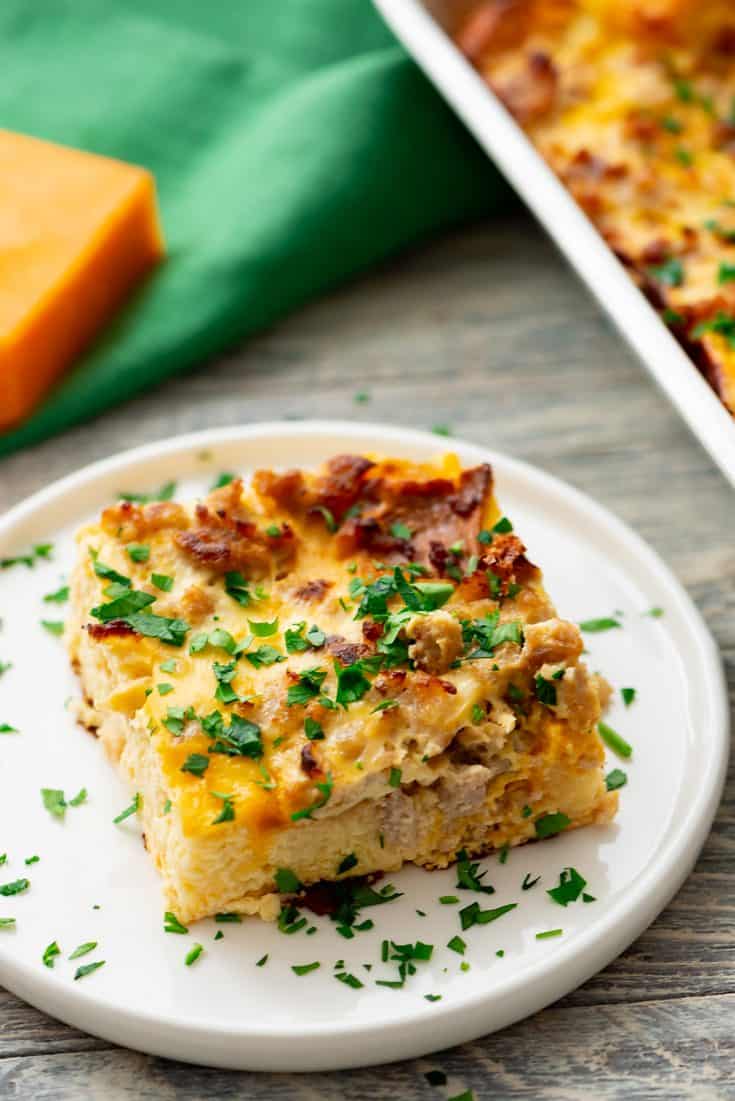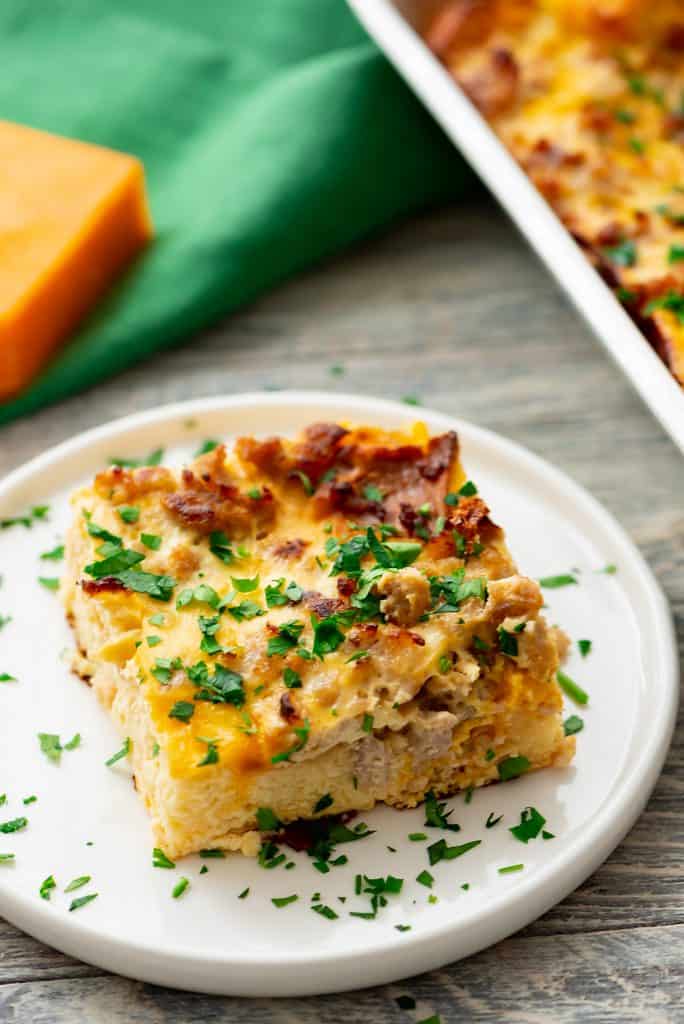 How do I reheat an egg casserole?
You don't need a lot of time or heat to bring your egg casserole back to life. Baking at 250-275 F for about 15 or 20 minutes will do the trick without drying it out.
It is actually good the next day cold right out of the fridge as well.
You can keep it in the fridge, properly sealed, for about 3 to 5 days. You can also freeze some slices and save them to reheat in an oven or microwave. The microwave is less ideal because it does change the texture of the eggs, but when time is at a premium and you just want something easy to heat and eat, then that will never be an issue.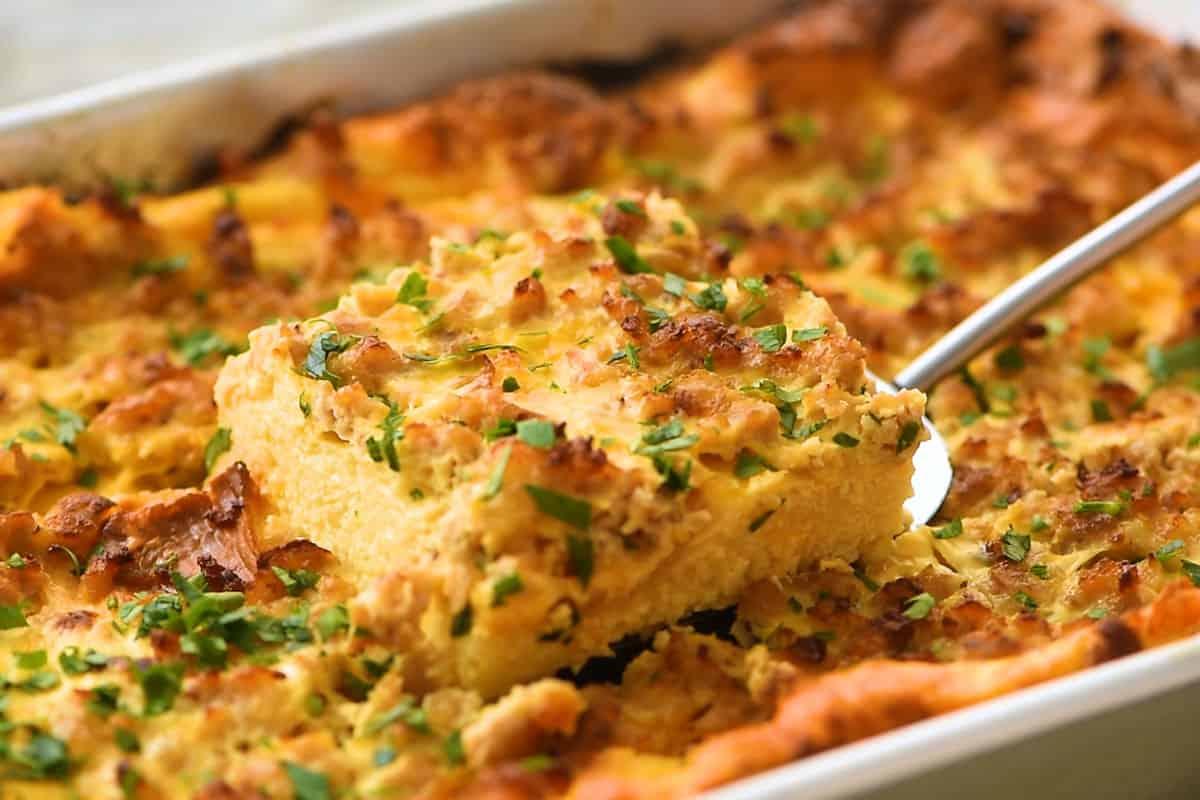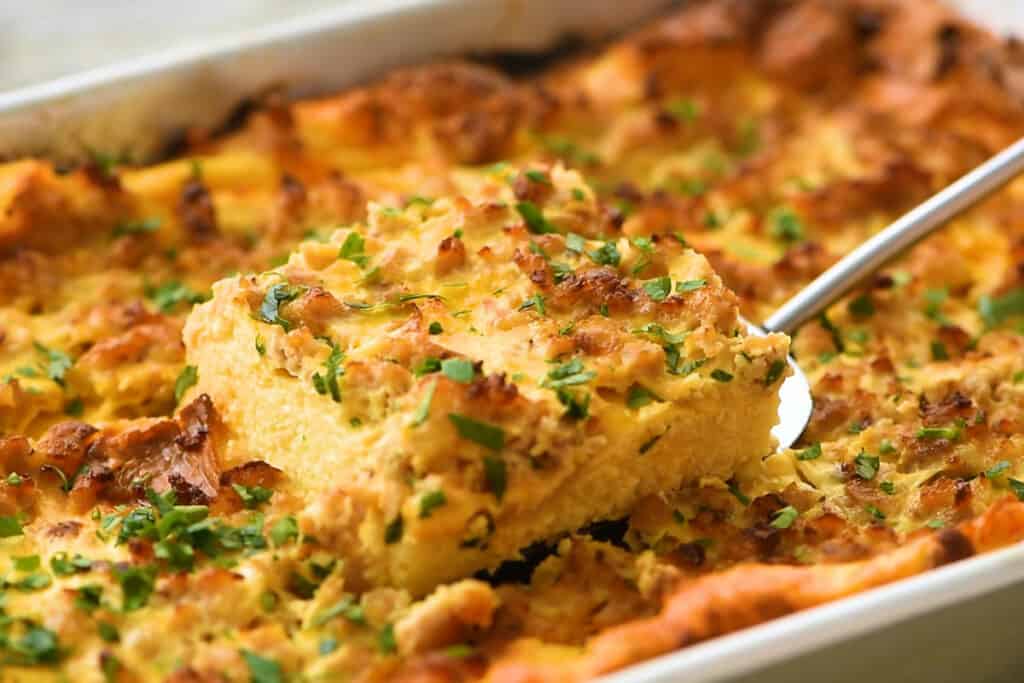 Do you recommend any sauces on an egg casserole?
Everything goes great with eggs, and of course you can do a variety of sauces. A sauce is a great way to add another level of flavors to it.
A simple béchamel style gravy like you use on breakfast biscuits is always a great option. Béchamel is simple equal parts butter and flour which you heat and stir together until they are smooth, then slowly add milk or cream to make the sauce and add a pinch of salt and pepper to season.
More delicious brunch recipes!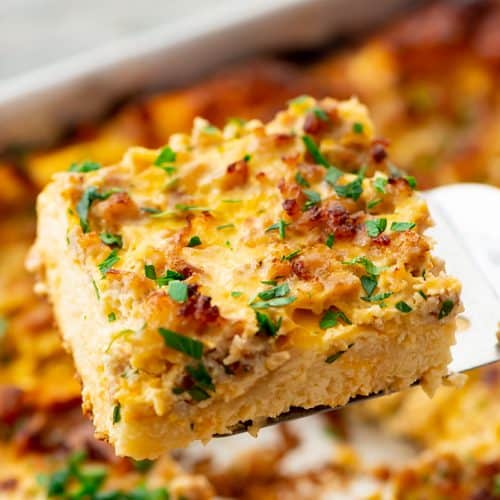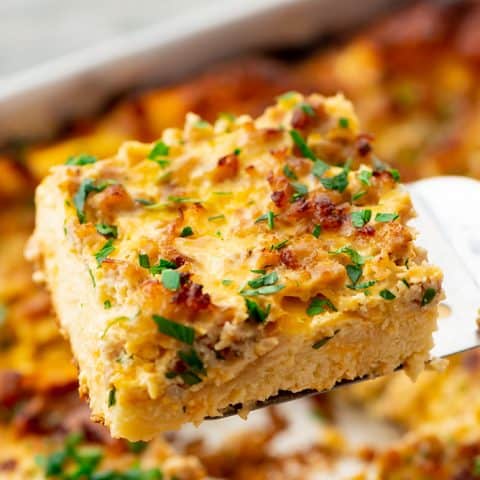 Overnight Sausage Egg Casserole
Total Time:
3 hours
10 minutes
Overnight Sausage Egg Casserole is any easy and delicious make ahead breakfast egg bake perfect for guests or a nice family brunch.
Ingredients
1 pkg. pork sausage
4 c. cubed day old bread
2 c. shredded cheddar cheese
10 eggs, slightly beaten
4 c. milk
1 tsp. dry mustard
1 tsp. salt
1/4 tsp. onion powder
1/4 tsp. pepper
Instructions
In a large skillet, cook and drain the pork sausage.
Meanwhile, place the cubed bread in well-buttered 9x13 pan. Sprinkle with cheese.
In a medium bowl combine the remaining ingredients and pour evenly over bread and cheese. Sprinkle with sausage and cover and chill overnight.
Preheat oven to 325°. Bake uncovered for one hour or until the center is no longer jiggly. (Tent with foil if top begins to brown too quickly.)
Allow to rest for 10 minutes before serving. Serve with some optional chopped parsley or chives.
Notes
Add some tomatoes or sliced mushrooms for some added flavor and vegetables!
Nutrition Information:
Yield:

10
Serving Size:

1
Amount Per Serving:
Calories:

264
Total Fat:

15g
Saturated Fat:

7g
Trans Fat:

0g
Unsaturated Fat:

7g
Cholesterol:

218mg
Sodium:

599mg
Carbohydrates:

14g
Fiber:

0g
Sugar:

1g
Protein:

17g
Provided nutrition data is only an estimate. If you are tracking these nutrients for medical purposes, please consult an outside, trusted source.