Tropical Passion Smoothie is a healthy drink full of Greek yogurt, coconut and tropical fruit. Enjoy this protein smoothie for breakfast or a snack and it is sure to fill you up.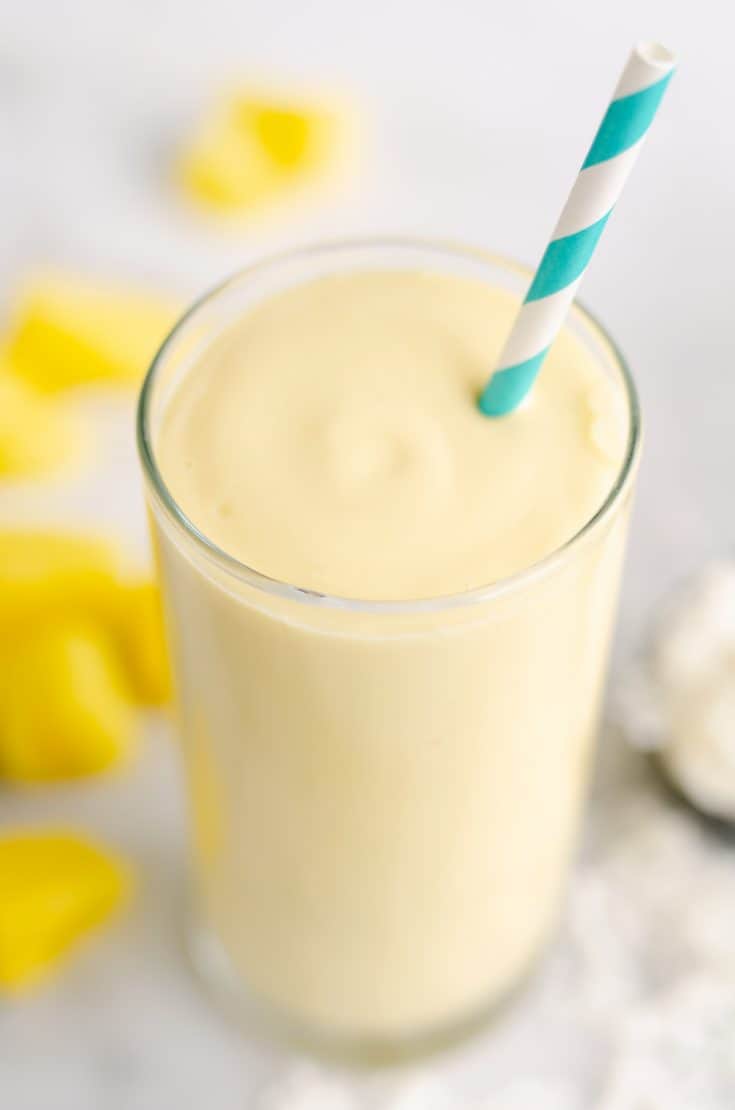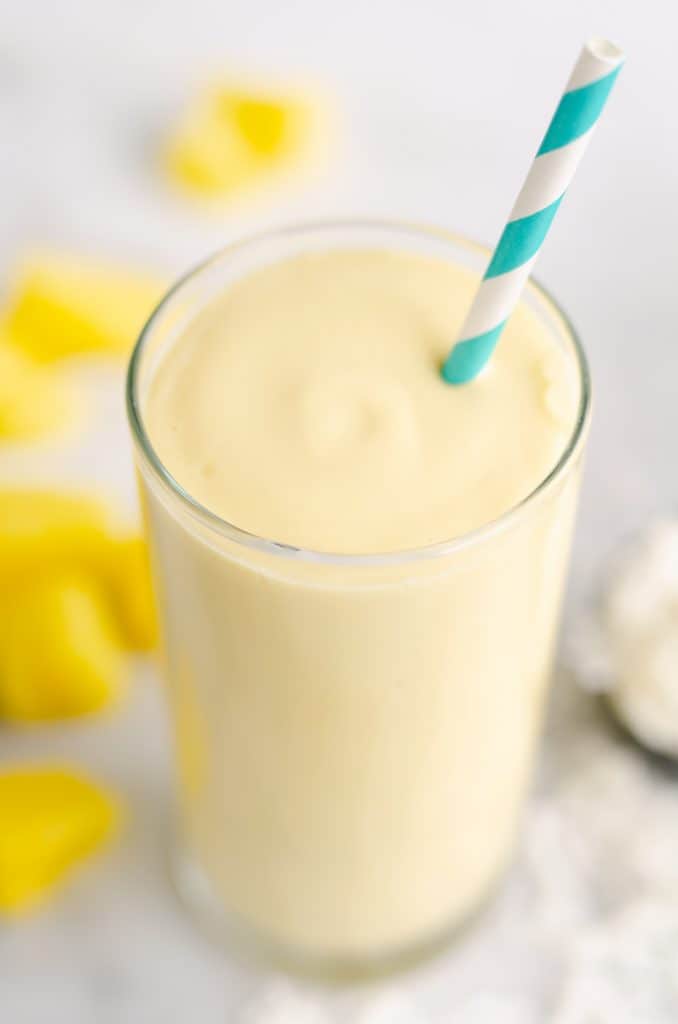 Tropical Passion Smoothie
This cool, refreshing Tropical Passion Smoothie will wake you up and get your day started right! With delicious frozen pineapple, fresh mango, and the creamy sweet taste of tropical coconut, you're going to love this easy breakfast smoothie.
I am so excited to share this smoothie from my friend Erin's new cookbook The Protein Smoothie Bible. It is full of healthy and approachable recipes like Strawberry Citrus Sunrise and Pineapple Avocado Winner as well as unique twists like Mocha Lovers and Mojito Madness. It also includes a wealth of information on smoothies like a variety of sweeteners, protein sources and so much more.
The smoothies use Greek yogurt, nut butters and protein powder to pump up the protein power in these healthy drinks not only satisfies your sweet tooth, but fills you up. If you love smoothies and are looking for some great new recipes, be sure to grab her book ASAP! I'm a cookbook hoarder and very excited to add this new gem to my collection.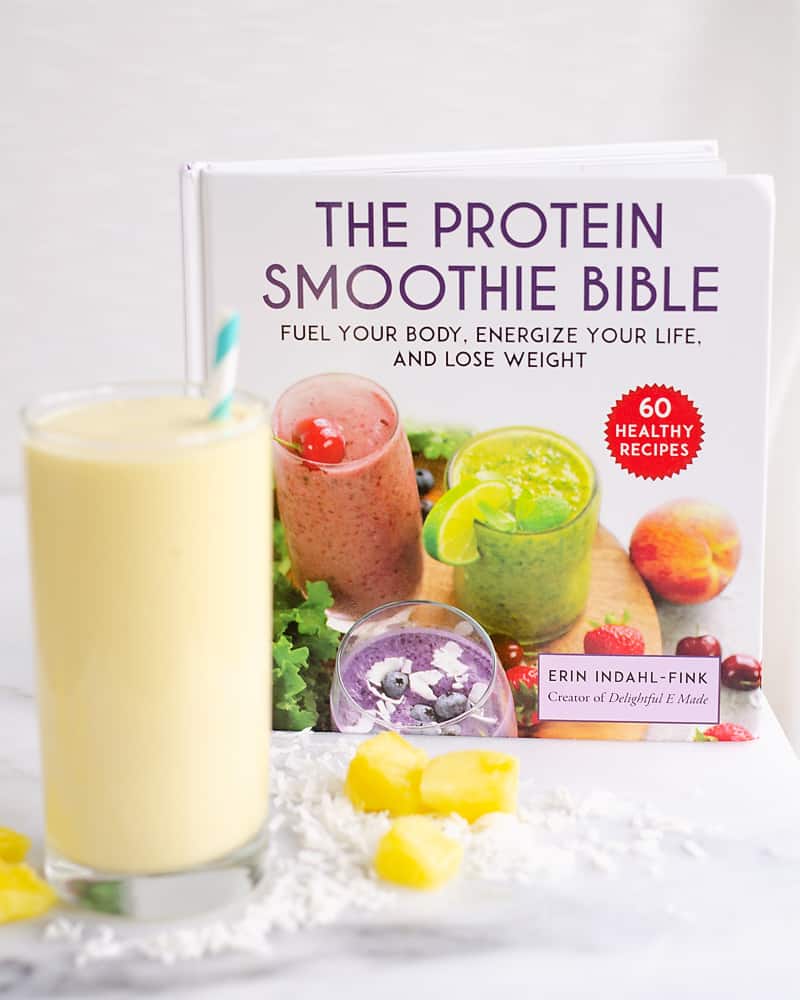 Tropical Smoothie
Smoothies for breakfast are the best! They're bright and fresh, and full of vitamins. Fruit smoothies give your body a kick start so you can take on the day. I've made plenty of great smoothies–try my Blackberry Banana Protein Smoothie for a rich, decadent flavor, or my Coconut Strawberry Protein Smoothie for a summery twist.
This delicious tropical take on a classic fruit smoothie has everything you need to transport you to a warm, sunny island. It even has a dollop of Greek yogurt, which adds a little extra tang, and some protein too!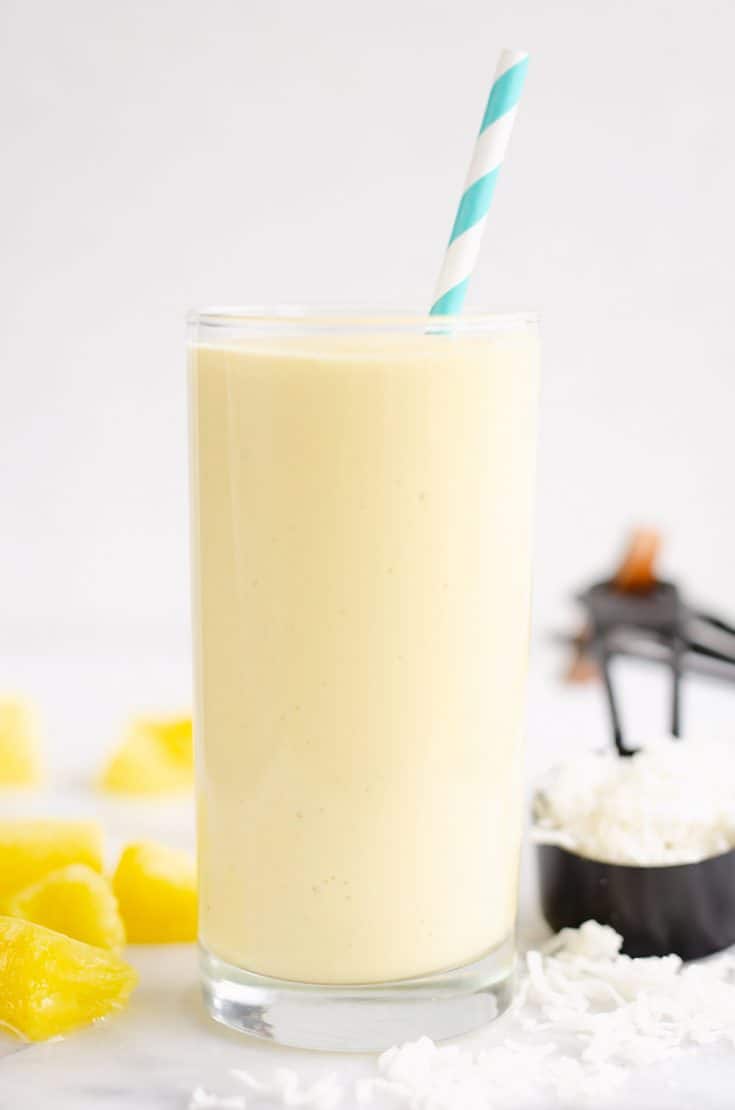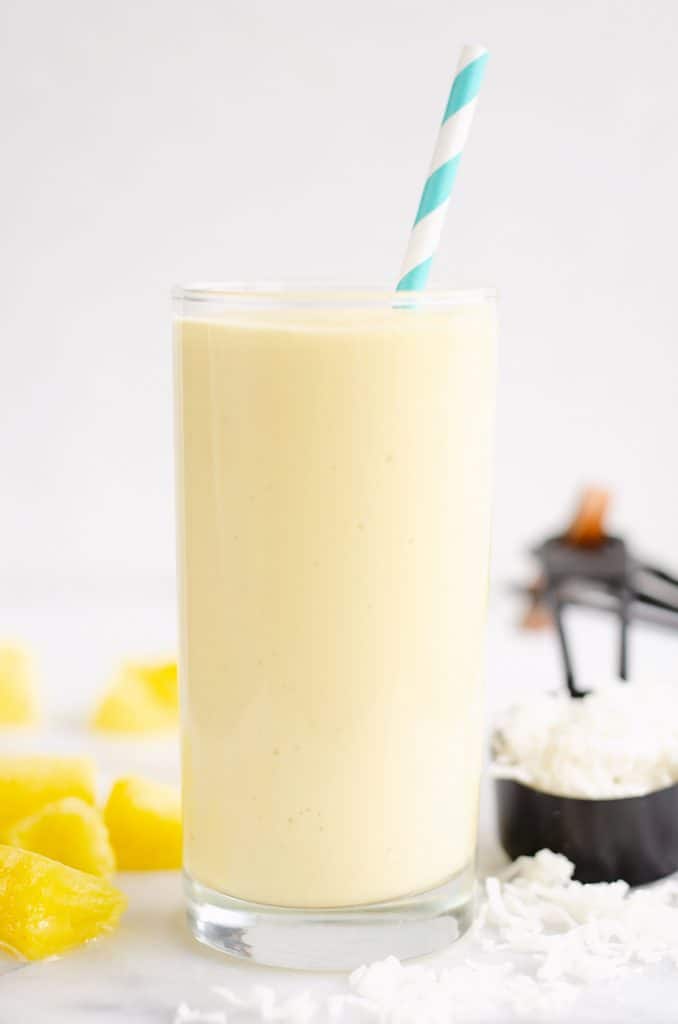 Tropical Smoothie Recipe
Fruit smoothies are so easy to make at home, and you're going to love this homemade tropical smoothie recipe. It's simple, it only has five ingredients, and it takes less than five minutes to put together. Once you try smoothies for breakfast, you're going to want to make one every day. They're yummy, filling, and will satisfy that sweet tooth craving in a healthy way!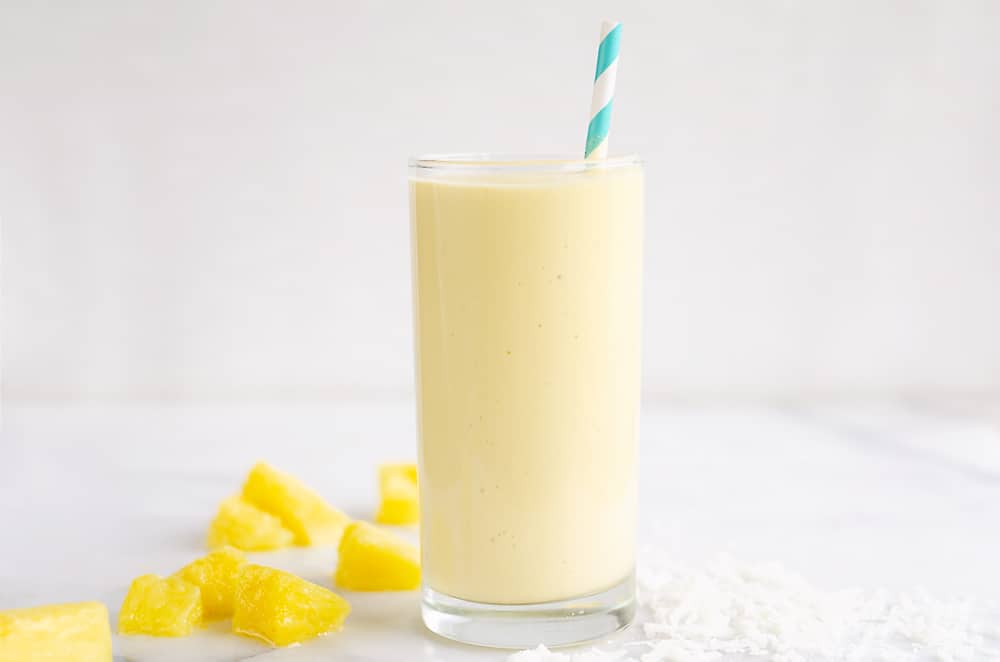 Are Fruit Smoothies Good For You?
The USDA recommends that people make half their plate fruits and veggies. Fruit smoothies are a great way to get more fruit on the menu! This delicious smoothie includes:
Mangos, which have tons of vitamin C.
Coconut flakes and milk, which are high in fiber and other vitamins and minerals like iron and potassium.
Pineapple, that has even more vitamin C, and are high in vitamin B6 and magnesium.
Greek yogurt, which usually contains (depending on the brand and flavor) 30-40% daily value of protein based on a 2000 calorie diet.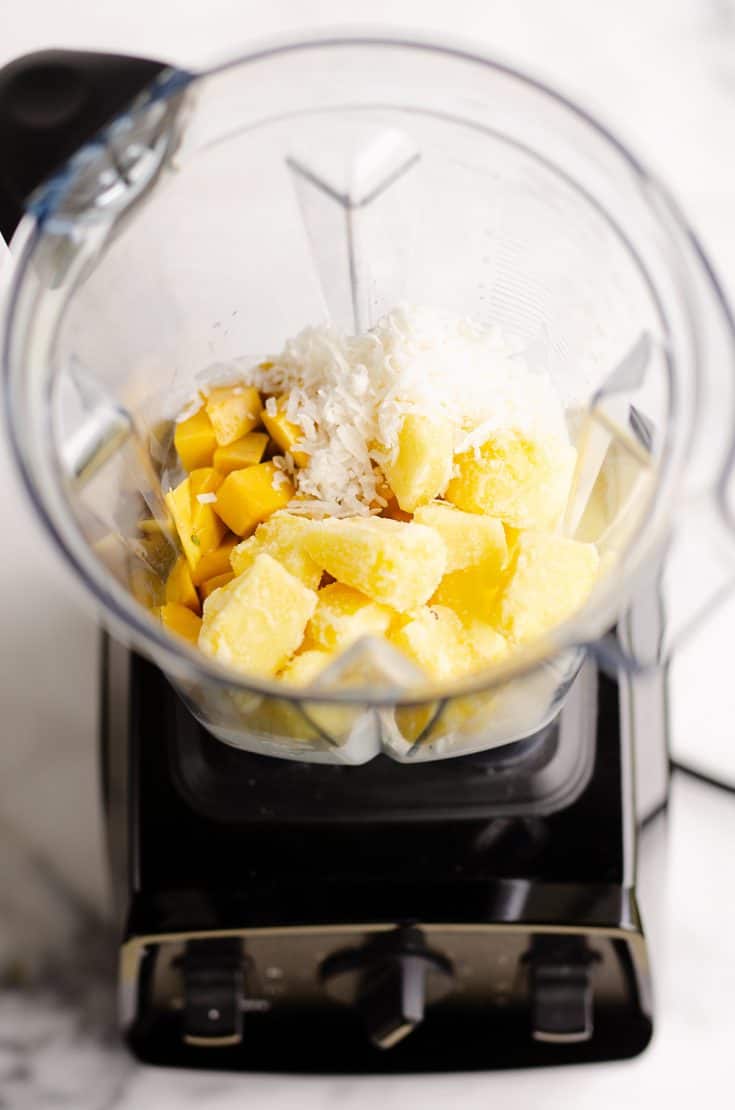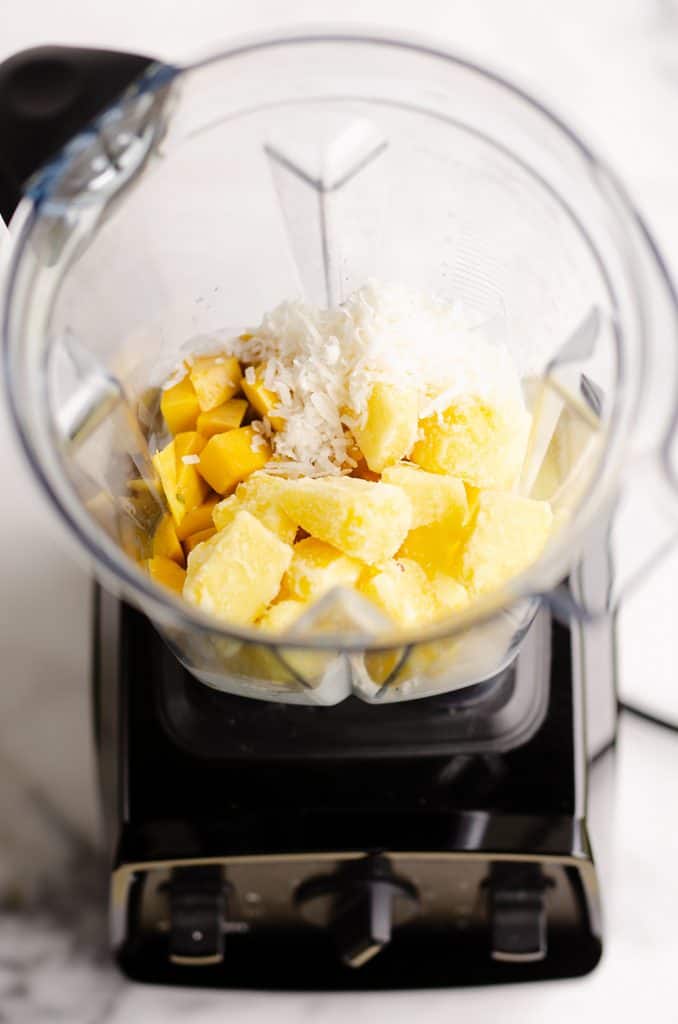 Are Smoothies Good For Breakfast?
They say breakfast is the most important meal of the day! With kids running around and trying to get everyone ready for the day, it can be tempting to just pour out some cold cereal and call it good, or skip breakfast altogether. Smoothies are the perfect way to beat the morning blues, get some protein and vitamins, and start your day with a smile!
It only takes five minutes or so to mix up a smoothie, and they are oh so much better than plain cereal or a slice of toast. If you want to make your smoothie even more filling, try adding my Protein Smoothie Booster! With 15 extra grams of protein and 2 grams of fiber, it adds a hearty feeling to any smoothie.
If you have a little extra time in the morning, try my Breakfast Steak and Cheddar Toasts or my Mediterranean Breakfast Tostadas to go with your tropical smoothie!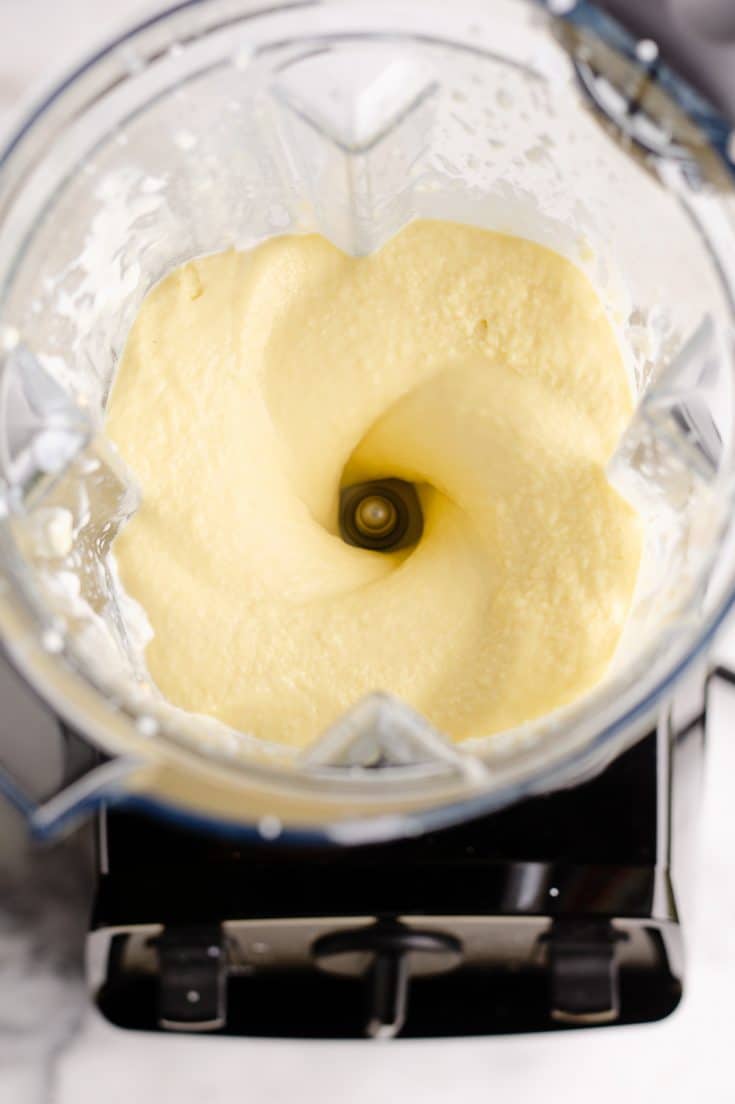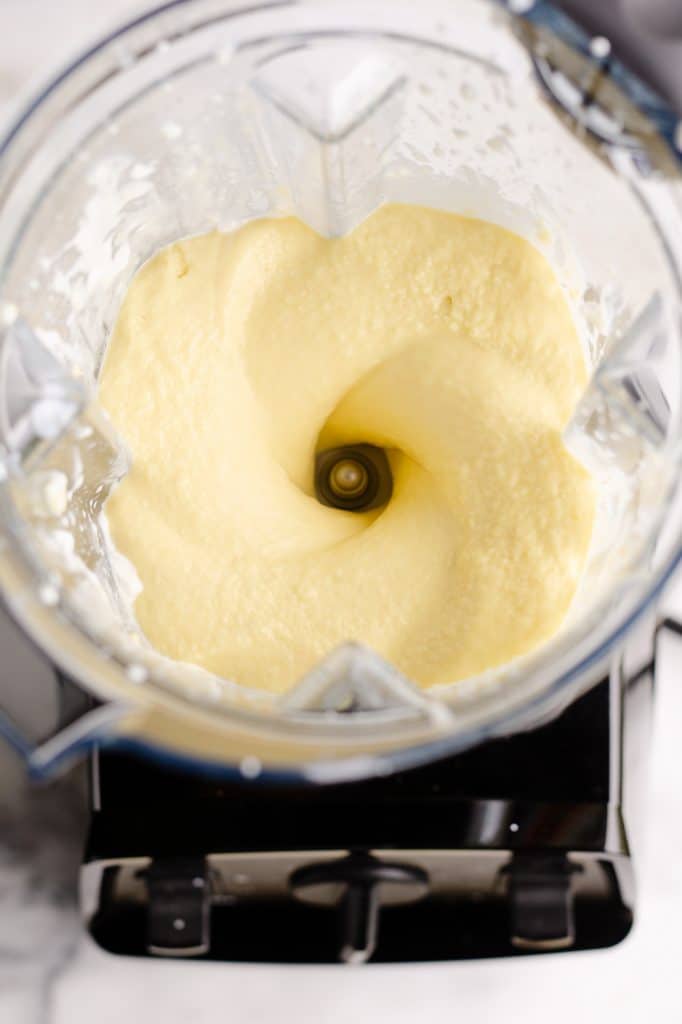 How To Make a Breakfast Smoothie
There are a couple of ways to make up your smoothie. I use my Ninja blender (which I love!), but you can also use a food processor or immersion blender.
You can either toss all of your ingredients in at once and blend everything together, or you can mix one thing at a time, then layer them into your glass for a gorgeous, fancy presentation that's perfect for a special brunch.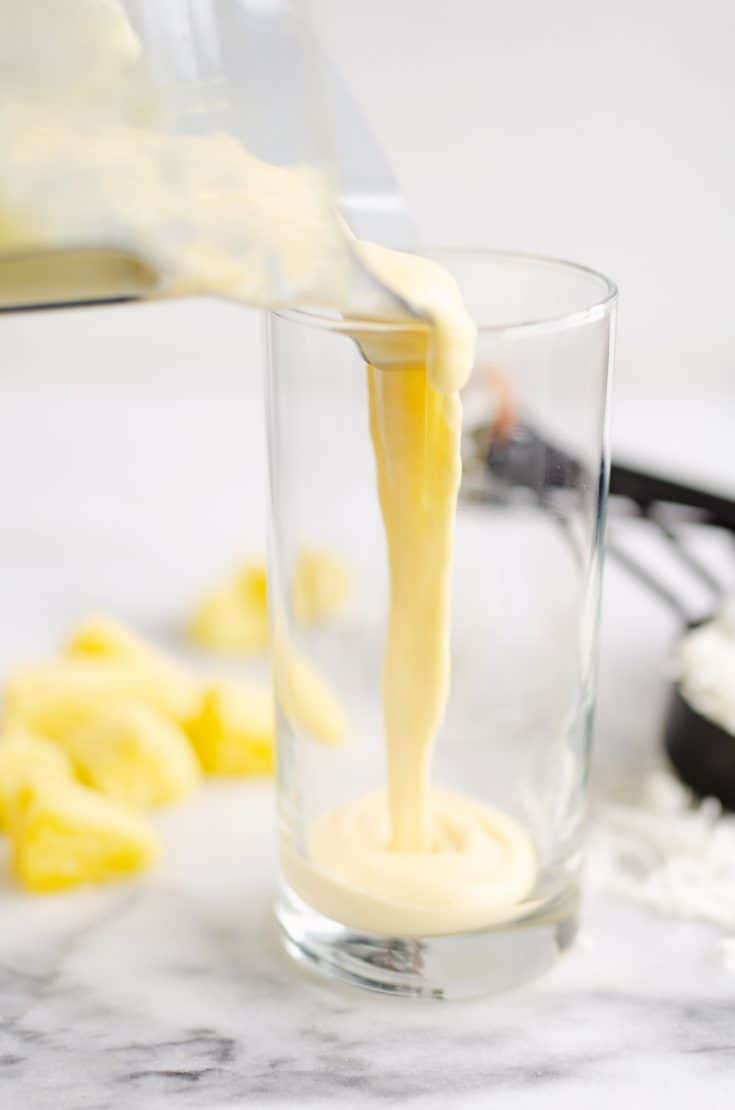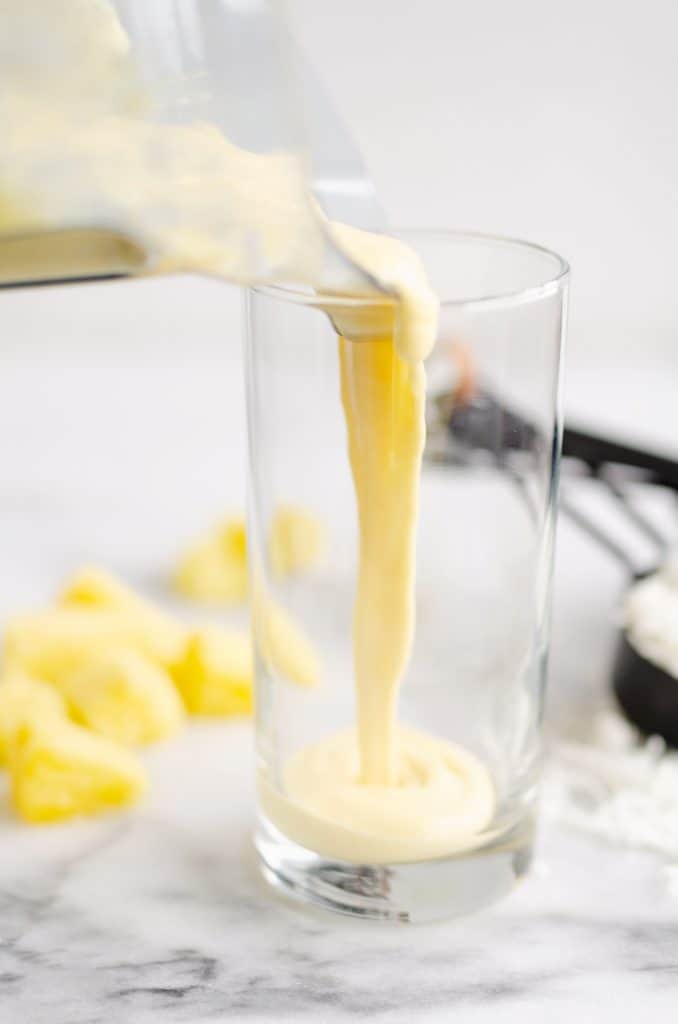 Tips for Making the Perfect Smoothie
Smoothies are a fun, easy way to eat more fruit! And it really is as simple as one, two, three. Here are a few tips to make your smoothie really amazing!
Avoid ice- use frozen fruits instead. It will keep your smoothie from getting watered down.
Mix it up! Try adding bananas, blueberries, or other favorite fruits to the mix.
Add some greens. Believe it or not, a handful of spinach will be almost invisible once it's been blended into a smoothie, and you still get the benefit!
Try oats or chia seeds as a thickener and to make your smoothie more filling.
If you are using a food processor or a blender that doesn't have much power, try blending each ingredient separately, then mixing them together. Or, try adding a little bit of juice or water to thin it out.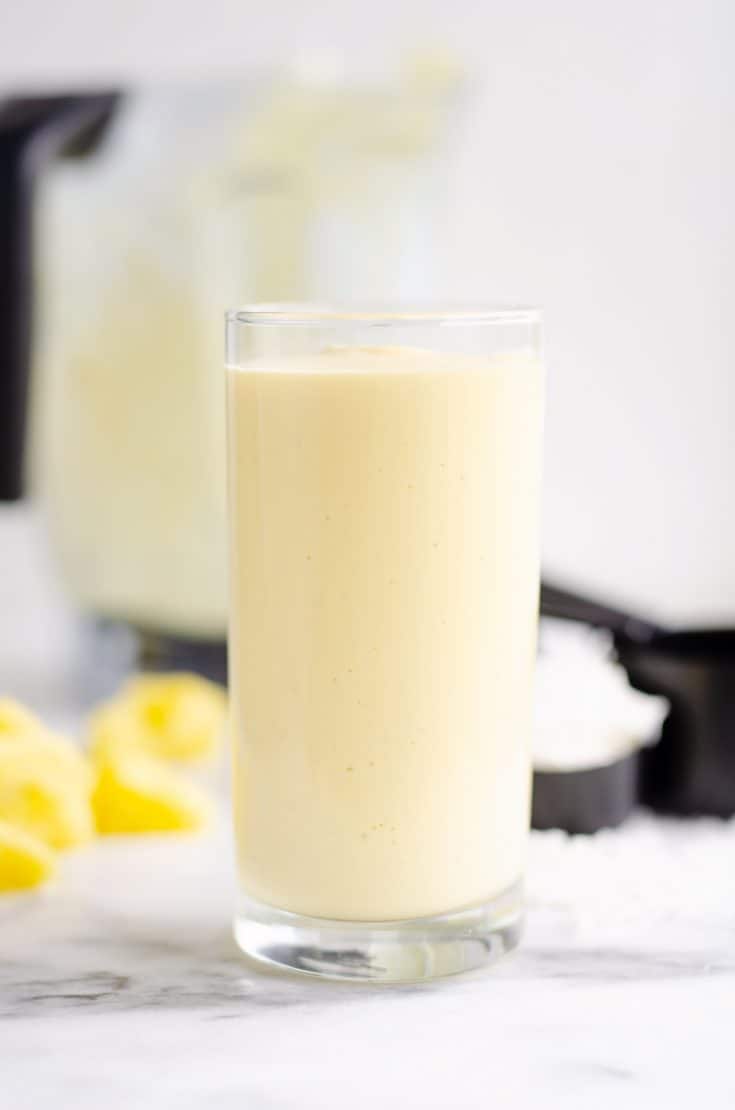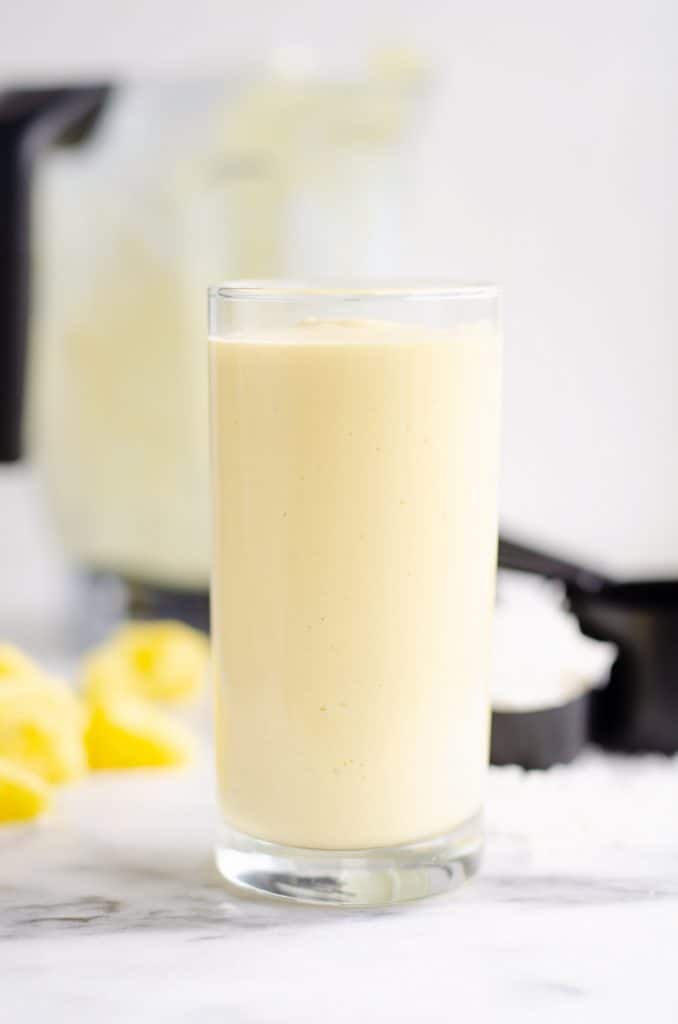 Enjoy fruit smoothies for breakfast or as a snack all summer long, or any time of year!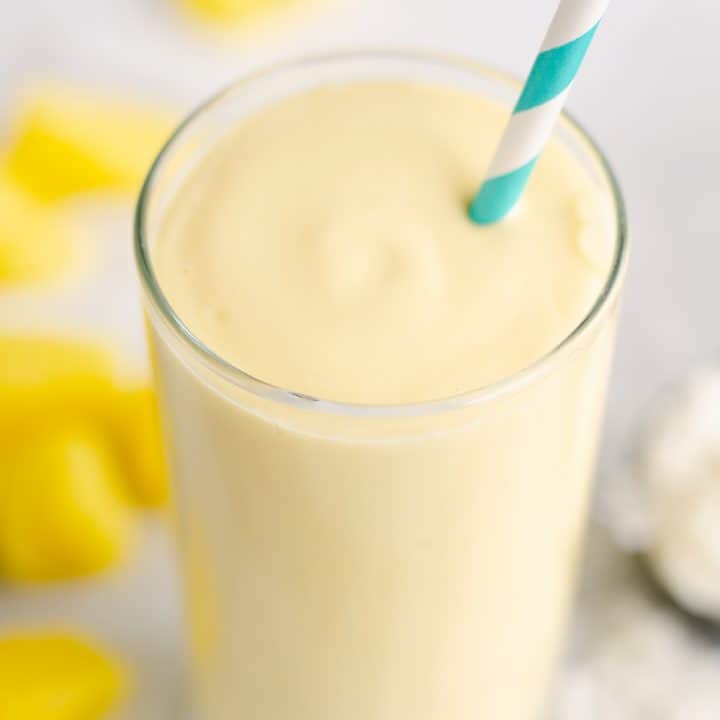 Tropical Passion Smoothie
Tropical Passion Smoothie is a healthy drink full of Greek yogurt, coconut and tropical fruit. Enjoy this protein smoothie for breakfast or a snack and it is sure to fill you up.
Ingredients
1/4 c. coconut milk
1/2 c. coconut Greek yogurt
1/2 c. mango, peeled and cubed
1/4 c. unsweetened coconut flakes
1 c. frozen pineapple
Instructions
Add all ingredients into blender and blend until smooth. Enjoy right away while cold!
Nutrition Information:
Yield:

1
Serving Size:

1 grams
Amount Per Serving:
Calories:

574
Total Fat:

33g
Saturated Fat:

29g
Unsaturated Fat:

0g
Cholesterol:

6mg
Sodium:

65mg
Carbohydrates:

62g
Fiber:

10g
Sugar:

46g
Protein:

18g